Oregon Ducks:

Pharaoh Brown
June, 19, 2014
6/19/14
9:00
AM ET
Over the past few weeks we examined the Ducks, position-by-position, evaluating the talent. But since I was in Eugene last week for the NCAA Track & Field Championships, I figured I'd stop by the football offices to check in with one of the guys who knows that information best, offensive coordinator Scott Frost. Wednesday, we went through
quarterback and running back
highlights. Today, we're on to wide receiver, tight end and the offensive line.
WIDE RECEIVER
On Devon Allen: He was actually a late offer for the Ducks who was offered after Chip Kelly left for the NFL. There were a few spots open (initially there had only been one spot for a receiver). "It all kind of worked out that we offered him, and this is where he wanted to be. I knew he could be fast. I had no idea he could go 13.1 in the high hurdles."
Frost actually was at Allen's race last Saturday when Allen won the 110-meter hurdle national title. Frost said that he doesn't think Allen "looks like he'd be a track guy, he's built more like a football guy, he's thick."
On his mindset on the receivers: "We felt good about receiver even losing the guys we did, with Bralon [Addison] back and some young guys we think are really talented. We're just going to have to have some of those young guys step up quicker than they would've had to otherwise."
The first receiver that Frost brought up after Allen was redshirt freshman Darren Carrington. "He has to grow up quick, but he has it in him to be that guy." The next three receivers he mentioned were redshirt sophomore Dwayne Stanford, redshirt sophomore Chance Allen and early enrollee Jalen Brown. Frost said that he thought Brown was "in over his head a bit" from a conditioning standpoint this spring, which limited his reps, but he's up to speed now, and Frost could see him being a contributor in the fall. So it sounds like after Keanon Lowe and D. Allen, there's certainly a pecking order of things, but the competition is still very much open.
It's the youngest crop of receivers Frost has ever had, so I was curious if there were any way he could speed up the learning curve or provide a catalyst (other than just more and more live reps). "Sometimes there's just no replacing experience. But all those guys are competitors. … They're going to get their shots early. You see it all the time in sports, when people get their opportunities some of them reach out and take it with both hands and others struggle a little bit. We're just hoping we have a bunch of guys where the former happens."
Frost said something interesting about indicators regarding whether a young guy can play early -- it's typically more based on mental and emotional maturity than talent.
TIGHT ENDS
Look for these guys, like the running backs, to be more involved in the pass game. "We have three, which is more than we've had going into a year that I can remember. … We have three guys that we trust to go out there and do it, and there's probably going to be times that a couple of them -- if they're playing well -- deserve to be on the field, and we can play with two tight ends."
Pharaoh Brown's injury isn't going to limit him through the fall. Frost said it's just a matter of keeping him healthy through the season. "He's really talented."
Frost called John Mundt's freshman year a "roller coaster" but said that when he was on, "he did some exceptional things."
Frost thought Mundt and Evan Baylis' biggest areas of growth over the past year has just been confidence. No surprise there.
OFFENSIVE LINE
I asked Frost about senior Hroniss Grasu taking the blame (for the line as a whole) for the losses last season. Grasu had said in the spring that he thought the group lacked toughness and got outmuscled in those games, and that's why the Ducks lost. "I wouldn't necessarily agree with that. I think we had two losses against teams that played really good games against us." Frost though the turnovers were a bigger problem in the Stanford and Arizona games. "If you play a team that does things right and you give them the ball that many times, that's a recipe for losing."
He wasn't surprised that Grasu said that, because he's that kind of a guy. He said it speaks to Grasu's leadership that he's willing to shoulder that kind of blame.
The line returns all five starters and considering the weight gain, the general consensus with everyone is that the Ducks should be just fine. But, I wanted to make sure to ask about a few backups who were getting significant reps during the spring season. Frost's thoughts: Redshirt junior Andre Yruretagoyena had his best spring season yet. He said the staff has high hopes for redshirt freshman Jake Pisarcik. He was impressed with redshirt junior walk-on Matt Pierson at right tackle.
May, 30, 2014
5/30/14
9:30
AM ET
During the next few weeks, we're going to go through
Oregon
's roster, position by position, examining what talent was lost to graduation or the NFL and what that leaves the Ducks with in 2014.
We close out the first week with tight ends.
Who was lost after the 2013 season:
Colt Lyerla
Lost production:
2 catches, 26 yards
Who's back in 2014:
sophomore
Johnny Mundt
, junior
Pharaoh Brown
, redshirt sophomore
Evan Baylis
, redshirt junior
Koa Ka'ai
, redshirt freshman
Davaysia Hagger
, incoming freshman
Henry Mondeaux
Statistics of returning players:
30 catches, 475 yards, 5 touchdowns
Outlook:
The Oregon tight ends are in a very good spot right now, only losing one contributor from a season ago. The top three tight ends from last season return, and despite Brown not playing in the spring game, quite a bit can be expected out of the Mundt-Brown-Baylis trio this fall.
In the spring game, the tight ends caught five passes for 34 yards, but look for them to become even more involved this season. With the wide receiver corps on the younger side, the Ducks may look to distribute the ball a bit more, and who better than to three tight ends who all contributed last year?
In addition to catching passes, these guys can also be expected to be better blockers. With another year in the playbook, they'll be smarter, but some others might also take the lead of Mundt, who packed on 20 pounds during the offseason, and get their bodies to a point that allows them to be more physical at the point of attack.
All in all, this is a group that should do well this season. Over the next two years, look for the tight ends to really become a more integral part of the Ducks offense as this core group gets more experienced.
Other spring position reviews:
April, 15, 2014
4/15/14
11:00
AM ET
EUGENE, Ore. -- A team is only as good as its twos and threes -- or so says Oregon wide receiver coach Matt Lubick. If that's true, the Ducks are about to find out how good they are in the passing game.
While the addition of former Ducks basketball player
Johnathan Loyd
to the football team brought some excitement last week, it was quickly overshadowed by the news that wide receiver
Bralon Addison
had torn his ACL.
While there have been several success stories of players who've returned quickly from these types of injuries, considering the timing of Addison's injury, Lubick needs to count on his twos and threes for the brunt of the receiving duties in the 2014-15 season.
[+] Enlarge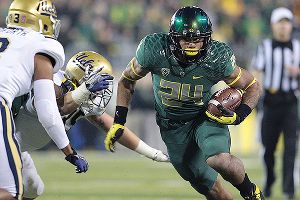 Scott Olmos/USA TODAY SportsOregon RB Thomas Tyner might need to make more plays in the passing game this season.
"They're very eager," Lubick said of his youthful players. "They're excited to learn. If there's a blessing in disguise about an injury happening at this time it's that it gives those guys reps now as opposed to right in the middle of the season when they wouldn't get as many reps."
And those guys need to take the reps considering the personnel situation in the wide receiver corps.
Of the Ducks' top 10 leaders in receptions last season, the top four will not be playing next season (that includes Addison, who was the No. 2 receiver last season). Those four players accounted for nearly 70 percent of the Ducks' receptions and 72 percent of the Ducks' receiving yardage. As a group, receivers 5-10 last season accounted for only slightly more catches than
Josh Huff
did on his own.
And of those six players who return, only two are pure receivers --
Keanon Lowe
and
Chance Allen
. The other four are tight ends (
John Mundt
and
Pharaoh Brown
) and running backs (
Thomas Tyner
and
Byron Marshall
).
"The neat thing about spring ball is you're trying to figure out about your team," Lubick said. "Is our best personnel group two tight ends? Is our best personnel group two running backs or is it still three wideouts? We still don't know that. We're still trying to find that out."
Over the past three seasons Oregon has had a running back in its top four receivers, including the 2012-13 season when running back
De'Anthony Thomas
led the team in receptions. However, for Tyner or Marshall to boost themselves into the top four, they'd have to nearly triple their receptions next season. It's certainly possible, but Oregon would still need receivers to step up because they're not going to be able to throw to backs or tight ends on every play.
The two returning receivers from last season's top-10 group -- Lowe and Allen -- only accounted for 23 catches, 331 yards and four touchdowns in 2013.
However, it's not ridiculous to believe that such inexperienced players could make a huge jump in just one season. From the 2011-12 season to the 2012-13 season Colt Lyerla and
Daryle Hawkins
went from just 12 combined catches to 50 catches. From the 2012-13 season to the 2013-14 season Addison went from 22 catches and 243 yards to 61 catches and 890 yards.
But when Lyerla, Hawkins and Addison made those jumps there were several other players making huge impacts from a receiving standpoint as well, guys like Thomas and Huff. This season, Lowe and Allen won't have that luxury because there aren't other experienced players around them in the passing game.
Another issue for the Ducks is that the young guys are going to need to play above their age from a consistency and blocking standpoint. Generally, blocking isn't one of the aspects emphasized for most high school wide receivers and so they get to college and need to learn that skill.
"At Oregon, it's not just about catching balls," Lubick said. "You have to be able to make plays without the ball. You have to be able to make plays with the ball. You can't do one without the other, you have to do both. That's sometimes the biggest adjustment for guys who weren't used to doing that in high school."
Lubick said that he, offensive coordinator Scott Frost and coach Mark Helfrich will be looking for the most consistent wide receivers through the spring and those will be the ones who get the starts in the spring game.
"The good thing about it is we have a lot of talent, a lot of resources and our offense gives us a lot of flexibility to have a whole bunch of personnel groupings," he said. "… To be in our offense, whether you're a tight end or running back, you have to know all the spots. It's an opportunity for other guys to step up."
But chances are, no matter who steps up, there will be at least a few completely new names catching balls during the spring game.
On one end will be a possible Heisman contender (assuming his receivers can help boost his passing yards) and one of the best-known quarterbacks in the nation. And on the other end will be a bunch of the Ducks' twos and threes. People know how good QB
Marcus Mariota
is. Now, according to Lubick's reasoning, they'll find out how good the passing offense is as a whole.
April, 8, 2014
4/08/14
11:30
AM ET
It's hard to feel confident in a position group when there isn't a single senior in the meeting room, but
Oregon
's tight ends are one of the team's deepest and most experienced groups.
The Ducks return rising junior
Pharaoh Brown
and rising sophomores
Johnny Mundt
and
Evan Baylis
. In 2013, those three accounted for five touchdowns and 475 yards on just 30 receptions, and with another offseason under their belts, more can be expected during the spring game and next fall.
[+] Enlarge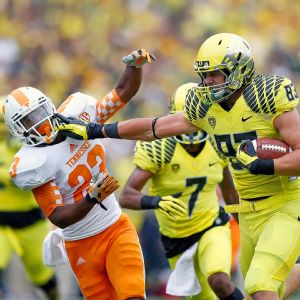 Jonathan Ferrey/Getty ImagesJohnny Mundt aims to lead a productive group of Oregon tight ends.
"I think we can contribute a lot more," Baylis said. "We're all a lot more comfortable and we know more about the system and can really understand the offense. [The coaches] can trust us more to put in more tight end packages and involve us more in the offense now that we have a better understanding."
Mundt described the offseason as "intense," because they all wanted to make sure they came into this spring as ready as possible. With the Ducks losing their No. 1 and No. 3 receivers, the tight ends might be looked at more by quarterback
Marcus Mariota
in the passing game. There also is a big push by the offensive line this offseason to become more physical, so they need to be ready to handle serious blocking duties as well.
"We were all pushing each other in the weight room and in conditioning," Mundt said. "We've all put on weight and gotten better and stronger. It's going to be exciting."
"We put in a lot of hard work," Baylis added. "We were making sure we were all at [7-on-7s] and all the extra work, getting in reps with the quarterbacks, lifting in the weight room, just making sure we were ready and would be in good shape to produce as tight ends this season."
Baylis said the biggest difference between the group last season and this spring is mainly in accountability. With another year in the program, every player has matured and is focusing even more than he did last season.
And with each player maturing as an individual, the group as a whole is making strides forward to be a reliable, deeper position group for the Ducks offense.
"We're not accepting mental mistakes and small, little things," Baylis said. "We expect more out of ourselves and our group."
February, 28, 2014
2/28/14
7:00
PM ET
Our look at position groups in the Pac-12 continues.
Arizona:
Terrence Miller
was listed on the team's depth chart as a tight end, but he wasn't a traditional tight end. After catching 40 passes for 467 yards in 2013, he's out of eligibility. Former quarterback
Josh Kern
backed up Miller and is one of four tight ends listed on the roster.
Arizona State:
Chris Coyle
(29 catches, 423 yards, 4 TD) is a big loss for the Sun Devils and his primary backup,
Darwin Rogers
, also is out of eligibility.
De'Marieya Nelson
and
Marcus Washington
are the most experienced of the four tight ends on the roster, which will grow by one with the addition of recent signee
Brendan Landman
. Landman is expected to redshirt after playing left tackle during his senior year in high school.
California:
There is no tight end position in Cal's offense, which was a factor in
Richard Rodgers
' early jump to the NFL. Rodgers was switched from tight end to wide receiver last season upon coach Sonny Dykes' arrival.
Colorado:
Senior
Kyle Slavin
is atop the depth chart after catching nine passes in 2013.
Sean Irwin
played minimally as a freshman, but his role is set to increase. Three other tight ends are on the roster, including
Connor Center
, who did not play football in high school.
[+] Enlarge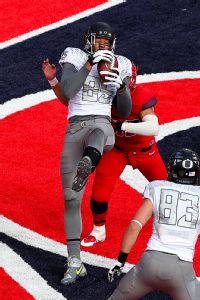 Christian Petersen/Getty ImagesOregon's Pharoah Brown made 10 catches, two for touchdowns, in 2013.
Oregon:
The Ducks have a trio of players who gained significant experience in 2013 in
Pharaoh Brown
,
Johnny Mundt
and
Evan Baylis
. Brown started five games, Mundt had a 121-yard receiving game and Baylis started in the Civil War game against Oregon State.
Koa Ka'ai
and
Davaysia Hagger
will provide depth, but they don't appear on track to make much of an impact on the depth chart.
Oregon State:
With
Connor Hamlett
and
Caleb Smith
both returning, the Beavers arguably have the best tight end tandem in the conference. Hamlett had 40 catches for 364 yards and Smith added 25 for 343 yards.
Kellen Clute
(19 catches, 159 yards) also contributed to the passing game and
Tyler Perry
, who will be a fifth-year senior, is an important run-blocker.
Stanford:
A one-time strength of the Cardinal, tight ends weren't a significant factor in Stanford's offense in 2013, but the staff is hopeful that an influx of new players will change that. Stanford signed No. 1-ranked TE-Y
Dalton Schultz
, and he'll compete for playing time immediately.
Greg Taboada
,
Eric Cotton
and
Austin Hooper
-- all well-regarded tight end recruits -- are coming off redshirts and will compete with
Charlie Hopkins
, who started three games last season.
UCLA:
There is no traditional tight end at UCLA, but Y receiver
Thomas Duarte
, who was recruited as a tight end, is coming off an exceptional freshman season. The 6-foot-3, 221-pound Orange County native appeared in all 13 games and tied a school freshman record with three touchdown receptions.
USC:
Losing
Xavier Grimble
early to the NFL is a blow and just two other scholarship tight ends remain from last season:
Randall Telfer
and
Jalen Cope-Fitzpatrick
. One of the nation's top tight ends,
Bryce Dixon
, signed with USC, but he wasn't among the group of four early enrollees.
Utah:
The Utes were the only school in the country to send two tight ends --
Jake Murphy
and
Anthony Denham
-- to the NFL combine, though Utah listed Denham at receiver.
Siale Fakailoatonga
, a former walk-on, was Murphy's primary backup on the final depth chart, and he caught two passes for 18 yards in 2013.
Harrison Handley
redshirted last season after enrolling early last spring and is a candidate to compete for playing time.
Washington:
John Mackey Award winner
Austin Seferian-Jenkins
' departure for the NFL was expected, and how the Huskies replace him will be an interesting process. Clearly, there's not a one-man solution for what they'll lose with Seferian-Jenkins, but the combination that the returning players provide is a nice mix of different talents.
Michael Hartvigson
and
Josh Perkins
have the most experience at tight end, but they should receive a push from
Darrell Daniels
and
David Ajamu
. Daniels, a highly-regarded receiver recruit who switched to tight end, was a special-teams standout in 2013 as a freshman, while Ajamu redshirted.
Washington State:
Washington State didn't list any tight ends on the roster last season, but early enrollee
Nick Begg
will start his career listed there. The long-term plan for Begg is likely elsewhere.
Previous positions
Quarterback
Running back
Receiver
Offensive line
February, 24, 2014
2/24/14
9:00
AM ET
We're taking a look at a player from each Pac-12 team who could step into the spotlight in 2014.
Spotlight:
TEs
Pharaoh Brown
, Jr. (6-6, 241);
Evan Baylis
, R-So. (6-6, 235);
Johnny Mundt
, So. (6-4, 232)
2013 summary:
This tight end troika combined for 30 receptions for 475 yards and five touchdowns.
[+] Enlarge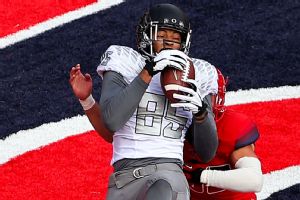 Christian Petersen/Getty ImagesPharaoh Brown, who had 10 receptions for 123 yards in 2013, hopes to get more involved in the Oregon offense in the fall.
The skinny:
Quick: Which Pac-12 team probably has the most talent at tight end heading into 2014? Stanford? Nope. USC? Nope. Oregon State? Well, maybe. The Beavers are pretty stacked at the position, too. But Oregon, which has long had good tight ends -- future NFL players, in fact -- laboring mostly in obscurity, has a dynamic threesome that coach Mark Helfrich and offensive coordinator Scott Frost need to more fully integrate into their offense this spring and fall. All three of these guys are big and athletic. Note the yards per catch: 12.3 for Brown, 17.8 for Baylis and 17.6 for Mundt. Brown started five of the last nine games after missing the first three games with an injury, finishing with 10 catches for 123 yards and two touchdowns. His injury provided the opportunity for Mundt to turn in one of the true "what the heck?" performances of 2013, when the freshman caught five passes for 121 yards and two touchdowns in his starting debut against Tennessee, though his best moment might have been a vicious and effective stiff arm to an SEC defender. He didn't, however, keep up the pace, finishing with 16 receptions for 281 yards and three TDs. Baylis might have been playing the best of the three at season's end, though he finished with just four receptions for 71 yards. QB
Marcus Mariota
's top two passing targets next fall are sure to be receivers
Bralon Addison
and
Keanon Lowe
, but there is no reason the tight end position can't boost the Ducks' offensive diversity with 50 or 60 receptions, not to mention help in the running game in two-tight end sets. Who says you can't use Stanford's "jumbo" formation in an up-tempo offense?
Previous spotlights
January, 24, 2014
1/24/14
9:30
AM ET
Earlier this morning, we took a look at who might replace the guys who jumped to the NFL in the South Division. Here's a look at the North.
Leaving:
Brendan Bigelow
, RB, Cal
The replacement
:
Khalfani Muhammad
and
Daniel Lasco
are both coming back, so there is at least some experience at the position.
Jeffrey Coprich
and
Darren Ervin
could also see some time. Incoming freshman
Devante Downs
is built more like a fullback but could also see some carries in the running game.
Leaving
:
Richard Rodgers
, WR, Cal
The replacement
:
Stephen Anderson
is a possibility to emerge at inside receiver.
Darius Powe
is going to see action regardless of whether it's inside or outside and
Raymond Hudson
,
Jacob Wark
, and
Drake Whitehurst
are all possibilities.
Leaving
:
Khairi Fortt
, LB, Cal
The replacement
:
Nathan Broussard
is coming off an injury and
Raymond Davison
and
Jason Gibson
are moving back to linebacker from safety. Juco transfers
Sam Atoe
and
Jonathon Johnson
could help. Also, Downs (see the Bigelow section) comes in as an athlete, and putting him on the defensive side of the ball is a possibility.
Leaving
:
Kameron Jackson
, CB, Cal
The replacement
:
Darius Allensworth
and
Trey Cheek
will get the most looks.
Cedric Dozier
saw some starting time last season. He's not a lock but has some experience.
Isaac Lapite
,
Adrian Lee
and
Joel Willis
are also possibilities.
Stefan McClure
should also be back from his 2013 injury, and
Cameron Walker
, who was playing out of position at safety, might move back to corner.
Leaving
:
Viliami Moala
, DT, Cal
The replacement
:
Jacobi Hunter
should be the main guy, but transfers Trevor Kelly and
Marcus Manley
should help out across the line.
Austin Clark
is still waiting to hear about his sixth year of eligibility, but if he gets it, he and
Mustafa Jalil
could shuffle up and down the line as they look to replace the graduated
Deandre Coleman
as well.
Leaving
:
Chris McCain
, DE, Cal (Previously dismissed from team)
The replacement
:
Kyle Kragen
and
Puka Lopa
were the top two guys to replace McCain after he left.
Brennan Scarlett
is also expected back and Johnson could be in the mix. The coaching staff seems to be really high on him.
[+] Enlarge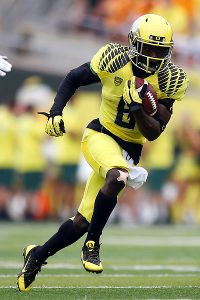 Jonathan Ferrey/Getty ImagesDe'Anthony Thomas' unique set of skills will be hard for Oregon to replicate.
Leaving
:
De'Anthony Thomas
, RB, Oregon
The replacement:
Unless Oregon is hiding another multitalented back who can run like DAT, there is no "real" replacement.
Byron Marshall
and
Thomas Tyner
should continue to get the work as the primary 1-2 punch, but it will be interesting to see if the Ducks use either in a more dynamic way like they did Thomas.
Leaving
: Colt Lyerla, TE, Oregon (Left the team earlier in the season).
The replacement:
Pharaoh Brown
,
Evan Baylis
and
John Mundt
will all continue to get work, probably in that order. They all pitched in in some capacity after Lyerla left the team, so the Ducks should be in good shape at the position.
Leaving
:
Terrance Mitchell
, CB, Oregon
The replacement
: That
Ifo Ekpre-Olomu
opted to return bodes well for the Ducks.
Troy Hill
would have been the obvious selection, but he remains suspended indefinitely, and his future with the program is in question.
Dior Mathis
has experience and the coaching staff is high on redshirt freshman
Chris Seisay
. Juco transfer
Dominique Harrison
enrolled early and will participate in spring ball, so there are options.
Leaving
:
Brandin Cooks
, WR, Oregon State
The replacement
: Much like USC's dilemma with
Marqise Lee
, The Beavers' task of replacing a Biletnikoff winner is no easy one.
Victor Bolden
is the logical choice. He returned kicks, ran a few fly sweeps and was Cooks' immediate backup. But a big wide receiver class last year that included Bolden,
Hunter Jarmon
and
Walter Jones
could make things more interesting in the spring.
Leaving
:
Scott Crichton
, DE, Oregon State
The replacement
:
Lavonte Barnett
was the backup all season but didn't have much production.
Jaswha James
has bounced around a bit -- mostly at linebacker -- but has finally settled at DE and had a nice bowl performance.
Titus Failauga
is also a possibility as Mike Riley went out of his way to specifically mention him during a recent teleconference. There are also rumblings that
Obum Gwacham
-- a talented athlete who hasn't worked out at wide receiver -- could move to defensive end.
Leaving
:
David Yankey
, OL, Stanford
[+] Enlarge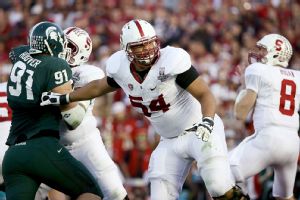 AP Photo/Ben LiebenbergStanford has a lot of offensive linemen with experience, but replacing an All-American such as David Yankey is never easy.
The replacement
: A member of Stanford's lauded offensive line recruiting class of 2012,
Joshua Garnett
has already seen his share of playing time. That's one of the big advantages of being an offensive lineman at Stanford. With their multiple offensive-linemen sets, there is plenty of rotation. Then again, Yankey was a two-time All-American -- it's tough to replace that.
Leaving
:
Cameron Fleming
, OL, Stanford
The replacement
: Like Garnett,
Kyle Murphy
was part of the '12 class and has also seen his share of action on the offensive line. The Cardinal are replacing four offensive linemen, but most of those replacements -- such as Garnett and Murphy -- already have some playing experience.
Leaving
:
Ed Reynolds
, FS, Stanford
The replacement
: Good question. All of Stanford's free safeties are gone, while returning strong safeties include
Jordan Richards
and
Zach Hoffpauir
. Someone could make a switch, or it's possible that former quarterback
Dallas Lloyd
, who is now making the transition to safety, could play here.
Leaving
:
Bishop Sankey
, RB, Washington
The replacement
:
Jesse Callier
started the 2012 season, but a season-ending injury gave rise to Sankey.
Dwayne Washington
seems like he could be an every down-type back, while Callier excels in third-down situations or as a changeup back.
Deontae Cooper
will also see carries.
Leaving
:
Austin Seferian-Jenkins
, TE, Washington
The replacement
:
Joshua Perkins
was the No. 2 all season, so there's little reason to think he won't graduate to No. 1. He's more receiver than blocker, but he's got talent and shouldn't have a problem assuming the role of the outgoing Mackey winner.
December, 19, 2012
12/19/12
5:02
AM ET
The Oregon Ducks never have had the benefit of loading up on local players who grew up dreaming of playing for Oregon. The talent level in the state just isn't there, and it likely never will be. The Ducks always have recruited California as well as can be expected. In recent years, the Ducks also have done a great job of going into states that aren't exactly Oregon pipelines and convincing recruits to join up.

To continue the series of Oregon's recruiting by state, DuckNation examines the success -- or lack thereof -- the Ducks have experienced when recruiting the states of Michigan, Ohio and Pennsylvania over the past decade. There haven't been many, but over the past two years the Ducks flipped two Michigan commits and beat Michigan, Ohio State and others for a third player.

Here is a look at who the Ducks have offered -- and signed -- from the three states over the past decade.
August, 15, 2012
8/15/12
10:00
AM ET
Oregon has been on a recruiting tear in recent years. The recent success of the Ducks has produced the golden age of Oregon football.
The Ducks have always done a masterful job of finding diamonds in the rough and developing talent that was overlooked coming out of high school. In recent years the Ducks have been able to stockpile high-level recruits and develop them the same way they would an obscure walk-on.
A lot was made of Oregon's shift in recruiting philosophy when Chip Kelly took over for Mike Bellotti in 2009. Bellotti built the program up from where longtime coach Rich Brooks had left it. Kelly has taken it to a whole new level.
To continue reading this article you must be an Insider
August, 7, 2012
8/07/12
9:15
AM ET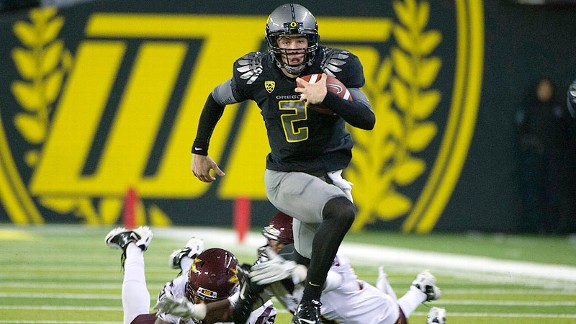 Jim Z. Rider/US PresswireBryan Bennett is battling for the quarterback spot with Marcus Mariota, who had an impressive spring.
Every season comes with roster questions no matter the program. The three-time defending league champion Ducks lost some key pieces after 2011 but there is an abundance of talent waiting in the wings.
Not all of the key position battles involve a departed star, however. There are key returners at every spot on the field. With fall camp kicking off today there are a few key spots up for grabs.
Not being named a starter in Chip Kelly's system is not a dream killer though. Especially on defense, where the Ducks rotate more players than any team in the country.
To continue reading this article you must be an Insider
August, 7, 2012
8/07/12
8:15
AM ET
Oregon starting tight end
Colt Lyerla
was conspicuously absent from Ducks' media day as they opened fall camp on Monday. No specific reason was given for his absence.
Oregon head coach Chip Kelly always plays it close to the vest with injuries and anything else involving his players. He addressed the subject briefly during his time with the media.
"Colt Lyerla has had a terrific summer for us" Kelly said. "He has got a couple of things he's got to take care of and should be at practice shortly, but he's not here today."
Kelly went on to say that Lyerla was excused and that his absence was nothing to be concerned with at this point.
Lyerla is the only scholarship tight end with game experience. Behind him stand a group of talented but unproven athletes.
Former defensive end
Koa Ka'ai
joins walk-ons
Brian Teague
and
Jennings Stewart
as the only other players who have been with the program before Monday.
Freshman
Pharoah Brown
and
Evan Baylis
are elite talents who showed there potential during the first practice of fall camp. Jumbo athlete
Terrence Daniel
is yet another freshman who is not as polished as Brown and Baylis but is an extremely talented athlete that came into camp at 6-foot-6, 249-pounds. It is likely that one of the freshman will see the field no matter Lyerla's situation.
August, 5, 2012
8/05/12
1:21
PM ET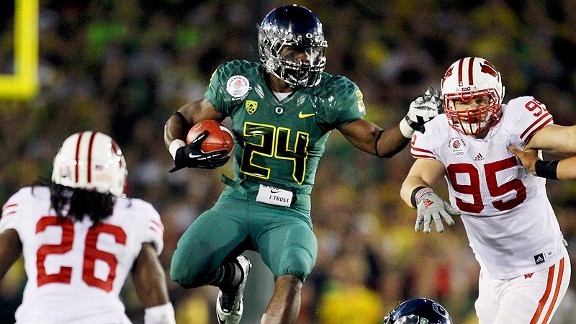 Jeff Gross/Getty ImagesKenjon Barner should get the majority of carries in the backfield this season.
The defending league champion
Oregon Ducks
kick off their quest for a Pac-12 four-peat when fall camp kicks off on Monday. The Ducks won the last two Pac-10 titles and the inaugural Pac-12 title; now they want to be the first back-to-back Pac-12 champions.
When fall camp kicks off there will be many familiar faces and also some notable players missing.
Gone are record-setting quarterback Darron Thomas, all-time leading rusher LaMichael James, team MVP David Paulson, the team's most improved player, Eddie Pleasant, and Rose Bowl Offensive MVP LaVasier Tuinei. How will they replace the departed stars? Who will step up? Is a fourth consecutive league title possible?
To continue reading this article you must be an Insider
June, 29, 2012
6/29/12
10:00
AM ET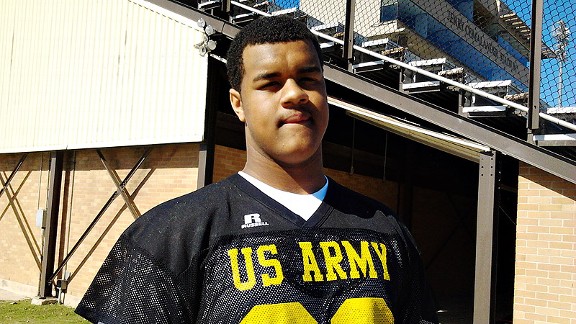 Damon SaylesArik Armstead, at 6-foot-7 and 280 pounds, brings the size and athleticism that will make it nearly impossible to keep him off the field.
By hauling in the
No. 18 recruiting class
in 2012 the Oregon Ducks added more depth, size and skill to an already young and talented roster. The class, heavy on defense and elite skill-position players, could see a number of newcomers make an immediate impact in Eugene.
Most likely to see the field
To continue reading this article you must be an Insider
Pac-12 Teams Can Load Up At WR
PAC-12 SCOREBOARD
Thursday, 9/3
Friday, 9/4
Saturday, 9/5