May, 9, 2014
5/09/14
12:00
PM ET
One of the major items of interest coming out of
this week's Pac-12 meetings in Phoenix
was the possibility of moving the Pac-12 championship game to a neutral site -- specifically the San Francisco 49ers' new home, Levi's Stadium, in Santa Clara, California.
A neutral site would take the pressure off the host institution to prepare for a major event in just six days. It would provide a showcase game in a major population area in a shiny new venue. It would have the potential to become a major event.
That said, it also could feature a lot of empty seats, as the Pac-12 is spread out more than, say, the SEC or Big 12, which use a neutral sites for their championship games. Empty seats do not look good on television.

It also would go against the original justification for the home-host model: It provided an advantage to the team that had the best regular season in the conference. That not only seemed reasonable, and by extension, it also provided protection for the conference's No. 1 seed as it jockeyed for postseason position. That might be even more important with the advent of the College Football Playoff this fall.
Jon Wilner
provides some cogent analysis here
.
Pac-12 coaches and athletic directors seemed intrigued but also skeptical about moving the game to a neutral site, particularly for teams that had short-term visions of hosting the game.
Said USC athletic director Pat Haden: "I think the current model has actually worked pretty well, the home host. I know the CEOs are debating that and discussing that. I don't think any decision has been made. Quite honestly, at USC, we don't mind the home-host model because we think we've got a chance of hosting."
Still, a packed house at sparkling new Levi's Stadium on Dec. 5 would be a pretty compelling image to showcase the nation.
So what do you think?
Do you favor the home-host model or moving the Pac-12 title game to a neutral site?
May, 7, 2014
5/07/14
8:35
PM ET
PHOENIX -- The overriding message coming out of Pac-12 meetings is that major changes in college football governance are now inevitable, even if the details and long-term consequences of those changes remain unclear.

The Big Five conferences will meet in August and almost certainly obtain a new autonomy level within the NCAA structure. At that point, major rules changes, including those that significantly bolster the support and benefits provided to athletes, will start to be formulated. Pac-12 commissioner Larry Scott intimated that things could move fairly quickly thereafter, so his message to conference coaches and athletic directors was basically to buckle up.
"Quickly is a relative concept, but deadlines are good," Scott said. "I think if we get the autonomy that we've asked for, the commissioners will be setting out a very aggressive timetable to put proposals out ... I expect we'll have a very intensive process over the next four months -- September through December -- where practitioners from our campuses are working on different agendas, including those with a deadline of January, specific proposals that can be voted upon by the 65 schools [in the Big Five]."
So "quickly" might mean?
"The goal is to implement whatever changes we're going to implement for the 2015-16 year," Scott said.
Chief among those would be cost of attendance scholarships, which could vary significantly by team and conference. Scott, however, noted that doesn't create a massive change of direction and complication because the pure value of tuition scholarships also vary by team and conference.
What does need to be implemented to prevent any fudging is a clear formula that all 65 schools apply to calculate the new value of their cost of attendance scholarships.
"I don't think it will that big of a deal, but there will be issues to work through in terms of a common method of determining the full cost," Scott said.
There is a significant degree of consensus within the Big Five conferences for adopting the cost of attendance scholarships, and it appears there is unanimity within the Pac-12.
"These are a lot of things that are going to be costly for us but I think are necessary and in line with what I believe we should be doing for our student-athletes," said Washington State athletic director Bill Moos, echoing other conference ADs.
While Scott was unwilling to admit that the Northwestern football union challenge and Ed O'Bannon lawsuit against the NCAA were driving the oncoming changes, he did concede the legal challenges to the NCAA governance structure and the publicity surrounding them weren't too far from administrators' minds.
"Is it some of these external challenges driving it? I would say no. There's been a recognition for some time [about these issues]," Scott said. "But I'd say external pressures bring a helpful focus and helpful push to get these things done."
[+] Enlarge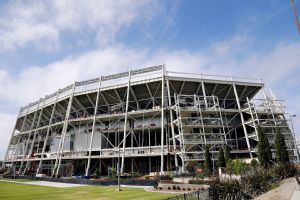 AP Photo/Marcio Jose SanchezLevi's Stadium, the new home of the San Francisco 49ers, could be the new home of the Pac-12 championship game as well.
As for the other major item on the Pac-12 agenda, it was more based on the West Coast: The location of the 2014 Pac-12 championship game. There were earnest discussions over the two days about changing it from a game hosted by the conference's top team to a neutral site, specifically the San Francisco 49ers' new home, Levi's Stadium, in Santa Clara, California.
While the potential move was an intriguing idea, it also isn't a done deal.
"I think there was a lot of positive feeling about it," Scott said. "Some objected. There are some pros and cons."
Said Moos: "Personally, I think [Levi's Stadium] is the way to go."
Said USC athletic director Pat Haden: "I think the current model has actually worked pretty well, the home host. I know the CEOs are debating that and discussing that. I don't think any decision has been made. Quite honestly, at USC, we don't mind the home-host model because we think we've got a chance of hosting."
Shrugged Washington's Scott Woodward: "I'm ambivalent. I trust the league and what they want to do. I have no problem one way or the other."
If the title game is going to be played in the new 49ers stadium on Dec. 5, a decision almost certainly would be announced in June, when the Pac-12 presidents meet.
"If we are going to make the move, it wouldn't be later than that," Scott said.
So it appears that the summer, once a quiet time for college football news, will be anything but that this year.
April, 24, 2014
4/24/14
2:30
PM ET
7's the key number here. Think about it. 7-Elevens. 7 dwarves. 7, man, that's the number. 7 chipmunks twirlin' on a branch, eatin' lots of sunflowers on my uncle's ranch. You know that old children's tale from the sea. It's like you're dreamin' about Gorgonzola cheese when it's clearly Brie time, baby. Step into my office.
March, 28, 2014
3/28/14
2:30
PM ET
December, 6, 2013
12/06/13
5:30
PM ET
Welcome to the mailbag, Pac-12 championship and coaching carousel edition.
Follow the Pac-12 blog on Twitter
.
To the notes.
Elk from Los Angeles writes:
Who's the bigger winner in the coaching carousel, Washington or USC?
Ted Miller
: We have to declare a winner before Chris Petersen even holds his first news conference after replacing new USC coach Steve Sarkisian at Washington?

The only winner we can declare at this moment is the public relations and perception winner, and that is clearly Washington.
Petersen has long been a highly coveted candidate among AQ programs. Many sportswriters reacted with shock today when the news broke that after turning down some many suitors, Petersen was headed to Washington.
Fair to say the general consensus is that Petersen is a home run hire. Further, his track record suggests strongly he is not a climber. If he wins the Rose Bowl in 2017, he doesn't seem like the sort that would, say, jump to Texas.
As for Sarkisian to USC, the general reaction among sportswriters and USC fans was to be underwhelmed. Part of that was the belief that Trojans AD Pat Haden was going to make a home run hire that resonated nationwide -- as in Jon Gruden or Kevin Sumlin.
Sarkisian looked like a strong and legitimate USC candidate on Sept. 29, when Lane Kiffin was fired, but his Huskies immediately dropped three games in a row, and Huskies fans started to grumble.
Sark rebuilt Washington, but he never broke through in the Pac-12 North Division or the national rankings. Sarkisian is a good coach, but he's yet to distinguish himself with a landmark season. Petersen has with two BCS bowl victories and a sparkling 92-12 record.
So at this point, Washington is the clear winner.
Yet keep in mind that being the public relations and perception winner before either has coached a game or even recruited a player will be the least important victory either posts during their respective tenures.
It's all about what comes next, starting with their 2014 recruiting classes.
---
Flannel Beaver from Tacoma, Wash., writes:
I know this has been discussed, but seriously... when will the Pac-12 go to an eight-game conference schedule? I am all for holding the our moral superiority over all other conferences. Do you think the new Playoff Selection Committee will take that into account? Do bowls consider that when looking at options? Do pollsters REALLY consider it? Then why do we continue to do it? How can I as a fan change
Larry Scott
's stance on this?
Ted Miller
: Scott is a Machiavellian, "It's All About the Benjamins" sort. He'd go with eight games if the Pac-12 athletic directors were for it.
A nine-game conference schedule is favored by Pac-12 ADs for two reasons: 1. It means you only have to schedule three nonconference games, therefore less work; 2. An extra Pac-12 game tends to guarantee more ticket sales than a nonconference patsy, something that SEC schools don't worry about.
Once the conference expanded to 12 teams from 10, the nine-game schedule lost the symmetry that provided a true conference champion. But it was retained for the above reasons, even though it damages the conference's place in the national rankings.
The good news is most folk recognize the seriousness of this issue going forward into the four-team College Football Playoff. There will be pressure to level the playing field and have all the major conferences play nine-game schedules, as the Big 12 and Pac-12 currently do.
But if that doesn't happen, then it becomes the CFP selection committee's move. The first time a one-loss SEC team misses out to a one-loss Pac-12/Big 12 team, and the selection committee explains itself by saying, "The SEC choose to play a softer schedule than the Pac-12/Big 12, so that was the final measure that eliminated their team," then you'll see some changing.
In fact, it's too bad we don't have the playoff this year because it would be an interesting process. To me, the four-team playoff would be best served (based on today's records) by having Florida State, Ohio State, the SEC champ and the Pac-12 champ.
Yes, that would mean leaving out Alabama, which I still believe is the best team.
But if that happened because Stanford's/Arizona State's
schedules were dramatically more difficult
, you can bet that the SEC would man-up out of self interest.
---
Craig from Omaha writes:
Lifelong Huskers fan here but enjoy watching Pac-12 football. … My question to you is why is it that the Pac-12 does not play its conference championship game at a neutral site like every other major conference? Is it due to loyal fan bases that are willing to travel? Do they feel there are not adequate facilities to hold such an event? I would have to think of all the venues in Pac-12 country, there would be some place that would fit the bill?
Ted Miller
: The biggest problem with a neutral venue for the Pac-12 title game is the Pac-12 is much more spread out than the SEC, ACC and Big Ten. With just a week to make travel plans, it would be extremely expensive for fans to book flights. In the SEC, just about every fan base is within driving distance to Atlanta, and that's also mostly true in the Big Ten for Indianapolis and the ACC for Charlotte, N.C, though expansion has changed things a bit in that regard. For Texas A&M, it would be a 12-hour haul to drive to Atlanta.
That said, future change isn't off the table. Since the conference expanded, more than a few folks have tossed around the idea of playing the game in Las Vegas, which the Pac-12 blog would be all for, though there's not yet an appropriate stadium to play host. Another option would be rotating the game between major cities.
Truth is, the Pac-12 championship game has done fairly well at home sites -- the game Saturday at Arizona State is pretty close to a sellout. Last year's lackluster fan showing at Stanford was mostly because of torrential rain and a kickoff during Friday rush hour.
And there's something to be said for rewarding the No. 1 team with an advantage.
---

Scott from Homewood, Calif., writes:
I think you are
making the same mistake
as other media members about the Stanford roster. Although the depth chart lists several players as seniors, they are in eligibility only redshirt juniors because they list by academic class instead of eligibility. Guys like Tarpley,
Henry Anderson
, Parry, Reynolds, Fleming, Yankey are listed on the depth chart as seniors but all have a year left. Although Yankey likely will leave early, the others will most likely be back or have the option to come back. In reality, only four offensive starters are seniors and only three defensive starters are seniors. Jon Wilner has posted twice about this issue and I just wanted to spread the word.
Ted Miller
: I understand your point, but I use a depth chart that has both years.
The players Stanford loses on offense: OG
David Yankey
, C
Khalil Wilkes
, OG
Kevin Danser
, RB
Tyler Gaffney
, RB
Anthony Wilkerson
and FB
Ryan Hewitt
.
Players Stanford loses on defense: OLB
Trent Murphy
, LB
Shayne Skov
, DE
Ben Gardner
and DE
Josh Mauro
.
The Cardinal will again be in the thick of the Pac-12 North Division race in 2014, without question. But those are some big hits to the starting lineup.
---

Brian from Bend, Ore., writes:
Any reflection on why Marcus Mariota has been completely overlooked for QB awards and the Heisman? It seems that no one west of the Mississippi is allowed to lose games. He still has really good stats, was No. 1 in Total QBR until the Arizona game and is morally superior to any other NCAA player. Is this not the embodiment of the Heisman?
Ted Miller
: The bottom line is Oregon lost two of its final four games and Mariota didn't play well at Stanford, the Ducks' marquee national game of the season.
Further, when you remove
Jameis Winston
's off-field issues, as was done this week, the Florida State QB is a clear No. 1 at the position, while
Johnny Manziel
has been a force of nature for two seasons, and
AJ McCarron
has led one of the most successful runs in college football history.
I'm not saying I agree with all of that as a reason to demote Mariota. But that's what happened from a national perspective.
November, 4, 2013
11/04/13
9:00
AM ET
If you don't like where you are in the Power Rankings, play better.
Click here for
last week's Power Rankings
.

1. Oregon
: The Ducks get the national stage Thursday night to make clear their national title candidacy. Or not.
2. Stanford
: The Cardinal get the national stage Thursday night to make clear that the Pac-12 belongs to the less flashy team in the North Division. Or not.
3. Arizona State
: The Sun Devils brought their A-game on the road to Washington State, particularly QB
Taylor Kelly
. Now can they do the same on Saturday at Utah, a wounded team that is coming off a bye week and looking to make a South Division statement?
4. UCLA
: It was far from perfect, but the Bruins took care of business against Colorado. The final four games, starting Saturday with a tricky visit to Arizona in a key South clash, will provide a chance for UCLA to climb into the top 10 and take control of the South Division. Or something more mediocre than that.
5. USC
: Knock, knock. Who's there? USC. USC who?! US-see, we're pretty darn OK when we care and have a good plan! I bet there are more than a few folks who aren't USC fans, at least those who don't wear powder blue, who are enjoying the Trojans' elevated level of play under Ed Orgeron. What if that is less about Lane Kiffin being gone and more about Coach O being in charge? And if the Trojans win out? "Hmm," says athletic director Pat Haden. At the very least, USC's next coach should make an effort to retain Orgeron.
6. Arizona
: The Wildcats have established that they are a solid team, maybe even pretty good. UCLA's visit on Saturday could significantly elevate that perception. A win would make Arizona a South contender and a Top 25 team.
7. Washington
: The Huskies should beat Colorado in Husky Stadium on Saturday and become bowl eligible, though this team shouldn't take anything for granted (see the Buffaloes' early effort versus UCLA). Then they must win at least two of the final three games to make the case that this was a successful season. The catch? That will require a road win at UCLA or Oregon State.
8. Oregon State
: After consecutive losses at home to Stanford and USC, the peanut gallery has adopted a fair tweak: "The Beavers weren't any good. They just had an easy schedule over the first seven games." The only way to defeat that take is to win two of the final three games, which won't be easy. The Beavers have a bye in which to get healthy and refocused before heading to Arizona State on Nov. 16.
9. Utah
: This is Utah's
BIG
weekend. The Utes had a week off to get healthy (
Travis Wilson
's throwing hand!), refocus and game plan for surging Arizona State. The MUSS also should be well-rested and properly annoyed so as to make Arizona State, traditionally a bad team on the road, uncomfortable. A win would be transformative for bowl possibilities, as well as Pac-12 prestige.
10. Washington State
: A third consecutive blowout loss, albeit against a tough slate,
has some grumbling in Pullman
. Where's our Mike Leach magic that we were promised? The Cougars are off this week, and they need to win two of their final three games to become bowl eligible. Won't be easy.
11. Colorado
: Colorado showed some fight against UCLA, but it couldn't keep up with
Brett Hundley
and company. Fair to say bowl chances are extremely remote -- the Buffs would have to win out. A visit to Washington is next, but the home game against California is the most likely chance to pick up a Pac-12 victory this season.
12. California
: Cal hung with Arizona for four quarters, repeatedly fighting back when the Wildcats seemed to be taking charge. The defense played better. The offense scored its most points (28) since Sept. 14 versus Ohio State (34). So there's that. The Bears host surging USC on Saturday, though the visit to Colorado on Nov. 16 looms as the season's biggest game -- the one that determines the bottom of the conference.
October, 21, 2013
10/21/13
5:00
AM ET
1. We are fooled easily in the excitement of the moment. Yet Florida State so dominated at Clemson that the 51-14 victory will be one of the seminal moments of the season. It will mark the emergence of redshirt freshman quarterback
Jameis Winston
in prime time, literally and otherwise. As good as Winston played, the Florida State defense played better. The Seminoles are back, and what better time? The university that dumped Hall of Fame head coach Bobby Bowden four years ago will honor him this Saturday.
2. The one complaint against the makeup of the College Football Playoff Selection Committee that has merit is that West Virginia athletic director Oliver Luck, at age 53, is the youngest member. It makes sense that the commissioners wanted gravitas on the committee, and with the presence of members such as Tom Osborne, Mike Tranghese and Pat Haden, they have it. But they made room for a woman and a retired sportswriter. However hard they searched for a member under 40, they should have looked again.
3. The old protocols are butting heads with the new spread offenses, and everyone is groping for the right way to act. Should the offense throw when it's way ahead? Baylor is averaging 64.7 points per game, and judging by the Bears' No. 8 ranking, no one is holding that against them. Should the offense throw if it's way behind? Oregon defensive coordinator Nick Aliotti ripped Washington State head coach Mike Leach for throwing 89 times, then apologized last night. No one knows what the rules should be any more.
September, 30, 2013
9/30/13
11:00
AM ET
Taking stock of Week 5 in the Pac-12.
Team of the week
: Arizona State's home victory over USC was an announcement to the rest of the country that the Sun Devils deserve to be ranked, and the country responded by putting ASU back in the Top 25 at No. 22. More important than national perception, however, is that the Sun Devils didn't fall to 0-2 in conference play, which would have been devastating for the team's season-long goals. They picked up a South Division win and are still in control of their destiny in the division. One last nonconference game next week against Notre Dame and then it's all league games the rest of the way -- including a pivotal Oct. 19 game against Washington and the all-important No. 23 game at UCLA.
Best game
: In a week where the average margin of victory was 29 points in the five games, the "closest" was Washington's 18-point victory over visiting Arizona. But there was a sense Washington was in control all 60 minutes. Oregon was fun to watch simply for the fact that not even Mother Nature could play defense against the Ducks. Stanford was fun to watch because the Cardinal looked explosive. Oregon State was fun to watch because it was a complete performance. But the ASU-USC game probably had the most drama. We had an idea of what was at stake, and even when USC cut it to 48-34 with 9:54 left in the game, there was still that lingering thought that maybe it wasn't over. Of course, ASU scored two more touchdowns to put it away. And the end result was Lane Kiffin's dismissal.
[+] Enlarge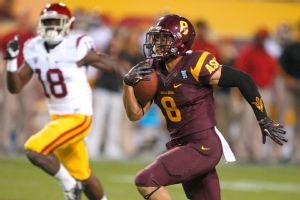 AP Photo/Rick ScuteriD.J. Foster played a part in Arizona State's offensive explosion against USC.
Biggest play
: After USC took a 21-20 lead in the opening minute of the second half, the Sun Devils responded 21 seconds later with a 74-yard touchdown from
Taylor Kelly
to
D.J. Foster
. But that wasn't the biggest play. On USC's next series, less than a minute later,
Alden Darby
jumped a
Cody Kessler
pass and returned it 46 yards for a score, giving the Sun Devils a 34-21 lead less than two minutes into the third quarter. He had two picks on the day, and the pick-six was a massive momentum swing, and it happened while Pat Haden and USC decision-makers were huddling to decide Kiffin's future.
Offensive standout
: Tough to ignore the kind of numbers
Sean Mannion
is putting up. After matching a school record two weeks ago at Utah with five touchdown passes, he surpassed the record by throwing for six touchdowns and 414 yards in the blowout win over Colorado. He did have an interception, but only because his receiver's hands and chest got in the way and it was tipped in the air. Mannion now has 21 touchdowns on the year to just two picks.
Defensive standout
: Has to be Darby, who totaled seven tackles to go with his two interceptions and a fumble recovery. Defensive standout 1B goes to Stanford's
Trent Murphy
. Is there any outside linebacker with better hands? Or does he only show them off at CenturyLink Field? Saturday he intercepted a point-blank pass in the backfield from
Austin Apodaca
and returned it 30 yards for a touchdown. If that looked familiar, he did the same thing last year at the CLink against Washington.
Special teams standout:
With four games in the Pacific Northwest Saturday, weather was dominant storyline when it came to special teams. We saw numerous fumbles, bad snaps and weather-induced wackiness. But there was nothing wacky about Oregon's
Bralon Addison
, who returned two punts for touchdowns. The first was a 75-yard return in the second quarter that was pure sideline speed. The second, a 67-yard return, required a little more dancing and cutting -- and avoiding being knocked down by his teammate before the play even got started.
Smiley face:
The Pac-12 once again has five teams ranked in the Top 25 in both polls with ASU's victory over USC. And Oregon State is receiving votes in the coaches poll.
Frowny face:
Injuries always get a frowny face -- and Saturday saw two of the league's superstars go down with injuries. Oregon's De'Anthony Thomas was injured on the kickoff and didn't return. And USC wide receiver
Marqise Lee
suffered a knee injury that hopefully looked worse than it really is.
Thought of the week:
The Beavers are back, sort of. Oregon State finally strung together a game where its defense matched the offense. And Colorado is a much-improved team from last season. Are the Buffs bowl bound? Probably not. But they aren't the Buffs of last year, which gives a little credence to Oregon State's dominating performance. The initial thought was that the Beavers would be 7-0 or 6-1 heading into their Oct. 26 showdown with Stanford. And they might still be (though Washington State isn't going to make it easy). Not suggesting you go all-in on the Beavers. Remember, they are only a week removed from a miraculous win over San Diego State. But don't sell just yet, either.
Question of the week
: The Trojans have a bye week to patch holes and put "Operation: Changing Lanes" in action. Do they look to an NFL name or a college name? UCLA is showing that a former NFL coach can have success in Los Angeles, even if he's not an alumnus. USC is an attractive gig, and you can bet there were a lot of back-channel phone calls going out over the past 72 hours.
September, 9, 2013
9/09/13
5:00
AM ET
1. Loyalty is an admirable quality. Loyalty to a fault will get you in trouble. In Manny Diaz's first two seasons as defensive coordinator at Texas, the Longhorns lost games by the score of 55-17, 48-24, 48-45, and 63-21. They won one, 56-50. Texas head coach Mack Brown stuck with Diaz. On Saturday night, the Longhorns lost at BYU, 40-21, allowing 550 rushing yards. Brown fired Diaz on Sunday. If that solves the Longhorns' issues, Brown will be fine. But by sticking with Diaz, Brown used up a lot of goodwill.
2. That said, USC athletic director Pat Haden is not in the same predicament as Brown. When Haden gave Trojans coach Lane Kiffin a preseason vote of confidence, he well may have meant it. It was interpreted, however, as campaign rhetoric, something Haden had to say. Haden didn't hire Kiffin, so he doesn't own him -- yet. USC's 10-7 loss at home to Washington State on Saturday night puts Kiffin in a deep hole. He can still dig out. But he needs a quarterback, not a shovel.
3. Oregon freshman tailback
Thomas Tyner
made his collegiate debut Saturday. The high school All-American rushed four times for 51 yards, including touchdowns of 3 and 31 yards, in the mop-up fourth quarter of the Ducks' 59-10 victory at Virginia. "I've wanted to play for the Ducks for the majority of my childhood," Tyner said, wearing a permagrin. "My first carry being a touchdown, everything just lights up inside of you. Words can't even explain how exciting it is. Today has been awesome."
Leaders emerging at Oregon
PAC-12 SCOREBOARD
Thursday, 9/3
Friday, 9/4
Saturday, 9/5