Oregon Ducks:

Northwestern Wildcats
March, 28, 2014
3/28/14
6:30
PM ET
Welcome to the mailbag. We're grilling up some steaks and the bar is open.
Follow the Pac-12 blog on Twitter
. Please.
To the notes!
Sam from Portland writes:
Ted, what's your view on the unionization of the Northwestern football team? Personally, I think the whole issue is junk. As a Pac-12 university graduate, I get insulted every time I hear college athletes say they're slaves and that they don't get anything. I had to pay $24,000 per year for what they get for free: a degree and the attendant costs. Not only that, they get admiration and to do what they love while getting this stuff for free. These athletes point to their hours. Well, I was in the marching band and spent 30 hours a week on that as well as focusing on REAL college courses with real coursework. I didn't get a scholarship. I didn't get the massive admiration. I didn't get the shot at making the NFL. There's no Internet blog with 2.5 authors dedicated to the hard work I put in to my performances. Let's face it: Even at the small schools, the scholarship athletes get a TON more than regular students, and they get it for free. I'm not going to be dense here. I understand that the NCAA is making serious money off the hard work of the athletes, and there is a good argument that they deserve some direct monetary compensation, but the need for a union? Why should these athletes be coddled when the rest of the students pay millions (together, not apiece) just for the chance at getting a small portion of what these athletes get for free?
[+] Enlarge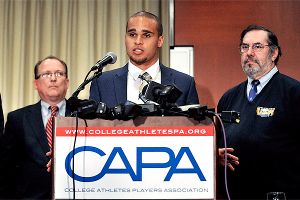 AP Photo/Paul BeatyKain Colter's attempt to unionize the Northwestern football team could be a significant development in how colleges treat scholarship athletes.
Brandon from Seal Beach, Calif., writes:
I appreciate the concern and well-being of college athletes, but when did this entitlement idea come into play that they deserve additional compensation? Sure, the NCAA and universities make boat-loads of money off of the athletes posing to be students, but demanding additional compensation is akin to me calling up my CEO and demanding he split the company profits with me. If they don't want to risk injury, don't feel like the scholarship, minimal stipend, and various perks being a Div. I scholar athlete bring about, there is absolutely nothing stopping them from pursuing other avenues. I don't know -- maybe I'm in the minority, but I think this is a slippery slope we're traversing.
Ted Miller
: We live in interesting college football times.
The biggest takeaway for me from the Northwestern union and Ed O'Bannon vs. NCAA cases is that college football is going to continue to change in many ways over the next decade. Just as conference realignment and the advent of the College Football Playoff dominated the discussion the past few years, the debate on how we should properly compensate and support college athletes will consume us in the years ahead.
What we have is an asset -- big-time college football -- that is very popular and therefore very valuable. That value, however, has been monetized over the past quarter-century in a way that disproportionately benefits management -- coaches, athletic administrators and the NCAA -- and external businesses -- television, merchandisers, athletic apparel companies, etc. The athletes -- labor! -- have not seen their benefits and compensation increase.
Ergo, we have an argument that is typical across many commercial enterprises in this country. When many folks say they love free markets, what they mean is they love a market that they control, one in which they make the rules, which -- surprise, surprise -- makes it easier for them to make money. When folks say that market forces allow FBS head coaches make $5 million a year, why don't they also nod when market forces motivate a would-be agent to give Reggie Bush's family a house rent-free?
Of course, it's against the rules, rules that -- coincidentally -- were made by and/or benefit the folks who are getting rich off college sports.
Now, I'm not an extremist on this by any means. One of my pet peeves is when fans, athletes or sports writers discount the value of a college scholarship. If you are presently paying for a child to go to college, you know full well that athletes already are well-compensated.
But this does touch on a long-debated solution that I expect to happen in the next couple of years: Athletic scholarships covering the full cost of attendance. While that expense will further separate the haves and the have-nots in college sports, that seems to be an inexorable trend in any event. The programs banking big bucks in the power conferences need to find a way to share their wealth.
A complication? We don't know what this might mean for non-revenue sports. Title IX prevents programs from giving more money to male athletes in revenue sports compared to female athletes. If the cost of scholarships increase across the board, you will see a lot of programs cutting sports, most likely men's non-revenue sports.
There are plenty of other things the NCAA and college athletic departments can do, from lifetime disability coverage for injuries to figuring out creative ways to allow athletes to pocket some of the revenue they are playing a major role in creating. I think Sports Illustrated's Andy Staples does a
nice job here of laying things out
with the Northwestern-union case and Ed O'Bannon lawsuit against the NCAA.
Now I don't want to ignore the points of Sam and Brandon from above.
Unions? That could get complicated. But, first of all, I'm skeptical that we'll get to a point anytime soon in which college athletes unionize. The cumulative effect here, to me, is going to be forcing the NCAA and the major conferences to institute reforms to placate revenue-producing athletes so they don't continue to pursue legal action.
Sam, the reason college athletes get coddled is they have a highly valuable skill. You mention you were in the band. If you, say, happened to cut two gold records while you were in high school, I'd bet you would have gotten a scholarship to your Pac-12 school. Colleges love really talented folks. Not that you aren't talented. You, after all, read the Pac-12 Blog.
Brandon goes with the "there is absolutely nothing stopping them from pursuing other avenues" argument if they don't like the current system. Actually, when it comes to football, there really isn't another route to the professional ranks. What percentage of NFL players didn't play college football?
Brandon also notes that "demanding additional compensation is akin to me calling up my CEO and demanding he split the company profits with me." Well, if you have leverage and high value, go to your CEO and ask for a raise. That's the free market.
What these college football players are doing at Northwestern is quintessentially American. They are exercising leverage in our social and commercial systems.
I'm proud of them.
---
Keith from Teutopolis, Ill., writes:
Pro days. What's the big deal? I'm confused by all the fawning over Johnny Football's pro day and by the criticisms of Teddy Bridgewater's. Scouts have dozens of hours of real game action to look at. How or why does a QB's draft stock skyrocket or plunge based on an hour of throwing a football in a controlled environment?
Ted Miller
: Keith, I wouldn't get bogged down in the gushing.
Most of what you hear from NFL folks this time of year is misdirection. If an NFL scout with a top-10 pick really wants to draft
Johnny Manziel
, he's probably whispering to a reporter off the record that Manziel has a hitch in his throwing motion that means he'll average 25 interceptions a year before running off to Tahiti with a flamenco dancer.
I was at the Senior Bowl one time listening to a scout gush about a player I had covered who I didn't think much of. When he finished, I went, "Really?"
He took a sip of his beer, grinned and slurred, "Maybe."
---

Sonoran Coug from the Desert writes:
Ted, I want to let you in on some information. Washington State is going to win the Pac-12 North. How? WSU is poised to put up big numbers in 2014; the Pac-12 North lays down nicely for an awakening WSU program. The no 'natty' Diva Squad plays in Pullman this year, Stanford's roster resembles their fan base, and there is a quarterback-less Washington. And while we are on the subject of Washington, ARE YOU KIDDING!! New quarterback, new running back, new offensive and defensive coaching staff. My mouth is watering for apples as I write this. Or are you and Kevin going to fall for the new coach trick again, so shiny, so new? We here in Coug Nation don't dwell on the past. P12 North results 2014: 1. WSU; 2. OSU; 3. Oregon; 4. Stanford; 5. Washington; 6. California.
Ted Miller
: The "No 'Natty Diva Squad" is going to be the name of Kevin and my new band. (We're sort of a Men Without Hats/Iron Butterfly fusion with a hip-hop component).
As for the Cougs… well, maybe. Stranger things have happened.
Who saw the Cougars coming in 1997?
I was at the 2000 Apple Cup -- brrr -- when the Washington brutalized Washington State 51-3. The Huskies went on to win the Rose Bowl and the Cougars finished 4-7.
The next year, the Cougs began a run of three consecutive 10-win seasons.
As for next year, the passing game should be strong with senior QB
Connor Halliday
and a deep crew of receivers. The 2014 schedule also is favorable with just five road games, no UCLA and Oregon, and USC and Washington both coming to Pullman.
But what holds back my Coug optimism is the O-line and secondary. Need to see how that all fits together.
Finally, you well know that we won't fall for the "shiny new coach trick" any more than we would fall for the banana in the tailpipe.
Ohhh… but Chris Petersen is so… shiny!
---
Blake from Mesa, Ariz., writes:
I don't know how you guys can continue to post poll questions. You must know that no matter the topic, the winner is going to be Oregon. As an Oregon fan myself, I find this comical but also annoying. Maybe for the next poll you can state in your post that the winner is Oregon and that the poll is to see who the fans think is No. 2.
Ted Miller
: Oregon fans do mobilize for their team, and they do seem to vote for the Ducks whether they actually believe they merit the vote or not.
Yet the Pac-12 blog will continue to maintain its absolute neutrality and allow market forces to prevail without instituting arbitrary regulations.
March, 22, 2014
3/22/14
9:15
PM ET
MARIETTA, Ga. -- The Nike SPARQ combines have grown with each passing year, and on Saturday there was a record turnout. If the 1,993 prospects who attended weren't impressive enough, the performances by several top prospects who came to compete certainly left spectators turning heads.
Here is a rundown of some of the event's top performers.
ESPN Junior 300 running back Taj Griffin posted one of the top SPARQ scores of the day. Griffin checked in at 5-foot-10, 174-pounds, ran a 4.41 40-yard dash and a 4.35 shuttle, had a 46-inch vertical leap and a 36-foot power ball toss for a combined score of 124.29. On the recruiting front, Oregon, Clemson, Florida State, Ohio State and Tennessee continue to stand out the most.



2015 RB Taj Griffin @tg__7 with the highest SPARQ score of the day in Atlanta. pic.twitter.com/SaY2QZLPrE

— Gerry Hamilton (@HamiltonESPN) March 22, 2014

No. 3 junior offensive tackle Chuma Edoga posted an impressive score of 94.65. After measuring at 6-4 and weighing 276 pounds, Edoga ripped off a 5.01 40-yard dash, a terrific 4.69 shuttle and had a 33.8-inch vertical jump and 37-foot power ball throw. Following his impressive effort, he said his top four schools in order are Tennessee, Southern California, Georgia and Stanford with a decision likely on May 25, his birthday. The big news might have been that he currently prefers the Volunteers, but his mother is in the corner of the Bulldogs and Cardinal.
No. 252 prospect C.J. Sanders made the trip and did not disappoint. He checked in at 5-9 and 176 pounds, ran a 4.57 40-yard dash, had a blazing 4.09 shuttle run, leaped 36.5 inches and tossed the power ball 41 feet. On the recruiting front, USC, Notre Dame and Georgia are the latest to offer, joining Duke, Northwestern, Stanford, Tennessee, Vanderbilt, Mississippi State and Ole Miss. He visited USC last week, and lists Reggie Bush as his childhood idol. Sanders is the son of former Ohio State and NFL wide receiver Chris Sanders. His mom played basketball at Michigan. He reports his family favors Duke and USC early on with a decision slated for the summer.
Ben Cleveland is already considered one of the top offensive line prospects in the country, and the 6-7, 317-pounder showed why Saturday. He clocked a very impressive 5.22 40-yard dash and 4.87 shuttle, and had a 25.8-inch vertical leap and 41.5-foot power ball throw for a score of 99.78. He has offers from Georgia, Clemson, Florida, South Carolina and Texas with Alabama expected in the near future. He made an unofficial visit to Clemson two weeks ago.
Class of 2016 prospect
Class of 2015 running back Jaylen Burgess posted a 118.44. The 5-10, 214-pounder ran a 4.66 40-yard dash and a 4.38 shuttle, and had a 36.7-inch vertical leap and 42.5 power ball throw. He is receiving interest from Tennessee, Vanderbilt, Clemson, Duke and a number of other ACC schools. Duke and Tennessee are the coaching staffs Burgess talks to the most. He posted more than 1,500 all-purpose yards as a junior.
Class of 2016 linebacker and defensive end Charles Wiley checked in at 6-3, 203 pounds. He clocked a 4.68 40-yard dash and 4.45 shuttle, and also leaped 35 inches and threw the power ball 34.5 feet. He has an early offer from Virginia Tech.
Class of 2015 athlete Jeremiah Mercer is flying completely under the recruiting radar. While he had to sit out the 2013 season due to transfer rules, he made his mark Saturday posting a score of 97.47. The 5-11, 163-pound running back and wide receiver ripped off a 4.48 40-yard dash and 4.18 shuttle, and added a 36.2-vertical leap and 31-foot power ball toss. He is receiving interest from Vanderbilt and Mississippi State and lists Florida State as his dream school.
Class of 2016 inside linebacker Tyler Reed posted a very impressive score of 104.91. After measuring 6-2, 234 pounds, Reed ran a 4.96 40-yard dash and 4.59 shuttle, and had a 35.5-inch vertical leap and 41-foot power ball throw. He recorded 130 tackles as a sophomore.
Class of 2015 running back Eric Montgomery posted a 115.47, one of the day's top scores. The tailback checked in at 5-11, 185 pounds, ran a 4.46 40-yard dash and a 4.19 shuttle, and jumped 36 inches and threw the power ball 38 feet. On the recruiting front, Kentucky, Cincinnati, Ole Miss and Mississippi State, among others, are showing interest.
September, 20, 2013
9/20/13
5:30
PM ET
Welcome to the week 4 mailbag. It will be done in sanskrit.
Follow the Pac-12 blog on Twitter
. It's this new Internet thing that just might work out.
To the notes!
Scott from Norfolk, Va., writes:
Todd Graham really does seem like a great fit at ASU and he really did seem to bring about a very positive and much-needed cultural overhaul to the program. That said, doesn't his
contract extension
and raise seem a little premature? He's great so far, but "so far" is only 15 games, in which he's 10-5. Dennis Erickson was 12-3 in his first 15 games. I have to imaging this increases Graham's buyout (though I haven't seen direct mention of it, perhaps you can inform us as to whether that's true?), so isn't ASU unnecessarily limiting its options down the road here? Or am I overreacting and this is par for the course (and it's only fair that if coaches are now getting fired after two years they should also get raises on the same time scale)?
Ted Miller
: I see this as a renewal of vows, Arizona State and Graham making it clear to everyone they are happy -- at present -- with each other (and let's also note the same can be said for AD Steve Patterson, whose contract was also extended).
Of course, we all know college contracts often end up getting broken, one way or another. A coach can leave for a big-money job, at which point the new school often picks up the buyout tab, or boosters can get so worked up about a surprising downturn that the school decides to eat the contract and move on. And, yes, sometimes extensions bite a school in the butt -- see Colorado with Dan Hawkins and Iowa with Kirk Ferentz, two coaches who got big-money extensions that proved too expensive to buy out when things went south.
This new contract isn't a big risk for either party. Graham's current contract runs through 2016, this new one runs through 2018. He wasn't given a 10-year deal that could expose Arizona State should the Sun Devils start losing two years from now. As for Graham,
his buyout of $1.5 million isn't terribly big
. Chip Kelly's buyout at Oregon was $3.5 million.
Another interesting detail, though, is Graham is forbidden from taking a Pac-12 job through the life of the former contract. If I were a Pac-12 AD, I 'd always try to get that written into a head coach's contract. It's a good way to protect program secrets. Not saying any Pac-12 program would ever have any.
But, yes, if Texas wanted to hire Graham, it could easily handle the buyout, even though this extension is intended to prevent Graham's name from getting aggressively thrown into the rumor mill.
Why now? Well, you might have noticed the rumor mill already is starting to grind. From the ASU perspective, just about everything Graham has done thus far with the Sun Devils has been positive, and that's not just about winning.
Kevin, as you know,
spent a lot of time with Graham and his staff last week
. I think the picture he paints is of a highly functioning coaching staff with a strong, driven, organized leader running the show.
I know media members aren't allowed to write nice things about Graham. Kevin's and my problem is we actually have spent enough time with him to actually know what we are talking -- and writing -- about.
---
Sam from Sammamish, Wash., writes:
I am noticing some chippiness of late between long-time conference allies, the Pac-12 and the Big Ten. Here is a link to a story about Sark thinking on
the fly about where to practice on Friday prior to the game in Chicago
. What the story neglects to mention is Northwestern University decided to deny UW access to its practice fields less than 24 hours prior to arrival because it would give their Big Ten brethren Illinois an unfair disadvantage. Add this questionable gesture or lack thereof to the Wisconsin/ASU officiating debacle and methinks there may be some outright animosity building up?
Ted Miller
: The Rose Bowl conferences are business partners, but that doesn't mean they aren't rivals who desperately want to win and claim superiority. That sometimes involves gamesmanship, which is what it appears Northwestern did in this instance.
Here's what coach Steve Sarkisian
said on the matter
:
"It's an unfortunate situation. I don't think there's a whole lot of love lost right now between the Big Ten and Pac-12 right now, quite honestly, especially after the Arizona State-Wisconsin game. So it is what it is. Pat Fitzgerald and I exchanged some comments, and we're fine. I don't know where it's going to go from a conference level. It was unfortunate, but in the end, I think it was a positive. It just kept lending to, there's no distractions for us on this team. If we have to walk through the streets of Chicago to a park in downtown Chicago with a light pole in the middle of the field to practice, we'll do it. And our guys didn't skip a beat. It actually worked out really well for us. It's not a big deal for us anymore. We've moved on."
Oh, well. I've got a really high regard for Fitzgerald, so he gets a pass from me. Sark and Huskies fans might feel differently.
The bottom line is Washington beat Illinois 34-24 and the Pac-12 is 3-2 versus the Big Ten. So pffft to our friends from the Midwest.
---
Bill from Portland writes:
What are the odds of USC and Texas meeting in the Holiday Bowl, and if they did, would those be some of the hottest hot seats in college football? P.S. How crazy is it that in the same year it is a good possibility that USC, Texas and Nebraska may be looking for new coaches at the same time?
Ted Miller
: Those certainly are some A-list jobs that might open up by season's end. Suffice it to say, there's already plenty of chatter about how those potential openings might go.
It's certainly not that long of a shot that the Trojans and Longhorns could play in the Holiday Bowl -- or the Alamo Bowl for that matter -- for the first time since their epic national title game after the 2005 season, albeit in far different circumstances. Of course, both teams will need to climb a bit in their respective conference's pecking order to make it happen, particularly 1-2 Texas.
That said, I'm not sure either team would embrace the idea, though both would like an invitation to a quality bowl game. After all, the theme of most advance stories would be: Look how the mighty have fallen!
---
Lee from Ripon, Wisconsin writes:
You are so incredibly stupid it is beyond belief.
To compare a judgment call (pass interference) with a failure of the game officials to call a play by the rules defies basic logic
. Of course basic logic is obviously beyond you. But when you make statements that are factually incorrect, you really display your stupidity. The Pac-12 is the only major conference that uses officials from its league for home nonconference games. The other conferences have the game officials in essence travel with the visiting team. The game officials that worked the ASU at Wisconsin game in 2010 were from the Pac-12. The referee was the same individual who worked the Ohio State at Cal game Saturday night. It was NOT a Big Ten official who missed the pass interference call that you are basing your fallacious argument on; it was a Pac-12 official. If you weren't so fricking lazy you would have checked this out prior to making a factually incorrect statement; it is called research. I will be sending this email to the president of ESPN and suggest that they fire your sorry butt. An individual too fricking lazy to do basic research and as a result base an "argument" (what you stated doesn't meet the definition of a sound argument, but obviously the explanation of what qualifies as a sound argument is way beyond your severely limited mental capacity) isn't qualified to be a sports reporter. You aren't even qualified to be a dog catcher, or a member of the Bush cabinet. Hell, you aren't even qualified to be a Pac-12 football game official.
Ted Miller
: Thank you for your interest in the Pac-12 blog. We value your input. Please press one for customer service, two for new accounts ...
Lee, you are correct. I am stupid and lazy. That has never been so clear until this week when many Wisconsin fans showed up to help become smarter-er. But, to be honest, your world of Badger sophistication frightens and confuses me. I read "factually incorrect" and I want to bury my face into my blankie. I read "fricking lazy" and "research" and I want to know, "Where did these highfalutin concepts get created...
The Kollege Klub
?"
But there is one thing I
do
know.
That referee
Bill LeMonnier
led a
Big Ten crew on Sept. 18, 2010 inside Camp Randall Stadium
for Arizona State's visit to Wisconsin.
I guess I'm just lucky my computer is connected to the Internet-S.
---
Don from Palo Alto, Calif., writes:
Ted --Please pass this on to Kevin -- seems every time I try and click on "send email to Kevin" it displays your smiling face. Is this part of your evil scheme?I wanted to commend Kevin on his very fine profile of Todd Graham. It was well written, informative and unflinching. As a Stanford fan, and Stanford having not played ASU since 2010, I had kind of lost track of the program (although certainly the Graham hire made news). So with the game coming up this week, it was time to get into Graham and the program a bit, and Kevin's piece filled out everything very nicely. Pac-12 blog rocks!
Ted Miller
: I have many evil schemes. This is not one of them, though now I'm sort of wishing it were. A guy can never have too many evil schemes, right?
Yet just two seconds ago, I was gazing at Kevin's Clooney-esque mug.
Did you click here
? There are two places to send your Pac-12 mail, one to me and one to Kevin.
Typically, if you are angry and want to insult us, those notes should go to Kevin. If you want to write how great the Pac-12 blog is, those notes go to me.
---
Jesse from Portland writes:
I know of your long gripe with the word, "Natty." However, an Oregon player first invented that word. And since it has gone global in it's usage, though originating in Oregon, we claim that word. If you actually took the time to visit every single sports forum and blog, you would quickly see that this word is used by every single fan nationally describing the NCG. It has become a universal word and has so for three years now. Get with the times. You are getting old. The only people who hate that word are Oregon haters, cause they know a Duck invented it. And because it was first invented by a Oregon player, we are NOT going to to stop using that word, not now, not ever! We are the only Pac-12 team to go to a Natty in the last eight years. And we are projected to make another one this year. So we have every right to use that word. So Natty, Natty, Natty, wish you were at the Natty. Natty is here to stay. Both now, forever and into all time. It is a Oregon thing, going to a Natty. And unless you are a Duck, you just cannot understand. You Natty old reporters ... don't like the Natty? Well ... go Duck yourself then. Natty times are here to stay!
Ted Miller:
(A sigh ... and then a slow clap ... everyone in the coffee shop slowly stands and joins in).
September, 1, 2013
9/01/13
9:00
AM ET
Oregon State QB
Sean Mannion
threw for 422 yards, and receiver
Brandin Cooks
had 13 catches for 196 yards in the Beavers' upset loss to Eastern Washington, but you don't get a helmet sticker when your team loses to an FCS foe.
So who does?

Andy Phillips, K, Utah
: This might be the best story of the week, as Phillips, a former U.S. alpine skier who had never played competitive football before his kickoff against Utah State, kicked field goals of 45, 19 and 38 yards and was perfect on three extra points in the Utes' 30-26 victory. Oh, and he perfectly executed an onside kick that might have been the biggest play of the game.
See this video
.
Dion Bailey, S, USC
: Bailey's switch back to his native position of safety from linebacker paid off against Hawaii. He led the Trojans' defense with seven tackles, a sack and an interception in their 30-13 victory.
Keith Price, QB, Washington
: A poor 2012 season is officially old news for Price. In the Huskies' 38-6 win over No. 19 Boise State, he completed 23 of 31 passes for 324 yards with a pair of touchdowns, which gave him 56 for his career, a new school record, eclipsing Cody Pickett. He also rushed for 25 yards. His efficiency rating of 176.8 would have led the nation in 2012.
Washington's defense
: The Huskies held Boise State to their lowest point total since 1997 (a 58-0 loss to Washington State). The Broncos gained only 3.9 yards per play. Their longest running play from scrimmage was 18 yards. The Huskies are paying second-year coordinator Justin Wilcox a lot of money. He is worth it.
Brett Hundley, QB, UCLA
: Hundley completed 22 of 33 passes for 274 yards with two touchdowns and no interceptions in the Bruins' 58-20 win over Nevada. He also rushed for 63 yards on seven carries with two TDs. The Bruins' offense, guided by Hundley, gained 647 yards.
Chris Harper, WR, California
: Harper caught 11 passes for 151 yards and two touchdowns in the Bears' 44-30 loss to Northwestern.
Marcus Mariota, QB, Orego
n: Marriota rushed for 113 yards and two TDs on just five carries -- 22.6 per rush -- and passed for 234 yards and a score in the Ducks' 66-3 blowout win over Nicholls State.
Tra'Mayne Bondurant, S, Arizona
: Bondurant had two interceptions in the Wildcats' 35-0 won over Northern Arizona, including one he returned 23 yards for a touchdown. He also tied for the team lead with seven tackles, adding one for a loss.
August, 29, 2013
8/29/13
9:01
AM ET
It's prediction time! Wheeee!

Last year, Kevin and Ted tied at the end of the regular season with 66-25 records. Ah, but then came the bowl season, and -- cough, cough -- by virtue of Ted going 5-3 and Kevin going 4-4, the old guy prevailed by a single game.
Let's hear it for the old guys!
And you know who won it for Ted? Texas! How about that fudge?
Thursday
UTAH STATE at UTAH
Kevin Gemmell
: First game, and I'm already conflicted. This one is scary with
Chuckie Keeton
back at QB for Utah State and all five of his linemen back to protect him. I think Utah is going to be better than it was last season, and the Utes will be looking for revenge from last year's loss. In close games, go with the home team.
Utah 21, Utah State 17
Ted Miller
: This is an interesting one. Utah State changed coaches but has a lot of guys back. The Utes have preseason injury issues -- paging
Brian Blechen
; your defense needs you -- and those issues have made coach Kyle Whittingham grumpy. But you know why I'm picking Utah? Because I think the Utes are angry about how folks have written them off, and angry often translates well in football. And I like the MUSS being loud.
Utah 24, Utah State 21
USC at HAWAII
Kevin Gemmell
: A good chance for both USC quarterbacks to get a lot of work against a nonthreatening opponent. Trojans should roll.
USC 35, Hawaii 14
Ted Miller
: USC is going to win this game, but it would be good for coach Lane Kiffin if the Trojans looked good doing it. Want to be goofy about your QB situation? Fine. You just better look good on offense. The biggest news in this one is which QB starts and, subsequently, who sets himself up to start against Washington State next week.
USC 35, Hawaii 20
Friday
NORTHERN ARIZONA at ARIZONA
Kevin Gemmell
: How many Arizona quarterbacks will we see in this game? I'm putting the over/under at three -- and I'm leaning toward the over.
Arizona 42, NAU 17
Ted Miller
: I actually think
B.J. Denker
is going to be the man for the Wildcats, even if other guys play. The issue is whether he remains that way. I think the only guy who would unseat him is
Jesse Scroggins
, and he has struggled to stay healthy.
Arizona 40, NAU 14
Saturday
NICHOLLS STATE at OREGON
Kevin Gemmell
: The only concern here is that
Marcus Mariota
tweaks a fingernail pulling off his shoulder pads at halftime.
Oregon 48, Nicholls State 7
Ted Miller
: I'm actually afraid for Nicholls State.
Oregon 101, Nicholls State 3
EASTERN WASHINGTON at OREGON STATE
Kevin Gemmell
: Eastern Washington is a pretty good Football Championship Subdivision team. And Oregon State fans know better than to overlook FCS teams. But I see no reason the Beavers don't roll in this one.
Oregon State 35, Eastern Washington 10
Ted Miller
: The Beavers have some nagging injury issues, so they just want to win this one and get out of the game healthy. And they want
Sean Mannion
to justify his winning a high-profile QB competition.
Oregon State 41, Eastern Washington 17
NEVADA at UCLA
Kevin Gemmell
: A good tuneup game for the Bruins against a team that has some bite. I really like what Nevada quarterback
Cody Fajardo
is capable of. But I like
Brett Hundley
better. Should be a decent game, but ultimately not enough to give UCLA a real scare.
UCLA 35, Nevada 17
Ted Miller
: Sitting here making this pick, I realize how Jim Mora has changed things at UCLA in just one year. For a decade or so previous to him, this is exactly the sort of game that you'd pause over, going, "Hmm ... UCLA is better but, man, do the Bruins know how to blow it!" Mora inspires confidence in terms of his team coming out in a businesslike fashion and playing like the superior collection of athletes that it is.
UCLA 40, Nevada 24
BOISE STATE at WASHINGTON
Kevin Gemmell
: Should be one of the closest, most competitive games in the country in Week 1. And in close games, sticking with my personal doctrine, I'll go with the home team.
Washington 24, Boise State 21
Ted Miller
: These teams were tightly contested in the Las Vegas Bowl, and the Huskies look like a better team than they were last season, while the Broncos have a lot of guys to replace. Still, it comes down to Huskies QB
Keith Price
. If he's his 2011 self again, Washington will roll.
Washington 30, Boise State 21
NORTHWESTERN at CALIFORNIA
Kevin Gemmell
: I think the Bears will show a little backbone and
Jared Goff
will gain some confidence. But probably not enough to beat a ranked team in his first career start. However, it'll be closer than people think.
Northwestern 35, California 28
Ted Miller
: Hello, Cal fans. It's me again. I've got bad news. I think you're going to win this game. Of course, that probably means you're going to lose, because the Bears never do what I think they'll do. Or was that just a Jeff Tedford thing? I'm so conflicted. Maybe if someone brought me a
calabrese from Top Dog
I could make sense of it all?
California 27, Northwestern 24
WASHINGTON STATE at AUBURN
Kevin Gemmell
: I got burned by the Cougs in the season opener last year when they were two-touchdown dogs on the road, and it haunts me to this day. Lesson learned.
Auburn 28, Washington State 21
Ted Miller
: Both teams went 3-9 last season, but the Tigers have a lot more size and athletes. I think the Cougars are going to put a scare into Auburn and its fans, but the Tigers' athleticism and, perhaps, the Southeastern humidity will wear WSU down in the fourth quarter.
Auburn 33, Washington State 24
COLORADO STATE vs. COLORADO
Kevin Gemmell
: The Rams bring back nine starters on offense. But
Paul Richardson
is due for a multitouchdown game. Colorado will get a little vengeance from last season. Bring on the Mac attack.
Colorado 27, Colorado State 17
Ted Miller
: I stared at the Colorado depth chart Tuesday and had an interesting reaction that surprised me: maybe. The Buffs should have won this game last season, and I think they're better than in 2012.
Colorado 30, Colorado State 27
Programs Most Desperate for a Quarterback
PAC-12 SCOREBOARD
Thursday, 9/3
Saturday, 9/5