February, 14, 2014
2/14/14
5:30
PM ET
Greetings. Welcome to the mailbag.
Follow the Pac-12 blog on Twitter
.
To the notes!
Haggmeez from Cincinnati writes:
What are your thoughts on the proposed new 10-second defensive substitution window rules, or what I'm calling "The Oregon Rule." Please explain to me how teams with smaller, faster players can ever expect to beat teams with bigger, stronger players if speed is not a viable weapon. I feel like I'm watching Nick Saban tell Chip Kelly to get off of his lawn in slow motion. Please make it stop. Football needs FEWER esoteric rules instead of more.
[+] Enlarge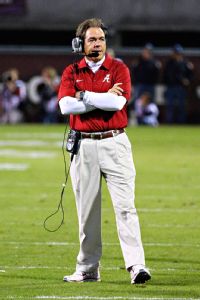 Spruce Derden/USA TODAY SportsNick Saban would not win any popularity contests on the West Coast.
0006shy from Los Angeles writes:
I just saw the proposed rule change to punish hurry-up offenses. What a joke! What an absolute joke! If the NCAA truly cares about player safety then they should ban games against FCS teams (USC, UCLA and Notre Dame have NEVER played an FCS team.) Nick Saban's five-star athletes pounding Chattanooga players for 60 minutes creates far more serious injuries than a no-huddle offense ever will.
John from Eugene, Ore., writes:
Please, reassure us Pac-12 fans that this ridiculous rule change intended to slow down uptempo offenses is not going to pass. Please tell me that just because the rest of the football world seems to worship the ground Nick Saban walks on, that doesn't mean that the NCAA will pass rules that give him exactly what he's whining for? I can't imagine I'm the only person writing in on this. There's no way this proposed change is actually made, is there?
Ted Miller
: Don't forget Arkansas coach Bret Bielema.
He's as much behind this as Saban
.
Further, yes, it is notable that the sudden concern for player safety comes from coaches who don't run uptempo attacks and have been gashed by them over the past few seasons. Hmm.
And, yes, their motives are, at best, 97.6 percent disingenuous. Bielema and Saban, a fantastic football coach who reportedly once ignored and
stepped over a convulsing player
, and others who support this proposed rule change, are doing so to gain a strategic advantage. Pure and simple.
The diversity of schemes in college football is one of the biggest reasons the sport is so popular. I can tell you without any doubt whatsoever that the sport would not be as popular -- probably not nearly so -- if everyone ran Alabama's or, yes, Stanford's offense.
A fast-paced game not only is fan-friendly, it -- as Haggmeez notes -- gives teams that rely on smaller, faster players a better chance to compete with teams with a gaggle of five-star recruits with NFL measurables.
As uptempo coaches such as Arizona's Rich Rodriguez have noted, if you really are concerned about player safety, make blitzing illegal. That would reduce the number of blow-up shots during game by 30 percent, a number that was arrived at with just as much science as went into this effort to thwart uptempo offenses.
Do I think it will pass? No.
But the NCAA is involved. It's presence tends to inspire stupid and/or disingenuous things to happen.
---
Andrew from Agoura Hills, Calif., writes:
Very happy to see that my top 25 list ran this past week
(for the second year in a row, might I add). Obviously, since I kept all the same players on my list as the official Pac-12 Top 25, I didn't have any major problems with it. My question is in regard to the logic behind the order of some of the choices. In your response to my list, you mentioned that most people would probably pick
Marcus Mariota
first if holding a conference draft, and I tend to agree with that. But in that same scenario, someone like
Marqise Lee
would certainly be among the top 10 picks too, and I don't think he belongs in the top 25 for this past season. Later, you continue to assert that
Will Sutton
belongs ahead of
Leonard Williams
, even though (I assume) you and Kevin were responsible for Williams being named an ESPN first-team All-American. I guess my question is, when does production/accolades overshadow potential/other intangibles (like positional value), and when is it the other way around?
Ted Miller
: Don't expect perfect logic. There are a variety of considerations -- many subjective -- that go into our weekly power rankings of teams, as well as our top-25 ranking of players.
It's a blend of factors such as postseason accolades, statistics, NFL prospects, positional value and a player's pure value to his team. Kevin doesn't consider NFL prospects as much as I do, though I think of that consideration as more of my mental draft picking -- as in, who would I pick first? -- when making a tough distinction.
That was my thinking for Mariota over Arizona RB
Ka'Deem Carey
. You could argue that Carey was more accomplished in 2013, but I'd still say that Mariota's numbers plus his overall value, which is augmented by his playing the most important position, give him the edge.
You noted Marqise Lee. Good question. Lee, in terms of talent and potential, certainly is among the top 25 players in the Pac-12. Probably top 10. But you have to take into account what he actually did this season. His numbers, in large part due to poor QB play and injuries, were not very good. So his down numbers get prioritized over his talent, knocking him off this list.
In some ways, my "draft" idea also overlaps with production -- what a guy actually did that past season. And poor production mutes pure talent factors. See also, Thomas, De'Anthony.
Similar reasoning, by the way, also cost Stanford DE
Ben Gardner
. The coaches still gave him a first-team All-Pac-12 nod, despite his missing the season's final six games because of injury, but we pretty much ruled him out because of that. Not his fault, but that still seems reasonable to me.
As for Sutton and Williams, most would project Williams having a higher NFL upside. He also had slightly better numbers than Sutton this year, though Williams was a defensive end and Sutton a tackle. Yet what kicked Sutton up a notch was the simple fact he -- again -- was named the Pac-12's Defensive Player of the Year by the coaches. That was slightly surprising, but it also was something that validated the idea that Sutton's numbers were down from 2012 because of blocking schemes that were obsessed with him, an invaluable benefit for a defense.
Are we always 100 percent consistent? No. But we do try.
---
Jonathan from New York writes:
With respect to your concerns about Stanford being able to replace
Tyler Gaffney
's productivity at the running back position, I wonder if you had any insight into whether
Barry Sanders
has the potential to have a 1,500-yard season. It's true that Coach Shaw didn't give him enough carries this year to come to any conclusions, and even on the punt return unit he mostly had fair catches. But I don't know whether Sanders had such little playing time because Gaffney was just so dependable and successful, or whether it was because Sanders was not showing much potential in practice. Perhaps you don't know any more than I do, but I'd be curious for your take if you have any thoughts.
Ted Miller:
My guess is Stanford won't have a back gain 1,500 yards next year. My guess is it will be more of a committee effort. I also think the Cardinal still will run the ball well, just not in the Toby Gerhart, Stepfan Taylor, Tyler Gaffney one-workhorse way.
Of course, in advance of the 2014 season, I expected it to be 60-40 between Gaffney and backup
Anthony Wilkerson
. Gaffney just played too well to take him out.
As for Sanders, I really have no feeling for how things will play out for him next fall. While it's fun to imagine him being a clone of his father, perhaps the most thrilling ball-carrier in NFL history, it's probably unfair to expect him also to have once-in-a-generation talent.
Sanders will be competing with
Remound Wright
and
Ricky Seale
for carries, and I've heard little that suggests one is leaps and bounds superior to the other. They seem to have complementary skill sets, so that suggests they each get touches. As the season progresses, one would expect a more clear pecking order to develop.
This, by the way, is a good review
of where the Cardinal stands at running back heading into spring practices.
---
Mitty from Saint Joe, Calif., writes:
Which Pac-12 fan base do you most like to target with passive-aggressive shots? I've only noticed one. Kevin will get the same question because he targets the same fan base.
Ted Miller
: Passive-aggressive? Moi?
I've always thought of myself as aggressive-aggressive, though my fuse, thankfully, has grown longer in my fourth decade.
Kevin and I, on occasion, discuss tweaks, insults and rants directed at us in the comment sections or elsewhere, but it takes up less of our time than you might think. We don't hold grudges. We really do try our best to remain as objective and fair as possible with all 12 teams. I've never heard anything from an official representative of a school -- coach, AD, sports information director, etc. -- suggesting we were being unfair or favoring or disfavoring a program. That's a fact we take a lot of pride in.
What I have noticed is that fans of teams that aren't doing well tend to think we are unfair to their team, whether that's about win-loss record or recruiting. The inescapable fact is teams that are winning get more coverage, just as teams that sign highly ranked recruits get more attention on national signing day.
Of course, more coverage for a team probably means more of their fans are showing up on the blog, and fans come in all forms. There clearly has been an "Oregon Effect" since the blog started in 2008. Ducks fans, by my unscientific estimates, seem to be the most active here, expressing both love and hate for your gentle bloggers.
But mostly love. Because it's impossible not to, in the end, love the Pac-12 blog.
---
GoCougs from Chandler, Ariz., writes:
Kevin forgot about one Pac-12 alum's participation in the Super Bowl.
Please pass on the love for Steve Gleason
.
Ted Miller
: Great stuff.
Gleason is an inspiration. An all-time great.
November, 18, 2013
11/18/13
5:30
AM ET
The Early Offer is RecruitingNation's regular feature, giving you a daily dose of recruiting in the mornings. Today's offerings: With the newest edition of the
BCS rankings released
, we take a look at the biggest headlines of the top five teams from the recruiting trail.
October, 25, 2013
10/25/13
5:30
AM ET
The Early Offer is RecruitingNation's regular feature, giving you a daily dose of recruiting in the mornings. Today's offerings: Nobody projected the Missouri Tigers to be the No. 5 team in the country, but the Tigers have impressed on the field and now they have a chance to impress off of it with a large contingent of players visiting this weekend; can Alabama change the momentum in the recruitment for
Da'Shawn Hand
; Oregon is hoping to wow key targets with College GameDay in town.
To continue reading this article you must be an Insider
October, 4, 2013
10/04/13
5:02
PM ET
Any chance every game this weekend can be as interesting as UCLA-Utah?
Welcome to the mailbag. If your life needs just a tad more "oomph,"
follow the Pac-12 blog on Twitter
. It's loaded with oomph, as well as many vitamins and minerals.
To the notes!
Daniel from Pullman, Wash., writes:
Ted-Last Saturday morning I was listening to ESPN Radio and they were debating the match-ups of the Pac-12 North and the SEC West (on neutral fields). I believe their match-ups were Al vs. OR, LSU vs. Stanford, Tex AM vs WA, Ole Miss vs OSU, Auburn vs. WSU, and Miss St or Ark vs Cal. One voted these match-ups 4-2 in favor of the SEC, and the other scored it 3-3. (Note: I think both picked LSU over Stanford.) How would you see these match-ups playing out?
Ted Miller
: The first challenge is matching the seven-team SEC West versus the six-team Pac-12 North. To make things easy, goodbye Arkansas.
Further, we don't really know how each division ultimately will stack up. Our speculation is only slightly educated here, as any would be not even halfway through season.
So start with Oregon-Alabama. This is a potential national title game. There are two ways to look at it. Is this a regular season game with just one week to prepare? I'd give a slight edge to Oregon with that. If it was a national title game, with three weeks to prepare, I'd give the Crimson Tide an edge. For this exercise, we'll go with the Ducks.
I'd pick Stanford over LSU. Just like I'd pick Stanford over Georgia, which just beat LSU. Suspect that Stanford would consistently outflank the Tigers with sophisticated schemes. A few years ago, LSU's team speed would have been an issue. No longer.
I'd take Texas A&M over Washington in a barnburner. I'd take a healthy Oregon State -- as in the Beavers after their off week -- over Ole Miss. The Rebels wouldn't be able to handle
Sean Mannion
and
Brandin Cooks
.
Auburn beat Washington State 31-24 on its home field, but the Cougars outgained the Tigers 464 to 394. In a neutral field rematch, I'd go with the Cougs.
Cal would be able to outscore Mississippi State, though I'd feel better with that one if the Bears didn't have so many injuries on defense.
So there you go: 5-1 Pac-12 North.
End of discussion! Right?
---

Andrew from Phoenix writes:
Ted,Why all the volatility in Arizona State's perception? The last 3 weeks the media and PAC fans have gone from "they're ready for the national stage" to "looks like they're not that good" back to "this team can do some damage." The consensus outside of the biggest ASU homers and UA trolls was ASU would be about 8-4, just in or just out of the Top 25, and needing an upset @UCLA to win the South. I have seen nothing on the field this season that should change that. Bottom line is they demolished a poor team, handily beat (with some blemishes) a mediocre team, played a toe-to-toe in a toss up with a good team, and got their mistakes shredded by an elite team. Why so much drama?
Ted Miller
: It's Kevin. He's the man behind the curtain pulling all these levers that make people crazed with drama.
I don't feel like much has changed about the perception of Arizona State, at least among those who esteemed the Sun Devils in the preseason. This is a good team, probably a top-25 team, one that is moving up in the Pac-12 and national pecking order but is not yet on the Oregon/Stanford level. And, yes, it looks like the best challenger for UCLA in the South Division, particularly after USC imploded.
But there is a logical reason for the volatility: The Sun Devils' schedule. How many teams have played three tough, AQ-conference opponents in their first four games? And with such a variety of results.
Wisconsin, 32-30 win: Controversial ending yes, but the game showed the Sun Devils are top-25 caliber.

Stanford, 42-28 loss: The Sun Devils might be a top-25 team, but they've got a ways to go to move toward the top-10.

USC, 62-41 win: An impressive offensive showing against a previously outstanding defense. More positive evidence that the program is taking steps forward under Todd Graham.
Guess what? There will be more drama on Saturday. A win over Notre Dame will provide another uptick. And a loss will add some skepticism, as well as a second fall from the national polls.
---

Kevin from Reno, Nevada writes:
Why is Ohio State ranked ahead of Stanford? After watching ASU play Wisconsin and then Stanford, it was clear that Stanford is on an entirely different level of physicality and talent than Wisconsin. That same Wisconsin team almost beat Ohio State on the road. Also, Cal was completely over-matched against Oregon, but competed almost respectably against Ohio State. Stanford may be better than Oregon this year.
Ted Miller
: At least we'll get an answer with Oregon-Stanford on Nov. 7.
But I hear you.
Obviously your Pac-12 bloggers agree with you
. I'd comfortably pick Stanford over Ohio State, and I suspect a lot of folks would, too. While it's dangerous to use the transitive property in college football, your point about Wisconsin is at least partially valid.
I suspect the reason most folks who are voting Ohio State ahead of Stanford are doing so is because
they did so in the preseason, and the Buckeyes have yet to lose
.
---

Andrew from Agoura Hills, Calif., writes:
Now that Lane Kiffin is out the door, we've started to hear all the names of potential candidates: Kevin Sumlin (my personal favorite), Jack Del Rio, Jeff Fisher, Steve Sarkisian, Chris Petersen, etc. One name that I haven't really seen included in any of these hypothetical lists is Alabama DC Kirby Smart. Do you think he will be considered by Pat Haden and the USC braintrust? He seems to be on track to eventually be a head coach, and his credentials are very impressive for a young coach. The two problems I see are that he 1) has resisted overtures in the past, possibly because he is in line to follow Saban at 'Bama and 2) is devoid of any head coaching experience. What do you think of Smart as a candidate for the Trojans?
Ted Miller
: There certainly are worse choices.
The other knock, fair or unfair, on Smart is that Saban is the ultimate brains behind the Crimson Tide's defense. Still, working under Saban for an extended period of time should overcome that as a downside. He knows Saban's "Process," which is like learning about the stock market from Warren Buffett.
My impression is Smart is shortly going to get an opportunity in the ACC or SEC. He's a child of the South and probably wants to stay down there.
In fact, if you are looking for a darkhorse candidate for USC, what about Alabama offensive coordinator Doug Nussmeier? He calls Alabama's plays, has time learning from Saban and knows the Pac-12, as he was Steve Sarkisian's offensive coordinator at Washington before heading to the SEC. He also has Big Ten and NFL experience.
While USC is surely going after a big-time name with head coaching experience, many, many great hires have been first-time head coaches, such as John McKay, Bob Stoops, Chris Petersen and Chip Kelly.
---

Saul from Los Angeles writes:
I get it, you hate your former home up there in Seattle. Why you instantly think the Washington head coach job sucks is beyond me and Wilcox would rather go to USC to be an assistant coach when he could be a head coach. You are insufferable.
Ted Miller
: Every week, there are angry notes in the mailbag that make me go, "Huh?" I get that when you write about college football, you will make folks mad. Just part of the job. But what always baffles me is when I get an interpretation of one of my positions that is untethered to any actual position I can ever recall taking.
Saul isn't the only one. It appears many Alabama fans
believed this story
on USC's coaching search implied Pat Haden might hire Nick Saban. That conclusion apparently was based on my typing, "What if USC now hires its Nick Saban? Or, to localize it: Pete Carroll, take two?"
I spent 20 minutes trying to figure out what got Saul's feathers raised. Apparently it is this from my chat Thursday:
Ryan (Baja): Hypothetical: Sark goes to USC. Question: What happens to Justin Wilcox?

Ted Miller: THAT is a big question. I was, in fact, thinking about that today. I'd think Washington would give him a hard look. It's just a matter of time before he's a head coach. It might, in fact, be a matter of just a couple of months. He'll have options, including one to follow Sark to LA and get a big raise.
To be clear: I think Washington would seriously consider Wilcox if Sarkisian left for USC and I'm SURE Wilcox would take the job.
If there is an implication my chat comment that Wilcox would rather be offensive coordinator at USC than head coach at Washington, then I humbly apologize. He would not. What I wanted to suggest is that if Wilcox was offered a head coaching job for a non-AQ program, he still might opt to follow Sarkisian to USC and wait for an AQ job. Such as, you know, a place like Washington.
The big hypothetical here is Sarkisian going to USC. It's possible, by the way, that Sark would say no to USC again, just as he did when it went after him before hiring Lane Kiffin.
And, if it needs to be clarified, there is not a person who has ever talked to me about Seattle who doesn't know how much I love that town.
January, 16, 2013
1/16/13
1:00
PM ET
Chip Kelly is not one to do things the conventional way, even leaving Oregon for the Philadelphia Eagles. He plays football by a different tempo and he lives by a different tempo. When you think he will zig, he zags. And he has a flair for the dramatic.
The big news on Jan. 7 was that Kelly had
turned down his NFL suitors
, including the Eagles. He didn't feel the need to comment then, which might be telling as to his reversal of course that would send shock waves across the Pac-12 and college football less than 10 days later.
Kelly went for the double shocker. It was shocking to learn he had decided to stay at Oregon after a flurry of interviews following a Fiesta Bowl victory over Kansas State. And now, three weeks before national signing day, it's shocking that ESPN's Chris Mortensen broke the news of his departure to the Eagles.
[+] Enlarge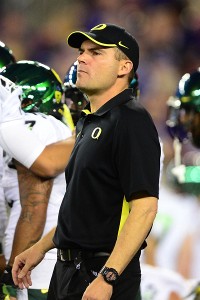 Mark J. Rebilas/USA TODAY Sports Ducks offensive coordinator Mark Helfrich, the heir apparent to Chip Kelly, doesn't have head-coaching experience.
Every indication
is that offensive coordinator Mark Helfrich will be promoted to replace Kelly after the school negotiates some bureaucratic hiring hoops, as Oregon has a state law requiring public universities to interview at least one minority candidate for head-coaching positions. That was the word a year ago when Kelly nearly left for the Tampa Bay Buccaneers, and
USA Today has already reported
the passing of the torch to Helfrich in the event of Kelly's departure.
Kelly was 46-7 over four seasons at Oregon, leading the Ducks on their most successful run in program history. The Ducks have played in four consecutive BCS bowl games, winning the past two, including their first Rose Bowl victory since 1917. Oregon has finished ranked in the top five for three consecutive seasons.
Kelly doesn't owe any more to Oregon. That success is enough. Fans shouldn't feel bitter or betrayed. Sure, the NCAA may shortly impose sanctions on the program over Kelly's involvement with street agent Willie Lyles. That is a black mark. But it's unlikely those penalties will be harsh enough to erase the brilliance that came before.
For Kelly, 49, this is an opportunity to test his considerable football acumen at the highest level. While he is known for his innovative, up-tempo, spread-option style of offense, know that Kelly is all about winning. He will adapt to his personnel and the differences in the NFL game. He won't, say, have his $18 million quarterback running the option 15 times a game.
And if things don't work out in the NFL, Kelly will have his pick of college jobs. It will be like Nick Saban's ill-fated tour in Miami. There's little risk for him in taking his NFL shot.
As for Oregon, there will be questions. While Helfrich will bring system and program continuity and should be able to retain a significant number of Ducks assistant coaches, including defensive coordinator Nick Aliotti, he's not Kelly, nor does he have head-coaching experience.
Helfrich has been a quarterback coach at Boise State, Arizona State and Colorado -- he was the Buffs' offensive coordinator, too -- before Kelly hired him in 2009.
"He's really smart, really intelligent," Kelly said at Fiesta Bowl media day when asked why he made Helfrich his first offensive coordinator. "He brought a different perspective to our staff, because he had a different background. He wasn't a spread guy. I wanted to bring someone in who wasn't going to tell us what we already knew."
When asked what advice he'd give to Helfrich if he became a head coach, Kelly said he'd give him the same advice former Oregon coach Rich Brooks gave Mike Bellotti and Bellotti gave him: "Be yourself. You can't be someone else."
While Helfrich has a lighter touch -- more of a polished, people person -- than Kelly, that could mean little on the field and in the locker room. The question will be whether he can command the same respect and dedication that Kelly did. Can he maintain the Ducks' "Win the day" culture that was as efficient and productive as any in the country?
After the Fiesta Bowl win, Oregon's
players were asked
about Kelly potentially leaving and Helfrich taking over. They seemed uniformly confident that Helfrich would be up to the task.
"Expect the same," All-American running back
Kenjon Barner
said. "Nothing will change."
Said offensive lineman
Kyle Long
, who is expected to be an early-round NFL draft choice this spring: "Seamless transition. [Kelly and Helfrich are] cut from the same tree. I'll tell Duck Nation right now, Coach Helfrich is a brilliant coach. Great relationships with his players and other staff members. We all love Helf."
Kelly certainly left his successor a strong hand. The Ducks welcome back 15 position-player starters next fall, including star redshirt freshman quarterback
Marcus Mariota
. When the 2012 season ended, the Ducks were widely viewed as a top-five team in 2013, perhaps as high as No. 2 behind two-time defending national champion Alabama.
While it's nice to have a good team coming back, Kelly's successor also will inherit high expectations. Ducks fans are no longer satisfied with a top-25 team that plays in a nice bowl game. They expect Pac-12 championships. They expect to compete for national titles. And more than one loss is a disappointment.
If the 2013 Ducks go 10-3, a record that was outstanding before Kelly arrived, there will be immediate grumbling.
While Oregon fans are probably wringing their hands with worry, fans of 11 other Pac-12 teams are elated, most particularly those at Oregon State and Washington, the Ducks' most bitter rivals. Kelly had built a juggernaut, even if it was toppled atop the conference this fall by Stanford. Now there is an opportunity to change the balance of power in both the Pac-12 North Division and the Northwest.
When it was reported that Kelly was returning to Oregon nine days ago (Kelly had not talked about it), college football retained its West Coast equilibrium. There seemed to be renewed clarity, at least in the short term.
His departure leaves an uncertain void. While many believe Helfrich can capably fill that void, the uncertainty will remain until toe meets leather and the Ducks continue to produce the fancy-pants, winning product that Kelly brought to Eugene.
November, 5, 2012
11/05/12
11:19
AM ET
There was so much anticipation for Nov. 3, which was circled in red as soon as the 2012 schedules came out: Oregon at USC. "That," everyone said, "is going to be big."
It's two days after. While Ducks coach Chip Kelly won't pause and reflect, we can. And here's where we are: It feels like Oregon has its best team ... ever.
While the defense didn't walk away from a 62-51 win over USC feeling great about itself, the Ducks offense reached a new level of ludicrous speed against a quality Trojans defense that was simply extraordinary. Don't gloss over this: A USC defense had never given up so many points. Never. Nor had it ever given up 730 yards. Never! Heck, that was 107 yards more than a
legendary Notre Dame squad
piled up in 1946 while setting the mark that lasted 66 years.
[+] Enlarge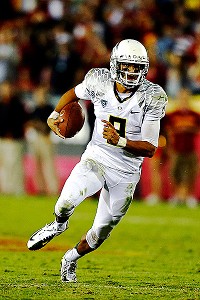 Charles Baus/Cal Sport Media via AP ImagesQuarterback Marcus Mariota has helped Oregon average over 54 points per game in 2012.
This Oregon offense, with a redshirt freshman quarterback, has significantly better numbers than the 2010 squad that played for the national title.
The Ducks rushed for 286.2 yards per game in 2010. They are rushing for 341.2 this season. They averaged 530.65 yards in 2010. They average 561.2 yards this season. They averaged 47 points per game in 2010. They average 54.33 this season. Their passing efficiency number in 2010 was 151.72. It's 159.94 this season.
This squad is younger on the offensive line than the 2010 crew, but it's far more physically gifted. And
Marcus Mariota
is a better passer and runner than Darron Thomas, notably more consistent and accurate. Thomas completed 61.5 percent of his passes in 2010. Mariota is completing 70.5 percent of his throws.
In fact, Mariota now ranks No. 1 in the Pac-12 and No. 7 in the nation in passing efficiency. The Pac-12 blog is officially retiring the word "test" from further stories on Mariota.
The one area where the 2010 Ducks looked superior was at receiver, but one of the overlooked revelations from the USC game was how well the receivers played.
Josh Huff
turned in perhaps his best game, catching six passes for 125 yards and two touchdowns. Seven different players caught passes.
Of course, it's slightly bogus to compare the 2010 and 2012 numbers at this point. There's a lot of football left. In fact, there might be the toughest football ahead, particularly the next three -- or four -- opposing defenses.
Oregon visits California on Saturday. You might recall that the only team to shut the Ducks offense down in 2010 was the Golden Bears playing at home. Further, Stanford and Oregon State are ranked Nos. 1 & 2 in both scoring and rushing defense in the Pac-12. In fact, Stanford is No. 1 and Oregon State No. 5 in the nation in run defense, and both are ranked in the nation's top 20 in scoring defense.
The odds are against the Ducks rolling up 730 yards against either. But, of course, we would have typed the same about the Trojans.
And then there could be a Pac-12 title game. At this moment, the favorite to win the South Division figures to be the winner of the USC-UCLA game on Nov. 17, but predicting how the South might go feels like a week-to-week thing.
It's easy to begin salivating over the idea of this Chip Kelly Oregon offense facing a Nick Saban Alabama defense for the national title. I will admit that among a gaggle of sportswriters in L.A. for the game, it came up more than once.
Still, Nov. 3 didn't set up like most expected. The Trojans failed to live up to their preseason projections. Nov. 3 was a measuring stick, a significant one, but not one that provides a decisive verdict.
What the Pac-12 became this year was deep, not top-heavy, as expected. Seven different teams have been ranked this season, and five are ranked in the latest BCS standings. No one saw the Beavers' rise coming, nor were Arizona, Arizona State and UCLA expected to be such tough outs.
So these Ducks only can be evaluated on the totality of the season, which probably is as it should be. Their ultimate achievement won't be owning Nov. 3. It will be running the table in a deep Pac-12.
Best Oregon team ever? That's my impression. But let's wait and answer that on Nov. 30.
Or on Jan. 7.
Pac-12 Teams Can Load Up At WR
PAC-12 SCOREBOARD
Thursday, 9/3
Friday, 9/4
Saturday, 9/5