April, 3, 2013
Apr 3
2:30
PM PT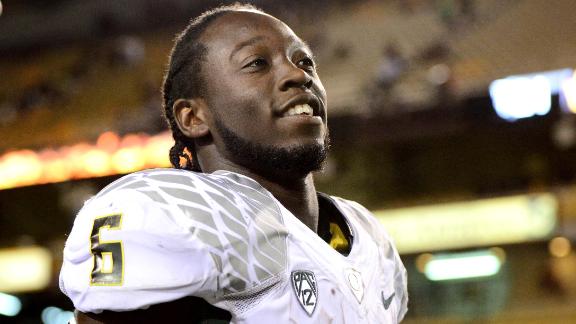 Chip Kelly isn't terribly big. He's not notably loud, either. Nor is he typically expansive. Who he is, however, is -- was! -- the presence most often cited as transforming Oregon's football program from good to great. So his absence from the Ducks' first spring practice Tuesday was impossible to ignore.
Yet it's a tribute to the culture Kelly sought to create that it appears his players did a pretty darn good job of doing just that. Mostly.
"At first, a lot of the guys were talking about it," quarterback
Marcus Mariota
said. "It's a little different. But by the end of practice, it was good. Kind of the same. Once we got rolling, it was the same old game of football."
New coach Mark Helfrich, who was promoted from offensive coordinator, admitted to reporters that his first practice sans Kelly was "weird, at points." But Oregon moves too fast to stop for navel-gazing. It's "next man in" when a player or coach leaves or goes down, and so it will be for the beginning of the Helfrich era.
[+] Enlarge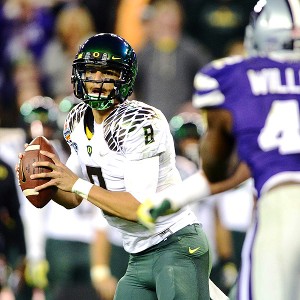 Mark J. Rebilas/USA TODAY SportsAs a redshirt freshman, Marcus Mariota quarterbacked high-flying Oregon to a No. 2 final ranking.
Without a doubt, the transition from Kelly to Helfrich is the point A of the Ducks' 2013 story. There's no question about point B, either: Mariota.
Somewhat lost in the regional shuffle of the Kelly-to-the-NFL talk and the national hullabaloo over Texas A&M's
Johnny Manziel
's brilliant Heisman Trophy season was Mariota's extraordinary performance as the Ducks' redshirt freshman starter.
Mariota was in the cockpit for a team that finished ranked No. 2 in the nation after whipping Kansas State in the Fiesta Bowl. He piloted an offense that ranked second in the nation in scoring (49.5 points per game) and was fifth in total offense (537.4 yards per game).
Individually, he ranked first in the Pac-12 and seventh in the nation in passing efficiency. In the Conference of Quarterbacks, he earned first-team All-Pac-12 honors after completing 68.5 percent of his throws for 2,677 yards with 32 touchdowns and six interceptions. He also rushed for 752 yards and five touchdowns, averaging 7.1 yards per carry.
He also got better as the year went along, despite the competition being decidedly tougher. As Rob Moseley of the Eugene Register-Guard
pointed out
, "[Mariota] had 11 touchdowns, four interceptions and a 152.74 rating in the first month of the season, and 21 touchdowns, two interceptions and a 171.10 rating after that."
That efficiency number would have ranked third in the nation. Further, keep in mind that Oregon's tendency to stomp opponents into submission by halftime meant Mariota was either on the bench or handing off during most fourth quarters.
While Mariota isn't the only reason many see the Ducks as national title contenders again in 2013, despite Kelly's departure, he is the biggest. The 6-foot-4, 211-pound Honolulu native is a seemingly unflappable player who combines A-list speed with notable passing accuracy.
There is little Mariota didn't do well in 2012, so the idea of him improving can foster many pleasant thoughts among Ducks fans. And there are areas in which he can improve. Mariota said his offseason focus has been footwork. New offensive coordinator Scott Frost, promoted from receivers coach, believes Mariota's established strengths can become even stronger.
"I think we can clean some things up and be even more efficient," Frost said. "There are some things we want to tweak to help him have more of an opportunity to impact the game. We wouldn't trade him for anybody. We think he can do some amazing things and win a lot of games. We're going to feature him as much as we can."
With the Ducks welcoming back their entire cast of receivers and being questionable at running back, it's almost certain Mariota will throw more next season. That will mean more opportunities for him to put up big numbers. If he hangs up impressive stats while the Ducks continue to roll up wins, Mariota will gain the esteem of Heisman Trophy voters.
Mariota, the Fiesta Bowl MVP, isn't a guy who seeks out the spotlight, but he also doesn't seem to be afraid of it.
"My parents raised me to handle whatever comes at you," he said. "I'm looking forward to it."
Then he added, "I'm really looking forward to spring practices."
That sounds very Chip Kelly. Or maybe we now should say that it sounds very Oregon.
March, 4, 2013
Mar 4
10:41
AM PT
On Jan. 4, Oregon, fresh off its second consecutive BCS bowl victory, was at an all-time high. Then, while riding that wave of emotion, it watched Chip Kelly transformed into Hamlet -- "To go or not to go, that is the question..."
Kelly was certain to leave for the NFL before he wasn't. And then -- poof -- he was gone, off to coach the Philadelphia Eagles. Hey, a guy can change his mind.
If Kelly had stayed, the big spring and fall question for the Ducks was what do they need to do to make the proverbial next step. Seeing that they had finished ranked No. 2 in 2012 and played for a national title in 2010, the singular step that needed to be taken was winning a national championship.
[+] Enlarge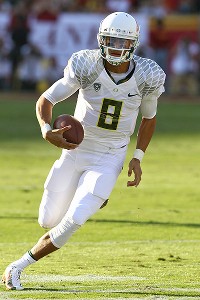 AP Photo/Bruce SchwartzmanEven with Chip Kelly's departure, the Oregon Ducks are still in pretty good shape with talented starting quarterback Marcus Mariota.
Kelly knew this and thought about it a lot, though that's not the sort of thing he'd admit. While Kelly always preached laser-like focus on the task at hand, let's just say that he didn't turn away from a TV set when Alabama was playing. He knew the team -- and the conference -- that needed to be overcome.
Now, with Kelly cracking wise at reporters on the East Coast, the question becomes slightly less ambitious and more general for the Ducks, who open spring practices on April 2: Can new coach Mark Helfrich & Co. sustain what Kelly built?
Of course, anybody who has paid more than passing attention to the Ducks of recent vintages knows exactly the three-word phrase that will meet all such inquiries: Next man in.
The program is -- wisely, most believe -- following a formula that has worked before. Rich Brooks begat Mike Bellotti, who begat Kelly, who begat Helfrich. That pattern would seem to position well new offensive coordinator Scott Frost, who was elevated from receivers coach. Bellotti, Kelly and Helfrich each was the Ducks' offensive coordinator when he was promoted to the corner office.
Still Frost, who knew how things would fall if Kelly bolted, felt an ambivalence during Kelly's NFL flirtation and eventual elopement.
"It was just an interesting ride," Frost said. "I think all of us were a little bit torn on the whole thing. We've had such a great amount of success here that part of us didn't want to see anything change. We wanted to keep it status quo and see how long we could do this thing. Everybody loved Chip and how the program was running. But at the same time, change is inevitable, and it's given me and some other guys more opportunity and responsibility."
The hand Helfrich and Frost inherited is pretty darn strong. The Ducks have 16 starters returning from a 12-1 team, including eight from an offense that ranked second in the nation -- first among AQ conference teams -- with 49.5 points per game. Topping that list of returning starters is quarterback
Marcus Mariota
, a short-list Heisman Trophy candidate.
Still, it's not unreasonable to think some players might be shaken at Kelly's departure. After all, he had a pretty big personality.
"During our time here, we've lost players people didn't think we could replace and our message has always been it's the next man up. Do the job," Frost said. "It would have been hypocritical of us not to treat [Kelly leaving] the same way. We're approaching it the same way we ask the players to approach it when we lose a key piece. Step up, do your job and go forward 100 miles an hour."
Along that very line, Helfrich and Frost well know that one of their chief tasks is sustaining the culture around the program. While the coaches need to be themselves and not try to ape Kelly, it does help that Kelly took only one full-time assistant with him to Philly -- D-line coach Jerry Azzinaro. There's plenty of continuity, both in terms of scheme and the day-to-day operation, procedures and philosophies of the program.
"The culture is already built," Frost said. "It isn't like we have to start from the bottom. We're excited about that. We'd be fools to try to change much at all because of the success we've had."
The same goes for Frost now coaching quarterbacks. It's long been a position of strength for the Ducks, and Mariota might be the most talented player the Ducks have ever had at the position, at least since Joey Harrington, circa Y2K. There was little Mariota didn't do well in 2012, when he earned first-team All-Pac-12 honors as a redshirt freshman, ranking seventh in the nation in passing efficiency.
"I think we can clean some things up and be even more efficient," Frost said. "There are some things we want to tweak to help him have more of an opportunity to impact the game. We wouldn't trade him for anybody. We think he can do some amazing things and win a lot of games. We're going to feature him as much as we can."
The Ducks' offense under Frost won't change, but it will evolve. For one, there's good reason to believe Oregon will throw more in 2013, with Mariota and his entire cast of receivers back.
And, as good as the offense was last fall, it did have a bad game -- a 17-14 home loss to Stanford.
"I give Stanford credit," Frost said. "That game kept us out of the national championship game. There's always room to fix things and get better."
Oregon's improvement on defense -- a combination of scheme and talent -- has bolstered it as a national contender. The question that looms among Oregon skeptics is whether the Ducks' offense can roll up big numbers against a big, fast and well-prepared defense. Like Stanford. Like Alabama.
To find out, the Ducks first need to solve Stanford, a team they'd taken to the cleaners the previous two years.
The word in Eugene, post-Kelly, Spring I? Change is good. Of course, there are plenty of things many are going to miss with Kelly no longer around.
Offered Frost: "I could make some sarcastic remarks to you if you want me to."
February, 25, 2013
Feb 25
11:26
AM PT
Our countdown of the top 25 players in the 2012 season continues.
You can see our preseason top 25 here.

No. 1:
Marcus Mariota, QB, Oregon
2012 numbers
: Mariota completed 68.5 percent of his passes for 2,677 yards with 32 touchdowns and six interceptions. He also rushed for 752 yards and five touchdowns, averaging 7.1 yards per carry.
Preseason ranking
: Unranked.
Making the case for Mariota
: It's pretty extraordinary that a redshirt freshman quarterback earns first-team All-Pac-12 honors. And tops this list. But Mariota had an extraordinary season. He ranked first in the Pac-12 and seventh in the nation in pass efficiency. It's reasonable to wonder how ridiculous his numbers would have been had Oregon played more close games, and therefore Mariota's A-game was needed in the fourth quarter more than three or four times. Consistency? Mariota threw a touchdown pass in every game. He threw one interception in the final seven games. He led an offense that ranked second in the nation in scoring (49.5 ppg) and was fifth in total offense (537.4 ypg). The Ducks scored 11 points per game more than any other Pac-12 team. The 6-foot-4, 196-pound Honolulu native is an extremely accurate passer who also might be the fastest quarterback in the nation -- see 86 and 77 yard runs this year. Against USC on the road, he completed 87 percent of his passes with four touchdowns and no interceptions. He tied a school record with six TD passes against California. He rushed for 135 yards at Arizona State. In the Fiesta Bowl victory over Kansas State, he passed for two touchdowns and ran for another and earned game MVP honors as the Ducks ended up ranked No. 2 in the nation. Mariota will enter the 2013 season as one of the top-five preseason Heisman Trophy candidates. Said All-American Kansas State linebacker
Arthur Brown
: "He's a great young player. He has a bright future." Yes he does. If current trends continue, Mariota will become the greatest player in Oregon history and be a first-round pick in the NFL draft. That's a lot. But it's the truth.
No. 2:
Will Sutton
, DT, Arizona State
No. 3
:
Marqise Lee
, WR, USC
No. 4
:
Matt Scott
, QB, Arizona
No. 5
:
Ka'Deem Carey
, RB, Arizona
No. 6
:
Kenjon Barner
, RB, Oregon
No. 7
:
Johnathan Franklin
, RB, UCLA
No. 8:
Stepfan Taylor
, RB, Stanford
No. 9
:
Star Lotulelei
, DT, Utah
No. 10
:
Markus Wheaton
, WR, Oregon State
No. 11
:
Anthony Barr
, LB, UCLA
No. 12
:
Jordan Poyer
, CB, Oregon State
No. 13
:
Zach Ertz
, TE, Stanford
No. 14
:
Matt Barkley
, QB, USC
No. 15
:
Brett Hundley
, QB, UCLA
No. 16:
Trent Murphy
, OLB, Stanford
No. 17
:
Chase Thomas
, OLB, Stanford
No. 18
:
Ifo Ekpre-Olomu
, CB, Oregon
No. 19
:
David Yankey
, OL, Stanford
No. 20:
Dion Jordan
, DE/OLB, Oregon
No. 21
:
Scott Crichton
, DE, Oregon State
No. 22
:
Ed Reynolds
, S, Stanford
No. 23
:
Michael Clay
, LB, Oregon
No. 24
:
Taylor Kelly
, QB, Arizona State
No. 25
:
Reggie Dunn
, KR, Utah
January, 7, 2013
Jan 7
8:05
AM PT
Chip Kelly was gone, off to the NFL. It was Cleveland. Then Philly.
And then he wasn't
.
Kelly's second deep NFL flirtation -- recall last winter's "did-he-or-didn't-he?" with Tampa Bay -- ended with him back at Oregon, back atop the Pac-12's present superpower.
Why did Kelly stay? He has yet to comment, which is telling. He feels no need to announce no change, though he is completely aware it's major news. The Pac-12 blog believes, according to no sources whatsoever, that Kelly returned to his cavernous Eugene home Sunday and cranked up the Sinatra and sang along: "I did it myyyyyy waaaaaayyyy!"
Kelly is 46-7 overall at Oregon. He's led his team to four consecutive BCS bowl games, winning the last two. He won 12 games this year by at least 11 points. It's fair to say he's pretty good at leading a football team.
The immediate reaction in some quarters to Kelly's return -- other than surprise from just about everyone -- is that Kelly can't keep doing it like this, both with NFL folks and with Oregon.
Both sides, it is reasoned, will get tired of the fickleness. Does Kelly want to be Oregon's coach? Or does he want to be something else? He must decide!
No, he doesn't. Kelly can do what he wants as long as he keeps winning with panache. When everyone knows you are one of the best living football coaches, you can write your own ticket. Kelly could announce tomorrow that all Oregon fans will be required to change their underwear every half-hour and all underwear will be worn on the outside so Ducks officials can check, and everyone would go, "OK!"
Oregon fans might wish he'd just tell the NFL folks he's not interested, but they get over their frustration when they see he and his staff outcoach a Kansas State team that is as well coached as any in the nation.
NFL teams might get tired of being led on, but they get over that when they see the discipline, focus and offensive magic Kelly produces.
Let me make something clear: Kelly would be successful in the NFL. Of that I have almost no doubt. The analysis you keep hearing about his present systems not working in the NFL is superficial bunk. Kelly's "systems" are all about winning games. Give him Tom Brady, and Kelly would no longer call designed runs for his QB. He'd line up with three fullbacks tomorrow if that helped him win the day.
So know this, too: The NFL will be back. And Kelly is likely to talk to them. At some point, a team might foster an interview that wins Kelly over. But that hasn't happened yet and he, again, remains the Ducks coach.
As a result, Oregon's quiet recruiting season might get a bit louder. Expect some major prospects who were awaiting Kelly's plans to come a-calling.
The other layer to this is the NCAA. One of the potential harrumphs over Kelly leaving would have been expected NCAA sanctions over L'Affair de Willie Lyles. He would have looked like the second-coming of Pete Carroll, who bolted USC ahead of severe penalties.
Some might read into this Kelly's confidence that the sanctions won't be severe, and that's not unreasonable. But it also shows Kelly isn't one to run away from a potential problem. At least, not yet.
Oregon will be ranked in the preseason top five next year. It welcomes back eight starters on offense, including QB
Marcus Mariota
, a budding Heisman Trophy candidate, and seven on defense. The biggest questions are at linebacker, running back and offensive guard. If the Ducks avoid a postseason ban, they will be national title contenders. Again.
The allure of coaching that team kept Kelly in Eugene. That means nothing for 2014 and beyond. Yes, this could become an annual dance between Kelly and various suitors, one that fans breathlessly follow on Twitter -- "He's gone!" "He's staying!" -- as they learn to mock the term "sources."
It might be emotionally exhausting and generally frustrating for Ducks fans, but this is the annual tax a team pays for having a coach whom everyone else want to lead their team.
January, 3, 2013
Jan 3
11:51
PM PT
GLENDALE, Ariz. -- The
Oregon Ducks
donned new T-shirts after their
35-17 victory
over Kansas State in the Totitos Fiesta Bowl. "Won the Day" those shirts said, obviously playing off the program's mantra under Chip Kelly: Win the day.
Oregon certainly did that against the Wildcats.
Both teams ran 70 plays. Oregon gained 385 yards. Kansas State 283. Kansas State led the nation in turnover margin this year, but it lost that battle to the Ducks 2-0. The Wildcats had the second-fewest penalty yards per game in the nation this season, but they had seven flags for 57 yards versus five for 33 for the Ducks. The Wildcats were widely viewed as the nation's best on special teams this season, but they yielded a 94-yard return on the opening kickoff to
De'Anthony Thomas
and missed a field goal while the Ducks were 2-for-2.
Senior quarterback and Heisman Trophy finalist
Collin Klein
was outplayed by Ducks redshirt freshman
Marcus Mariota
.
So Oregon won the day -- night, actually -- but the use of the past tense hints at something else, of a mission accomplished and completed. That has an ominous suggestion for Oregon fans. That feeling, of course, arises from the fact that Kelly is about to interview with at least three NFL teams, according to various reports, and many believe this was his last game at Oregon.
He and Oregon won the day and now he will move on.
Kelly fought off questions about his NFL aspirations during the weeks leading up to the game, saying his entire focus was on the Fiesta Bowl. He opened up a bit after the victory, noting that he will talk to his agent David Dunn on Thursday night or Friday morning to get an update on where things stand.
"I was getting my hair cut on Wednesday and saw my name on the bottom of ESPN, which I thought was funny because I haven't talked to anyone," he said. "I'll sit down and talk with Dave. I've said I'll always listen. That's what I'll do. ... I'll listen and we'll see."
Kelly is expected to interview with the Cleveland Browns, Philadelphia Eagles and Buffalo Bills. It's possible we'll know Kelly's plans by the end of the weekend.
Ducks fans chanted "Four more years!" at the end of the game. Kelly's four years atop the program -- two Rose Bowls, a national title game and a Fiesta Bowl -- have been the most successful in program history by a wide margin. The Ducks are headed for their third consecutive top-five ranking and figure to be top-five in the 2013 preseason, whoever their coach is.
The postgame interviews focused less on the Ducks' dominant performance in all phases and more on Kelly and offensive coordinator Mark Helfrich, who is expected to replace Kelly should he leave.
Oregon players paid tribute to both.
"[Kelly] means everything," said running back
Kenjon Barner
, who gained 120 of his 143 yards in the second half. "Without him, I wouldn't be the running back that I am. Sitting with him in meeting rooms is a lot different than sitting in any other meeting room that I've ever been in because it's not just about football, it's about life. He teaches you life lessons as a man, so he means a lot to me."
But Barner also added that Helfrich is ready to take over.
"If that does happen, expect the same," he said. "Nothing will change."
Said offensive lineman
Kyle Long
: "Seamless transition. They're cut from the same tree. I'll tell Duck Nation right now, Coach Helfrich is a brilliant coach. Great relationships with his players and other staff members. We all love Helf."
Said Helfrich about potentially becoming the Ducks coach: "We'll cross that bridge. ... Whatever happens, happens."
Helfrich coaches the Ducks quarterbacks, and his star pupil had another great game. Mariota, who won game MVP honors, completed 12 of 24 passes for 166 yards and two touchdowns with no interceptions. He also rushed eight times for 62 yards and a score.
"He's a great young player," said Kansas State linebacker
Arthur Brown
, an All-America. "He has a bright future."
Both these teams suffered their only regular-season loss on Nov. 17. The Ducks lost in overtime to Stanford, which won the Rose Bowl. Alabama also has one loss, but it's playing unbeaten No. 1 Notre Dame for the national title. Kelly was asked where he thought his team ranked.
"I don't know," he said. "I don't have a vote. I don't want a vote. This is my favorite team, so I vote us No. 1."
As for whether he's about to leave his favorite team, Kelly left few clues. He called his oncoming interviews a "fact-finding mission."
"I want to get it wrapped up quickly and figure out where I'm going to be," he said.
He's not the only one.
A program and an enraptured fan base is holding its collective breath. They are hoping Kelly will be winning more days for years to come.
January, 3, 2013
Jan 3
10:00
AM PT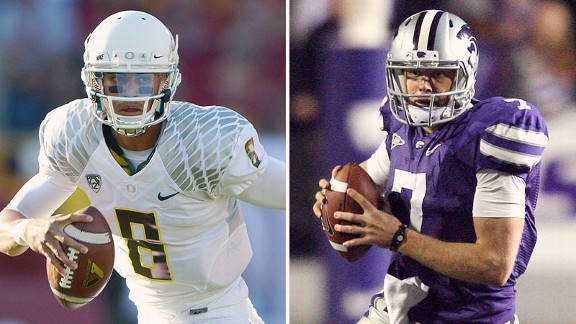 USA TODAY SportsWith quarterbacks Marcus Mariota and Collin Klein, the Fiesta Bowl won't be lacking in star power.
SCOTTSDALE, Ariz. -- The Tostitos Fiesta Bowl on Thursday night? Forget the corn chips; this matchup is about something else.
It's the Regret Bowl. The What Might Have Been Bowl. It's the Can the Mayans Make the Apocalypse Take Out Only Nov. 17 Bowl.
If Nov. 17, when No. 4 Oregon and No. 5 Kansas State both lost their only game of the season, were wiped away, this Ducks-Wildcats showdown likely would have been for the national title.
So, yes, when the Ducks and Wildcats turned on ESPN during the past month or so and watched reports on Alabama and Notre Dame, they often were nicked by a pang of regret, no matter how philosophical a pose their respective coaches tried to establish in the locker room.
Regrets? Yeah, both teams have a few.
"Yeah, a little bit, I'm going to be honest with you," Oregon quarterback
Marcus Mariota
said. "It's one of those things you have to learn from. We lost at the wrong time."
Of course, denial can come in handy. Alabama-Notre Dame? Who are they?
"I think this is the best two teams in the nation in this game right here," said Kansas State receiver
Chris Harper
, who transferred from Oregon. "I know Notre Dame and Alabama have their game, but I think this is the best matchup."
It's certainly a good matchup. No other bowls -- other than that aforementioned matchup in South Florida -- matches top-five teams. You have plenty of star power, with Kansas State QB
Collin Klein
, a Heisman Trophy finalist, and Oregon running back
Kenjon Barner
and Kansas State linebacker
Arthur Brown
, both All-Americans. Then there's celebrated Ducks redshirt freshman quarterback Mariota, who was first-team All-Pac-12 and will be near the top of many 2013 preseason Heisman lists.
And then there are the coaches. Kansas State coach Bill Snyder, the septuagenarian program builder, and Oregon's Chip Kelly, the wise-cracking mad scientist of offense, both would make just about everyone's top-10 list of college football coaches. An added dimension of intrigue is the possibility that Kelly may be coaching his last game as a Duck, as he's being eyeballed by a number of NFL teams.
Said Kelly, "I do not know what the future holds. I do know we have a football game [Thursday] night, and I'm going to be there."
Kelly's crew is playing in its fourth consecutive BCS bowl game. It lost its first two, including here to Auburn in the national title game after the 2010 season, but beat Wisconsin in the Rose Bowl last year. Kansas State is playing in its first BCS bowl game since 2003, and it has lost its past two bowl games.
So there doesn't seem to be much question about how hungry the Wildcats are to end their season with a victory.
"It would be huge," said Klein, who is 21-4 over the past two seasons. "We talk about finishing all the time. We haven't been able to finish the last two years. To be able to do that is very important to us."
Part of Kelly's coaching philosophy is that every game is the same -- a Super Bowl! -- because your preparation should always be your best. Yet the Ducks want to maintain their perch among college football's elite. A Fiesta Bowl victory likely would cement a 2013 preseason top-five ranking because the Ducks have a lot of talent coming back next fall.
"We have to make a statement to the rest of the country," Ducks offensive lineman
Kyle Long
said.
As for keys, you hear the usual from both coaches: turnovers, tackling, special teams, etc. But turnovers seem to be even more notable than usual in this one, at least based on the teams' performances this season.
Kansas State has the third-fewest turnovers (10) in the FBS this season and has forced the eighth-most (31). Oregon is tied for first in turnovers forced with 38, including 24 interceptions. The Ducks turned the ball over 19 times, second-fewest in the Pac-12.
Klein had three interceptions in the Wildcats' 52-24 loss to Baylor.
"When we've turned it over, we've struggled," Snyder said. "When we haven't, we've played reasonably well."
Sure, both teams wish they were playing for a national title. But the winner of this game will finish ranked in the top four. So that's better than 116 other FBS teams. Not too shabby, even if it includes a dose of what might have been.
Kelly was asked what he'd learned after playing in four consecutive bowl games.
"I think you learn really how hard it is to get there," he said. "That's the one thing I think as a team, as a staff, as a group of players, to not take it for granted. It's a truly special thing to be able to play in a BCS game."
Of course, it's more special to win one.
January, 2, 2013
Jan 2
11:20
AM PT
SCOTTSDALE, Ariz. -- The overwhelming sentiment at the Tostitos Fiesta Bowl is the game will be Chip Kelly's last as the Oregon head coach before he fills one of the seven new NFL vacancies. If that is so, the equally overwhelming sentiment is that offensive coordinator Mark Helfrich will step into Kelly's spot atop the program.
Kelly, clearly anticipating the NFL questions, has fought off all inquires on the matter by saying he is only focused on the Fiesta Bowl on Thursday. He has emphasized that the NFL talk is not a distraction to him or his team, and that he and his players have not addressed it.
His players have been on message, too.
[+] Enlarge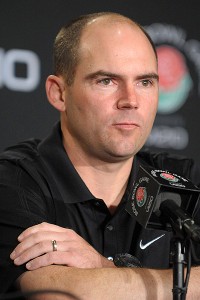 Kirby Lee/Image of Sport/USA TODAY SportsMark Helfrich was a quarterback coach at Boise State, Arizona State and Colorado, before joining Oregon in 2009.
Said linebacker
Michael Clay
: "He doesn't talk about it. No body talks about it."
And offensive lineman
Kyle Long
: "There isn't really a lot of talk about that. You can control what you can control. What we can control is our attitude, our effort and our preparation."
And quarterback
Marcus Mariota
: "Whatever happens, happens. Coach Kelly will make a decision that is best suited for him. Whatever he does, this team will support him."
And center
Hroniss Grasu
: "He's our head coach right now. That's the only way I can look at it. I will play for whoever is our head coach right now. Right now, it's Coach Kelly. I won't look too far ahead."
As for Helfrich, he also is staking out a "wait-and-see" position: "I don't think [Kelly leaving for the NFL is] a slam-dunk like everyone else does. I hope he stays at Oregon forever," he said.
It's important to note there have been no concrete reports of contact with NFL teams, and Oregon athletic director Rob Mullens said he's received no courtesy calls from an interested NFL team. It's plausible -- and very, very Chip Kelly -- that Kelly's non-denials emerge from his enjoyment in making the media awkwardly tap dance in front of him.
Still, if Kelly's departure is just days away, it is reasonable to get an early measure of Helfrich, who has been a quarterback coach at Boise State, Arizona State and Colorado -- he was the Buffs' offensive coordinator, too -- before Kelly hired him in 2009.
"He's really smart, really intelligent," Kelly said of why he made Helfrich his first offensive coordinator. "He brought a different perspective to our staff, because he had a different background. He wasn't a spread guy. I wanted to bring someone in who wasn't going to tell us what we already knew."
When asked what advice he'd give to Helfrich if he became a head coach, Kelly said he'd give him the same advice Rich Brooks gave Mike Bellotti and Bellotti gave him: "Be yourself. You can't be someone else."
Which is interesting in itself, because Helfrich is different than Kelly. Very different.
"Coach Kelly is the yin and he's the yang," Ducks senior running back
Kenjon Barner
said. "Coach Kelly is on you. He knows what he wants and he's going to get it out of you. Coach Helf is kind of that guy who brings you along smoothly, rather than rough. Good cop, bad cop. Sometimes they switch roles."
That said, continuity is a big reason to promote Helfrich. Oregon has a team culture, system of practicing and schemes on both sides of the ball that have been working fabulously over the past four years with Kelly. Helfrich wouldn't be expected to change much. Further, he'd likely be able to retain some of the Ducks' staff because Kelly probably will need to hire veteran NFL coaches to offset his lack of professional experience.
Still, Helfrich, as Kelly would advise, is unlikely to transform into a Kelly clone. He's worked with a number of successful coaches, so he'd likely put his own stamp on existing systems.
"You take a little bit of everybody with you," Helfrich said. "I've learned a ton from Chip."
While some players seemed -- for obvious reasons -- uncomfortable with the topic, there was a strong undercurrent of support for Helfrich, and not just with offensive players.
"He's a great guy and knows what he's doing," linebacker Michael Clay said. "Everyone respects him on the team and around the league. I think he'd do a great job as a head coach."
Helfrich is certain to be a head coach at some point. The big question to be answered after the Fiesta Bowl is whether that ascension is just days away.
December, 28, 2012
12/28/12
10:30
AM PT
SCOTTSDALE, Ariz. -- There is a school of thought, now apparently subscribed to by a handful of desperate NFL teams, that if that uber-suave, hirsute gentleman from those wildly entertaining Dos Equis beer commercials revealed his true identity, he would rip off a bearded mask and reveal Chip Kelly.
Is Kelly the most interesting man in the world?
Pause for a moment before chortling over our potential hyperbole, for Kelly has packed a lot into his 52-game tenure at Oregon, including 45 victories.
[+] Enlarge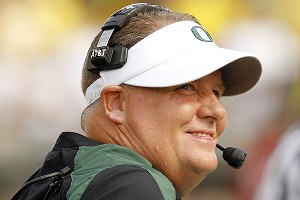 AP Photo/Don RyanChip Kelly doesn't often discuss his life with writers, but when he does, his answers are revealing.
He has run with the bulls in Pamplona. He has led the Ducks to three Pac-12 titles and four BCS bowl games. He has done humanitarian work in Africa. He has produced Oregon's first Rose Bowl victory in 95 years. He has visited U.S. troops in Iraq and Afghanistan.
Kelly, 49 and single, is also fiercely private. He has never cooperated with any truly in-depth "This is your life, Chip Kelly!" story, which is exceedingly rare for a high-profile coach. Nearly all his close friends are back in New Hampshire, where he's from and where he went to college.
Kelly doesn't like glad-handing boosters, something often viewed as a prerequisite for being a college coach. He particularly dislikes talking to reporters, and he goes to great lengths to make sure they understand.
The Dos Equis guy says, "Stay thirsty, my friends." Kelly would say, "Stay away, annoying hangers-on."
Yet the vast majority of Ducks fans not only love all the winning, they love Kelly for his wiseacre, smirking self. They chant "Big Balls Chip!" inside rocking Autzen Stadium to celebrate Kelly's penchant for going for it on fourth down, going for 2 and launching onside kicks at surprising times.
He tells fans, "Shut up!" for cheering behind him during an ESPN postgame interview, and they love him more. A Twitter page,
Chipisms
, celebrates not only Kelly's amusing or insightful wisdom -- "I saw the 'Feel Sorry for Yourself' train leaving the parking lot & none of our players were on it, so that was a good sign" -- but also for his snark.
Inquiries that Kelly doesn't like might get one-word answers, clichéd responses or snappy rejoinders that belittle his inquisitors. Questions that engage him, however, receive full and thoughtful treatment. Consider this response from an ESPN story on Kelly's trip to Africa, when he worked with adolescent girls who had no idea who he was.
"The real heroes are the little girls in Africa who are trying to better themselves so they can help their families," he said. "When I hear a coach say, 'We're grinding.' I'm like: You're sitting in a room with air conditioning watching videotape. That's not grinding."
There seem to be three facets to Kelly. His standoffish public face, the detail-obsessed coach and the Renaissance man determined to drink life to the lees away from the game. Even the hard-driving, "win the day" side of Kelly can loosen up behind closed doors; those who work with him frequently cite his sense of humor.
"He [jokes around] all the time," said offensive coordinator Mark Helfrich, a leading candidate to replace Kelly should he bolt for an NFL job. "It's not: 'Aha, he smiled! Isn't that amazing?' It's daily. We have a lot of fun."
Further, while Kelly's offense almost always runs like a finely tuned machine, plenty of, er, interesting things have been interspersed with winning during Kelly's tenure. Drama has not been lacking over the past four seasons.
His first game as Oregon's head coach remains his worst: A 19-8 loss at Boise State. Not only did the Ducks gain an embarrassing 152 total yards, but Kelly's star running back LeGarrette Blount punched a Broncos player afterward, bringing the hot light of controversy to his team's feckless performance.
Some thought Kelly was in over his head. He answered that by becoming the first Pac-10 coach to lead a team to an outright conference championship his first season.
Oh, and in a sign of interesting things to come, when a season-ticket holder wrote Kelly demanding a refund for his expenses incurred after attending that disastrous trip to Boise, Kelly quickly fired off a note with a personal check for $439.
Heading into 2010, starting quarterback Jeremiah Masoli was suspended after he was involved in the burglary of an Oregon fraternity house. Losing a star quarterback typically would damage a team's chances, but all Kelly's team did was finish undefeated and play for the national championship, losing 22-19 when Auburn kicked a last-second field goal.
The NCAA came calling during the 2011 offseason, wanting to know details of Kelly's and the program's dealings with street agent Willie Lyles. A distraction? Nope. Oregon won the conference a third consecutive year and the Rose Bowl against Wisconsin.
Kelly then nearly left for the Tampa Bay Buccaneers. His quarterback, two-year starter Darron Thomas, had already opted to leave the program, which again threw into question the Ducks' prospects. But Kelly returned and so did the winning, with redshirt freshman
Marcus Mariota
earning first-team All-Pac-12 honors while leading the Ducks to a No. 4 ranking and a Fiesta Bowl berth opposite Kansas State.
Yet he arrives at the Fiesta Bowl amid swirling rumors that he's about to leave for his pick of available NFL jobs. Asked about his NFL ambitions this week, he gave a 235-word answer that essentially said "no comment."
"My heart is to win the day, and that's it," he concluded. "I know everybody wants to hear a different answer, and I know at times when I don't give you guys the answer you guys want, then I'm being evasive. I'm not being evasive. My job is to coach the University of Oregon football team, and I love doing it. And that's what I'm going to do."
So the question will linger for a coach who at the very least is currently the most interesting man in college football: Will the Fiesta Bowl be his last day to win for Oregon?
November, 20, 2012
11/20/12
12:00
PM PT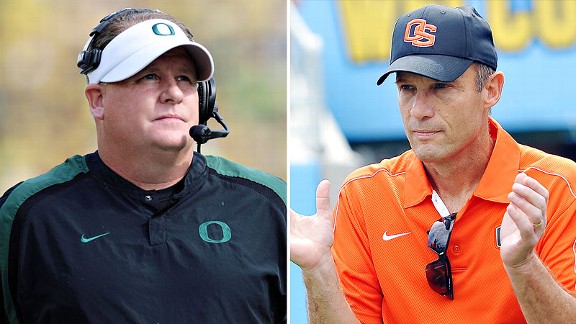 US PresswireOregon coach Chip Kelly and Oregon State coach Mike Riley face off Saturday in the 116th Civil War.
The 2012 Civil War between Oregon and Oregon State doesn't match the 2000 game, when both teams were ranked in the top 10 for the first time in the rivalry's history, or the 2009 game, when the winner-take-all stakes were a Pac-10 title and a Rose Bowl berth. But it's pretty darn big.
The 116th Civil War, the seventh-oldest rivalry game in college football, in Reser Stadium on Saturday (3 p.m. ET, Pac-12 Network) approaches the 2000 game in terms of both teams' rankings, the first time in the series that both were ranked in the top 10. Oregon was fifth and Oregon State eighth in that game, won 23-13 by the Beavers. This go-around, Oregon is again fifth and the Beavers 15th in the
latest BCS standings
.
There is no Rose Bowl on the line for Oregon State, as there was in 2008 and 2009, but the Beavers can play a spoiler role while boosting themselves in the Pac-12 pecking order.
Oregon still harbors hopes of slipping into the national title game, and the Ducks will win the North Division if they beat the Beavers and Stanford loses at UCLA on Saturday. Then Oregon would play host to UCLA on Nov. 30, with -- at least -- a Rose Bowl berth at stake.
And even if Stanford beats UCLA to win the North, an Oregon victory over the Beavers likely would earn it an at-large berth to a BCS bowl game, probably the Fiesta Bowl, where they could end up playing the Big 12 champ, likely Kansas State.
Oregon State? While its postseason destination is most likely the Holiday Bowl, ending a four-game losing streak in the rivalry series would be significant. It would certainly stem the momentum that has been decidedly in the Ducks' favor since an obscure coach from New Hampshire by the name of Chip Kelly arrived as the team's offensive coordinator in 2007.
While the 2008 and 2009 Civil Wars were big games with big implications, the 2010 and 2011 games were all about the Ducks. They were coronation events, as Oregon earned berths in the national title game and the Rose Bowl. The Beavers, meanwhile, were sucking on lemons, suffering through back-to-back losing seasons.
That had some Beavers fans grousing about coach Mike Riley and his staff. It wasn't only about a program backtrack. It was about what was happening 45 minutes to the south in Eugene. It's no fun losing games, but when you are losing, it's much worse when your rival is thriving.
Beavers fans saw Kelly -- smug, smirking, standoffish, annoyingly brilliant -- and felt they were getting left behind.
But we all know things can change quickly in college football. The Beavers are on a clear uptick. While both teams have a lot of talent coming back in 2013, it's Oregon that now has some question marks.
Will Kelly be lured away by an NFL offer? More than a few NFL sorts believe he will have his pick of jobs this offseason.
And what about the NCAA investigation into L'Affair de Willie Lyles? At some point penalties will be handed out. While those penalties are not expected to be crippling -- despite the uninformed blather coming from some people -- they certainly won't help the Ducks maintain their perch atop the Pac-12.
Just imagine how the next couple of months could go for Oregon State fans: 1. A Civil War victory over Oregon, ending a four-year losing streak in the series and the Ducks' three-year run of conference titles; 2. Kelly leaves Eugene for the NFL; 3. NCAA sanctions for the Ducks.
Let's just say more than a few Beavers fans would be high-fiving each other. And there would probably be more than a few
Washington Huskies
fans trying to get in on that action.
Or ... or ...
Oregon beats the Beavers for a fifth consecutive time, finagles its way into the national title game and then beats, say, Alabama for the school's first national title. Then Kelly announces he's staying in Eugene "for life" and the NCAA gently slaps the Ducks' wing.
So, yeah, there's a lot going on here.
Still, amid all these possibilities and speculations, good and bad for both programs, there is only one thing that either can control: Saturday's game.
Yes, it's pretty darn big.
October, 29, 2012
10/29/12
10:43
AM PT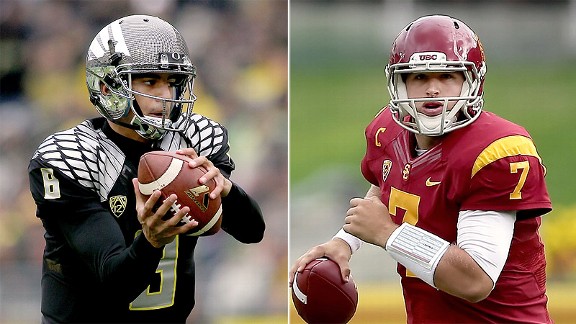 Getty ImagesA win this weekend for Oregon and quarterback Marcus Mariota over USC and QB Matt Barkley could represent a power shift in the Pac-12.
Is Oregon-USC about a passing of the guard?
The one absolute history teaches us is there will be change. Nothing lasts forever. Empires fall. In ancient times, no one could conceive a world without Roman domination.
Look at Italy now
.
USC has 11 national championships. Oregon has none. And it wasn't too long ago that USC under Pete Carroll made a dynastic run that terrorized college football. From 2002 to 2008, USC was college football's pre-eminent power, the lone program that made the SEC quake in fear.
But there is a distinct sense that Chip Kelly and the
Oregon Ducks
are headed to the Coliseum on Saturday to grab the Pac-12 sword from Tommy Trojan and take it back to Eugene.
It wasn't supposed to be like this. In the preseason, the overwhelming consensus was USC was ready to reclaim its place atop college football. The Trojans, emerging from a two-year postseason ban courtesy of the NCAA, welcomed back 19 starters from a team that went 10-2 and won at Oregon. They looked like a potentially all-time great team on offense, with a talented defense playing a strong supporting role.
Meanwhile, Oregon was replacing six offensive starters, including a two-year starter at quarterback in Darron Thomas and its all-time leading rusher, LaMichael James. The defense looked stout, but there were plenty of questions. It seemed premature, despite three consecutive Pac-12 titles, to call the Ducks a "reload, not rebuild" outfit.
Au contraire.
Oregon has been a well-oiled machine. It has rolled over everyone like an army of steamrollers and sat its starters for large portions of the second half. Sure, the schedule hasn't featured any A-list foes. But Arizona, Arizona State and Washington are a combined 14-10 with wins over Oklahoma State, Stanford, Oregon State and USC, and the Ducks beat them by a combined count of 144-42.
USC has flashed brilliance at times on both sides of the ball this season, but that only serves to provide a stark contrast for the moments of inexplicable mediocrity and sloppiness. The Trojans are 120th -- last! -- in the nation in penalties and penalty yards per game.
And last by a fairly wide margin
.
Quarterback Matt Barkley has thrown eight interceptions. He threw seven all of last year.
And to cut to the chase, USC already has two losses, to Stanford and Arizona, that have thrown a blanket of "Neh" over what was supposed to be not only the Pac-12 game of the year, but also perhaps the national game of the year.
So it's fair to ask what it might mean -- big picture -- if Oregon prevails and then goes on to win a fourth consecutive Pac-12 title: Are the Ducks poised to displace USC atop the conference for the long term?
USC fans would rightly counter, "Well, how about the Ducks win a national title first?" That's fair.
Oregon fans probably would admit there's a reasonable -- and nagging -- qualifier here also: "As long as coach Chip Kelly stays in Eugene."
While Oregon probably wouldn't tumble into mediocrity if Kelly bolted for the NFL -- the program is too rich and too Nike'd -- this run of dominance feels like its foundation is built on Kelly's cult of "Win the Day" personality.
But the Pac-12 blog, just like Kelly quashing an interesting question, won't deal in hypotheticals.
So then, if the Ducks roll over the Trojans on Saturday by multiple touchdowns -- an unthinkable idea in the preseason -- and go on to win a fourth consecutive Pac-12 title, that feels like it could be a resonating statement.
Further, USC has two more years of scholarship sanctions. It can sign no more than 15 players for the next two recruiting classes (though there's some backwards-looking wiggle room coach Lane Kiffin has skillfully exploited) and can't exceed more than 75 players on scholarship, instead of the standard 85. All along, the point has been repeatedly made that USC will be most taxed by sanctions over the next two to three years.
Meanwhile, a glance at Oregon's roster, led by redshirt freshman QB
Marcus Mariota
, and sophomore fancypants
De'Anthony Thomas
, suggests the Ducks aren't going anywhere. This is almost certainly a preseason top-five team in 2013.
It seems like a potential old-school to new-school transition is at hand. From a program with iconic uniforms and pageantry that is immediately recognizable to college football fans across the country, to a program that changes uniforms every week and isn't afraid to wear lime-green socks.
Of course, the reality is USC won't go easily into the night. It has too much tradition. And let's not forget this: Location, location, location. USC's presence in Southern California's recruiting hotbed means the potential for program greatness is built-in.
And maybe USC pulls the shocker on Saturday and gets to smirk back at all the doubters.
Yet if Oregon takes care of business as most now expect, something might very well change. When someone asks, "Tell me about the Pac-12?" The new response will be, "Well, of course, there's Oregon first. You know about them, right?"