Oregon Ducks:

Morgan Breslin
May, 12, 2014
5/12/14
7:00
PM ET
There were
34 Pac-12 players selected
during the NFL draft, but there will be more than twice that many rookies in NFL training camps this summer. Shortly after the draft ended, the dominoes started falling and those who went undrafted started signing free-agent contracts.
The following list of undrafted free agent signings, which was compiled from various announcements and media reports, could change in the coming days:
Arizona
Arizona State
California
Note:
K
Vincenzo D'Amato
will
reportedly attend
Green Bay's rookie minicamp.
Colorado
Oregon
Oregon State
Stanford
Notes:
S
Devon Carrington
(Pittsburgh) and LB
Jarek Lancaster
(Oakland) will attend rookie minicamps.
UCLA
USC
Utah
Notes:
DT
LT Tuipulotu
will attend Green Bay's rookie minicamp and C
Vyncent Jones
told the Deseret News
he will attend minicamps for Pittsburgh and Kansas City.
Washington
Note:
S
Sean Parker
will
reportedly attend
Washington Redskins rookie minicamp.
Washington State
Note:
K
Andrew Furney
will attend Seattle Seahawks rookie minicamp.
April, 3, 2014
4/03/14
12:00
PM ET
Washington was the final Pac-12 school to host its pro day Wednesday, essentially putting an end to 40-yard-dash season. Here is a look at some of the conference's top prospects and a few others who helped their cause over the past month.
Arizona (March 6)

Big name:
RB
Ka'Deem Carey
. After getting clocked at 4.70 in the 40 at the combine, Carey's pro day was a bit more intriguing than some of the other big-name players. There was some improvement -- various reports had him in the high 4.6-range -- but it wasn't enough to change the book on him. Still, Carey's production should make up for his perceived shortcomings.
Sleeper:
OLB
Marquis Flowers
. Flowers
reportedly ran in the 4.4s
and had a good showing in position drills.
Arizona State (March 7)

Big name:
DT
Will Sutton
. The Sun Devils' pro day further cemented what scouts learned at the combine, when he turned in below average numbers. There was slight improvement at the pro day, according to several reports, but nothing to save his falling stock.
Sleeper:
RB
Marion Grice
. Grice was invited to the combine, but didn't participate as he recovers from a broken leg suffered late in the season. He also didn't participate at the pro day, but will hold an individual workout for NFL scouts on April 8.
California (March 19)

Big name:
DT
Deandre Coleman
. Coleman only participated in the bench press at the combine, but fared well in field drills on campus with
a reported 40 time
in the mid 4.9-range. Coleman is projected by most to be a mid-round selection.
Sleeper:
RB
Brendan Bigelow
. Bigelow was perhaps the player with the most to gain at pro day. The book on him has always been that he's loaded with talent and the physical skills necessary to be an impact player. It didn't happen for the Bears before he decided to leave early for a shot at Sunday football. Despite
injuring his hamstring
midway through his 40, Bigelow still was reported as running in the high 4.4-range with former Cal running backs
Marshawn Lynch
and
Jahvid Best
looking on.
Colorado (March 12)

Big name:
WR
Paul Richardson
. There were 24 teams on hand, with Richardson the obvious prize of the nine that worked out. He only participated in the vertical jump, short shuttle and three-cone drills.
Sleeper:
LS
Ryan Iverson
. Iverson will not be drafted, but after four years as the Colorado long snapper he has a chance to make some money at the next level. His 27 reps on the bench press were a team high. All the Colorado results
can be viewed here
.
Oregon (March 13)

Big name:
RB
De'Anthony Thomas
. Thomas' 4.50 40 time at the combine was among the disappointments for the conference and turned a perceived strength into average attribute. After his showing in Eugene -- a 4.34 40 time -- the world is back on its axis. On his combine performance, Thomas
told the Ducks' official website
: "I ran a 4.5 in ninth grade, so I was like, 'Wow, that's crazy'. I feel like that made me train harder and I used it as motivation."
Sleeper:
CB
Avery Patterson
. Patterson was left puzzled by his own performance after putting up just 10 repetitions in the bench press, but the two-year starter remains focused on making the jump to the next level. He's likely the type of player that will have to earn his way on a team via a training camp invitation and possibly a practice squad.
Oregon State (March 14)

Big name:
WR
Brandin Cooks
. The Biletnikoff Award winner could have showed up to the Beavers' pro day as a spectator and it likely wouldn't have mattered. His showing at the combine was enough to solidify his stock as a first-round pick. Cooks didn't take part in field drills, but did run routes.
Sleeper:
WR
Micah Hatfield
. Yes, a receiver with 20 career catches helped his cause. One scout
told the Oregonian
he had Hatfield at 4.33 in the 40 -- the same times Cooks clocked when he was the fastest receiver at the combine.
Stanford (March 20)

Big name:
OL
David Yankey
. Kansas City, Tampa Bay and St. Louis were the only no-shows at Stanford. If the mock drafts are to be trusted, Yankey figures to be the first Stanford player of the board. He improved slightly on the bench press (22 to 25) and clocked the same 40 time (5.48) from the combine.
Sleeper:
DE
Ben Gardner
. Is it fair to call Gardner a sleeper after earning some form of all-Pac-12 recognition the past three years? Probably not, but after
not being invited to the NFL combine
we'll go ahead and list him here anyways. Gardner benefitted most from the day, quantifying his explosiveness and athleticism with a 39.5-inch vertical jump.
UCLA (March 11)

Big name:
OLB
Anthony Barr
. After running a 4.66 40 at the combine, Barr was clocked at 4.45 to ease any lingering doubt about his straight-line speed. Barr helped his case to become a top-10 pick and will likely be the first player from the Pac-12 selected.
Sleeper:
RB
Malcolm Jones
. The Gatorade national high school player of the year never developed into the player UCLA fans were hoping for, but he's still hanging on to hopes of an NFL career. He was credited with a 4.57 40 at the Bruins' pro day.
USC (March 12)

Big name:
WR
Marqise Lee
. Lee went Jerry Seinfeld and
chose not to run
, letting his combine performance serve as the final measurement of his ability. After not lifting in Indianapolis, Lee finished with 11 reps in the bench. He's tagged for the first round.
Sleeper:
DE
Morgan Breslin
. Like Gardner, who he has been working out with in San Ramon, Calif., Breslin was a combine snub. He ran a 4.75 40, put up 26 reps on the bench and registered a 35.5-inch vertical jump. Here are the
complete results
for the 18 players who took part.
Utah (March 19)

Big name:
CB
Keith McGill
. One of the fastest risers since the season has ended, McGill decided to
participate in every drill
despite a good showing at the combine. His 40 time (4.52) was a hundredth of second slower than what he did at combine, and his vertical leap (35.5) was about four inches less.
Sleeper:
FB
Karl Williams
. The 240-pound former walk-on clocked a 4.5, which will could give him a shot to get in a training camp.
Washington (April 2)

Big name:
RB
Bishop Sankey
. Content with his good showing in Indy, Sankey elected to just run the 60-yard shuttle and catch passes. Most mock drafts have Sankey, who left with a year of eligibility remaining, as the No. 2 running back.
Sleeper:
QB
Keith Price
. There were 19 quarterbacks at the combine, but Price was not one of them, marking the first time since at least 1999 that the conference didn't send a quarterback -- and it could be longer -- we could only find combine rosters dating back that far.
Price got good reviews
for his performance Wednesday, but it would still be surprising if he gets drafted.
Washington State (March 13)

Big name:
S
Deone Bucannon
. WSU's remote location and limited number of pro prospects resulted in
less than a dozen
scouts on hand, but those that were there got to see one of the conference's most intriguing prospects. Bucannon just participated in position drills after performing well across the board in Indianapolis.
Sleeper:
K
Andrew Furney
. Furney showed a leg capable of hitting from beyond 60 yards and further established himself as a potential candidate for training camp invitations.
November, 6, 2013
11/06/13
2:30
PM ET
His subtle obsession with uniqueness troubled all his dreams.
October, 17, 2013
10/17/13
10:15
AM ET
A few storylines to keep an eye on this week in the Pac-12:
1. Title game rematch
: UCLA and Stanford will face each other for the third time in the last 10 months. Only this time it's the Bruins who are the higher-ranked team, coming in at No. 9 after Stanford slid to No. 13 following its loss at Utah. Remember all of those side-to-side swing passes that Dennis Erickson and Utah used to keep Stanford off balance? Remember who worked for Erickson at ASU? Yep, Noel Mazzone. And UCLA loves to hit its receivers in the flat. Keep an eye on what happens after the second-half kickoff, as well. The Bruins are outscoring opponents 71-0 in the third quarter this year. Stanford has a 12-game home winning streak -- third longest in the nation -- and is 10-1 at home against ranked opponents since 2009. Stanford hasn't lost consecutive games since the middle of the 2009 season.
[+] Enlarge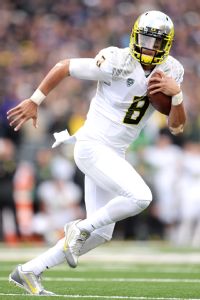 Allen Kee/ESPN ImagesMarcus Mariota and the Ducks are expected to be one of the top two teams when the BCS standings are released on Sunday.
2. BCS time
: The first Harris Poll of the season was released Sunday and featured four Pac-12 teams in the top 25: Oregon (2), UCLA (9), Stanford (12) and Washington (25). The first BCS standings will be released this week -- which comes on the heels of the announced selection committee for the College Football Playoff that starts next year. We're all expecting Oregon to be in one of the top two spots. Question is, where will UCLA or Stanford land?
3. North vs. South:
Two more critical North versus South showdowns this week with UCLA traveling to Stanford and Washington heading to Arizona State. The UCLA-Stanford game takes center stage for obvious reasons. But Washington-ASU has all the makings of a thriller. This is one of those 50-50 games that either team needs to win to show they belong in the upper tier of the Pac-12. The quarterbacks,
Keith Price
and
Taylor Kelly
, are obviously the mechanisms that make their teams go. But Washington running back
Bishop Sankey
(899 yards) has rushed for at least 125 yards in five of six games and ASU gives up almost 170 yards per game on the ground. Look for him to probably break 1,000 for the season by the final whistle. On the flip side, ASU's
Marion Grice
already has 15 total touchdowns. He had 19 last year, so look for him to eclipse that mark in the next couple of games.
4. Making up is hard to do
: Colorado will face Charleston Southern this week as a makeup for the Sept. 14 game against Fresno State that was canceled because of severe rain and flooding in Colorado. Charleston Southern is a perfect 7-0 on the year and is receiving votes in the Sports Network FCS College Football Poll. The Buffs are looking to get to 3-3 for the first time since 2010. And they are making a change at quarterback with
Sefo Liufau
stepping in after going 18 of 26 for 169 yards and a touchdown and two interceptions in relief against Arizona State.
5. No. 5?
The Cougars are looking for their fifth win for the first time since 2007. Tough draw, however, this week with a trip to Oregon. The Ducks are averaging 56.8 points per game and are second in the country in total offense with 630.5 yards per game.
6. Taking care of the ball
: Speaking of Oregon, quarterback
Marcus Mariota
, the Heisman frontrunner through the first half of the season, continues to impress with turnover-free performances. Though his completion percentage is down from last year, he hasn't thrown an interception in 165 pass attempts this year -- which extends a streak dating back to last season of 233 attempts. His last interception was against Stanford. During that stretch, he's completed 100 passes for 1,724 yards and 17 touchdowns. Receivers
Josh Huff
and
Bralon Addison
have 27 catches each for a combined 1,054 yards and 11 touchdowns.
7. Rebuilding the brand:
Nothing can unite the USC fan base like a win against Notre Dame. Better yet, a win
at
Notre Dame. The Trojans won their first game of the Ed Orgeron era and look to follow it up against the Irish. Neither team is ranked, but the names carry a lot of weight. This is a game that could re-energize the Trojans moving forward.
Marqise Lee
and
Morgan Breslin
have both practiced and it's looking like both will play. That should be a huge boost after getting running back
Silas Redd
back last week.
8. Momentum building?
What do the Utes do with their big win over Stanford? Do they keep the momentum rolling? They have to go on the road for four of their next six -- including leaving the state for the first time this season when they travel to face Arizona. The Wildcats are still looking for their first conference win, though quarterback
B.J. Denker
had a strong statistical performance in the loss last week to USC, completing 28 of 44 passes for a career high 363 yards and four touchdowns.
9. Who needs a running game?
The Pac-12's top two passing offenses square off with Oregon State's trip to Cal. OSU quarterback
Sean Mannion
has six straight games of 350 passing yards and the Beavers lead the conference with 433.2 passing yards per game and 25 passing touchdowns. Cal averages 371.3 yards in the air -- second in the league, but just 11 passing touchdowns, third worst. The Bears can move it, they just haven't been able to convert yards into points.
10. No off week:
For the second straight week, all 12 schools will be in action. This was supposed to be a bye week for Colorado, but the Charleston Southern game fills the void. Next week Arizona State and Washington State are on bye. It will be the first of two byes in three weeks for the Cougars, who will have opened the year with eight straight games following this week's matchup with Oregon.
October, 7, 2013
10/07/13
9:30
PM ET
Here's a quick look at Week 7 in the conference. All times are ET.
Thursday


Arizona (3-1, 0-1) at USC (3-2, 0-2) 10:30 p.m. Fox Sports 1
: USC leads the series 28-8, but the Wildcats prevailed 39-36 last year in Tucson and the teams have split the last four meetings. This will be the Trojans' first game after the firing of coach Lane Kiffin, with Ed Orgeron taking over as interim coach. A lot of Wildcats will be able to identify, as Mike Stoops was fired after the sixth game in 2011. Both teams had byes last week. The Wildcats are coming off two byes in three weeks -- a stretch that will have put them on the field just once (Sept. 28 at Washington) in a span of 25 days before Thursday's kickoff. Arizona scored 26 unanswered points in the second half of last year's victory over the then-No. 10 Trojans. The Wildcats defense has seven INTs this season and ranks No. 11 nationally in pass efficiency defense. In the Trojans' last game, they yielded a school-record tying 62 points. USC has some injury issues as both WR
Marqise Lee
and OLB
Morgan Breslin
are questionable.
Saturday


No. 2 Oregon (5-0, 2-0) at No. 16 Washington (4-1, 1-1) 4 p.m. Fox Sports 1
: Washington leads the series 58-42-5, but the Ducks have won nine straight in the series by at least 17 points, including a 52-21 win last year in Eugene. Washington has gone three-and-out on offense in only six of 65 drives this season (9.2 percent). Only Baylor (1-out-of-61; 1.6 percent) boasts a better percentage. Washington is highly ranked in a number of NCAA offensive and defensive categories, including: third in third-down conversions, seventh in completion percentage and fifth in total offense, as well as third in pass efficiency defense and 11th in scoring defense. Oregon is No. 2 in the nation in scoring, No. 2 in total offense, No. 3 in rushing offense and No. 9 in passing efficiency. The Ducks also are No. 2 in the nation in scoring defense, No. 7 in pass efficiency defense and No. 8 in third down defense. The Huskies have turned the ball over six times this year, but have not allowed any of those turnovers to be converted into points. The Huskies have converted six of eight takeaways into touchdowns. Oregon is third in the nation in turnover margin. Washington has allowed just seven points in the first and fourth quarters this season. Oregon QB
Marcus Mariota
has accounted for 21 touchdowns -- 14 passing, seven rushing. UW RB
Bishop Sankey
enters the week as the nation's No. 4 rusher with 146.4 yards per game. He's rushed for 100 or more in eight of the last 10 games.


No. 5 Stanford (5-0, 3-0) at Utah (3-2, 0-2) 6 p.m. Pac-12 Network
: Stanford leads the series 3-2, but this will be the teams' first meetings with the Utes being Pac-12 members. Utah won the most recent game 17-10 at Stanford in 1996, but the Utes are 0-2 against Stanford in Salt Lake City. In the last meeting Utah's defense, under the direction of then-defensive coordinator Kyle Whittingham, shut out the Cardinal for three and a half quarters in a 17-10 win. The Utes led 17-0 entering the fourth quarter.
Juan Johnson
rushed for 114 yards and Jeff Kaufusi had two sacks to lead the Utes. Since joining the Pac-12 in 2011, Utah is 0-4 against ranked conference opponents and 1-4 overall (the win was against No. 25 BYU in 2012). Stanford and Utah both average 39 points per game. Utah leads the Pac-12 with 18 sacks. Stanford has yielded just five, second fewest in the conference. Utah has forced just six turnovers. Stanford has forced seven. Those are the two lowest totals in the Pac-12. Stanford and Utah are tied for first in the Pac-12 in red zone offense. The Utes have 12 TDs in 18 red zone trips. The Cardinal has 11 in the same number of penetrations.


Colorado (2-2, 0-2) at Arizona State (3-2, 1-1) 10 p.m. Pac-12 Network
: Arizona State leads the series 4-0, including a 51-17 win in Boulder last year. The Sun Devils have won two games in Tempe and two in Boulder against CU and have outscored the Buffaloes 153-48 in those contests. Colorado is coming off a 57-16 defeat to No. 2 Oregon. The Sun Devils lost to Notre Dame 37-34. Arizona State WR
Jaelen Strong
is off to one of the best starts for a receiver in school history, amassing 569 yards (113.8 ypg, which ranks 15th in the nation) on 39 receptions (7.8 rpg) in his first five games in a Sun Devil uniform. Of those 39 receptions this season, 25 have resulted in first downs. He has also drawn six pass interference penalties against him this season, four of which have results in first downs, giving him a total of 29 of ASU's 126 first downs this season (23.0 percent). Colorado WR
Paul Richardson
ranks second in the nation with 155.3 yards receiving per game. The Sun Devils rank 11th in the Pac-12 in run defense (182.8 yards per game), but Colorado only ranks 10th in rushing offense (110.2 ypg).


California (1-4, 0-2) at No. 11 UCLA (4-0, 1-0) 10:30 p.m. ESPN2
: UCLA leads the series 50-32-1, but the Bears posted a stunning 43-17 win over the then-No. 25 Bruins last year. It was the high moment of the Bears 3-9 season that got coach Jeff Tedford fired. That game was notable for two individual performances. In a poor-to-middling career, it probably was Bears QB Zach Maynard's best game -- he completed 25 of 30 passes for 295 yards with four TDs. And, in what is a career rising from good to elite, Bruins QB
Brett Hundley
had his worst career game, throwing four interceptions. The key matchup will be the Bears passing attack against the Bruins secondary, which grabbed six of its seven interceptions last week against Utah. Cal's true freshman QB
Jared Goff
ranks third in the nation with 364 yards passing per game. But the Bears rushing offense is struggling, and the defense is suffering through epidemic injuries. Cal is 122nd in the nation in scoring defense, surrendering 45 points per game. A fast start might help.
As noted by the San Francisco Chronicle
, Cal has allowed a touchdown on the opposing team's first drive in each of the first five games and has been outscored 86-31 in the first quarter this season.


Oregon State (4-1, 2-0) at Washington State (4-2, 2-1) 10:30 ESPNU
: Washington State leads the series 48-46-2, but it has dropped five of the last six games, including the past two. The Beavers won 19-6 last year. The Cougs last win over the Beavers in Martin Stadium was 36-30 in 2003. The game features two of the nation's most prolific passing QBs. Oregon State's
Sean Mannion
leads the nation in both passing yards per game (403.6) and touchdowns (21). Washington State's
Connor Halliday
is ninth at 332.2 yards per game. If there is a difference, it's interceptions. Mannion has thrown just two, while Halliday has 10 to go with 13 TD passes. Halliday did pass for 521 yards in the win at California last weekend, just 10 yards short of a school record. It's the most passing yards by any FBS QB so far this year. The 44 points against Cal are the most scored by WSU in a conference game since beating Oregon 55-10 in Eugene in 2003. The Cougars claimed their first win over Cal since 2002 (in Berkeley), snapping an eight-game skid. Don't expect a lot of rushing yards. The Beavers and Cougars rank 121st and 122nd in the nation in rushing.
September, 26, 2013
9/26/13
10:15
AM ET
A few things to keep an eye on in the Pac-12 this week.
League play is upon us: Rejoice! Now the Pac-12 teams can gut each other with their nine-game conference schedule and lose all of that national credibility it built up in the first four weeks of the season. This year, perhaps more than any other in recent memory, it doesn't look like there are any easy outs. Would anyone really be shocked if Colorado beat Oregon State based on what we've seen? The only one that would be truly shocking would be Cal beating Oregon -- and we might raise an eyebrow if Washington State beats Stanford in Seattle -- especially sans David Yankey for the game and Ed Reynolds for a half.

[+] Enlarge

Kirby Lee/USA TODAY SportsUSC's Morgan Breslin has recorded four sacks this season for the Trojans.

Nonconference notes: A good tidbit from the folks at the Pac-12 offices regarding the league's 29-4 nonconference record: Since 1934, only one season witnessed the conference capture more than 29 wins in nonleague play; 2002 (32-15), when the league played an eight-game conference schedule, allowing an additional 10 non-conference games to be played. There are three nonconference games remaining (a possible fourth pending Colorado's situation) against Notre Dame. The Pac-12 is contracted with seven bowl games, so there could be as many as 11 more nonconference games.
Battle of elites (1): Two of the league's top running backs will be on the field in Seattle on Saturday -- though not at the same time. That would mean either a bizarre trade or either Ka'Deem Carey or Bishop Sankey playing defense. In terms of rushing yards per game, they are separated by less than a yard (149.5 for Carey, 148.67 for Sankey). Yards per carry? It's even closer (6.97 for Sankey, 6.95 for Carey). Both have four rushing touchdowns. While it's not truly head-to-head, this could be one of those games folks look to when awarding postseason honors.
Battle of elites (2): Two of the league's top wide receivers will be on the field in Corvallis on Saturday -- though not at the same time. That would mean a bizarre trade or either Brandin Cooks or Paul Richardson playing defense. Cooks leads the nation with 43 catches for 639 yards and seven touchdowns. In only two games, Richardson has 21 catches for 417 yards and four touchdowns. Sixty percent of the time Cooks catches the ball, Oregon State either gains a first down or scores a touchdown.
Battle of elites (3): Two of the league's top defensive players will be on the field in Tempe on Saturday -- though not at the same time. That would mean either a bizarre trade or either Morgan Breslin or Will Sutton playing offense (which would be awesome!). Breslin is tied for the conference lead in total sacks (four) with teammate George Uko and leads the league in tackles for a loss per game. Sutton, on the other hand, has nine tackles, no sacks and half a tackle for a loss. The reason? Teams are double- and triple-teaming him like crazy. Plus, ASU has faced more run-based teams in the first few weeks. This week might be a good time for him to break out.
Speaking of USC: How good has the defense been? According to ESPN Stats & Information, none of the four quarterbacks USC has seen has posted a Total QBR above 30. The Trojans are also blitzing a lot more under new coordinator Clancy Pendergast. Last year they blitzed 25 percent of the time. This year it's up to 46 percent. And when they blitz, opposing QBs are completing just 41.9 percent of their throws, throwing it away or ending up on the ground.
All hands: With big quarterback numbers come big receiving numbers. Six Pac-12 receivers have hauled in 10 or more catches in a game eight times this season, led by Cooks and Richardson with two each. Also, 17 different receivers have posted 100 or more receiving yards in a game 26 times, led by Cooks and Utah's Dres Anderson with three games each.
Layoff impact: Colorado is playing for the first time since its Sept. 7 win over Central Arkansas, which seems like months ago, though it actually has been only 20 days. After their Sept. 14 game with Fresno State was called off because of the flooding, the Buffs had a bye in Week 4. This is Colorado's first trip to Corvallis. The previous two meetings (1931, 1963) took place in Portland. This is the last Pac-12 team Colorado is yet to play since joining the league (though the Cal game in 2011 was the back end of a home and home that didn't count in the conference standings).
Tough road: This is the second-straight game against a top-five team for California, which faces No. 2 Oregon this weekend. The Bears have gotten huge numbers out of true freshman quarterback Jared Goff, who leads the FBS with 435.3 yards per game. But the defense has been hammered with injuries. Not good, considering 12 different Ducks have scored touchdowns so far.
Odds and ends: Worth noting that four more Pac-12 receivers were recently added to the Biletnikoff watchlist: Cal's Bryce Treggs, Oregon State's Richard Mullaney and Washington State's Gabe Marks, who are all in action this weekend. Utah's Dres Anderson is the fourth … UCLA and the Utes are off this week in anticipation of their Thursday night showdown next week in Salt Lake City.
September, 24, 2013
9/24/13
9:00
AM ET
This is my mailbag. There are many like it, but this one is mine.
Eric in Redmond, Ore. writes:
The Oregon State defense seems to spend large portions of games with their silly hats on. What is going on with them? It seems there is talent at every position, but they play like day-old pancakes with too much syrup on them. On the other hand, how good is
Sean Mannion
to
Brandin Cooks
!? Can they keep this up all season? If they do, will there be Heisman considerations for either one? I have to say that right now, I think they are both #1 at their respective positions (in the conference).
Evan in New York writes
: Sean Mannion has carried the OSU team on his shoulders. Mannion leads the nation in passing and leads the nation in TDs. Not saying he is in contention, but does he at least get a nod from the Heisman pundits? Without him the team could easily be 1-3 now. Or is it really about just propping up the best players on the best teams?
Shane in Corvallis, Ore. writes
: Apparently of all Pac-12 teams the Beavers feel the need to give their fans the most heart attacks. What team would you say is the most stress inducing for their fan base?
James in Corvallis writes:
Hey Kevin, even though there were question marks at a couple of positions for the Beavers' defense, there were enough starters back on that side of the ball to expect much better play than they are showing. The entire defense has been missing tackles, missing assignments, and generally overplaying everything. What are your thoughts on why the Beavers' defense has been sooooooo bad this year and is there any hope that it could turn around?
Kevin Gemmell
: Lots of Oregon State fans eager to chat up their Beavers this week, so I'll lump them all together in one efficient answer.
Oregon State has been hit hard with the injury bug on defense. And I know coaches like to say that's not an excuse, but it kind of is. When you're expecting to have your best talent out there -- and don't -- it's a valid excuse. Behind closed doors, I'm sure the coaching staff is frustrated that they are thin. There has been a notable drop off at some positions, and it's especially noticeable in the tackling.
Take the Utah game, for example. In the first half, the defense played great holding the Utes to just a touchdown. Utah had just six rushing yards through the first quarter and didn't get a first down until the second quarter. The schemes appear to be right. They just need better execution and they have to finish plays.
As for Cooks, in general, wide receivers are seen as a product of their quarterback. So while Cooks has put himself in great shape to be a Biletnikoff finalist, I don't see any Heisman buzz in his future.
Mannion would have the better chance of the two if he continues his current pace. He's leading the nation in touchdown passes, passing yards and completions and he's 12th in QBR rating. Anytime you have a completion percentage in the 70s, you're doing it right.
But Sir Heisman is a fickle fellow. Remember, it's as much about perception as it is numbers. And right now the perception of Oregon State isn't particularly strong. It's not fair that defensive woes get placed on Mannion's potential candidacy, but that's how it goes. If the Beavers can pull off some wins over a couple of the ranked north teams, and he performs well, maybe he generates a little buzz on the West Coast. But he's going to have to prove that he's just as capable as
Marcus Mariota
and
Brett Hundley
before he gets in the conversation.
As for heart attacks, if this is how the Beavers are going to play all year, I'd lay off the Smoked Pork Chili Cheese Burger at
Block 15
and go with the Sun Burger.
Tonya in Gresham, Ore. writes:
As an old fat woman who loves college football I am wondering why folks aren't talking more about Marcus Mariota as a Heisman candidate. He seems always to be mentioned but as an afterthought. Do the folks on the East Coast realize that his numbers come from just a little over half a game each week? Since he began starting as a QB for Oregon he has only completed 25 percent of his games! Most often sitting out after the first or second series in the third quarter (and we all know that takes only about 5 min off the clock at best). This young man is for real and I as a fan would like to hear more about him!
Kevin Gemmell:
First off, you're gorgeous, Tonya. Don't let anybody tell you different.
As for Mariota, I think you need to look a little harder. Heading into last week he was
atop the ESPN.com Heisman poll
and even on a bye week, he distanced himself even further.
I'm not saying the ESPN.com Heisman poll is scripture. But it's a pretty good sample of writers from across the country who see every conference.
The Ducks open conference play with Cal this week, and then back-to-back road games at Colorado and Washington. They'll see three ranked teams in the next six weeks, including No. 5 Stanford. That's the game that will likely make or break his Heisman hopes because the country will be tuning in to see what he's all about.
Anton in Los Angeles writes
: Hey Kevin, love the work you and Ted do with all the PAC-12 teams! I was wondering how much you are excited for the top pass rushing D-linemen potentially in the nation going at it when
Will Sutton
and
Morgan Breslin
go at it in Tempe. Who do you think will have the bigger game/impact??? Both teams' O-lines have looked suspect at times this past week.
Kevin Gemmell
: Thanks Anton, I'm a huge fan of your work as well.
I think this is going to be one of the great sidebars to this game. How does ASU, which allowed three sacks and 10 tackles for a loss against Stanford, protect
Taylor Kelly
?
USC did a heck of a job corralling
Chuckie Keeton
last week, sacking him four times and holding him to minus-15 yards rushing. ASU does a really good job of moving Kelly around. He rarely throws from the same spot in the pocket on consecutive plays. They sprint him out and get him involved in the run game, so that will be a fun cat-and-mouse game between Breslin,
Leonard Williams
,
George Uko
and Co.
On the flip side, the Sun Devils blitz like crazy. They love to bring guys. Kessler has already been sacked six times this year, so I guarantee the ASU staff is looking for weaknesses.
Both guys have had success because of others around them, so look for complementary players to have an impact as well.
Both are dominant players, and both should impact the game in their own way.
0006shy in Los Angeles writes
: Kevin, I agree with everything you've been writing about Lane Kiffin. But putting USC at #10 in the Power Rankings, below teams that have lost to FCS schools, just seems wrong. I take great pride in the fact that my Trojans have NEVER played, and NEVER lost to, an FCS school. Please consider taking this into account next week when you make the new rankings list.
Kevin Gemmell
: While Ted and I consult every Sunday about the Power Rankings, he's the one who does the final version. And as you can see
from this week's Power Rankings
regarding Oregon State, he doesn't always value my counsel. That's something he'll have to live with.
I feel like Utah's win -- and USC's for that matter -- was more impressive than Oregon State's gift win from the Aztecs. The Beavers had no right trailing that team by as much as they did. And really had no right winning that game. But hey, good for them, and good for the conference going 10-0 against the Mountain West. And the Beavers beat Utah -- and they earned it -- so I can see where Ted is coming from there.
That said, I agree, USC should probably be ahead of Oregon State right now. As noted above, the Beavers have done nothing but give their fan base heart attacks against teams that shouldn't be competitive against the Pac-12. The Trojans haven't exactly been stellar offensively, but that defense has really been impressive. And to lock down Keeton the way they did last week, in my mind, should have earned them a bump.
I'll press Ted harder next week if they beat the Sun Devils. If they don't, I would only expect southward movement.
Nick in LaLaLand (I'm assuming that's LA) writes
: Hey Kevin, I was at the USC game and paying a little closer attention, wondering if Kiffin would open up the p-book a little. Alas, maybe not so, and the play calling got very conservative in the second half. Here's my questions: 1) when can we start adding PI yardage to
Marqise Lee
's stat line 2) a win is a win, but it wasn't pretty and was more like Utah State was prevented from winning rather than USC taking the victory. Was last weekend indicative of the mediocrity of BC and does our offense have more troubles ahead? 3) also when was the last time we scored in the thirrd quarter? Yikes. Thanks KG!
Kevin Gemmell
: It hasn't been that long of a drought.
Tre Madden
ran for a 30-yard touchdown in the third quarter against Boston College. (Wasn't sure if you were being facetious, but we aim to please on the Pac-12 blog). I'll check with Larry Scott to see if we can put the "Lee Exemption" into effect for this season. No promises, but he and I are tight, so we'll try to make it happen.
So we're clear, Boston College isn't a great team. It's better than it was last season, but that's not saying much, so USC did what it's supposed to do against a team like that.
But you're right, the play calling continues to be a mystery. The running game is chugging along nicely and you get first-and-goal on the Utah State 1-yard line and it's play-action pass? I get that Kiffin probably wants his guy to get some confidence with a touchdown pass, but I'd wager
Cody Kessler
gets more confidence connecting on a 30-yard post than a 1-yard dunk off. There's something to be said for trying to be overly creative. It's 1-yard. You're USC. Run the freaking ball straight ahead and blow that lower-tier Mountain West team off the line.
It feels like Kiffin is pressing so hard to show the world he can be a great play caller that the simplest plays are getting overlooked.
I like what's happening with Madden and
Justin Davis
. Through four games the Trojans are averaging 20 more rushing yards per game than they were last year. And they already have six rushing touchdowns after only getting 12 all last season which was second worst in the league ahead of Washington State's six rushing touchdowns.
But they need to do a better job sustaining drives. They are last in the Pac-12 in third-down conversions (27.5 percent) and bottom third in red zone touchdowns.
At this point, all I can say is be thankful for that defense.
August, 30, 2013
8/30/13
11:00
AM ET
Our countdown of the Pac-12's top 25 preseason players in 2013 concludes.
A lot of good players, as it happens every year, won't make the preseason list. It is in their hands to make the postseason list.
You can review our 2012 postseason top 25
here
.
1
.
Marcus Mariota
, QB, Oregon
2012 numbers
: In his redshirt freshman year, Mariota was the league's most efficient passer and second nationally per ESPN's QBR rating. He completed 68.5 percent of his throws for 32 touchdowns and 2,677 yards with only six interceptions. He also rushed for 752 yards and five touchdowns, averaging 57.8 yards on the ground. And yes, we didn't forget, he caught one ball for two yards and a touchdown. That was the beginning of the end for the dynamic
Bryan Bennett
-to-Marcus Mariota connection.
2012 postseason ranking
: No. 1
Making the case for Mariota
: He ended 2012 as our No. 1, and we see no reason to penalize him for getting better in the off season. Yes, he should be even better in 2013. With an outstanding line and cast of players around him like
De'Anthony Thomas
,
Colt Lyerla
,
Josh Huff
and a surging
Byron Marshall
, expect Mariota to build off his incredible numbers that made him an All-American honorable mention last season. Look for the postseason accolades to increase as well -- maybe even the bronze guy with the stiff arm. It's fun to wonder what his numbers might have looked like last year had he not sat out of the second half of a few games because Oregon couldn't help but put up 40-plus points in the first half. And given Oregon's early schedule in 2013 -- it's possible we could see Mark Helfrich treat his quarterback the same way Chip Kelly did last year. Still, as long as he's running Oregon's offense with fantastic precision, he'll put up the kind of dual-threat numbers that Heisman voters love. The fact that Oregon starts the year ranked in the top five and will be a national championship contender helps. In this quarterback-driven league, Mariota stands at the top of his position and the top of our preseason list.
2
.
Will Sutton
, DT, Arizona State
3.
Marqise Lee
,
WR, USC
4
.
Anthony Barr
, OLB, UCLA
5.
Brett Hundley
, QB, UCLA
6.
Ka'Deem Carey
, RB, Arizona
7.
Trent Murphy
, OLB, Stanford
8.
Ifo Ekpre-Olomu
, CB, Oregon
9
.
David Yankey
, OG, Stanford
10
.
Scott Crichton
, DE, Oregon State
11
.
Ed Reynolds
, S, Stanford
12
.
Taylor Kelly
, QB, Arizona State
13
.
Austin Seferian-Jenkins
, TE, Washington
14
.
De'Anthony Thomas
, RB, Oregon
15
.
Bishop Sankey
, RB, Washington
16
.
Shayne Skov
, LB, Stanford
17
.
Kevin Hogan
, QB, Stanford
18
.
Xavier Su'a-Filo
, OL, UCLA
19
.
Morgan Breslin
, OLB, USC
20
.
Colt Lyerla
, TE, Oregon
21
.
Carl Bradford
, LB, Arizona State
22
.
Brandin Cooks
, WR, Oregon State
23
.
Hroniss Grasu
, C, Oregon
24
.
Marion Grice
, RB, Arizona State
25
.
Ben Gardner
, DE, Stanford
August, 21, 2013
8/21/13
1:00
PM ET
Our countdown of the Pac-12's top 25 preseason players in 2013 continues.
A lot of good players, as it happens every year, won't make the preseason list. It is in their hands to make the postseason list.
You can review our 2012 postseason top 25
here
.

8.
Ifo Ekpre-Olomu
, CB, Oregon
2012 numbers
: Was Oregon's fourth-leading tackler last season with 63 stops. Broke up 16 passes and was seventh nationally in passes defended (20). He had four interceptions, returning one for a touchdown. He also forced six fumbled and recovered another.
2012 postseason ranking
:
No. 18
Making the case for Ekpre-Olomu
: Emerged as one of the premier defensive players in the country last year and was a turnover machine with his four picks and six forced fumbles. Now he comes into 2013 regarded by many as the top cornerback prospect in the country. Much like
Ed Reynolds
' numbers are bolstered with safety
Jordan Richards
playing along side him at Stanford, Ekpre-Olomu certainly benefits from
Terrance Mitchell
playing across the field. Together, they make up the most feared cornerback tandem in the country and with teams throwing away from Mitchell last year, Ekpre-Olomu made the most of his opportunities, earning third-team All-America honors. This might be the best Oregon secondary in school history. And with the Ducks returning their entire defensive backfield from a year ago (a group that led the country in interceptions) look for them to again be one of the top secondaries in the country with Ekpre-Olomu again in the mix for All-American honors.
9
.
David Yankey
, OG, Stanford
10
.
Scott Crichton
, DE, Oregon State
11
.
Ed Reynolds
, S, Stanford
12
.
Taylor Kelly
, QB, Arizona State
13
.
Austin Seferian Jenkins
, TE, Washington
14
.
De'Anthony Thomas
, RB, Oregon
15
.
Bishop Sankey
, RB, Washington
16
.
Shayne Skov
, LB, Stanford
17
.
Kevin Hogan
, QB, Stanford
18
.
Xavier Su'a-Filo
, OL, UCLA
19
.
Morgan Breslin
, OLB, USC
20
.
Colt Lyerla
, TE, Oregon
21
.
Carl Bradford
, LB, Arizona State
22
.
Brandin Cooks
, WR, Oregon State
23
.
Hroniss Grasu
, C, Oregon
24
.
Marion Grice
, RB, Arizona State
25
.
Ben Gardner
, DE, Stanford
August, 21, 2013
8/21/13
11:00
AM ET
Changing the perception of a league is no easy task. And for the Pac-12, bucking its offense-first image may never happen.
As long as Oregon keeps gobbling up points by the minute and yards by the mile; as long as Rich Rodriguez does what RichRod does and there are Air Raids and Bear Raids about, offense will always be associated with the Pac-12. As long as De'Anthony Thomas and Marion Grice can score from anywhere; as long as Marqise Lee keeps turning a 4-yard slant into an 80-yard touchdown; as long as Ka'Deem Carey is running wild and Marcus Mariota and Brett Hundley are burning up stat sheets, Pac-12 defenses will continue to be overshadowed.
And yet …
[+] Enlarge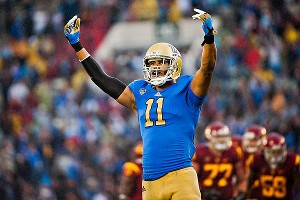 Jonathan Moore/Getty ImagesUCLA linebacker Anthony Barr leads an impressive group of defenders in the Pac-12.
"I would love to see an all-star game with our conference's defensive players on the same team," said Stanford coach David Shaw. "I think it would be phenomenal, and scary. Anthony Barr is borderline unblockable. Will Sutton gets in the backfield seemingly every play, single block, double block, whatever. Morgan Breslin, Sutton and Ben Gardner on the line and Shayne Skov sideline to sideline with Barr coming off the edge.
"Maybe we're getting to a golden era for defensive players in this conference because you've got good defensive units and some really elite standout players."
Last season, five Pac-12 teams ranked in the top 15 nationally in sacks per game including Stanford (first), Arizona State (second), USC (fourth), UCLA (eighth) and Washington State (14th). That's up from three teams in the top 20 in 2011, two teams in the top 20 in 2010 and zero teams in the top 10 in 2009.
ASU and Stanford were first and second, respectively, in tackles for a loss per game, and WSU and USC ranked in the top 11. It's a given that a lot of points will be scored in the Pac-12. But defenses are making it tougher.
"It's been an interesting evolution," said Oregon State coach Mike Riley, the dean of the Pac-12 who is entering his 13th season. "What you're seeing is a premium on speed and guys with a lot of flexibility. There are still big people that need to play on the interior. But your edges -- if you're going to lead the league in sacks -- then having a great edge rusher is always at a premium."
Guys like the aforementioned Barr, Sutton and Breslin, Stanford's Trent Murphy, Oregon State's Scott Crichton, Cal's Deandre Coleman and ASU's Carl Bradford are in that conversation. All of them are expected to rank among the nation's best in sacks and TFLs. That should make for a heated debate when picking the league's defensive player of the year.
And who says it will be someone from the front seven? Four Pac-12 teams were among the top 20 in interceptions last year, and Oregon led the country. The Ducks have the nation's best cornerback duo with Ifo Ekpre-Olomu and Terrance Mitchell, while Stanford boasts the outstanding safety tandem of Ed Reynolds and Jordan Richards. Oregon State's Ryan Murphy, USC's Dion Bailey and WSU's Deone Bucannon are also elite safeties.
Washington might have the best young defensive player in the league in Shaq Thompson.
"You can have a high-powered offense that puts up big points, but if you can't stop anybody, it's anyone's game," said Sutton. "With a great defense, you can accomplish anything."
Those who follow the league know there have been great defenses in the past. Washington in the early '90s and Arizona's Bear Down defense come to mind. Behind all of USC's Heisman quarterbacks a decade ago were outstanding defenses.
"I think what we're starting to see is the individual players and coordinators starting to get some notoriety," said Shaw, whose team ranked fifth nationally against the run last year -- an amazing statistic considering the running backs they faced in 2012. "When Oregon started being really good and scoring a ton of points, people didn't realize they were keeping people from scoring too and playing great defense. To this day I still think they have the most underrated defensive coordinator [Nick Aliotti] in the country."
One of the major challenges of being a defensive coach in the Pac-12 is the diversity of offenses. Oregon's spread is considered run-based, yet the Ducks had the most efficient passing attack in the league. Arizona's spread is considered pass-based, yet its running back led the nation in rushing. Stanford is considered "conventional" with its pro-style, but it'll use personnel groups with seven offensive linemen.
"I don't even know what pro-style means anymore," said UCLA coach Jim Mora. "The perceptions are distorted. You can break down a spread offense or a pro-style and they'll have the same route concepts. There are only so many. But the formations are different. The personnel is different. The motion before the snap is different. The league has so many speed athletes so one of the reasons we play a 3-4 is to get more speed athletes on the field."
It's time, says Bucannon, to let rest of the country know the Pac-12 can play a little defense, too.
"We have fast, up-tempo teams and marquee offensive players. At the same time, there are some great defensive players on that side of the ball," he said. "And we refuse to be overshadowed."
October, 3, 2012
10/03/12
9:00
AM ET
We're tracking the offensive, defensive and coach-of-the-year races in the Pac-12.
For a more thorough look at offense, re-read our
Heisman Trophy update
.
Offensive player of the year
1. De'Anthony Thomas, RB/WR, Oregon
: Thomas scored a touchdown against Washington State but it was a relatively quiet game for him. For the season, he's rushed for 302 yards (9.7 yards per carry) with five touchdowns and caught 19 passes for 193 yards and three TDs.
2. Johnathan Franklin, RB, UCLA
: He ranks fourth in the nation and first in the Pac-12 with 139.4 yards rushing per game. He rushed for 111 yards on 15 carries in the blowout victory over Colorado. He also caught three passes for 48 yards.
3. Kenjon Barner, RB, Oregon
: Barner rushed for 195 yards and three touchdowns in the victory over Washington State. He averaged 9.8 yards per carry and ran for scores of 22, 10 and 80 yards. He's second in the Pac-12 in rushing with 121 yards per game and his nine rushing touchdowns leads the conference.
4. Taylor Kelly, QB, Arizona State
: Kelly is first in the Pac-12 and 16th in the nation in passing efficiency. The Sun Devils are second in the Pac-12 with 38.4 points per game. Kelly threw three TD passes in the win at California and now has nine for the season.
5. Matt Barkley, QB, USC
: Barkley was off last week. His 12 TD passes still leads the conference, but he's fifth in the conference in passing efficiency.
Keep an eye on
: UCLA QB
Brett Hundley
; USC WR
Marqise Lee
; Oregon State WR
Markus Wheaton
. Arizona QB
Matt Scott
; Stanford RB
Stepfan Taylor
.
Defensive player of the year
1. Will Sutton, DT, Arizona State
: Won Pac-12 Defensive Player of the Week after recording a career-high eight tackles (six solo), including three sacks, and forced a fumble in a 27-12 victory over California. He's second on the Sun Devils with 34 tackles, including 10 for a loss. Also has 6.5 sacks, a forced fumble and two pass breakups.
2. Star Lotulelei, DT, Utah
: Off last week. Fourth on the Utes with 19 tackles. Also has four tackles for a loss, a sack, two pass defenses and two forced fumbles.
3. Chase Thomas, OLB, Stanford:
Had a sack and four tackles against Washington. He's third on the Cardinal with 23 tackles. He also has five tackles for a loss and 2.5 sacks.
4. Morgan Breslin, DE, USC
: Leads the conference with 2.38 tackles for a loss per game and has five sacks.
Keep an eye on
:
T.J. McDonald
, S, USC;
Travis Long
, OLB, Washington State;
Chris Young
, LB, Arizona State;
Datone Jones
, DE, UCLA;
Anthony Barr
, OLB, UCLA.
Coach of the year
1. Mike Riley, Oregon State
: The Beavers, who went 3-9 last year, are now 3-0 and ranked 14th. 'Nuff said.
2. Chip Kelly, Oregon
: Ducks are atop the Pac-12 and ranked No. 2. If they ended up winning a fourth consecutive Pac-12 title and earn another berth in the national title game, Kelly wins.
3. Todd Graham, Arizona State
: While the Sun Devils are lacking a marquee win, they've been impressive during a 4-1 start. Of particular note is their discipline and efficiency on both sides of the ball. That wasn't what you said about the Sun Devils in the past, even during the good times.
Keep an eye on
: Jim Mora, UCLA; Steve Sarkisian, Washington
September, 23, 2012
9/23/12
9:00
AM ET
One fantastic upset, one cool, calm quarterback performance and three defensive standouts highlight this week's helmet stickers.

Pac-12 Teams Can Load Up At WR
PAC-12 SCOREBOARD
Thursday, 9/3
Friday, 9/4
Saturday, 9/5