May, 6, 2013
May 6
11:00
AM PT
The state of Oregon has never been a premier destination for college football recruiters, but the state has seen an uptick in BCS-level talent in recent years. Likely the state's top all-around player, linebacker
Joey Alfieri
(Portland, Ore./Jesuit) is helping to carry the torch for the state in the Class of 2014.
To continue reading this article you must be an Insider
November, 20, 2012
11/20/12
12:00
PM PT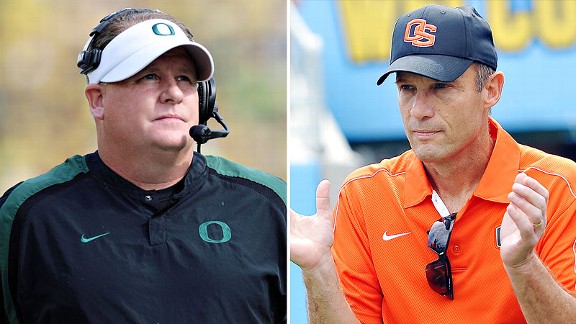 US PresswireOregon coach Chip Kelly and Oregon State coach Mike Riley face off Saturday in the 116th Civil War.
The 2012 Civil War between Oregon and Oregon State doesn't match the 2000 game, when both teams were ranked in the top 10 for the first time in the rivalry's history, or the 2009 game, when the winner-take-all stakes were a Pac-10 title and a Rose Bowl berth. But it's pretty darn big.
The 116th Civil War, the seventh-oldest rivalry game in college football, in Reser Stadium on Saturday (3 p.m. ET, Pac-12 Network) approaches the 2000 game in terms of both teams' rankings, the first time in the series that both were ranked in the top 10. Oregon was fifth and Oregon State eighth in that game, won 23-13 by the Beavers. This go-around, Oregon is again fifth and the Beavers 15th in the
latest BCS standings
.
There is no Rose Bowl on the line for Oregon State, as there was in 2008 and 2009, but the Beavers can play a spoiler role while boosting themselves in the Pac-12 pecking order.
Oregon still harbors hopes of slipping into the national title game, and the Ducks will win the North Division if they beat the Beavers and Stanford loses at UCLA on Saturday. Then Oregon would play host to UCLA on Nov. 30, with -- at least -- a Rose Bowl berth at stake.
And even if Stanford beats UCLA to win the North, an Oregon victory over the Beavers likely would earn it an at-large berth to a BCS bowl game, probably the Fiesta Bowl, where they could end up playing the Big 12 champ, likely Kansas State.
Oregon State? While its postseason destination is most likely the Holiday Bowl, ending a four-game losing streak in the rivalry series would be significant. It would certainly stem the momentum that has been decidedly in the Ducks' favor since an obscure coach from New Hampshire by the name of Chip Kelly arrived as the team's offensive coordinator in 2007.
While the 2008 and 2009 Civil Wars were big games with big implications, the 2010 and 2011 games were all about the Ducks. They were coronation events, as Oregon earned berths in the national title game and the Rose Bowl. The Beavers, meanwhile, were sucking on lemons, suffering through back-to-back losing seasons.
That had some Beavers fans grousing about coach Mike Riley and his staff. It wasn't only about a program backtrack. It was about what was happening 45 minutes to the south in Eugene. It's no fun losing games, but when you are losing, it's much worse when your rival is thriving.
Beavers fans saw Kelly -- smug, smirking, standoffish, annoyingly brilliant -- and felt they were getting left behind.
But we all know things can change quickly in college football. The Beavers are on a clear uptick. While both teams have a lot of talent coming back in 2013, it's Oregon that now has some question marks.
Will Kelly be lured away by an NFL offer? More than a few NFL sorts believe he will have his pick of jobs this offseason.
And what about the NCAA investigation into L'Affair de Willie Lyles? At some point penalties will be handed out. While those penalties are not expected to be crippling -- despite the uninformed blather coming from some people -- they certainly won't help the Ducks maintain their perch atop the Pac-12.
Just imagine how the next couple of months could go for Oregon State fans: 1. A Civil War victory over Oregon, ending a four-year losing streak in the series and the Ducks' three-year run of conference titles; 2. Kelly leaves Eugene for the NFL; 3. NCAA sanctions for the Ducks.
Let's just say more than a few Beavers fans would be high-fiving each other. And there would probably be more than a few
Washington Huskies
fans trying to get in on that action.
Or ... or ...
Oregon beats the Beavers for a fifth consecutive time, finagles its way into the national title game and then beats, say, Alabama for the school's first national title. Then Kelly announces he's staying in Eugene "for life" and the NCAA gently slaps the Ducks' wing.
So, yeah, there's a lot going on here.
Still, amid all these possibilities and speculations, good and bad for both programs, there is only one thing that either can control: Saturday's game.
Yes, it's pretty darn big.
October, 17, 2012
10/17/12
10:45
AM PT
The major preseason stories in the Pac-12 were four new coaches, the return of
Matt Barkley
, the nation's leading Heisman Trophy candidate, and USC and Oregon apparently headed for a showdown with national-championship implications on Nov. 3.
The major midseason stories are a little different.
USC and Oregon could still be an epic clash, just not as epic because USC already has lost. Also, Barkley's middling numbers for an offense that hasn't been consistently in sync have diminished the national perception of the Trojans. The Ducks are now the Pac-12 team at the center of the national discussion.
As for the four new coaches, three have gotten off to great-to-solid starts in year one. But how will they finish? And will Mike Leach get Washington State on track?
Will Arizona State maintain its fast start, or are the Sun Devils headed for a tough dose of reality as the schedule firms up, starting with Oregon on Thursday?
Speaking of fast starts: Oregon State. The Beavers have surged, and coach Mike Riley has moved from the hot seat to the throne of a national-coach-of-the-year candidate. Oregon and Oregon State are the only two unbeaten teams in the conference, so it's not inconceivable that the Civil War could be for the North Division crown, a spot in the Pac-12 title game and, perhaps, a chance to play for the national title.
It could become the season's true epic clash.
As for hot-seat talk, as distasteful as it is, nearly all of such focus will be on California coach Jeff Tedford. The Bears have won two in a row after a 1-4 start, but it remains in the air whether this team can be consistent enough to earn a bowl berth. A losing record wouldn't be good for Tedford.
[+] Enlarge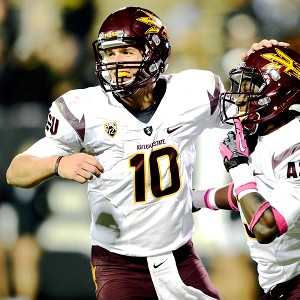 Ron Chenoy/US PresswireTaylor Kelly (10) and Arizona State could make a loud statement with Oregon coming to town.
Finally, in terms of individual awards, it will be interesting to see if any Pac-12 player emerges as a true Heisman Trophy contender. Might Barkley turn it up during the second half? Will Oregon's
De'Anthony Thomas
start to fill up "SportsCenter" with highlights? Is there a potential dark-horse candidate?
Ultimately, midseason reviews don't mean much. Teams and players can reverse course -- positively or negatively -- at any moment.
But what it is fair to say is there are plenty of rich plot lines heading into the season's second half, even if those were not the stories that advanced the season.
Bold prediction
: The conference will fill all seven of its bowl obligations, plus one. Oregon is already in; Oregon State, Arizona State, USC and UCLA are all one win from being bowl-eligible. If you follow the Sunday zaniness that is
our weekly bowl projections
, you know your bloggers project Oregon to the national championship, which opens up one more spot. We see Stanford and Washington bowling. That's seven right there. The eighth spot is up for grabs, with Arizona and Cal the likely candidates. Cal could get to .500 this week, then would need two more wins with Utah, Washington, Oregon and Oregon State remaining. If Arizona takes care of Colorado and Utah in the second half, that leaves it looking for one more win over from among Washington, USC, UCLA and Arizona State.
Looking forward to
: The race in the Pac-12 South. Once thought to be gift-wrapped for the Trojans, the recent inconsistent play of USC opens up the possibility of someone else as the South's representative in the title game. The Trojans are still the favorite, but Arizona State and UCLA aren't going to make it easy. Both of UCLA's losses have come to North Division teams, USC's loss was to Stanford and ASU's was out of conference. It's more wide-open than we ever could have imagined in August.
Top five games (by date, not importance):
Oct. 18, Oregon at Arizona State
: Time to find out if the Sun Devils are for real. They have the conference's No. 1 scoring defense facing Oregon's top-ranked scoring offense. The Sun Devils rank second in scoring. Both teams are getting phenomenal quarterback play and both like to work fast.
Oct. 27, UCLA at Arizona State
: This is a pivotal game in the aforementioned race for the South Division title. It features two explosive offenses and two of the league's brightest young quarterbacks. Some pretty good players from both defenses as well.
Nov. 3, Oregon at USC
: This is still the big one. An Oregon win gives the Ducks some much-needed national credibility, while a USC victory puts the Trojans back in the BCS championship hunt. Might be a last-gasp Heisman run for Thomas and/or Barkley.
Nov. 17, USC at UCLA
: A new chapter in this historic rivalry begins with Jim Mora at the helm for the Bruins. He has made them a player in the Pac-12 South, and lest we forget, coordinator Noel Mazzone's offense put up 43 points on USC last year when he was with ASU. This one could decide the South champion.
Nov. 24, Oregon at Oregon State
: The stakes could be stratospheric -- as in national championship implications for both schools. If the Ducks take care of business Nov. 3 and Oregon State can navigate a second-half schedule that includes Stanford and ASU, then all of Oregon will show up for what could conceivably be the Pac-12 game of the year.
October, 3, 2012
10/03/12
9:00
AM PT
We're tracking the offensive, defensive and coach-of-the-year races in the Pac-12.
For a more thorough look at offense, re-read our
Heisman Trophy update
.
Offensive player of the year
1. De'Anthony Thomas, RB/WR, Oregon
: Thomas scored a touchdown against Washington State but it was a relatively quiet game for him. For the season, he's rushed for 302 yards (9.7 yards per carry) with five touchdowns and caught 19 passes for 193 yards and three TDs.
2. Johnathan Franklin, RB, UCLA
: He ranks fourth in the nation and first in the Pac-12 with 139.4 yards rushing per game. He rushed for 111 yards on 15 carries in the blowout victory over Colorado. He also caught three passes for 48 yards.
3. Kenjon Barner, RB, Oregon
: Barner rushed for 195 yards and three touchdowns in the victory over Washington State. He averaged 9.8 yards per carry and ran for scores of 22, 10 and 80 yards. He's second in the Pac-12 in rushing with 121 yards per game and his nine rushing touchdowns leads the conference.
4. Taylor Kelly, QB, Arizona State
: Kelly is first in the Pac-12 and 16th in the nation in passing efficiency. The Sun Devils are second in the Pac-12 with 38.4 points per game. Kelly threw three TD passes in the win at California and now has nine for the season.
5. Matt Barkley, QB, USC
: Barkley was off last week. His 12 TD passes still leads the conference, but he's fifth in the conference in passing efficiency.
Keep an eye on
: UCLA QB
Brett Hundley
; USC WR
Marqise Lee
; Oregon State WR
Markus Wheaton
. Arizona QB
Matt Scott
; Stanford RB
Stepfan Taylor
.
Defensive player of the year
1. Will Sutton, DT, Arizona State
: Won Pac-12 Defensive Player of the Week after recording a career-high eight tackles (six solo), including three sacks, and forced a fumble in a 27-12 victory over California. He's second on the Sun Devils with 34 tackles, including 10 for a loss. Also has 6.5 sacks, a forced fumble and two pass breakups.
2. Star Lotulelei, DT, Utah
: Off last week. Fourth on the Utes with 19 tackles. Also has four tackles for a loss, a sack, two pass defenses and two forced fumbles.
3. Chase Thomas, OLB, Stanford:
Had a sack and four tackles against Washington. He's third on the Cardinal with 23 tackles. He also has five tackles for a loss and 2.5 sacks.
4. Morgan Breslin, DE, USC
: Leads the conference with 2.38 tackles for a loss per game and has five sacks.
Keep an eye on
:
T.J. McDonald
, S, USC;
Travis Long
, OLB, Washington State;
Chris Young
, LB, Arizona State;
Datone Jones
, DE, UCLA;
Anthony Barr
, OLB, UCLA.
Coach of the year
1. Mike Riley, Oregon State
: The Beavers, who went 3-9 last year, are now 3-0 and ranked 14th. 'Nuff said.
2. Chip Kelly, Oregon
: Ducks are atop the Pac-12 and ranked No. 2. If they ended up winning a fourth consecutive Pac-12 title and earn another berth in the national title game, Kelly wins.
3. Todd Graham, Arizona State
: While the Sun Devils are lacking a marquee win, they've been impressive during a 4-1 start. Of particular note is their discipline and efficiency on both sides of the ball. That wasn't what you said about the Sun Devils in the past, even during the good times.
Keep an eye on
: Jim Mora, UCLA; Steve Sarkisian, Washington
September, 6, 2012
9/06/12
7:15
AM PT
Here are some of the storylines to keep an eye on in Week 2.
1. Who can rebound
? Washington State, Cal and Colorado will all look to get in the win column this week after disappointing debuts. Each has something specific it needs to work on in Week 2. The Bears need to find a way to get off the field on third down, Colorado needs to find a running game, and Washington State needs to find a little confidence (positive rushing yards wouldn't be bad, either). And even though Stanford won last week, there was a vibe around the team that a 20-17 against San Jose State isn't going to cut it. And they are right. After this week's game against Duke, USC comes to town and then a big road trip to Washington. Cal has its big matchup with Ohio State looming as well. A lot needs to be sorted out for these four teams in Week
2. Super schedule
: Some huge measuring-stick games this week against out-of-conference, BCS-conference foes (seven total). UCLA will see what they really have in
Brett Hundley
when he sees a Nebraska defense that won't be as generous as Rice. And we'll see if Arizona State and Arizona are the real deal when they take on Illinois and Oklahoma State, respectively. While it was nice to see all three win in Week 1, the big question now is whether they can all sustain it with the competition level being increased dramatically. And there are a couple more nonconference games we should mention ...
3. What about the Beavers
? Mike Riley joked that so far this season feels like the training camp that would never end. As last week's game against Nicholls State was re-routed because of Hurricane Isaac, we're still not sure what we're getting with Oregon State. We know they want to run the football, and
Storm Woods
is the guy to do it. At question is whether they'll have success against Wisconsin. It's tough to open the year against a ranked opponent, and Riley called this one of the biggest nonconference games in school history. Also eager to see how much progress
Sean Mannion
has made and how OSU's passing attack led by
Markus Wheaton
stacks up against the Badgers. By the way, big ups to OSU, which will have volunteers from the American Red Cross at Reser Stadium to take donations that go to victims of Hurricane Isaac. Classy gesture.
4. What about the Huskies
? Grrr ... the SEC. They win national championships. They dominate the rankings. Their fans come to our blog and troll with impunity. Grrr. How well will the Huskies represent the conference when they travel to Baton Rouge? Washington showed a lot of inconsistency against San Diego State, particularly on offense. And losing running back
Jesse Callier
for the season certainly doesn't help the situation. But when the Huskies were clicking, it was
Keith Price
connecting with
Austin Seferian-Jenkins
(nine catches, 82 yards) and
Kasen Williams
(six catches, 75 yards, 1 touchdown). That trio will have to have a monster game to pull off a shocker against the No. 3 team in the land.
5. Desert defense
: Some interesting matchups when you look at Arizona and Arizona State's competition -- particularly at the quarterback spot. How will the Wildcats fare against Oklahoma State freshman quarterback
Wes Lunt
, who actually saw less field time last week than
Marcus Mariota
? The Sun Devils might or might not face Illinois starting quarterback
Nathan Scheelhaase
, who has been out with an ankle injury. Head coach Todd Graham said they are prepping to face Scheelhasse, though there's a good chance (depending on which update you read at any particular hour) the Sun Devils could be seeing
Reilly O'Toole
.
July, 16, 2012
7/16/12
6:00
AM PT
Kevin and I are getting ready for Pac-12 media day next week. So should you. Here's a primer.
(You can see the
complete list of attendees here
).

Dates
: July 24
Location
: Universal Studios in Los Angeles
Big names in attendance
: Besides four new coaches, USC quarterback
Matt Barkley
, Utah defensive tackle
Star Lotulelei
, California wide receiver
Keenan Allen
, Washington quarterback
Keith Price
and Stanford outside linebacker
Chase Thomas
.
Big names not in attendance
: There are plenty of stars who won't be on hand, but it's hard to argue with the players attending.
So what can we expect?
Teams at the top will tamp down expectations. Teams at the bottom will bemoan a lack of respect and insist they don't give a flip about so-called pundits.
Every team will claim an outstanding offseason, perhaps even calling workout attendance "the best ever." There's a good chance many will be exaggerating.
Four new coaches will get their biggest formal introduction to Pac-12 reporters: Arizona's Rich Rodriguez, Arizona State's Todd Graham, UCLA's Jim Mora and Washington State's Mike Leach. They will be impressed by how awesome we are.
Barkley will be asked about opting not to enter the NFL draft. The Pac-12 blog challenges him to figure out a way to answer the question in a surprising way.
Oregon coach Chip Kelly will be snarky, no matter how awesome we reporters are.
Subjects likely to come up: USC wide receiver Robert Woods' ankle, Utah quarterback Jordan Wynn's shoulders, Matt Scott running Rich Rodriguez's spread-option, the status of Arizona State defensive end Junior Onyeali, USC's depth questions and Kenjon Barner replacing LaMichael James. How much can Cal quarterback Zach Maynard and Oregon State quarterback Sean Mannion improve from Year 1 to Year 2? What's the quarterback pecking order at Arizona State, Colorado, Oregon, Stanford and UCLA? Other issues include whether Utah running back John White IV prefers to be known as "Juan Blanco" or "The Wolfman," Tosh Lupoi's departure from Cal to Washington and Leach's affinity for Pirates.
Graham will be asked about his controversial departure from Pittsburgh for the 10,000th time, and the reporter who does so will win a set of steak knives (there's a reason reporters ask the same question over and over).
California coach Jeff Tedford and Oregon State coach Mike Riley will be asked if they feel pressure or feel like they are on the hot seat. Both will say no one puts more pressure on them than themselves and that there is always pressure.
Leach will go off on a lengthy tangent that has nothing to do with anything but likely will be interesting and amusing.
Stanford coach David Shaw and his players will be asked about life after Andrew Luck.
The UCLA contingent will be asked about USC.
"Teeth" Price will smile. A lot.
Lane Kiffin will say nothing controversial. And some of us will miss the old Kiffin.
Someone during post-interview small talk will say, "Man, Star Lotulelei... that dude is big."
The coaches will each be asked 47 times about the four-team college football playoff that will start in 2014.
Here's a guess that at some point someone asks about Joe Paterno.
Oregon and USC will be nearly unanimous choices to win the North and South Divisions, respectively, but somebody will vote differently just to be quirky.
July, 11, 2012
7/11/12
1:32
PM PT
ESPN.com's series on FBS coaches continues with this question: Which coach in the Pac-12 provides the biggest bang for the buck?
That's tough to answer for a number of reasons.
There are four new coaches in the Pac-12 this season.
There were two new coaches last season.
USC and Stanford, as private schools, don't provide salary information for their coaches, though USA Today reported that Lane Kiffin made $2.4 million in 2010, way less than had been widely reported.
Two years ago, it would have been easy to say that Oregon State's Mike Riley provided the most bang for the buck. Riley won 36 games from 2006-09 before the Beavers tumbled to consecutive losing seasons. And he did that with a
fairly modest salary
.
[+] Enlarge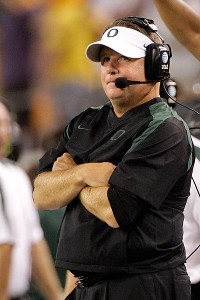 AP Photo/Tony GutierrezChip Kelly may be the Pac-12's highest-paid coach, but he's worth the money.
Here are the latest numbers.
Chip Kelly, Oregon, $2.8 million

Lane Kiffin, USC, $2.4 million*

Jim Mora, UCLA, $2.4 million**

Jeff Tedford, California, $2.3 million

Steve Sarkisian, Washington, $2.25 million

Mike Leach, Washington State, $2.25 million

Todd Graham, Arizona State, $2 million

Kyle Whittingham, Utah, $2 million

Rich Rodriguez, Arizona, $1.91 million

Mike Riley, Oregon State, $1,313,471

Jon Embree, Colorado, $725,000
*It's perfectly reasonable to posit that Kiffin made more than this in 2011 and also will in 2012.

**Mora's number is an average of his five-year, $12 million contract. He'll likely make less than this figure this season.
By the way, David Shaw's salary at Stanford has been
estimated at $1.75 million
. It seems, in any event, that it's too early to rate Shaw and Colorado's Embree as second-year coaches. And it makes no sense to look at the track record of the four new coaches, because the past doesn't mean anything for the new schools, though you could say Arizona got Rodriguez at below market value.
So who provides the most bang for the buck? I have two answers: Whittingham and Kelly.
Why? Well, name the two coaches on the above list who have won BCS bowl games at their present job.
Whittingham is 66-25 (.725) at Utah, including double-digit wins in three of the past four seasons. His worst season in seven years was 7-5 in 2005. After an 0-4 start in Pac-12 play last fall, he rallied his team behind a backup QB who transferred from Nebraska-Omaha, and the Utes nearly won the South Division. Oh, and he's 7-1 in bowl games.
Further, Whittingham has been loyal to Utah. He's had opportunities to leave but he's stuck around.
Kelly is the Pac-12's highest-paid coach by a fairly wide margin. He was guaranteed $2.8 million in 2011 and will make $3.5 million this season,
according to USA Today
. So why does he rate highly in terms of bang for the buck? Well, there's a 34-6 (.850) record, including a 25-2 mark in Pac-12 games (.926). And there are three consecutive conference titles. And an undefeated regular season in 2010, after which the Ducks fell just short of beating Auburn for the national title. And there's the Rose Bowl victory over Wisconsin in January.
Kelly has delivered a super-elite level of performance in his three seasons. If you were to name the nation's best coaches, you wouldn't have to wait long after Nick Saban and Urban Meyer to get to Kelly.
He gets big bucks, yes, but he has delivered unprecedented bang to the Ducks' program.
Any Oregon fans think he's overpaid?