Oregon Ducks:

Mike Bellotti
May, 27, 2014
May 27
2:30
PM ET
Annual income twenty pounds, annual expenditure nineteen nineteen six, result happiness. Annual income twenty pounds, annual expenditure twenty pounds ought and six, result misery.
March, 7, 2014
Mar 7
2:30
PM ET
November, 29, 2013
11/29/13
5:00
PM ET
Welcome to the mailbag.
Yoda says to Twitter-follow Pac-12 blog here, yes
.
To the notes!

Marcus from Canaan, Conn., writes:
It's been said many times that Mark Helfrich was given the keys to a Ferrari. Well, he took that Ferrari and smashed it into a telephone pole. That said, shouldn't the Ducks brass find someone else to drive said Ferrari?
Ted Miller
: The problem is we can't judge whether or not the wreck was driver error. Maybe the brakes failed. Or perhaps the Ferrari sprained its knee. It's possible Oregon would be 9-2 at present even if Chip Kelly were still the coach. Or 9-2 under a resurrected Vince Lombardi.
Recall that Kelly's first year was hardly perfect after he took over a 10-3 team from Mike Bellotti that welcomed back a lot of good players, including QB Jeremiah Masoli. Folks, in fact, immediately questioned Kelly's leadership during the disaster at Boise State to open the season.
Then, after winning seven in a row and rising to No. 8, the Ducks got bombed at unranked Stanford. Finally, Kelly's first team lost the Rose Bowl 26-17 to an Ohio State team it should have beaten by two touchdowns, making mercurial Terrelle Pryor look like an All-American.
The point is a single season is too small a sample size to pass judgment on a head coach -- good or bad.
Coaching a college team is not easy, and folks trying to completely write off the transition between Kelly and Helfrich were being short-sighted. It certainly was a major reason your
Pac-12 bloggers picked Stanford to win the Pac-12 in the preseason
.
Helfrich might be a great coach. He might even end up better than Kelly. But there is a transition there, as well as a learning curve for a guy who's never sat in the corner office.
I'm sure some folks questioned Bellotti in 1995, his first season, when the Ducks lost to middling Stanford and Arizona State teams and then got stomped by Colorado in the Cotton Bowl.
While it's completely understandable to be frustrated with where things stand at this moment -- that's how it is, being a fan -- let the more reasonable part of your brain prevail. Have patience and allow a bigger and more nuanced picture to develop before passing judgment on Helfrich.
---

Jason from St. Louis writes:
My Stanford friends and I are split about this week's ASU-Arizona game. Do you think it is better that ASU lose so we get home-field advantage in the Pac-12 championship game, or for ASU to win so ASU is a potential top-10 team rather than top-20 team? I know this only affects postseason rankings and offseason bragging rights (assuming we win), but those are both big. Also, in his chat this week, Kevin thought ASU has a 50 percent chance of winning the championship at home, but only a 35 percent chance of winning if the game is on the Farm. Do you agree with those numbers?
Ted Miller
: You 100 percent want Arizona State to lose so you get home-field advantage. There is no percentage of your thinking that should want to go on the road to Tempe, where the Sun Devils are dominant.
To quote myself
:
The Sun Devils are 6-0 at home this year with an average margin of victory of 26.8 points per game, including wins over two ranked teams, Wisconsin and USC, as well as a blowout victory over Washington. They are 3-2 on the road, with a 42-28 loss at Stanford, a game that was 39-7 entering the fourth quarter.
While it would be more impressive for Stanford to beat a highly ranked Arizona State team playing at home, the victory prize would still be the same: the Rose Bowl. Further, I don't think the Cardinal would get as much of a jump in the national rankings for winning in Tempe simply because they've already beaten ASU this season.
And I think Kevin is absolutely correct. Both of Stanford's losses came on the road this year, and the Cardinal have won 15 consecutive home games, tied for the second-longest active streak in the nation with Ohio State.
---

Papa John from Santa Barbara, Calif., writes:
A few years back, the Pac-12 blog awarded Stanford's FB/LB Owen Marecic the title of STUD in its all-conference team selections. I was wondering if you could take that title out of retirement and award it to
Trent Murphy
this year, especially given his snubbing by the Butkus, Bednarik, etc. committees?
Ted Miller
:
That actually was the then-Pac-12 blog
, not the official Pac-12 team, which can't afford to be as colorful as us.
First, Murphy is an iron-clad lock to be first-team All-Pac-12, and I'd add that he is the favorite to win conference Defensive Player of the Year honors.
While Murphy has a right to be smarting after getting snubbed for those awards, he also is almost certain to be named a first-team All-American. That's a pretty good consolation prize.
---

74Coug from Virginia Beach writes:
As we approach another Apple Cup, why is it that nobody gives Washington State more credit for last year's victory? All writing is of an epic Washington collapse, when a reasonable perspective is that the Cougars led at halftime, and the record comeback was really necessitated only by giving Washington three short-field TDs off of turnovers.
Ted Miller
: That's a fair point. Three turnovers from Washington State led to two Washington touchdowns in the third quarter, and that was the primary reason the Huskies led 28-10 entering the fourth quarter. So the Cougars' collapse in the third after leading at halftime was balanced by the Huskies' collapse in the fourth.
But, really, come on. You couldn't take this position with the game video running.
Start with this: It was the biggest lost fourth-quarter lead in the history of the Apple Cup.
Further, Washington was a two-touchdown favorite. It had won four in a row and was 7-4 overall and 5-3 in conference play, while the 2-9 Cougars had lost eight in a row and were winless in Pac-12 play. The week before, the Cougs had lost 46-7 at Arizona State. Washington was the better team.
That makes the main storyline the Huskies collapse, no matter what.
But then you toss exactly how things went down in the fourth quarter and overtime,
which Bud Withers does a good job of recounting here
, and you see the Huskies make like Dumb and Dumber.
In the fourth quarter, the Huskies had a fumble, five penalties -- two pass interferences and a roughing-the-passer -- and a missed 35-yard field goal for the victory in regulation. On Washington's first possession of overtime, Huskies QB
Keith Price
had perhaps his biggest career brain, er, hiccup, on his interception to Toni Pole, who rumbled all the way to the Huskies' 5-yard line to set up the winning field goal.
The Cougars, without question, deserve credit for showing mental toughness and resolve for taking advantage of the Huskies going rear-end-over-tea-kettle. And that was the Washington State storyline this week when chatting with coach Mike Leach, "What did that Apple Cup win mean for you guys heading into the offseason and 2013 season?"
But yielding an 18-point fourth-quarter lead, as Washington did, was nothing less than a collapse, and it was the biggest reason why folks were putting Steve Sarkisian on the hot seat last summer.
---
Elk from Los Angeles writes:
You can't overstate the importance of winning the line of scrimmage this year. Who do you think wins the Morris trophies this year? Interesting that last year's winners will be lining up against each other in the Pac-12 championship game.
Ted Miller
: USC defensive lineman
Leonard Williams
and Stanford offensive guard
David Yankey
will win the Morris Trophies.
I'd also, on the offensive line, throw in UCLA's
Xavier Su'a-Filo
, but I think Yankey will repeat.
---
Steve from Union City, Calif., writes:
Re: Your and Kevin's Picks this week
-- Lame. You guys should have some rule that you can't make all the same picks in any given week. Especially the last week of the regular season, when you are already TIED. And so it will end in a tie. Lame, lame.
Ted Miller
: I agree. I felt lame while I was picking all the same teams as Kevin. And that's my fault, as Kevin sends me his picks and I post them on the blog.
The problem with this week was I had already thought about the picks before Kevin sent me his. What he sent me was pretty much what I had worked out in my head. While nearly all the games gave me pause, I just couldn't pull the trigger on a road underdog.
There have been times this year when I just said, "Oh, what the heck!" and picked against my inclination so we'd be different. That pick has tended to be pretty weak.
But don't despair! We have the bowl games ahead, so the tie could be broken.
As it was -- cough, cough -- last year
.
November, 4, 2013
11/04/13
12:00
PM ET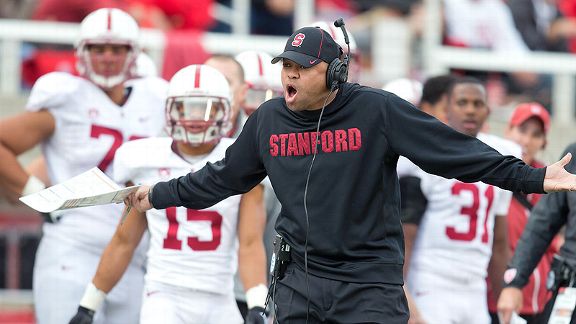 Russ Isabella/USA TODAY SportsStanford coach David Shaw is 1-1 against Oregon and 30-5 overall.
Stanford had just torn the hearts out of Oregon and its fans inside Autzen Stadium. The Ducks' unbeaten season had ended in shocking fashion. National championship hopes had been kicked to the curb.
"It's such an honor to come into this stadium and beat a phenomenal team," the Stanford quarterback said after the victory.


A gracious, classy and perhaps rare take from a college player. But no, that was not
Kevin Hogan
talking about the Cardinal's 17-14 overtime upset of the Ducks in Autzen Stadium last Nov. 17 that ruined the Ducks' drive for a berth in the 2012 national title game. It was Stanford's backup quarterback, Chris Lewis, talking about the Cardinal's 49-42 win in Autzen Stadium on Oct. 20, 2001, that ruined the Ducks' drive for a berth in that season's national championship game.
Lewis' postgame quote, however, generally sums up the Oregon-Stanford series, which Thursday night again will be the Pac-12 game of the year. There appears to be little animosity and a good dose of respect between the Ducks and Cardinal, who both own road wins as underdogs against each other in the past three years.
Though they are very different institutions, playing football in very different ways and, well, dressing very differently while doing so, the rivalry between the Pac-12's top two teams in the past four seasons doesn't include much ill will compared to the rivalries between Oregon and Washington and USC and UCLA.
Perhaps it should, at least in terms of what Stanford and Oregon have taken away from each other through the years, and not just during their recent and simultaneous rise to join the nation's elite.
Nine times since 1964, Stanford has handed Oregon its first defeat of the season. Twice it was the Ducks' only defeat. Without a loss to Stanford in 1995, the Ducks would have played in a second consecutive Rose Bowl in Mike Bellotti's first season.
Oregon has returned the favor of late as Stanford became nationally relevant. The Cardinal lost just one regular-season game in both 2010 and 2011. To Oregon.
Stanford's win in Autzen Stadium last year was shocking in many ways. The Ducks had owned the Cardinal and Andrew Luck the previous two years, so much so that in advance of the 2012 season, Stanford coach David Shaw openly admitted his team had an "Oregon problem," though he reasonably noted that the entire Pac-12 shared the Ducks conundrum.
Yet, as stunning as it was to witness the Cardinal shut down the Ducks' offense last November, the 2001 game eclipsed it 20-fold in terms of sheer nuttiness.
While some of Oregon's younger fans might not remember 2001, the older ones surely slapped their foreheads upon seeing the name "Chris Lewis" again. In that contest, the unbeaten and fifth-ranked Ducks were seemingly cruising, leading 42-28 in the fourth quarter at home, with Stanford quarterback Randy Fasani knocked out of the game in the second quarter.
But things went haywire in the fourth quarter, particularly on special teams, when Stanford blocked two punts and recovered an onside kick. Still, it appeared the Ducks would prevail 42-41 when they blocked the potentially game-tying PAT.
Unfortunately for Oregon, quarterback Joey Harrington was turning in his only poor performance of the season. On third-and-1 from Oregon's 30, Harrington was hit by safety Tank Williams, and his throw was picked off by diving defensive end Marcus Hoover at the 33 (it was Harrington's second interception of the game). After Stanford scored the go-ahead TD, Harrington, who had led nine fourth-quarter comebacks in his career and was popularly known as "Captain Comeback," threw four consecutive incompletions from the Cardinal 37.
The normally straightforward Associated Press report noted that the game "had everything but aliens landing on the Autzen Stadium turf."
Oregon, one of the earliest victims of a BCS controversy, went on to finish No. 2. Bellotti showed up at the Rose Bowl, host of the BCS title game, to watch Miami stomp overmatched Nebraska, a team that was blown out in the regular-season finale by Colorado, a team the Ducks had crushed in the Fiesta Bowl.
Yes, there were a fair share of what-ifs from the Ducks, not unlike last year, though it's worth remembering that Miami team was one college football's all-time great squads.
Of course, things were much different for both Oregon and Stanford in 2001. Neither team had established itself as a consistent national power. In fact, both would go through significant downturns thereafter, particularly Stanford.
In 2007, both programs made inspired decisions that inspired initial befuddlement among media and fans: Bellotti hired Chip Kelly away from New Hampshire, an FCS team, to coordinate his offense, and Jim Harbaugh was plucked away from San Diego, another FCS team, by Stanford. Harbaugh brought along Shaw to coordinate his offense.
As isolated events, the Stanford-Oregon game on Oct. 20, 2001, and some buzz-less coaching hires in 2007 didn't resonate nationally. But from a long-term view, they are notable dots to connect for what has become one of the nation's best and most meaningful rivalries.
Even if the teams don't provide much cartoonish trash talk to foment the hype.
March, 26, 2013
3/26/13
10:00
AM ET
When a college football program undergoes major changes and a meteoric rise ensues, it is a beautiful thing to watch for the players who were around when things started heading in the right direction. While on site as position coaches for the Charlotte Nike Football Training Camp, two of the Ducks' top players from the 1990's --when the Ducks' rise began -- spoke with DuckNation about the phenomenon that Oregon football has become.


March, 4, 2013
3/04/13
10:41
AM ET
On Jan. 4, Oregon, fresh off its second consecutive BCS bowl victory, was at an all-time high. Then, while riding that wave of emotion, it watched Chip Kelly transformed into Hamlet -- "To go or not to go, that is the question..."
Kelly was certain to leave for the NFL before he wasn't. And then -- poof -- he was gone, off to coach the Philadelphia Eagles. Hey, a guy can change his mind.
If Kelly had stayed, the big spring and fall question for the Ducks was what do they need to do to make the proverbial next step. Seeing that they had finished ranked No. 2 in 2012 and played for a national title in 2010, the singular step that needed to be taken was winning a national championship.
[+] Enlarge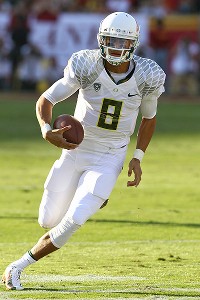 AP Photo/Bruce SchwartzmanEven with Chip Kelly's departure, the Oregon Ducks are still in pretty good shape with talented starting quarterback Marcus Mariota.
Kelly knew this and thought about it a lot, though that's not the sort of thing he'd admit. While Kelly always preached laser-like focus on the task at hand, let's just say that he didn't turn away from a TV set when Alabama was playing. He knew the team -- and the conference -- that needed to be overcome.
Now, with Kelly cracking wise at reporters on the East Coast, the question becomes slightly less ambitious and more general for the Ducks, who open spring practices on April 2: Can new coach Mark Helfrich & Co. sustain what Kelly built?
Of course, anybody who has paid more than passing attention to the Ducks of recent vintages knows exactly the three-word phrase that will meet all such inquiries: Next man in.
The program is -- wisely, most believe -- following a formula that has worked before. Rich Brooks begat Mike Bellotti, who begat Kelly, who begat Helfrich. That pattern would seem to position well new offensive coordinator Scott Frost, who was elevated from receivers coach. Bellotti, Kelly and Helfrich each was the Ducks' offensive coordinator when he was promoted to the corner office.
Still Frost, who knew how things would fall if Kelly bolted, felt an ambivalence during Kelly's NFL flirtation and eventual elopement.
"It was just an interesting ride," Frost said. "I think all of us were a little bit torn on the whole thing. We've had such a great amount of success here that part of us didn't want to see anything change. We wanted to keep it status quo and see how long we could do this thing. Everybody loved Chip and how the program was running. But at the same time, change is inevitable, and it's given me and some other guys more opportunity and responsibility."
The hand Helfrich and Frost inherited is pretty darn strong. The Ducks have 16 starters returning from a 12-1 team, including eight from an offense that ranked second in the nation -- first among AQ conference teams -- with 49.5 points per game. Topping that list of returning starters is quarterback
Marcus Mariota
, a short-list Heisman Trophy candidate.
Still, it's not unreasonable to think some players might be shaken at Kelly's departure. After all, he had a pretty big personality.
"During our time here, we've lost players people didn't think we could replace and our message has always been it's the next man up. Do the job," Frost said. "It would have been hypocritical of us not to treat [Kelly leaving] the same way. We're approaching it the same way we ask the players to approach it when we lose a key piece. Step up, do your job and go forward 100 miles an hour."
Along that very line, Helfrich and Frost well know that one of their chief tasks is sustaining the culture around the program. While the coaches need to be themselves and not try to ape Kelly, it does help that Kelly took only one full-time assistant with him to Philly -- D-line coach Jerry Azzinaro. There's plenty of continuity, both in terms of scheme and the day-to-day operation, procedures and philosophies of the program.
"The culture is already built," Frost said. "It isn't like we have to start from the bottom. We're excited about that. We'd be fools to try to change much at all because of the success we've had."
The same goes for Frost now coaching quarterbacks. It's long been a position of strength for the Ducks, and Mariota might be the most talented player the Ducks have ever had at the position, at least since Joey Harrington, circa Y2K. There was little Mariota didn't do well in 2012, when he earned first-team All-Pac-12 honors as a redshirt freshman, ranking seventh in the nation in passing efficiency.
"I think we can clean some things up and be even more efficient," Frost said. "There are some things we want to tweak to help him have more of an opportunity to impact the game. We wouldn't trade him for anybody. We think he can do some amazing things and win a lot of games. We're going to feature him as much as we can."
The Ducks' offense under Frost won't change, but it will evolve. For one, there's good reason to believe Oregon will throw more in 2013, with Mariota and his entire cast of receivers back.
And, as good as the offense was last fall, it did have a bad game -- a 17-14 home loss to Stanford.
"I give Stanford credit," Frost said. "That game kept us out of the national championship game. There's always room to fix things and get better."
Oregon's improvement on defense -- a combination of scheme and talent -- has bolstered it as a national contender. The question that looms among Oregon skeptics is whether the Ducks' offense can roll up big numbers against a big, fast and well-prepared defense. Like Stanford. Like Alabama.
To find out, the Ducks first need to solve Stanford, a team they'd taken to the cleaners the previous two years.
The word in Eugene, post-Kelly, Spring I? Change is good. Of course, there are plenty of things many are going to miss with Kelly no longer around.
Offered Frost: "I could make some sarcastic remarks to you if you want me to."
January, 24, 2013
1/24/13
8:00
AM ET
Only after a few years can a recruiting class truly be measured. And while there were plenty of success stories in Oregon's Class of 2009, several players who signed with Oregon and never made an impact.
To continue reading this article you must be an Insider
January, 21, 2013
1/21/13
11:15
AM ET
Just about everyone inside the Oregon program has faith in Mark Helfrich, believes he can keep the Ducks among the nation's elite after he was promoted from offensive coordinator to head coach, replacing Chip Kelly.
After all, that's what Oregon did when Rich Brooks, the grandfather of the Ducks' national relevance, handed off to Mike Bellotti and when Bellotti handed off to Kelly. Helfrich is the third consecutive sitting offensive coordinator to be promoted, and the formula has yet to let the school down.
[+] Enlarge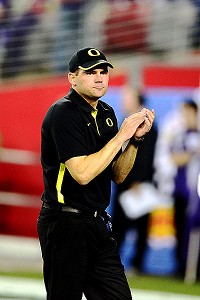 Mark J. Rebilas/USA TODAY SportsA major key to Mark Helfrich being promoted from offensive coordinator to head coach at Oregon -- system continuity.
For about a year, Helfrich was widely known as the heir-apparent to Kelly, and it was widely thought he'd ascend sooner rather than later after Kelly's flirtation with the Tampa Bay Buccaneers last year.
The profiles have mostly been written -- he's an Oregon guy through and through, a state native and a son of a former Duck. He's a lighter touch than Kelly. He's smart. His specialty is quarterbacks. He'll provide system continuity. And he'll retain most of the staff, one that is considered among the nation's best.
But now belief yields to actual day-to-day business results. Speculation will be replaced by performance: The signing of a recruiting class on Feb. 6. Spring practices. His first disciplinary issues. Deciding who calls plays.
Games.
The good news is he doesn't face the difficult career opener Kelly did, that regrettable evening at Boise State. Recall that shortly after that humiliating defeat and LeGarrette Blount meltdown, there was a sense of panic among some fans that Kelly was in over his head. Fair to say he wasn't.
Helfrich gets Nicholls State, then a Nevada team breaking in a new coach and a Tennessee squad doing the same. His Pac-12 opener and road debut is at Colorado. So the odds are high that he and the Ducks will be 4-0 and ranked in the top 5 -- top 3? -- when they head to Seattle to play their good friends, the Washington Huskies, in renovated Husky Stadium on Oct. 12.
Now, I don't want to blow you guys away with my local knowledge, but there could be some emotions surrounding that one. Washington looks like it has the personnel in place to make a move in Year 5 under Steve Sarkisian. Beating Oregon at home would feel transformative to Huskies fans. And to Ducks fans, though they will surely harrumph the notion.
The reality for Helfrich is one that no other Ducks coach faced before: Three losses is a bad season. Failing to win the Pac-12 is a disappointment. And Ducks fans are ready for their national title, if you please, Mark.
Helfrich now moves into the corner office in the Moshofsky Center. It's a big space to fill. No man has sat there who did any better than Kelly.
We suspect it will mostly be business as usual. But you only know when you know. Further, the true measure won't come in 2013. We'll only have a good idea of the Helfrich era if three or four years from now the Ducks remain atop the Pac-12 and ranked in the top 10.
Some links:
January, 20, 2013
1/20/13
1:48
PM ET
When rumors started flying about Mike Bellotti's impending departure, inside the Oregon program everything remained calm. Once Chip Kelly took over and had the immediate success that had other elite programs and NFL franchises sniffing around, the program braced for another change.

But once again, things remained calm on the inside while everything on the outside seemed to spiral out of control. Just like they did in 2009, the Ducks acted quickly and promoted from within to keep everything in place. Today the school announced that former offensive coordinator Mark Helfrich would become the Ducks' new coach.
And recruiting was one of the reasons.
To continue reading this article you must be an Insider
January, 2, 2013
1/02/13
11:20
AM ET
SCOTTSDALE, Ariz. -- The overwhelming sentiment at the Tostitos Fiesta Bowl is the game will be Chip Kelly's last as the Oregon head coach before he fills one of the seven new NFL vacancies. If that is so, the equally overwhelming sentiment is that offensive coordinator Mark Helfrich will step into Kelly's spot atop the program.
Kelly, clearly anticipating the NFL questions, has fought off all inquires on the matter by saying he is only focused on the Fiesta Bowl on Thursday. He has emphasized that the NFL talk is not a distraction to him or his team, and that he and his players have not addressed it.
His players have been on message, too.
[+] Enlarge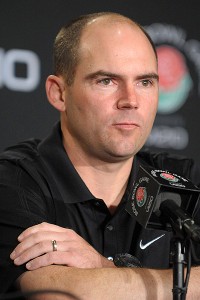 Kirby Lee/Image of Sport/USA TODAY SportsMark Helfrich was a quarterback coach at Boise State, Arizona State and Colorado, before joining Oregon in 2009.
Said linebacker
Michael Clay
: "He doesn't talk about it. No body talks about it."
And offensive lineman
Kyle Long
: "There isn't really a lot of talk about that. You can control what you can control. What we can control is our attitude, our effort and our preparation."
And quarterback
Marcus Mariota
: "Whatever happens, happens. Coach Kelly will make a decision that is best suited for him. Whatever he does, this team will support him."
And center
Hroniss Grasu
: "He's our head coach right now. That's the only way I can look at it. I will play for whoever is our head coach right now. Right now, it's Coach Kelly. I won't look too far ahead."
As for Helfrich, he also is staking out a "wait-and-see" position: "I don't think [Kelly leaving for the NFL is] a slam-dunk like everyone else does. I hope he stays at Oregon forever," he said.
It's important to note there have been no concrete reports of contact with NFL teams, and Oregon athletic director Rob Mullens said he's received no courtesy calls from an interested NFL team. It's plausible -- and very, very Chip Kelly -- that Kelly's non-denials emerge from his enjoyment in making the media awkwardly tap dance in front of him.
Still, if Kelly's departure is just days away, it is reasonable to get an early measure of Helfrich, who has been a quarterback coach at Boise State, Arizona State and Colorado -- he was the Buffs' offensive coordinator, too -- before Kelly hired him in 2009.
"He's really smart, really intelligent," Kelly said of why he made Helfrich his first offensive coordinator. "He brought a different perspective to our staff, because he had a different background. He wasn't a spread guy. I wanted to bring someone in who wasn't going to tell us what we already knew."
When asked what advice he'd give to Helfrich if he became a head coach, Kelly said he'd give him the same advice Rich Brooks gave Mike Bellotti and Bellotti gave him: "Be yourself. You can't be someone else."
Which is interesting in itself, because Helfrich is different than Kelly. Very different.
"Coach Kelly is the yin and he's the yang," Ducks senior running back
Kenjon Barner
said. "Coach Kelly is on you. He knows what he wants and he's going to get it out of you. Coach Helf is kind of that guy who brings you along smoothly, rather than rough. Good cop, bad cop. Sometimes they switch roles."
That said, continuity is a big reason to promote Helfrich. Oregon has a team culture, system of practicing and schemes on both sides of the ball that have been working fabulously over the past four years with Kelly. Helfrich wouldn't be expected to change much. Further, he'd likely be able to retain some of the Ducks' staff because Kelly probably will need to hire veteran NFL coaches to offset his lack of professional experience.
Still, Helfrich, as Kelly would advise, is unlikely to transform into a Kelly clone. He's worked with a number of successful coaches, so he'd likely put his own stamp on existing systems.
"You take a little bit of everybody with you," Helfrich said. "I've learned a ton from Chip."
While some players seemed -- for obvious reasons -- uncomfortable with the topic, there was a strong undercurrent of support for Helfrich, and not just with offensive players.
"He's a great guy and knows what he's doing," linebacker Michael Clay said. "Everyone respects him on the team and around the league. I think he'd do a great job as a head coach."
Helfrich is certain to be a head coach at some point. The big question to be answered after the Fiesta Bowl is whether that ascension is just days away.
November, 3, 2012
11/03/12
3:30
PM ET
Nick Aliotti, a native of Walnut Creek, Calif., a graduate of Pittsburg High School, a former freshman MVP at running back for UC Davis, arrived at Oregon as a graduate assistant in 1978 under Rich Brooks. The Ducks celebrated his arrival by going 1-10.
After a 4-7 season the next year, Oregon State coach Joe Avezzano hired him to coach running backs. In 1984, he was the offensive coordinator at Chico State. The Ducks went 6-5 that year.
Funny how things turn out. Back then, there was little to suggest Aliotti would become a defensive coach, or that he would circle back to Oregon, or that there would be any reason to go back to Eugene. After all, if Aliotti wanted to climb the coaching ladder, didn't he want to go to a place where you had a chance to win?
Yet here he is, now close enough to an Oregon lifer that we're going to call him that, a guy who has been a firsthand witness to a program rising from nothing to respectability to legitimate goodness. And then to the cusp of greatness.
[+] Enlarge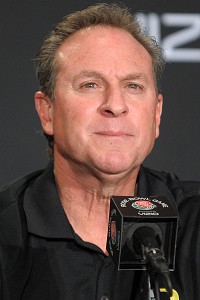 Kirby Lee/Image of Sport/US PresswireWhile Oregon's offense gets all the hype, Nick Aliotti's defense has also shined this season.
"I'll tell you how it feels for me personally," Aliotti said. "It feels fantastic."
And anyone who knows Aliotti, 58, will guess that there was a prelude to that quote -- "It's not about me" -- and a postlude -- "It's really, really special" -- as well as some entertaining parentheticals along the way.
Yet this season includes something new: respect.
Aliotti has been a good defensive coordinator for a long time, although his defenses often were outmanned. During the Ducks' rise under Chip Kelly, Oregon has played better defense than most folks realized, but it often required observers to look behind the numbers. And who has time for that?
Yet before this season began, more than a few pundits, including folks on the benighted East Coast, took a look at the Ducks' depth chart and noted that there were some salty characters on the mean side of the ball. The Ducks had some size to go along with their speed. There were some 300-pounders inside and there was, as coaches say, "great length" across the board, with seven of the top nine defensive linemen over 6-foot-4. And four over 6-6.
They passed the sight test.
What about the football part of football? Glad you asked. ESPN's numbers guy, Brad Edwards,
took a closer look at the Oregon defense this week
, noting that if you go beyond some superficial numbers that don't look impressive, you can make a case that the Ducks are playing defense on par with the finest teams in the country.
He took a measure of the Oregon defense only when an opponent was within 28 points, noting, "Using only statistics from when the score is within 28 points allows us to evaluate how teams perform when the starters are on the field and playing with maximum intensity."
What did he find? First, he found the Ducks have allowed 19 touchdowns this season -- one a pick-six against the offense -- but only seven were given up when the game margin was within 28 points.
Then he entered that into his Bat Computer.
Here's what he found. The Ducks ranked third in the nation, behind only Alabama and Notre Dame, in points per drive at 0.89. The Ducks allow just 4.03 yards per play, which ranks fourth in the nation. The Oregon defense leads the nation in red zone TD percentage at 22 percent, or four TDs allowed in 18 drives. Finally, on third-down conversion defense, the Ducks rank second, trailing only Oregon State, with a 24.7 percent success rate.
Not bad, eh?
Aliotti's defense, however, will face a major test on a big stage Saturday when it visits USC. Although the Trojans' offense has been surprisingly inconsistent this season, it still has all the main players from the squad that turned in a scintillating performance a year ago while ending the Ducks' 21-game Autzen Stadium winning streak with a 38-35 victory.
"Those great receivers and the quarterback were able to have their way with us last year," Aliotti said. "They beat our defense last year with their offense."
Matt Barkley
completed 26 of 34 passes for 323 yards with four touchdowns as the Trojans rolled up 462 yards.
Marqise Lee
, then a true freshman, caught eight passes for 187 yards and a score. Aliotti, by the way, was perhaps more upset about the Trojans' 139 rushing yards than the passing numbers.
Barkley is a four-year starter who has seen just about every defense. He's not easy to fool. But that doesn't mean Aliotti isn't going to try.
"The best I can answer is we're going to do a little bit of all of it," he said.
And Aliotti has a lot of tricks in his bag. When you talk to opposing offensive coaches, it's clear the Ducks' defense has evolved in the past few years. Calling it "multiple" doesn't do it justice. You could almost call it "nonstandard." Aliotti will give a general idea of the evolution, but he doesn't want even that to appear in print.
USC coach Lane Kiffin coached the Trojans' offense under Pete Carroll from 2001 to '06. He sees dramatic changes.
"You see no similarities," he said. "You'd think it was a different staff. Obviously it's not; they've been there forever. I don't know what changed, but they are very different. They are very multiple. They change fronts. They disguise things very well."
Aliotti has played a lot of chess games with opposing offenses since he returned to Oregon for good in 1999. Shutting down Barkley and the Trojans on Saturday would help him further secure his grandmaster bona fides this fall.
September, 28, 2012
9/28/12
6:30
AM ET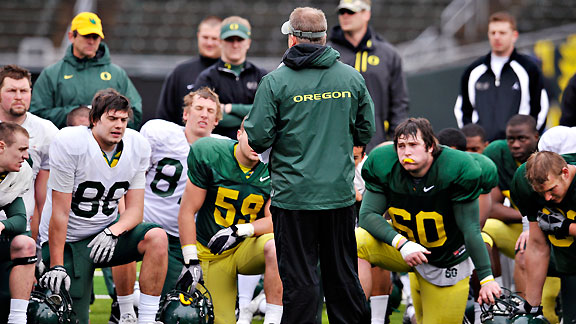 Steve Dykes/Getty ImagesOregon coach Chip Kelly commands instant respect from players -- and recruits often feel it so keenly they commit rather quickly.
EUGENE, Ore. -- "Family atmosphere" is a term commonly used by recruits when discussing the feeling they get while visiting a college campus. While nearly every program has it to some degree, some programs take it to a whole new level.
The Oregon Ducks have done just that during Chip Kelly's tenure. The special thing about the Ducks is that, for them, it's not just about the family atmosphere -- it's the overall attitude that permeates the football program that makes them tick.
To continue reading this article you must be an Insider
August, 30, 2012
8/30/12
10:00
AM ET
There are many differences between the Oregon Ducks current approach under Chip Kelly when compared to former head coach Mike Bellotti. Many of them are glaring, but the one that goes largely unnoticed is the fact that Kelly is keeping the emerging local talent home.
Kelly and the Ducks have benefited from a rise in high school All-Americans from with the Oregon borders, but keeping that talent in state hasn't always been easy for the Ducks.
Needless to say, Oregon is far removed from football-dominated states such as Georgia, Texas, California, Ohio and Florida.
To continue reading this article you must be an Insider
August, 15, 2012
8/15/12
10:00
AM ET
Oregon has been on a recruiting tear in recent years. The recent success of the Ducks has produced the golden age of Oregon football.
The Ducks have always done a masterful job of finding diamonds in the rough and developing talent that was overlooked coming out of high school. In recent years the Ducks have been able to stockpile high-level recruits and develop them the same way they would an obscure walk-on.
A lot was made of Oregon's shift in recruiting philosophy when Chip Kelly took over for Mike Bellotti in 2009. Bellotti built the program up from where longtime coach Rich Brooks had left it. Kelly has taken it to a whole new level.
To continue reading this article you must be an Insider
One Thing To Know: Pac-12 Recruiting
PAC-12 SCOREBOARD
Thursday, 8/28
Friday, 8/29
Saturday, 8/30