Oregon Ducks:

Miami Hurricanes
November, 4, 2013
11/04/13
12:00
PM ET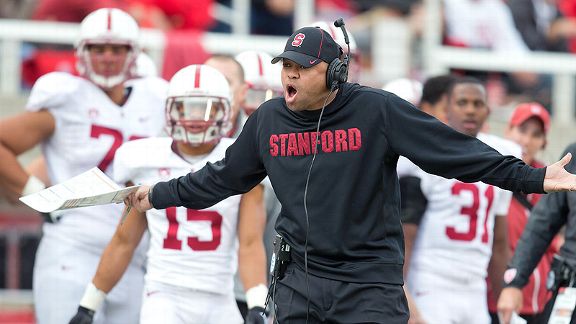 Russ Isabella/USA TODAY SportsStanford coach David Shaw is 1-1 against Oregon and 30-5 overall.
Stanford had just torn the hearts out of Oregon and its fans inside Autzen Stadium. The Ducks' unbeaten season had ended in shocking fashion. National championship hopes had been kicked to the curb.
"It's such an honor to come into this stadium and beat a phenomenal team," the Stanford quarterback said after the victory.


A gracious, classy and perhaps rare take from a college player. But no, that was not
Kevin Hogan
talking about the Cardinal's 17-14 overtime upset of the Ducks in Autzen Stadium last Nov. 17 that ruined the Ducks' drive for a berth in the 2012 national title game. It was Stanford's backup quarterback, Chris Lewis, talking about the Cardinal's 49-42 win in Autzen Stadium on Oct. 20, 2001, that ruined the Ducks' drive for a berth in that season's national championship game.
Lewis' postgame quote, however, generally sums up the Oregon-Stanford series, which Thursday night again will be the Pac-12 game of the year. There appears to be little animosity and a good dose of respect between the Ducks and Cardinal, who both own road wins as underdogs against each other in the past three years.
Though they are very different institutions, playing football in very different ways and, well, dressing very differently while doing so, the rivalry between the Pac-12's top two teams in the past four seasons doesn't include much ill will compared to the rivalries between Oregon and Washington and USC and UCLA.
Perhaps it should, at least in terms of what Stanford and Oregon have taken away from each other through the years, and not just during their recent and simultaneous rise to join the nation's elite.
Nine times since 1964, Stanford has handed Oregon its first defeat of the season. Twice it was the Ducks' only defeat. Without a loss to Stanford in 1995, the Ducks would have played in a second consecutive Rose Bowl in Mike Bellotti's first season.
Oregon has returned the favor of late as Stanford became nationally relevant. The Cardinal lost just one regular-season game in both 2010 and 2011. To Oregon.
Stanford's win in Autzen Stadium last year was shocking in many ways. The Ducks had owned the Cardinal and Andrew Luck the previous two years, so much so that in advance of the 2012 season, Stanford coach David Shaw openly admitted his team had an "Oregon problem," though he reasonably noted that the entire Pac-12 shared the Ducks conundrum.
Yet, as stunning as it was to witness the Cardinal shut down the Ducks' offense last November, the 2001 game eclipsed it 20-fold in terms of sheer nuttiness.
While some of Oregon's younger fans might not remember 2001, the older ones surely slapped their foreheads upon seeing the name "Chris Lewis" again. In that contest, the unbeaten and fifth-ranked Ducks were seemingly cruising, leading 42-28 in the fourth quarter at home, with Stanford quarterback Randy Fasani knocked out of the game in the second quarter.
But things went haywire in the fourth quarter, particularly on special teams, when Stanford blocked two punts and recovered an onside kick. Still, it appeared the Ducks would prevail 42-41 when they blocked the potentially game-tying PAT.
Unfortunately for Oregon, quarterback Joey Harrington was turning in his only poor performance of the season. On third-and-1 from Oregon's 30, Harrington was hit by safety Tank Williams, and his throw was picked off by diving defensive end Marcus Hoover at the 33 (it was Harrington's second interception of the game). After Stanford scored the go-ahead TD, Harrington, who had led nine fourth-quarter comebacks in his career and was popularly known as "Captain Comeback," threw four consecutive incompletions from the Cardinal 37.
The normally straightforward Associated Press report noted that the game "had everything but aliens landing on the Autzen Stadium turf."
Oregon, one of the earliest victims of a BCS controversy, went on to finish No. 2. Bellotti showed up at the Rose Bowl, host of the BCS title game, to watch Miami stomp overmatched Nebraska, a team that was blown out in the regular-season finale by Colorado, a team the Ducks had crushed in the Fiesta Bowl.
Yes, there were a fair share of what-ifs from the Ducks, not unlike last year, though it's worth remembering that Miami team was one college football's all-time great squads.
Of course, things were much different for both Oregon and Stanford in 2001. Neither team had established itself as a consistent national power. In fact, both would go through significant downturns thereafter, particularly Stanford.
In 2007, both programs made inspired decisions that inspired initial befuddlement among media and fans: Bellotti hired Chip Kelly away from New Hampshire, an FCS team, to coordinate his offense, and Jim Harbaugh was plucked away from San Diego, another FCS team, by Stanford. Harbaugh brought along Shaw to coordinate his offense.
As isolated events, the Stanford-Oregon game on Oct. 20, 2001, and some buzz-less coaching hires in 2007 didn't resonate nationally. But from a long-term view, they are notable dots to connect for what has become one of the nation's best and most meaningful rivalries.
Even if the teams don't provide much cartoonish trash talk to foment the hype.
April, 16, 2013
4/16/13
8:00
AM ET
Oregon and the NCAA agree: The football program
committed major violations
in connection to the Willie Lyles case, The Oregonian and Portland, Ore., television station KATU reported Monday.

The disagreement, however, that prevented Oregon and the NCAA from reaching a summary judgment is this, from The Oregonian:
Oregon and the NCAA, however, reached an impasse late in 2012 while attempting to agree on the severity of one violation concerning the Ducks' $25,000 payment to Texas-based talent scout Willie Lyles. The Ducks believe the impermissible "oral reports" delivered from Lyles constitute a secondary violation; NCAA enforcement officials believe them to be another "major violation."
It makes sense that's at issue, although the Pac-12 blog is of the mind that this impasse was more about the NCAA's committee on infractions (COI), which demanded a hearing, than the NCAA's enforcement staff, which seemed to be in accord with Oregon.
The strength of Oregon's position is the way the NCAA reacted to other recent cases, as well as the gray area with NCAA rules on recruiting services.
The strength of the NCAA's position is that it can do what it wants, then justify it after the fact, such as when
former Miami athletic director
Paul Dee said about USC's Reggie Bush, "High-profile athletes require high-profile compliance," which he just spun together for reporters because it doesn't exist in the NCAA rulebook.
Still, there is good news for Oregon from these reports, and it might be more important than what led the story:
However, the documents also state NCAA enforcement staff said they had "no finding of lack of institutional control and no finding of unethical conduct," key points when it comes time for punishment to be considered, KATU reported. Oregon is expected to appear before the NCAA's committee on infractions sometime this year.
"Lack of institutional control" and "unethical conduct" are the killers when it comes to penalties. Those quash postseasons and handfuls of scholarships. Of course, these documents are dated, so it's possible, if unlikely, the COI could up the ante.
Further, Oregon's case is probably helped by the program's big news this year: The departure of coach Chip Kelly to the Philadelphia Eagles.
Violations connected to Lyles came on Kelly's watch. He's gone. That should soften the eventual blow to some extent.
To show you the university's thinking, it "proposed to self-impose a two-year probation for the football program and a reduction of one scholarship for each of the next three seasons."
It wanted to be whipped by a wet noodle three times.
Yet even if you doubled that -- four years of probation and two scholarships for each of the next three seasons -- you're not talking about a major hit to the program. Signing just 23 and maxing out at 83 scholarships for the next three years won't knock the Ducks out of the nation's top 10.
December, 14, 2012
12/14/12
2:52
PM ET
ORLANDO, Fla. -- Class of 2015 athlete
Jaylin Hayward
(Tallahassee, Fla./Godby) might be just a sophomore, but the talented prospect is already receiving heavy interest from the in-state programs.
The 5-foot-9, 165-pound athlete, who totaled three receptions for 35 yards in Godby's 21-20 state championship victory over Immokalee (Fla.) Immokalee on Friday, said he is receiving heavy interest from several top programs.
"I'm hearing a lot from Alabama, Florida State, Florida, Miami and hopefully Oregon soon, but I'm not sure," Hayward said. "I have offers from Kentucky, FSU, Miami and Florida already."
December, 10, 2012
12/10/12
5:59
PM ET
GAINESVILLE, Fla. -- Just one day removed from landing three verbal commitments, the Florida Gators lost a linebacker commit on Monday night. ESPN 150 linebacker
Quinton Powell
(Daytona Beach, Fla./Mainland) has reopened his recruitment after officially visiting Florida this past weekend.
The 6-foot-2, 205-pound linebacker is still considering USC, Miami (Fla) and Oregon. He is planning to take official visits to all three schools.
Powell announced his decision via his Facebook status update: "Yes I Decommited from Florida, nothing against the program just needed to re-evaluate my choices."
To continue reading this article you must be an Insider
December, 6, 2012
12/06/12
6:31
PM ET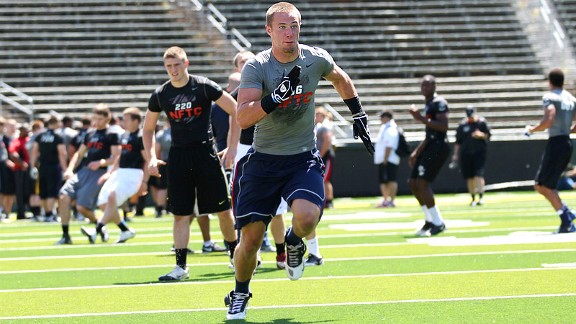 Tom Hauck/ESPNHSDanny Mattingly will consider Washington, UCLA, Miami, Arizona State and Oregon after decommitting from Notre Dame.
After taking some time to think about his future,
Danny Mattingly
(Spokane, Wash./Mead) decided that playing college football for Notre Dame "wasn't the right thing for me."
The 6-foot-5, 218-pound athlete confirmed Thursday he is no longer committed to the Irish.
To continue reading this article you must be an Insider
June, 18, 2012
6/18/12
10:04
PM ET
Monday was a busy day for commitments in the West region, but defensive tackle
Eddie Vanderdoes
(Auburn, Calif./Placer) isn't exactly ready to jump into the commitment scene. More than half of the top 30 players in the West have already made verbal commitments, but Vanderdoes is taking things slowly. On Monday, the 6-foot-3, 285-pound lineman took to twitter to release a list of his top 15 schools.
Alabama, Baylor, California, Florida, Georgia Tech, LSU, Miami, Michigan, Michigan State, Nebraska, Oregon, Penn State, UCLA, USC and Washington all made the cut. Vanderdoes included in his tweet that he will be cutting that down to a top 10 group soon.
To continue reading this article you must be an Insider
Freshman Quarterbacks A Growing Trend?
PAC-12 SCOREBOARD
Thursday, 9/3
Friday, 9/4
Saturday, 9/5