December, 30, 2013
12/30/13
1:30
PM ET
Pac-12 reporter Kevin Gemmell and Texas reporter Max Olson break down the biggest storylines in Monday's Valero Alamo Bowl matchup featuring
Texas
and
No. 10 Oregon
:


How do you think Mack Brown's resignation affects this game?
Max Olson:
Throughout the past few weeks, Brown has stuck to the same message publicly: Texas players should win this game for themselves, not for their coach. They've had a brutal season, overcome plenty and have a chance to cap it with a ninth win and a few good memories. Brown keeps saying he wants this to be about the kids, not him.
What we'll get out of kids, though, I just don't know. They've been big underdogs before. They came out firing against Oklahoma and built real momentum. They held Baylor to 3 points in the first half but ran out of gas. Which Texas team shows up Monday? They'll need plenty of motivation and good fortune.
Kevin Gemmell:
My first thought was that this was going to be a huge motivation advantage for Texas -- and I'm a big believer that the bowl season is all about which team is motivated to be there. But I think the recent news that Oregon defensive coordinator Nick Aliotti is also retiring balances things out in the Oregon locker room. While he's not as big of a name nationally as Brown, he's as much an Oregon institution as Brown is to Texas.
Both pregame speeches will be rousing. Heartstrings will be tugged. But ultimately it comes down to what happens on the field. If Oregon is able to set aside its disappointment of not being in a BCS game, then who is coaching on which sideline shouldn't matter because on paper Oregon is the stronger team.
What should be expected of a 100-percent healthy Marcus Mariota?
Gemmell:
For starters, an extra element to the Oregon offense that makes them that much tougher to stop. Consider Mariota in the first seven games of the season before his knee injury. He averaged 70.4 rushing yards per game and scored nine touchdowns -- including at least one rushing touchdown in all seven games. Since hurting the knee against UCLA, he's averaged just 17.8 rushing yards with zero rushing touchdowns.
He also threw four interceptions in the final two games after going pick-free for the first 10, so aside from his rushing abilities -- which are substantial -- his throwing mechanics should be much stronger. I'm of the belief that when he's 100 percent healthy, Mariota is the best football player in the country. And if Texas gets a 100 percent Mariota, he's going to be very, very difficult to stop.
Olson:
Mariota is one of the many reasons why this is just not a good matchup for Texas, especially considering its defense has had legitimate issues defending the option against mobile quarterbacks. Of quarterbacks who started the last two seasons, nobody in the country has a better Total QBR than Mariota at 89.0. He's the real deal. I fully expect him to put up big numbers in the Alamodome, and it'll be interesting to see how Texas defends him, probably with
Jackson Jeffcoat
reprising his freestyle "spinner" role.
Who will be the key player in this game?
Olson:
If you've been following this Texas team, you know the key isn't getting a huge performance from
Case McCoy
. Yes, he needs to play relatively mistake-free and hit on the big passes when they're there. But Texas doesn't stand a chance in this one without a big night from
Malcolm Brown
.
The San Antonio native had rushed for 421 yards in the four games since Texas lost
Johnathan Gray
, including 118 in the first half against Baylor. He did a terrific job of hitting cutback lanes against the Bears, and run defense hasn't been a strength for Oregon. Brown needs to get rolling or Texas could fall behind quickly.
Gemmell:
Take your pick from any number of superstars on both sides of the ball for Oregon. Be it Mariota,
Josh Huff
or
Byron Marshall
. Defensively, cornerback
Ifo Ekpre-Olomu
is as lockdown as they come. But the guy who always seems to show up in the postseason is
De'Anthony Thomas
.
Last season against Kansas State in the Tostitos Fiesta Bowl, he returned the opening kickoff 94 yards for a touchdown, caught four balls for 60 yards and a score and rushed twice for 15 yards. In the 2011 Rose Bowl Game presented by Vizio, he carried twice for 155 yards and two touchdowns in the win over Wisconsin. He also caught four balls for 34 yards and returned five kicks for 125 yards.
Thomas is a big-game player with blazing speed and scary elusiveness. When he's hitting on all cylinders, he's a difference maker.
December, 30, 2013
12/30/13
11:00
AM ET
No. 10 Oregon and Texas face off Monday (6:45 p.m. ET, ESPN) in the Valero Alamo Bowl in San Antonio. A few key players and matchups to watch:


Who to watch:
Oregon quarterback
Marcus Mariota
says he's 100 percent healthy, and that's very good news for the Ducks. A knee injury suffered against UCLA in October limited his ability to run in Oregon's final five games, two of which were losses. Now that he has had time off to recover, expect the Ducks' high-tempo option attack to be back to full speed. Mariota is coming back for 2014 and has a chance to end his sophomore campaign with a big game against a Texas defense that has proven vulnerable to running quarterbacks.
What to watch:
What can Texas do up front to grab control of this game from the Ducks? These Longhorns are capable of big upsets when their offensive line owns the line of scrimmage, and they're reshuffling to put All-Big 12 left guard
Trey Hopkins
at right tackle. On defense, defensive ends
Jackson Jeffcoat
and
Cedric Reed
must be disruptive, and you could see Jeffcoat play all over the field in a hybrid role. Texas can't win this game without being the more physical team.
Why to watch:
Mack Brown's last hurrah after 16 seasons as head coach of the Longhorns. Texas has won seven of its past eight bowl games dating back to 2004, and its players want to send Brown off with one final victory, the 245th of his career. When everybody counted them out, Brown's players rallied and knocked off No. 12 Oklahoma 38-20 in the Red River Rivalry this season. Can the Longhorns pull off another stunner?
Prediction:
Oregon 38, Texas 17. Oregon simply has too much firepower for Texas, whose four losses have come by an average margin of 21 points. Retiring Oregon defensive coordinator Nick Aliotti gets the celebratory final Gatorade bath.
December, 30, 2013
12/30/13
9:00
AM ET
Kevin improved to 3-1 for the bowl season by picking Washington over BYU in the Fight Hunger Bowl and is 78-18 on the year. Ted is 0-4 in the bowl season and 74-22 on the year.
Valero Alamo Bowl: Oregon vs. Texas


Kevin Gemmell:
Again, this is a question of motivation for me. Does Oregon want to be there? Probably not. But the news that Nick Aliotti will be stepping down after this game, in my mind, balances out the fact that Mack Brown is also leaving. Nationally, it's not as big of a story. But Aliotti is as much an Oregon institution as Brown is to Texas.
Marcus Mariota
is healthy and
De'Anthony Thomas
always does his best work in bowl games. On paper, Oregon is a far superior team, and probably a little ticked off. That could be a scary combination for Texas.
Oregon 48, Texas 24
.
Ted Miller
: So… how are your bowl picks going? I've been trying to catch Gemmell by picking against the Pac-12 and, yeesh, that hasn't gone well. The problem is: If I start picking the Pac-12 teams, will that jinx them? If you don't believe in jinxes, chat up your favorite Oregon State or California fan about what happens to their teams when I pick them to win football games. They think I'm the guy smugly insisting the Titanic is unsinkable. Oh well. As for the Valero Alamo Bowl, I'm given pause by Texas playing inspired football in Mack Brown's last game and the possibility of Oregon being flat as it is playing its first non-BCS bowl game since 2008. But the word in Eugene is QB Marcus Mariota is back to 100 percent. The Ducks are the better team, and if they show up they win decisively.
Oregon 40, Texas 24
National University Holiday Bowl


Kevin Gemmell
: Not having
Marion Grice
-- if that is the case -- hurts. But it doesn't hurt enough to sway my opinion too much.
D.J. Foster
is more than capable of shouldering the load -- but they do lose a little bit of versatility on offense without both of them on the field at the same time. Still, there is no better back-shoulder connection in the country than
Taylor Kelly
to
Jaelen Strong
, and
Chris Coyle
is a mismatch for most teams. Defensively, ASU's opportunistic unit -- which notched a league-high 21 interceptions -- should add a couple of more against an uncertain Texas Tech quarterback to be named and a team that throws a lot.
Arizona State 42, Texas Tech 24
.
Ted Miller
: Texas Tech is a little like Oregon State is that its schedule was backloaded. The Red Raiders are bad on defense, ranking 92nd in the nation in run defense and 89th in scoring defense. They throw the ball around a lot -- nearly 400 yards per game -- but aren't terribly efficient, ranking 58th in the nation in passing efficiency. Even without Grice, the Sun Devils should be able to move the ball and put up points. And I'm not sure you can beat the Sun Devils with a one-dimensional offense. Arizona State only loses this one if it plays sloppy, which it hasn't done often this fall.
Arizona State 45, Texas Tech 28.
December, 24, 2013
12/24/13
1:00
PM ET
Each week, we team up with the ESPN Stats & Info crew to dig into the numbers that matter most and find three statistics that could make a big difference. Here are the numbers to remember going into Texas' season finale against No. 10 Oregon in the Valero Alamo Bowl on Jan. 30 (5:45 p.m. CT, ESPN).


1. 75.4
There's no better way to prepare for Oregon than playing Texas Tech and Baylor, right?
Texas Tech (88.4) and Baylor (82.4) actually ran more plays per game this season than Oregon, whose average of 75.4 is about on par with what the Ducks did during Chip Kelly's tenure.
They'd prefer to run more, of course, but when you're No. 2 in the nation in yards per play at 7.6, you tend to move down the field too quickly to need 80 or more. Still, the Ducks' famed tempo makes it difficult for defensive substitutions and its wide assortment of option looks should challenge Texas greatly.
The Longhorns can take comfort in knowing they held Baylor's No. 1 scoring offense to 30 points and just 3 in the first half. Oregon, by the way, is outscoring foes by a margin of plus-147 points in the first half this season. If the Ducks get this high-speed offense rolling from the start and avoid turnovers, they can be awfully hard to stop.
2. 62-10
Oregon quarterback
Marcus Mariota
has been masterful in his first two seasons as the Ducks' starter. His Total QBR since the start of the 2012 season is 89.0, second-best in FBS behind only
Jameis Winston
(who didn't play last season), and his career TD-to-INT ratio is a whopping 62-10.
Of course, what makes him especially dangerous against Texas is his rushing ability. Mariota has averaged more than 53 rushing yards per game in his career and has gained 10-plus yards on 53 of his runs. A knee injury slowed him to 71 total rushing yards in Oregon's final four games, but he's expected to be 100 percent healthy for the Alamo Bowl.
Two things worth noting there: Mariota has fumbled on nearly 10 percent of his rushing attempts in his career, and Texas' defense is currently in the top 12 nationally in sacks with 37 on the year. With how Oregon runs the zone read,
Jackson Jeffcoat
and
Cedric Reed
have to play smart while also applying plenty of pressure.
[+] Enlarge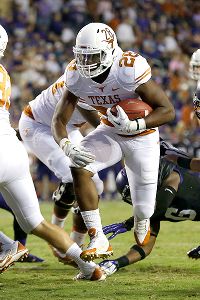 AP Photo/LM OteroTexas tailback Malcolm Brown, who has rushed for 774 yards this season, will see the bulk of the carries vs. Oregon.
3. 675
Texas can't win this game without an overpowering rushing attack and an ability to down the Ducks at the point of attack. A few running backs have had serious success against Oregon in 2013.
Arizona's Ka'Deem Carey rushed for 206 yards and four touchdowns in a blowout win over Oregon. Washington back
Bishop Sankey
, a fellow Doak Walker Award finalist, ran for 167 and UW trailed by just one score entering the fourth in a 45-24 loss.
In Oregon's other loss, Stanford's
Tyler Gaffney
pounded out 157 yards on 45 attempts. And Oregon State running back
Terron Ward
gained 145 in a one-point loss in the Civil War Game.
Add it all up and that's 675 yards by four backs.
Malcolm Brown
punished Baylor early, to the tune of 118 first-half yards, but Texas doesn't have any other backs besides Brown and
Joe Bergeron
available for this one. If they can't get going against a fairly porous Duck run D, that's just more pressure on
Case McCoy
.
Three more to remember
244:
Career wins for
Mack Brown
. With one more, he'll move into the top 25 all-time among all college football coaches.
71:
The number of missed tackles Texas' defense accounted for in the regular season. The Longhorns missed 112 last season.
Seven:
Texas has won seven bowl games since the 2004 season, tied for most in FBS in that span.
December, 20, 2013
12/20/13
6:00
PM ET
Happy Friday. Welcome to the mailbag.
Follow the Pac-12 blog on Twitter
. Santa is watching and you don't want to be added to the naughty list.
George from Phoenix writes:
I've read Kevin and your pre-bowl comments
on how well the Pac-12 needs to (and should do) in the bowls. "Favored in all games (or 8/9)". "Opponents are overmatched," etc. I believe the hype.
Then I read Mark Schlabach predictions yesterday
which has the Pac-12 going a measly 3-6, including a loss in the BCS game you have so wisely noted is most important for Pac-12 perception!!!! Should I panic? What's a guy to believe?!?!
Ted Miller
: I would say Mark shouldn't get too close to Vegas this holiday season.
If the Pac-12 goes 3-6 in its bowl games, Kevin has agreed to wear nothing but a burlap sack for a week. If the Pac-12 goes 3-6 in its bowl games, I will listen only to Adele songs for two weeks. OK, a week. No… a day. An entire day! An entire work day.
Everybody has opinions. And sportswriters are often asked to pick games. They can go the easy route and pick the favorites over and over again. Or they can try to spice things up by predicting upsets. It's also possible that Mark suspected he'd get a rise out of Pac-12 fans, so he's already 1-0 this bowl season. (George was not the only one to note Schlabach's Pac-12 bowl picks.)
But there might be method to his madness, or at least a justifiable logic.
You have two Pac-12 teams, USC and Washington, going through coaching turmoil. You have an Oregon team that had players complaining about the Rose Bowl now playing in the Valero Alamo Bowl against a Texas team that surely will be trying to win one for outgoing coach
Mack Brown
.
You have Arizona and Oregon State teams that have been pretty mercurial this season. You have Stanford facing a Michigan State team that is playing as well as any squad in the nation.
There are ways to script a 3-6 bowl season. Even Jon Wilner has the
Pac-12 going a meager 5-4
.
I think both will be wrong.
But ask Cal and Oregon State fans how often I'm right.
---
Mike from Springfield, Missouri, writes:
I will miss the BCS
because it really does make every game more interesting throughout the year. I don't deny that the playoffs will be more exciting than the current bowls. But I think the rest of the regular season will be much less interesting.
I would not have been watching the Iron Bowl this year because I would have known that even with a Bama loss, they would still be in the top four and making the playoffs and still probably be the favorite to win it, and so that game would have been not nearly as big as news as it was. We would then be talking about how it was good for Bama to lose because then they didn't even have to play the SEC title game and would be playing for the national title. Same thing years back when No. 1 Ohio State was playing No. 2 Michigan.
As well as Bama recruits, Bama will always start off ranked high in the polls and so the regular season won't get any headlines til Bama loses twice. I would have probably not watched a game all year this year with as good as Bama was, knowing that it would take two losses for them to not win the title and would probably just watch the playoffs. I think there will ultimately be a lot of fans like me and college football will find out that they had a good thing even with as much controversy as it had (there will always be controversy with a league with 119 teams that doesn't have equal schedules).
Ted Miller
: You make a fair point.
On the one hand, by adopting a four-team College Football Playoff compared to a two-team BCS title game, we are increasing the pool and therefore the opportunity. It seems more democratic, eh?
But there are always unintended consequences when change comes to a system. It's possible the biggest beneficiaries of the CFP will be the college football superpowers, teams that get the benefit of the doubt after a loss (or two).
If Alabama, USC, Texas, and LSU (group A) had just one loss, and Duke, Northwestern, Boise State and Texas Tech (group B) also had just one loss, how many teams from group A get into the playoff compared to group B?
If the selection committee is, like the national polls, heavily reliant on reputation, the elite powers will typically get the benefit of the doubt.
When a highly ranked Alabama/USC/LSU/Texas team loses its first game, it won't tumble precipitously in the polls, whereas a Duke/Northwestern/Boise State/Texas Tech that is climbing the polls after being unranked in the preseason doesn't get the same consideration.
Further, as you noted, increasing the pool to four teams over two decreases the value of the regular season, the one undeniable strength of the BCS system.
Many think we're headed toward an eight-team playoff. That sounds far more equitable, but that would reduce the value of the regular season even further -- significantly.
It will be interesting to see how the CFP affects how we perceive and react to the regular season. It's still going to be college football, so it will continue to be awesome. And it will still provoke controversies.
It is possible that those controversies won't be as juicy.
---

Ryan from Kennewick, Wash., writes:
Anything is possible in college football. "Never say never" and "Texas (UT) has unlimited resources" are two things we hear a lot. Even though there are provisions in the UT athletic director's contract to keep him from hiring ASU's staff, what are the chances that Texas uses their "resources" to go after one of them anyway? (Obviously I'm primarily referring to Todd Graham.)
Ted Miller
: If Texas really, really wants to hire Todd Graham away from Arizona State, it will go after him. And I personally would have no problem with Graham taking the job because this is the United States of America, and if you are a football coach, you should want to coach at Texas and make $5 million a year.
(Kevin has told me that Texas is the only job that could lure him away from the Pac-12 blog. Mine would be Florida Keys Community College -- because, hey, you're living in the Florida Keys!).
I know there was an agreement between Arizona State and its former athletic director Steve Patterson, now at Texas, that Patterson
wouldn't bring Sun Devils staffers with him to Austin
.
But this is the United States of America. If you have money and good lawyers, you can make just about anything happen you want.
Other than get Nick Saban.
---

Scott from London writes:
Just wondering what your thoughts are on
B.J. Denker
's 898 yards rushing and how his propensity to ball-hog on the read option hurt Carey's chances at the Doak/Heisman Awards?I know Carey was still a workhorse, but who should be running the ball? Your All-American RB or your gangly 6-2 QB?
Ted Miller
: Everyone needs to read Scott's note with a British accent. I first used my best Jeeves/P.G. Wodehouse then went all Oliver Twisty cockney on it.
It might sound counterintuitive, but sometimes the best thing for a running back is not getting the ball. It's the same when an A-list quarterback has a beastly running back lining up behind him.
Most defensive coordinators will tell you the first thing they do is try to take away what an offense most likes to do. With Arizona, that was hand the ball to Carey. So that means forcing the Wildcats to show they have other threats to worry a defense.
Denker averaged 5.4 yards per rush -- despite losing 121 yards on sacks -- and scored 12 TDs. A defense has to respect that. A read-option keeper from Denker, which was more often successful than not, forced a defense to obsess just a little bit less about Carey. That translated to a few split seconds of divided attention here or there that probably increased the size of holes Carey saw when he got the ball.
I think Arizona fans should be grateful for what they got out of Denker this year. I know he was doubted by just about everyone in August, including me. He became a solid QB for the Wildcats, and his outstanding performance against Oregon was one he should never forget. Not sure anyone made more out of his talents this year than Denker.
---
Nick from Seattle writes:
"Again,
this is a Fujis vs. Honey Crisp discussion
. But when you look at overall consistency -- "Now you've done it. Now you have absolutely lost all credibility. How dare you suggest Fujis are better apples than Honey Crisp in any way?! Utter blasphemy...
Ted Miller
: I told Kevin that if he uses apples-to-apples analogies, he's wading into deep and emotional waters, particularly with Washington fans. And Washington State fans for that matter.
I'm with you on this one. Kevin has lost all credibility -- ALL OF IT! -- when it comes to comparing apples to apples.
(Cue the Fuji apple fans with their outrage and advanced statistical analysis that proves -- PROVES! -- Fujis are just as good as Honey Crisp.)
October, 30, 2013
10/30/13
5:30
AM ET
RecruitingNation's The Early Offer gives you a daily dose of recruiting in the mornings. Today's offerings: By offering the top signal-caller in the 2015 class, Texas proves it is serious about fixing its issues at the quarterback spot; Arkansas hopes to make a big impression with four key official visitors slated to visit this weekend; and a NJCAA region VI playoff game will feature some of the best junior college players in the country.
October, 1, 2013
10/01/13
5:00
AM ET
1. George DeLeone hired Paul Pasqualoni as an assistant coach at Southern Connecticut State in 1976, and the two have coached together for most of the seasons since, from Division III to FBS to the NFL. When UConn fired Pasqualoni on Monday after two-plus seasons as head coach, the school fired DeLeone, the associate head coach and offensive line coach, too. The Huskies are 0-4, scoring 18 points and gaining 272.5 yards of total offense per game. Pasqualoni has a solid record (151-94-1, .616) in 22 years as a head coach. Something tells me he and DeLeone aren't done coaching -- together -- just yet.

2. Oregon has won its last 15 road conference games, the longest such FBS winning streak. The Ducks have won their last game at every Pac-12 opponent save Utah (in 2003, when Utes were in MWC. Does that count?) Alabama has won nine straight road SEC games. Stanford and Texas A&M each have won their last five road conference games. The Cardinal lost to Washington in 2012 at CenturyLink Field in Seattle. However, with the victory at that stadium Saturday over Washington State, Stanford has won its last game at every opposing venue in the Pac-12.


3. Texas athletic director DeLoss Dodds will announce today that he is retiring next August after 32 years. All Dodds, a former track coach, has done is transform Texas into the premier sports program in the nation. It took him three coaching hires to find Mack Brown, but 150 wins and one BCS championship in 16 seasons indicate Dodds got that one right. It's a measure of the resources and the expectations that Dodds has raised that fans wonder why the Longhorns don't dominate every sport in which they compete.


September, 20, 2013
9/20/13
5:30
PM ET
Welcome to the week 4 mailbag. It will be done in sanskrit.
Follow the Pac-12 blog on Twitter
. It's this new Internet thing that just might work out.
To the notes!
Scott from Norfolk, Va., writes:
Todd Graham really does seem like a great fit at ASU and he really did seem to bring about a very positive and much-needed cultural overhaul to the program. That said, doesn't his
contract extension
and raise seem a little premature? He's great so far, but "so far" is only 15 games, in which he's 10-5. Dennis Erickson was 12-3 in his first 15 games. I have to imaging this increases Graham's buyout (though I haven't seen direct mention of it, perhaps you can inform us as to whether that's true?), so isn't ASU unnecessarily limiting its options down the road here? Or am I overreacting and this is par for the course (and it's only fair that if coaches are now getting fired after two years they should also get raises on the same time scale)?
Ted Miller
: I see this as a renewal of vows, Arizona State and Graham making it clear to everyone they are happy -- at present -- with each other (and let's also note the same can be said for AD Steve Patterson, whose contract was also extended).
Of course, we all know college contracts often end up getting broken, one way or another. A coach can leave for a big-money job, at which point the new school often picks up the buyout tab, or boosters can get so worked up about a surprising downturn that the school decides to eat the contract and move on. And, yes, sometimes extensions bite a school in the butt -- see Colorado with Dan Hawkins and Iowa with Kirk Ferentz, two coaches who got big-money extensions that proved too expensive to buy out when things went south.
This new contract isn't a big risk for either party. Graham's current contract runs through 2016, this new one runs through 2018. He wasn't given a 10-year deal that could expose Arizona State should the Sun Devils start losing two years from now. As for Graham,
his buyout of $1.5 million isn't terribly big
. Chip Kelly's buyout at Oregon was $3.5 million.
Another interesting detail, though, is Graham is forbidden from taking a Pac-12 job through the life of the former contract. If I were a Pac-12 AD, I 'd always try to get that written into a head coach's contract. It's a good way to protect program secrets. Not saying any Pac-12 program would ever have any.
But, yes, if Texas wanted to hire Graham, it could easily handle the buyout, even though this extension is intended to prevent Graham's name from getting aggressively thrown into the rumor mill.
Why now? Well, you might have noticed the rumor mill already is starting to grind. From the ASU perspective, just about everything Graham has done thus far with the Sun Devils has been positive, and that's not just about winning.
Kevin, as you know,
spent a lot of time with Graham and his staff last week
. I think the picture he paints is of a highly functioning coaching staff with a strong, driven, organized leader running the show.
I know media members aren't allowed to write nice things about Graham. Kevin's and my problem is we actually have spent enough time with him to actually know what we are talking -- and writing -- about.
---
Sam from Sammamish, Wash., writes:
I am noticing some chippiness of late between long-time conference allies, the Pac-12 and the Big Ten. Here is a link to a story about Sark thinking on
the fly about where to practice on Friday prior to the game in Chicago
. What the story neglects to mention is Northwestern University decided to deny UW access to its practice fields less than 24 hours prior to arrival because it would give their Big Ten brethren Illinois an unfair disadvantage. Add this questionable gesture or lack thereof to the Wisconsin/ASU officiating debacle and methinks there may be some outright animosity building up?
Ted Miller
: The Rose Bowl conferences are business partners, but that doesn't mean they aren't rivals who desperately want to win and claim superiority. That sometimes involves gamesmanship, which is what it appears Northwestern did in this instance.
Here's what coach Steve Sarkisian
said on the matter
:
"It's an unfortunate situation. I don't think there's a whole lot of love lost right now between the Big Ten and Pac-12 right now, quite honestly, especially after the Arizona State-Wisconsin game. So it is what it is. Pat Fitzgerald and I exchanged some comments, and we're fine. I don't know where it's going to go from a conference level. It was unfortunate, but in the end, I think it was a positive. It just kept lending to, there's no distractions for us on this team. If we have to walk through the streets of Chicago to a park in downtown Chicago with a light pole in the middle of the field to practice, we'll do it. And our guys didn't skip a beat. It actually worked out really well for us. It's not a big deal for us anymore. We've moved on."
Oh, well. I've got a really high regard for Fitzgerald, so he gets a pass from me. Sark and Huskies fans might feel differently.
The bottom line is Washington beat Illinois 34-24 and the Pac-12 is 3-2 versus the Big Ten. So pffft to our friends from the Midwest.
---
Bill from Portland writes:
What are the odds of USC and Texas meeting in the Holiday Bowl, and if they did, would those be some of the hottest hot seats in college football? P.S. How crazy is it that in the same year it is a good possibility that USC, Texas and Nebraska may be looking for new coaches at the same time?
Ted Miller
: Those certainly are some A-list jobs that might open up by season's end. Suffice it to say, there's already plenty of chatter about how those potential openings might go.
It's certainly not that long of a shot that the Trojans and Longhorns could play in the Holiday Bowl -- or the Alamo Bowl for that matter -- for the first time since their epic national title game after the 2005 season, albeit in far different circumstances. Of course, both teams will need to climb a bit in their respective conference's pecking order to make it happen, particularly 1-2 Texas.
That said, I'm not sure either team would embrace the idea, though both would like an invitation to a quality bowl game. After all, the theme of most advance stories would be: Look how the mighty have fallen!
---
Lee from Ripon, Wisconsin writes:
You are so incredibly stupid it is beyond belief.
To compare a judgment call (pass interference) with a failure of the game officials to call a play by the rules defies basic logic
. Of course basic logic is obviously beyond you. But when you make statements that are factually incorrect, you really display your stupidity. The Pac-12 is the only major conference that uses officials from its league for home nonconference games. The other conferences have the game officials in essence travel with the visiting team. The game officials that worked the ASU at Wisconsin game in 2010 were from the Pac-12. The referee was the same individual who worked the Ohio State at Cal game Saturday night. It was NOT a Big Ten official who missed the pass interference call that you are basing your fallacious argument on; it was a Pac-12 official. If you weren't so fricking lazy you would have checked this out prior to making a factually incorrect statement; it is called research. I will be sending this email to the president of ESPN and suggest that they fire your sorry butt. An individual too fricking lazy to do basic research and as a result base an "argument" (what you stated doesn't meet the definition of a sound argument, but obviously the explanation of what qualifies as a sound argument is way beyond your severely limited mental capacity) isn't qualified to be a sports reporter. You aren't even qualified to be a dog catcher, or a member of the Bush cabinet. Hell, you aren't even qualified to be a Pac-12 football game official.
Ted Miller
: Thank you for your interest in the Pac-12 blog. We value your input. Please press one for customer service, two for new accounts ...
Lee, you are correct. I am stupid and lazy. That has never been so clear until this week when many Wisconsin fans showed up to help become smarter-er. But, to be honest, your world of Badger sophistication frightens and confuses me. I read "factually incorrect" and I want to bury my face into my blankie. I read "fricking lazy" and "research" and I want to know, "Where did these highfalutin concepts get created...
The Kollege Klub
?"
But there is one thing I
do
know.
That referee
Bill LeMonnier
led a
Big Ten crew on Sept. 18, 2010 inside Camp Randall Stadium
for Arizona State's visit to Wisconsin.
I guess I'm just lucky my computer is connected to the Internet-S.
---
Don from Palo Alto, Calif., writes:
Ted --Please pass this on to Kevin -- seems every time I try and click on "send email to Kevin" it displays your smiling face. Is this part of your evil scheme?I wanted to commend Kevin on his very fine profile of Todd Graham. It was well written, informative and unflinching. As a Stanford fan, and Stanford having not played ASU since 2010, I had kind of lost track of the program (although certainly the Graham hire made news). So with the game coming up this week, it was time to get into Graham and the program a bit, and Kevin's piece filled out everything very nicely. Pac-12 blog rocks!
Ted Miller
: I have many evil schemes. This is not one of them, though now I'm sort of wishing it were. A guy can never have too many evil schemes, right?
Yet just two seconds ago, I was gazing at Kevin's Clooney-esque mug.
Did you click here
? There are two places to send your Pac-12 mail, one to me and one to Kevin.
Typically, if you are angry and want to insult us, those notes should go to Kevin. If you want to write how great the Pac-12 blog is, those notes go to me.
---
Jesse from Portland writes:
I know of your long gripe with the word, "Natty." However, an Oregon player first invented that word. And since it has gone global in it's usage, though originating in Oregon, we claim that word. If you actually took the time to visit every single sports forum and blog, you would quickly see that this word is used by every single fan nationally describing the NCG. It has become a universal word and has so for three years now. Get with the times. You are getting old. The only people who hate that word are Oregon haters, cause they know a Duck invented it. And because it was first invented by a Oregon player, we are NOT going to to stop using that word, not now, not ever! We are the only Pac-12 team to go to a Natty in the last eight years. And we are projected to make another one this year. So we have every right to use that word. So Natty, Natty, Natty, wish you were at the Natty. Natty is here to stay. Both now, forever and into all time. It is a Oregon thing, going to a Natty. And unless you are a Duck, you just cannot understand. You Natty old reporters ... don't like the Natty? Well ... go Duck yourself then. Natty times are here to stay!
Ted Miller:
(A sigh ... and then a slow clap ... everyone in the coffee shop slowly stands and joins in).
September, 9, 2013
9/09/13
5:00
AM ET
1. Loyalty is an admirable quality. Loyalty to a fault will get you in trouble. In Manny Diaz's first two seasons as defensive coordinator at Texas, the Longhorns lost games by the score of 55-17, 48-24, 48-45, and 63-21. They won one, 56-50. Texas head coach Mack Brown stuck with Diaz. On Saturday night, the Longhorns lost at BYU, 40-21, allowing 550 rushing yards. Brown fired Diaz on Sunday. If that solves the Longhorns' issues, Brown will be fine. But by sticking with Diaz, Brown used up a lot of goodwill.
2. That said, USC athletic director Pat Haden is not in the same predicament as Brown. When Haden gave Trojans coach Lane Kiffin a preseason vote of confidence, he well may have meant it. It was interpreted, however, as campaign rhetoric, something Haden had to say. Haden didn't hire Kiffin, so he doesn't own him -- yet. USC's 10-7 loss at home to Washington State on Saturday night puts Kiffin in a deep hole. He can still dig out. But he needs a quarterback, not a shovel.
3. Oregon freshman tailback
Thomas Tyner
made his collegiate debut Saturday. The high school All-American rushed four times for 51 yards, including touchdowns of 3 and 31 yards, in the mop-up fourth quarter of the Ducks' 59-10 victory at Virginia. "I've wanted to play for the Ducks for the majority of my childhood," Tyner said, wearing a permagrin. "My first carry being a touchdown, everything just lights up inside of you. Words can't even explain how exciting it is. Today has been awesome."
Programs Most Desperate for a Quarterback
PAC-12 SCOREBOARD
Thursday, 9/3
Friday, 9/4
Saturday, 9/5