November, 4, 2013
11/04/13
5:00
AM ET
1. It's not smart to delve deeply into BCS what-ifs. The season has five remaining weeks -- a full third of the schedule. Besides, the top of the
BCS standings
will sort itself out. It has every year since the FBS went to a 12-game schedule. But the race at the other end of the BCS is worth keeping an eye on. Fresno State has reached No. 16, the minimum threshold a BCS buster needs to secure a bid as long as it's ahead of an AQ champion. Louisville and UCF of the American are No. 20 and No. 21, respectively.
2. No. 1 Alabama and No. 3 Oregon turn their heads toward their biggest conference nemeses. Nick Saban is only 4-3 against No. 13 LSU while since taking over as coach of Alabama. He's 72-10 against everyone else. No. 5 Stanford is the only team to beat Chip Kelly's Ducks twice in his four seasons. Last season's 17-14 overtime loss cost Oregon a berth in the BCS Championship Game. Suffice to say it left a mark. Expect coach Mark Helfrich to have something in his game plan this week. The Ducks kept it pretty vanilla last year, and it cost them.
3. When Michigan State defeated Michigan four consecutive times from 2008-11, it didn't quite feel as if the Spartans owned the rivalry. This wasn't the real Michigan -- coach Rich Rodriguez didn't fit the Wolverine mold. Michigan State took advantage of Michigan, but so did a lot of teams. That's not the case any longer. Michigan has its own (Brady Hoke) running the program. He is in Year Three. Yet Michigan State just beat Michigan
29-6
, the Spartans' biggest margin in their 5-1 run against the Wolverines. The rivalry belongs to Sparty as securely as it did in the mid-1960s run of Duffy Daugherty.
October, 6, 2013
10/06/13
7:10
PM ET
ESPN Junior 300 defensive tackle
Daylon Mack
(Gladewater, Texas/Gladewater) has a new top four.
October, 4, 2013
10/04/13
5:02
PM ET
Any chance every game this weekend can be as interesting as UCLA-Utah?
Welcome to the mailbag. If your life needs just a tad more "oomph,"
follow the Pac-12 blog on Twitter
. It's loaded with oomph, as well as many vitamins and minerals.
To the notes!
Daniel from Pullman, Wash., writes:
Ted-Last Saturday morning I was listening to ESPN Radio and they were debating the match-ups of the Pac-12 North and the SEC West (on neutral fields). I believe their match-ups were Al vs. OR, LSU vs. Stanford, Tex AM vs WA, Ole Miss vs OSU, Auburn vs. WSU, and Miss St or Ark vs Cal. One voted these match-ups 4-2 in favor of the SEC, and the other scored it 3-3. (Note: I think both picked LSU over Stanford.) How would you see these match-ups playing out?
Ted Miller
: The first challenge is matching the seven-team SEC West versus the six-team Pac-12 North. To make things easy, goodbye Arkansas.
Further, we don't really know how each division ultimately will stack up. Our speculation is only slightly educated here, as any would be not even halfway through season.
So start with Oregon-Alabama. This is a potential national title game. There are two ways to look at it. Is this a regular season game with just one week to prepare? I'd give a slight edge to Oregon with that. If it was a national title game, with three weeks to prepare, I'd give the Crimson Tide an edge. For this exercise, we'll go with the Ducks.
I'd pick Stanford over LSU. Just like I'd pick Stanford over Georgia, which just beat LSU. Suspect that Stanford would consistently outflank the Tigers with sophisticated schemes. A few years ago, LSU's team speed would have been an issue. No longer.
I'd take Texas A&M over Washington in a barnburner. I'd take a healthy Oregon State -- as in the Beavers after their off week -- over Ole Miss. The Rebels wouldn't be able to handle
Sean Mannion
and
Brandin Cooks
.
Auburn beat Washington State 31-24 on its home field, but the Cougars outgained the Tigers 464 to 394. In a neutral field rematch, I'd go with the Cougs.
Cal would be able to outscore Mississippi State, though I'd feel better with that one if the Bears didn't have so many injuries on defense.
So there you go: 5-1 Pac-12 North.
End of discussion! Right?
---

Andrew from Phoenix writes:
Ted,Why all the volatility in Arizona State's perception? The last 3 weeks the media and PAC fans have gone from "they're ready for the national stage" to "looks like they're not that good" back to "this team can do some damage." The consensus outside of the biggest ASU homers and UA trolls was ASU would be about 8-4, just in or just out of the Top 25, and needing an upset @UCLA to win the South. I have seen nothing on the field this season that should change that. Bottom line is they demolished a poor team, handily beat (with some blemishes) a mediocre team, played a toe-to-toe in a toss up with a good team, and got their mistakes shredded by an elite team. Why so much drama?
Ted Miller
: It's Kevin. He's the man behind the curtain pulling all these levers that make people crazed with drama.
I don't feel like much has changed about the perception of Arizona State, at least among those who esteemed the Sun Devils in the preseason. This is a good team, probably a top-25 team, one that is moving up in the Pac-12 and national pecking order but is not yet on the Oregon/Stanford level. And, yes, it looks like the best challenger for UCLA in the South Division, particularly after USC imploded.
But there is a logical reason for the volatility: The Sun Devils' schedule. How many teams have played three tough, AQ-conference opponents in their first four games? And with such a variety of results.
Wisconsin, 32-30 win: Controversial ending yes, but the game showed the Sun Devils are top-25 caliber.

Stanford, 42-28 loss: The Sun Devils might be a top-25 team, but they've got a ways to go to move toward the top-10.

USC, 62-41 win: An impressive offensive showing against a previously outstanding defense. More positive evidence that the program is taking steps forward under Todd Graham.
Guess what? There will be more drama on Saturday. A win over Notre Dame will provide another uptick. And a loss will add some skepticism, as well as a second fall from the national polls.
---

Kevin from Reno, Nevada writes:
Why is Ohio State ranked ahead of Stanford? After watching ASU play Wisconsin and then Stanford, it was clear that Stanford is on an entirely different level of physicality and talent than Wisconsin. That same Wisconsin team almost beat Ohio State on the road. Also, Cal was completely over-matched against Oregon, but competed almost respectably against Ohio State. Stanford may be better than Oregon this year.
Ted Miller
: At least we'll get an answer with Oregon-Stanford on Nov. 7.
But I hear you.
Obviously your Pac-12 bloggers agree with you
. I'd comfortably pick Stanford over Ohio State, and I suspect a lot of folks would, too. While it's dangerous to use the transitive property in college football, your point about Wisconsin is at least partially valid.
I suspect the reason most folks who are voting Ohio State ahead of Stanford are doing so is because
they did so in the preseason, and the Buckeyes have yet to lose
.
---

Andrew from Agoura Hills, Calif., writes:
Now that Lane Kiffin is out the door, we've started to hear all the names of potential candidates: Kevin Sumlin (my personal favorite), Jack Del Rio, Jeff Fisher, Steve Sarkisian, Chris Petersen, etc. One name that I haven't really seen included in any of these hypothetical lists is Alabama DC Kirby Smart. Do you think he will be considered by Pat Haden and the USC braintrust? He seems to be on track to eventually be a head coach, and his credentials are very impressive for a young coach. The two problems I see are that he 1) has resisted overtures in the past, possibly because he is in line to follow Saban at 'Bama and 2) is devoid of any head coaching experience. What do you think of Smart as a candidate for the Trojans?
Ted Miller
: There certainly are worse choices.
The other knock, fair or unfair, on Smart is that Saban is the ultimate brains behind the Crimson Tide's defense. Still, working under Saban for an extended period of time should overcome that as a downside. He knows Saban's "Process," which is like learning about the stock market from Warren Buffett.
My impression is Smart is shortly going to get an opportunity in the ACC or SEC. He's a child of the South and probably wants to stay down there.
In fact, if you are looking for a darkhorse candidate for USC, what about Alabama offensive coordinator Doug Nussmeier? He calls Alabama's plays, has time learning from Saban and knows the Pac-12, as he was Steve Sarkisian's offensive coordinator at Washington before heading to the SEC. He also has Big Ten and NFL experience.
While USC is surely going after a big-time name with head coaching experience, many, many great hires have been first-time head coaches, such as John McKay, Bob Stoops, Chris Petersen and Chip Kelly.
---

Saul from Los Angeles writes:
I get it, you hate your former home up there in Seattle. Why you instantly think the Washington head coach job sucks is beyond me and Wilcox would rather go to USC to be an assistant coach when he could be a head coach. You are insufferable.
Ted Miller
: Every week, there are angry notes in the mailbag that make me go, "Huh?" I get that when you write about college football, you will make folks mad. Just part of the job. But what always baffles me is when I get an interpretation of one of my positions that is untethered to any actual position I can ever recall taking.
Saul isn't the only one. It appears many Alabama fans
believed this story
on USC's coaching search implied Pat Haden might hire Nick Saban. That conclusion apparently was based on my typing, "What if USC now hires its Nick Saban? Or, to localize it: Pete Carroll, take two?"
I spent 20 minutes trying to figure out what got Saul's feathers raised. Apparently it is this from my chat Thursday:
Ryan (Baja): Hypothetical: Sark goes to USC. Question: What happens to Justin Wilcox?

Ted Miller: THAT is a big question. I was, in fact, thinking about that today. I'd think Washington would give him a hard look. It's just a matter of time before he's a head coach. It might, in fact, be a matter of just a couple of months. He'll have options, including one to follow Sark to LA and get a big raise.
To be clear: I think Washington would seriously consider Wilcox if Sarkisian left for USC and I'm SURE Wilcox would take the job.
If there is an implication my chat comment that Wilcox would rather be offensive coordinator at USC than head coach at Washington, then I humbly apologize. He would not. What I wanted to suggest is that if Wilcox was offered a head coaching job for a non-AQ program, he still might opt to follow Sarkisian to USC and wait for an AQ job. Such as, you know, a place like Washington.
The big hypothetical here is Sarkisian going to USC. It's possible, by the way, that Sark would say no to USC again, just as he did when it went after him before hiring Lane Kiffin.
And, if it needs to be clarified, there is not a person who has ever talked to me about Seattle who doesn't know how much I love that town.
October, 19, 2012
10/19/12
3:05
PM ET
ROSENBERG, Texas -- ESPN 150 tight end
Derrick Griffin
wasn't too busy on Thursday night as he and his Rosenberg (Texas) Terry teammates cruised to a 30-0 win over Bay City (Texas) High School. Griffin, who caught three passes, made them count, as two of them were for touchdowns.
[+] Enlarge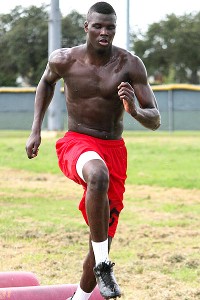 Sam Khan Jr./ESPN.comTexas A&M commit Derrick Griffin, the top 2013 TE prospect, said he's still looking at other schools.
Lining up at receiver for the Rangers, Griffin works hard to stay focused and stay involved for his team, which operates in a run-heavy offense and was playing its third-string quarterback Thursday because of injuries to the first two sustained early in the season.
But when his time comes, Griffin is ready to deliver.
To continue reading this article you must be an Insider
October, 1, 2012
10/01/12
3:30
PM ET
Be prepared. Oregon coach Chip Kelly won't talk big picture this week. He won't talk about national perception or the beauty contest that college football is. A reporter will note to him that Oregon has beaten Washington eight consecutive times by at least 17 points, and he'll shrug.
(I bet inside he'll go, "Sweeeeet!" but outside, he'll shrug).
And he'll be right. Oregon has done a pretty good job under Kelly -- to the tune of 39-6 over three-plus seasons -- focusing on the present moment rather than looking ahead or back.
[+] Enlarge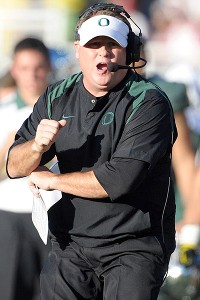 Kirby Lee/US PresswireA convincing win over Washington could go a long way in helping Chip Kelly and Oregon earn a spot in the BCS title game.
While it's perfectly reasonable for civilians to wring their hands over how a victory looked, as Oregon fans have over the first-half sloppiness against Washington State, Kelly's Ducks have a pretty simple formula ahead of them. If they win all of their games -- pretty or not -- the odds are extremely high they will play for the national championship. Again.
So, let's note in advance that the Ducks don't really need style points against Washington on Saturday in Autzen Stadium. They don't need to ring up a ninth consecutive blowout over that team in purple whom Ducks fans regard with such loving warmth. They don't need to match the domination of LSU's 41-3 beatdown of the Huskies a couple of weeks ago in Baton Rouge.
But it certainly wouldn't hurt.
A dominant win would further cement the national perception of the Ducks as the nation's No. 2 team behind Alabama. Perception, as you know in this, our penultimate year yoked by the BCS system, matters. A tight game going into the fourth quarter might cause some voters to reconsider Florida State, LSU, Georgia or a Big 12 front-runner.
In the event of there being three or more unbeaten teams at season's end, then perception takes over. And don't forget those fickle computers.
The Ducks are 24-point favorites. So the expectation has been set high for an impressive win. Falling short of expectations could have short-term consequences that, potentially, could resonate negatively throughout the regular season.
Of course, the Huskies aren't looking to be a doormat that Oregon can decorate with footprints. They're nationally ranked and feeling pretty rejuvenated after beating then-No. 8 Stanford, a game for which few -- yes, both of your humble Pac-12 bloggers -- expected them to be terribly competitive.
You might recall Oregon's worst offensive performance under Kelly was his first game as the Ducks' head coach, in 2009 at Boise State. In a 19-8 defeat best remembered for LeGarrette Blount's meltdown, the Ducks gained just 152 total yards and six first downs and were 1-for-10 on third-down plays. Suffice it to say, it provided no hints of the offensive pyrotechnics that were ahead for the program.
The Broncos' defensive coordinator on Sept. 3, 2009? That would be Justin Wilcox, who is now running the Huskies' defense.
That has Washington fans crossing their fingers that they can slow the Ducks' offense enough to give QB
Keith Price
and company a puncher's chance.
Kelly will shrug about Wilcox, too. He'll graciously praise him as a defensive coach. He'll claim the Boise State game holds no sway over his present thinking. He'll talk only about what he and the Ducks can control: their preparation, their attitude and their effort. Hey, it's not personal -- it's business.
But here's a little secret: Kelly is not a robot. He hasn't completely cleansed himself of the emotions --
personalized
emotions -- that attach themselves to competitive people. Just as he's well aware that his fans relish the recent domination of Washington probably as much as three consecutive Pac-12 titles, he's also well aware that scoring 50 on Saturday against Wilcox would feel pretty good.
I suspect he'd like to score 50 more than he typically would. (Editor's note: As some of you have noted,
he did get 48
against Wilcox when the Ducks visited Tennessee in 2010).
At the very least, doing so would eliminate an annoying angle a reporter can ask him about or write about.
September, 6, 2012
9/06/12
7:15
AM ET
Here are some of the storylines to keep an eye on in Week 2.
1. Who can rebound
? Washington State, Cal and Colorado will all look to get in the win column this week after disappointing debuts. Each has something specific it needs to work on in Week 2. The Bears need to find a way to get off the field on third down, Colorado needs to find a running game, and Washington State needs to find a little confidence (positive rushing yards wouldn't be bad, either). And even though Stanford won last week, there was a vibe around the team that a 20-17 against San Jose State isn't going to cut it. And they are right. After this week's game against Duke, USC comes to town and then a big road trip to Washington. Cal has its big matchup with Ohio State looming as well. A lot needs to be sorted out for these four teams in Week
2. Super schedule
: Some huge measuring-stick games this week against out-of-conference, BCS-conference foes (seven total). UCLA will see what they really have in
Brett Hundley
when he sees a Nebraska defense that won't be as generous as Rice. And we'll see if Arizona State and Arizona are the real deal when they take on Illinois and Oklahoma State, respectively. While it was nice to see all three win in Week 1, the big question now is whether they can all sustain it with the competition level being increased dramatically. And there are a couple more nonconference games we should mention ...
3. What about the Beavers
? Mike Riley joked that so far this season feels like the training camp that would never end. As last week's game against Nicholls State was re-routed because of Hurricane Isaac, we're still not sure what we're getting with Oregon State. We know they want to run the football, and
Storm Woods
is the guy to do it. At question is whether they'll have success against Wisconsin. It's tough to open the year against a ranked opponent, and Riley called this one of the biggest nonconference games in school history. Also eager to see how much progress
Sean Mannion
has made and how OSU's passing attack led by
Markus Wheaton
stacks up against the Badgers. By the way, big ups to OSU, which will have volunteers from the American Red Cross at Reser Stadium to take donations that go to victims of Hurricane Isaac. Classy gesture.
4. What about the Huskies
? Grrr ... the SEC. They win national championships. They dominate the rankings. Their fans come to our blog and troll with impunity. Grrr. How well will the Huskies represent the conference when they travel to Baton Rouge? Washington showed a lot of inconsistency against San Diego State, particularly on offense. And losing running back
Jesse Callier
for the season certainly doesn't help the situation. But when the Huskies were clicking, it was
Keith Price
connecting with
Austin Seferian-Jenkins
(nine catches, 82 yards) and
Kasen Williams
(six catches, 75 yards, 1 touchdown). That trio will have to have a monster game to pull off a shocker against the No. 3 team in the land.
5. Desert defense
: Some interesting matchups when you look at Arizona and Arizona State's competition -- particularly at the quarterback spot. How will the Wildcats fare against Oklahoma State freshman quarterback
Wes Lunt
, who actually saw less field time last week than
Marcus Mariota
? The Sun Devils might or might not face Illinois starting quarterback
Nathan Scheelhaase
, who has been out with an ankle injury. Head coach Todd Graham said they are prepping to face Scheelhasse, though there's a good chance (depending on which update you read at any particular hour) the Sun Devils could be seeing
Reilly O'Toole
.
August, 2, 2012
8/02/12
10:00
AM ET
USC wasn't eligible for the coaches' poll in 2011 due to NCAA sanctions, but it will start 2012 almost at the top.

The Trojans
are ranked third
, behind No. 1 LSU and No. 2 Alabama, the two SEC teams that played for the BCS national title last season.
The vote at the top was tight. USC, with 19, and Alabama, with 20, actually got more No. 1 votes than LSU (18). That should be your first warning of the "What the heck" nature of the poll. LSU, which welcomes back 15 starters from a 13-1 team and upgraded at quarterback with
Zach Mettenberger
, seems like a clear No. 1 to the Pac-12 blog.
LSU, with 1,403 points, was just ahead of Alabama, at 1,399. USC got 1,388.
It's a little surprising that USC isn't No. 2. Alabama only has 11 position players returning, including just five from last season's outstanding defense. But coaches tend to tip their caps to defending champs, and it's not unlikely that each of the seven SEC coaches in the poll -- the Pac-12 had six -- voted the SEC teams one-two. I also have a hunch a Pac-12 coach -- or two -- didn't vote USC either No. 1 or 2.
And, of course, the coaches poll, though it is unfortunately included in the BCS standings, is the least respected of all polls due to its regional biases, obvious conflicts of interest, lack of transparency and the simple fact that few coaches pay attention to teams they don't play. Oh, and many of the coaches hand off their votes to sports information directors.
Oregon comes in at No. 5, 18 points behind No. 4 Oklahoma. Stanford is 18th, just ahead of the Oklahoma State team that nipped the Cardinal in the Fiesta Bowl.
And that's it for the Pac-12 in the top-25. Washington came in at No. 26 and Utah at 32nd, based on the "others receiving votes" tally.
The SEC led all conferences with seven ranked teams. The Big 12 had six, including new members West Virginia and TCU. The Big Ten had four, the ACC three.
It's also evident that the voters ran out of steam in the top 25. Florida, Notre Dame and Auburn combined for 16 losses in 2011, but were ranked Nos. 23, 24 and 25, respectively.
As we noted, "What the heck!"
Here are the coaches who voted, per USA Today, including the six Pac-12 coaches, who are bolded:
The USA TODAY Board of Coaches is made up of 59 head coaches at Bowl Subdivision schools. All are members of the American Football Coaches Association. The board for the 2012 season: David Bailiff, Rice; Frank Beamer, Virginia Tech; Tim Beckman, Illinois; Bret Bielema, Wisconsin; Terry Bowden, Akron; Art Briles, Baylor; Troy Calhoun, Air Force; Matt Campbell, Toledo; Gene Chizik, Auburn; Dave Christensen, Wyoming; Mark Dantonio, Michigan State; Tim DeRuyter, Fresno State; Dave Doeren, Northern Illinois; Sonny Dykes, Louisiana Tech; Jimbo Fisher, Florida State; Kyle Flood, Rutgers; James Franklin, Vanderbilt; Al Golden, Miami (Fla.); Jim Grobe, Wake Forest; Darrell Hazell, Kent State; Brady Hoke, Michigan; Dana Holgorsen, West Virginia; Skip Holtz, South Florida; Mark Hudspeth, Louisiana-Lafayette; Curtis Johnson, Tulane; Ellis Johnson, Southern Miss; Butch Jones, Cincinnati; Brian Kelly, Notre Dame; Lane Kiffin, Southern California; Mike Leach, Washington State; Pete Lembo, Ball State; Tony Levine, Houston; Mike London, Virginia; Rocky Long, San Diego State; Dan McCarney, North Texas; Mike MacIntyre, San Jose State; Ruffin McNeill, East Carolina; Gus Malzahn, Arkansas State; Bronco Mendenhall, BYU; Les Miles, LSU; George O'Leary, Central Florida; Paul Pasqualoni, Connecticut; Bo Pelini, Nebraska; Chris Petersen, Boise State; Joker Phillips, Kentucky; Paul Rhoads, Iowa State; Mark Richt, Georgia; Mike Riley, Oregon State; Rich Rodriguez, Arizona; Nick Saban, Alabama; Steve Sarkisian, Washington; Frank Solich, Ohio; Steve Spurrier, South Carolina; Rick Stockstill, Middle Tennessee; Bob Stoops, Oklahoma; Dabo Swinney, Clemson; Jeff Tedford, California; Tommy Tuberville, Texas Tech; Kevin Wilson, Indiana.
July, 31, 2012
7/31/12
4:00
PM ET
We've told you about the
preseason Pac-12 media poll
, which projected things as most folks believed it would. But what about all the other media polls out there for teams that cross paths with Pac-12 teams this fall?
Don't worry. We are here to help.

The Pac-12 has dates with the preseason SEC (LSU-Washington) and Big Ten (Wisconsin-Oregon State) favorites, but there also is plenty of mediocrity on the nonconference slate this season. There's only one game between the conference and the ACC (Duke-Stanford) and Big 12 (Oklahoma State-Arizona). There's two between the Pac-12 and SEC because Missouri (Arizona State) switched its affiliation away from the Big 12.
And it's clear the Big Ten, the Pac-12's Rose Bowl rival, is still the chief partner for quality nonconference action. There also are dates with Illinois (Arizona State), Ohio State (California) and Nebraska (UCLA).
There also are seven dates with the Mountain West Conference: Colorado State (Colorado), Fresno State (Oregon, Colorado), Nevada (California), Hawaii (USC), San Diego State (Washington State) and UNLV (Washington State).
BYU and Notre Dame, as Independents, aren't in preseason media polls. FCS teams aren't included
Arizona
: Toledo (first in MAC West Division); Oklahoma State (fourth in Big 12)
Arizona State
: Illinois (fourth in the Big Ten Leaders Division); Missouri (fourth in SEC East)
California
: Nevada (second in Mountain West); Ohio State (second in Big Ten Leaders Division);
Colorado
: Colorado State (eighth in Mountain West); Fresno State (third in Mountain West)
Oregon
: Arkansas State (second in Sun Belt); Fresno State (third in Mountain West)
Oregon State
: Wisconsin (first in Big Ten Leaders Division)
Stanford
: San Jose State (third in WAC); Duke (last in ACC Coastal Division)
UCLA
: Rice (fifth in Conference USA West Division); Nebraska (first in Big Ten Legends Division; Big Ten champs); Houston (first in Conference USA West Division)
USC
: Hawaii (seventh in Mountain West), Syracuse
Utah
: Utah State (second in WAC)
Washington
: San Diego State (fifth in Mountain West); LSU (first in SEC West, SEC champs)
Washington State
: UNLV (ninth in Mountain West)
June, 18, 2012
6/18/12
10:04
PM ET
Monday was a busy day for commitments in the West region, but defensive tackle
Eddie Vanderdoes
(Auburn, Calif./Placer) isn't exactly ready to jump into the commitment scene. More than half of the top 30 players in the West have already made verbal commitments, but Vanderdoes is taking things slowly. On Monday, the 6-foot-3, 285-pound lineman took to twitter to release a list of his top 15 schools.
Alabama, Baylor, California, Florida, Georgia Tech, LSU, Miami, Michigan, Michigan State, Nebraska, Oregon, Penn State, UCLA, USC and Washington all made the cut. Vanderdoes included in his tweet that he will be cutting that down to a top 10 group soon.
To continue reading this article you must be an Insider
Pac-12 Teams Can Load Up At WR
PAC-12 SCOREBOARD
Thursday, 9/3
Friday, 9/4
Saturday, 9/5