Oregon Ducks:

LeGarrette Blount
December, 28, 2012
12/28/12
10:30
AM ET
SCOTTSDALE, Ariz. -- There is a school of thought, now apparently subscribed to by a handful of desperate NFL teams, that if that uber-suave, hirsute gentleman from those wildly entertaining Dos Equis beer commercials revealed his true identity, he would rip off a bearded mask and reveal Chip Kelly.
Is Kelly the most interesting man in the world?
Pause for a moment before chortling over our potential hyperbole, for Kelly has packed a lot into his 52-game tenure at Oregon, including 45 victories.
[+] Enlarge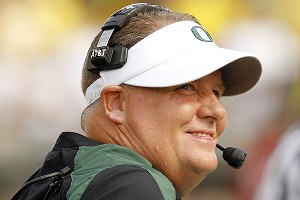 AP Photo/Don RyanChip Kelly doesn't often discuss his life with writers, but when he does, his answers are revealing.
He has run with the bulls in Pamplona. He has led the Ducks to three Pac-12 titles and four BCS bowl games. He has done humanitarian work in Africa. He has produced Oregon's first Rose Bowl victory in 95 years. He has visited U.S. troops in Iraq and Afghanistan.
Kelly, 49 and single, is also fiercely private. He has never cooperated with any truly in-depth "This is your life, Chip Kelly!" story, which is exceedingly rare for a high-profile coach. Nearly all his close friends are back in New Hampshire, where he's from and where he went to college.
Kelly doesn't like glad-handing boosters, something often viewed as a prerequisite for being a college coach. He particularly dislikes talking to reporters, and he goes to great lengths to make sure they understand.
The Dos Equis guy says, "Stay thirsty, my friends." Kelly would say, "Stay away, annoying hangers-on."
Yet the vast majority of Ducks fans not only love all the winning, they love Kelly for his wiseacre, smirking self. They chant "Big Balls Chip!" inside rocking Autzen Stadium to celebrate Kelly's penchant for going for it on fourth down, going for 2 and launching onside kicks at surprising times.
He tells fans, "Shut up!" for cheering behind him during an ESPN postgame interview, and they love him more. A Twitter page,
Chipisms
, celebrates not only Kelly's amusing or insightful wisdom -- "I saw the 'Feel Sorry for Yourself' train leaving the parking lot & none of our players were on it, so that was a good sign" -- but also for his snark.
Inquiries that Kelly doesn't like might get one-word answers, clichéd responses or snappy rejoinders that belittle his inquisitors. Questions that engage him, however, receive full and thoughtful treatment. Consider this response from an ESPN story on Kelly's trip to Africa, when he worked with adolescent girls who had no idea who he was.
"The real heroes are the little girls in Africa who are trying to better themselves so they can help their families," he said. "When I hear a coach say, 'We're grinding.' I'm like: You're sitting in a room with air conditioning watching videotape. That's not grinding."
There seem to be three facets to Kelly. His standoffish public face, the detail-obsessed coach and the Renaissance man determined to drink life to the lees away from the game. Even the hard-driving, "win the day" side of Kelly can loosen up behind closed doors; those who work with him frequently cite his sense of humor.
"He [jokes around] all the time," said offensive coordinator Mark Helfrich, a leading candidate to replace Kelly should he bolt for an NFL job. "It's not: 'Aha, he smiled! Isn't that amazing?' It's daily. We have a lot of fun."
Further, while Kelly's offense almost always runs like a finely tuned machine, plenty of, er, interesting things have been interspersed with winning during Kelly's tenure. Drama has not been lacking over the past four seasons.
His first game as Oregon's head coach remains his worst: A 19-8 loss at Boise State. Not only did the Ducks gain an embarrassing 152 total yards, but Kelly's star running back LeGarrette Blount punched a Broncos player afterward, bringing the hot light of controversy to his team's feckless performance.
Some thought Kelly was in over his head. He answered that by becoming the first Pac-10 coach to lead a team to an outright conference championship his first season.
Oh, and in a sign of interesting things to come, when a season-ticket holder wrote Kelly demanding a refund for his expenses incurred after attending that disastrous trip to Boise, Kelly quickly fired off a note with a personal check for $439.
Heading into 2010, starting quarterback Jeremiah Masoli was suspended after he was involved in the burglary of an Oregon fraternity house. Losing a star quarterback typically would damage a team's chances, but all Kelly's team did was finish undefeated and play for the national championship, losing 22-19 when Auburn kicked a last-second field goal.
The NCAA came calling during the 2011 offseason, wanting to know details of Kelly's and the program's dealings with street agent Willie Lyles. A distraction? Nope. Oregon won the conference a third consecutive year and the Rose Bowl against Wisconsin.
Kelly then nearly left for the Tampa Bay Buccaneers. His quarterback, two-year starter Darron Thomas, had already opted to leave the program, which again threw into question the Ducks' prospects. But Kelly returned and so did the winning, with redshirt freshman
Marcus Mariota
earning first-team All-Pac-12 honors while leading the Ducks to a No. 4 ranking and a Fiesta Bowl berth opposite Kansas State.
Yet he arrives at the Fiesta Bowl amid swirling rumors that he's about to leave for his pick of available NFL jobs. Asked about his NFL ambitions this week, he gave a 235-word answer that essentially said "no comment."
"My heart is to win the day, and that's it," he concluded. "I know everybody wants to hear a different answer, and I know at times when I don't give you guys the answer you guys want, then I'm being evasive. I'm not being evasive. My job is to coach the University of Oregon football team, and I love doing it. And that's what I'm going to do."
So the question will linger for a coach who at the very least is currently the most interesting man in college football: Will the Fiesta Bowl be his last day to win for Oregon?
October, 1, 2012
10/01/12
3:30
PM ET
Be prepared. Oregon coach Chip Kelly won't talk big picture this week. He won't talk about national perception or the beauty contest that college football is. A reporter will note to him that Oregon has beaten Washington eight consecutive times by at least 17 points, and he'll shrug.
(I bet inside he'll go, "Sweeeeet!" but outside, he'll shrug).
And he'll be right. Oregon has done a pretty good job under Kelly -- to the tune of 39-6 over three-plus seasons -- focusing on the present moment rather than looking ahead or back.
[+] Enlarge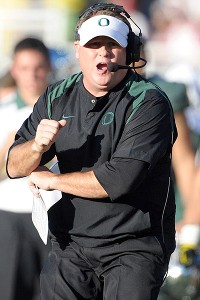 Kirby Lee/US PresswireA convincing win over Washington could go a long way in helping Chip Kelly and Oregon earn a spot in the BCS title game.
While it's perfectly reasonable for civilians to wring their hands over how a victory looked, as Oregon fans have over the first-half sloppiness against Washington State, Kelly's Ducks have a pretty simple formula ahead of them. If they win all of their games -- pretty or not -- the odds are extremely high they will play for the national championship. Again.
So, let's note in advance that the Ducks don't really need style points against Washington on Saturday in Autzen Stadium. They don't need to ring up a ninth consecutive blowout over that team in purple whom Ducks fans regard with such loving warmth. They don't need to match the domination of LSU's 41-3 beatdown of the Huskies a couple of weeks ago in Baton Rouge.
But it certainly wouldn't hurt.
A dominant win would further cement the national perception of the Ducks as the nation's No. 2 team behind Alabama. Perception, as you know in this, our penultimate year yoked by the BCS system, matters. A tight game going into the fourth quarter might cause some voters to reconsider Florida State, LSU, Georgia or a Big 12 front-runner.
In the event of there being three or more unbeaten teams at season's end, then perception takes over. And don't forget those fickle computers.
The Ducks are 24-point favorites. So the expectation has been set high for an impressive win. Falling short of expectations could have short-term consequences that, potentially, could resonate negatively throughout the regular season.
Of course, the Huskies aren't looking to be a doormat that Oregon can decorate with footprints. They're nationally ranked and feeling pretty rejuvenated after beating then-No. 8 Stanford, a game for which few -- yes, both of your humble Pac-12 bloggers -- expected them to be terribly competitive.
You might recall Oregon's worst offensive performance under Kelly was his first game as the Ducks' head coach, in 2009 at Boise State. In a 19-8 defeat best remembered for LeGarrette Blount's meltdown, the Ducks gained just 152 total yards and six first downs and were 1-for-10 on third-down plays. Suffice it to say, it provided no hints of the offensive pyrotechnics that were ahead for the program.
The Broncos' defensive coordinator on Sept. 3, 2009? That would be Justin Wilcox, who is now running the Huskies' defense.
That has Washington fans crossing their fingers that they can slow the Ducks' offense enough to give QB
Keith Price
and company a puncher's chance.
Kelly will shrug about Wilcox, too. He'll graciously praise him as a defensive coach. He'll claim the Boise State game holds no sway over his present thinking. He'll talk only about what he and the Ducks can control: their preparation, their attitude and their effort. Hey, it's not personal -- it's business.
But here's a little secret: Kelly is not a robot. He hasn't completely cleansed himself of the emotions --
personalized
emotions -- that attach themselves to competitive people. Just as he's well aware that his fans relish the recent domination of Washington probably as much as three consecutive Pac-12 titles, he's also well aware that scoring 50 on Saturday against Wilcox would feel pretty good.
I suspect he'd like to score 50 more than he typically would. (Editor's note: As some of you have noted,
he did get 48
against Wilcox when the Ducks visited Tennessee in 2010).
At the very least, doing so would eliminate an annoying angle a reporter can ask him about or write about.
Pac-12 Teams Can Load Up At WR
PAC-12 SCOREBOARD
Thursday, 9/3
Friday, 9/4
Saturday, 9/5