Oregon Ducks:

Jordan Zumwalt
April, 1, 2014
4/01/14
7:00
PM ET
On Monday, we took a look at how the Pac-12's
offensive players stack up
as NFL prospects in the eyes of ESPN analysts Mel Kiper Jr. and Todd McShay. Tuesday, it's the defense's turn.
Defensive line
If you've been following along since the end of the season, Sutton's spot isn't all too surprising. He didn't have a good showing at the combine and has taken heat about his physical condition, dating to before last season. Even with the concerns, it's hard to imagine he won't eventually find his way in the NFL. After all, he's only the second player in conference history to be a two-time Defensive Player of the Year. Washington's Steve Emtman (1990-91) was the other. That's not by accident.
Coincidentally, the SEC's Defensive Player of the Year,
Michael Sam
, isn't ranked in the top 10 by either.
See the list here.

Other Pac-12 defensive linemen who figure to be in the mix in the draft are
Cassius Marsh
(UCLA),
Taylor Hart
(Oregon),
Deandre Coleman
(Cal),
George Uko
(USC),
Tenny Palepoi
(Utah),
Morgan Breslin
(USC),
Ben Gardner
(Stanford) and
Josh Mauro
(Stanford).
Linebacker
[+] Enlarge

Kirby Lee/USA TODAY SportsFormer UCLA linebacker Anthony Barr could be the first Pac-12 player to be drafted this year.

OLB Anthony Barr, UCLA: No. 2 (both)

OLB Trent Murphy, Stanford: No. 6 (Kiper), No. 9 (McShay)

ILB Shayne Skov, Stanford: No. 3 (both)

ILB Jordan Zumwalt, UCLA: No. 8 (Kiper)
Barr is widely considered the Pac-12's best hope at landing in the first 10 picks, but if McShay was drafting, that wouldn't be the case. On drafting Barr, McShay wrote:
[Barr] of UCLA is a speed-rusher who stalls out when attempting to convert speed to power, and there is too much finesse to his game for me to pay a top-15 price for him. He looks like he's on skates when he attempts to set the edge.
That's not exactly a ringing endorsement for the same player Stanford coach David Shaw compared to Jevon Kearse. Shaw called Barr called the best (defensive) player the conference has had in the "last few years."
Murphy is in a similar boat to Sutton in that his college production isn't necessarily being viewed as a lock to translate to the NFL. He still figures to be a good fit for a 3-4 team and should be expected to contribute right away.
Outside of the four listed, it wasn't a very deep year for linebackers in the conference. Utah's
Trevor Reilly
, who can play both OLB and DE, Arizona State OLB
Carl Bradford
and USC's
Devon Kennard
headline the rest of the NFL hopefuls.
Defensive back
McGill should send a thank you card in Pete Carroll's direction. It's largely because of Seattle's use of big-bodied corners en route to a Super Bowl victory that the league appears to be trending in that direction. At 6-foot-4, McGill's size -- in addition to his solid showing at the combine -- is a rare asset among the group of corners.
Bucannon looks like he'll be the first defensive back off the board, but will he be a first-round pick? That's unlikely, but it would be a surprise if he lasts into the third round.
Another storyline to watch is where the three defensive backs who left early -- safety
Ed Reynolds
(Stanford), cornerback
Terrance Mitchell
(Oregon) and cornerback
Kameron Jackson
(Cal) -- wind up.
See the lists for linebackers and defensive backs here
.

March, 12, 2014
3/12/14
2:30
PM ET
You take the van, I'll keep the dog.
January, 27, 2014
1/27/14
1:00
PM ET
The Pac-12 was represented by six players in the
Senior Bowl on Saturday
, but the group's impact on the game was minimal.
Five of the six were defensive players, with Stanford fullback
Ryan Hewitt
(3 carries, 11 yards) the lone offensive player from the conference.
Utah cornerback
Keith McGill
, who drew rave reviews throughout the week, capped his solid trip to Alabama with a good performance that included a game-sealing interception of Miami's
Stephen Morris
. McGill measured in at 6-3, 214 pounds and has
drawn comparisons
to former Stanford star Richard Sherman.
Reviews for two-time Pac-12 Defensive Player of the Year
Will Sutton
of Arizona State were mixed, but his production in the game was there. Sutton was tied with Stanford linebacker
Trent Murphy
for a conference-high four tackles, including one for a 3-yard loss.
Washington State safety
Deone Bucannon
recorded three tackles, and Cal's
Deandre Coleman
followed up a well-reviewed week of practice with a pair of tackles.
Oregon receiver
Josh Huff
and UCLA's duo of linebacker
Jordan Zumwalt
(groin) and receiver
Shaquelle Evans
(undisclosed injury) practiced throughout the week, but did not play.
I'm not playing today for precautionary reasons

— ChosenOne1_ (@Huff_Era_1) January 25, 2014
In a Scouts Inc. list of superlatives from the week,
only Huff was included

. However, Todd McShay mentions McGill in the accompanying video:
Best vertical speed: Josh Huff, Oregon. We were surprised by Huff's quick start and extra gear when tracking the ball down vertically.
Here is the
official box score
from the game.
Pac-12 stats
Offense
Ryan Hewitt, Stanford: 3 carries, 11 yards.
Defense
Will Sutton, Arizona State: 4 tackles, 1 tackle for loss
Trent Murphy, Stanford: 4 tackles
Deone Bucannon, Washington State: 3 tackles
Deandre Coleman, Cal: 2 tackles, 0.5 tackles for loss
Keith McGill, Utah: 1 tackle, 1 interception
Did not play
Josh Huff, Oregon: "precautionary reasons"
Shaquelle Evans, UCLA: undisclosed injury
Jordan Zumwalt, UCLA: groin injury
January, 23, 2014
1/23/14
1:15
PM ET
Some interesting stuff about former Pac-12 players trying to impress NFL coaches and scouts at Senior Bowl practices in Mobile, Ala.
[+] Enlarge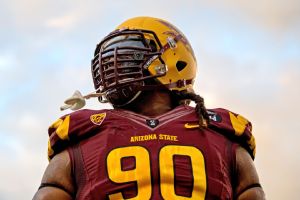 Mark J. Rebilas/USA TODAY SportsWill Sutton's weight is one of the topics at the Senior Bowl this week.
Seems like there's plenty of debate about Arizona State DT
Will Sutton
's weight. It's nice the ESPN's draft folks
are pointing out
that the film on Sutton -- and his Senior Bowl practice performances -- don't lie.
DT Will Sutton, Arizona State: At 6-foot, 315 pounds, he isn't going to win any Mr. Universe contests, and his body type will likely be a concern for NFL teams. Even if he loses some weight between now and the draft, his height could be an issue, as it will for Pittsburgh's Aaron Donald. But teams can't forget about how well he performs on the field. He has a quick first step for his size and he can disrupt running plays in the backfield, plus his girth and low center of gravity make it tougher for taller offensive linemen to get under him and move him off the ball, as we've seen in practices this week.
If NFL teams looking for a 3-technique defensive tackle can throw out his measurements and just watch the tape, they'll see a guy who can make an impact early.
USA Today gave Oregon WR
Josh Huff
a "rising"
grade from his week of practice
.
Wide receivers are often overlooked in Oregon's offense due to the Ducks' explosive running game. He's not being overlooked during Senior Bowl practices.

The Atlanta Falcons coaching staff made sure Day 1 to get the ball in Huff's hands. The 5-11, 201 wide receiver continually gets separation and is an available target. He caught a pair of passes in the end zone during Wednesday's practice. The first, he was falling backwards but still had the wherewithal to come down with the reception. Huff was able to high-point the second catch over the cornerback.

If it weren't for a diving attempt for a third touchdown reception which went through Huff's outstretched arms, the wide receiver may have gotten top billing.
But Huff
hasn't, apparently, been perfect
.
Oregon wideout Josh Huff might be the gifted of the North's receivers but he showed the same frustrating struggles with consistency which characterized his career with the Ducks. Possessing broad shoulders, strength and toughness, Huff is capable of fighting through safeties to gain position, as well as the quickness and speed to separate from cornerbacks. Unfortunately, the tendency to lose focus on the details -- like exploding through his routes or securing the football through the entire catch process -- again came into play during Wednesday's practice. Huff can make the spectacular play, demonstrating the ability to track the ball over his shoulder on vertical routes as well as twirling to make acrobatic catches against tight coverage. He also dropped a beautiful deep ball down late in practice down the right sideline and too often was knocked off his feet by aggressive cornerbacks.
One of the things you start to realize reading a lot of Senior Bowl notes packages is that you can pretty much get folks saying the opposite of each other ... over and over. Welcome to the draft process, which is really little more than a beauty contest.
More positive reviews
for UCLA WR
Shaquelle Evans
:
Shaquelle Evans/WR/UCLA: Evans, 6-foot-1, 210, built a lot of momentum throughout the week and by Wednesday was one of the better receivers at the Senior Bowl. He's a physical wideout with a strong build and soft hands. Evans consistently separated from opponents by running good routes and fought hard to come away with the reception. He's a terrific possession receiver with the ability to help any NFL team as a rookie.
Here's a take
on Washington State S
Deone Bucannon
, Stanford OLB
Trent Murphy
and UCLA LB
Jordan Zumwalt
:
Deone Buccanon, SAF, Washington State – Finally showed up a bit today with some very strong coverage on the TE. Stayed tight to the hip on a jerk route, out-muscled the TE and made a play on the ball. Is going to have trouble turning and running in coverage, because he's not real fluid. In the box, covering the TE, and bringing the edge type of Safety.

Trent Murphy, DE, Stanford – While he can beat OL with his effort, motor, and power, his concerns have been reinforced this week. Lack of explosion and speed are major concerns. Can bend some, but it looks like it takes some effort. Tall, linear frame for defenders to target.

Jordan Zumwalt, LB, UCLA – Once again set the physical tone. Was embarrassing RB in blitz pick up drills. Displayed excellent coverage on David Fluellen in downfield coverage, completely blanketing him and forcing the QB to pull down and run.
And, again, here are the Pac-12 players in Mobile:
North
South
January, 22, 2014
1/22/14
1:00
PM ET
Lots of interesting stuff about former Pac-12 players trying to impress NFL coaches and scouts at Senior Bowl practices in Mobile, Ala.
[+] Enlarge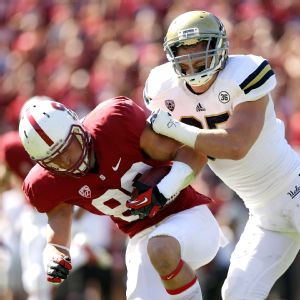 Ezra Shaw/Getty ImagesFormer UCLA linebacker Jordan Zumwalt has been impressive -- and intense -- during Senior Bowl practices.
It appears that former UCLA LB
Jordan Zumwalt
is
turning heads
, and this little tidbit made me smile.
Throughout, Zumwalt, 6-foot-4, 231, played with nonstop intensity, so much so that coaches politely asked him to dial it down a bit. Zumwalt presented himself as second-round material, something which could come to fruition if the competitive linebacker turns in good workouts at the NFL Scouting Combine.
I'm shocked to hear Zumwalt's dial goes up to 11. And he wasn't the only UCLA
player noted for his physical play
.
Another receiver that has caught my eye is Shaq Evans of UCLA. A corner came up to press Evans, and Evans just put him on the ground. Very physical play. He also showed good long speed on a deep ball, and he has decent size at 6'1, 210.
Jim Mora has talked about changing UCLA's culture. Winning 19 games over the past two seasons is proof enough, but reading about former players getting edgy at a college all-star game has to warm the cockles of Bruins fans' hearts.
Here's a pretty thorough look at

Utah DB
Keith McGill
:
He needs to improve his press technique, but he has the tools to do it. McGill's size will be tempting for teams. He's 6-3, 214 pounds, which is slightly bigger than Richard Sherman when he was coming out of school (6-2, 205) and roughly the same size as [Brandon] Browner when he was coming out (6-3, 221). For teams in the middle rounds looking to add size at cornerback, particularly one who can hold his own in press coverage, McGill could be an intriguing option.
And
another on McGill
:
The corner with the highest ceiling looks like Utah's Keith McGill. At 6-3, 214 pounds, he moves with tremendous fluidly through transitions and impressed during T-step redirect drills. He's not a natural hands guy and continued to drop interception opportunities. Nevertheless, the length to affect the catch point is still overwhelming for some of the South receivers he faced. When lined up in press man, he flashed the ability to mirror and wall receivers to the sideline, but will require further development with his hand usage through the release.
Former California defensive tackle
Deandre Coleman
is
also playing well

:
DT Deandre Coleman, California: Coleman isn't a big-name D-lineman like Ford or Arizona State's Will Sutton, but he has played really well both days here. He looked very strong against the double-team on Tuesday, using his hands effectively and playing really hard. He plowed through Oklahoma's Gabe Ikard during one session.
And, yes, Cal fans, there were some folks who wondered
where this beastly version
of Coleman was this season:
Powerful and surprisingly athletic, the 6-foot-5, 315 pounder is position and scheme versatile, though scouts are left to question where this passionate play was throughout a disappointing senior season in the Pac-12.
There seem to be some questions about where Stanford OLB
Trent Murphy
will fit in with an NFL defense. At present, he's playing defensive end and
having mixed results
.
Murphy, a playmaking outside linebacker for a highly physical Stanford squad, is also having a tough time adjusting as the Falcons are asking him to play defensive end. While known for his toughness and physicality with the Cardinal, Murphy looked surprisingly lean during Monday's weigh-ins, showing little upper body development on his 6-foot-5, 253-pound frame. He has strong, active hands to knock away blockers' attempts to latch on and accelerates around the edge in a controlled, efficient manner. He isn't an explosive athlete in any way, however, leading to questions about where he'll fit at the next level as he does not possess great burst nor the strength teams are looking for in an end capable of setting the edge.
Former Oregon WR
Josh Huff
continues
to play well
.
On Monday, while most observers were buzzing about Oregon receiver Josh Huff, I wrote about Wyoming receiver Robert Herron and even slapped a TY Hilton comparison on him. Tuesday's practice did not reaffirm my observation. Huff continued to stand out in his position group and Herron struggled with a few drops and at times looked uncomfortable settling under the ball.
Arizona State DT Will Sutton's weight
is still a big question
, and it appears he plans to drop some pounds after the Senior Bowl.
Will Sutton of Arizona State is still working to lower his weight during this draft season after playing the year at 325 pounds because his coaches asked him to. His goal is to get back down to 300 pounds by the NFL Combine, which could further help his quickness after his first rush. He uses his hands well, attacking guards and centers with quick, decisive movements and generating pressure initially with high frequency. However, when he didn't win initially, he struggled to recover.
Finally, I thought this was interesting:
an inside look at a team interviewing a player at the Senior Bowl
.
And, again, here are the Pac-12 players in Mobile:
North
Shaquelle Evans
, WR, UCLA
Trent Murphy
, OLB, Stanford
Deone Bucannon
, S, Washington State
Ryan Hewitt
, FB, Stanford
Josh Huff
, WR, Oregon
Jordan Zumwalt
, LB, UCLA
South
Deandre Coleman
, DT, California
Will Sutton
, DT, Arizona State
Keith McGill
, S, Utah
January, 21, 2014
1/21/14
5:30
PM ET
Tired of searching for Richard Sherman memes? Me, neither. But take a break anyway and enjoy the mailbag.
Jack in Boulder, Colo. writes
:
Pretty harsh with some of your grades
, weren't you?
Kevin Gemmell
: I don't think so. Did anyone in the league deserve an A? No national champions. No BCS bowl game victories. I didn't do the Stanford review, that one was all Ted. But I thought a B-plus was fair, considering how the season ended and the fact that the Cardinal did lose to an unranked team that didn't make the postseason along the way. I did do the Oregon review and thought a B was also a fair grade -- considering what the expectations were for the Ducks in 2013 compared to how they finished.
[+] Enlarge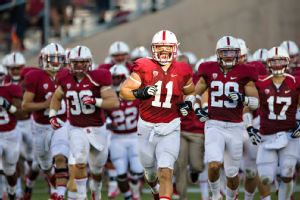 David Madison/Getty ImagesStanford won the Pac-12 and went to the Rose Bowl, but didn't deserve an A.
Arizona State gets the same grade as Stanford because it won its division and had the best overall record in the Pac-12. No small accomplishment.
Outside of that, who deserves a better grade than they received? Some people thought Arizona's B was a little too generous, given the schedule they played (see the question below, by the way). But they knocked off Oregon, won their bowl game and made huge strides defensively.
Others have said Cal's F grade was too harsh. But I'm of the opinion that if you don't beat an FBS team, that's a fail.
Oregon State's C-minus feels right, considering what the expectations were.
UCLA's B-plus was fair from Ted and my B-minus for USC was pretty reflective of the ups and downs of the season.
I thought Ted's C-minus for Utah was probably generous, but upsetting Stanford warrants something in the average range.
The Washington schools both got Bs because the Cougs exceeded expectations and the Huskies got over the seven-win hump and won their bowl game.
As always, happy to hear arguments in favor for or against changing grades.
---

Pac-12 Fan in Reno writes
: C'mon, Kevin.
Arizona at No. 25 in your final poll
? It is now becoming apparent that you have some repressed "feelings" for [RichRod] and Arizona. How can you put AU at No. 25 after the way they were so thoroughly humiliated at the hands of relatively pedestrian ASU (No. 20)? AU beat Oregon and ... whom exactly? Their wins came over the likes of UNLV and UTSA. Wow. Impressive. AU will win 8-9 games again next year because they play a bunch of [weak teams]. You really need to admit your bias/obsession and try to move past it. You are better than this.
Kevin Gemmell
: Consider the alternative. Who would you put at No. 25? Washington is there in the AP poll at No. 25, but I had the Huskies higher because I thought they finished strong and deserved a higher ranking.
So let's look at the options, including
all of the teams that finished in the final AP rankings or received votes
.
Vanderbilt? The Commodores beat an injury-depleted No. 15 Georgia, but the rest of their schedule sets up much like Arizona with sub-.500 competition.
Nebraska? Its signature win was also over No. 22 Georgia. (And yes, Ryan in New York, I know you are going to chime in about UCLA's win over Nebraska, but you still won't convince me that wasn't an amazing win for the Bruins given all that had happened).
Fresno State? Played one ranked team all year (USC) and got blasted by them in the bowl game.
Northern Illinois? Zero ranked teams on the schedule.
North Dakota State? I'll actually listen to that argument.
Texas Tech? Never beat a top-10 team.
Georgia? See above.
Iowa? Never beat a ranked team.
Ole Miss? It beat LSU, but won just three games in conference. Thank goodness for the eight-game conference schedule. (I can already feel a retort coming on from Chris Low.)
Kansas State? The Wildcats beat a reeling No. 25 Texas Tech team, but had no other victories over ranked opponents.
That brings us to Arizona. It only beat one ranked team all season. But of all the teams listed above, it was the highest-ranked team in No. 5 Oregon.
There are no repressed feelings. But all things being equal -- and I think you can make a case that all of these teams I've just listed pretty much being equal -- I'm going to go with the one that showed the greatest improvement on defense from 2012 to 2013 and has one of the country's most dynamic playmakers. And Arizona beat a team from a BCS conference in its bowl game.
The Wildcats played in "arguably" the toughest, deepest league in college football, had a comparable record and had the best win of all those teams listed above. On a neutral field, I'll put the Arizona team that played against Boston College against any one of those teams.
---
Henry in San Juan Capistrano writes
: Your colleague Chris Low stated today that
the three "marquee" QB's in the P-12
are Hundley, Marcus and Mannion when we all know that it's Kelly, not Mannion, that rounds out that group. Can you set him straight, Kev? You would be doing all P-12 fans a huge favor.
Kevin Gemmell
: Can't it be both? Mannion had the superior passing numbers, a better completion percentage with 1,000 more passing yards and nine more passing touchdowns. He also finished with a higher raw QBR.
Kelly had fewer interceptions and a higher adjusted QBR. He also rushed for 608 yards and had nine rushing touchdowns while Mannion had minus-223 yards rushing and zero rushing touchdowns.
So when push comes to shove, they had an equal amount of total touchdowns accounted for. Mannion had more turnovers (including seven fumbles).
Both quarterbacks are asked to do very different things. Mannion is a pure drop-back passer. That's not to say that Kelly can't chuck it. He was fifth in the league 3,635 passing yards and third in passing touchdowns. But he has more zone-read responsibilities than Mannion does.
When Mannion isn't going through one of his interception spells, he can be one of the top pure passers in college football, but he has his moments of inefficiency. And Kelly, too, has the occasional bad game, when things aren't clicking. But both are very good at what they are asked to do.
---

Ryan in New York writes
: Kevin,
Excellent article on the Pac-12 defenses
. But how could you forget perhaps the nation's best interior defensive lineman next year --
Lenny Williams
-- when discussing the best defenders in the Pac?
Kevin Gemmell
: *Slaps head with palm and shouts "D'oh!"* Yep, Williams is up there as well. Was thinking of younger guys, but he absolutely should be a preseason All-American.
The point of the column wasn't to say that there are no good defensive players coming back. There are. USC has some. UCLA has some. Stanford and Oregon have some. Pretty much every school has a player or two who is going to get some looks on a preseason all-conference squad.
But given the amount of talented defensive players across the conference that are leaving, combined with coordinators from the top five defensive schools in the conference in 2013, I felt it warranted a column. UCLA fans got after me on Twitter, reminding me of all the young talent the Bruins have coming back. And I agree with all of it. I expect UCLA to be strong defensively. But stronger without Anthony Barr and Jordan Zumwalt? We'll have to see.
But from a league-wide perspective, the Pac-12 loses a bunch of veteran defenders. When you combine that with the offensive firepower coming back, it makes for an intriguing 2014.
---

Bob in Menlo Park writes
: Kevin,
I read your Todd Graham question
. I thought I read on the Pac-12 Blog that [athletic director Steve] Patterson signed an agreement with Arizona State not to poach personnel when he went to Texas. Enjoyed your writing and the blog.
Kevin Gemmell
: As a matter of fact, you did read that on the blog.
Here's the link
.
It's obviously moot with Charlie Strong landing the job at Texas. If Patterson really wanted Todd Graham, I'm sure there would have been a way to make it work. As Ted points in his piece from November, there isn't much that can't be fixed with motivation and money. Contracts can be torn up in lieu of checks.
Obviously, that didn't happen. But if Graham continues at this current pace -- winning division championships and posting outstanding conference records, he's going to start getting phone calls. What's an acceptable time frame for a coach to move on? Three years? Five? Seven?
This is going to be an interesting year for Graham. He's losing a ton of defensive stars and he spends the majority of his time on that side of the football. It's not unreasonable to think the Sun Devils might take a step back defensively in 2014, but if they can come close to matching some of their 2013 defensive production after that kind of a talent drain, we'll know just how good of a coach Graham really is.
---
Bryce in San Franciso writes
: I'm happy to see Kyle Bonagura getting on board with the lunch link quotes. I don't see an inbox for him, so hoping you can pass this note along.
Kevin Gemmell
: I'll let him know. He started strong with a quote from "The Sandlot." When it comes to the lunch links quotes, we try to have fun with them … but sometimes they can be a bit obscure. Last year, on the anniversary of Kurt Cobain's death, I posted a stanza from "The Mighty K.C." a one-hit wonder song by For Squirrels from 1995. Didn't think anyone would get the reference, and they didn't. On the day Ray Bradbury died, Ted quoted "Fahrenheit 451." Sometimes, it's just a movie or song or book that's stuck in my head. They aren't always gems, but we try to make it fun.
January, 21, 2014
1/21/14
1:15
PM ET
Nine Pac-12 players are in Mobile, Ala., participating in the Senior Bowl, the most prestigious of the postseason college all-star games.
Here's the list.

North
Shaquelle Evans
, WR, UCLA
Trent Murphy
, OLB, Stanford
Deone Bucannon
, S, Washington State
Ryan Hewitt
, FB, Stanford
Josh Huff
, WR, Oregon
Jordan Zumwalt
, LB, UCLA
South
Deandre Coleman
, DT, California
Will Sutton
, DT, Arizona State
Keith McGill
, S, Utah
As far as what's going on, here are some links.
"
Senior Bowl preview

.
"
Here's a take

on former Arizona State DT Will Sutton:
Two defensive tackle prospects to keep an eye on as the draft process unfolds are Arizona State's Will Sutton and Pittsburgh's Aaron Donald. Sutton weighed in at 315 pounds on Monday, but he's a better player when he's not carrying that much weight. He was more disruptive in 2012 when he was a little lighter, and there were times when he appeared sluggish on Monday. But overall he has good quickness and very good hands, with good swim and spin moves as a pass-rusher.
" Former Oregon WR Josh Huff was included in
this positive review here
:
Speaking of the wide receivers, I really like the group on the North team. The South squad might have the only senior wideout who ends up being drafted in the top 50 picks (Jordan Matthews), but the mid-round talent at receiver on the North is above average. Wisconsin WR Jared Abbrederis, Wyoming WR Robert Herron and Oregon WR Josh Huff all looked good on Monday before, after and during the catch. All three have a legitimate chance to be drafted in the top 100 and Monday reminded everyone why.
" Here are some superlatives from the weigh-in -- Stanford's Trent Murphy
has very big hands
.
"
More from the weigh-in
, where Washington State safety
Deone Bucannon
was a "winner" and Sutton a "loser":
Deone Bucannon, S, Washington State: At a shade under 6-feet-1 and 216 pounds, Bucannon certainly passed the eyeball test, sporting a muscled-up frame that stood out in comparison to the other safeties in this game. With a 78-inch wingspan, Bucannon also had the widest of any of the safeties measured.

Will Sutton, DT, Arizona State: Though he was listed at 265 pounds for much of his career with the Sun Devils, scouts knew that Sutton was in fact much bigger. He gained more weight for his senior season and wasn't as effective in 2013, despite the fact he was rewarded with the Pac-12 Defensive Player of the Year award. Some of that extra weight was clearly around his middle as Sutton weighed in at 315 pounds at just under 6-1. Worse, his 30 5/8-inch arms were the shortest of any of the defensive tackles measured on Monday.
" Of course, you can overcome the "sight test" by playing well, as Sutton
did in practice No. 1
:
Arizona State defensive tackle Will Sutton didn't have the most impressive weigh-in but he showed off his athleticism with a terrific spin move to beat Arkansas center Travis Swanson (who was playing guard) during one-on-one drills late in practice.
The weigh-in inspires curiosity, but production ultimately will win out, for Sutton and everyone else trying to improve their draft status in Mobile.
January, 20, 2014
1/20/14
7:00
PM ET
The Pac-12 has seen a flurry of defensive coordinator movement over the last couple of weeks -- starting with the
power struggle for former Washington defensive coordinator Justin Wilcox
to the recent exoduses of Stanford's
Derek Mason to Vanderbilt
as head coach and UCLA's
Lou Spanos to the Tennessee Titans
as linebackers coach. Oregon's promotion of
Don Pellum to defensive coordinator
to replace Nick Aliotti will also shine a spotlight on the Ducks' defense in 2014 and beyond.
And then there is, of course, former USC defensive coordinator Clancy Pendergast, who mysteriously continues to be out of work.
[+] Enlarge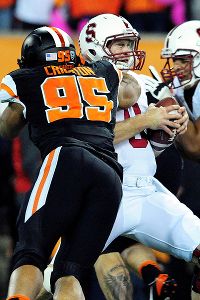 Steve Dykes/Getty ImagesOregon State defensive end Scott Crichton is among the Pac-12 defensive stars entering the NFL in 2014.
Look at the top five scoring defenses in the Pac-12 in 2013: Stanford, Oregon, USC, Washington and UCLA, respectively. All five have had defensive coordinators in flux in the young offseason.
That makes for an interesting transition period for the Pac-12. Defenses had closed the gap in recent years with several teams ranking in the top 25 nationally in scoring defense. That in itself is an achievement considering the level of offensive skill players and the diversity of offenses in the conference.
But when you look ahead to 2014, there are a lot of quarterbacks coming back to man the league's high-powered offenses --
Marcus Mariota
,
Brett Hundley
,
Taylor Kelly
,
Sean Mannion
,
Connor Halliday
, etc. You combine that with a massive talent drain of defensive players graduating or declaring for the NFL, plus all of the shifting within the defensive coaching ranks, and you have to wonder if 2014 is going to be the Year of Offense in the Pac-12.
Consider a few of the defensive standouts leaving:
Anthony Barr
(UCLA),
Will Sutton
(ASU),
Shayne Skov
(Stanford),
Dion Bailey
(USC),
Terrance Mitchell
(Oregon),
Scott Crichton
(Oregon State),
Trent Murphy
(Stanford),
Carl Bradford
(ASU),
Deone Bucannon
(Washington State),
Trevor Reilly
(Utah). There are a couple dozen others who aren't mentioned who were high-impact guys like Stanford's
Ben Gardner
and
Ed Reynolds
,
Jordan Zumwalt
and
Cassius Marsh
from UCLA and
Alden Darby
,
Osahon Irabor
and
Robert Nelson
from ASU.
In total, 19 of the 25 all-conference defensive players from 2013 will be gone next year -- including 10 of 12 from the first team. Plus about a dozen more that were honorable mention are leaving or graduating. That is a major hit to the defensive talent in the league.
The Pac-12 is rarely appreciated nationally for its defensive prowess, either from a player or coaching perspective. And now three of the best coordinators in the conference are gone, one has moved from Washington to USC and another is looking for a gig.
Pac-12 offenses are going to be loaded in 2014 while the defenses have huge question marks. There is plenty of young talent. Guys like
Myles Jack
(UCLA),
Addison Gillam
(Colorado) and
Su'a Cravens
(USC) have all made names for themselves early in their careers. There are also some very notable returners like
Ifo Ekpre-Olomu
(Oregon),
Henry Anderson
(Stanford),
Shaq Thompson
(Washington) and
Hayes Pullard
(USC).
But a lot more is gone than is coming back.
That opens the door for all sorts of comparison storylines. Wilcox did an outstanding job re-tooling the defense at Washington. And now Pete Kwiatkowski will be measured against what Wilcox was able to accomplish. Likewise, Pendergast probably should have been USC's MVP for what he did with the Trojans in one season. Now Wilcox has to take over an outfit that is losing a lot of playmakers to the NFL. No doubt, he'll be compared to his predecessor. Just as Pellum will be compared to Aliotti, and whoever fills the seats at Stanford and UCLA will be compared to what Mason and Spanos were able to accomplish.
The guard is changing, as it does every year in college football. This year it might be the Pac-12 defenses that take a step back.
January, 9, 2014
1/09/14
2:30
PM ET
Actually, Peter, I wanted to tell you, I was listening to Sarah's iPod the other day, and amidst the interminable dross that's on that thing, I found one track that I quite liked. So I checked what it was, and it was actually one of yours, and it kind of reminded me of a dark, gothic Neil Diamond. It's great.
January, 1, 2014
1/01/14
2:30
PM ET
And there's a hand my trusty friend, And give me a hand o' thine;
And we'll take a right good-will draught, for auld lang syne.
December, 2, 2013
12/02/13
3:50
PM ET
The Pac-12 has announced its first- and second-team all-conference squads and postseason awards for 2013.
[+] Enlarge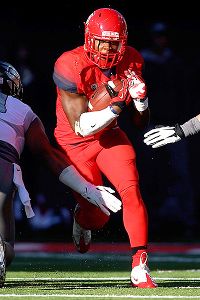 Mark J. Rebilas/USA TODAY SportsPac-12 Offensive Player of the Year Ka'Deem Carey was the only unanimous first-team pick.
Arizona running back
Ka'Deem Carey
has been named the league's offensive player of the year. Arizona State defensive lineman
Will Sutton
joins an elite fraternity, earning his second straight Pat Tillman Defensive Player of the Year award. Washington's Steve Emtman is the only other player to win the league's defensive player of the year award in back to back years (1990-1991).
UCLA's
Myles Jack
earned freshman of the year for both offense and defense with his 70 tackles as a linebacker and seven touchdowns as a running back. This is the first time since the awards were introduced in 2008 that the same player has won both sides.
Arizona State coach Todd Graham is the league's coach of the year for guiding the Sun Devils to a conference record of 8-1 and winning the South Division. The Sun Devils host Stanford this weekend in the Pac-12 championship game.
The team is selected by the Pac-12 head coaches.
Offensive player of the year:
Ka'Deem Carey, RB, Arizona
Pat Tillman Defensive Player of the Year:
Will Sutton, DE Arizona State
Freshman Offense and Defensive Player of the Year:
Myles Jack, RB/LB, UCLA
Coach of the Year:
Todd Graham, Arizona State
First team offense
QB
Marcus Mariota
, So., Oregon (2)
RB
Ka'Deem Carey, Jr., Arizona (2)
RB
Bishop Sankey
, Jr., Washington
WR
Brandin Cooks
, Jr., Oregon State
WR
Paul Richardson
, Jr., Colorado
TE
Chris Coyle
, Grad., Arizona State
OL
Evan Finkenberg
, Grad., Arizona State
OL
Hroniss Grasu
, Jr., Oregon (2)
OL
Marcus Martin
, Jr., USC
OL
Xavier Su'a-Filo
, Jr., UCLA (2)
OL
David Yankey
, Sr, Stanford (2)
First team defense
DL
Ben Gardner
, Sr., Stanford
DL
Trevor Reilly
, Sr., Utah
DL
Will Sutton, Sr., Arizona State
DL
Leonard Williams
, So., USC
LB
Anthony Barr
, Sr., UCLA (2)
LB
Trent Murphy
, Sr., Stanford (2)
LB
Shayne Skov
, Sr., Stanford
DB
Deone Bucannon
, Sr., Washington State
DB
Alden Darby
, Sr., Arizona State
DB
Ifo Ekpre-Olomu
, Jr., Oregon
DB
Robert Nelson
, Sr., Arizona State
DB
Ed Reynolds
, Sr., Stanford (2)
First team specialists
PK
Zane Gonzalez
, Fr., Arizona State
P
Tom Hackett
, So. Utah
RS
Ty Montgomery
, Jr., Stanford
ST
Soma Vainuku
, So. USC
Second team offense
QB
Taylor Kelly
, Jr., Arizona State
RB
Tyler Gaffney
, Sr., Stanford
RB
Marion Grice
, Sr. Arizona State
WR
Ty Montgomery, Jr., Stanford
WR
Jaelen Strong
, So., Arizona State
TE
Austin Seferian-Jenkins
, Jr., Washington
OL
Jamil Douglas
, Jr., Arizona State
OL
Cameron Fleming
, Sr., Stanford
OL
Andrus Peat
, So., Stanford
OL
Isaac Seumalo
, So., Oregon State
OL
Khalil Wilkes
, Sr. Stanford
Second team defense
DL
Scott Crichton
, Jr., Oregon State
DL
Taylor Hart
, Sr., Oregon
DL
Devon Kennard
, Sr., USC
DL
Hau'oli Kikaha
, Jr., Washington
DL
Tenny Palepoi
, Sr., Utah
LB
Carl Bradford
, Jr., Arizona State
LB
Myles Jack, Fr., UCLA
LB
Hayes Pullard
, Jr., USC
LB
Chris Young
, Sr., Arizona State
DB
Dion Bailey
, Jr., USC
DB
Osahon Irabor
, Grad., Arizona State
DB
Marcus Peters
, So., Washington
DB
Rashaad Reynolds
, Sr., Oregon State
Second team specialists
PK
Vincenzo D'Amato
, Sr., California
P
Travis Coons
, Sr., Washington
RS
Nelson Agholor
, So., USC
ST
Erick Dargan
, Jr., Oregon
ST
Joe Hemschoot
, Sr., Stanford
ST
Ryan Hofmeister
, Jr., UCLA
RS: Return Specialist
ST: special teams player (not a kicker or returner)
(2): Two-time first-team selection
Honorable mention
Arizona:
LB
Marquis Flowers
, Sr.; DL
Tevin Hood
, Sr.; WR
Nate Phillips
, Fr.; DB
Jared Tevis
, Jr.; LB
Scooby Wright
, Fr.
Arizona State:
DL
Davon Coleman
, Grad.;
Gannon Conway
, Sr.; ST
D.J. Foster
, So.; ST
De'Marieya Nelson
, Jr.
California:
DL
Deandre Coleman
, Sr.; QB
Jared Goff
, Fr.; WR
Bryce Treggs
, So.
Colorado:
RB
Mike Adkins
, Fr.; LB
Addison Gillam
, Fr.; PK
Will Oliver
, Jr.
Oregon:
WR/RS
Bralon Addison
, So.; WR
Josh Huff
, Sr.; OL
Tyler Johnstone
, So.; DL
Wade Keliikipi
, Sr.; LB
Derrick Malone
, Jr.; RB
Byron Marshall
, So.; DL
Tony Washington
, Jr.
Oregon State:
OL
Grant Enger
, Sr.; TE
Connor Hamlett
, JR.; QB
Sean Mannion
, Jr.; DB
Ryan Murphy
, Jr.; DB
Steven Nelson
, Jr.; ST
Terron Ward
, Jr.
Stanford:
DL
Henry Anderson
, Sr.; DB
Alex Carter
, So.; OL
Kevin Danser
, Sr.; DL
Josh Mauro
, Sr.; P
Ben Rhyne
, Sr.; DB
Jordan Richards
, Jr.; LB
A.J. Tarpley
, Sr.
UCLA:
OL
Jake Brendel
, So.; ST
Jayon Brown
, Fr.; P
Sean Covington
, Fr.; TE
Thomas Duarte
, Fr.; WR
Shaq Evans
, Sr.; WR
Devin Fuller
, So.; DB
Randall Goforth
, So.; QB
Brett Hundley
, So.; DB
Anthony Jefferson
, Jr.; LB
Eric Kendricks
, Jr.; DL
Cassius Marsh
, Sr.; DL
Ellis McCarthy
, So.; DB
Fabian Moreau
, So.; OL
Alex Redmond
, Fr.; DL
Eddie Vanderdoes
, Fr.; LB
Jordan Zumwalt
, Sr.
USC:
P
Kris Albarado
, So.; RB
Javorius Allen
, So.; WR Nelson Agholor, So.; DB
Su'a Cravens
, Fr.; OL
Kevin Graf
, Sr.; TE
Xavier Grimble
, Jr.; QB
Cody Kessler
, So.; WR
Marqise Lee
, Jr.; DB
Josh Shaw
, Jr.; DL
J.R. Tavai
, Jr.; OL Max Turek, So.; DL
George Uko
, Jr.
Utah:
WR
Dres Anderson
, Jr.; OL
Vyncent Jones
, Sr.; DB
Keith McGill
, Sr.; PK
Andy Phillips
, Fr.; LB
Jason Whittingham
, So.
Washington:
OL
Dexter Charles
, So.; PK
Travis Coons
, Sr.; OL
Mike Criste
, Jr.; OL
Micah Hatchie
, Jr.; DB
Sean Parker
, Sr.; QB
Keith Price
, Sr.; DL
Danny Shelton
, Jr.; LB
Shaq Thompson
, So.
Washington State:
OL
Elliott Bosch
, Sr.; WR
River Cracraft
, Fr.; PK
Andrew Furney
, Sr.; DB
Damante Horton
, Sr.;
Some notes on the teams:
By School:
Arizona State and Stanford placed the most players on the first team with six selections each.
By Class:
Of the 27 first-team selections, two are graduate students, 11 are seniors, nine are juniors, four are sophomores and one freshman.
Unanimous:
Only one player was named on the first-team ballot of all 12 head coaches -- RB Ka'Deem Carey of Arizona.
Two-time Selections:
Ten players are repeat first-team selections from last year.
All-Academic:
Two first team All-Pac-12 performers also were named to the Pac-12 All Academic second team -- RB Bishop Sankey of Washington and DB Ed Reynolds of Stanford, while Washington defensive lineman Hau'oli Kikaha was named to the All-Pac-12 second team and Pac-12 All-Academic first team. Arizona State QB Taylor Kelly earned second-team honors on both the Pac-12 All-Conference and All-Academic teams.
August, 29, 2013
8/29/13
2:30
PM ET
Well I guess it all started the first time I went through the second grade. I caught my reflection in a spoon while I was eating my cereal, and I remember thinking "Wow, you're ridiculously good looking, maybe you could do that for a career."
Pac-12 Weekend Wrap: Jan. 27