Oregon Ducks:

Johnny Manziel
August, 1, 2014
8/01/14
9:00
AM ET
Our list of the
top 25 players in the Pac-12
concludes.
No. 5: Arizona State QB Taylor Kelly
2013 stats:
Completed 62.4 percent of his throws for 3,635 yards with 28 touchdowns and 12 interceptions, giving him an adjusted QBR of 74.2, which ranked 24th nationally. He also rushed 173 times for 608 yards and nine touchdowns.
Why he's ranked here:
There was some disagreement at the end of last season about who was the second-team All-Pac-12 quarterback. Kelly won the official Pac-12 vote with the coaches, and that means a lot. It also helps that he is the quarterback of the defending South Division champion. Further, you have to love his story. Nothing has been given to Kelly. In the spring of 2012, he was little more than an afterthought, ranking third in the Sun Devils' quarterback competition. You have to be mentally tough to emerge from that sort of deficit. He has earned his spot by fighting like crazy to win the job, to lead his team well and, finally, to become an A-list quarterback worthy of national attention. He has a chance to play his way into a solid spot in the NFL draft too. As for this season, Kelly has a lot coming back on offense and, because of the Sun Devils' questionable defense, offensive coordinator Mike Norvell figures to set him free as a third-year starter.
No. 4: Oregon CB Ifo Ekpre-Olomu
2013 stats:
Ekpre-Olomu was second on the Ducks with 84 tackles. He had five tackles for a loss to go with three interceptions and nine passes defended. He also forced a fumble.
Why he's ranked here:
Ekpre-Olomu might be the best cornerback in the nation. He earned All-American honors last season and is pretty much a unanimous 2014 preseason All-American. He is not expected to last too far into the first round of the 2015 NFL draft, and truth be told, it was a bit of a surprise he stuck around for another season because he likely would have been a first-round pick last spring. It will be interesting to see if he sees much action on his side of the field this season, considering he is the lone returning starter in the Ducks' secondary. His numbers might not wow you, but opposing coaches will start their Monday meetings by drawing a line down one third of the field and saying, "Ifo is here, so we're throwing over here."
No. 3: UCLA QB Brett Hundley
2013 stats:
Hundley completed 67.2 percent of his throws for 3,071 yards with 24 touchdowns and nine interceptions. He also rushed for 748 yards and 11 scores.
Why he's ranked here:
Kelly-Hundley, Hundley-Kelly -- based on last season, Kelly should nip his buddy from UCLA. But Hundley ends up at No. 3 because of projection. He is simply overbrimming with talent. He's big, strong, smart, charismatic, etc. Outside of Johnny Manziel, no one has more scramble yards in the past two seasons than Hundley (per ESPN Stats & Information). Though there are parts of his game that didn't completely arrive in 2013 -- still more feared as a runner than downfield passer and still takes too many sacks -- those were delays, not cancellations. Hundley also has a stacked supporting cast. The Bruins are the favorite in the Pac-12 South, a preseason top-10 team and a dark horse national title contender. If UCLA surges, Hundley almost certainly will become a top Heisman Trophy candidate.
No. 2: USC DT Leonard Williams
2013 stats:
Williams was second on the Trojans with 74 tackles, tied with
Devon Kennard
for the team lead with 13.5 tackles for loss and forced two fumbles.
Why he's ranked here:
Williams, a 2013 first-team ESPN.com All-American, is the consensus pick as the nation's best returning defensive lineman. He could be the top overall pick in the 2015 NFL draft, and he's almost certainly not going to last past the top 10 picks. Former USC coach Ed Orgeron called him the best defensive lineman he's ever coached, and Orgeron's defensive line résumé is deep. Williams has great length and athleticism and surprising power. He is the centerpiece of what might be the Pac-12's best defense. Last season, he was the lone sophomore semifinalist for the Chuck Bednarik Award, given to the nation's top defensive player, and he is likely to be a finalist for just about every award for which he is eligible.
No. 1: Marcus Mariota
2013 stats:
Mariota completed 63.5 percent of his passes for 3,665 yards with 31 touchdowns and just four interceptions. He also rushed for 715 yards and nine touchdowns.
Why he's ranked here:
Surprise! Bet you didn't see this coming, considering Mariota finished No. 1 on this list in 2012 and 2013. This was the easiest spot to fill on this list, perhaps the only easy spot by the way. Why? Mariota might be the best quarterback and player in the nation. In the 2014 Heisman Trophy race, he is option 1A besides Florida State's
Jameis Winston
, who won it last year but has significant character issues. Mariota opted to return and get his degree -- yes, he is taking a light class load this fall because he doesn't need any more credits -- and instantly made the Ducks (again) the Pac-12 favorite and a national title contender. The biggest question of the 2013 season was what might have happened if Mariota didn't suffer a knee injury before playing at Stanford. Pre-injury, he had 20 touchdowns and zero interceptions; post-injury, 11 touchdowns and four picks. All nine of his rushing touchdowns came before he partially tore his MCL. Despite that injury, Mariota led an offense that averaged 45.5 points per game last season -- tops in the Pac-12 and fourth in the nation -- in a very good defensive conference. While his speed and production as a runner is impossible to ignore, what separates him is his passing ability. He was No. 1 in the Pac-12 in efficiency and No. 1 in the nation in ESPN's adjusted QBR rating. He set an Oregon single-season record with 4,380 total yards. He also set a Pac-12 record by attempting 353 consecutive passes without an interception. Though character isn't much of a factor on this list -- the Pac-12 is fortunate that it didn't see much of that weigh down the offseason -- Mariota's is difficult to ignore. St. Marcus of Eugene seems likely to be in New York in December.
March, 28, 2014
3/28/14
6:30
PM ET
Welcome to the mailbag. We're grilling up some steaks and the bar is open.
Follow the Pac-12 blog on Twitter
. Please.
To the notes!
Sam from Portland writes:
Ted, what's your view on the unionization of the Northwestern football team? Personally, I think the whole issue is junk. As a Pac-12 university graduate, I get insulted every time I hear college athletes say they're slaves and that they don't get anything. I had to pay $24,000 per year for what they get for free: a degree and the attendant costs. Not only that, they get admiration and to do what they love while getting this stuff for free. These athletes point to their hours. Well, I was in the marching band and spent 30 hours a week on that as well as focusing on REAL college courses with real coursework. I didn't get a scholarship. I didn't get the massive admiration. I didn't get the shot at making the NFL. There's no Internet blog with 2.5 authors dedicated to the hard work I put in to my performances. Let's face it: Even at the small schools, the scholarship athletes get a TON more than regular students, and they get it for free. I'm not going to be dense here. I understand that the NCAA is making serious money off the hard work of the athletes, and there is a good argument that they deserve some direct monetary compensation, but the need for a union? Why should these athletes be coddled when the rest of the students pay millions (together, not apiece) just for the chance at getting a small portion of what these athletes get for free?
[+] Enlarge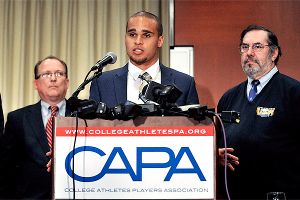 AP Photo/Paul BeatyKain Colter's attempt to unionize the Northwestern football team could be a significant development in how colleges treat scholarship athletes.
Brandon from Seal Beach, Calif., writes:
I appreciate the concern and well-being of college athletes, but when did this entitlement idea come into play that they deserve additional compensation? Sure, the NCAA and universities make boat-loads of money off of the athletes posing to be students, but demanding additional compensation is akin to me calling up my CEO and demanding he split the company profits with me. If they don't want to risk injury, don't feel like the scholarship, minimal stipend, and various perks being a Div. I scholar athlete bring about, there is absolutely nothing stopping them from pursuing other avenues. I don't know -- maybe I'm in the minority, but I think this is a slippery slope we're traversing.
Ted Miller
: We live in interesting college football times.
The biggest takeaway for me from the Northwestern union and Ed O'Bannon vs. NCAA cases is that college football is going to continue to change in many ways over the next decade. Just as conference realignment and the advent of the College Football Playoff dominated the discussion the past few years, the debate on how we should properly compensate and support college athletes will consume us in the years ahead.
What we have is an asset -- big-time college football -- that is very popular and therefore very valuable. That value, however, has been monetized over the past quarter-century in a way that disproportionately benefits management -- coaches, athletic administrators and the NCAA -- and external businesses -- television, merchandisers, athletic apparel companies, etc. The athletes -- labor! -- have not seen their benefits and compensation increase.
Ergo, we have an argument that is typical across many commercial enterprises in this country. When many folks say they love free markets, what they mean is they love a market that they control, one in which they make the rules, which -- surprise, surprise -- makes it easier for them to make money. When folks say that market forces allow FBS head coaches make $5 million a year, why don't they also nod when market forces motivate a would-be agent to give Reggie Bush's family a house rent-free?
Of course, it's against the rules, rules that -- coincidentally -- were made by and/or benefit the folks who are getting rich off college sports.
Now, I'm not an extremist on this by any means. One of my pet peeves is when fans, athletes or sports writers discount the value of a college scholarship. If you are presently paying for a child to go to college, you know full well that athletes already are well-compensated.
But this does touch on a long-debated solution that I expect to happen in the next couple of years: Athletic scholarships covering the full cost of attendance. While that expense will further separate the haves and the have-nots in college sports, that seems to be an inexorable trend in any event. The programs banking big bucks in the power conferences need to find a way to share their wealth.
A complication? We don't know what this might mean for non-revenue sports. Title IX prevents programs from giving more money to male athletes in revenue sports compared to female athletes. If the cost of scholarships increase across the board, you will see a lot of programs cutting sports, most likely men's non-revenue sports.
There are plenty of other things the NCAA and college athletic departments can do, from lifetime disability coverage for injuries to figuring out creative ways to allow athletes to pocket some of the revenue they are playing a major role in creating. I think Sports Illustrated's Andy Staples does a
nice job here of laying things out
with the Northwestern-union case and Ed O'Bannon lawsuit against the NCAA.
Now I don't want to ignore the points of Sam and Brandon from above.
Unions? That could get complicated. But, first of all, I'm skeptical that we'll get to a point anytime soon in which college athletes unionize. The cumulative effect here, to me, is going to be forcing the NCAA and the major conferences to institute reforms to placate revenue-producing athletes so they don't continue to pursue legal action.
Sam, the reason college athletes get coddled is they have a highly valuable skill. You mention you were in the band. If you, say, happened to cut two gold records while you were in high school, I'd bet you would have gotten a scholarship to your Pac-12 school. Colleges love really talented folks. Not that you aren't talented. You, after all, read the Pac-12 Blog.
Brandon goes with the "there is absolutely nothing stopping them from pursuing other avenues" argument if they don't like the current system. Actually, when it comes to football, there really isn't another route to the professional ranks. What percentage of NFL players didn't play college football?
Brandon also notes that "demanding additional compensation is akin to me calling up my CEO and demanding he split the company profits with me." Well, if you have leverage and high value, go to your CEO and ask for a raise. That's the free market.
What these college football players are doing at Northwestern is quintessentially American. They are exercising leverage in our social and commercial systems.
I'm proud of them.
---
Keith from Teutopolis, Ill., writes:
Pro days. What's the big deal? I'm confused by all the fawning over Johnny Football's pro day and by the criticisms of Teddy Bridgewater's. Scouts have dozens of hours of real game action to look at. How or why does a QB's draft stock skyrocket or plunge based on an hour of throwing a football in a controlled environment?
Ted Miller
: Keith, I wouldn't get bogged down in the gushing.
Most of what you hear from NFL folks this time of year is misdirection. If an NFL scout with a top-10 pick really wants to draft
Johnny Manziel
, he's probably whispering to a reporter off the record that Manziel has a hitch in his throwing motion that means he'll average 25 interceptions a year before running off to Tahiti with a flamenco dancer.
I was at the Senior Bowl one time listening to a scout gush about a player I had covered who I didn't think much of. When he finished, I went, "Really?"
He took a sip of his beer, grinned and slurred, "Maybe."
---

Sonoran Coug from the Desert writes:
Ted, I want to let you in on some information. Washington State is going to win the Pac-12 North. How? WSU is poised to put up big numbers in 2014; the Pac-12 North lays down nicely for an awakening WSU program. The no 'natty' Diva Squad plays in Pullman this year, Stanford's roster resembles their fan base, and there is a quarterback-less Washington. And while we are on the subject of Washington, ARE YOU KIDDING!! New quarterback, new running back, new offensive and defensive coaching staff. My mouth is watering for apples as I write this. Or are you and Kevin going to fall for the new coach trick again, so shiny, so new? We here in Coug Nation don't dwell on the past. P12 North results 2014: 1. WSU; 2. OSU; 3. Oregon; 4. Stanford; 5. Washington; 6. California.
Ted Miller
: The "No 'Natty Diva Squad" is going to be the name of Kevin and my new band. (We're sort of a Men Without Hats/Iron Butterfly fusion with a hip-hop component).
As for the Cougs… well, maybe. Stranger things have happened.
Who saw the Cougars coming in 1997?
I was at the 2000 Apple Cup -- brrr -- when the Washington brutalized Washington State 51-3. The Huskies went on to win the Rose Bowl and the Cougars finished 4-7.
The next year, the Cougs began a run of three consecutive 10-win seasons.
As for next year, the passing game should be strong with senior QB
Connor Halliday
and a deep crew of receivers. The 2014 schedule also is favorable with just five road games, no UCLA and Oregon, and USC and Washington both coming to Pullman.
But what holds back my Coug optimism is the O-line and secondary. Need to see how that all fits together.
Finally, you well know that we won't fall for the "shiny new coach trick" any more than we would fall for the banana in the tailpipe.
Ohhh… but Chris Petersen is so… shiny!
---
Blake from Mesa, Ariz., writes:
I don't know how you guys can continue to post poll questions. You must know that no matter the topic, the winner is going to be Oregon. As an Oregon fan myself, I find this comical but also annoying. Maybe for the next poll you can state in your post that the winner is Oregon and that the poll is to see who the fans think is No. 2.
Ted Miller
: Oregon fans do mobilize for their team, and they do seem to vote for the Ducks whether they actually believe they merit the vote or not.
Yet the Pac-12 blog will continue to maintain its absolute neutrality and allow market forces to prevail without instituting arbitrary regulations.
December, 10, 2013
12/10/13
1:15
PM ET
The hits keep coming for the Pac-12. First, the nation's deepest and most ambitious conference in terms of scheduling gets just one BCS bowl team.
Then it doesn't have a Heisman Trophy finalist
, even with two candidates who are superior to the players who were invited.
[+] Enlarge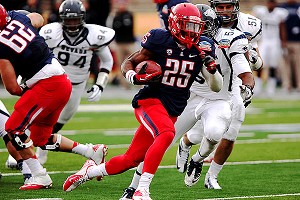 AP Photo/Eric DraperArizona RB Ka'Deem Carey has rushed for more than 100 yards in every game he has played in this season.
Arizona RB
Ka'Deem Carey
is the nation's best running back. He is a better running back than Auburn's
Tre Mason
and Boston College's
Andre Williams
, who are two of the six Heisman finalists.
What that means is that if you had all the college -- or NFL -- coaches pick a running back, the vast majority would choose Carey first. Why? Again, he's better than Mason and Williams.
And, if this is about pure numbers, Carey's numbers are superior to Mason's, who apparently got invited to New York because he posted an undeniably great performance in the SEC title game against Missouri. If that was the selling measure, then the Auburn offensive line should have been sent to New York.
Then there's Oregon QB
Marcus Mariota
, whose Heisman case is hampered by the Ducks losing two of their final four games. Of course, that didn't change the fact that
he's been better than three of the four QB finalists
over the entire season.
None of the four invited QBs --
Jordan Lynch
of Northern Illinois,
Johnny Manziel
of Texas A&M,
AJ McCarron
of Alabama and
Jameis Winston
of Florida State -- has a resume without holes.
Lynch played against weak competition. Manziel lost his final two games of the season and played poorly while doing so. McCarron's candidacy was about career achievement, but he lost to his team's arch-rival to end the season, thereby missing out on his much-celebrated drive for a three-peat.
Winston, the overwhelming favorite as the best player on the best team, obviously had his off-field issue. No charges were filed, but the incident was hardly a shining and blameless moment for Winston.
Who's to blame for nobody from the West Coast heading to NYC? Well, we hate to bring out a hackneyed harrumph but it's obvious: East Coast Bias.
Notice anything about the finalists? Yep, none play in the Mountain or Pacific Time Zones. To get off the Pac-12 train for a bit, consider that Fresno State QB
Derek Carr
, who is probably a better NFL prospect than Manziel, McCarron and Lynch, wasn't invited. He only led the nation in passing and threw 10 more TD passes than anyone else.
This bias isn't about some evil and corrupt dislike of all things West Coast. It's about a limited and flawed radar of evaluation. And, you know, going to bed early.
But East Coast voters aren't the only ones who suffer from bias. Here's a guess that when the regional voting patterns are revealed that Mariota's and Carey's support will only be lukewarm out West. That's because many West Coast voters suffer from a form of college football Stockholm Syndrome, where they are unduly influenced by the dominant and oft-repeated East Coast narrative, even if it runs counter to the conclusions of their own eyes and brains.
Before Oregon lost to Stanford, there was no East Coast Bias to fret. Folks loved Mariota and he led every Heisman poll. But when he lost, he plummeted unlike any other candidate who had an off-game. His consideration died completely when the Ducks also lost at Arizona.
It's a case of out of sight, out of mind, a condition that none of the other finalists back East had to deal with as they were re-evaluated despite shortcomings not unlike Mariota's.
When the odd ending to the season forced Heisman voters to revisit their pecking order, they apparently didn't include players outside their time zones. Bad finishes for Manziel, Lynch and McCarron? Neh.
A bad finish for Mariota? Wait… who's that?
For Carey, it was just a matter of everyone knowing he's the nation's best running back but not caring because he played for a 7-5 Arizona team. Are there really voters in the country who would be willing to step up to a microphone and say, "Mason/Williams are better than Carey"? I hope not.
And, despite a tireless effort from the Wildcats sports information department to point out that Carey's 15 consecutive games with over 100 yards hasn't been accomplished IN A DECADE, voters went all lazy because I'd bet at least 50 percent of them never watched him play all season.
Sour grapes? Absolutely. But sour grapes based entirely on facts and sound logic.
December, 6, 2013
12/06/13
5:30
PM ET
Welcome to the mailbag, Pac-12 championship and coaching carousel edition.
Follow the Pac-12 blog on Twitter
.
To the notes.
Elk from Los Angeles writes:
Who's the bigger winner in the coaching carousel, Washington or USC?
Ted Miller
: We have to declare a winner before Chris Petersen even holds his first news conference after replacing new USC coach Steve Sarkisian at Washington?

The only winner we can declare at this moment is the public relations and perception winner, and that is clearly Washington.
Petersen has long been a highly coveted candidate among AQ programs. Many sportswriters reacted with shock today when the news broke that after turning down some many suitors, Petersen was headed to Washington.
Fair to say the general consensus is that Petersen is a home run hire. Further, his track record suggests strongly he is not a climber. If he wins the Rose Bowl in 2017, he doesn't seem like the sort that would, say, jump to Texas.
As for Sarkisian to USC, the general reaction among sportswriters and USC fans was to be underwhelmed. Part of that was the belief that Trojans AD Pat Haden was going to make a home run hire that resonated nationwide -- as in Jon Gruden or Kevin Sumlin.
Sarkisian looked like a strong and legitimate USC candidate on Sept. 29, when Lane Kiffin was fired, but his Huskies immediately dropped three games in a row, and Huskies fans started to grumble.
Sark rebuilt Washington, but he never broke through in the Pac-12 North Division or the national rankings. Sarkisian is a good coach, but he's yet to distinguish himself with a landmark season. Petersen has with two BCS bowl victories and a sparkling 92-12 record.
So at this point, Washington is the clear winner.
Yet keep in mind that being the public relations and perception winner before either has coached a game or even recruited a player will be the least important victory either posts during their respective tenures.
It's all about what comes next, starting with their 2014 recruiting classes.
---
Flannel Beaver from Tacoma, Wash., writes:
I know this has been discussed, but seriously... when will the Pac-12 go to an eight-game conference schedule? I am all for holding the our moral superiority over all other conferences. Do you think the new Playoff Selection Committee will take that into account? Do bowls consider that when looking at options? Do pollsters REALLY consider it? Then why do we continue to do it? How can I as a fan change
Larry Scott
's stance on this?
Ted Miller
: Scott is a Machiavellian, "It's All About the Benjamins" sort. He'd go with eight games if the Pac-12 athletic directors were for it.
A nine-game conference schedule is favored by Pac-12 ADs for two reasons: 1. It means you only have to schedule three nonconference games, therefore less work; 2. An extra Pac-12 game tends to guarantee more ticket sales than a nonconference patsy, something that SEC schools don't worry about.
Once the conference expanded to 12 teams from 10, the nine-game schedule lost the symmetry that provided a true conference champion. But it was retained for the above reasons, even though it damages the conference's place in the national rankings.
The good news is most folk recognize the seriousness of this issue going forward into the four-team College Football Playoff. There will be pressure to level the playing field and have all the major conferences play nine-game schedules, as the Big 12 and Pac-12 currently do.
But if that doesn't happen, then it becomes the CFP selection committee's move. The first time a one-loss SEC team misses out to a one-loss Pac-12/Big 12 team, and the selection committee explains itself by saying, "The SEC choose to play a softer schedule than the Pac-12/Big 12, so that was the final measure that eliminated their team," then you'll see some changing.
In fact, it's too bad we don't have the playoff this year because it would be an interesting process. To me, the four-team playoff would be best served (based on today's records) by having Florida State, Ohio State, the SEC champ and the Pac-12 champ.
Yes, that would mean leaving out Alabama, which I still believe is the best team.
But if that happened because Stanford's/Arizona State's
schedules were dramatically more difficult
, you can bet that the SEC would man-up out of self interest.
---
Craig from Omaha writes:
Lifelong Huskers fan here but enjoy watching Pac-12 football. … My question to you is why is it that the Pac-12 does not play its conference championship game at a neutral site like every other major conference? Is it due to loyal fan bases that are willing to travel? Do they feel there are not adequate facilities to hold such an event? I would have to think of all the venues in Pac-12 country, there would be some place that would fit the bill?
Ted Miller
: The biggest problem with a neutral venue for the Pac-12 title game is the Pac-12 is much more spread out than the SEC, ACC and Big Ten. With just a week to make travel plans, it would be extremely expensive for fans to book flights. In the SEC, just about every fan base is within driving distance to Atlanta, and that's also mostly true in the Big Ten for Indianapolis and the ACC for Charlotte, N.C, though expansion has changed things a bit in that regard. For Texas A&M, it would be a 12-hour haul to drive to Atlanta.
That said, future change isn't off the table. Since the conference expanded, more than a few folks have tossed around the idea of playing the game in Las Vegas, which the Pac-12 blog would be all for, though there's not yet an appropriate stadium to play host. Another option would be rotating the game between major cities.
Truth is, the Pac-12 championship game has done fairly well at home sites -- the game Saturday at Arizona State is pretty close to a sellout. Last year's lackluster fan showing at Stanford was mostly because of torrential rain and a kickoff during Friday rush hour.
And there's something to be said for rewarding the No. 1 team with an advantage.
---

Scott from Homewood, Calif., writes:
I think you are
making the same mistake
as other media members about the Stanford roster. Although the depth chart lists several players as seniors, they are in eligibility only redshirt juniors because they list by academic class instead of eligibility. Guys like Tarpley,
Henry Anderson
, Parry, Reynolds, Fleming, Yankey are listed on the depth chart as seniors but all have a year left. Although Yankey likely will leave early, the others will most likely be back or have the option to come back. In reality, only four offensive starters are seniors and only three defensive starters are seniors. Jon Wilner has posted twice about this issue and I just wanted to spread the word.
Ted Miller
: I understand your point, but I use a depth chart that has both years.
The players Stanford loses on offense: OG
David Yankey
, C
Khalil Wilkes
, OG
Kevin Danser
, RB
Tyler Gaffney
, RB
Anthony Wilkerson
and FB
Ryan Hewitt
.
Players Stanford loses on defense: OLB
Trent Murphy
, LB
Shayne Skov
, DE
Ben Gardner
and DE
Josh Mauro
.
The Cardinal will again be in the thick of the Pac-12 North Division race in 2014, without question. But those are some big hits to the starting lineup.
---

Brian from Bend, Ore., writes:
Any reflection on why Marcus Mariota has been completely overlooked for QB awards and the Heisman? It seems that no one west of the Mississippi is allowed to lose games. He still has really good stats, was No. 1 in Total QBR until the Arizona game and is morally superior to any other NCAA player. Is this not the embodiment of the Heisman?
Ted Miller
: The bottom line is Oregon lost two of its final four games and Mariota didn't play well at Stanford, the Ducks' marquee national game of the season.
Further, when you remove
Jameis Winston
's off-field issues, as was done this week, the Florida State QB is a clear No. 1 at the position, while
Johnny Manziel
has been a force of nature for two seasons, and
AJ McCarron
has led one of the most successful runs in college football history.
I'm not saying I agree with all of that as a reason to demote Mariota. But that's what happened from a national perspective.
November, 15, 2013
11/15/13
5:30
PM ET
Happy Friday.
First of all, a big thank you to all Kansas State fans who contributed ideas for my "flip" visit to Manhattan, Kan. My mailbag overfloweth with perspective and suggestions. Dinner at CoCo Bolos last night was solid, as was breakfast at The Chef. If you see me in "Aggieville" tonight, don't hesitate to say "hello."
Follow the Pac-12 blog on Twitter
.
To the notes.
Ian from Salt Lake City:
Why has
Marcus Mariota
dropped nigh completely from the Heisman radar? I understand the loss to Stanford and playing poorly is a huge portion of that, but it seems to me that people, especially the media (not you or Kevin obviously), have fallen in love so much with
Jameis Winston
and
Johnny Manziel
that they brush aside Mariota like a fly. Both Mariota and Manziel lost games to their biggest competition, Mariota is putting up pretty comparable numbers to Winston with less interceptions, and Mariota is a proven winner, so why no, relatively speaking, love?
Ted Miller
: There are three types of overreaction in college football. There's media overreaction, there's fan overreaction and, third, there's fan overreaction to media overreaction.
Do you define "dropped completely from the Heisman Trophy radar" as
falling from No. 1 to No. 3
in media polls? Or
also here
. Do you define Mariota getting brushed aside "like a fly" after he posts his worst game of the season in a loss that knocks his team -- apparently -- out of the national title hunt?
Have I fallen in love with Jameis Winston? Yes. I'm man enough to admit that I am in love with Winston. I swoon at his stratospheric potential. I love the way he taken a program known for its NFL talent and mercurial performances and made it the nation's most consistently dominating team. Clemson's overwhelming performance against a very good Georgia Tech team on Thursday reminded us just how impressive the Seminoles' win in Death Valley was.
That said, if Mariota plays appreciably better than Winston and Manziel over the final three games, he still might win the Heisman. At the very least, the sophomore will get invited to New York for the ceremony.
There was an understandable and justifiable demotion of Mariota in every Heisman poll after the Ducks offense sputtered against Stanford. Three big performances, however, will background that. And if Stanford loses to USC, three big performances likely would give him another shot in the Pac-12 title game.
Those games will give him space to be evaluated over the totality of the season. They will also his toughness, which I think is being overlooked or played down after the Stanford game, to shine. Mariota should be saluted for even being out there because he was clearly playing on one good leg, and Stanford realized early on that he was not going to be a factor on designed runs or even scrambles.
By the way, Mariota still is the nation's
No. 1 rated QB
and has yet to throw an interception. (Throwing that in, Ian, to quell some media overreaction so your fan overreaction to media overreaction might re-react toward a more realistic place).
---
Paul from Vancouver, Wash., writes:
Ted I am a very loyal Oregon Duck fan and was very disappointed with our loss at Stanford. That being said I think a few different bounces of the ball and the end could have played out differently. Regardless, true champions find a way to deal with adversity and we, the Ducks, did not adapt and overcome. My comment/question is this. I agree Stanford has a good team but I think there overall offensive balance is questionable. The ground game is awesome but there passing attack is average at best and tends to be liability. If Stanford gets put behind in a game and has to abandon their ground and pound game plan, they struggle, which is what happened against Utah. I believe in a game against a team that can play with them physically that Stanford will have issues due to their lack of a decent passing attack.
Ted Miller
: I hear you. In fact, I think both Kevin and I have questioned Stanford at times about its middling passing game, which has shown flashes but not advanced as much this season as we anticipated it would in August. The Cardinal ranks last in the Pac-12 in passing offense with just 183 yards per game.
And yet.
Even though Stanford QB
Kevin Hogan
is not putting up big numbers, he ranks 17th in
ESPN Stats & Information's total quarterback rating
. Hogan is running the Cardinal offense efficiently, even if he only ranks fifth in the conference by the old school pass efficiency measure.
Coach David Shaw has said he would never throw if he knew he'd gain four yards every run. The Cardinal is averaging 4.8 yards per run.
Hogan has thrown well at times, and his 8.4 yards per attempt ranks third in the conference. He's accounted for 15 touchdowns -- 13 passing -- and protects the football.
And there's always this annoying tidbit: Shaw is 31-5. His Stone Age, antiquated, hopelessly conservative, 1970s football has Stanford winning 86 percent of his games.
Is Stanford the sort of team that makes a 14-point deficit look like nothing? No. Did Utah mute the Cardinal for three quarters? Yes, though I think the Utes success on offense was a bigger story in that game.
Could a team like, say, Alabama thwart Stanford because it is as big and physical as the Cardinal? Maybe.
One of the things I really wanted to see this season was for them to try.
---
Tony Jones from Chandler, Ariz. writes:
Ted, I've been keeping an eye on the Jeff Sagarin rankings the last couple of weeks, waiting for verbal pitchforks to be hurled from Sun Devils fans ranting about how ASU is barely getting a sniff in the AP (21st), USA Today (22nd) and BCS (19th) polls while hanging out in the Top 10 in Sagarin's metrics (currently 9th). So when I saw your piece discussing the Championship Drive Ratings and Football Power Index, I was curious to see where ASU ranked. The Sun Devils rank higher in both the CDR (6th) and FPI (7th) than in Sagarin's wizardry. I'm an Arizona alum, so it makes little difference to me, but should ASU fans be Michael Crowing about where they are in the BCS and going all in with their disrespect cards? BTW, I think it's also interesting that the Wildcats are ranked 24th by Sagarin and 28th in the FPI, but are 44th in the CDR. Much bigger disparity than the Sun Devils.
Ted Miller
: Kevin has Arizona State
18th and I have them 19th
. And both of us have noticed how the Sun Devils rank higher with the computers, most notably the Championship Drive Rating, ESPN Stats & Information's complex metric that measures a team's resume.
But I also know why the Sun Devils are being held back due to purely human reasons.
No. 1: The controversial ending against Wisconsin. No. 2: The loss to Notre Dame.
Those are not "bad" losses. But those two results tie the Sun Devils to the wagons of the Badgers and Fighting Irish, and both provide drag.
The officiating implosion at the end of Arizona State's win over the Badgers means voters don't feel comfortable elevating the Sun Devils decisively over the Badgers, who in fact rank ahead of ASU in both polls. Voters feel further justified doing so because the Sun Devils lost to the Fighting Irish, who are presently unranked after losing to Pittsburgh.
This is a case of Arizona State's marquee win -- Wisconsin -- not earning them the poll respect it typically would, and that is understandable to a certain degree. The Badgers feel like they might miss out on an at-large invitation to a BCS bowl game because of that loss, one that they put an asterisk beside.
Yet, as I typically think when reading questions like this: Just keep winning. If the Sun Devils win the rest of their regular season games, including a Nov. 23 date at UCLA, they would jump into the top 10. And if they win the Pac-12 title game and Rose Bowl, they might finish in the top-five.
---
Ron from Maricopa, Ariz., writes:
This article I believe is incorrect
. Colorado received a waiver for playing two FCS games and theoretically they can go to a bowl if they win out. Two games are doable: Cal and Utah. USC is probably too much. But Buffs should be motivated this week for at least the possibility of a bowl.
Ted Miller
: Correct. If Colorado wins its final three games -- California, USC and at Utah -- it will become bowl eligible.
And that certainly would be an amazing accomplishment for the Buffaloes in their first season under Mike MacIntyre.
---
Kevin from Oklahoma City writes:
I know there is still plenty of season left and lots can change but out of curiosity if ASU were to win out and Stanford suffers an upset somewhere along the way, allowing Oregon to take the north...who would host the title game? Would Oregon get to host based on overall record?
Ted Miller
: The team
ranked higher in the BCS standings
would host. That almost certainly would be Oregon. (
Answer is the same from last week
!)
October, 15, 2013
10/15/13
12:30
PM ET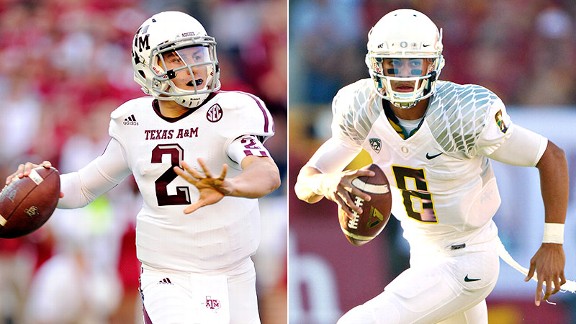 US PresswireBoth Johnny Manziel and Marcus Mariota have made some electric plays this season.
We've hit the midway point of the 2013 college football season and we're looking at midseason All-Americans.
There are plenty of worthy options at QB, but we all know it comes down to two names:
Johnny Manziel
and
Marcus Mariota
.
They are the two most exciting players at their position, and both are on teams that could be playing in the BCS title game. But which one truly is No. 1? Well, Pac-12 reporter Ted Miller and SEC reporter Edward Aschoff decided to take this argument to the streets!
We made our cases for both, but you guys decide the winner:
Edward Aschoff:
Well, this one really is an easy one for me.
Remember when we all buried Manziel for his off-field shenanigans? We wondered if he'd be focused enough to duplicate his record-setting, Heisman Trophy-winning first year. Well, through six games, Manziel has totaled 2,273 yards of offense and 19 touchdowns. He's averaging 378.8 yards and 3.2 touchdowns per game and has completed 73.2 percent of his passes. He's a little behind last year's production, but he also has less receiving weapons this year and his line isn't as strong.
Watching Manziel is like watching poetry in motion. He's standing in the pocket longer, scanning the field, making reads and thinking about running second. And when he does run, watch out. He's easily the slipperiest player in the country. He jukes guys out of their shoes and can make NFL throws on the run or in the pocket. Nothing gets to this kid, and you'd be crazy not to have him No. 1 on any awards list.
Ted Miller:
Over at the Pac-12, we respect good quarterback play, so we are excited the SEC is finally getting to see what good QB play can do. Further, we love watching that little spark plug Johnny Football play. He's a neat little guy. So please accept a pat on the head from us.
Why is Mariota the midseason first-team QB? It's because, well, he's so completely freaking better than anyone else.
We'll start with
QBR
first.
Our boy Mariota is No. 1. Manziel is No. 6.
Mariota has 17 touchdown passes. Manziel has 14. Mariota has zero interceptions (no turnovers, in fact). Manziel has five.
Manziel is slippery. He slipped his way to 438 rushing yards, which beats Mariota by 12. Of course, Mariota averages 10.4 yards per carry compared to 6.5 for Manziel. And Mariota has eight touchdown runs compared to five for Manziel.
Heck, if we just went bottom line with points accounted for, Mariota has 150 compared to 114 for Manziel.
Oh, and Mariota is 6-foot-4 and a sure NFL first-round draft pick. Manziel is 6-1 if you measuring him while he stands on his tippy toes.
EA:
What Mariota has done this year has been very impressive, but he's just not Manziel. He can't change games like Manziel does.
You never see Manziel hesitate in the pocket or on runs. He stands tall, even though he really does look like a kicker out there with his size, and isn't afraid to take a hit or two. Manziel just has a magical way of extending plays and turning trash into treasure. A switch goes on when he walks into a stadium and he immediately becomes the best athlete on the field.
Look at what he did against Alabama and Ole Miss. The Crimson Tide built a 35-14 lead early in the third quarter and Manziel did everything he could to break that lead down bit by bit. He threw for a school-record 464 yards and five TDs and ran for another 98 yards in the Aggies' 49-42 loss. What if Manziel got the ball back on that onside kick with 15 seconds remaining?
Remember his Eli Manning-David Tyree moment against Alabama? I mean, Manziel only slipped out of
Jeoffrey Pagan
's attempted wrap-up and heaved an errant pass off his back foot into traffic on third-and-8, only for it to fall right into the hands of wide receiver
Edward Pope
for a 12-yard gain.
By the way, that Alabama defense now ranks No. 8 nationally.
Against Ole Miss, Manziel had a scary left knee injury in the first quarter, missed a play and then proceeded to play better. He made PlayStation-like plays with his legs, delivered some beautiful throws and sliced his way through Ole Miss' defense to deliver a come-from-behind, game-winning drive. He accounted for 346 passing yards, 124 rushing yards and two touchdowns, with 177 of those yards and a score coming in the fourth quarter.
He's easily the most exciting player to watch and the toughest player to stop. He'll burn you with his feet and carve you up with his arm. There just isn't another gamer like Manziel.
TM:
I do love watching Manziel play. There's not only something magical about his devil-may-care playmaking, it's also cool that he doesn't look like he was constructed in a lab.
Further, when taking a measure of both, it doesn't help that they haven't played through the meat of their schedules yet. The only good team Manziel has faced is Alabama. The only good team Mariota has faced is Washington. Heck, the big deal from the win over the Huskies was that Mariota threw his first pass of the year in the fourth quarter because it was the first time he was needed in the fourth. And, yes, No. 1 Alabama is a far greater test, even at home, than a visit to No. 20 Washington.
So what did Mariota do when the Ducks only led by seven entering their first meaningful fourth quarter? He was 5-of-6 for 75 yards with a 3-yard touchdown pass and a 5-yard touchdown run. Like Manziel, Mariota took over the game. He completed 24-of-31 passes for 366 yards with three touchdowns and no interceptions. He also rushed 13 times for 88 yards and a score. Those numbers came against a defense that was playing at home and ranked 10th in the nation in total defense, 11th in scoring defense and third in pass efficiency defense.
It wasn't a Nick Saban defense. But if you ask around, a Justin Wilcox defense isn't too shabby either.
In the end, I see Mariota with significantly better numbers at midseason leading an undefeated, No. 2-ranked team.
Of course, we have two very good QBs who still have half a season to play. No one ever remembers the midseason MVP. It's all about where things stand in January.
June, 28, 2013
6/28/13
10:45
AM ET
2013 may be the season of the quarterback in college football, because a lot of good ones are coming back.
In the SEC, there's Alabama's
AJ McCarron
, Georgia's
Aaron Murray
and Texas A&M's
Johnny Manziel
, who won the 2012 Heisman Trophy. Louisville has
Teddy Bridgewater
, and Clemson offers
Tajh Boyd
. In the Pac-12, there's UCLA's
Brett Hundley
, Stanford's
Kevin Hogan
and Arizona State's
Taylor Kelley
.
But the best one coming back is Oregon's
Marcus Mariota
.
How so? Well, for one, that was the assignment: Make a case for the best quarterback in your conference being the best in the nation.
But it's not too difficult to make Mariota's case.
As a redshirt freshman, he ranked seventh in the nation in passing efficiency. He completed 68.5 percent of his passes for 2,677 yards with 32 touchdowns and six interceptions. He also rushed for 752 yards and five touchdowns, averaging 7.1 yards per carry.
He threw a touchdown pass in every game and one interception in his final seven games. He was named MVP in the Fiesta Bowl after leading a blowout win over Big 12 champion Kansas State, which capped a 12-1 season and a final No. 2 ranking for the Ducks.
He earned first-team All-Pac-12 honors after leading an offense that ranked second in the nation in scoring (49.6 PPG) and fifth in total offense (537.4 YPG). The Ducks scored 11 points per game more than any other Pac-12 team.
The 6-foot-4, 196-pound Honolulu native is an extremely accurate passer who might be the fastest quarterback in the nation -- see his 86- and 77-yard runs last season. Against USC on the road, he completed 87 percent of his passes with four touchdowns and zero interceptions. He tied a school record with six touchdown passes against California. He rushed for 135 yards at Arizona State.
Of course, his 2012 numbers aren't mind-blowing. A lot of that isn't his fault. Oregon blew out so many opponents -- average halftime score of 31-9 -- that it didn't require many plays from behind center after the break. For the season, Mariota threw just 24 passes and rushed eight times in the fourth quarter, compared to 227 passes and 71 rushes in the first half.
Manziel, for the sake of comparison, threw 62 passes and rushed 33 times in the fourth quarter. Bridgewater threw 86 passes and rushed 13 times in the fourth.
The good news is folks are probably going to see a lot more of Mariota this season. With running back Kenjon Barner off to the NFL, the Ducks might skew more toward the passing game after being run-centric under Chip Kelly. New coach Mark Helfrich, who was the Ducks' offensive coordinator and quarterbacks coach last year, is expected to throw the ball around more because he has an experienced quarterback and a strong, experienced crew of receivers.
That means more numbers for Mariota as he leads a team in the national title hunt. The potential combination of stats and wins might be enough to get Mariota to New York in December for the Heisman Trophy ceremony.
April, 29, 2013
4/29/13
9:00
AM ET
In the Ducks' 2011 recruiting class, Oregon fans were overjoyed when Florida quarterback
Jarrard Randall
committed to the Ducks. Few paid attention when two more quarterbacks committed a couple weeks later. Randall didn't qualify and, around a brief stint at LSU, he has bounced around junior college programs.
All that the other two quarterbacks have done is lead their respective programs to a pair of blowout wins in BCS games as redshirt freshman. One of them --
Johnny Manziel
-- was the first freshman to win the Heisman Trophy. The other is well on his way to becoming one of the best in a long line of talented Oregon quarterbacks. As a skinny kid that didn't start until his senior high school season, not many Oregon fans so batted an eyelash when
Marcus Mariota
committed to the Ducks.
While having a quarterback come in with just one year of experience is not the ideal situation, certain players have enough talent to make it possible.
After a second unofficial visit to Eugene in the past two months,
Morgan Mahalak
(Kentfield, Calif./Marin Catholic) could become the next talented, but inexperienced quarterback to join the Oregon program.
"It was a great visit. I've already seen everything, but it was great to get up there again," Mahalak said. "I had the chance to sit down and talk to coach Helfrich and talk to the other coaches as well. The game speaks for itself. Nothing has changed and the offense was great all day with Marcus leading the way."
While the offense, the weather, the coaches and the atmosphere surrounding the game were all memorable moments for the Marin Catholic star, the family feel of the program and the family connections to the area have all helped push Oregon to the top of his wish list.
April, 3, 2013
4/03/13
2:30
PM ET
Chip Kelly isn't terribly big. He's not notably loud, either. Nor is he typically expansive. Who he is, however, is -- was! -- the presence most often cited as transforming Oregon's football program from good to great. So his absence from the Ducks' first spring practice Tuesday was impossible to ignore.
Yet it's a tribute to the culture Kelly sought to create that it appears his players did a pretty darn good job of doing just that. Mostly.
"At first, a lot of the guys were talking about it," quarterback
Marcus Mariota
said. "It's a little different. But by the end of practice, it was good. Kind of the same. Once we got rolling, it was the same old game of football."
New coach Mark Helfrich, who was promoted from offensive coordinator, admitted to reporters that his first practice sans Kelly was "weird, at points." But Oregon moves too fast to stop for navel-gazing. It's "next man in" when a player or coach leaves or goes down, and so it will be for the beginning of the Helfrich era.
[+] Enlarge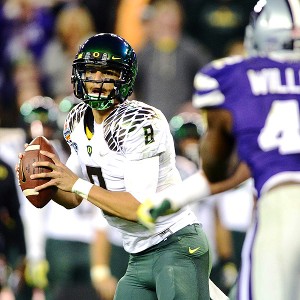 Mark J. Rebilas/USA TODAY SportsAs a redshirt freshman, Marcus Mariota quarterbacked high-flying Oregon to a No. 2 final ranking.
Without a doubt, the transition from Kelly to Helfrich is the point A of the Ducks' 2013 story. There's no question about point B, either: Mariota.
Somewhat lost in the regional shuffle of the Kelly-to-the-NFL talk and the national hullabaloo over Texas A&M's
Johnny Manziel
's brilliant Heisman Trophy season was Mariota's extraordinary performance as the Ducks' redshirt freshman starter.
Mariota was in the cockpit for a team that finished ranked No. 2 in the nation after whipping Kansas State in the Fiesta Bowl. He piloted an offense that ranked second in the nation in scoring (49.5 points per game) and was fifth in total offense (537.4 yards per game).
Individually, he ranked first in the Pac-12 and seventh in the nation in passing efficiency. In the Conference of Quarterbacks, he earned first-team All-Pac-12 honors after completing 68.5 percent of his throws for 2,677 yards with 32 touchdowns and six interceptions. He also rushed for 752 yards and five touchdowns, averaging 7.1 yards per carry.
He also got better as the year went along, despite the competition being decidedly tougher. As Rob Moseley of the Eugene Register-Guard
pointed out
, "[Mariota] had 11 touchdowns, four interceptions and a 152.74 rating in the first month of the season, and 21 touchdowns, two interceptions and a 171.10 rating after that."
That efficiency number would have ranked third in the nation. Further, keep in mind that Oregon's tendency to stomp opponents into submission by halftime meant Mariota was either on the bench or handing off during most fourth quarters.
While Mariota isn't the only reason many see the Ducks as national title contenders again in 2013, despite Kelly's departure, he is the biggest. The 6-foot-4, 211-pound Honolulu native is a seemingly unflappable player who combines A-list speed with notable passing accuracy.
There is little Mariota didn't do well in 2012, so the idea of him improving can foster many pleasant thoughts among Ducks fans. And there are areas in which he can improve. Mariota said his offseason focus has been footwork. New offensive coordinator Scott Frost, promoted from receivers coach, believes Mariota's established strengths can become even stronger.
"I think we can clean some things up and be even more efficient," Frost said. "There are some things we want to tweak to help him have more of an opportunity to impact the game. We wouldn't trade him for anybody. We think he can do some amazing things and win a lot of games. We're going to feature him as much as we can."
With the Ducks welcoming back their entire cast of receivers and being questionable at running back, it's almost certain Mariota will throw more next season. That will mean more opportunities for him to put up big numbers. If he hangs up impressive stats while the Ducks continue to roll up wins, Mariota will gain the esteem of Heisman Trophy voters.
Mariota, the Fiesta Bowl MVP, isn't a guy who seeks out the spotlight, but he also doesn't seem to be afraid of it.
"My parents raised me to handle whatever comes at you," he said. "I'm looking forward to it."
Then he added, "I'm really looking forward to spring practices."
That sounds very Chip Kelly. Or maybe we now should say that it sounds very Oregon.
January, 31, 2013
1/31/13
7:00
AM ET
Most programs would dwell on the fact that they lost a future Heisman Trophy winner after earning his commitment.
[+] Enlarge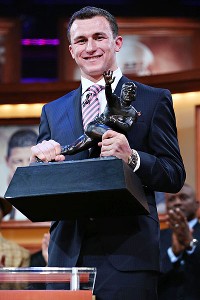 Kelly Kline/USA TODAY SportsJohnny Manziel made Heisman Trophy history, but the Oregon Ducks have no problem with their current quarterback from the same recruiting class.
Luckily for the Oregon Ducks, getting a commitment from
Marcus Mariota
made losing
Johnny Manziel
from the Class of 2011 easy to absorb. Mariota and Manziel both committed to the Ducks within two weeks of ESPN 150 QB
Jerrard Randall
doing the same.
At the time, most followers were focused on Randall, who was the biggest name at the time. Randall eventually signed with LSU after academic issues with Oregon and is currently enrolled at Northeast Mississippi Community College. Manziel won the Heisman Trophy at Texas A&M and Mariota had a fabulous redshirt freshman season with the Ducks.
To continue reading this article you must be an Insider
November, 14, 2012
11/14/12
6:30
AM ET
In June 2010, a pair of overlooked quarterback recruits committed to the Oregon Ducks within three days of each other. Two years later, they have taken the college football world by storm.
[+] Enlarge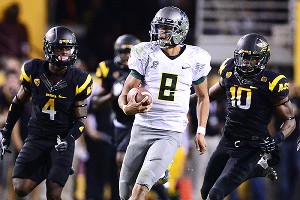 Mark J. Rebilas/US PresswireNo one has been able to catch Marcus Mariota and the Ducks this year.
In August, few outside of College Station, Texas, had heard of
Johnny Manziel
. Outside of Eugene, Ore., even fewer knew about
Marcus Mariota
. Now in November, Manziel is generating Heisman buzz after a historic upset of Alabama, while Mariota is piloting a Ducks squad that seems destined for the BCS title game.
Manziel and Mariota committed to the Ducks within days of attending Oregon's summer camp, but neither raised so much as an eyebrow. Instead, Ducks fans were more focused on
Jerrard Randall
, a quarterback rated No. 126 in the 2011 ESPN 150 from Florida who committed in mid-June. Randall was the No. 8 QB in the class, while Manziel was No. 39. Mariota? He was ranked 123rd and had only a Memphis offer before the Ducks came calling.
ESPN's National Director of Recruiting, Tom Luginbill, said in 2011 that Mariota
was raw
but had the potential to grow as a quarterback.
"He is the perfect example of the inexact science that evaluating 16-year-olds truly is," Luginbill said. "It can be easy to focus on the ESPN 150 or ESPN 300, but the reality is that players 301-1,000 are what make up most college rosters. They are the hardest to project and, in Mariota's case, even hard to find."
It's hard to blame the scouts and coaches for missing Mariota. As a sophomore and junior, he had to fight for playing time with
Jeremy Higgins
, now a quarterback at Hawaii.
To continue reading this article you must be an Insider
November, 8, 2012
11/08/12
5:00
AM ET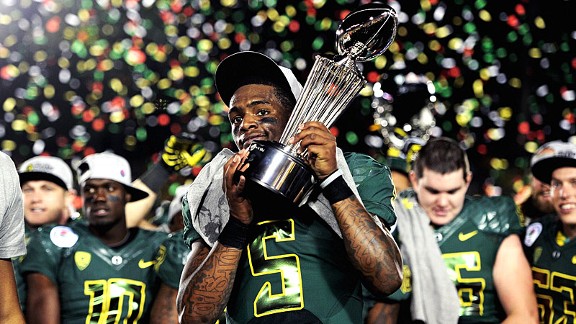 Harry How/Getty ImagesFormer Houston Aldine star Darron Thomas, whose 66 TD passes are an Oregon record, was a spark for the Ducks' offense as a two-year starter before opting to go pro at the end of last season.
The Ducks have never had the benefit of loading up on local players who grew up dreaming of playing for the them. The talent level just isn't there. The truth is, it likely never will be. The Ducks have always recruited California as well as they can be expected to. In recent years, the Ducks have done a great job of going into states such as Texas to secure commitments from some top players.
The Oregon football program is basically the exact opposite of the Texas Longhorns' program. Texas has tradition, Heisman Trophies, national championships and dozens of recruits who come knocking at their door, begging to play for one of the most iconic college football programs in history. Oregon has no national championships, no Heisman Trophies and less than a handful of in-state recruits to choose from each year.
To continue reading this article you must be an Insider
October, 25, 2012
10/25/12
5:17
PM ET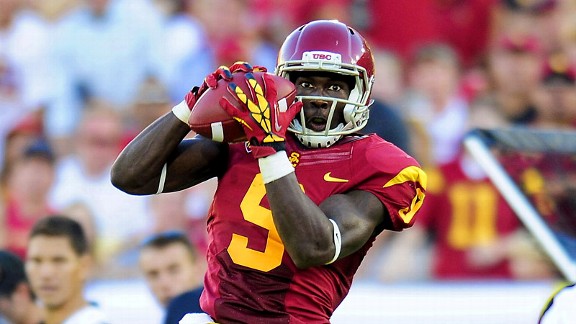 Cal Sport Media/AP ImagesYeah, Oregon's offense is elite already, but how good would it be if it had gotten Marqise Lee to sign in 2011? Pac-12 defenses shudder at the thought.
Under Chip Kelly, the Oregon football program has risen to a level few ever thought it could reach. His coaching style and aggressive schemes have led the Ducks to become a powerhouse program. While they are still far from a recruiting powerhouse, the influx of elite talent is one of the biggest reasons for their recent success. On Kelly's watch, the Ducks have secured a number of top prospects, including one of the biggest recruiting coups ever when they flipped
De'Anthony Thomas
after a long commitment to USC. Thomas has been brilliant in his time with the Ducks. Even with the Ducks' new recruiting prowess, taking a local legend out from under the thumb of a school like USC is the exception more than the rule.
There have been a few notable misses and some heated recruiting battles in the Kelly era that could have made this season's Ducks -- one of the best teams in school history -- nearly unbeatable. With some members of the Class of 2008 still in college, we'll look at what the Ducks could have looked like had they landed a few more of their key recruits.
2008
To continue reading this article you must be an Insider
Pac-12 Teams Can Load Up At WR
PAC-12 SCOREBOARD
Thursday, 9/3
Friday, 9/4
Saturday, 9/5