Oregon Ducks:

Joey Harrington
November, 4, 2013
11/04/13
12:00
PM ET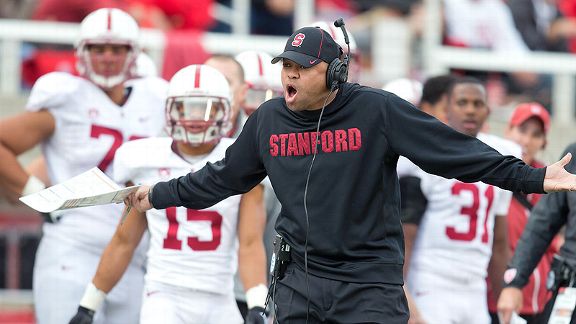 Russ Isabella/USA TODAY SportsStanford coach David Shaw is 1-1 against Oregon and 30-5 overall.
Stanford had just torn the hearts out of Oregon and its fans inside Autzen Stadium. The Ducks' unbeaten season had ended in shocking fashion. National championship hopes had been kicked to the curb.
"It's such an honor to come into this stadium and beat a phenomenal team," the Stanford quarterback said after the victory.


A gracious, classy and perhaps rare take from a college player. But no, that was not
Kevin Hogan
talking about the Cardinal's 17-14 overtime upset of the Ducks in Autzen Stadium last Nov. 17 that ruined the Ducks' drive for a berth in the 2012 national title game. It was Stanford's backup quarterback, Chris Lewis, talking about the Cardinal's 49-42 win in Autzen Stadium on Oct. 20, 2001, that ruined the Ducks' drive for a berth in that season's national championship game.
Lewis' postgame quote, however, generally sums up the Oregon-Stanford series, which Thursday night again will be the Pac-12 game of the year. There appears to be little animosity and a good dose of respect between the Ducks and Cardinal, who both own road wins as underdogs against each other in the past three years.
Though they are very different institutions, playing football in very different ways and, well, dressing very differently while doing so, the rivalry between the Pac-12's top two teams in the past four seasons doesn't include much ill will compared to the rivalries between Oregon and Washington and USC and UCLA.
Perhaps it should, at least in terms of what Stanford and Oregon have taken away from each other through the years, and not just during their recent and simultaneous rise to join the nation's elite.
Nine times since 1964, Stanford has handed Oregon its first defeat of the season. Twice it was the Ducks' only defeat. Without a loss to Stanford in 1995, the Ducks would have played in a second consecutive Rose Bowl in Mike Bellotti's first season.
Oregon has returned the favor of late as Stanford became nationally relevant. The Cardinal lost just one regular-season game in both 2010 and 2011. To Oregon.
Stanford's win in Autzen Stadium last year was shocking in many ways. The Ducks had owned the Cardinal and Andrew Luck the previous two years, so much so that in advance of the 2012 season, Stanford coach David Shaw openly admitted his team had an "Oregon problem," though he reasonably noted that the entire Pac-12 shared the Ducks conundrum.
Yet, as stunning as it was to witness the Cardinal shut down the Ducks' offense last November, the 2001 game eclipsed it 20-fold in terms of sheer nuttiness.
While some of Oregon's younger fans might not remember 2001, the older ones surely slapped their foreheads upon seeing the name "Chris Lewis" again. In that contest, the unbeaten and fifth-ranked Ducks were seemingly cruising, leading 42-28 in the fourth quarter at home, with Stanford quarterback Randy Fasani knocked out of the game in the second quarter.
But things went haywire in the fourth quarter, particularly on special teams, when Stanford blocked two punts and recovered an onside kick. Still, it appeared the Ducks would prevail 42-41 when they blocked the potentially game-tying PAT.
Unfortunately for Oregon, quarterback Joey Harrington was turning in his only poor performance of the season. On third-and-1 from Oregon's 30, Harrington was hit by safety Tank Williams, and his throw was picked off by diving defensive end Marcus Hoover at the 33 (it was Harrington's second interception of the game). After Stanford scored the go-ahead TD, Harrington, who had led nine fourth-quarter comebacks in his career and was popularly known as "Captain Comeback," threw four consecutive incompletions from the Cardinal 37.
The normally straightforward Associated Press report noted that the game "had everything but aliens landing on the Autzen Stadium turf."
Oregon, one of the earliest victims of a BCS controversy, went on to finish No. 2. Bellotti showed up at the Rose Bowl, host of the BCS title game, to watch Miami stomp overmatched Nebraska, a team that was blown out in the regular-season finale by Colorado, a team the Ducks had crushed in the Fiesta Bowl.
Yes, there were a fair share of what-ifs from the Ducks, not unlike last year, though it's worth remembering that Miami team was one college football's all-time great squads.
Of course, things were much different for both Oregon and Stanford in 2001. Neither team had established itself as a consistent national power. In fact, both would go through significant downturns thereafter, particularly Stanford.
In 2007, both programs made inspired decisions that inspired initial befuddlement among media and fans: Bellotti hired Chip Kelly away from New Hampshire, an FCS team, to coordinate his offense, and Jim Harbaugh was plucked away from San Diego, another FCS team, by Stanford. Harbaugh brought along Shaw to coordinate his offense.
As isolated events, the Stanford-Oregon game on Oct. 20, 2001, and some buzz-less coaching hires in 2007 didn't resonate nationally. But from a long-term view, they are notable dots to connect for what has become one of the nation's best and most meaningful rivalries.
Even if the teams don't provide much cartoonish trash talk to foment the hype.
October, 23, 2013
10/23/13
1:00
PM ET
Oregon is terrible on fourth down. The Ducks have converted on just seven of 18 fourth-down plays this year. Their 38.9 conversion rate ranks 10th in the Pac-12, behind struggling teams like Colorado and California.
We point that out because that's about the only thing Oregon isn't doing well right now.
[+] Enlarge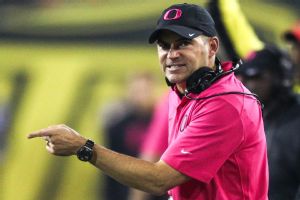 Steve Conner/Icon SMIOregon appears to have no glaring weaknesses, yet first-year coach Mark Helfrich says the Ducks can get better in every phase.
The Pac-12 keeps track of 33 statistical categories, covering offense, defense, special teams, penalties, turnovers, etc. The Ducks rank first in the conference in 11 categories, including the two most important: scoring offense and scoring defense. They rank in the top three in 18 categories. Most of the categories they are not doing well in -- time of possession, onside kicks, opponent penalties -- evoke a "neh."
Others are deceptive. Oregon ranks sixth in total defense but is No. 1 in the far more revealing stat of average yards surrendered per play, where they rank eighth in the nation at 4.46 yards. The Ducks are 10th in red-zone offense, but their touchdown percentage in the red zone -- 72.1 percent -- ranks second.
This seems like a team with few, if any, holes. So what are the Ducks' weaknesses?
"I haven't seen any," said California coach Sonny Dyke, whose Bears lost 55-16 at Oregon on Sept. 28. "They are incredibly fast. I think the difference this year is they are throwing the ball so much better. Their receivers are faster, bigger, stronger, more physical, making more plays than in the past."
In the preseason, there were three questions about Oregon: 1. How would Mark Helfrich do stepping in for Chip Kelly? 2. What would be the pecking order at running back and how would
De'Anthony Thomas
be used? 3. How would the Ducks replace the dynamic linebacking troika of Dion Jordan, Kiko Alonso and Michael Clay?
Check, check and check.
The 7-0 record, No. 2 ranking in the national polls -- No. 3 in the BCS standings -- and 40-point average margin of victory suggest that Helfrich is doing fairly well. He might be a softer touch than Kelly -- though he's not afraid to tweak a reporter or two -- but he's not taking any mercy on the field.
Running back? The bottom line is the Ducks are No. 2 in the nation in rushing with 332.4 yards per game, 17 yards better than last year's average, and they've done that with DAT missing the last four games with an injury. Backups
Byron Marshall
and true freshman
Thomas Tyner
are both averaging 6.7 yards per carry and have combined for 16 touchdowns. Marshall, a sophomore, ranks 19th in the nation with 106.6 yards rushing per game.
Linebacker?
Tony Washington
, who replaced Jordan, has nine tackles for loss and 6.5 sacks. Jordan had 10.5 tackles for loss and five sacks in 2012.
Derrick Malone
leads the Ducks in tackles with 59. And, really, the bottom line is the defensive numbers, including a run defense that ranks 22nd in the nation.
"I think [the Ducks defense is] certainly the best they've been," Dykes said. "The secondary is really, really good. They are good at linebacker and they are pretty active up front."
Of course, Dykes is a first-year Pac-12 coach who hasn't been dealing with Oregon during its rise to consistent top-five team, though he was Arizona's offensive coordinator from 2007 to 2009. If we're going to ask whether this version of Oregon might be the best yet, we need to ask someone who's seen them all.
Washington coach Steve Sarkisian, whose Huskies have lost 10 in a row to Oregon, including five defeats during his tenure, let out a big breath when asked if this was the Ducks' best team.
"Hooof," he said. "We've played some pretty good ones. I think the balance they have on offense is probably the best that they've been."
The general consensus is
Marcus Mariota
is the Ducks' best quarterback during its recent run. He might, in fact, as former Ducks All-American QB Joey Harrington
recently volunteered
, be the best in program history. Mariota brings a dangerous downfield passing game to a longstanding dominance running the ball. As for the defense, it's very good, though it remains to be seen whether it's as good as the 2010 unit or even the talented crew of 2012 that battled numerous injuries.
Still, every coach who has played the Ducks probably feels there's something he wishes he might have attacked more or tried to exploit.
"I think there is a lot of places," Washington State coach Mike Leach said. "There's always a lot of places."
Washington State lost 62-38 at Oregon last weekend, with Leach's Cougars adding two late touchdowns to make the gap less dramatic. Quarterback
Connor Halliday
set a number of Pac-12 and NCAA passing records in the game -- he completed 58 of 89 passes for 557 yards -- but also threw four interceptions, one of which Terrance Mitchell returned 51 yards for a touchdown.
"Oregon is really fast," Leach said, echoing a common theme. "As you play Oregon, everything they do -- they can reel plays in quicker. They react to everything quicker. Very explosive... Oregon hits you in the mouth when you throw one up."
Of course, speculating on Oregon's seeming lack of weaknesses and its standing among other accomplished Ducks teams is a mostly a meaningless academic exercise when five regular season games remain ahead, including a visit Saturday from No. 12 UCLA. In fact, the next five Pac-12 games (combined opponent record of 26-7) are far tougher than the first four (combined record of 12-16).
Helfrich isn't really biting, either. When asked about areas of concern, he pointed back to the preseason questions and implied the jury is still out at linebacker.
Yet his overriding conclusion sounded very Chip Kelly-ish, while also offering plenty of room to read between the lines.
"I think everything," he said. "In every phase we can get better, starting with me, everything we do."
That's either coachspeak -- we need to get better every day -- or carries a more ominous implication: No weaknesses? Best Oregon team? You haven't seen anything yet.
Pac-12 Teams Can Load Up At WR
PAC-12 SCOREBOARD
Thursday, 9/3
Friday, 9/4
Saturday, 9/5