February, 7, 2013
Feb 7
7:05
AM PT
SAN DIEGO -- The twins Robinson -- Tyree and Tyrell -- and
Darren Carrington
all went window shopping. But in the end, they trusted their guts and suppressed the knee-jerk, caveat emptor reaction when Chip Kelly left the Oregon Ducks for the NFL.
At a national signing day event at the San Diego Hall of Champions, the trio from San Diego all put ink to their verbal commitments and signed to play with the Ducks, ending weeks of speculation that they would be 11th-hour flips and spurn the Ducks and new head coach Mark Helfrich.
"At first it was about exploring options," said
Tyrell Robinson
, who attends Lincoln High in San Diego with his brother. "We made a commitment to Chip Kelly. When he left, we felt disappointed because who doesn't want to play for a man like that? Me and my brother took our trips to UW and SC, we turned down Ohio State. We were very close to switching schools. We liked UW a lot on our last visit. But at the end of the day we felt Oregon was still the best choice for us."
"Us" being the operative word. Because the Robinsons were going to be a package deal no matter what.
"That was really important to us," Tyrell said. "We were going to go to the same place so it was a matter of finding the spot that was best for us. We really had to think about it. We wanted to see what else was out there after Chip left. That was our chance to get out there and see what else was available.
"But Coach Helfrich told us we were going to be a big factor in this recruiting class and he felt we could come in right away and make an impact."
Carrington, a wide receiver from Horizon High School, said he liked the elevation of Scott Frost from receivers coach to offensive coordinator.
"I was definitely considering somewhere else," he said. "They talked about throwing the ball more and I think in the end, this was the best fit for me."
Carrington's father, Darren Carrington Sr., was the main speaker at the event that included hundreds of San Diego athletes in various sports. The former NFL safety said he was there to counsel his son, but ultimately let him make his own decision.
"I was there to give him information, but you're raising a man so you have to teach him to make up his own mind," Carrington Sr. said. "Chip was checking things out so we thought it was only fair that we check things out. We took a couple of trips and ultimately this is what he thought was best for him."
MORA THE CLOSER
Center
Scott Quessenberry
(Carlsbad, La Costa Canyon High), the No. 3-rated center nationally and an ESPN 300 player, said head coach Jim Mora was "very convincing" when he met with him. One of the early knocks on Mora, of course, was that he lacked college experience and might struggle in recruiting. But his first two recruiting classes say otherwise.
"I hope he's proved a lot of people wrong," Quessenberry said. "We've got a heck of a class. He's changed people's minds about recruiting and UCLA football. We're hungry. We're coming and we're going to win a lot of games."
Quessenberry said he prefers the center position, but feels he's versatile enough to play anywhere on the line.
"Anywhere they need me, I'm ready," he said.
CHANGE OF HEART
Cornerback
Derek Babiash
(Poway, Poway High) said he's at peace with his decision to sign with Arizona after initially giving a commitment to Washington. The 6-foot, 165-pound cornerback who ranks 38th nationally at the position, said he got caught up in all of the excitement of being recruited when he made his initial commitment.
"When I made my first commitment, I went on a spring game visit and I think it was rushed and spur of the moment," Babiash said. "I just got really excited. I went home and thought on it and decided it wasn't going to be the right place for me.
"I think I'll have the opportunity to step in right away and if I work hard I can be one of the five DBs in that (3-3-5 defensive) set."
USED TO WINNING
New Colorado running back
Michael Adkins
(La Mesa, Helix High) comes from one of the strongest high school football programs in San Diego. He's aware of the difficulties facing Colorado and he's looking forward to attacking it head on.
"I'm from Helix and we have a winning tradition," Adkins said. "I hate losing. I'm looking forward to getting there and helping change some things. The team is young so hopefully we can come in and start making a difference in the Pac-12."
Asked about new coach Mike MacIntyre, Adkins said he loved the enthusiasm.
"He's a fiery guy," Adkins said. "He knows his stuff. And I loved the whole staff. They really felt like a family."
January, 24, 2013
Jan 24
1:00
PM PT
It appears that Jim Mora was very good for
Datone Jones
.

Jones, who belatedly broke through as a senior for the Bruins under Mora, earning second-team All-pac-12 honors, is having a great week at the Senior Bowl in Mobile, Ala., and his draft stock is surging, according to multiple reports.
First from ESPN's
Todd McShay, Kevin Weidl, Steve Muench

:
UCLA's Datone Jones (6-4[, 280) had another good day. Talk about explosive upper body power -- this guy has it. He played hard and is a disciplined backside defender. He blew up a play on nine-on-seven with his quickness and ability to get inside. He also has the ability to work his hands and disengage when he's locked up in a tight situation.

He's had a good week. There's a buzz in the stands about him.
CBS Sports
rated Jones one of the Senior Bow's top "risers."
After an impressive practice on Monday, Datone Jones kept the momentum going on Tuesday, standing out as one of the best defensive stars on the North squad. He is very strong from head to toe and does a nice job using his powerful arms and hands to rip past blockers. He wasn't overly productive as a pass rusher at UCLA, largely due to the fact that he was moved all over the Bruins' hybrid 3-4 scheme, but he did make 19 tackles for loss as a senior with his impressive blend of burst and power to dispose of blockers at the point of attack. Jones is a name that will start to appear in first-round mock drafts moving forward.
It also appears that two Pac-12 running backs, UCLA
Johnathan Franklin
and Oregon's
Kenjon Barner
, also are doing well.
That said, McShay, Weidl and Muench had some questions about Franklin's speed, and that "makes him more of a third- or fourth-round prospect instead of a second."
Another Pac-12 player on the North, Colorado tight end
Nick Kasa
, has distinguished himself.
From CBS
:
While tight end Vance McDonald has impressed on the South squad, Colorado tight end Nick Kasa has stood out on the North team. A former defensive end, he didn't make the move to offense until late last season, entering the 2012 campaign with just one career catch on his resume. Kasa plays a bit tight and bulky, but he is an intriguing athlete and has really impressed as a blocker this week. He obviously needs some more seasoning, but the tools are there for Kasa to be an interesting developmental draft choice early on the third day.
As for South practices

, where California and Stanford players are, the Bears seem to be doing well. Cornerback
Marc Anthony
and offensive lineman
Brian Schwenke
have impressed:
Cal CB Marc Anthony had the best Wednesday. He turned and ran with Georgia's Tavarres King. I think he runs well, showed the ability to turn and run with guys, and he can break on balls thrown in front of him. He almost had a pick, and he can get physical.
And here's a take
on Schwenke:
While Jenkins has shown the ability to dominate lesser opponents, California center Brian Schwenke has proven surprisingly effective when taking on the massive defender. While perhaps not the most aesthetically-pleasing blocker, Schwenke shows good quickness, functional strength and understands leverage. He sinks his hips on contact, anchoring well despite being significantly lighter at 6-3, 307 pounds than many of his opponents.
Another player whose speed is being questioned is Stanford outside linebacker
Chase Thomas
. While he's been impressive on the physical side, Thomas apparently has struggled in coverage.
From CBS
:
Speaking of looking the part, no linebacker was as physically imposing as Chase Thomas (6-foot-3 1/8, 241 pounds). The outside linebacker practiced and played with a lot of effort, throwing around fellow linebackers in a tackle-shed drill, and that helped make up for a lack of burst and speed that a lot of high-profile outside linebackers tend to have. On Tuesday, Thomas was beaten a number of times on a quasi-race from a two-point stance to a tackling dummy. Ultimately, he seemed a half-step behind receivers in practice and a bit slower than his teammates in drills.
January, 8, 2013
Jan 8
7:12
AM PT
These are the final 2012 power rankings.
If you don't like where you finished in the power rankings, you should have played better.
See the pre-bowl-season power rankings here
.
1. Stanford
: Oregon received a higher final national ranking, and you could make a decent challenge in favor of the Ducks. They didn't get upset by Washington, didn't play a lot of close games and beat a top-five team in the Fiesta Bowl. But, on Nov. 17, the Cardinal went to Eugene and took care of business. Stanford is the Pac-12 champion, and Oregon is not. Ergo, Stanford sits atop the power rankings. And 2013 looks pretty darn good, too.
2. Oregon
: The cherry on the top of another special season for Oregon is the return of coach Chip Kelly. And we're of the mind that, if not for the slip against Stanford, Oregon would be sitting atop college football this morning after a fine evening of frolic in South Florida. The Ducks and Stanford will be national title contenders again in 2013. And guess which two teams are going to top the first 2013 power rankings?
3. Oregon State
: The loss to Texas in the Valero Alamo Bowl was baffling. The Beavers were a superior team that seemed to be looking for ways to lose in the fourth quarter. The quarterback carousel needs to be resolved. But the Beavers still won nine games, and their 6-3 conference record overcomes UCLA because of a head-to-head win on the road. Nice bounce back after consecutive losing seasons.
4. UCLA
: Yes, the Bruins flopped in the Bridgepoint Education Holiday Bowl against Baylor, but it's impossible not to see Year 1 under Jim Mora as a success, made even more notable by USC's flop. Like last season, the Bruins won the South Division, but this time they earned it.
5. Arizona State
: The Sun Devils won their final three games for the first time since 1978. That's how you go into an offseason with optimism. We hear a lot about "culture change" from programs with new coaches. The Sun Devils' culture change under Todd Graham was made manifest by what happened on the field.
6. Arizona
: The Wildcats did better than expected in Year 1 under Rich Rodriguez, and the season would have been a complete success if not for what happened against that team from up north. That loss hurts, but quality wins over Oklahoma State, USC and Washington, as well as an overtime game with Stanford, show this team competed better than in recent years.
7. Washington
: The Huskies finishing 7-6 against a brutal schedule probably was close to preseason expectations. But the two-game losing streak to end the season, which included a dreadful meltdown in the Apple Cup to Washington State, quashed the momentum a four-game winning steak from Oct. 27 to Nov. 17 had built. Perhaps that will make the Huskies hungrier in 2013, when they have a nice array of talent returning.
8. USC
: The Trojans' season was a complete disaster. USC started out at No. 1 but turned in a white flag performance while losing a sixth game in the Hyundai Sun Bowl to a middling Georgia Tech team. The Trojans were eclipsed by rivals UCLA and Notre Dame while wasting the much-ballyhooed return of QB
Matt Barkley
. Coach Lane Kiffin will be sitting on one of the nation's hottest seats in 2013.
We've been over this a few times
.
9. Utah
: The Utes' move up in class from the Mountain West Conference is proving tougher than some imagined. Utah missed out on playing in a bowl game for the first time since 2002, and there were issues on both sides of the ball. The Utes need an upgrade in talent and overall depth, sure, but consistent quarterback play would be a good place to start. Therein lies hope with promising freshman
Travis Wilson
.
10. California
: A dreadful 3-9 finish ended Jeff Tedford's tenure in Berkeley after 11 seasons. In early October, after consecutive wins over UCLA and Washington State, it seemed as though the Bears might be poised for a rally. Alas, they lost their final five games, including a horrid performance in a 62-14 drubbing at Oregon State. Sonny Dykes has enough returning talent to produce significant improvement in the fall.
11. Washington State
: New coach Mike Leach's season was bad on the field and off, but it ended on a notable uptick with an Apple Cup win over Washington that included a comeback from an 18-point fourth-quarter deficit. Still, 3-9 took a bite out of the enthusiasm Leach's hiring initially generated.
12. Colorado
: A horrid 1-11 finish that was capped by a controversial firing of Jon Embree after just two seasons. The Buffaloes are probably the worst AQ conference team over the past two seasons, and that is the considerable mess new coach Mike MacIntyre was hired to clean up. Of course, MacIntyre put together an impressive turnaround at San Jose State, so he looks like a good choice to bring the Buffs back to respectability.
December, 5, 2012
12/05/12
9:00
AM PT
The Pac-12 -- again -- produced national title contenders but not a team playing for the crystal football when the final bell rang. Further, for the first time since 2008, the conference didn't provide a Heisman Trophy finalist.
A short summary of the regular season: It was pretty good but could have been better. But it was definitely surprising.
Better? If things had fallen the right way, seven Pac-12 teams could have been ranked in the final regular-season poll. USC began the season as a national title contender only to yield that spot to Oregon. Then Stanford ended the Ducks' hopes on Nov. 17 with a 17-14 overtime win in Autzen Stadium.

So the conference streak without a football national championship extends to eight seasons.
Surprising? UCLA won the South Division over rival USC, and Stanford beat out Oregon in the North by virtue of the aforementioned win in Eugene. Neither was tapped in the preseason as the conference champion by any of the 123 media members who voted.
Surprising? USC quarterback
Matt Barkley
topped just about every preseason Heisman Trophy list. He didn't even make first- or second-team All-Pac-12.
Surprising? Three of the four new coaches turned in strong seasons. Start with Jim Mora, who led the Bruins to the Pac-12 championship game and a national ranking. And, a year after USC beat UCLA 50-0, the Bruins prevailed, 38-28.
Sorry for bringing that up, USC.
Both Arizona's Rich Rodriguez and Arizona State's Todd Graham finished 7-5, though Graham handed Rodriguez his fifth defeat in the Territorial Cup.
Sorry for bringing that up, Wildcats.
The new coach who was expected to make the most noise -- with both his mouth and his team -- was only 1-for-2, and it wasn't Mike Leach's team doing the talking. His Cougars finished 3-9 and recorded just one conference victory. Of course, that lone Pac-12 win was over Washington.
Sorry for bringing that up, Huskies.
The good news is a record eight bowl teams, including a third consecutive season with two BCS bowl berths, which means an extra $6.1 million for the conference to split up.
The bad news is two more coach firings: Jeff Tedford at California after 11 seasons and Jon Embree at Colorado after just two. That means half the teams in the Pac-12 will have changed coaches over the past two years.
Further, USC's disappointing season lands Lane Kiffin on the 2013 hot seat, the only Pac-12 coach who will be stuck with that designation heading into 2013.
What about some highlights? Well, here you go.
[+] Enlarge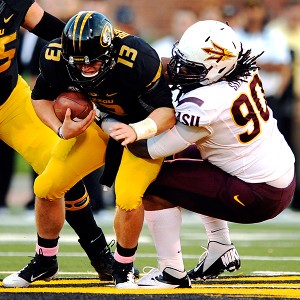 AP Photo/L.G. PattersonArizona State's Will Sutton averaged almost a sack per game this season, including one at Missouri.
Offensive MVP, Marqise Lee, WR, USC
: Not only is he the most dominant wide receiver in the country, he might also be the most dominant player. Heisman voters say otherwise, but we in the Pac-12 know just how dominant he can be. His record-setting season should be more than enough to earn him the Biletnikoff Award for the nation's top receiver. And if he has matching numbers on a nine-win USC team, he's in New York this week.
Defensive MVP, Will Sutton, Arizona State
: The numbers alone paint a pretty good picture of just how dominant the speed-rushing defensive tackle was. He led the conference in tackles for a loss per game and averaged almost a sack per game. He was a wrecking ball -- the kind of player offensive coordinators design their game plan around.
Newcomer of the year, Marcus Mariota, Oregon
: In a year in which redshirt freshmen quarterbacks became all the rage, Mariota stood out with his efficiency as a passer, his athleticism as a runner and the speed with which he commanded Oregon's offense. His presence assures Oregon will continue to be one of the best offensive teams in the country in the coming years.
Biggest surprise
: A school not named USC or Oregon is going to the Rose Bowl. In fact, neither team played in the Pac-12 championship game -- which many thought was as foregone conclusion before a single ball had been hiked. Stanford and UCLA were surprises -- but they also earned it.
Biggest disappointment
: USC's once-promising season first got hijacked at Stanford. And from then on the Trojans were swimming in concrete shoes. After starting the season No. 1 in the AP poll, the Trojans became the first such team since 1964 to end the year out of the Top 25. The
contrarian opinion
Kevin Gemmell offered up back in March came to fruition. And it was a complete disaster. And, yes, even worse than Ted Miller's "
Worst Case
." And that's pretty bad.
Best game
: Depends on where your tastes lie. If you like defense, then it was Stanford's performance at Oregon, where they held the Ducks to fewer than 200 yards rushing and won in overtime.
Jordan Williamson
's 37-yard kick sent shock waves throughout college football. If you like offense, you have to look to the Nov. 3 shootout between Oregon and USC. The stakes weren't as high as we all thought a few months ago, but some of the league's premier offensive players showed up as the teams combined for 113 points, 68 first downs and 1,145 yards of total offense.
November, 26, 2012
11/26/12
9:00
AM PT
If you don't like where you are in the power rankings, play better.
And, again, keep in mind the power rankings lean heavily on the week that was, not as much on the totality of the season.
See
last week's power rankings here
.
1.
Stanford
: I've started to think Stanford has become one of those "No one in the entire nation is playing better at this point of the season" teams. Certainly no team has better back-to-back wins over the past two weeks.
2.
Oregon
: The Ducks looked like their old selves against rival Oregon State. Best bet is they are headed to the Fiesta Bowl, where they will almost certainly play a Big 12 team that is ranked higher than the Big Ten's Rose Bowl representative. Maybe even good ole Kansas State.
3.
UCLA
: Were the Bruins -- consciously or unconsciously -- holding something back against Stanford on Saturday, knowing they'd already secured a berth in the Pac-12 title game? Maybe. We'll see in Friday's rematch.
4.
Oregon State
: Early in the third quarter, it looked like the Beavers might challenge the Ducks. Then -- poof -- Oregon went all Oregon and it was another blowout. Guessing the Beavers end up in the Holiday Bowl with the Pac-12 title game loser going to the Alamo Bowl.
5.
Arizona State
: It's official: Year 1 under new coach Todd Graham is an unquestioned success. Going 7-5 is one thing, but 7-5 with win No. 7 coming in Tucson is entirely different.
6.
Arizona
: While the reverse on the Arizona State verdict isn't true -- it's impossible to say the Wildcats didn't greatly exceed expectations in Rich Rodriguez's first season -- losing state bragging rights is an itch that will demand scratching for an entire year.
7.
Utah
: The Utes end the season with a close win at Colorado. That's not much -- at all -- but the teams below rate lower based on their recently elevated program misery index.
8.
USC
: Last year, the Trojans upset Oregon and beat their top rivals, Notre Dame and UCLA. This year, preluded by national championship expectations, they lost to all three. USC went from top-ranked to unranked, from expectations of 12-0 to 7-5. There are no grins inside Heritage Hall. Lane Kiffin will be near the top of every 2013 preseason coaching hot seat list.
9.
Washington State
: It was an awful season, full of losing and controversy. Ah, but when a Washington fan walks into the local watering hole, he will avert his eyes in shame from the Cougar contingent. When the folks in purple start to talk about all the great things going on at Washington, they will be silenced by a simple: "31-28. Stick it."
10.
Washington
: That was a dreadful choke in the Apple Cup, Huskies. You rightly should expect much grief from your Coug friends. Of course, you still have a bowl game ahead in which to secure an eighth win, which the Huskies haven't collected since 2001. Do that, and you not only will perk up several spots in the power rankings, you can enter the offseason with a smile.
11.
California
: Teams that fire their coach tend to tumble in the power rankings. But take heart, Golden Bears fans. See how quickly three of the four Pac-12 teams that hired new coaches a year ago climbed out of the doldrums.
12.
Colorado
: Worst season in Colorado history? Probably. Now there's just one question, Buffs: What are you going to do about it?
November, 18, 2012
11/18/12
10:00
AM PT
What did we learn in Week 12? Read on.
Barring a miracle, Oregon won't play for the national title, and even its Pac-12 supremacy is threatened
: Oregon's hopes to play for a national title for the second time in three years took a huge and likely catastrophic hit with a 17-14 overtime loss to Stanford. The Ducks' chances to win the Pac-12 for a fourth consecutive year also are in doubt. If Stanford prevails at UCLA on Saturday, the Cardinal would win the North Division and would host UCLA on Nov. 30 for the Pac-12 title and Rose Bowl berth. Yes, they'd play a second time within a week.
[+] Enlarge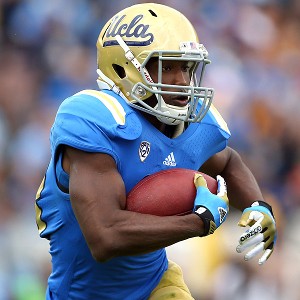 Jeff Gross/Getty ImagesJohnathan Franklin rushed for 171 yards and two touchdowns in UCLA's win over USC.
The football monopoly in L.A. is over
: UCLA whipped USC to capture the Pac-12 South Division, and there is no asterisk, as there was when the Bruins represented the South at Oregon last year. The Bruins jumped to an early lead and then didn't wilt when the Trojans charged back. First-year coach Jim Mora, who is now clearly in the conference coach of the year race, has emphasized mental toughness and discipline, and in a single season he seems to have changed the culture in Westwood. By the way, this is good news: The Pac-12 will benefit if the USC-UCLA game is again nationally and regionally meaningful.
USC's business is finished
: It's official: The Trojans' 2012 season is a massive failure. A preseason national title contender, USC is now 7-4 overall and 5-4 in Pac-12 play. It may not be ranked this week. QB
Matt Barkley
, the preseason Heisman Trophy favorite who spoke of "unfinished business" when he opted to return for his senior year, suffered an injury late against the Bruins, and his business might be finished without another shot at soon-to-be No. 1 Notre Dame. While coach Lane Kiffin told reporters that he was certain of his return in 2013, it's pretty clear Kiffin will top hot-seat projections next summer.
The Pac-12 will have eight bowl-eligible teams
: Arizona State's blowout win over Washington State gave the conference eight bowl-eligible teams, while Utah's loss to Arizona ensured there won't be a ninth. The Utes, Colorado, Washington State and California will stay home during the holidays. Further, if Oregon wins the Civil War and Stanford beats UCLA, the conference is almost certain to get two BCS bowl teams, with the UCLA-Stanford winner in the Pac-12 title game going to the Rose Bowl and the Ducks getting an at-large selection, likely to the Fiesta Bowl. That would mean an extra $6.1 million the conference could split up.
Tedford's tenure in California is likely at an end
: While there continue to be supporters for Cal coach Jeff Tedford, a fifth consecutive defeat to end the season, particularly a 62-14 blowout at Oregon State, feels like a capper to his 11-year tenure in Berkeley. Tedford is liked and respected and probably will land on his feet and get another head-coaching opportunity, but the Bears have fallen behind in the conference pecking order -- heck, the Bay Area pecking order -- and they have bills to pay while facing growing fan apathy. A decision could come as soon as Sunday.
November, 12, 2012
11/12/12
12:30
PM PT
The Pac-12 takes center stage this week with two of the three matchups of ranked teams, and both games are chock full of national intrigue.
No. 2 Oregon plays host to No. 13 Stanford with the Pac-12 North Division on the line (mostly). The Ducks, of course, are fighting for a berth in the national title game, but first they want to secure home-field advantage for the Pac-12 championship game on Nov. 30.
[+] Enlarge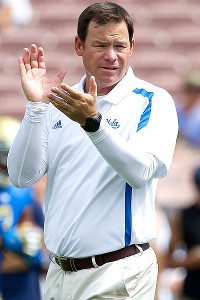 AP Photo/Nick LuceroThe annual rivalry game with USC will have more than bragging rights at stake this season for coach Jim Mora and UCLA.
And No. 18 USC visits No. 17 UCLA with the South Division on the line (completely). The Battle for L.A. is once again relevant, with the Bruins and first-year coach Jim Mora having a chance to reverse a decade of negative momentum with one big Saturday statement.
The other game with ranked teams? No. 23 Texas Tech at No. 24 Oklahoma State. Neh.
Stanford will be the highest-ranked opponent that Oregon has faced thus far this season, but the Ducks have owned the Cardinal of late. Not only have the Ducks won nine of the past 10 games in the series, they've scored 105 points combined in the past two games while winning each by more than 20 points.
Stanford, however, controls its own destiny just like Oregon. If it beats the Ducks, and then finishes its season with a win at UCLA, it wins the North. If Stanford beats Oregon but loses to UCLA, and the Ducks also go down at Oregon State, the Cardinal would win the North Division because it would have head-to-head victories over both the Ducks and Beavers.
As for USC-UCLA, the Trojans have dominated the series of late, winning five straight and 12 of the past 13. All five victories during the current winning streak have been by at least 14 points, including a 50-0 bludgeoning last season. UCLA's last win in the series came in 2006 when they upset the Trojans 13-9 at home.
This showcase weekend is a seeming climax for an interesting year for the Pac-12. For one, the conference has joined the SEC and the Big 12 as the nation's dominant leagues, with decisive superiority -- 17 members of the present BCS standing's top 25 -- compared to other "AQ conferences." Six of 12 Pac-12 teams are ranked in the BCS standings. For the Big 12, it's five of 10, and the SEC features not just six of 14 but six in the top 9.
Yet it's possible for the first time in three years the Pac-12 won't get a second BCS bowl team, which would dock the conference's 2012-13 bowl payout by about $6.1 million, or $508,333 per team. Just to be eligible, a second team must be ranked in the final top 14 of the BCS standings. Further complicating matters is Notre Dame. If Oregon earns a berth in the national title game, more than a few projections have the Rose Bowl picking Notre Dame -- undefeated or with one loss -- over a three-loss Pac-12 team.
Still, there's enough football left complicating potential scenarios that the speculation is mostly an academic exercise at present, not unlike guessing who-done-it two-thirds of the way through a mystery novel.
As for the rest of the Pac-12, things also are intriguing. Seven teams are already bowl eligible, and only three -- California, Colorado and Washington State -- are guaranteed losing records. To become bowl eligible, Arizona State needs to win one of its final two games -- Washington State and at Arizona -- and Utah needs to win both its final two -- Arizona and at Colorado.
If the conference has eight or even nine bowl eligible teams, things could get interesting. For one, the conference's seven contracted bowls have plenty of flexibility for choosing teams. There figures to be some politicking among conference teams. And, perhaps, some hurt feelings. Further, the 6-6 teams at the end of the bowl pecking order likely will be scrambling free agents, ending up in bowl games you probably haven't paid any attention to before.
This should be the best weekend of the Pac-12 season so far. It may provide further clarity. Or it might just thicken the plot.
October, 29, 2012
10/29/12
8:45
AM PT
If you don't like where you are in the power rankings, play better.
See
last week's power rankings here
.
This feels like an odd one.
1.
Oregon
: The Ducks showed seemingly effortless brilliance in a dominant victory over Colorado, but it wasn't a good weekend for the Ducks. They don't want the distance between themselves and everyone else to appear this vast. They want the conference to look strong, top to bottom. Losses by USC and Oregon State dinged the Ducks' BCS standing in terms of potential strength of schedule ratings down the road. And Kansas State and Notre Dame both posted impressive wins.
2.
Oregon State
: Picking the No. 2 team here wasn't easy. Stanford was considered, but the Cardinal barely slipped by Washington State at home. And the Beavers still have only one loss. The power rankings looks more at the short term, but the big picture keeps the Beavers here. By a thread. It feels like the visit from Arizona State will be a tester, particularly when there are now quarterback questions.
3.
Stanford
: The Cardinal muddled through a win against Washington State. They very well may muddle through a visit to Colorado on Saturday. The visit from Oregon State on Nov. 10 will begin a home stretch that will reveal just who Stanford is in 2012 (at Oregon on Nov. 17, at UCLA on Nov. 24).
4
. Arizona
:
Matt Scott
and Rich Rodriguez are making beautiful music together, but somebody needs to tip their cap to Wildcats defensive coordinator Jeff Casteel. He's put together an opportunistic defense that just finds a way to do well with some questionable parts. Sure, USC had huge numbers. But the Wildcats also got stops that proved critical.
5.
USC
: The idea that the Trojans would fall into the middle of the Pac-12 power rankings never occurred to the Pac-12 blog in the preseason. What's notable is the sloppiness: turnovers and penalties. Sure, other teams have penalties. But the Trojans seem to get lots of penalties of choice -- personal fouls, taunting, lining up wrong.
6.
Washington
: There are two Huskies teams. The one that plays at home is worthy of a national ranking. The one that plays on the road is worthy of mockery. The next step for coach Steve Sarkisian is to make the Huskies into a team that plays like it's at home even when it's not. Up next is a Friday visit to flagging California.
7.
UCLA
: The win at Arizona State -- a clutch comeback one, no less -- feels like a potential corner-turner for the Bruins. Recall the horrid performance at California? That brought up some old UCLA bugaboos about road games. This win canceled those out nicely. Let's ask it ... maybe Jim Mora is the guy to actually end the football monopoly in L.A. Of course, the visit from Arizona on Saturday will provide a huge measuring stick in the South Division. The Bruins control their own destiny. If they win out, they go to the Pac-12 title game.
8.
Arizona State
: The schedule is getting tougher, and the Sun Devils are taking some hits. There was plenty of good to take away from the 45-43 loss to UCLA, but not so much on the defensive side of the ball. The Sun Devils could quickly right things if they can win at Oregon State.
9.
Utah
: Hard to say whether the blowout win over California was about the Utes finding their mojo after another 0-4 Pac-12 start -- just like last year -- or whether it was just a Cal team waving the white flag on its season. Maybe a little of both. But if the Utes can hold serve at home against Washington State, they will need to win just two of their final three to become bowl eligible. And one of those games is with Colorado.
10.
Washington State
: The Cougars were close at Stanford, but isn't being close what we sorta celebrated last year? The good news is how much better the defense is playing. The bad news is ... 10 sacks surrendered. And you got to see just how tough QB
Jeff Tuel
is. Getting hit that much and still playing well, passing for 401 yards and two touchdowns with no help from a running game.
11.
California
: Hey, Cal? Are you quitting on yourselves and coach Jeff Tedford? The performance at Utah suggests so.
12.
Colorado
: There is some good news. There are only four more games this season.
October, 17, 2012
10/17/12
10:45
AM PT
The major preseason stories in the Pac-12 were four new coaches, the return of
Matt Barkley
, the nation's leading Heisman Trophy candidate, and USC and Oregon apparently headed for a showdown with national-championship implications on Nov. 3.
The major midseason stories are a little different.
USC and Oregon could still be an epic clash, just not as epic because USC already has lost. Also, Barkley's middling numbers for an offense that hasn't been consistently in sync have diminished the national perception of the Trojans. The Ducks are now the Pac-12 team at the center of the national discussion.
As for the four new coaches, three have gotten off to great-to-solid starts in year one. But how will they finish? And will Mike Leach get Washington State on track?
Will Arizona State maintain its fast start, or are the Sun Devils headed for a tough dose of reality as the schedule firms up, starting with Oregon on Thursday?
Speaking of fast starts: Oregon State. The Beavers have surged, and coach Mike Riley has moved from the hot seat to the throne of a national-coach-of-the-year candidate. Oregon and Oregon State are the only two unbeaten teams in the conference, so it's not inconceivable that the Civil War could be for the North Division crown, a spot in the Pac-12 title game and, perhaps, a chance to play for the national title.
It could become the season's true epic clash.
As for hot-seat talk, as distasteful as it is, nearly all of such focus will be on California coach Jeff Tedford. The Bears have won two in a row after a 1-4 start, but it remains in the air whether this team can be consistent enough to earn a bowl berth. A losing record wouldn't be good for Tedford.
[+] Enlarge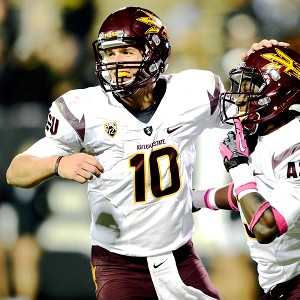 Ron Chenoy/US PresswireTaylor Kelly (10) and Arizona State could make a loud statement with Oregon coming to town.
Finally, in terms of individual awards, it will be interesting to see if any Pac-12 player emerges as a true Heisman Trophy contender. Might Barkley turn it up during the second half? Will Oregon's
De'Anthony Thomas
start to fill up "SportsCenter" with highlights? Is there a potential dark-horse candidate?
Ultimately, midseason reviews don't mean much. Teams and players can reverse course -- positively or negatively -- at any moment.
But what it is fair to say is there are plenty of rich plot lines heading into the season's second half, even if those were not the stories that advanced the season.
Bold prediction
: The conference will fill all seven of its bowl obligations, plus one. Oregon is already in; Oregon State, Arizona State, USC and UCLA are all one win from being bowl-eligible. If you follow the Sunday zaniness that is
our weekly bowl projections
, you know your bloggers project Oregon to the national championship, which opens up one more spot. We see Stanford and Washington bowling. That's seven right there. The eighth spot is up for grabs, with Arizona and Cal the likely candidates. Cal could get to .500 this week, then would need two more wins with Utah, Washington, Oregon and Oregon State remaining. If Arizona takes care of Colorado and Utah in the second half, that leaves it looking for one more win over from among Washington, USC, UCLA and Arizona State.
Looking forward to
: The race in the Pac-12 South. Once thought to be gift-wrapped for the Trojans, the recent inconsistent play of USC opens up the possibility of someone else as the South's representative in the title game. The Trojans are still the favorite, but Arizona State and UCLA aren't going to make it easy. Both of UCLA's losses have come to North Division teams, USC's loss was to Stanford and ASU's was out of conference. It's more wide-open than we ever could have imagined in August.
Top five games (by date, not importance):
Oct. 18, Oregon at Arizona State
: Time to find out if the Sun Devils are for real. They have the conference's No. 1 scoring defense facing Oregon's top-ranked scoring offense. The Sun Devils rank second in scoring. Both teams are getting phenomenal quarterback play and both like to work fast.
Oct. 27, UCLA at Arizona State
: This is a pivotal game in the aforementioned race for the South Division title. It features two explosive offenses and two of the league's brightest young quarterbacks. Some pretty good players from both defenses as well.
Nov. 3, Oregon at USC
: This is still the big one. An Oregon win gives the Ducks some much-needed national credibility, while a USC victory puts the Trojans back in the BCS championship hunt. Might be a last-gasp Heisman run for Thomas and/or Barkley.
Nov. 17, USC at UCLA
: A new chapter in this historic rivalry begins with Jim Mora at the helm for the Bruins. He has made them a player in the Pac-12 South, and lest we forget, coordinator Noel Mazzone's offense put up 43 points on USC last year when he was with ASU. This one could decide the South champion.
Nov. 24, Oregon at Oregon State
: The stakes could be stratospheric -- as in national championship implications for both schools. If the Ducks take care of business Nov. 3 and Oregon State can navigate a second-half schedule that includes Stanford and ASU, then all of Oregon will show up for what could conceivably be the Pac-12 game of the year.
October, 3, 2012
10/03/12
9:00
AM PT
We're tracking the offensive, defensive and coach-of-the-year races in the Pac-12.
For a more thorough look at offense, re-read our
Heisman Trophy update
.
Offensive player of the year
1. De'Anthony Thomas, RB/WR, Oregon
: Thomas scored a touchdown against Washington State but it was a relatively quiet game for him. For the season, he's rushed for 302 yards (9.7 yards per carry) with five touchdowns and caught 19 passes for 193 yards and three TDs.
2. Johnathan Franklin, RB, UCLA
: He ranks fourth in the nation and first in the Pac-12 with 139.4 yards rushing per game. He rushed for 111 yards on 15 carries in the blowout victory over Colorado. He also caught three passes for 48 yards.
3. Kenjon Barner, RB, Oregon
: Barner rushed for 195 yards and three touchdowns in the victory over Washington State. He averaged 9.8 yards per carry and ran for scores of 22, 10 and 80 yards. He's second in the Pac-12 in rushing with 121 yards per game and his nine rushing touchdowns leads the conference.
4. Taylor Kelly, QB, Arizona State
: Kelly is first in the Pac-12 and 16th in the nation in passing efficiency. The Sun Devils are second in the Pac-12 with 38.4 points per game. Kelly threw three TD passes in the win at California and now has nine for the season.
5. Matt Barkley, QB, USC
: Barkley was off last week. His 12 TD passes still leads the conference, but he's fifth in the conference in passing efficiency.
Keep an eye on
: UCLA QB
Brett Hundley
; USC WR
Marqise Lee
; Oregon State WR
Markus Wheaton
. Arizona QB
Matt Scott
; Stanford RB
Stepfan Taylor
.
Defensive player of the year
1. Will Sutton, DT, Arizona State
: Won Pac-12 Defensive Player of the Week after recording a career-high eight tackles (six solo), including three sacks, and forced a fumble in a 27-12 victory over California. He's second on the Sun Devils with 34 tackles, including 10 for a loss. Also has 6.5 sacks, a forced fumble and two pass breakups.
2. Star Lotulelei, DT, Utah
: Off last week. Fourth on the Utes with 19 tackles. Also has four tackles for a loss, a sack, two pass defenses and two forced fumbles.
3. Chase Thomas, OLB, Stanford:
Had a sack and four tackles against Washington. He's third on the Cardinal with 23 tackles. He also has five tackles for a loss and 2.5 sacks.
4. Morgan Breslin, DE, USC
: Leads the conference with 2.38 tackles for a loss per game and has five sacks.
Keep an eye on
:
T.J. McDonald
, S, USC;
Travis Long
, OLB, Washington State;
Chris Young
, LB, Arizona State;
Datone Jones
, DE, UCLA;
Anthony Barr
, OLB, UCLA.
Coach of the year
1. Mike Riley, Oregon State
: The Beavers, who went 3-9 last year, are now 3-0 and ranked 14th. 'Nuff said.
2. Chip Kelly, Oregon
: Ducks are atop the Pac-12 and ranked No. 2. If they ended up winning a fourth consecutive Pac-12 title and earn another berth in the national title game, Kelly wins.
3. Todd Graham, Arizona State
: While the Sun Devils are lacking a marquee win, they've been impressive during a 4-1 start. Of particular note is their discipline and efficiency on both sides of the ball. That wasn't what you said about the Sun Devils in the past, even during the good times.
Keep an eye on
: Jim Mora, UCLA; Steve Sarkisian, Washington
August, 31, 2012
8/31/12
12:00
PM PT
There are five new quarterbacks in the Pac-12 this season:
Taylor Kelly
at Arizona State,
Jordan Webb
at Colorado,
Marcus Mariota
at Oregon,
Josh Nunes
at Stanford and
Brett Hundley
at UCLA.
Our question this week: Which of them will have the most success this season?
[+] Enlarge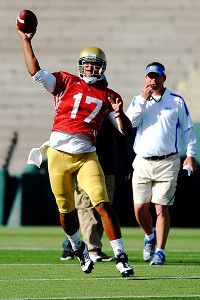 Chris Williams/Icon SMIUCLA quarterback Brett Hundley will be tested often this season.
Kevin Gemmell:
Poor, poor Ted. I know your brain is mush right now. You've been grinding away so hard on the best-worst scenarios that you've got nothing left for a Take 2. Obviously, the easy choice here is Oregon quarterback Marcus Mariota.
I'll tell you what, buddy, since I'm going first this week, I'm going to leave the softball for you and take a different approach. No, no. You don't need to thank me now. Just buy me a Cuban sandwich when we're in Miami for the USC-Oregon national championship game and we'll call it even.
When you're measuring the success of a new quarterback, you have to first look at what's the definition of success. Because I think the measuring stick is going to be a lot different for Mariota than, let's say, UCLA quarterback Brett Hundley.
If Hundley wins eight games and takes his team to a mid-level bowl game, I'd call that a pretty successful debut season. If Mariota wins eight games and takes his team to a mid-level bowl game, Oregon would probably call 2012 a massive failure of a season. Teams that start the year ranked in the top five don't want to end up in San Diego in December -- no disrespect to this beautiful city I'm blessed to call home.
The Bruins, however, I think would be awfully pleased with an appearance in the Holiday Bowl.
Consider what Hundley is up against: a new head coach, who by the way has never coached in college (that's not a knock on Jim Mora, just a fact), a new offensive coordinator with an offense that is a complete 180 from what the Bruins were running previously, and while I think UCLA has some playmakers, Hundley doesn't have the weapons around him that Mariota does. Also, most would agree at this point that Oregon has the superior offensive line.
But I think Hundley overcomes all of that to lead his team to seven or eight wins and a pretty decent bowl game. The reason I think that -- aside from the fact that Hundley is a very talented player -- is because of UCLA offensive coordinator Noel Mazzone and the way he transforms quarterbacks. His system is proven, even if Hundley is not, and it's going to allow Hundley to do what he does best: sling the ball around to a lot of different receivers and make plays with his feet when it's needed.
This was the same offense that produced 33 points per game last year when Mazzone was with Arizona State and dropped 43 on the
USC Trojans
; the same offense that averaged 32 points per game in 2010 that went for more than 40 points four times. Some might remember the 55 they scored on the Bruins that year.
Because of all the immediate factors working against Hundley, people are going to allow him a little more wiggle room to develop than they would Mariota.
And I think you can say the same thing for Josh Nunes at Stanford, Taylor Kelly at ASU or even an experienced newcomer like Jordan Webb at Colorado. They have the luxury of working their way into success, rather than instant success being demanded.
Huh, maybe Mariota isn't such a slam dunk after all. I guess the Cuban sandwiches are on me.
Ted Miller:
Thanks for making things easy on me, Kevin.
[+] Enlarge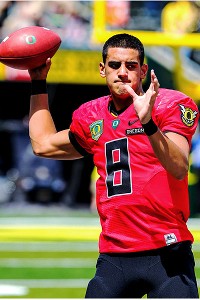 Steve Conner/Icon SMIBetween a stellar supporting cast and a proven coach, the stage is set for Marcus Mariota at Oregon.
I've been reading the tea leaves, and Marcus Mariota is going to be a revelation.
Now it's perfectly fair for someone to point out that I've only see Mariota in action once -- his much-ballyhooed performance in the 2012 spring game. So my -- and anyone else's -- sample size for extrapolating success is extremely limited.
Still, there are three things that make him the pick for immediate success.
First, he beat out
Bryan Bennett
, a guy who has long been touted and who played very well in relief of an injured Darron Thomas last year. If Mariota is better than Bennett, then he's got to be pretty darn good.
Second, his supporting cast will make him look good. He's got plenty of offensive weapons surrounding him as well as a top-notch offensive line. He doesn't have to throw it 40 yards to get a 40 yard completion. He merely needs to dump it to
Kenjon Barner
,
De'Anthony Thomas
or
Josh Huff
and let them do the legwork. The stat sheet doesn't make a distinction.
Third, who's the coach of this team? That's right, Chip Kelly. What's his track record with quarterbacks at Oregon? Let's review.
Oregon fans hated Dennis Dixon -- oh, yes you did! -- until Kelly arrived in 2007. Dixon went from being an infuriating underachiever who threw a lot of interceptions to the nation's top Heisman Trophy candidate until he blew out his knee.
Then, after Nate Costa blew out his knee before the 2008 season, Kelly was left with, well, just about nobody. Recall that Jeremiah Masoli was a summer addition to the roster whom no one had heard of. He led the Ducks to a Holiday Bowl victory and then to the first of three conference titles in 2009.
And when Masoli got the boot, Kelly surprised many when he tapped Thomas over Costa. Thomas then led the Ducks to the national title game and a Rose Bowl victory.
Think how good the Ducks' QB play has been since Kelly arrived in Eugene. Now, how many of these former Ducks quarterbacks had NFL success? It's obvious that Kelly finds ways to make his QB successful.
And guess what: Mariota is the most physically talented signal-caller Kelly has coached. He could become the first Kelly QB to become a high NFL draft pick and then a starter.
Sure, the bar has been set high. Anything less than another BCS bowl appearance would disappoint most Oregon fans. But, as things look at present, the odds are fairly good the Ducks will receive a fourth consecutive BCS bowl berth.
Finally, there is always this: Mariota is a redshirt freshman. He's, inevitably, going to have some boneheaded moments. But his youth also means the Ducks -- and Kelly -- will have him for at least three more seasons. (If he opted to leave for the NFL draft after his redshirt sophomore year, well, he'd probably be pretty darn good).
That's the consolation if he's merely pretty good this year: He's got plenty of time to become outstanding.
But the guess here is Mariota puts up plenty of numbers as a dual-threat this season. And leaves us with plenty of "Wow!" moments.
August, 22, 2012
8/22/12
9:00
AM PT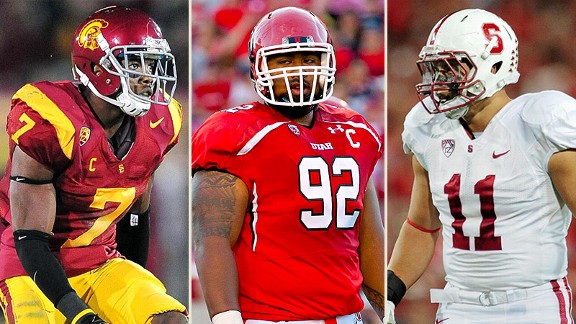 US PresswireThe Pac-12 boasts some of the best defensive talent in the country: USC safety T.J. McDonald, Utah defensive tackle Star Lotulelei and Stanford linebacker Shayne Skov.
In the depths of their offices, some of the best offensive minds in college football are grinding.
Chip Kelly is pondering how to get 10 more plays per game out of his offense.
Rich Rodriguez and Mike Leach are re-re-revolutionizing their attacks.
David Shaw is trying to figure out how to get nine offensive linemen, five tight ends and three fullbacks on the field at once.
Lane Kiffin has more offensive toys than an FAO Schwarz display.
"Option, option spread, I, heavy-I, pistol, triple-backs, full house, triple tights; it's something new every week," said Oregon linebacker
Michael Clay
. "It makes every week pretty interesting."
The Pac-12 is widely regarded as the conference of offenses. And they are only getting better. Prior to 1990, only twice has a team led the conference with a scoring average of more than 40 points. Since 1990, it's happened nine times -- including USC's conference best of 49.1 points per game in 2005.
That means being a defensive player in the Pac-12 is awfully difficult.
[+] Enlarge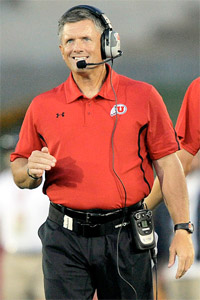 AP Photo/Mark J. TerrillKyle Whittingham says his defense must be able to adapt to the different offenses in the Pac-12.
"You get Andrew Luck one week and then
Matt Barkley
the next," said USC safety
T.J. McDonald
. "The preparation is on a whole other level compared to other conferences. There are great quarterbacks and great receivers and running backs. But the culture of this conference has changed. They've forced defenses to get better."
As the spread offense became chic and more teams were stretching defenses, they were forced to respond in kind. Gone are the days of everyone lining up in a base 4-3 and slugging it out. Now defenses are evolving into multiple fronts, exotic and disguised coverages and zone blitzes.
Utah coach Kyle Whittingham should know. He and UCLA coach Jim Mora are the only head coaches in the conference with a defensive background.
"We're definitely the minority," Whittingham said with a laugh. "It's a broad spectrum. Defensively, in this day and age, you have to be able to defend it all anyways. When the spread became en vogue 10-12 years ago it caught on like wildfire. Now almost everyone has a version of it. You have to be equipped to deal with whatever you come across week in and week out and have a scheme that is flexible enough and adaptable enough that you can cover all of your bases.
"Things go in cycles. The spread becomes en vogue and takes a while for the defense to catch up. Then the zone blitz was giving offenses fits and the offenses had to catch up to that. I think everything in football is cyclical and if offense has the upper hand right now, it won't be too further down the road where that role is reversed."
And that time might be coming sooner than later. Utah, California, USC, Oregon and Stanford all have defenses that are very good and bordering on elite. But the numbers don't always add up because in this conference, you are going to give up yards and you are going to give up points.
"Part of it is innovation," Shaw said. "Part of it is Chip Kelly and Mike Leach and Rich Rodriguez. The thing is, you can use the word 'spread' offense for half the teams in our conference, but they are all different. You can say 'pro-style' offense, which is what you would say about us and USC, but they are so different. The hard part of playing defense in our conference is every single week, you are playing against something you didn't see the week before.
"Cal has a pro-style offense. But their passing is different than our pass game and their running is different than our running game. And theirs is different from USC's. You are going to play a nine-game conference schedule and every single offense you play is going to be completely different. Defensive coordinators -- and we've got a really good group in this conference -- defensive coordinators and players have to flush a lot of what you watched the week before and study film hard the next week because you're going to see a different animal."
The conference also has the players to back up the defensive hype. Stanford linebackers
Chase Thomas
and
Shayne Skov
are projected as two of the best at their positions. Utah defensive tackle
Star Lotulelei
is regarded as the best defensive tackle in the nation and McDonald is a returning All-American.
And while perception might never really change nationally since the conference keeps chugging out A-list offensive players, Washington quarterback
Keith Price
says he's seen the difference.
"The difference between us and some of those other conferences is the defensive linemen," Price said. "We've always had good skill players. They say the trenches is what separates the SEC from the other conferences. But you can see now that our conference is starting to get there. When you look at teams like Cal and Utah, their defensive lines are really tough."
July, 16, 2012
7/16/12
6:00
AM PT
Kevin and I are getting ready for Pac-12 media day next week. So should you. Here's a primer.
(You can see the
complete list of attendees here
).

Dates
: July 24
Location
: Universal Studios in Los Angeles
Big names in attendance
: Besides four new coaches, USC quarterback
Matt Barkley
, Utah defensive tackle
Star Lotulelei
, California wide receiver
Keenan Allen
, Washington quarterback
Keith Price
and Stanford outside linebacker
Chase Thomas
.
Big names not in attendance
: There are plenty of stars who won't be on hand, but it's hard to argue with the players attending.
So what can we expect?
Teams at the top will tamp down expectations. Teams at the bottom will bemoan a lack of respect and insist they don't give a flip about so-called pundits.
Every team will claim an outstanding offseason, perhaps even calling workout attendance "the best ever." There's a good chance many will be exaggerating.
Four new coaches will get their biggest formal introduction to Pac-12 reporters: Arizona's Rich Rodriguez, Arizona State's Todd Graham, UCLA's Jim Mora and Washington State's Mike Leach. They will be impressed by how awesome we are.
Barkley will be asked about opting not to enter the NFL draft. The Pac-12 blog challenges him to figure out a way to answer the question in a surprising way.
Oregon coach Chip Kelly will be snarky, no matter how awesome we reporters are.
Subjects likely to come up: USC wide receiver Robert Woods' ankle, Utah quarterback Jordan Wynn's shoulders, Matt Scott running Rich Rodriguez's spread-option, the status of Arizona State defensive end Junior Onyeali, USC's depth questions and Kenjon Barner replacing LaMichael James. How much can Cal quarterback Zach Maynard and Oregon State quarterback Sean Mannion improve from Year 1 to Year 2? What's the quarterback pecking order at Arizona State, Colorado, Oregon, Stanford and UCLA? Other issues include whether Utah running back John White IV prefers to be known as "Juan Blanco" or "The Wolfman," Tosh Lupoi's departure from Cal to Washington and Leach's affinity for Pirates.
Graham will be asked about his controversial departure from Pittsburgh for the 10,000th time, and the reporter who does so will win a set of steak knives (there's a reason reporters ask the same question over and over).
California coach Jeff Tedford and Oregon State coach Mike Riley will be asked if they feel pressure or feel like they are on the hot seat. Both will say no one puts more pressure on them than themselves and that there is always pressure.
Leach will go off on a lengthy tangent that has nothing to do with anything but likely will be interesting and amusing.
Stanford coach David Shaw and his players will be asked about life after Andrew Luck.
The UCLA contingent will be asked about USC.
"Teeth" Price will smile. A lot.
Lane Kiffin will say nothing controversial. And some of us will miss the old Kiffin.
Someone during post-interview small talk will say, "Man, Star Lotulelei... that dude is big."
The coaches will each be asked 47 times about the four-team college football playoff that will start in 2014.
Here's a guess that at some point someone asks about Joe Paterno.
Oregon and USC will be nearly unanimous choices to win the North and South Divisions, respectively, but somebody will vote differently just to be quirky.
July, 11, 2012
7/11/12
1:32
PM PT
ESPN.com's series on FBS coaches continues with this question: Which coach in the Pac-12 provides the biggest bang for the buck?
That's tough to answer for a number of reasons.
There are four new coaches in the Pac-12 this season.
There were two new coaches last season.
USC and Stanford, as private schools, don't provide salary information for their coaches, though USA Today reported that Lane Kiffin made $2.4 million in 2010, way less than had been widely reported.
Two years ago, it would have been easy to say that Oregon State's Mike Riley provided the most bang for the buck. Riley won 36 games from 2006-09 before the Beavers tumbled to consecutive losing seasons. And he did that with a
fairly modest salary
.
[+] Enlarge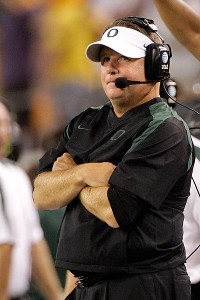 AP Photo/Tony GutierrezChip Kelly may be the Pac-12's highest-paid coach, but he's worth the money.
Here are the latest numbers.
Chip Kelly, Oregon, $2.8 million

Lane Kiffin, USC, $2.4 million*

Jim Mora, UCLA, $2.4 million**

Jeff Tedford, California, $2.3 million

Steve Sarkisian, Washington, $2.25 million

Mike Leach, Washington State, $2.25 million

Todd Graham, Arizona State, $2 million

Kyle Whittingham, Utah, $2 million

Rich Rodriguez, Arizona, $1.91 million

Mike Riley, Oregon State, $1,313,471

Jon Embree, Colorado, $725,000
*It's perfectly reasonable to posit that Kiffin made more than this in 2011 and also will in 2012.

**Mora's number is an average of his five-year, $12 million contract. He'll likely make less than this figure this season.
By the way, David Shaw's salary at Stanford has been
estimated at $1.75 million
. It seems, in any event, that it's too early to rate Shaw and Colorado's Embree as second-year coaches. And it makes no sense to look at the track record of the four new coaches, because the past doesn't mean anything for the new schools, though you could say Arizona got Rodriguez at below market value.
So who provides the most bang for the buck? I have two answers: Whittingham and Kelly.
Why? Well, name the two coaches on the above list who have won BCS bowl games at their present job.
Whittingham is 66-25 (.725) at Utah, including double-digit wins in three of the past four seasons. His worst season in seven years was 7-5 in 2005. After an 0-4 start in Pac-12 play last fall, he rallied his team behind a backup QB who transferred from Nebraska-Omaha, and the Utes nearly won the South Division. Oh, and he's 7-1 in bowl games.
Further, Whittingham has been loyal to Utah. He's had opportunities to leave but he's stuck around.
Kelly is the Pac-12's highest-paid coach by a fairly wide margin. He was guaranteed $2.8 million in 2011 and will make $3.5 million this season,
according to USA Today
. So why does he rate highly in terms of bang for the buck? Well, there's a 34-6 (.850) record, including a 25-2 mark in Pac-12 games (.926). And there are three consecutive conference titles. And an undefeated regular season in 2010, after which the Ducks fell just short of beating Auburn for the national title. And there's the Rose Bowl victory over Wisconsin in January.
Kelly has delivered a super-elite level of performance in his three seasons. If you were to name the nation's best coaches, you wouldn't have to wait long after Nick Saban and Urban Meyer to get to Kelly.
He gets big bucks, yes, but he has delivered unprecedented bang to the Ducks' program.
Any Oregon fans think he's overpaid?