Oregon Ducks:

Jeremiah Masoli
May, 6, 2013
5/06/13
5:00
AM ET
Much has been made of Chip Kelly's departure from Oregon, and many questions remain regarding how new head coach Mark Helfrich will handle the red-hot Oregon program in his first stint as a head coach. How much will things change in Eugene?
Through the first spring under Helfrich, it looks to be more of the same for the high-flying Ducks. That is true on the field and in their search for the next Oregon quarterback.
To continue reading this article you must be an Insider
January, 14, 2013
1/14/13
9:00
AM ET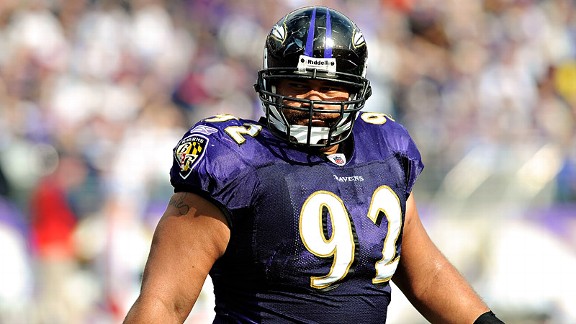 G Fiume/Getty ImagesHaloti Ngata lived up to his five-star hype at Oregon and brought that success to the NFL.
For those Oregon fans who worry about how many commitments the Ducks have at this point in the recruiting cycle, all they need to do is take a look back over the past decade or so, starting with the 2002 recruiting class, when the Ducks landed some guy named
Haloti Ngata
on signing day.
With a handful of spots to fill in the class of 2013, DuckNation decided to take a look back at who the Ducks have added in the final weeks of the recruiting cycle in each year since 2003.
To continue reading this article you must be an Insider
December, 28, 2012
12/28/12
10:30
AM ET
SCOTTSDALE, Ariz. -- There is a school of thought, now apparently subscribed to by a handful of desperate NFL teams, that if that uber-suave, hirsute gentleman from those wildly entertaining Dos Equis beer commercials revealed his true identity, he would rip off a bearded mask and reveal Chip Kelly.
Is Kelly the most interesting man in the world?
Pause for a moment before chortling over our potential hyperbole, for Kelly has packed a lot into his 52-game tenure at Oregon, including 45 victories.
[+] Enlarge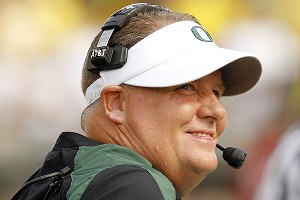 AP Photo/Don RyanChip Kelly doesn't often discuss his life with writers, but when he does, his answers are revealing.
He has run with the bulls in Pamplona. He has led the Ducks to three Pac-12 titles and four BCS bowl games. He has done humanitarian work in Africa. He has produced Oregon's first Rose Bowl victory in 95 years. He has visited U.S. troops in Iraq and Afghanistan.
Kelly, 49 and single, is also fiercely private. He has never cooperated with any truly in-depth "This is your life, Chip Kelly!" story, which is exceedingly rare for a high-profile coach. Nearly all his close friends are back in New Hampshire, where he's from and where he went to college.
Kelly doesn't like glad-handing boosters, something often viewed as a prerequisite for being a college coach. He particularly dislikes talking to reporters, and he goes to great lengths to make sure they understand.
The Dos Equis guy says, "Stay thirsty, my friends." Kelly would say, "Stay away, annoying hangers-on."
Yet the vast majority of Ducks fans not only love all the winning, they love Kelly for his wiseacre, smirking self. They chant "Big Balls Chip!" inside rocking Autzen Stadium to celebrate Kelly's penchant for going for it on fourth down, going for 2 and launching onside kicks at surprising times.
He tells fans, "Shut up!" for cheering behind him during an ESPN postgame interview, and they love him more. A Twitter page,
Chipisms
, celebrates not only Kelly's amusing or insightful wisdom -- "I saw the 'Feel Sorry for Yourself' train leaving the parking lot & none of our players were on it, so that was a good sign" -- but also for his snark.
Inquiries that Kelly doesn't like might get one-word answers, clichéd responses or snappy rejoinders that belittle his inquisitors. Questions that engage him, however, receive full and thoughtful treatment. Consider this response from an ESPN story on Kelly's trip to Africa, when he worked with adolescent girls who had no idea who he was.
"The real heroes are the little girls in Africa who are trying to better themselves so they can help their families," he said. "When I hear a coach say, 'We're grinding.' I'm like: You're sitting in a room with air conditioning watching videotape. That's not grinding."
There seem to be three facets to Kelly. His standoffish public face, the detail-obsessed coach and the Renaissance man determined to drink life to the lees away from the game. Even the hard-driving, "win the day" side of Kelly can loosen up behind closed doors; those who work with him frequently cite his sense of humor.
"He [jokes around] all the time," said offensive coordinator Mark Helfrich, a leading candidate to replace Kelly should he bolt for an NFL job. "It's not: 'Aha, he smiled! Isn't that amazing?' It's daily. We have a lot of fun."
Further, while Kelly's offense almost always runs like a finely tuned machine, plenty of, er, interesting things have been interspersed with winning during Kelly's tenure. Drama has not been lacking over the past four seasons.
His first game as Oregon's head coach remains his worst: A 19-8 loss at Boise State. Not only did the Ducks gain an embarrassing 152 total yards, but Kelly's star running back LeGarrette Blount punched a Broncos player afterward, bringing the hot light of controversy to his team's feckless performance.
Some thought Kelly was in over his head. He answered that by becoming the first Pac-10 coach to lead a team to an outright conference championship his first season.
Oh, and in a sign of interesting things to come, when a season-ticket holder wrote Kelly demanding a refund for his expenses incurred after attending that disastrous trip to Boise, Kelly quickly fired off a note with a personal check for $439.
Heading into 2010, starting quarterback Jeremiah Masoli was suspended after he was involved in the burglary of an Oregon fraternity house. Losing a star quarterback typically would damage a team's chances, but all Kelly's team did was finish undefeated and play for the national championship, losing 22-19 when Auburn kicked a last-second field goal.
The NCAA came calling during the 2011 offseason, wanting to know details of Kelly's and the program's dealings with street agent Willie Lyles. A distraction? Nope. Oregon won the conference a third consecutive year and the Rose Bowl against Wisconsin.
Kelly then nearly left for the Tampa Bay Buccaneers. His quarterback, two-year starter Darron Thomas, had already opted to leave the program, which again threw into question the Ducks' prospects. But Kelly returned and so did the winning, with redshirt freshman
Marcus Mariota
earning first-team All-Pac-12 honors while leading the Ducks to a No. 4 ranking and a Fiesta Bowl berth opposite Kansas State.
Yet he arrives at the Fiesta Bowl amid swirling rumors that he's about to leave for his pick of available NFL jobs. Asked about his NFL ambitions this week, he gave a 235-word answer that essentially said "no comment."
"My heart is to win the day, and that's it," he concluded. "I know everybody wants to hear a different answer, and I know at times when I don't give you guys the answer you guys want, then I'm being evasive. I'm not being evasive. My job is to coach the University of Oregon football team, and I love doing it. And that's what I'm going to do."
So the question will linger for a coach who at the very least is currently the most interesting man in college football: Will the Fiesta Bowl be his last day to win for Oregon?
August, 24, 2012
8/24/12
10:57
AM ET
After a long battle that led to much speculation and many predictions, the Oregon Ducks have a starting quarterback.
The Ducks named redshirt freshman
Marcus Mariota
the starter. The 6-foot-4, 215-pound Mariota battled with third-year sophomore
Bryan Bennett
all throughout the spring and summer. On Friday, it was announced that Mariota had earned the job.
Mariota has drawn many comparisons to former Oregon quarterback Dennis Dixon for his smooth demeanor, athleticism and ball fakes in the spread option. The biggest difference? Mariota is more polished than Dixon was at this stage in his career.
Dixon had a magical senior year that might have ended with a Heisman Trophy and a national championship in 2007 if not for a season-ending knee injury. Before his senior season, Dixon was a great athlete with a lot of upside. Once Kelly arrived, Dixon went from an enigma to the best player in college football.
[+] Enlarge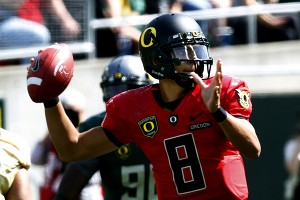 AP Photo/Don RyanRedshirt freshman Marcus Mariota was named Oregon's starting quarterback.
Mariota was redshirted last season as he developed under Kelly and offensive coordinator Mark Helfrich. The Ducks had junior Darron Thomas as a second-year starter and hoped to bring Mariota and Bennett, Thomas' backup last season, along slowly.
Thomas decided to forgo his senior season and enter the NFL draft, leaving the Ducks in what many perceived to be a tough spot. But there are those inside the program who believe Bennett and Mariota both bring better athleticism and overall ability than Thomas. They just don't have the experience.
But Thomas didn't have experience when Jeremiah Masoli was booted from the team before the 2010 season. Thomas rose to the occasion and guided the Ducks to their greatest season ever. With his departure, it is Mariota's turn to take the keys to the offense.
Mariota quickly rose to the occasion and had the Ducks faithful on the edge of its seats during the spring game. His performance sparked memories of Dixon's 2007 season that left fans wishing that Chip Kelly would have connected with Dixon before his senior year.
Oregon fans watched nine games of Dixon at his best. With four years of eligibility left, Mariota has the potential to do what Dixon couldn't finish during his senior year.
Many expected the Ducks to take a step back when Masoli was dismissed from the team. Masoli was effective, but he had limits on what he could do. Thomas set records and took the Ducks to new heights while displaying a unique style that left people thinking how good he could be if he tightened up his game.
Mariota is already more polished than Masoli or Thomas. The two previous quarterbacks made amazing plays for the Ducks and had legendary two-year careers in Eugene. They also left fans holding their breath in anticipation of both good and bad.
Now the Oregon program is looking at a future with a possible four-year starter who is already ahead of the game.
Speaking of games, the only one fans have seen Mariota involved in was the Ducks' spring scrimmage. Now he has to prove it against real opponents. An easy opening schedule should provide ample opportunity for Mariota to sharpen things up. It starts Sept. 1 against Arkansas State.
August, 7, 2012
8/07/12
4:06
PM ET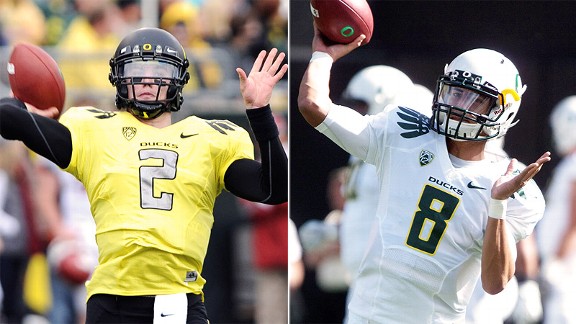 Getty Images/AP PhotoBryan Bennett and Marcus Mariota will battle for Oregon's starting QB job throughout August.
Oregon coach Chip Kelly has no use for depth charts before preseason camp is over. He sees 22 practices before earnest game preparation begins for the Sept. 1 opener against Arkansas State. A lot can happen in 22 practices.
"Everything is open," he said.
Sure, there's a little bit of coach-speak there. With 14 starters back from the 2011 Pac-12 champions, as well as plenty of key backups, it's actually not terribly difficult to project most of the Ducks' starting positions. There are plenty of the usual suspects, from
Kenjon Barner
, to
Dion Jordan
, to
John Boyett
, to
Michael Clay
to
De'Anthony Thomas
to
Jackson Rice
.
But Kelly isn't one to obsess about crowning starters on a depth chart even when games begin. To him, a strong two-deep is the thing to remain the Pac-12 king.
"I think we've really developed depth here the last couple of years," he said. "Everybody understands that. It's not about being the No. 1 guy. It's about being in the rotation."
Ah, but there is one special spot that will keep Ducks fans agog and, really, is one of the major preseason questions in all of college football: Who's going to replace Darron Thomas at quarterback?
Marcus Mariota
, who had the standout spring game? Or
Bryan Bennett
, who stepped in admirably for an injured Thomas a year ago?
"I've got a lot of faith -- after seeing Bryan for a couple years now, and Marcus for a full year now -- in both those guys' abilities to play," Kelly said.
A top-five preseason ranking in just about every poll, including the recently released coaches poll, suggests many share Kelly's faith that QB won't be a big issue. But faith isn't certainty. Competing for the starting job is one thing. Leading a top-five team is another. Just because Dennis Dixon blossomed and Jeremiah Masoli and Thomas had success as first-year starters under Kelly doesn't mean that will always be the case, and Kelly admitted as much.
"Their first snap is going to be really our first look at how they handle it," he said. "I anticipate them being very successful, but we'll see. That's obviously a big question for all of us."
Kelly also said he's not opposed to playing two guys, though he said his experience in such competitions is there's typically a clear winner.
As far as what Kelly is looking for out of his starter, it's a mixture of measurable performance -- efficiency, protecting the football, running the plays correctly -- and less tangible things -- leadership, instincts, moxie, etc.
"I can't give you a concrete thing -- a 'hey, I need to see this,' " he said.
Of course, fans and media won't see much of anything as practices and scrimmages are closed. While scuttlebutt will certainly get out, it will be difficult to know how reliable it is. Here's a guess there will be conflicting reports from players who enjoy toying with media, students and other fans trying to pry out tidbits of information. It's unlikely anything will be official before Aug. 24, and Kelly may even wait until the Monday before the season-opener.
Everyone in the know, however, knows it's going to be Mariota. No, Bennett. No, Mariota. Bennett!
Let the speculation begin.
August, 5, 2012
8/05/12
1:21
PM ET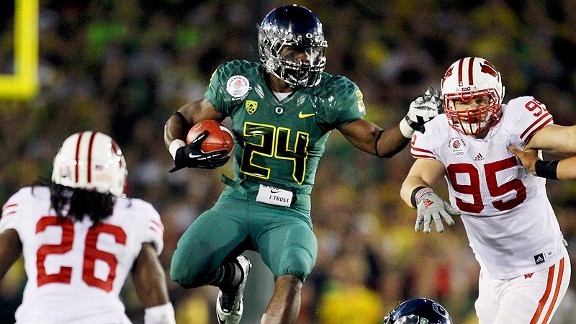 Jeff Gross/Getty ImagesKenjon Barner should get the majority of carries in the backfield this season.
The defending league champion
Oregon Ducks
kick off their quest for a Pac-12 four-peat when fall camp kicks off on Monday. The Ducks won the last two Pac-10 titles and the inaugural Pac-12 title; now they want to be the first back-to-back Pac-12 champions.
When fall camp kicks off there will be many familiar faces and also some notable players missing.
Gone are record-setting quarterback Darron Thomas, all-time leading rusher LaMichael James, team MVP David Paulson, the team's most improved player, Eddie Pleasant, and Rose Bowl Offensive MVP LaVasier Tuinei. How will they replace the departed stars? Who will step up? Is a fourth consecutive league title possible?
To continue reading this article you must be an Insider
July, 20, 2012
7/20/12
10:00
AM ET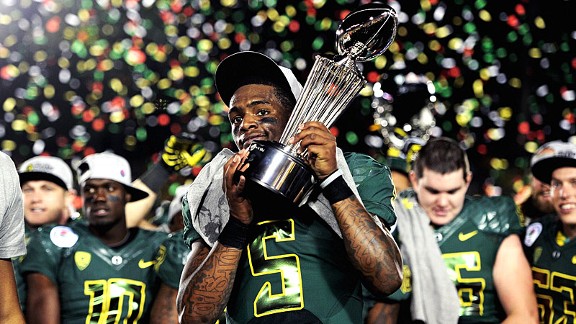 Harry How/Getty ImagesAlthough his decision to leave school early was questionable, Oregon Ducks fans can't argue with the success that Darron Thomas brought them in his two years as a starting quarterback.
Oregon Ducks
fans have been witness to one of the greatest rises in college football history over the past two decades. The Ducks have risen from cellar dwellers to one of the hottest names in all of college football. The facilities, the uniforms and the Nike connection have all played a big role in the Ducks' rise to the top of the Pac-12.
Along with the success and the increased exposure nationally, has come a major boost in recruiting elite athletes to come to Eugene. It isn't always the high school All-Americans that turn into college stars. Oregon has made a living finding "diamonds in the rough" that have helped build a powerhouse in Eugene.
There have been some big names in the recruiting world who chose to play their college ball in Eugene, but how many of them have lived up to the hype?
To continue reading this article you must be an Insider
ESPN 300 Ranking Motivates Byron Cowart
PAC-12 SCOREBOARD
Thursday, 8/28
Friday, 8/29
Saturday, 8/30