Oregon Ducks:

Jake Fisher
February, 13, 2013
Feb 13
9:41
AM ET
With the 19 players signed last week, Oregon landed some players who might remind their fans of former Ducks.
To continue reading this article you must be an Insider
January, 14, 2013
Jan 14
9:00
AM ET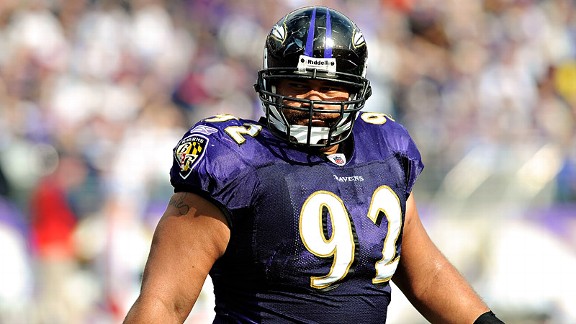 G Fiume/Getty ImagesHaloti Ngata lived up to his five-star hype at Oregon and brought that success to the NFL.
For those Oregon fans who worry about how many commitments the Ducks have at this point in the recruiting cycle, all they need to do is take a look back over the past decade or so, starting with the 2002 recruiting class, when the Ducks landed some guy named
Haloti Ngata
on signing day.
With a handful of spots to fill in the class of 2013, DuckNation decided to take a look back at who the Ducks have added in the final weeks of the recruiting cycle in each year since 2003.
To continue reading this article you must be an Insider
December, 28, 2012
12/28/12
8:00
AM ET
In an effort to extend holiday gift-giving for a little bit longer, DuckNation has decided to take a look back at the best recruiting gifts the Oregon Ducks have received during the Chip Kelly era. There have been almost too many to count, but we have narrowed it down to five of the most noteworthy gifts that have exceeded expectations over the past few years.
The culture that Chip Kelly has created around the program has attracted some elite players, but the Ducks have built their program by going out and find the best hidden gems on the market. Some of the best recruiting gifts over the years have come in the form of players that no one else seemed to want.
We all get a gift or two that initially doesn't do much for us, but turns out to be quite valuable. It was tough to narrow this list to just five, but the first one should come as no surprise.
To continue reading this article you must be an Insider
December, 20, 2012
12/20/12
1:47
PM ET
It has been an up-and-down week for Oregon and its efforts to reinforce its offensive line. With seniors
Nick Cody
,
Ryan Clanton
and
Carson York
finishing their careers after the Tostitos Fiesta Bowl, the Ducks have been planning to add three or four offensive linemen to their 2013 recruiting class.
[+] Enlarge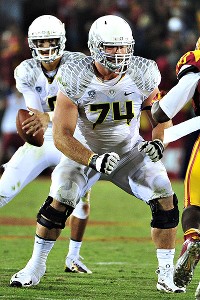 John Green/CSM/ AP ImagesWith the NCAA turning down Kyle Long's appeal for extra eligibility, Oregon will be looking for more offensive linemen.
The Ducks and their fans had been awaiting word on the status of standout senior OL
Kyle Long
's appeal for an extra year of eligibility. After the NCAA declined Long's appeal this week, the Ducks know what they are faced with. It now appears the Ducks will look to add a fourth lineman to offset the loss of Long.
The Ducks will return three starters along the line --
Hroniss Grasu
,
Jake Fisher
and
Tyler Johnstone
-- and currently have three offensive line commits expected to join the program next summer. The three players --
Evan Voeller
(West Linn, Ore./West Linn),
Doug Brenner
(Portland, Ore./Jesuit) and
Jake Pisarcik
(Medford, NJ/Shawnee) -- are all likely destined for redshirts once they arrive on campus.
To continue reading this article you must be an Insider
December, 19, 2012
12/19/12
5:02
AM ET
The Oregon Ducks never have had the benefit of loading up on local players who grew up dreaming of playing for Oregon. The talent level in the state just isn't there, and it likely never will be. The Ducks always have recruited California as well as can be expected. In recent years, the Ducks also have done a great job of going into states that aren't exactly Oregon pipelines and convincing recruits to join up.
To continue the series of Oregon's recruiting by state, DuckNation examines the success -- or lack thereof -- the Ducks have experienced when recruiting the states of Michigan, Ohio and Pennsylvania over the past decade. There haven't been many, but over the past two years the Ducks flipped two Michigan commits and beat Michigan, Ohio State and others for a third player.
Here is a look at who the Ducks have offered -- and signed -- from the three states over the past decade.
To continue reading this article you must be an Insider
November, 15, 2012
11/15/12
7:30
AM ET
Under Chip Kelly, the Oregon Ducks have arguably become the hottest program in college football, both on the field and in recruiting.
Since Kelly first arrived in 2007, the Ducks have flipped LaGarrette Blount (Florida State) Darron Thomas (LSU), De'Anthony Thomas (USC) and Bralon Addison (Texas A&M) in recent years, proving they can go against the best and convince some of their top prospects to switch their commitments and ultimately sign with the Ducks.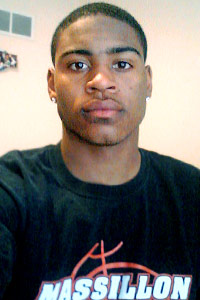 Courtesy Conley FamilyCould Ohio cornerback Gareon Conley decommit from Michigan and sign with Oregon?
The Ducks have become the trendy program out West, if not the entire country. By playing hard to get, or as Kelly calls it, "doing our due diligence," the Ducks leave kids yearning for an offer and a visit to campus.
To continue reading this article you must be an Insider
November, 5, 2012
11/05/12
6:16
AM ET
After a second straight offensive masterpiece in the LA Coliseum, the
Oregon Ducks
have now won four of the past six meetings with USC. Since Oregon's modern era of football began in 1994, the Ducks have won nine of the 15 meetings with the Trojans. In that same time period, USC has beaten the Ducks for numerous recruits. With all of USC's success on the recruiting trail and its ideal location, how have the Ducks been able to have the edge on the field?
[+] Enlarge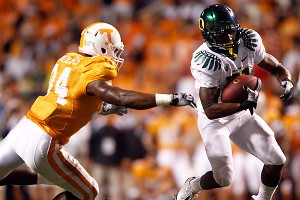 AP Photo/Wade PayneLaMichael James was a two-star recruit, but starred at Oregon.
Oregon's success can be attributed to coaching, player development and finding the right players who buy in to the system. In spite of all the flash and recent success, the Ducks still have to fight harder for recruits than nearly every program out there. Having unlimited recruits within a couple of hours drive of your campus gives programs like USC a built-in advantage that can't be understated.
Each year, USC could essentially pick a recruiting class full of elite prospects who grew up dreaming of playing for the traditional powerhouse. On the other hand, the Ducks usually have two or three local recruits to choose from.
To continue reading this article you must be an Insider
October, 25, 2012
10/25/12
5:17
PM ET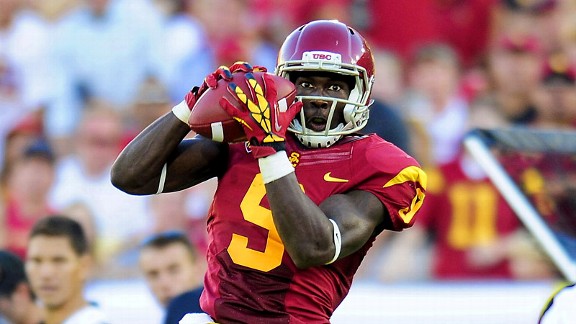 Cal Sport Media/AP ImagesYeah, Oregon's offense is elite already, but how good would it be if it had gotten Marqise Lee to sign in 2011? Pac-12 defenses shudder at the thought.
Under Chip Kelly, the Oregon football program has risen to a level few ever thought it could reach. His coaching style and aggressive schemes have led the Ducks to become a powerhouse program. While they are still far from a recruiting powerhouse, the influx of elite talent is one of the biggest reasons for their recent success. On Kelly's watch, the Ducks have secured a number of top prospects, including one of the biggest recruiting coups ever when they flipped
De'Anthony Thomas
after a long commitment to USC. Thomas has been brilliant in his time with the Ducks. Even with the Ducks' new recruiting prowess, taking a local legend out from under the thumb of a school like USC is the exception more than the rule.
There have been a few notable misses and some heated recruiting battles in the Kelly era that could have made this season's Ducks -- one of the best teams in school history -- nearly unbeatable. With some members of the Class of 2008 still in college, we'll look at what the Ducks could have looked like had they landed a few more of their key recruits.
2008
To continue reading this article you must be an Insider
September, 13, 2012
9/13/12
4:40
AM ET
When looking across the college football landscape, one of the more common themes among elite programs is that in spite of all the talent within their programs, recruits flock to the campuses of schools like USC and Alabama.
Most of the top programs are littered with future NFL players and rely on talent and depth more so than experience. Experience helps in close games and road contests, but when you look at Alabama, Florida, LSU, USC and other elite programs, the best players play no matter their age.
In years past, the
Oregon Ducks
had years where they made an occasional run towards the top and while those Ducks teams had elite players, it was experience and leadership that guided them to the near the top of the rankings.
More recently however, Oregon has been on a rise up the recruiting charts under Chip Kelly and the results are beginning to show. A look at the two-deep roster and it is easy to see the progression the Ducks have made under Kelly.
Under former coach Mike Bellotti, the Ducks often relied on upperclassmen to lead them. While Kelly and his staff would prefer to have a team led by upperclassmen, they know they can't keep players like
De'Anthony Thomas
,
Jake Fisher
and Addison off the field.
During Pete Carroll's tenure at USC, opposing fans often wondered how, in spite of a loaded roster, USC could continue to haul in recruiting classes overflowing with elite talent every year.
The same can be said for many top programs and there are a number of reasons for it.
A big reason is that competition breeds success. When a team has to work that hard every day in practice just to see the field, it makes Saturdays seem that much easier.
Oregon is still not on the level of the other programs, and at least in terms of recruiting, it never will be. That being said, there are talented players now flocking to Eugene to play for Kelly and the high flying Ducks.
Ducks' freshman wide receiver Addison could have gone to almost any school he wanted to, but chose to sign with the Ducks because he knew his potential and talent would be optimized in Kelly's system. He didn't care that Thomas had two years left in the spot he will likely assume once Thomas moves on. What Addison cared about was getting better as a player and having a challenge in practice every day.
After impressing coaches and teammates alike during fall camp, Addison has already seen plenty of action in the Ducks first two games. While there have many a couple freshman mistakes early on, you can see the potential that he and the other young players on the roster possess.
Some might question whether a team can have too much young talent, thus making them an undesirable destination for recruits. While it can be a deterrent for some prospects, especially at the quarterback position, the reason the top programs are on top and will stay on top is due to the culture of competition they create within the program.
Chip Kelly's "Win The Day" slogan, is more than a catch phrase. It's a way of life. He looks for players that will buy into that mantra and lets them decide their place in the program with how hard they work.
So far, so good.
August, 23, 2012
8/23/12
10:00
AM ET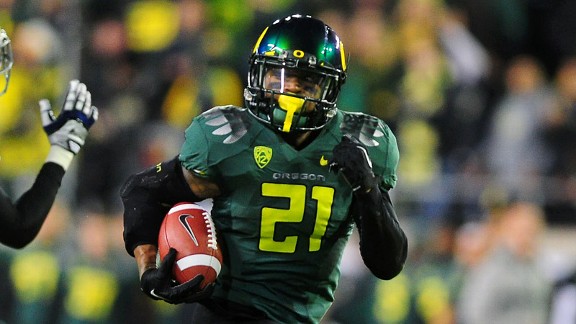 Mark J. Rebilas/US PresswireLaMichael James was overlooked when Oregon recruited him out of Texas in 2008. He ended up his career as the Ducks' leading rusher.
As Oregon has become a national name over the past decade, its recruiting reach has expanded to never before seen levels.
The Ducks will always have California as their most fertile recruiting ground and the place from which the foundation of the program is built. But as the Ducks have become a more recognizable brand in recent years, they have been able to attract the attention of recruits from far and wide.
Here is a look at what the Ducks have been able to accomplish over the past decade when recruiting the Central and Eastern time zones. There have been some major hits, some hidden gems and also some big disappointments.
To continue reading this article you must be an Insider
August, 22, 2012
8/22/12
7:00
AM ET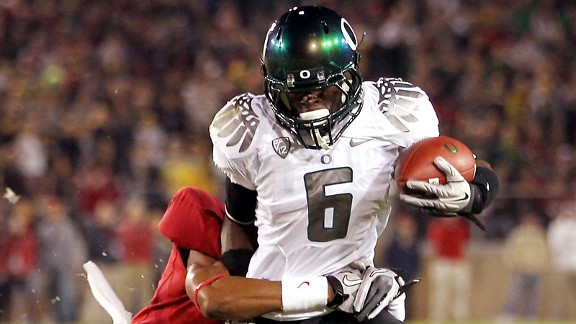 Ezra Shaw/Getty ImagesOregon coach Chip Kelly is not really concerned where talents like De'Anthony Thomas played in high school. If they are athletic, he'll figure out a way to utilize them properly.
Some of the top college football programs are defined by one thing. For Alabama, it's defense. For the
Oregon Ducks
, it's speed.
Under Chip Kelly the Ducks have changed the way the game is played. They look fast, they practice fast and they play faster.
The Ducks' roster is full of speed at every position. The biggest reason is that Kelly lives by the philosophy that you can't teach speed, but you can recruit it. You can certainly mess around with it, too. Finding a way to get his best athletes on the field is one of Kelly's biggest strengths.
When it comes to recruiting, Kelly lives by the same philosophy. Like everything else about the Ducks, their recruiting approach is unique.
When looking to fill out their recruiting classes, the Ducks look for athletes first. A quick look at the current roster reveals numerous examples of this.
Wide receiver
Josh Huff
played quarterback and running back in high school. Sophomore phenom
De'Anthony Thomas
played running back and safety at Crenshaw High in Los Angeles.
Kenjon Barner
started his Oregon career at cornerback before switching to running back. Former Ducks player Jeff Maehl was a safety before injuries forced him to move to wide receiver as a freshman. The Ducks want athletes who can play multiple positions. If a player is good enough, he will be on the field in some way, shape or form.
In last year's recruiting class, the Ducks landed a Thomas-type player when
Bralon Addison
signed with the Ducks. Addison played quarterback for his team high school team last year.
Now Addison seems primed for a breakout season as a freshman after drawing praise throughout fall camp for his game-breaking ability at receiver and as a returner. It extends beyond the skill positions, as well.
The offensive line presents one of the biggest challenges for the Ducks, as not every lineman wants to play in the zone-heavy, hurry-up scheme that Kelly runs. The Ducks look for athletic big men that can move around the line and get up to the second level.
Sophomore center
Hroniss Grasu
played only three years of football before getting to Oregon. He focused on soccer and basketball growing up. His athleticism and versatility are exactly what the Ducks look for. Sophomore
Jake Fisher
, who played tight end in high school, earned significant playing time on the offensive line as a freshman in 2011. Fisher appears to have a leg up for a starting spot on the line in 2012.
The Ducks want their best athletes on the field and will make it happen through position changes at a moment's notice.
Dion Jordan
was recruited as a wide receiver for the Ducks before switching to tight end as a freshman. His versatility and the Ducks' desire for an athletic pass rusher led Jordan to the defensive end position. After a first-team All-Pac-12 season a year ago, Jordan seems destined to be a high NFL draft pick in 2013.
Christian French
signed with Oregon over schools like Notre Dame because the Ducks wanted him on the offensive side of the ball. This spring, French made the switch to defensive end and is now the heir apparent to Jordan as the athletic "drop end." It is much of the same when looking at this year's crop of recruits.
Athlete
Chris Seisay
(American Canyon, Calif./American Canyon) is already committed to the Ducks for 2013. At 6-foot-2, 185 pounds, Seisay plays wide receiver and cornerback in high school but will head to Oregon as a safety.
Two of the Ducks top remaining targets for 2013 are twin brothers
Tyrell Robinson
and
Tyree Robinson
(San Diego/Lincoln). The twins could play a number of positions in college. Wide receiver, safety and linebacker seem like the final destinations, but either could grow into a tight end or even a defensive end as they mature.
July, 31, 2012
7/31/12
7:59
PM ET
When offensive lineman
Sean Harlow
(San Clemente, Calif./San Clemente) made the call to commit to Oregon rival
Washington
, it took yet another prospect off the board for the Ducks staff.
With Harlow's commitment to the Huskies, it leaves just a few remaining offensive linemen out there that have Oregon offers. There remains a possibility that prospects will emerge this fall, but for now it is a limited group for the Ducks to pursue.
The Ducks had been in pursuit of Harlow but now another Orange County prospect is likely to see the heat turned up from the Oregon staff.
To continue reading this article you must be an Insider
July, 31, 2012
7/31/12
10:00
AM ET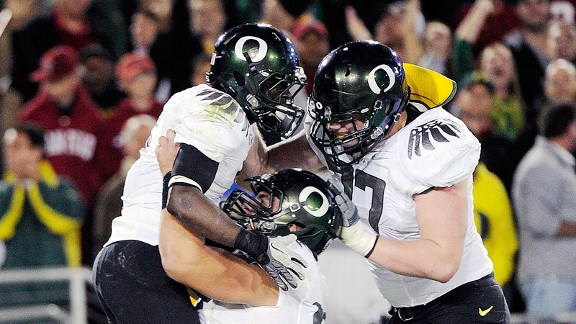 Photo by Thearon W. Henderson/Getty ImagesOregon sophomore center Hroniss Grasu (middle) is an example of the Oregon coaches recruiting a specific player to great profit.
When it comes to comparing Oregon to other elite college football programs, one thing that stands out is the talent development.
It has been debated at length, but regardless of what is argued, Oregon's success comes through finding the correct players to play a specific system. Certain players fit the Ducks' system and some don't.
Nowhere is that more apparent than on the offensive line.
To continue reading this article you must be an Insider
July, 25, 2012
7/25/12
10:00
AM ET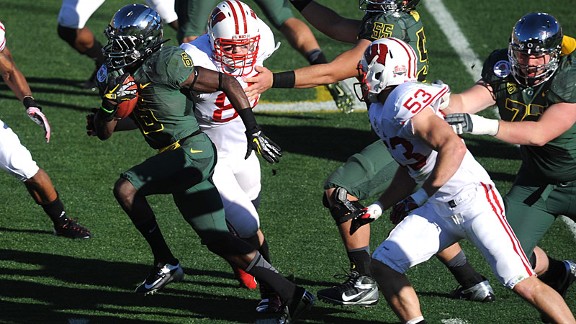 Kelvin Kuo/US PresswireDe'Anthony Thomas fulfilled his five-star hype, and then some, as a freshman in 2011 and could be a Heisman Trophy candidate this season.
Oregon Ducks
fans have been witness to one of the greatest rises in college football history over the past two decades. The Ducks have risen from cellar dwellers to one of the hottest names in all of college football. The facilities, the uniforms and the Nike connection have all played a big role in the Ducks' rise to the top of the Pac-12.
Along with the success and the increased exposure nationally has come a major boost in recruiting elite athletes to come to Eugene. It isn't always the high school All-Americans that turn into college stars. Oregon has made a living finding "diamonds in the rough" that have helped build a powerhouse.
There have been some big names in the recruiting world who chose to play their college ball in Eugene, but how many of them have lived up to the hype?
To continue reading this article you must be an Insider
Oregon Players Facing Discipline