Oregon center Hroniss Grasu talks about the Ducks' Fiesta Bowl victory over Kansas State and the program's future."
Oregon defensive end Dion Jordan talks about the defense's dominant effort in the Fiesta Bowl and his and Chip Kelly's potential NFL futures.
GLENDALE, Ariz. -- The Oregon Ducks donned new T-shirts after their 35-17 victory over Kansas State in the Totitos Fiesta Bowl. "Won the Day" those shirts said, obviously playing off the program's mantra under Chip Kelly: Win the day.
David Ubben and Ted Miller look back on Oregon's 35-17 victory over Kansas State in the Fiesta Bowl.
Oregon offensive coordinator Mark Helfrich talks about the Fiesta Bowl victory and the possibility that he might be Oregon's next head coach.
Oregon gives the Pac-12 a final 4-4 bowl record, though that record now includes victories in a pair of BCS bowl games.Here's how we see it following the Ducks' 35-17 victory over Kansas State.
GLENDALE, Ariz. -- The first half of the Tostitos Fiesta Bowl featured plenty of momentum swings, but Oregon's proved the most potent, even though the Ducks' running game struggled.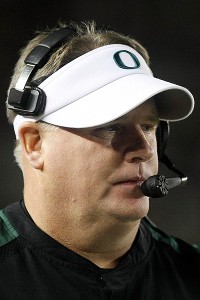 GLENDALE, Ariz. -- On Nov. 17, both Oregon and Kansas State lost their only game of the season. Otherwise, these two teams likely would have met each other for the national title in South Florida instead of at the Tostitos Fiesta Bowl tonight.
David Ubben and Ted Miller talk Chip Kelly's future; K-State and Oregon distractions; and a possible upset for the Wildcats from the field at University of Phoenix Stadium before tonight's Tostitos Fiesta Bowl.
Here are three Oregon keys for the Tostitos Fiesta Bowl:1. Win the turnover battle: Kansas State is No. 1 in the nation in turnover margin. Oregon is No.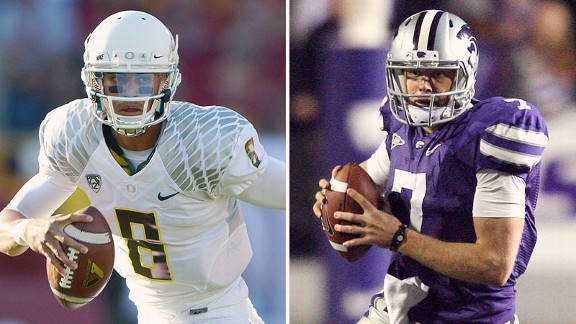 SCOTTSDALE, Ariz. -- The Tostitos Fiesta Bowl on Thursday night? Forget the corn chips; this matchup is about something else.It's the Regret Bowl. The What Might Have Been Bowl.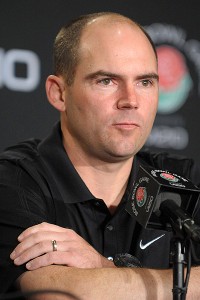 SCOTTSDALE, Ariz. -- The overwhelming sentiment at the Tostitos Fiesta Bowl is the game will be Chip Kelly's last as the Oregon head coach before he fills one of the seven new NFL vacancies.
Oregon CB Ifo Ekpre-Olomu talks about the Kansas State offense, Wildcats QB Collin Klein and former Duck Chris Harper, a K-State receiver.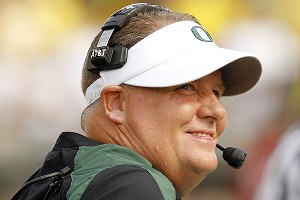 SCOTTSDALE, Ariz. -- There is a school of thought, now apparently subscribed to by a handful of desperate NFL teams, that if that uber-suave, hirsute gentleman from those wildly entertaining Dos Equis beer commercials revealed his true identity, he would rip off a bearded mask and reveal Chip Kelly.
As the bowl season approaches, we're going to be looking a little closer at each game. We'll go down the Big 12 bowl schedule in chronological order.TOSTITOS FIESTA BOWLNo.