Oregon Ducks:

Fiesta Bowl
April, 3, 2013
4/03/13
2:30
PM ET
Chip Kelly isn't terribly big. He's not notably loud, either. Nor is he typically expansive. Who he is, however, is -- was! -- the presence most often cited as transforming Oregon's football program from good to great. So his absence from the Ducks' first spring practice Tuesday was impossible to ignore.
Yet it's a tribute to the culture Kelly sought to create that it appears his players did a pretty darn good job of doing just that. Mostly.
"At first, a lot of the guys were talking about it," quarterback
Marcus Mariota
said. "It's a little different. But by the end of practice, it was good. Kind of the same. Once we got rolling, it was the same old game of football."
New coach Mark Helfrich, who was promoted from offensive coordinator, admitted to reporters that his first practice sans Kelly was "weird, at points." But Oregon moves too fast to stop for navel-gazing. It's "next man in" when a player or coach leaves or goes down, and so it will be for the beginning of the Helfrich era.
[+] Enlarge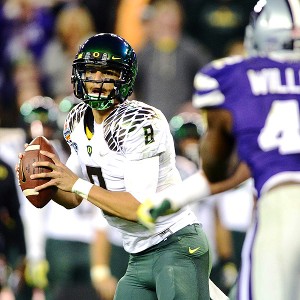 Mark J. Rebilas/USA TODAY SportsAs a redshirt freshman, Marcus Mariota quarterbacked high-flying Oregon to a No. 2 final ranking.
Without a doubt, the transition from Kelly to Helfrich is the point A of the Ducks' 2013 story. There's no question about point B, either: Mariota.
Somewhat lost in the regional shuffle of the Kelly-to-the-NFL talk and the national hullabaloo over Texas A&M's
Johnny Manziel
's brilliant Heisman Trophy season was Mariota's extraordinary performance as the Ducks' redshirt freshman starter.
Mariota was in the cockpit for a team that finished ranked No. 2 in the nation after whipping Kansas State in the Fiesta Bowl. He piloted an offense that ranked second in the nation in scoring (49.5 points per game) and was fifth in total offense (537.4 yards per game).
Individually, he ranked first in the Pac-12 and seventh in the nation in passing efficiency. In the Conference of Quarterbacks, he earned first-team All-Pac-12 honors after completing 68.5 percent of his throws for 2,677 yards with 32 touchdowns and six interceptions. He also rushed for 752 yards and five touchdowns, averaging 7.1 yards per carry.
He also got better as the year went along, despite the competition being decidedly tougher. As Rob Moseley of the Eugene Register-Guard
pointed out
, "[Mariota] had 11 touchdowns, four interceptions and a 152.74 rating in the first month of the season, and 21 touchdowns, two interceptions and a 171.10 rating after that."
That efficiency number would have ranked third in the nation. Further, keep in mind that Oregon's tendency to stomp opponents into submission by halftime meant Mariota was either on the bench or handing off during most fourth quarters.
While Mariota isn't the only reason many see the Ducks as national title contenders again in 2013, despite Kelly's departure, he is the biggest. The 6-foot-4, 211-pound Honolulu native is a seemingly unflappable player who combines A-list speed with notable passing accuracy.
There is little Mariota didn't do well in 2012, so the idea of him improving can foster many pleasant thoughts among Ducks fans. And there are areas in which he can improve. Mariota said his offseason focus has been footwork. New offensive coordinator Scott Frost, promoted from receivers coach, believes Mariota's established strengths can become even stronger.
"I think we can clean some things up and be even more efficient," Frost said. "There are some things we want to tweak to help him have more of an opportunity to impact the game. We wouldn't trade him for anybody. We think he can do some amazing things and win a lot of games. We're going to feature him as much as we can."
With the Ducks welcoming back their entire cast of receivers and being questionable at running back, it's almost certain Mariota will throw more next season. That will mean more opportunities for him to put up big numbers. If he hangs up impressive stats while the Ducks continue to roll up wins, Mariota will gain the esteem of Heisman Trophy voters.
Mariota, the Fiesta Bowl MVP, isn't a guy who seeks out the spotlight, but he also doesn't seem to be afraid of it.
"My parents raised me to handle whatever comes at you," he said. "I'm looking forward to it."
Then he added, "I'm really looking forward to spring practices."
That sounds very Chip Kelly. Or maybe we now should say that it sounds very Oregon.
January, 24, 2013
1/24/13
5:30
PM ET
Before we focus forward, we're going to look back with team-by-team season reviews.
We continue today in reverse alphabetical order.
OREGON (12-1, 8-1)
Grade
: A

MVP
: Quarterback
Marcus Mariota
went from being the Ducks' biggest preseason question to first-team All-Pac-12. He ranked first in the conference and seventh in the nation in passing efficiency, completing 68.5 percent of his throws for 2,677 yards with 32 TDs and just six interceptions. He also rushed for 752 yards and five TDs, averaging 7.1 yards per carry.
What went right
: A lot. When a team finishes ranked No. 2 in both major polls, tying the school's best-ever final ranking, it's difficult to cast things in a gloomy light. The only way to have done any better was to win the national championship. The Ducks were dominant on both sides of the ball, ranking second in the nation in scoring offense (49.54 ppg) and 25th in scoring defense (21.62 ppg). Most games were over at halftime. Other than the lone loss to Stanford, no team was within 11 points of the Ducks. In fact, eight of 12 foes went down by at least three TDs. The Ducks vanquished their top rivals, Oregon State and Washington, in dominant fashion, and won a second consecutive BCS bowl game, this time topping a top-five Kansas State team decisively, 35-17, in the Fiesta Bowl. What went right? Just about everything, other than ...
What went wrong:
Nov. 17. That's the evening Stanford went into Autzen Stadium and shut down the Ducks' previously unstoppable offense in a 17-14 overtime win. There were plenty of "what ifs?" in that game. What if
De'Anthony Thomas
turned around and provided a chip block on
Devon Carrington
, which would have turned a 77-yard Mariota run to the Stanford 15-yard line into an early TD? What if the officials had ruled
Zach Ertz
didn't have control of that 10-yard pass that tied the game at 14-14 with 1:35 to go? What if kicker
Alejandro Maldonado
hadn't missed a 41-yard field goal in overtime that set Stanford up for the easy winner? That loss did two things to the Ducks' season: 1. It made Stanford the North Division and the Pac-12 champion; 2. It prevented the Ducks from playing Notre Dame for the national championship, a game that most figure the Ducks would have won fairly easily. So, as good as the season was, there are some regrets. Oh, and Chip Kelly bolting to the Philadelphia Eagles is probably a downer for many fans.
2013 outlook
: The Ducks have 15 position player starters coming back. By every early account, this team will be ranked in the preseason top-five. So Oregon will begin Year 1 under new coach Mark Helfrich as a national title contender. Again. If Mariota improves, which is typically something you'd assume a guy would do as a second-year starter, he will become a leading Heisman Trophy candidate. His offense will have plenty of other weapons, including Thomas (running back/receiver), receiver
Josh Huff
and tight end
Colt Lyerla
. Three starters are back on the offensive line, including both tackles and All-Pac-12 center
Hroniss Grasu
. The biggest question is replacing running back
Kenjon Barner
. The defense has a few holes. It loses defensive end
Dion Jordan
and linebackers
Michael Clay
and
Kiko Alonso
, but the entire two-deep in the secondary is back and there's plenty of experience on the defensive front. The big issue is replacing Clay and Alonso, an elite tandem. It also might help to figure things out at kicker. The schedule is forgiving. The Ducks probably will be favored in every game they play. The redletter date, of course, is at Stanford on Thursday, Nov. 7. That game could have national title implications. Expectations will be extremely hire in Year 1 for Helfrich.
January, 21, 2013
1/21/13
6:00
AM ET
Sometimes it might seem to be a little bit overdone, but there is simply no way to overstate the impact that
De'Anthony Thomas
' decision to flip from USC to Oregon has made on both programs.

Thomas is regarded as one of the most talented players to ever come out of Los Angeles. Having attended Crenshaw High School -- in the shadows of the Los Angeles Coliseum -- Thomas was born to be a Trojan. He was committed to USC for nearly a year before changing his mind. The idea of leaving everything behind in South Central L.A. led him to contact the Oregon coaches. The next thing everyone knew he was announcing his decision in a tearful press conference.
And all he has done is set record after record at Oregon while saving his best for the biggest stage.
December, 2, 2012
12/02/12
5:53
PM ET
By
DuckNation staff
| ESPN.com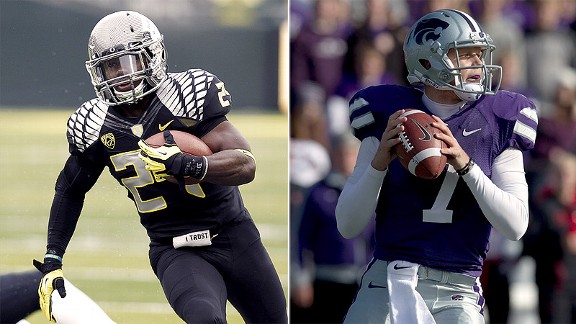 AP PhotoExpect both Oregon, led by running back Kenjon Barner, and Kansas State, led by probable Heisman finalist Collin Klein, to do work on the ground in the Tostitos Fiesta Bowl.
Oregon will take on Kansas State in the Tostitos Fiesta Bowl in Glendale, Ariz., on Jan. 3, as Oregon's big-play offense will face off with the Wildcats.
Fiesta home »
K-State clubhouse »
November, 24, 2012
11/24/12
3:57
PM ET
The 116th Civil War was close. And then it wasn't. Yes, we've seen that before with Oregon.
Oregon scored 28 consecutive second-half points and blew away Oregon State
48-24
.


The Beavers opened the third quarter with a touchdown drive that narrowed the deficit to 20-17. But they made things easy for the Ducks by then giving away five of their six turnovers in the second half.
A week after getting shut down by Stanford in their first loss of the season, the Ducks (11-1, 8-1) rolled up 570 yards while winning their fifth Civil War in a row. Oregon State (8-3, 6-3) gained 393. The Ducks outrushed the Beavers 430 yards to 82.
After the Beavers scored on their first possession of the third quarter, Oregon made its move. It drove 66 yards for a touchdown, and then the Beavers fumbled the ensuing kickoff. A 29-yard
De'Anthony Thomas
run later -- on fourth-and-5 no less -- and it was 34-17.
Kenjon Barner
rushed for 198 yards on 28 carries with two TDs, but he was banged up much of the second half, when Thomas took over. Thomas rushed for 122 yards on 17 carries and three scores.
Beavers QB
Sean Mannion
, who lost his job to
Cody Vaz
after throwing four interceptions at Washington on Oct. 27, again threw four interceptions.
Oregon, which has won 15 consecutive road games, now awaits a couple other results. First, it needs Stanford to lose to UCLA this afternoon, which would make the Ducks the Pac-12 North Division champions. They then would play UCLA, already the South champion, on Friday in the Pac-12 title game.
Further, Oregon is still in the national title hunt. It needs, first and foremost, for No. 1 Notre Dame to lose tonight at USC. It also probably needs Florida to lose to Florida State, a game that is in the fourth quarter as this sentence is typed.
Even if Oregon doesn't reach the Pac-12 title game, where it would play for a Rose Bowl berth or more, it is almost certain to be an at-large selection for a BCS bowl game, mostly likely the Fiesta Bowl.
November, 20, 2012
11/20/12
12:00
PM ET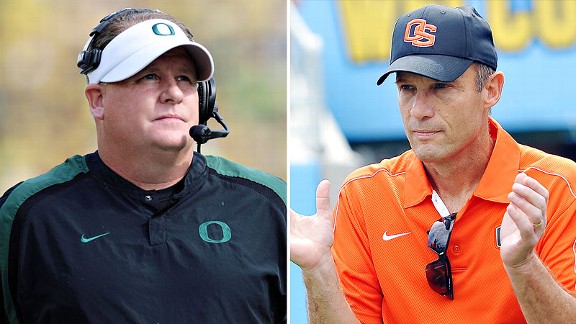 US PresswireOregon coach Chip Kelly and Oregon State coach Mike Riley face off Saturday in the 116th Civil War.
The 2012 Civil War between Oregon and Oregon State doesn't match the 2000 game, when both teams were ranked in the top 10 for the first time in the rivalry's history, or the 2009 game, when the winner-take-all stakes were a Pac-10 title and a Rose Bowl berth. But it's pretty darn big.
The 116th Civil War, the seventh-oldest rivalry game in college football, in Reser Stadium on Saturday (3 p.m. ET, Pac-12 Network) approaches the 2000 game in terms of both teams' rankings, the first time in the series that both were ranked in the top 10. Oregon was fifth and Oregon State eighth in that game, won 23-13 by the Beavers. This go-around, Oregon is again fifth and the Beavers 15th in the
latest BCS standings
.
There is no Rose Bowl on the line for Oregon State, as there was in 2008 and 2009, but the Beavers can play a spoiler role while boosting themselves in the Pac-12 pecking order.
Oregon still harbors hopes of slipping into the national title game, and the Ducks will win the North Division if they beat the Beavers and Stanford loses at UCLA on Saturday. Then Oregon would play host to UCLA on Nov. 30, with -- at least -- a Rose Bowl berth at stake.
And even if Stanford beats UCLA to win the North, an Oregon victory over the Beavers likely would earn it an at-large berth to a BCS bowl game, probably the Fiesta Bowl, where they could end up playing the Big 12 champ, likely Kansas State.
Oregon State? While its postseason destination is most likely the Holiday Bowl, ending a four-game losing streak in the rivalry series would be significant. It would certainly stem the momentum that has been decidedly in the Ducks' favor since an obscure coach from New Hampshire by the name of Chip Kelly arrived as the team's offensive coordinator in 2007.
While the 2008 and 2009 Civil Wars were big games with big implications, the 2010 and 2011 games were all about the Ducks. They were coronation events, as Oregon earned berths in the national title game and the Rose Bowl. The Beavers, meanwhile, were sucking on lemons, suffering through back-to-back losing seasons.
That had some Beavers fans grousing about coach Mike Riley and his staff. It wasn't only about a program backtrack. It was about what was happening 45 minutes to the south in Eugene. It's no fun losing games, but when you are losing, it's much worse when your rival is thriving.
Beavers fans saw Kelly -- smug, smirking, standoffish, annoyingly brilliant -- and felt they were getting left behind.
But we all know things can change quickly in college football. The Beavers are on a clear uptick. While both teams have a lot of talent coming back in 2013, it's Oregon that now has some question marks.
Will Kelly be lured away by an NFL offer? More than a few NFL sorts believe he will have his pick of jobs this offseason.
And what about the NCAA investigation into L'Affair de Willie Lyles? At some point penalties will be handed out. While those penalties are not expected to be crippling -- despite the uninformed blather coming from some people -- they certainly won't help the Ducks maintain their perch atop the Pac-12.
Just imagine how the next couple of months could go for Oregon State fans: 1. A Civil War victory over Oregon, ending a four-year losing streak in the series and the Ducks' three-year run of conference titles; 2. Kelly leaves Eugene for the NFL; 3. NCAA sanctions for the Ducks.
Let's just say more than a few Beavers fans would be high-fiving each other. And there would probably be more than a few
Washington Huskies
fans trying to get in on that action.
Or ... or ...
Oregon beats the Beavers for a fifth consecutive time, finagles its way into the national title game and then beats, say, Alabama for the school's first national title. Then Kelly announces he's staying in Eugene "for life" and the NCAA gently slaps the Ducks' wing.
So, yeah, there's a lot going on here.
Still, amid all these possibilities and speculations, good and bad for both programs, there is only one thing that either can control: Saturday's game.
Yes, it's pretty darn big.
Pac-12 Teams Can Load Up At WR
PAC-12 SCOREBOARD
Thursday, 9/3
Friday, 9/4
Saturday, 9/5