Oregon Ducks:

DeForest Buckner
April, 16, 2014
Apr 16
12:00
PM ET
The Oregon defensive line is breaking it down to the basics this spring with a new slogan for the position group, one that goes all the way back to when most players first started learning the position and were given the most basic of commands on the defensive line.
"Knock back."
It's simple. Knock the offensive line back off the line of scrimmage. Knock the ball carriers back. Knock the quarterbacks back. Knock back. It's also something the group didn't do a lot of last season as it allowed 3.8 yards per rush (No. 37 nationally) and accounted for just 29 sacks (No. 45 nationally).
Fixing those issues has certainly been their focus this spring, but the slogan has encompassed the goals of this group as it works to fix its problems.
"Our mentality is definitely going to change," defensive lineman
Arik Armstead
said. "Last year put kind of a bad taste in most of our mouths. We want to play with a different attitude."
The defensive line lost
Ricky Havili-Heimuli
,
Wade Keliikipi
and
Taylor Hart
, who accounted for 134 tackles including 16.5 for a loss and 6.5 sacks. Those three losses are all significant, so not only are the Ducks looking for new starters, they're also looking for depth.
Alex Balducci
and
DeForest Buckner
will be names to watch as possible starters this spring game, but
Sam Kamp
and
Stetzon Bair
could be nipping at their heels. Junior college transfer
Tui Talia
could have a jump on other players just because of his experience at Diablo Valley College, where he was ranked the top defensive end in the ESPN Junior College 50.
"We've got some younger guys who haven't played much and then we have some guys who've played in a lot of games who are still young and continue to get better," Armstead said. "[We're] just getting the guys with less experience more opportunities to get out there and play more and [we're] also getting the guys who do have that experience to learn more."
And that skill of knocking back is going to be the most crucial of all.
Though the 3.8 yards per rush was worrisome for the defense, it was on critical rush plays where the defense struggled the most.
On third-down runs, the defense allowed a 65.5 percent conversion rate. There were only three defenses in the nation that had a worse conversion rate (Memphis, Purdue and New Mexico). On fourth-down runs, Oregon's defense allowed a 66.7 percent conversion rate. The Ducks jumped to 73rd nationally in that category, but they still trail eight teams in the Pac-12. Those are critical situations in which Oregon must knock back in 2014.
Armstead said that the key to improvement in those categories goes back to the new mentality.
"It just came down to those situations that [other teams] made plays and we didn't make plays," Armstead said. "Making plays is a mentality -- just digging down deep and getting those stops in crucial moments when we need them."
April, 1, 2014
Apr 1
9:00
AM ET
By most football standards, last season in Eugene, Ore., was a success. Under a first-year head coach the Ducks had an 11-win season while their 273.5 rushing yards per game and 291.5 passing yards per game were among the best in the country. But there was no Pac-12 championship and no BCS bowl game (ending the Ducks' run of four-consecutive BCS bowl game appearances). So, year two is going to be as big of a test as the first for Mark Helfrich & Co.
With spring practices beginning Tuesday, the first steps of 2014 will be taken as the Ducks look to build on what they did last season and fix the mistakes that were made and the shortcomings that plagued them.
[+] Enlarge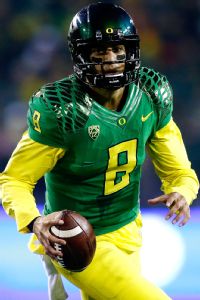 Jonathan Ferrey/Getty ImagesThe return of Marcus Mariota meant big expectations are back for Oregon's offense.
Offensively, their identity is set.
Marcus Mariota
decided to return to Oregon, and with that decision expectations soared for what this offense could do. The Ducks lost their No. 1 and No. 3 receivers but with Mariota slinging it behind an offensive line that returns abundant talent and experience, even average receivers could look great. The receiver depth is far better than average.
Keanon Lowe
and
Bralon Addison
need to continue to contribute at a high level as they look to make up for the loss of two of the top three receivers from 2013.
However, since the receiver experience is limited, look for Helfrich to get the tight ends more involved in the pass game as the Ducks return a trio that could help take some of the yardage burden off those WRs. In 2013 the tight end trio of
Pharaoh Brown
,
Johnny Mundt
and
Evan Baylis
accounted for five touchdowns and 475 yards on just 30 receptions.
The run game, again, will be no surprise to anyone. Even without
De'Anthony Thomas
, the Ducks should be fine.
Byron Marshall
-- who led Oregon with 14 rushing touchdowns and 1,038 rushing yards -- and
Thomas Tyner
will be able to attack defenses up front and be a very formidable matchup in the option when teams try to stop the run. They both boast good hands, so they'll be able to help out in the pass game as well, helping Mariota put up even bigger numbers in 2014.
All of that combined will make up a high-powered offense, which is exactly what people expect out of Oregon. But the biggest question will be whether the defense can be an equal counterpart. And with an attack like Oregon's, the defense must almost be even stronger considering it's on the field about 10 minutes more per game than teams.
So it's not very fair to put up their straight defensive numbers and statistics against any other team that doesn't feature as prolific of an offense. But it is fair to say that it's one of the bigger concerns heading into this spring and one of the facets of the game that must make the biggest strides.
Last year, Oregon was known for its deep secondary as it dared teams to throw. But in return, the Ducks struggled against the run even with an experienced group. They gave up 3.8 yards per rush and allowed opponents to convert on 65.5 percent of rushing attempts on third downs (119
th
nationally). Oregon returns
DeForest Buckner
on the D-line, but overall, the group will need to improve its numbers against the run. It's certainly a place where players could emerge through spring ball and one of the most important position groups that must build depth.
But even with the shuffling and inexperience on the defensive line, new defensive coordinator Don Pellum will stick with the 3-4 base defense because of the depth and experience the Ducks have in their linebacker group, which returns three starters, and their defensive backs. Even though the Ducks have just one returning starter in the secondary (cornerback
Ifo Ekpre-Olomu
), most of the DBs got some experience last season.
Next season could be huge for Oregon, but the foundation of what happens next December and January begins right now.
April, 2, 2013
4/02/13
12:00
PM ET
An issue that seems to arise every year in recruiting is which players Oregon chooses to pursue and sign on the defensive line. It always seems to be a source of worry for fans and recruiting pundits alike.
While Haloti Ngata isn't walking through the tunnel at Autzen Stadium anymore, the Ducks have equipped themselves nicely with a patchwork defensive line over the past few years.
To continue reading this article you must be an Insider
January, 18, 2013
1/18/13
2:24
PM ET
In case you just awoke from a long winter's nap, you might have heard that the Oregon Ducks had some big news this week. Chip Kelly pump-faked everyone and decided that the NFL was worth it. Ducks DL coach Jerry Azzinaro followed him out the door and joined him in Philly.
The DuckNation Mailbag has never been so packed, so let's see what you've got on your mind.
Bob C. (Bakersfield, Calif.): Now that Chip has taken his ego to Philadelphia, who will take over? Can the Ducks maintain their success on the field? What about recruiting?
To continue reading this article you must be an Insider
November, 7, 2012
11/07/12
9:00
AM ET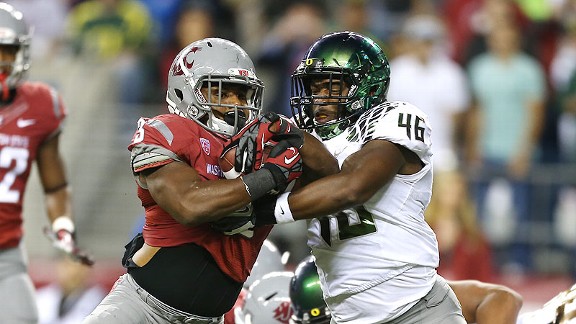 Otto Greule Jr/Getty ImagesSan Jose, Calif., native Michael Clay was a crucial recruiting win for the Ducks over California in the Class of 2009.
After the Ducks program began to take off in the mid-1990s, California hired former Ducks' offensive coordinator Jeff Tedford in 2002. As the Ducks' upward climb reached a standstill, Cal stepped up and looked like it might be the next in line to challenge USC.
The Golden Bears did win four of five games with the Ducks between 2004 and 2008, including a game for the ages in 2007. After they walked out of Autzen Stadium with a 31-24 win over the No. 5 Ducks, things began to change between the two schools. Cal did win the following season in Berkeley, as the Ducks fumbled gave away a game they dominated. Starting in the class of 2008, the Bears responded by going on an unprecedented run of recruiting success. The Ducks began to dominate the series on the field with a 42-3 win over the Bears in 2009. Despite the dominant performance over the then-No. 6 Bears, Cal beat the Ducks head-to-head for a number of elite recruits from 2008 to 2012.
Whether it was location, academics, Cal's plans for facilities upgrades -- which are now complete -- or former Cal assistant -- and current Washington assistant -- Tosh Lupoi, the Bears won the majority of the recruiting battles between the two schools. Similar to the recent history with USC, the Ducks don't care about recruiting rankings as much as they do the on-field results.
To continue reading this article you must be an Insider
October, 12, 2012
10/12/12
7:00
AM ET
It's that time again. The Ducks have a bye this week, so it's time to dig through the Oregon recruiting mailbag and see what's on your mind.
[+] Enlarge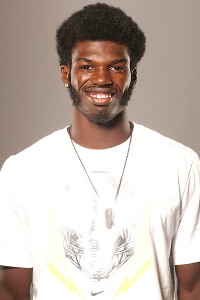 Tom Hauck for ESPN.comCould ESPN 150 safety Leon McQuay III find himself with the Ducks?
Ruben G. (Hillsboro, Ore.):
What is going on with the Ducks' defensive line recruiting? Haven't heard hardly any news about a position that has always been tough for them.
To continue reading this article you must be an Insider
October, 1, 2012
10/01/12
4:04
AM ET
Much has been made about the size -- or lack thereof -- on the Oregon roster. In past years, that was a legitimate argument, as the Ducks were smaller than most of their opponents. With a recent emphasis on matching up better with power teams, the Ducks have begun to recruit bigger players at every position.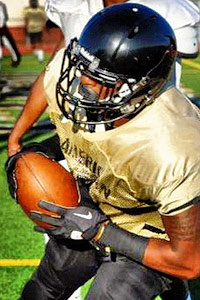 Courtesy of Kathy RobinsonOregon commit Chris Seisay is an example of how the Ducks are going after bigger DBs.
Oregon coach Chip Kelly said as much during the Ducks' spring game in April, when he told ESPN's Brock Huard that he realized the Ducks were built to win the Pac-12, but they needed to be built to win the BCS.
It was mostly the offensive and defensive lines that took the heat for being undersized. Last year's recruiting class saw the Ducks add 6-foot-8, 300-pound
Arik Armstead
, 6-7, 270-pound
DeForest Buckner
and 6-9, 280-pound
Stetzon Bair
to the defensive line. The three of them have the size to line up on anyone's defensive line.
To continue reading this article you must be an Insider
August, 31, 2012
8/31/12
12:36
PM ET
It has been an interesting week for the
Oregon Ducks
. From naming a starting quarterback, potentially getting a transfer, official visits being set up by top recruits and the season opener against Arkansas State, it's fair to say that things are heating up in Eugene.
With a flurry of activity surrounding the program, it is now time to open up the mailbag and answer your questions.
[+] Enlarge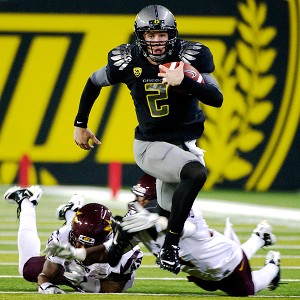 Jim Z. Rider/US PresswireOregon sophomore quarterback Bryan Bennett passed for 369 yards and six touchdowns and ran for 200 yards on 23 carries last year when he stepped in for an injured Darron Thomas.
Mike L. (Portland, Ore.):
With
Marcus Mariota
being named the starter, it leaves
Bryan Bennett
with three years left as a backup. Like Mariota, freshman
Jake Rodrigues
and
Jeff Lockie
both have four years left. Bennett has said he's staying, but I could see him or one of the freshmen leaving this season. Should the Ducks turn their quarterback recruiting up a notch for 2013?
To continue reading this article you must be an Insider
August, 17, 2012
8/17/12
10:00
AM ET
Nearly two weeks into Oregon fall camp, there is plenty of speculation as to who has the upper hand in the position battles and who has put themselves in position to see the field early on.
All eyes are on the ongoing quarterback battle between sophomore
Bryan Bennett
and redshirt freshman
Marcus Mariota.
When it comes to discussing his team, Ducks head coach Chip Kelly plays everything close to the vest. There is no greater example of this than when it comes to who will be given the keys to his high-flying offense.
To continue reading this article you must be an Insider
July, 7, 2012
7/07/12
6:12
PM ET
After being mostly dominated up front by the likes of Auburn and LSU in the past two years, the Oregon coaching staff seems to have made a slight shift in their approach to the game. The smaller, yet fast and powerful Ducks have been built to win the Pac-12, and that has proven to be fruitful in recent years.
However, when faced with the task of matching up against SEC powerhouses in big games, the Ducks were faced with lining up against teams that could match their speed while holding a size advantage up front. While the Ducks held up for the most part, they were unable to play their normal game. Head coach Chip Kelly took notice and has changed his philosophy ever so slightly.
The Ducks still want to play fast and still want to be the most fit team on the field every time they step on the field, but Kelly hasn't been shy about admitting the disadvantage his teams were faced with. The often brash head coach did something a lot of high-profile coaches wouldn't do. He admitted that his system might not always work against the mighty SEC without the proper personnel.
To continue reading this article you must be an Insider
July, 3, 2012
7/03/12
10:00
AM ET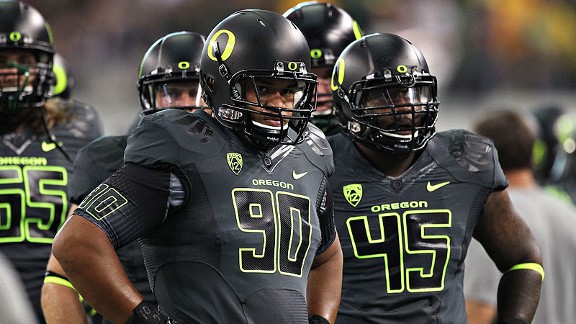 Matthew Emmons/US PresswireRicky Heimuli (front), a highly touted defensive tackle in the 2010 class, is expected to take a big step up on Oregon's defensive line this season.
After a nice run of NFL talent along the defensive front from 2002-05, the
Oregon Ducks
took a number of hits with recruits failing to qualify or not showing up on campus for a variety of reasons. When new defensive line coach Jerry Azzinaro arrived in 2009, things began to change in Eugene. While the talent has been building in recent years, the defensive line was the one glaring weakness when comparing Oregon to the likes of SEC powers Auburn, LSU and Alabama.
The Ducks have excelled at nearly every position outside of DL in recent years. The linebackers have been key in helping the Ducks to high sack totals, but 2012 looks like the season it all comes together up front for the Ducks. The depth, size and talent are at an all-time high in Eugene, as key returners are back for another go around and a number of impact newcomers will be entering the fold.
After losing Kenny Rowe, Brandon Bair and Zac Clark from the 2010 BCS runner-ups, the defensive line stepped up last year and kept the Ducks among the elite. Now that they have another year under their belts, look for Oregon's front line to make a big impact in 2012.
July, 2, 2012
7/02/12
11:00
AM ET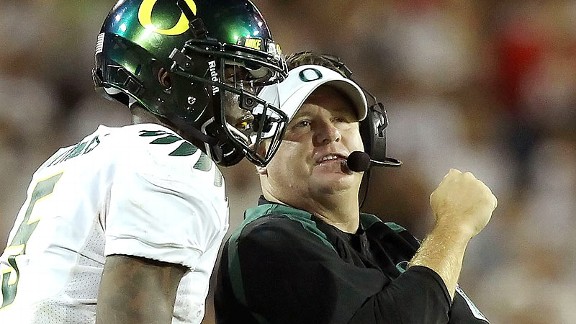 Christian Petersen/Getty ImagesChip Kelly has done a good job of keeping continuity on his coaching staff since taking over as Oregon's head man in 2009, which is a big reason behind the Ducks' sustained success.
When thinking about the Oregon football program, most tend to think of the flashy uniforms, the facilities and the ties to Nike as being the big reasons for the rise of the Ducks. Those things have played a huge part in Oregon's success, but the most commonly overlooked part of the equation is the continuity of the coaching staff in Eugene.
Sure, head coach Chip Kelly has only been in Eugene since 2007 and is entering his fourth season as the face of the program, but for the most part Oregon's staff has been together longer than most. In an era where coaches use schools as stepping stones and successful coaching staffs rarely have more than a couple of years together, the Ducks have a level of chemistry among the coaching staff that has helped fuel their meteoric rise to the top.
Head coach:
Chip Kelly is entering his sixth season at Oregon and his fourth as head coach. While his name is tied to nearly every job that comes open, Kelly turned down the Tampa Bay Buccaneers job this past offseason. Kelly has been a part of the greatest streak in Oregon history. His record as head coach is 34-6 and the overall record of the Oregon program since his arrival is 53-13.
June, 29, 2012
6/29/12
10:00
AM ET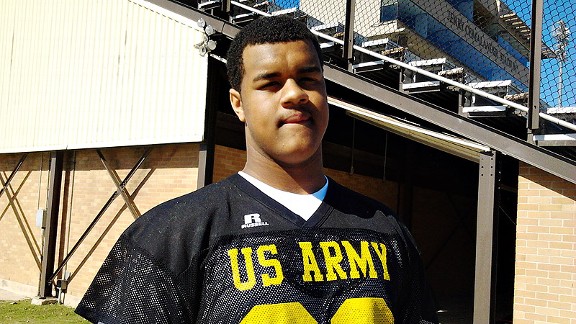 Damon SaylesArik Armstead, at 6-foot-7 and 280 pounds, brings the size and athleticism that will make it nearly impossible to keep him off the field.
By hauling in the
No. 18 recruiting class
in 2012 the Oregon Ducks added more depth, size and skill to an already young and talented roster. The class, heavy on defense and elite skill-position players, could see a number of newcomers make an immediate impact in Eugene.
Most likely to see the field
To continue reading this article you must be an Insider
ESPN 300 Ranking Motivates Byron Cowart
PAC-12 SCOREBOARD
Thursday, 8/28
Friday, 8/29
Saturday, 8/30