November, 11, 2012
11/11/12
7:00
AM PT
What did we learn in Week 11? Read on.
Hogan was the right choice for Stanford:
It seemed like odd timing that Stanford coach David Shaw switched starting quarterbacks as his team headed into its biggest game of the year, but freshman
Kevin Hogan
made his coach look smart, though it wasn't always pretty. Hogan completed 22 of 29 passes for 254 yards with three touchdowns and two interceptions in a 27-23 victory over Oregon State. He also rushed for 49 yards on 11 carries. His biggest pass was a 13-yard strike to tight end
Zach Ertz
for the winning points. Hogan was effective with his feet and his arm, and he didn't wilt when things didn't go his way through most of the second and third quarters. Now he faces a bigger test: Oregon at Autzen Stadium.
[+] Enlarge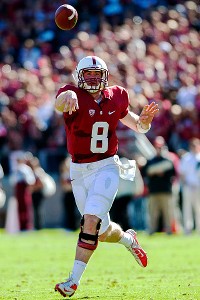 Ed Szczepanski/US PresswireKevin Hogan kept an even keel in Stanford's comeback victory over Oregon State.
USC shows some grit:
USC held Arizona State to only 250 yards and three second-half points in a 38-17 win. The Trojans trailed 17-14 early in the third, and it looked as though they might pack it in for the season. But with senior center
Khaled Holmes
exhorting his teammates on the sidelines, USC showed some grit, particularly on defense. The same defense that got ripped by Arizona and Oregon's spread offenses shut down the Sun Devils, recording six sacks and forcing four turnovers. It was far from perfect. On the day quarterback
Matt Barkley
set the Pac-12 career passing yardage record (12,026 yards), surpassing the previous mark held by Carson Palmer, he threw three interceptions. Still, the Trojans play archrival UCLA next weekend for the Pac-12 South Division title.
Ducks are banged up with Stanford coming to town, but will that matter?
Oregon arrived at California with
major injury issues
, particularly with its defensive front, and things only got worse as the game went on. The Ducks, however, pulled themselves together and dominated the Bears in the second half, winning 59-17. Still, Stanford, which visits Autzen Stadium on Saturday, is a much better team that Cal, particularly on the offensive line. Will the Ducks get some guys back, such as defensive linemen
Ricky Heimuli
,
Dion Jordan
and
Isaac Remington
? The Ducks don't talk about injuries, but injuries will be something lots of folks are talking about this week. Or speculating on.
UCLA gets its big shot at vulnerable USC:
While UCLA let up in the second half at Washington State -- the Bruins were outscored 29-7 and won only 44-36 -- that doesn't change the big possibilities that lie ahead. Now 8-2, the Bruins can win the Pac-12 South Division if they beat archrival USC in the Rose Bowl on Saturday. That would mean stomping on the Trojans' once-hyped season, which would inspire plenty of consternation in Heritage Hall. UCLA fans would love to do that. And it would mean the Bruins could end up in the Rose Bowl, either as the Pac-12 champions or as an at-large selection. So big stakes are at hand.
Huskies step up, Utes step back:
Utah and Washington squared off as teams that weathered midseason adversity and had won two in a row. But only one could maintain positive momentum. The Huskies' decisive 35-14 victory boosted their record to 6-4, earning them bowl eligibility. They can continue to climb the pecking order if they can beat Colorado and Washington State over the next two weekends, though both games are on the road. The Utes' offensive surge came to an end, with only 55 yards passing. They need to win their next two games, at home to Arizona and at Colorado.
Picking two first-team All-Pac-12 running backs won't be easy
: Arizona running back
Ka'Deem Carey
rushed for 366 yards -- a new Pac-12 single-game record -- and five touchdowns in Arizona's 56-31 win over Colorado. He will take over the Pac-12 rushing lead, as Oregon's
Kenjon Barner
(65 yards) and UCLA's
Johnathan Franklin
(66 yards) had subpar games. The final two weeks probably will decide the two guys who end up first-team All-Pac-12.
September, 24, 2012
9/24/12
7:30
AM PT
When you beat ranked teams, you move up. Unless you are already on top.
See last week's power rankings here.
1. Oregon: The Ducks faced their first foe with a pulse -- a ranked one, no less -- and rolled 49-zip. They moved up to No. 2 in both national polls. 'Nuff said.
2. Stanford: The Cardinal got to relax on their bye weekend and dwell on how great it is to beat USC four times in a row. "Oh," coach David Shaw said, "we don't care about that, Ted, Kevin!" Pause, grin. "Four times!" A visit to Washington on Thursday might be interesting, at least if the series' recent history of Stanford domination is ignored.
3. Oregon State: Lookie here! The Beavers surge into third. Why are they ahead of USC? Well, consider the résumé: Unbeaten with two wins over ranked teams. And to be good, you've got to feel good, and the Beavers surely feel better than the Trojans today. And, hey, who doesn't after an In-N-Out burger.
4. USC: The Trojans got the running game and defense going against California. In the preseason, I didn't think I'd type this: But what about the passing game?
5. UCLA: Anyone else notice that 3-1 Nebraska is ranked ahead of the 3-1 Bruins? Anyone remember where the Cornhuskers' "1" came from? Yeah, go figure. Did the Huskers' wins over Arkansas State and Idaho State really prove something? The Bruins, however, do face their first adversity of the season after losing at home to Oregon State.
6. Arizona State: Speaking of bouncing back, the Sun Devils certainly did that with an utter domination of Utah in every phase. Now can they duplicate that disciplined, complete effort on the road? That's the next step to measure this weekend at California, a team that figures to be plenty motivated.
7. Arizona: Well, you could call it the most competitive 49-0 defeat in history ... would that help? And here's a guess that the Wildcats do a little red zone work this week at practice. It would appear they will be challenged by a very good Oregon State defense on Saturday.
8. Washington: The Huskies' early schedule gauntlet turns to its Stanford chapter. A win at home -- well, in CenturyLink Field, the Seattle Seahawks' home -- would go a long way toward signaling the Huskies are turning a corner. Sure QB Keith Price will raise an eyebrow at the way Stanford's defense rolled USC's offensive line and made Matt Barkley miserable.
9. California: The 1-3 start was what most expected. But the next three games -- all winnable -- likely will provide a good guess at the overall trajectory of the season. A quality win at home over Arizona State might inspire some cautious optimism among the worried Berkeley faithful.
10. Utah: Man, you Utah fans were in a Twitter panic on Saturday, with a bad loss to Arizona State knocking thoughts of challenging for the South Division title off the table. It feels like a good time for a bye week. Only problem is the next three games look far more formidable than they did in the preseason, when all the focus was on USC's visit on Thursday, Oct. 4. Now road trips to UCLA and Oregon State on back-to-back weekends are reasons for worry.
11. Colorado: Buffalo fans, take a moment and breathe. Then look down. Wave. Of course, you're thirsty after scoring 21 points in the fourth quarter at Washington State to end fears of a winless season. Go ahead. Make a demand, like the winner you are. You've earned it. "Hey, Cougs! Can you bring me a cold beverage from the basement -- that's the BASEMENT -- refrigerator?"
12. Washington State: "Burp."
September, 13, 2012
9/13/12
9:00
AM PT
Welcome to Week 3. Ted and Kevin both went 7-5 in Week 2. Double yuck. The problem was all picks were identical, and neither picked an upset. Silly Pac-12 bloggers.
For the season, Ted is 16-7 and Kevin is 15-8.
Friday
Kevin: Washington State 35, UNLV 17
: Time for the Cougars to get a win over an FBS team. Should happen this week against a UNLV squad that is 0-2 and fell to FCS school Northern Arizona. (Remember them, Arizona State?) If all goes according to plan, the starting offensive linemen should be crushing the buffet at the Rio by the third quarter.
Ted: Washington State 40, UNLV 20
: While quarterback
Jeff Tuel
is decidedly questionable; backup
Connor Halliday
is experienced and capable. The guess here is things go a little more smoothly on both sides of the ball as new systems start to sink in.
Saturday
Kevin: Ohio State 28, Cal 10
: The defense, which was supposed to be the strength of this team, hasn't shown up yet. Nevada quarterback
Cody Fajardo
rushed for 97 yards -- most of it on zone reads the Bears couldn't stop. What's
Braxton Miller
going to do?
Ted: Ohio State 30, California 17
: During the summer, I believed this was prime upset material. Then Cal played twice.
Kevin: Oregon 49, Tennessee Tech 14
: It was
De'Anthony Thomas
in Week 1 and
Kenjon Barner
in Week 2. Who is the Duck du jour in what should be the latest Oregon pasting? Fortunately, Oregon's schedule allows for growth with younger players, and it needs that because of all the injuries of late.
Ted: Oregon 50, Tennessee Tech 10
: Yawn. The good news is Oregon might have an interesting game the next week when Arizona comes to town. I bet Ducks fans are hungry for a game that at least raises an eyebrow.
Kevin: Washington 31, Portland State 7
: Not a lot of time for the Huskies to get right after their ill-fated journey to Baton Rouge, La., with Stanford, USC and Oregon looming in the next three weeks. This might be their last opportunity for a win until late October/early November. They'd better take advantage of it.
Ted: Washington 30, Portland State 20
: Will the Huskies be flat after falling flat at LSU? I suspect so. Not flat enough to lose but perhaps flat enough to further frustrate Huskies fans.
Kevin: USC 38, Stanford 24
: David Shaw knows how to plan a scheme against USC's defense, so I'd expect the Cardinal to put up some points. But when push comes to shove, Stanford's defense won't get the number of stops needed to slow down the Trojans' passing attack.
Ted: USC 35, Stanford 20
: I think it will be close at halftime, but the Trojans will pull away early in the fourth quarter. Eventually,
Matt Barkley
& Co. will gash the Cardinal secondary, and then Stanford won't be able to answer.
Kevin: Fresno State 31, Colorado 17
: The Bulldogs showed a little bite against the Ducks -- enough to suggest they can certainly hang with, and beat, a lower-tier Pac-12 team.
Ted: Colorado 28, Fresno State 27
: Why? Because I suspect we're going to see some pride from the Buffs.
Kevin: BYU 35, Utah 27
: I think Utah will play inspired football given this week's turn of events. But last week we saw that the offensive line concerns are graver than we all initially thought. Bronco Mendenhall saw it too.
Ted: BYU 28, Utah 24
: There's a lot going on at Utah, most notably injury issues. And it's not just quarterback Jordan Wynn. Running back
John White
and safety
Eric Rowe
are questionable. But the biggest issue, as Kevin noted, is the disappointing play of the offensive line.
Kevin: Arizona 49, South Carolina State 10
: The offense has come together quickly. I'd expect Arizona to use this game to clean some things up before heading to Autzen for a game that suddenly looks very interesting.
Ted: Arizona 42, South Carolina State 20
: I suspect that some fumes from the post-Oklahoma State victory celebration will cause the Wildcats to be a bit flat. They are fortunate the opponent will be forgiving.
Kevin: UCLA 48, Houston 21
: Houston can't stop the run. UCLA isn't going to abandon the run. Another huge game for
Johnathan Franklin
and another win for the Bruins.
Ted: UCLA 44, Houston 24
: Another possible flat performance, but the Bruins should recall the loss at Houston from 2011 to provide some motivation. Agree with Kevin: Franklin gets another 200, and his Heisman candidacy inches up another notch.
Kevin: Arizona State 38, Missouri 31
: OK, ASU. I'll bite. The Sun Devils are second in the nation with six interceptions, and Missouri likes to throw a lot. Vegas likes the Tigers by a touchdown, but I'll throw my confidence behind Todd Graham & Co.
Ted: Missouri 35, Arizona State 27
: The Sun Devils have whipped two inferior foes at home. The Tigers are pretty good and are playing at home. The Sun Devils have been impressive, but they are still young. And Missouri quarterback
James Franklin
is a load.
August, 22, 2012
8/22/12
9:00
AM PT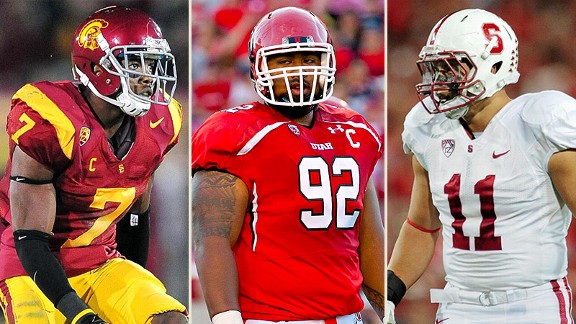 US PresswireThe Pac-12 boasts some of the best defensive talent in the country: USC safety T.J. McDonald, Utah defensive tackle Star Lotulelei and Stanford linebacker Shayne Skov.
In the depths of their offices, some of the best offensive minds in college football are grinding.
Chip Kelly is pondering how to get 10 more plays per game out of his offense.
Rich Rodriguez and Mike Leach are re-re-revolutionizing their attacks.
David Shaw is trying to figure out how to get nine offensive linemen, five tight ends and three fullbacks on the field at once.
Lane Kiffin has more offensive toys than an FAO Schwarz display.
"Option, option spread, I, heavy-I, pistol, triple-backs, full house, triple tights; it's something new every week," said Oregon linebacker
Michael Clay
. "It makes every week pretty interesting."
The Pac-12 is widely regarded as the conference of offenses. And they are only getting better. Prior to 1990, only twice has a team led the conference with a scoring average of more than 40 points. Since 1990, it's happened nine times -- including USC's conference best of 49.1 points per game in 2005.
That means being a defensive player in the Pac-12 is awfully difficult.
[+] Enlarge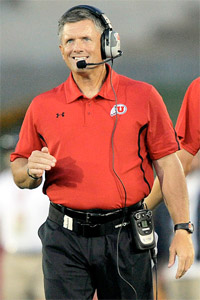 AP Photo/Mark J. TerrillKyle Whittingham says his defense must be able to adapt to the different offenses in the Pac-12.
"You get Andrew Luck one week and then
Matt Barkley
the next," said USC safety
T.J. McDonald
. "The preparation is on a whole other level compared to other conferences. There are great quarterbacks and great receivers and running backs. But the culture of this conference has changed. They've forced defenses to get better."
As the spread offense became chic and more teams were stretching defenses, they were forced to respond in kind. Gone are the days of everyone lining up in a base 4-3 and slugging it out. Now defenses are evolving into multiple fronts, exotic and disguised coverages and zone blitzes.
Utah coach Kyle Whittingham should know. He and UCLA coach Jim Mora are the only head coaches in the conference with a defensive background.
"We're definitely the minority," Whittingham said with a laugh. "It's a broad spectrum. Defensively, in this day and age, you have to be able to defend it all anyways. When the spread became en vogue 10-12 years ago it caught on like wildfire. Now almost everyone has a version of it. You have to be equipped to deal with whatever you come across week in and week out and have a scheme that is flexible enough and adaptable enough that you can cover all of your bases.
"Things go in cycles. The spread becomes en vogue and takes a while for the defense to catch up. Then the zone blitz was giving offenses fits and the offenses had to catch up to that. I think everything in football is cyclical and if offense has the upper hand right now, it won't be too further down the road where that role is reversed."
And that time might be coming sooner than later. Utah, California, USC, Oregon and Stanford all have defenses that are very good and bordering on elite. But the numbers don't always add up because in this conference, you are going to give up yards and you are going to give up points.
"Part of it is innovation," Shaw said. "Part of it is Chip Kelly and Mike Leach and Rich Rodriguez. The thing is, you can use the word 'spread' offense for half the teams in our conference, but they are all different. You can say 'pro-style' offense, which is what you would say about us and USC, but they are so different. The hard part of playing defense in our conference is every single week, you are playing against something you didn't see the week before.
"Cal has a pro-style offense. But their passing is different than our pass game and their running is different than our running game. And theirs is different from USC's. You are going to play a nine-game conference schedule and every single offense you play is going to be completely different. Defensive coordinators -- and we've got a really good group in this conference -- defensive coordinators and players have to flush a lot of what you watched the week before and study film hard the next week because you're going to see a different animal."
The conference also has the players to back up the defensive hype. Stanford linebackers
Chase Thomas
and
Shayne Skov
are projected as two of the best at their positions. Utah defensive tackle
Star Lotulelei
is regarded as the best defensive tackle in the nation and McDonald is a returning All-American.
And while perception might never really change nationally since the conference keeps chugging out A-list offensive players, Washington quarterback
Keith Price
says he's seen the difference.
"The difference between us and some of those other conferences is the defensive linemen," Price said. "We've always had good skill players. They say the trenches is what separates the SEC from the other conferences. But you can see now that our conference is starting to get there. When you look at teams like Cal and Utah, their defensive lines are really tough."
July, 16, 2012
7/16/12
6:00
AM PT
Kevin and I are getting ready for Pac-12 media day next week. So should you. Here's a primer.
(You can see the
complete list of attendees here
).

Dates
: July 24
Location
: Universal Studios in Los Angeles
Big names in attendance
: Besides four new coaches, USC quarterback
Matt Barkley
, Utah defensive tackle
Star Lotulelei
, California wide receiver
Keenan Allen
, Washington quarterback
Keith Price
and Stanford outside linebacker
Chase Thomas
.
Big names not in attendance
: There are plenty of stars who won't be on hand, but it's hard to argue with the players attending.
So what can we expect?
Teams at the top will tamp down expectations. Teams at the bottom will bemoan a lack of respect and insist they don't give a flip about so-called pundits.
Every team will claim an outstanding offseason, perhaps even calling workout attendance "the best ever." There's a good chance many will be exaggerating.
Four new coaches will get their biggest formal introduction to Pac-12 reporters: Arizona's Rich Rodriguez, Arizona State's Todd Graham, UCLA's Jim Mora and Washington State's Mike Leach. They will be impressed by how awesome we are.
Barkley will be asked about opting not to enter the NFL draft. The Pac-12 blog challenges him to figure out a way to answer the question in a surprising way.
Oregon coach Chip Kelly will be snarky, no matter how awesome we reporters are.
Subjects likely to come up: USC wide receiver Robert Woods' ankle, Utah quarterback Jordan Wynn's shoulders, Matt Scott running Rich Rodriguez's spread-option, the status of Arizona State defensive end Junior Onyeali, USC's depth questions and Kenjon Barner replacing LaMichael James. How much can Cal quarterback Zach Maynard and Oregon State quarterback Sean Mannion improve from Year 1 to Year 2? What's the quarterback pecking order at Arizona State, Colorado, Oregon, Stanford and UCLA? Other issues include whether Utah running back John White IV prefers to be known as "Juan Blanco" or "The Wolfman," Tosh Lupoi's departure from Cal to Washington and Leach's affinity for Pirates.
Graham will be asked about his controversial departure from Pittsburgh for the 10,000th time, and the reporter who does so will win a set of steak knives (there's a reason reporters ask the same question over and over).
California coach Jeff Tedford and Oregon State coach Mike Riley will be asked if they feel pressure or feel like they are on the hot seat. Both will say no one puts more pressure on them than themselves and that there is always pressure.
Leach will go off on a lengthy tangent that has nothing to do with anything but likely will be interesting and amusing.
Stanford coach David Shaw and his players will be asked about life after Andrew Luck.
The UCLA contingent will be asked about USC.
"Teeth" Price will smile. A lot.
Lane Kiffin will say nothing controversial. And some of us will miss the old Kiffin.
Someone during post-interview small talk will say, "Man, Star Lotulelei... that dude is big."
The coaches will each be asked 47 times about the four-team college football playoff that will start in 2014.
Here's a guess that at some point someone asks about Joe Paterno.
Oregon and USC will be nearly unanimous choices to win the North and South Divisions, respectively, but somebody will vote differently just to be quirky.
July, 11, 2012
7/11/12
1:32
PM PT
ESPN.com's series on FBS coaches continues with this question: Which coach in the Pac-12 provides the biggest bang for the buck?
That's tough to answer for a number of reasons.
There are four new coaches in the Pac-12 this season.
There were two new coaches last season.
USC and Stanford, as private schools, don't provide salary information for their coaches, though USA Today reported that Lane Kiffin made $2.4 million in 2010, way less than had been widely reported.
Two years ago, it would have been easy to say that Oregon State's Mike Riley provided the most bang for the buck. Riley won 36 games from 2006-09 before the Beavers tumbled to consecutive losing seasons. And he did that with a
fairly modest salary
.
[+] Enlarge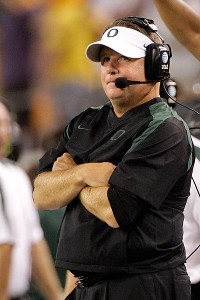 AP Photo/Tony GutierrezChip Kelly may be the Pac-12's highest-paid coach, but he's worth the money.
Here are the latest numbers.
Chip Kelly, Oregon, $2.8 million

Lane Kiffin, USC, $2.4 million*

Jim Mora, UCLA, $2.4 million**

Jeff Tedford, California, $2.3 million

Steve Sarkisian, Washington, $2.25 million

Mike Leach, Washington State, $2.25 million

Todd Graham, Arizona State, $2 million

Kyle Whittingham, Utah, $2 million

Rich Rodriguez, Arizona, $1.91 million

Mike Riley, Oregon State, $1,313,471

Jon Embree, Colorado, $725,000
*It's perfectly reasonable to posit that Kiffin made more than this in 2011 and also will in 2012.

**Mora's number is an average of his five-year, $12 million contract. He'll likely make less than this figure this season.
By the way, David Shaw's salary at Stanford has been
estimated at $1.75 million
. It seems, in any event, that it's too early to rate Shaw and Colorado's Embree as second-year coaches. And it makes no sense to look at the track record of the four new coaches, because the past doesn't mean anything for the new schools, though you could say Arizona got Rodriguez at below market value.
So who provides the most bang for the buck? I have two answers: Whittingham and Kelly.
Why? Well, name the two coaches on the above list who have won BCS bowl games at their present job.
Whittingham is 66-25 (.725) at Utah, including double-digit wins in three of the past four seasons. His worst season in seven years was 7-5 in 2005. After an 0-4 start in Pac-12 play last fall, he rallied his team behind a backup QB who transferred from Nebraska-Omaha, and the Utes nearly won the South Division. Oh, and he's 7-1 in bowl games.
Further, Whittingham has been loyal to Utah. He's had opportunities to leave but he's stuck around.
Kelly is the Pac-12's highest-paid coach by a fairly wide margin. He was guaranteed $2.8 million in 2011 and will make $3.5 million this season,
according to USA Today
. So why does he rate highly in terms of bang for the buck? Well, there's a 34-6 (.850) record, including a 25-2 mark in Pac-12 games (.926). And there are three consecutive conference titles. And an undefeated regular season in 2010, after which the Ducks fell just short of beating Auburn for the national title. And there's the Rose Bowl victory over Wisconsin in January.
Kelly has delivered a super-elite level of performance in his three seasons. If you were to name the nation's best coaches, you wouldn't have to wait long after Nick Saban and Urban Meyer to get to Kelly.
He gets big bucks, yes, but he has delivered unprecedented bang to the Ducks' program.
Any Oregon fans think he's overpaid?