Oregon Ducks:

Collin Klein
January, 29, 2014
1/29/14
9:30
AM ET
By
RecruitingNation
| ESPN Insider
The
Ultimate ESPN 300
is RecruitingNation's ranking of the best prospects since we began evaluating high school athletes in 2006. Here are five players who exceeded expectations:
QB Robert Griffin III (Baylor):
Schools and evaluators missed on Griffin because they were quick to classify him as an athlete because he was an elite hurdler. We stated that "he has the arm strength to make all the throws and is an amazing athlete." However, Baylor coach Art Briles deserves credit -- he was the only coach to offer Griffin a scholarship at quarterback early in the process while at Houston, where Griffin committed despite already having talented QBs such as Case Keenum on board. When Briles took the Baylor job, Griffin followed because he was sold on Briles' system.
January, 3, 2013
1/03/13
11:51
PM ET
GLENDALE, Ariz. -- The
Oregon Ducks
donned new T-shirts after their
35-17 victory
over Kansas State in the Totitos Fiesta Bowl. "Won the Day" those shirts said, obviously playing off the program's mantra under Chip Kelly: Win the day.
Oregon certainly did that against the Wildcats.
Both teams ran 70 plays. Oregon gained 385 yards. Kansas State 283. Kansas State led the nation in turnover margin this year, but it lost that battle to the Ducks 2-0. The Wildcats had the second-fewest penalty yards per game in the nation this season, but they had seven flags for 57 yards versus five for 33 for the Ducks. The Wildcats were widely viewed as the nation's best on special teams this season, but they yielded a 94-yard return on the opening kickoff to
De'Anthony Thomas
and missed a field goal while the Ducks were 2-for-2.
Senior quarterback and Heisman Trophy finalist
Collin Klein
was outplayed by Ducks redshirt freshman
Marcus Mariota
.
So Oregon won the day -- night, actually -- but the use of the past tense hints at something else, of a mission accomplished and completed. That has an ominous suggestion for Oregon fans. That feeling, of course, arises from the fact that Kelly is about to interview with at least three NFL teams, according to various reports, and many believe this was his last game at Oregon.
He and Oregon won the day and now he will move on.
Kelly fought off questions about his NFL aspirations during the weeks leading up to the game, saying his entire focus was on the Fiesta Bowl. He opened up a bit after the victory, noting that he will talk to his agent David Dunn on Thursday night or Friday morning to get an update on where things stand.
"I was getting my hair cut on Wednesday and saw my name on the bottom of ESPN, which I thought was funny because I haven't talked to anyone," he said. "I'll sit down and talk with Dave. I've said I'll always listen. That's what I'll do. ... I'll listen and we'll see."
Kelly is expected to interview with the Cleveland Browns, Philadelphia Eagles and Buffalo Bills. It's possible we'll know Kelly's plans by the end of the weekend.
Ducks fans chanted "Four more years!" at the end of the game. Kelly's four years atop the program -- two Rose Bowls, a national title game and a Fiesta Bowl -- have been the most successful in program history by a wide margin. The Ducks are headed for their third consecutive top-five ranking and figure to be top-five in the 2013 preseason, whoever their coach is.
The postgame interviews focused less on the Ducks' dominant performance in all phases and more on Kelly and offensive coordinator Mark Helfrich, who is expected to replace Kelly should he leave.
Oregon players paid tribute to both.
"[Kelly] means everything," said running back
Kenjon Barner
, who gained 120 of his 143 yards in the second half. "Without him, I wouldn't be the running back that I am. Sitting with him in meeting rooms is a lot different than sitting in any other meeting room that I've ever been in because it's not just about football, it's about life. He teaches you life lessons as a man, so he means a lot to me."
But Barner also added that Helfrich is ready to take over.
"If that does happen, expect the same," he said. "Nothing will change."
Said offensive lineman
Kyle Long
: "Seamless transition. They're cut from the same tree. I'll tell Duck Nation right now, Coach Helfrich is a brilliant coach. Great relationships with his players and other staff members. We all love Helf."
Said Helfrich about potentially becoming the Ducks coach: "We'll cross that bridge. ... Whatever happens, happens."
Helfrich coaches the Ducks quarterbacks, and his star pupil had another great game. Mariota, who won game MVP honors, completed 12 of 24 passes for 166 yards and two touchdowns with no interceptions. He also rushed eight times for 62 yards and a score.
"He's a great young player," said Kansas State linebacker
Arthur Brown
, an All-America. "He has a bright future."
Both these teams suffered their only regular-season loss on Nov. 17. The Ducks lost in overtime to Stanford, which won the Rose Bowl. Alabama also has one loss, but it's playing unbeaten No. 1 Notre Dame for the national title. Kelly was asked where he thought his team ranked.
"I don't know," he said. "I don't have a vote. I don't want a vote. This is my favorite team, so I vote us No. 1."
As for whether he's about to leave his favorite team, Kelly left few clues. He called his oncoming interviews a "fact-finding mission."
"I want to get it wrapped up quickly and figure out where I'm going to be," he said.
He's not the only one.
A program and an enraptured fan base is holding its collective breath. They are hoping Kelly will be winning more days for years to come.
January, 3, 2013
1/03/13
7:28
PM ET
GLENDALE, Ariz. -- The first half of the Tostitos Fiesta Bowl featured plenty of momentum swings, but Oregon's proved the most potent, even though the Ducks' running game struggled.


The Ducks are up
22-10
at the half, despite only rushing for 52 yards.
Oregon couldn't have started faster, with
De'Anthony Thomas
going 94 yards for a touchdown on the opening kickoff, with a 2-point conversion making it 8-0. Thomas then scored on a brilliant 23-yard run after a screen pass, making it 15-0.
The Kansas State offense and quarterback
Collin Klein
then got on track, scoring the next 10 points.
But the final swing was huge: Kansas State missed a 40-yard field goal, and Oregon drove 77 yards in five plays, needing just 46 seconds to make it 22-10.
Kansas State gets the ball to start the third quarter.
The Wildcats outgained Oregon 170 to 158. They were 6-of-10 on third down, and had the ball for 21 minutes in the first half, compared to nine for the Ducks.
The big question in the second half is whether the Ducks can get the running game going or if they will need to pass. Kansas State has been a second-half team all season, so this one is hardly over.
January, 3, 2013
1/03/13
12:09
PM ET
Here are three Oregon keys for the Tostitos Fiesta Bowl:


1. Win the turnover battle:
Kansas State is No. 1 in the nation in turnover margin. Oregon is No. 3. The Wildcats are ranked that highly because they've given away only 10. The Ducks are that high because they've taken away 38. In Kansas State's lone loss to Baylor, QB
Collin Klein
threw three interceptions. In fact, Klein threw five of his seven interceptions in the final three games. Oregon QB
Marcus Mariota
threw only one pick over the final six games, but that interception came in the loss to Stanford. As Oregon coach Chip Kelly would tell you, winning the turnover battle is not just about getting them. It's about what you do with them or what you do when you give them away. Defenses need to make a stand; offenses need to take advantage.
2. Special teams:
Both teams are good on special teams, but Kansas State might be the best in the nation. The Wildcats are No. 1 in the nation in punt and kick returns and have a good field goal kicker. As many Ducks fans know, Oregon hasn't been very good at kicker the past two seasons. If the game comes down to field goals, the Ducks are probably going to lose. Further, special teams dictate field position. Beyond that, it seems as if big bowl games feature at least one or two big plays on special teams -- a big return, a blown kick, a blocked kick, etc. In a close game, special teams often make the difference.
3. Get Klein down on first contact:
It's strange to say that a quarterback is a physical runner, but that is Klein's game. He runs hard, breaks tackles and is his most aggressive near the goal line, and he gets better as the game goes along, like a good running back. He averaged 13.2 designed running plays per game in Big 12 games, averaged 5 yards per carry and had at least one touchdown in all nine conference games, including five games with at least two touchdowns. Further, he is averaging 1.4 more yards per run on such plays in the second half compared to the first. The Ducks need to be sound tacklers. They need to hit Klein hard. And they need to gang-tackle.
January, 3, 2013
1/03/13
10:00
AM ET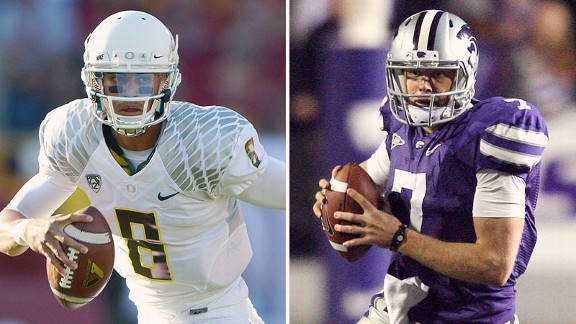 USA TODAY SportsWith quarterbacks Marcus Mariota and Collin Klein, the Fiesta Bowl won't be lacking in star power.
SCOTTSDALE, Ariz. -- The Tostitos Fiesta Bowl on Thursday night? Forget the corn chips; this matchup is about something else.
It's the Regret Bowl. The What Might Have Been Bowl. It's the Can the Mayans Make the Apocalypse Take Out Only Nov. 17 Bowl.
If Nov. 17, when No. 4 Oregon and No. 5 Kansas State both lost their only game of the season, were wiped away, this Ducks-Wildcats showdown likely would have been for the national title.
So, yes, when the Ducks and Wildcats turned on ESPN during the past month or so and watched reports on Alabama and Notre Dame, they often were nicked by a pang of regret, no matter how philosophical a pose their respective coaches tried to establish in the locker room.
Regrets? Yeah, both teams have a few.
"Yeah, a little bit, I'm going to be honest with you," Oregon quarterback
Marcus Mariota
said. "It's one of those things you have to learn from. We lost at the wrong time."
Of course, denial can come in handy. Alabama-Notre Dame? Who are they?
"I think this is the best two teams in the nation in this game right here," said Kansas State receiver
Chris Harper
, who transferred from Oregon. "I know Notre Dame and Alabama have their game, but I think this is the best matchup."
It's certainly a good matchup. No other bowls -- other than that aforementioned matchup in South Florida -- matches top-five teams. You have plenty of star power, with Kansas State QB
Collin Klein
, a Heisman Trophy finalist, and Oregon running back
Kenjon Barner
and Kansas State linebacker
Arthur Brown
, both All-Americans. Then there's celebrated Ducks redshirt freshman quarterback Mariota, who was first-team All-Pac-12 and will be near the top of many 2013 preseason Heisman lists.
And then there are the coaches. Kansas State coach Bill Snyder, the septuagenarian program builder, and Oregon's Chip Kelly, the wise-cracking mad scientist of offense, both would make just about everyone's top-10 list of college football coaches. An added dimension of intrigue is the possibility that Kelly may be coaching his last game as a Duck, as he's being eyeballed by a number of NFL teams.
Said Kelly, "I do not know what the future holds. I do know we have a football game [Thursday] night, and I'm going to be there."
Kelly's crew is playing in its fourth consecutive BCS bowl game. It lost its first two, including here to Auburn in the national title game after the 2010 season, but beat Wisconsin in the Rose Bowl last year. Kansas State is playing in its first BCS bowl game since 2003, and it has lost its past two bowl games.
So there doesn't seem to be much question about how hungry the Wildcats are to end their season with a victory.
"It would be huge," said Klein, who is 21-4 over the past two seasons. "We talk about finishing all the time. We haven't been able to finish the last two years. To be able to do that is very important to us."
Part of Kelly's coaching philosophy is that every game is the same -- a Super Bowl! -- because your preparation should always be your best. Yet the Ducks want to maintain their perch among college football's elite. A Fiesta Bowl victory likely would cement a 2013 preseason top-five ranking because the Ducks have a lot of talent coming back next fall.
"We have to make a statement to the rest of the country," Ducks offensive lineman
Kyle Long
said.
As for keys, you hear the usual from both coaches: turnovers, tackling, special teams, etc. But turnovers seem to be even more notable than usual in this one, at least based on the teams' performances this season.
Kansas State has the third-fewest turnovers (10) in the FBS this season and has forced the eighth-most (31). Oregon is tied for first in turnovers forced with 38, including 24 interceptions. The Ducks turned the ball over 19 times, second-fewest in the Pac-12.
Klein had three interceptions in the Wildcats' 52-24 loss to Baylor.
"When we've turned it over, we've struggled," Snyder said. "When we haven't, we've played reasonably well."
Sure, both teams wish they were playing for a national title. But the winner of this game will finish ranked in the top four. So that's better than 116 other FBS teams. Not too shabby, even if it includes a dose of what might have been.
Kelly was asked what he'd learned after playing in four consecutive bowl games.
"I think you learn really how hard it is to get there," he said. "That's the one thing I think as a team, as a staff, as a group of players, to not take it for granted. It's a truly special thing to be able to play in a BCS game."
Of course, it's more special to win one.
December, 27, 2012
12/27/12
10:00
AM ET
As the bowl season approaches, we're going to be looking a little closer at each game. We'll go down the Big 12 bowl schedule in chronological order.
TOSTITOS FIESTA BOWL
No. 5 Kansas State (11-1) vs. No. 4 Oregon (11-1)


Where:
University of Phoenix Stadium, Glendale, Ariz.
When
: Thursday, Jan. 3, 8:30 p.m. ET
TV
: ESPN
About Kansas State
: Bill Snyder's boys proved they could get over a painful Baylor loss. With the Big 12 title in the balance, K-State thrashed Texas with a second-half surge to win the Big 12 title on its home field. K-State made the first 10 games of the season look pretty easy, even with close wins over Oklahoma and Iowa State on the road. The Wildcats largely controlled both games but blew out a whole bunch of 7-5 Big 12 teams like West Virginia, Texas Tech and Oklahoma State. The Wildcats have a great case as the best K-State team ever, even though a painful loss to Baylor cost them what looked like a really likely shot at a national title after reaching No. 1 in the BCS for the first time ever after a win at TCU. This was K-State's first Big 12 title since 2003 but the first time it's truly been the Big 12's best team throughout the regular season since 1998.
About Oregon
: The Ducks are all about go, go, go and this season's been no exception. The run-heavy offense didn't miss a beat without LaMichael James and Darron Thomas. We'll talk about the Ducks trio more a little later, but Oregon nearly reached the national title game for the second time in three years before a painful overtime loss to Oregon's super offense's kryptonite: Stanford. The Ducks hadn't scored fewer than 42 points all season. Stanford held them to just 14 in an overtime loss the same night K-State lost to Baylor. The teams were No. 1 and No. 2 in the BCS on Nov. 17, poised to block the SEC from playing for a seventh straight national title, but the loss also cost Oregon a bid to the Pac-12 championship and a second consecutive Rose Bowl berth. Instead, the Ducks are headed to the desert where they lost to Auburn in the title game two years ago. The Ducks are 4-1 against top 25 teams, but haven't played anyone ranked higher than No. 13, which was Stanford. Those four wins, though, came by an average of almost 29 points.
Wildcats to watch
: In case you missed the second half of the Wildcats' win over Oklahoma State, Heisman finalist
Collin Klein
is K-State's offense. Receiver
Chris Harper
and running back
John Hubert
are fine talents in their own right, but Klein is the man who makes it all go. When he's out or plays poorly like he did against TCU and Baylor (performances that ultimately cost him the Heisman Trophy), K-State can look very, very average offensively. Linebacker and Big 12 Defensive Player of the Year
Arthur Brown
has led one of the Big 12's best defenses along with cornerback
Nigel Malone
and big-time pass-rusher
Meshak Williams
.
Ducks to watch
: How many players on any team ever have had three different players earn legitimate Heisman hype at some point during the season? Scatback
De'Anthony Thomas
was an early-season splash before slowing with limited touches as the season moved forward, though
Kenjon Barner
emerged as the team's best back throughout the season. In the middle of the season, though, quarterback
Marcus Mariota
landed on a few ballots with some big games, too. Barner is the team's best player, ranking fifth nationally with 1,624 rushing yards, but Mariota's passer rating of 165.36 is higher than every Big 12 quarterback but
J.W. Walsh
. Linebacker
Michael Clay
racked up 92 tackles and fellow backer
Kiko Alonso
led the team with 12 tackles for loss (two defensive linemen,
Dion Jordan
and
Taylor Hart
, combined for 20.5), but let's be honest: It's all about the offense on this squad.
Did you know?
Because of expansion quirks, there have been six Big 12 teams to play in this game in the past five years. No Big 12 team won the game from 2001-08, but the league is 3-1 in the game in the past four seasons, including huge wins over No. 10 Ohio State and No. 4 Stanford over that stretch. (There were also rumors of a win over a five-loss team from somewhere in the Northeast, but I don't know anything about that.)
More on the Big 12 Bowls:
December, 2, 2012
12/02/12
5:53
PM ET
By
DuckNation staff
| ESPN.com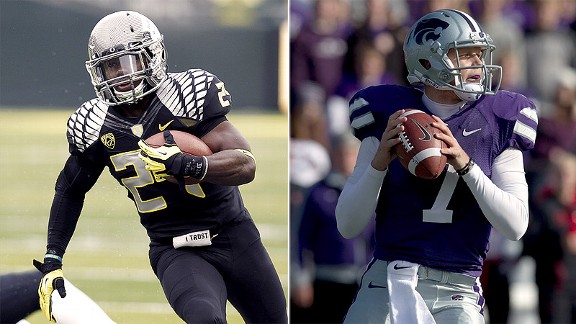 AP PhotoExpect both Oregon, led by running back Kenjon Barner, and Kansas State, led by probable Heisman finalist Collin Klein, to do work on the ground in the Tostitos Fiesta Bowl.
Oregon will take on Kansas State in the Tostitos Fiesta Bowl in Glendale, Ariz., on Jan. 3, as Oregon's big-play offense will face off with the Wildcats.
Fiesta home »
K-State clubhouse »
December, 2, 2012
12/02/12
5:51
PM ET
Oregon Ducks (11-1) vs. Kansas State Wildcats (11-1)
Jan. 3, 8:30 p.m. ET, Glendale, Ariz. (ESPN)
Oregon take by Pac-12 blogger Ted Miller:
Oregon began the season as the perceived second fiddle to USC. It finished as the second fiddle to Stanford, after the Cardinal handed the Ducks their only defeat, a 17-14 overtime loss. Still, another top-five ranking and a fourth consecutive BCS bowl game makes it difficult to call the season less than a success.

The big question entering the season was replacing quarterback Darron Thomas, who made an ill-fated decision to leave early for the NFL draft. One of the theories on why Thomas left early was that his two backups were better than him. Well, based on the way redshirt freshman
Marcus Mariota
played, it's easy to see why Thomas might have thought that.
Mariota ranked sixth in the nation in passing efficiency this season, with 30 TD passes and just six interceptions. He completed 70 percent of his throws. He also rushed for 690 yards and four touchdowns. So quarterback questions were answered emphatically.
The Ducks blew through an easy early schedule. There was no marquee nonconference matchup to provide a test, and the early Pac-12 foes didn't offer much resistance, either. Arizona was supposed to offer a challenge, but it went down 49-0. Same with Washington (59-21) and Arizona State (43-21). The Nov. 3 game with USC was supposed to be a marquee showdown, but the Trojans didn't cooperate, arriving at the game with two losses, including a defeat the weekend before at Arizona. The Ducks rolled past the Trojans 62-51, despite numerous injuries on defense.
The dominance against solid, if non-elite foes, made Ducks look like a national title contender. By Week 12, they were ranked No. 2 in the BCS standings behind Kansas State. That looked like the potential national title matchup. But things changed for both.
After dusting California, the Ducks played host to Stanford, a team they had dominated the previous two seasons. Yet the Cardinal found its mojo on defense and shut down Chip Kelly's offense like few had before. Even with an impressive 48-24 win at Oregon State the next weekend, the Ducks couldn't get into the Pac-12 title game, because Stanford won the North, due to the head-to-head victory.
This Oregon team is strong on both sides of the ball. The defense faltered a bit late because of injuries, but it should be fairly healthy after a few weeks of rest.
The final question for Oregon fans heading into the bowl game: Will this be Kelly's last game leading the program? Many have already projected he will take an NFL job this offseason.
---
Kansas State take by Big 12 blogger David Ubben:
Kansas State can celebrate its first Big 12 title since 2003 with a trip to Glendale, Ariz., for the Fiesta Bowl, the Big 12's traditional tie-in for its champion. The Wildcats' loss to Baylor in their 11th game of the season kept them out of the national title game, but they rebounded to beat Texas in the finale and earn the Big 12's automatic BCS bid, and face Oregon.

Just like he's done so many times this season, the focus for Bill Snyder and his Wildcats will be slowing down an offense that loves to move fast, fast, fast. Even the fastest Big 12 teams might not move as quickly as Oregon, which has the nation's fastest running backs and an offense that prides itself on pace. Kansas State's offense is plenty effective, but will take its time at the line of scrimmage. Heisman candidate
Collin Klein
will face a worthy adversary in Oregon freshman quarterback
Marcus Mariota
, who received a little bit of Heisman hype himself. However, Kansas State's defense, led by speedy, sure-tackling linebacker
Arthur Brown
, will try to contain Oregon's duo of
Kenjon Barner
and
De'Anthony Thomas
, who also spent some time on Heisman watch lists during the season. Expect two potent, but different, running games to go head to head. Whoever wins the line of scrimmage will win this one, but Kansas State will try to get back to its efficient self. The Wildcats lead the nation in turnover margin and starting field position, and they have committed the third-fewest penalties in FBS games, with just 42 in 10 games. That's a recipe for success, and it's exactly how the Wildcats won the Big 12 title and reached their first BCS game since 2003, the last time it won the league.
Like Oklahoma State last season, Kansas State successfully bounced back after a painful upset loss on the road ruined hopes of a national title and a Heisman Trophy. Can the Wildcats beat a solid Pac-12 opponent in Oregon like Oklahoma State did with Stanford a year ago?
This wasn't the ending to the season Kansas State would have liked after reaching 10-0, but with a month between games, it'll realize by then that reaching this point is no small accomplishment, and winning this game will be important in improving the way this season is remembered. Kansas State won the Fiesta Bowl back in 1997, but lost in 2003. Can this be another BCS notch on the belt of the Cats' legendary coach?
November, 6, 2012
11/06/12
10:30
AM ET
Just when we were ready to hand the Heisman to
Matt Barkley
(in the preseason, of course),
Geno Smith
came along and snatched it away. Until
Collin Klein
took it from him. And now, we might have another late-season changing of the guard with Oregon's
Kenjon Barner
coming on strong in recent weeks before blowing up against USC. Such is the fickle nature of the Heisman tracker. Barner is squarely in second place in the ESPN.com Heisman poll, though he has only one first-place vote this week (compliments of yours truly). He has 10 of the 15 second-place votes. Barkley and
De'Anthony Thomas
have dropped off the radar and
Marqise Lee
is the only other Pac-12 player receiving votes.
Kenjon Barner, RB, Oregon
Week 10 numbers: Carried 38 times for 321 yards (8.4 average) with five touchdowns. Caught two balls for 26 yards.
Season numbers: Has carried 179 times for 1,295 yards (7.2 average) with 19 rushing touchdowns. Has 15 catches for 184 yards and a score.
What went well: Where to start? The records? The fact that it was on the road at USC? The fact that anyone who watched that game should have been convinced he's the top running back in the country? All in all, a thoroughly dominant and prolific performance.
Any questions? Nope. None here. Others, however, still see Klein as the front-runner for now. But it's hard not to imagine Barner didn't punch a ticket to New York with his showing Saturday.
Others receiving votes
Marqise Lee, WR, USC
Week 10 numbers: Caught 12 balls for 157 yards and two touchdowns.
Season numbers: Has 88 catches for 1,286 yards and 12 scores.
Thoughts: While Barner went off and showed the country he's the best running back in the nation, there should be no question about who the best wide receiver is. The loss shouldn't take away from another stellar showing.
November, 3, 2012
11/03/12
10:43
PM ET
LOS ANGELES -- Oregon turned in a singular, historic offensive performance against USC in the Ducks'
62-51 victory
on Saturday in front of 93,607 fans in the Coliseum. No team has ever gained 730 yards or scored 62 points on the Trojans.
That's in 120 years of football. Heck, it's 107 yards more than Notre Dame piled up in 1946 in setting the mark that lasted 66 years.
The man at the center of this Ducks feeding frenzy is an unassuming guy who just earned his emphatic "hello world" moment: Running back
Kenjon Barner
. And by "hello world," we mean, "Here's your ticket to New York for the Heisman Trophy ceremony."
Said one observer, "I think that he's the best player -- that's singular, not plural. I think he deserves the Heisman. He should be right up there with everyone else. He's been doing it day in and day out. If they weren't beating people so bad, he'd probably have 2,000 yards right now. He's great."
That observer would be LaMichael James, a former Ducks running back and Heisman finalist himself, and he was reacting to Barner shattering James' team single-game rushing record of 288 yards, set last year against Arizona. Shattering? Barner rushed for 321 yards and five touchdowns against a Trojans' run defense that entered the game ranked 29th in the country, giving up 123 yards per game. That defense gave up just six rushing touchdowns in its previous eight games.
Barner and James, now with the San Francisco 49ers, just happen to be best buddies who talk frequently.
"I'm happy that he broke that record," James said. "Anytime your best friend can break your record, it means more. It's like, 'Man, my record got broken. But Kenjon broke it, so it's OK.'"
Barner entered the game ranked 10th in the nation in rushing. He now has 1,295 yards on the ground, and his 143.88 yards per game would have ranked second last week. He now averages 7.23 yards per carry and has scored 19 touchdowns, numbers that will rank among the very best in the nation this week.
With a potential injury to
Collin Klein
, Kansas State's multi-talented field general, it's possible Barner could even become a threat for the Heisman front-runner position.
Barner, who also caught two passes for 26 yards, including a 12-yard reception that converted a key third down in the fourth quarter, would hardly rate as euphoric after the game. He didn't seem too surprised with the way his and the Ducks offense's evening went.
"I've said it before and I'll keep saying it. People doubt, I don't," he said. "I know what I'm capable of. I know what this team is capable of."
Barner had 169 yards at halftime and 250 yards entering the fourth quarter. Of his 38 carries, he lost yardage on only one.
And, yes, he'd like to get Heisman consideration.
"It would absolutely be meaningful," he said. "Who doesn't want to get invited to New York for the Heisman Trophy ceremony?"
Barner's touchdown runs covered 27, 5, 9, 5 and 22 yards. He sliced the Trojans from the outside and diced them inside. The 5-foot-11, 192-pound senior simply couldn't be stopped.
"He's a warrior -- he's had an unbelievable impact on our team," Oregon coach Chip Kelly said. "He's the one leader of [the offense] and he's really embraced that role and our guys follow him. Not only does he talk about it, but he lives it. It's the same way in practice.'
And Barner is a true believer in the Tao of Chip Kelly. Ask him about big-picture questions, the kind of query that Kelly knocks away with a smirk, and he doesn't even sniff the bait.
Such as: Did he and the Ducks make a statement by running all over the Trojans?
"There is no statement to be made," he said. "We just come out and play football. If you come out playing with a mindset of your having to make a statement, you're not focused on the task at hand."
At 9-0, and on the cusp of moving up in the BCS standings, Oregon again looks like a national title contender. While Barner won't look past the next weekend, or attempt to sell his team to national pollsters and pundits, he will make clear what he thinks of the 2012 Ducks.
Said Barner, "I feel like we're the best team in the country on any night."
Maybe. It's becoming increasingly clear that the Ducks might be -- again -- the best offensive team in the country. And that Barner may be the best offensive player.
Pac-12 Teams Can Load Up At WR
PAC-12 SCOREBOARD
Thursday, 9/3
Friday, 9/4
Saturday, 9/5