Oregon Ducks:

Clemson Tigers
June, 28, 2013
Jun 28
10:45
AM ET
2013 may be the season of the quarterback in college football, because a lot of good ones are coming back.
In the SEC, there's Alabama's
AJ McCarron
, Georgia's
Aaron Murray
and Texas A&M's
Johnny Manziel
, who won the 2012 Heisman Trophy. Louisville has
Teddy Bridgewater
, and Clemson offers
Tajh Boyd
. In the Pac-12, there's UCLA's
Brett Hundley
, Stanford's
Kevin Hogan
and Arizona State's
Taylor Kelley
.
But the best one coming back is Oregon's
Marcus Mariota
.
How so? Well, for one, that was the assignment: Make a case for the best quarterback in your conference being the best in the nation.
But it's not too difficult to make Mariota's case.
As a redshirt freshman, he ranked seventh in the nation in passing efficiency. He completed 68.5 percent of his passes for 2,677 yards with 32 touchdowns and six interceptions. He also rushed for 752 yards and five touchdowns, averaging 7.1 yards per carry.
He threw a touchdown pass in every game and one interception in his final seven games. He was named MVP in the Fiesta Bowl after leading a blowout win over Big 12 champion Kansas State, which capped a 12-1 season and a final No. 2 ranking for the Ducks.
He earned first-team All-Pac-12 honors after leading an offense that ranked second in the nation in scoring (49.6 PPG) and fifth in total offense (537.4 YPG). The Ducks scored 11 points per game more than any other Pac-12 team.
The 6-foot-4, 196-pound Honolulu native is an extremely accurate passer who might be the fastest quarterback in the nation -- see his 86- and 77-yard runs last season. Against USC on the road, he completed 87 percent of his passes with four touchdowns and zero interceptions. He tied a school record with six touchdown passes against California. He rushed for 135 yards at Arizona State.
Of course, his 2012 numbers aren't mind-blowing. A lot of that isn't his fault. Oregon blew out so many opponents -- average halftime score of 31-9 -- that it didn't require many plays from behind center after the break. For the season, Mariota threw just 24 passes and rushed eight times in the fourth quarter, compared to 227 passes and 71 rushes in the first half.
Manziel, for the sake of comparison, threw 62 passes and rushed 33 times in the fourth quarter. Bridgewater threw 86 passes and rushed 13 times in the fourth.
The good news is folks are probably going to see a lot more of Mariota this season. With running back Kenjon Barner off to the NFL, the Ducks might skew more toward the passing game after being run-centric under Chip Kelly. New coach Mark Helfrich, who was the Ducks' offensive coordinator and quarterbacks coach last year, is expected to throw the ball around more because he has an experienced quarterback and a strong, experienced crew of receivers.
That means more numbers for Mariota as he leads a team in the national title hunt. The potential combination of stats and wins might be enough to get Mariota to New York in December for the Heisman Trophy ceremony.
September, 19, 2012
9/19/12
9:30
AM ET
If statistical trends established in the first three games hold true, No. 3 Oregon and No. 22 Arizona should combine for 1,200 yards and 100 points when they meet in Autzen Stadium in Eugene, Ore., on Saturday.
That would be great fun, types the guy not playing defense.
Both offenses are up-tempo, no-huddle, run-based attacks. In fact, Wildcats coach Rich Rodriguez is generally considered the father of the modern spread-option offense, while Ducks coach Chip Kelly is probably its most successful practitioner. And they are connected. In the spring of 1999, Kelly, then an offensive coordinator at New Hampshire in search of a new, fullback-less scheme, traded notes with Rodriguez, who was then the offensive coordinator at Clemson.
"Very similar philosophically," Rodriguez said. "You see some of the same plays. It looks like some of the same concepts. Philosophically we're very close in how we like to approach the game from an offensive standpoint."
Kelly, however, as is often his wont, was unwilling to indulge the media's interest in the relationship between Rodriguez and himself and their offenses. "I think it's made more of than it is," he said of the 1999 path-crossing at Clemson.
"When I look at them on tape, I don't say, 'I'm looking at us,'" Kelly said. "We use different formations than they use. We run some plays that are the same, but I think everybody runs some plays that are the same."
[+] Enlarge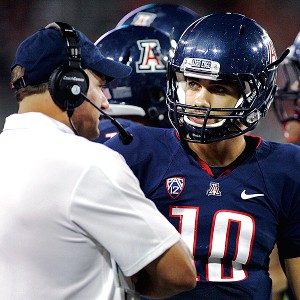 AP Photo/John MillerUnder new coach Rich Rodriguez, left, QB Matt Scott has Arizona's offense in the top 10 nationally.
Both teams have started the season fast, ranking in the nation's top 10 in total offense. Both are running well, with the Ducks ranking fourth in the nation in rushing with 329 yards per game, Arizona 19th with 247. The Wildcats have thrown for a lot more yards -- 357.7 per game to 267.3 for the Ducks -- but that could be due in large part to Arizona having played a pair of competitive games. Both teams' dual-threat quarterbacks are playing well, with Oregon redshirt freshman
Marcus Mariota
ranking 10th in the nation in passing efficiency and Arizona fifth-year senior
Matt Scott
ranking 31st.
So these offenses, even if they are only loosely related, are rolling.
The difference in the teams overall is on the other side of the ball. Oregon, even with the season-ending knee injury to safety
John Boyett
, is deep and talented on defense. Arizona? It's playing hard in its new 3-3-5 scheme. The Wildcats have been, well, scrappy.
"They are hanging in there," Rodriguez said. "I am proud of the way they've battled. We are really short-handed and not nearly deep enough. We're just hanging on. This is going to be a huge challenge, certainly."
Oregon's defense hasn't put up great numbers. In fact, Arizona, after shutting out South Carolina State, is better by several measures. But a lot of that can be attributed to the Ducks not playing starters many second-half minutes during blowout victories. And an opponent third-down conversion rate of 15.6 percent certainly raises an eyebrow.
"I kind of like where they are at right now," Kelly said.
Neither defense will be shocked by the pace of the opposing offense. But the difference in depth should become an issue. Perhaps a decisive one, particularly in the fourth quarter. The Ducks will regularly rotate pretty much a full two-deep. The Wildcats, as Rodriguez noted, won't. The Ducks have 21 players with five or more tackles. Arizona has only 14 with at least five tackles. The backups for the Wildcats' front six have combined for 10 tackles. The Ducks' No. 2s for their front seven have combined for 46.
You almost wonder if Rodriguez might try to slow things down, but that would be against his nature.
For Oregon, while Kelly holds to his mantra of a nameless, faceless opponent of no more meaning and value than, say, Tennessee Tech, this is its first real test, the Pac-12 opener for a team that now sits atop the conference pecking order because of USC's loss to Stanford.
If the game looks anything like the
56-31 beatdown
Oregon delivered in Tucson last year, it will become clear that the Ducks are again title contenders -- conference and otherwise.
It's surprising that Arizona is 3-0. It will be shocking if the Wildcats improve to 4-0. It probably will require an atypical level of sloppiness from the Ducks for the upset to happen.
Still, there's a good reason Vegas tapped this game with a 77.5-point over/under, by far the biggest number of the weekend. The expectation is there will be lots of offense -- and lots of exhausted defenders -- when the final bell rings.
August, 22, 2012
8/22/12
4:58
PM ET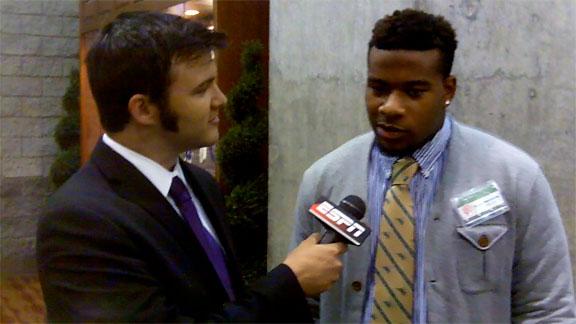 Robert Nkemdiche committed to Clemson, but that didn't slow down his recruiting. Kipp Adams talks with the nation's top recruit about his recruitment since committing to Clemson, and his goals for the 2012 season.
Oregon Players Facing Discipline