Oregon Ducks:

Clemson Tigers
June, 27, 2014
6/27/14
8:56
AM ET
July 1 could be a big day for the Oregon Ducks. After narrowly missing out on five-star quarterback
Kyler Murray
and then QB
Blake Barnett
(No. 56 in the ESPN 300), No. 141
Travis Waller
is set to announce with the Ducks and Notre Dame considered the top two. After being considered a lean to Notre Dame in recent weeks, a June 21 offer by Oregon is a potential game-changer. With the offer to Waller, Oregon is in position to not get left out of the quarterback sweepstakes in 2015. The Ducks offered No. 89
Sam Darnold
on June 16 following Barnett's pledge to Alabama. With the offer to Waller five days later, they have a very good chance to snag one of the two remaining top quarterback prospects on the West Coast.
[+] Enlarge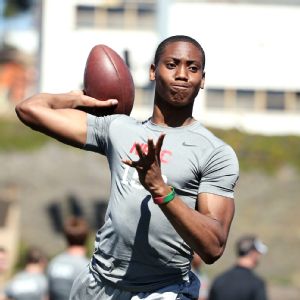 Tom Hauck for Student SportsTravis Waller, the No. 6 QB-DT in the ESPN 300, is set to decide between Oregon and Notre Dame on July 1.
There are currently four five-star prospects committed in the Class of 2015. On July 2, another will come off the board when No. 13
Justin Hilliard
announces his decision. The day should be a great one for either Ohio State or Notre Dame with the Buckeyes having been the team to beat headed into last weekend's unofficial visits to South Bend and Columbus. As decision day closes in, Ohio State remains the team receiving the behind-the-scenes chatter as the most likely destination for the outside linebacker. Should the Buckeyes reel in Hilliard next Wednesday, it will be a huge shot in the arm for Ohio State as he is close with a number of top prospects in the Midwest with the ability to impact a class with more than just his pledge.
ESPN 300 No. 226
Sage Hardin
will announce his decision Friday at 6 p.m. via Twitter (
@SageHardin75
). While the athletic offensive tackle hasn't been tipping his hand in regards to a favorite, he did tell RecruitingNation on Wednesday night that Georgia, Virginia, Tennessee, California, Miami (Fla.), Georgia Tech and NC State are in the running. The Georgia offer June 16 was a huge one for the Atlanta-area prospect, as was the offer from Tennessee June 17. The Hurricanes have placed the full court press on Hardin, and a June 7 unofficial visit to NC State impressed more than anticipated. There are family connections to Virginia, but the uncertainty of the Cavaliers' future is cause for concern. This one is likely to come down to the home state Bulldogs, the Volunteers and Cavaliers with Georgia having gained the most mention since offered 11 days ago.
Three-star safety
P.J. Locke
has announced that he will make his commitment on July 1 at Beaumont Central High. He has a final 10 school list of Arizona State, Baylor, Michigan State, Notre Dame, Oregon, Penn State, Stanford, TCU, UCLA and Wake Forest. Since an early June unofficial visit to Eugene, the Ducks have been the team trending with Baylor and TCU working hard to try to keep the physical safety in-state.
ESPN 300 No. 63
Abdul Bello
had plans to make a number of summer camps, and for the first time see college programs outside the Sunshine State. The plans changed in early June with Bello taking summer school classes. After only having the time to attend Florida camp in early June, Bello and his coach are currently working to scheduled July trips to LSU and Auburn, along with a trip to Florida State and likely back to Gainesville for Friday Night Lights.
Florida State will hold its annual July camp on the 16th through 18th. Although the Class of 2015 will be the main focus of the Seminoles' camp, the top prospect in attendance may well be 2016 quarterback
Malik Henry
. The 6-foot-2, 175-pound Henry will be in Tallahassee and is scheduled to work out all three days of the camp. Henry is at the top of the quarterback board for Florida State in 2016, and is also at the top of the board for UCLA with the hometown Bruins having had the full court press on Henry for months already.
No. 48
Richard McBryde
continues to have Auburn in front with Miami (Fla.), Florida and Alabama in the mix. The Under Armour All-America Game selection said Thursday that Auburn is recruiting him the hardest, and is pushing him to commit. With that said, McBryde said he hopes to make unofficial visits to Miami (Fla.) and/or Florida. McBryde said the pressure from Auburn to commit does not hurt the Tigers, but shows how much they value him as a player.
Four-star athlete
Shaquery Wilson
continues to have Georgia on top of his list followed closely by Arkansas. The month of July will prove to be impactful in the wide receiver and cornerback prospect's recruitment. Wilson is scheduled to camp at Alabama for three days in July at wide receiver, and an offer would definitely be a game-changer. Wilson will also attend Dawg Night in July, as well as make unofficial visits to Tennessee and Auburn.
In the Class of 2016, cornerback
Trayvon Mullen
has enjoyed about as impressive of a week as is possible, picking up offers from Alabama and LSU on the same day, as well as getting offers from Wisconsin and Ohio State on Thursday. While the Crimson Tide's offer is a big one, a May offer from Clemson was just as big because the 6-foot-2, long-armed corner has been a Tigers fan for a few years.
April, 24, 2014
4/24/14
5:00
AM ET
1. According to ESPN Insider and Reese's Senior Bowl executive director Phil Savage, it's a thin year for veteran quarterbacks everywhere but the Pac-12. Listing the top pro prospects for the 2015 NFL draft, Savage, speaking with me on the
ESPNU College Football Podcast
on Wednesday, started with
Marcus Mariota
of Oregon and
Brett Hundley
of UCLA, then tossed in
Sean Mannion
of Oregon State. Not to mention the league has
Kevin Hogan
of Stanford,
Taylor Kelly
of Arizona State and
Cody Kessler
of USC.
2. Dabo Swinney is a good man and a stand-up guy. He is proud of his Christianity and believes it can help others as much as it has helped him. As the coach of Clemson, a public university in a religious state, he is preaching to the choir. I'd bet it never occurred to Swinney that he
stepped over the line between church and state
, perhaps because the line is blurrier in South Carolina than in Madison, Wis., where the Freedom From Religion Foundation is based. If the foundation's complaint makes Swinney realize again that everyone is not Christian, then the foundation's complaint is a success.
3. The town of State College is
crowdsourcing a statue to honor the late Joe Paterno
, and it's wonderful that the planned site is not far from Old Main, the home of the Penn State administration that removed the original Paterno statue from outside of Beaver Stadium in July 2012. What are the university administrators thinking? Do they understand they never should have made the removal of the statue permanent? Do they understand how much they rushed to judgment to vilify Paterno? When will they do their part to restore Paterno's place of honor in Penn State history? The locals are doing their part.
January, 17, 2014
1/17/14
5:30
PM ET
Happy Friday. This is the Mailbag.
Follow the Pac-12 blog on Twitter
. It makes trolling SO MUCH EASIER!
To the notes!
(Two exclamation points and we haven't even started! Wait … three!)
Eric from Hollywoodland, Calif., writes:
I understand that the Pac-12 won a pretty major NFL draft battle in keeping the marquee QBs (Hundley, Mariota, Mannion and oft unmentioned Kelly), but why is one of the prevailing storylines STILL "SEC SO GOOD. SEC LOSES SO MANY PLAYER EARLY. ONLY SEC CAN RECOVER FROM SUCH LOSS??" Correct me if I'm wrong, but my Pac-12 educated brain tells me that
12 teams losing 25 players
(2.083/team) might be even worse
than 14 teams losing 28 players
(2/team), right?
Ted Miller
: Well, the SEC lost 32 players last year and the Pac-12 lost only 10.
And then the NFL draft happened
-- 63 SEC draft picks vs. 28 for Pac-12 -- which, by the way, became the grounds for the Pac-12 blog believing the
SEC might slide in 2013 while the Pac-12 might rise
.
My feeling is the Pac-12 will do well in this year's draft, probably finishing a respectable distance behind the SEC. But it's a pretty clear recent trend that the SEC provides the most talent to the NFL among the major conferences.
However, it's also notable that the Pac-12's
2013 NFL rookie class was pretty darn salty
, with former Oregon Ducks LB Kiko Alonso and California WR Keenan Allen being named defensive and offensive Rookies of the Year, and a number of other former conference standouts making a significant mark.
---
Erik from Portland writes:
With [Steve] Sarkisian talking about USC going to an uptempo attack, shouldn't there be concern about whether or not the defense will be able to hold up? Aliotti alternated players constantly to keep them fresh. SC doesn't have the numbers or depth at any position (especially DL and LB) to do that.
Ted Miller
: It will be a concern. It's simple math: Uptempo offenses possess the ball for shorter periods of time, which means more plays for your defense. More plays for your defense means more tired players if you aren't regularly shuffling in quality backups. USC doesn't have a lot in the way of quality backups.
One of the more impressive things about USC's defense under Clancy Pendergast this year was it attained some outstanding numbers while pretty much playing only 13 guys regularly.
Will the Trojans be deeper on defense next year? Perhaps, but only slightly so. Bottom line: Because of NCAA scholarship sanctions, USC will have no more than 72 players on scholarship in 2014, which is 13 fewer bodies than other teams are permitted.
But guess what? Sarkisian knows this. And he's a smart guy. I suspect he will pick his moments and not go all-in. I'm fairly certain USC won't be 100 percent no-huddle, uptempo next fall, particularly with a lead. I think his goal will be to control the tempo and find times to get an opposing defense off balance.
Of course, Sarkisian's desire to adopt an uptempo offense at USC is a long-term plan, at least until his philosophy changes considering this was his first year going that way. This is USC's last recruiting class that will be limited. So, starting in 2015, there should be more fresh body reinforcements.
---
Gee from Seattle writes:
Can the SEC or any other conference put three or even four teams in the playoff next year? If so, how did this come about? Shouldn't the system allow for at least three conference champions and perhaps one at large?
Ted Miller
: There are no limits on teams per conference in the four-team playoff, nor are there specific requirements for selection. The goal of the selection committee will be to pick the four best teams. Not the most deserving -- the four best.
So, yes, if a consensus from the committee is that three -- or four! -- of the best teams in the nation come from the SEC or any other conference, they will be selected.
But know that the committee also won't be eager to do that. For one, if you pick, say, three SEC teams, there's the possibility of rematches, which the committee will know fans don't like to see -- see the unpopular LSU-Alabama national title game after the 2011 season.
My guess is we're probably going to see plenty of four-team playoffs with two teams from once conference, most likely the SEC, but three will be highly unlikely.
---
Scott from Homewood, Calif., writes:
Ted, was wondering about
your final top 25 poll
. Aren't you getting away from your stance of "strength of schedule should mean something" by putting Clemson so high and ahead of Stanford? Yes, Clemson won their last game against a good Ohio State team and Stanford lost their last game to a better Michigan State team. When you look at the schedules, though, they are worlds apart. Name another ranked team that Clemson beat. There are 0 such wins. Stanford beat six ranked teams. Clemson got beat by double digits in its two losses. Stanford lost their three games by single scores and two were against ranked teams. Do you really think Clemson would win on a neutral field, and if you were on the playoff committee, would you really slot Clemson ahead of Stanford looking at the seasons of both teams?
Ted Miller
: I see your point. I do almost always prioritize quality wins.
The combination of a head-to-head win and strength-of-schedule is why I ranked Stanford ahead of Oregon in my final poll, even though this didn't happen in either the AP or coaches poll. The Cardinal had a lot more quality wins than Oregon, including the best one -- the Ducks themselves.
But you asked about Clemson.
Part of my ranking Clemson sixth is pretty simple: My final position on Clemson is it was an elite team in 2013. It was the same justification I used earlier in the year to rank Oregon No. 2, even though the Ducks didn't post a quality victory until winning at Washington on Oct. 12.
Now, I didn't give Clemson the benefit of the doubt much of the season. I had them ranked 13th heading into the bowl games. I jumped them up because I consider the win over Ohio State impressive.
Clemson lost two games by decisive margins, yes, but they were to Florida State, which won the national title, and South Carolina, which finished ranked fourth. Further, I watched the South Carolina game, and it was a lot closer than the deceiving final score. Clemson seemed like the better team, outgaining the Gamecocks, but it lost the turnover battle 6-0.
6-0! I bet Tigers fans were ripping their eyes out watching that.
Further, Clemson beat Georgia while Georgia was still Georgia -- fifth-ranked and an elite team that hadn't yet suffered epidemic injuries. Georgia beat South Carolina the week after losing to Clemson.
Clemson, by the way, has now beaten two top-10 teams in a row in bowl games: LSU in 2012 and Ohio State this year.
(If I had a quibble with my own ballot, in fact, it would be that I ranked Clemson sixth and Oklahoma seventh. At the time I put the ballot together, I considered Oklahoma's losses worse -- Texas and Baylor -- and the Sooners' best win -- Oklahoma State -- was devalued when the Cowboys lost to Missouri in the Cotton Bowl. I could go either way on that, because the Sooners beating Alabama in the Sugar Bowl was very impressive.)
---

Kevin from Orange County, Calif., writes:
Regarding the Wazzu meltdown in their bowl game, why not mention the Stanford/UCLA game? Around two minutes left in the game, Stanford up 17-10 and inside UCLA 10-yard line and UCLA with no timeouts. ... Instead of going to the knee three straight times and guaranteeing a win, Shaw decides to run and try to score. The only way UCLA has a chance is a Stanford turnover or Stanford scores quickly and gives UCLA enough time to score themselves and get an onside kick (UCLA/Utah situation at the end of game). My point is why is Shaw getting a pass for his stupid play-calling at the end of that game if Wazzu is second-guessed?
Only difference seems to be that Stanford won and Wazzu lost.
Ted Miller
: You might have guessed this, but the bold and italics for the final sentence were supplied by me.
It is true. When a strategy works, it rarely gets criticized. And when it fails, it does.
Remember Chip Kelly's shocking onside kick early in the second quarter against Stanford in 2010, with the Cardinal leading 21-10? It was a game-changing moment. It was pure genius.
And we would have thought Kelly had lost his mind if Stanford had recovered and then driven for a 28-10 lead. We would have typed, "Just as Oregon seemed to have gained momentum after a terrible start, Kelly tried to get too fancy and he handed the game to Andrew Luck and Stanford. It's clear that Kelly is in over his head as a head coach and is never, ever, ever going to be successful."
Well, the last part was just me pouring it on.
Also, understand that the Pac-12 blog's consternation over the end game wasn't just about clock management. It was about yielding a 22-point lead, playing horrendous fourth-quarter defense and coughing up the ball two times in the final two minutes.
It was a total package of meltdown.
---
Eric from Culver City, Calif., writes:
Am I a bad person for finding these Chip Kelly quotes hilarious
? Do media folk find him condescending, or is there a small amount of joy in getting slammed by a master? I mean, who wouldn't want to get insulted by Don Rickles?
Ted Miller
: Some might find him condescending, but my feeling is most reporters enjoyed working with Kelly.
Yes, he could be biting. But typically he was biting when someone asked him either: 1. A stupid question; 2. A question that he didn't want to answer. Asking the latter is often part of the reporter's job, and the truth is a biting answer is more fun than him saying, "No comment."
Further, most of his best quips aren't biting. They're him having fun. News conferences with NFL coaches are typically drab affairs. Any added color is appreciated.
As in, "This team is not going to fall for the banana-in-the-tailpipe trick."
Erroneous!
It seemed New Orleans stuck a banana in the Eagles' tailpipe.
June, 28, 2013
6/28/13
10:45
AM ET
2013 may be the season of the quarterback in college football, because a lot of good ones are coming back.
In the SEC, there's Alabama's
AJ McCarron
, Georgia's
Aaron Murray
and Texas A&M's
Johnny Manziel
, who won the 2012 Heisman Trophy. Louisville has
Teddy Bridgewater
, and Clemson offers
Tajh Boyd
. In the Pac-12, there's UCLA's
Brett Hundley
, Stanford's
Kevin Hogan
and Arizona State's
Taylor Kelley
.
But the best one coming back is Oregon's
Marcus Mariota
.
How so? Well, for one, that was the assignment: Make a case for the best quarterback in your conference being the best in the nation.
But it's not too difficult to make Mariota's case.
As a redshirt freshman, he ranked seventh in the nation in passing efficiency. He completed 68.5 percent of his passes for 2,677 yards with 32 touchdowns and six interceptions. He also rushed for 752 yards and five touchdowns, averaging 7.1 yards per carry.
He threw a touchdown pass in every game and one interception in his final seven games. He was named MVP in the Fiesta Bowl after leading a blowout win over Big 12 champion Kansas State, which capped a 12-1 season and a final No. 2 ranking for the Ducks.
He earned first-team All-Pac-12 honors after leading an offense that ranked second in the nation in scoring (49.6 PPG) and fifth in total offense (537.4 YPG). The Ducks scored 11 points per game more than any other Pac-12 team.
The 6-foot-4, 196-pound Honolulu native is an extremely accurate passer who might be the fastest quarterback in the nation -- see his 86- and 77-yard runs last season. Against USC on the road, he completed 87 percent of his passes with four touchdowns and zero interceptions. He tied a school record with six touchdown passes against California. He rushed for 135 yards at Arizona State.
Of course, his 2012 numbers aren't mind-blowing. A lot of that isn't his fault. Oregon blew out so many opponents -- average halftime score of 31-9 -- that it didn't require many plays from behind center after the break. For the season, Mariota threw just 24 passes and rushed eight times in the fourth quarter, compared to 227 passes and 71 rushes in the first half.
Manziel, for the sake of comparison, threw 62 passes and rushed 33 times in the fourth quarter. Bridgewater threw 86 passes and rushed 13 times in the fourth.
The good news is folks are probably going to see a lot more of Mariota this season. With running back Kenjon Barner off to the NFL, the Ducks might skew more toward the passing game after being run-centric under Chip Kelly. New coach Mark Helfrich, who was the Ducks' offensive coordinator and quarterbacks coach last year, is expected to throw the ball around more because he has an experienced quarterback and a strong, experienced crew of receivers.
That means more numbers for Mariota as he leads a team in the national title hunt. The potential combination of stats and wins might be enough to get Mariota to New York in December for the Heisman Trophy ceremony.
September, 19, 2012
9/19/12
9:30
AM ET
If statistical trends established in the first three games hold true, No. 3 Oregon and No. 22 Arizona should combine for 1,200 yards and 100 points when they meet in Autzen Stadium in Eugene, Ore., on Saturday.
That would be great fun, types the guy not playing defense.
Both offenses are up-tempo, no-huddle, run-based attacks. In fact, Wildcats coach Rich Rodriguez is generally considered the father of the modern spread-option offense, while Ducks coach Chip Kelly is probably its most successful practitioner. And they are connected. In the spring of 1999, Kelly, then an offensive coordinator at New Hampshire in search of a new, fullback-less scheme, traded notes with Rodriguez, who was then the offensive coordinator at Clemson.
"Very similar philosophically," Rodriguez said. "You see some of the same plays. It looks like some of the same concepts. Philosophically we're very close in how we like to approach the game from an offensive standpoint."
Kelly, however, as is often his wont, was unwilling to indulge the media's interest in the relationship between Rodriguez and himself and their offenses. "I think it's made more of than it is," he said of the 1999 path-crossing at Clemson.
"When I look at them on tape, I don't say, 'I'm looking at us,'" Kelly said. "We use different formations than they use. We run some plays that are the same, but I think everybody runs some plays that are the same."
[+] Enlarge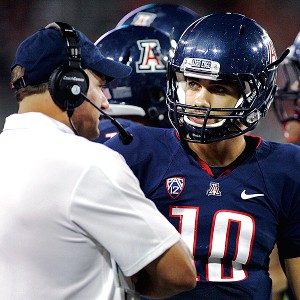 AP Photo/John MillerUnder new coach Rich Rodriguez, left, QB Matt Scott has Arizona's offense in the top 10 nationally.
Both teams have started the season fast, ranking in the nation's top 10 in total offense. Both are running well, with the Ducks ranking fourth in the nation in rushing with 329 yards per game, Arizona 19th with 247. The Wildcats have thrown for a lot more yards -- 357.7 per game to 267.3 for the Ducks -- but that could be due in large part to Arizona having played a pair of competitive games. Both teams' dual-threat quarterbacks are playing well, with Oregon redshirt freshman
Marcus Mariota
ranking 10th in the nation in passing efficiency and Arizona fifth-year senior
Matt Scott
ranking 31st.
So these offenses, even if they are only loosely related, are rolling.
The difference in the teams overall is on the other side of the ball. Oregon, even with the season-ending knee injury to safety
John Boyett
, is deep and talented on defense. Arizona? It's playing hard in its new 3-3-5 scheme. The Wildcats have been, well, scrappy.
"They are hanging in there," Rodriguez said. "I am proud of the way they've battled. We are really short-handed and not nearly deep enough. We're just hanging on. This is going to be a huge challenge, certainly."
Oregon's defense hasn't put up great numbers. In fact, Arizona, after shutting out South Carolina State, is better by several measures. But a lot of that can be attributed to the Ducks not playing starters many second-half minutes during blowout victories. And an opponent third-down conversion rate of 15.6 percent certainly raises an eyebrow.
"I kind of like where they are at right now," Kelly said.
Neither defense will be shocked by the pace of the opposing offense. But the difference in depth should become an issue. Perhaps a decisive one, particularly in the fourth quarter. The Ducks will regularly rotate pretty much a full two-deep. The Wildcats, as Rodriguez noted, won't. The Ducks have 21 players with five or more tackles. Arizona has only 14 with at least five tackles. The backups for the Wildcats' front six have combined for 10 tackles. The Ducks' No. 2s for their front seven have combined for 46.
You almost wonder if Rodriguez might try to slow things down, but that would be against his nature.
For Oregon, while Kelly holds to his mantra of a nameless, faceless opponent of no more meaning and value than, say, Tennessee Tech, this is its first real test, the Pac-12 opener for a team that now sits atop the conference pecking order because of USC's loss to Stanford.
If the game looks anything like the
56-31 beatdown
Oregon delivered in Tucson last year, it will become clear that the Ducks are again title contenders -- conference and otherwise.
It's surprising that Arizona is 3-0. It will be shocking if the Wildcats improve to 4-0. It probably will require an atypical level of sloppiness from the Ducks for the upset to happen.
Still, there's a good reason Vegas tapped this game with a 77.5-point over/under, by far the biggest number of the weekend. The expectation is there will be lots of offense -- and lots of exhausted defenders -- when the final bell rings.
August, 22, 2012
8/22/12
4:58
PM ET

Robert Nkemdiche committed to Clemson, but that didn't slow down his recruiting. Kipp Adams talks with the nation's top recruit about his recruitment since committing to Clemson, and his goals for the 2012 season.
Programs Most Desperate for a Quarterback
PAC-12 SCOREBOARD
Thursday, 9/3
Saturday, 9/5