November, 27, 2013
11/27/13
12:00
PM ET
Oregon and Oregon State fans both can share some enjoyment of this
ESPN.com photo gallery
, though they probably won't share the same emotions over each photo.
From Oregon QB Bill Musgrave in 1987, to Oregon State QB Terrance Bryant in 1998, through the Beavers' big win in 2000, and the Ducks' triumph in 2010, each photo surely will spark memories, both pleasant and unpleasant.
It's worth checking out.
October, 22, 2013
10/22/13
12:20
PM ET
If you catch the state of Oregon collectively lip-syncing to the will.i.am/Britney Spears song "Scream and Shout" this week -- "All eyes on us! All eyes on us!" -- it's understandable.
Oregon, our 27th most populous state, with one tenth the population of fellow Pac-12 state California, one that produced just 13 FBS football signees last February, is the center of the college football universe on Saturday.
[+] Enlarge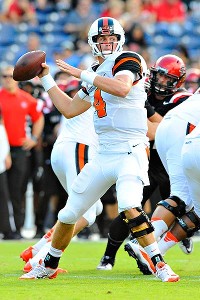 Christopher Hanewinckel/USA TODAY SportsQB Sean Mannion and Oregon State look to win their seventh straight, but it won't be easy against Stanford.
First, No. 12 UCLA visits No. 3 Oregon, with ESPN's College GameDay setting up shop. This is a nice test for the Ducks, one that should allow them, if they win, to climb past Florida State into the all-important second spot in the BCS standings. And, obviously, the Bruins could make a national statement in Year 2 under Jim Mora with a victory.
Then, the nightcap just 45 miles down the road in Corvallis: No. 6 Stanford, the top one-loss team in the BCS standings, visits No. 25 Oregon State. With a win, the Cardinal could set up a marquee North Division match up with Oregon on Nov. 7. Or the Beavers could announce themselves as North contenders, and perhaps hint at another high-stakes Civil War matchup to end the season, not unlike 2009.
If we use the BCS standings as our rankings (the Beavers are No. 28 in the AP poll), it's the first time ranked Oregon and Oregon State teams have played host to ranked visitors on the same Saturday in state history.
Of course, there are other marquee games. No. 10 Texas Tech, unbeaten but untested, visits No. 15 Oklahoma, where it is 100 percent certain Bob Stoops is grumpy. And No. 21 South Carolina, one of the SEC's reeling powers, faces No. 5 Missouri, the unbeaten upstart from the Big 12 that was hopelessly overmatched by the SEC grind (or so almost everyone thought).
Give those games a nice pat on the head. And revert your admiring gaze back to the Beaver state (apologies Ducks, but, well, that's where you live).
A few decades ago, the very notion of the state being even worth a glance from the college football nation would have been difficult to imagine. In 1971, the Beavers began a streak of 28 consecutive losing seasons. From 1965 to 1988, the Ducks never won more than six games.
When Oregon won the Rose Bowl after the 2011 season, it was the first victory in the Granddaddy by either since 1942. The Beavers last Rose Bowl appearance came in 1965.
But since 2000, both programs have been regular inhabitants in the national rankings. The Beavers won the Fiesta Bowl over Notre Dame after the 2000 season and finished ranked fourth, the first of five Top 25 rankings in the final AP poll, including No. 20 in 2012.
And, obviously, Oregon has been on a bit of a roll of late, finishing ranked for the past six seasons in a row, including top-four rankings in the past three.
The Ducks and Beavers, however, presently have different bars over which they are trying to jump.
Oregon is smack in the middle of the national-title hunt, where there is no margin for error. So far, the Ducks have dominated every foe. Their
closest
game was a 21-point win at Washington.
Oregon State started the season nationally ranked by faceplanting with an opening loss to Eastern Washington, an FCS team. In that game, the defense was abysmal. Yet since then, the Beavers have clawed their way to six consecutive victories and are a win away from jumping back into the national polls. Beating Stanford, in fact, could immediately propel them into the teens, not the 20s.
And that defense that got torched by EWU has held the past three Pac-12 foes to an average of 19.3 points per game.
There's obviously a lot at stake for all four teams, but an interesting subplot is the QBs from the Oregon schools. Ducks QB
Marcus Mariota
is No. 1 in ESPN's total quarterback rating (QBR) and tops among Heisman Trophy candidates. Beavers QB
Sean Mannion
leads the nation in passing and touchdowns. He could legitimize his Heisman candidacy with a big game against a rugged Stanford defense.
So there's a good reason all eyes will be on the state of Oregon this weekend. Both games will have significant national and Pac-12 ramifications.
And if the home teams win, it would become reasonable to speculate upon the possibility of another epic Civil War on Nov. 29 in Eugene, one that again would captivate the college football nation.
November, 24, 2012
11/24/12
3:57
PM ET
The 116th Civil War was close. And then it wasn't. Yes, we've seen that before with Oregon.
Oregon scored 28 consecutive second-half points and blew away Oregon State
48-24
.


The Beavers opened the third quarter with a touchdown drive that narrowed the deficit to 20-17. But they made things easy for the Ducks by then giving away five of their six turnovers in the second half.
A week after getting shut down by Stanford in their first loss of the season, the Ducks (11-1, 8-1) rolled up 570 yards while winning their fifth Civil War in a row. Oregon State (8-3, 6-3) gained 393. The Ducks outrushed the Beavers 430 yards to 82.
After the Beavers scored on their first possession of the third quarter, Oregon made its move. It drove 66 yards for a touchdown, and then the Beavers fumbled the ensuing kickoff. A 29-yard
De'Anthony Thomas
run later -- on fourth-and-5 no less -- and it was 34-17.
Kenjon Barner
rushed for 198 yards on 28 carries with two TDs, but he was banged up much of the second half, when Thomas took over. Thomas rushed for 122 yards on 17 carries and three scores.
Beavers QB
Sean Mannion
, who lost his job to
Cody Vaz
after throwing four interceptions at Washington on Oct. 27, again threw four interceptions.
Oregon, which has won 15 consecutive road games, now awaits a couple other results. First, it needs Stanford to lose to UCLA this afternoon, which would make the Ducks the Pac-12 North Division champions. They then would play UCLA, already the South champion, on Friday in the Pac-12 title game.
Further, Oregon is still in the national title hunt. It needs, first and foremost, for No. 1 Notre Dame to lose tonight at USC. It also probably needs Florida to lose to Florida State, a game that is in the fourth quarter as this sentence is typed.
Even if Oregon doesn't reach the Pac-12 title game, where it would play for a Rose Bowl berth or more, it is almost certain to be an at-large selection for a BCS bowl game, mostly likely the Fiesta Bowl.
November, 20, 2012
11/20/12
12:00
PM ET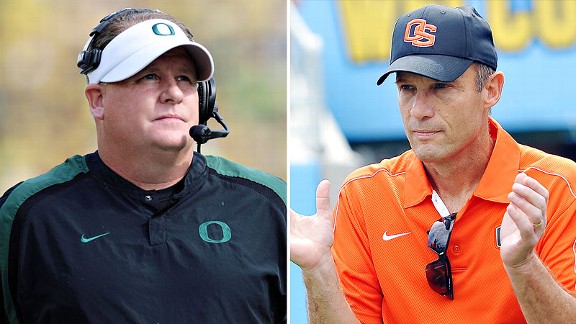 US PresswireOregon coach Chip Kelly and Oregon State coach Mike Riley face off Saturday in the 116th Civil War.
The 2012 Civil War between Oregon and Oregon State doesn't match the 2000 game, when both teams were ranked in the top 10 for the first time in the rivalry's history, or the 2009 game, when the winner-take-all stakes were a Pac-10 title and a Rose Bowl berth. But it's pretty darn big.
The 116th Civil War, the seventh-oldest rivalry game in college football, in Reser Stadium on Saturday (3 p.m. ET, Pac-12 Network) approaches the 2000 game in terms of both teams' rankings, the first time in the series that both were ranked in the top 10. Oregon was fifth and Oregon State eighth in that game, won 23-13 by the Beavers. This go-around, Oregon is again fifth and the Beavers 15th in the
latest BCS standings
.
There is no Rose Bowl on the line for Oregon State, as there was in 2008 and 2009, but the Beavers can play a spoiler role while boosting themselves in the Pac-12 pecking order.
Oregon still harbors hopes of slipping into the national title game, and the Ducks will win the North Division if they beat the Beavers and Stanford loses at UCLA on Saturday. Then Oregon would play host to UCLA on Nov. 30, with -- at least -- a Rose Bowl berth at stake.
And even if Stanford beats UCLA to win the North, an Oregon victory over the Beavers likely would earn it an at-large berth to a BCS bowl game, probably the Fiesta Bowl, where they could end up playing the Big 12 champ, likely Kansas State.
Oregon State? While its postseason destination is most likely the Holiday Bowl, ending a four-game losing streak in the rivalry series would be significant. It would certainly stem the momentum that has been decidedly in the Ducks' favor since an obscure coach from New Hampshire by the name of Chip Kelly arrived as the team's offensive coordinator in 2007.
While the 2008 and 2009 Civil Wars were big games with big implications, the 2010 and 2011 games were all about the Ducks. They were coronation events, as Oregon earned berths in the national title game and the Rose Bowl. The Beavers, meanwhile, were sucking on lemons, suffering through back-to-back losing seasons.
That had some Beavers fans grousing about coach Mike Riley and his staff. It wasn't only about a program backtrack. It was about what was happening 45 minutes to the south in Eugene. It's no fun losing games, but when you are losing, it's much worse when your rival is thriving.
Beavers fans saw Kelly -- smug, smirking, standoffish, annoyingly brilliant -- and felt they were getting left behind.
But we all know things can change quickly in college football. The Beavers are on a clear uptick. While both teams have a lot of talent coming back in 2013, it's Oregon that now has some question marks.
Will Kelly be lured away by an NFL offer? More than a few NFL sorts believe he will have his pick of jobs this offseason.
And what about the NCAA investigation into L'Affair de Willie Lyles? At some point penalties will be handed out. While those penalties are not expected to be crippling -- despite the uninformed blather coming from some people -- they certainly won't help the Ducks maintain their perch atop the Pac-12.
Just imagine how the next couple of months could go for Oregon State fans: 1. A Civil War victory over Oregon, ending a four-year losing streak in the series and the Ducks' three-year run of conference titles; 2. Kelly leaves Eugene for the NFL; 3. NCAA sanctions for the Ducks.
Let's just say more than a few Beavers fans would be high-fiving each other. And there would probably be more than a few
Washington Huskies
fans trying to get in on that action.
Or ... or ...
Oregon beats the Beavers for a fifth consecutive time, finagles its way into the national title game and then beats, say, Alabama for the school's first national title. Then Kelly announces he's staying in Eugene "for life" and the NCAA gently slaps the Ducks' wing.
So, yeah, there's a lot going on here.
Still, amid all these possibilities and speculations, good and bad for both programs, there is only one thing that either can control: Saturday's game.
Yes, it's pretty darn big.
Programs Most Desperate for a Quarterback
PAC-12 SCOREBOARD
Thursday, 9/3
Friday, 9/4
Saturday, 9/5