Oregon Ducks:

Chuckie Keeton
September, 22, 2013
9/22/13
10:00
AM ET
A look at what we learned about the Pac-12 in Week 4.
[+] Enlarge

AP Photo/Marcio Jose SanchezStanford made short work of Arizona State on Saturday, showing that the Sun Devils aren't quite ready to compete with the Pac-12 elite.

The Pac-12 might be the deepest conference: The league wrapped up the majority of its nonconference slate with an impressive 29-4 record, including a mark of 21-3 against FBS teams. With Oregon State's win over San Diego State and USC's victory over Utah State, the Pac-12 moves to 10-0 this season against the Mountain West -- a lower-level conference that gave the league fits last season. Some wins were spectacular, some weren't. But the fact that only Cal had a sub-.500 record out of conference speaks volumes about the league's depth. And even those two losses came against top-25 teams.
Arizona State isn't there yet: After last week's controversial ending against Wisconsin, the Sun Devils were eager to show that they were worthy of their top-25 ranking. But trailing 39-7, ASU simply didn't look like a team ready to contend with a top-five team on the road. Give it credit for fighting back and scoring 28 second-half points. It's not hard to imagine previous ASU teams throwing in the proverbial towel. And the Sun Devils still should be considered contenders for the Pac-12 South. We'll know more when they host USC next week, but for now, the Sun Devils look more like a second-tier Pac-12 team than a group that could challenge Stanford and/or Oregon.
Apples good, potatoes bad (at least in football): Combined points for Washington and Washington State in Week 4: 98. Combined points for Idaho and Idaho State in Week 4: 0. Granted, this wasn't the stiffest of competition. But Washingtonians from Aberdeen to Yakima to Pullman can feel pretty good about the state of football in their state. The Huskies have scored 34 points for three straight games for the first time since 2002. They posted their first shutout since 2009 and the margin of victory was the largest since beating Oregon 66-0 in 1974. And yes, it was very cool seeing Deontae Cooper get his first career touchdown. For the Cougars, it was their first shutout since 2005 -- which also came against Idaho. The defense posted a season-high five sacks.
A W is a W: While Washington, Washington State and UCLA cruised to easy wins, Oregon State, Utah and USC needed all four quarters to get the job done. Of course, there were different reasons for all three. Utah was playing a rivalry game against a team receiving top 25 votes. It was a hard-fought game and a solid victory for the Utes (you're really going to throw a flag on Eric Rowe? For all the extra shoves and questionably late hits that went on in that game, that's what gets the flag!?), USC was facing an extremely dangerous quarterback in Utah State's Chuckie Keeton. But they sacked him four times for minus-15 rushing yards and kept him to just 179 yards in the air. The USC offense, however, continues to be a work in progress. And then there's the Beavers ... oh, those Beavers. Credit them for coming from behind late to beat San Diego State. But don't lose sight of the fact that they had to come from behind late to beat San Diego State. Sean Mannion had another monster game, and Brandin Cooks had another monster game. But the defense and the running game continue to be issues that will get exposed if the Beavers can't fix them as they get deeper into conference play.
We can start thinking about league play! There's only three "official" nonconference games left, and they all involve Notre Dame (still waiting on the possibility of Colorado and Fresno State rescheduling). But by this time next week, every team except UCLA will have played a conference game. Of the three league games we've had so far, the North has gone 3-0 against the South, with Washington State, Oregon State and Stanford all getting victories over USC, Utah and Arizona State, respectively. Next week we get some intra-division showdowns between USC and ASU, California and Oregon and Stanford and Washington State in Seattle. But it's the inter-division matchups that are very intriguing. Undefeated Arizona travels to undefeated Washington -- where we'll learn a little bit more about the Wildcats. And a confident Colorado team visits Oregon State in a game that seemed like a sure thing for the Beavers a month ago.
September, 22, 2013
9/22/13
2:49
AM ET
While the Pac-12 versus Notre Dame trilogy has yet to be written, and we still need to see if Colorado-Fresno State gets rescheduled (
it's looking unlikely
), it's safe to say that the Pac-12 as a whole came out of its nonconference slate in impressive fashion.
[+] Enlarge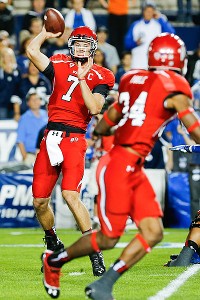 Chris Nicoll/USA TODAY SportsTravis Wilson and Utah ended its nonconference schedule in style with a fourth straight victory over BYU.
Through the first four weeks, the league flexed its muscles against weaker competition, gutted out wins against comparable foes and showed considerable top-to-bottom depth. Oregon and Stanford announced national title intentions without incident and teams like Washington and UCLA have steadily climbed the Top 25 ladder.
After three straight weeks of just one league game, every game in Week 5 will be Pac-12 on Pac-12, meaning the league had the opportunity to put a nice little bow on the bulk of its nonleague schedule in Week 4. And that's exactly what it did, adding six more nonconference wins, headlined by Utah's victory over arch-nemesis BYU.
Not only is it the fourth straight win for the Utes over BYU, but with the teams not playing again till 2016 they now get two extra years to savor the flavor of their 20-13 victory over the Cougars. This year's Holy War had everything we've come to expect from a Utah-BYU showdown. Hard hits, flared tempers and drama right until the final play.
With many wondering if BYU was a Top 25 team after blasting Texas two weeks ago (it was receiving votes in the coaches poll), the Utes proved to be the stronger team, bouncing back from last week's overtime loss to Oregon State to win on the road. And with a 3-0 mark in its nonconference games, Utah is slowly proving that it's making strides as a full-fledged Pac-12 program.
Some nonconference numbers for your consideration:
After going 25-11 out of conference last season (not including bowl games), the Pac-12 is 29-4 against nonconference teams through the first four weeks.
The Pac-12 is 21-3 against FBS opponents.
The league went 3-2 against the Big Ten and 10-0 against the Mountain West.
Why is this important? The Pac-12 will see both leagues a couple of more times in the postseason.
There were signature wins, such as the aforementioned Holy War victory, UCLA's win at Nebraska, Washington's win over Boise State and Oregon's pasting of Tennessee. Yes, even Arizona State's win over Wisconsin qualifies as a signature victory.
The lone stain was Oregon State's loss to Eastern Washington in Week 1. The Beavers survived Saturday against San Diego State after another inexplicably poor performance -- save the two late interceptions. Ironic, I suppose, that it was the much-maligned defense that came up big in the end.
Outside of that, California's losses to Northwestern and Ohio State are nothing to scoff at and Washington State went toe-to-toe with a vastly improved Auburn team. In fact, that's a game the Cougs probably should have won.
In Week 4, the league took care of its business yet again with UCLA, Washington State and Washington all notching easy wins against teams that warrant easy wins.
USC's defense continues to impress, sacking Utah State quarterback
Chuckie Keeton
four times, though the offense still leaves much to be desired. We've already seen how it faltered in a league game against Washington State. It's only going to get tougher for the Trojans with ASU next week.
There are at least three more opportunities for the league to continue its nonconference dominance, starting with ASU's showdown in Dallas with Notre Dame on Oct. 5. USC and Stanford will also see the Irish. Outside of that (or Colorado and Fresno State getting back on the books), the league will have to cannibalize itself in its nine-game conference schedule before it gets another opportunity to show the rest of the country what it can do in the bowl season.
As long as the SEC still holds its seven straight crystal balls, it will continue to be seen as the class of college football. But the Pac-12 stated its case through the first four weeks that, top to bottom, it belongs in the conversation.
September, 19, 2013
9/19/13
9:00
AM ET
Both Ted and Kevin went 9-1 last week, with both missing with a pick of Utah over Oregon State. They picked different teams in the Colorado-Fresno State game, but it was postponed and might not be rescheduled.
So Kevin is 27-3 so far this season and it's California's fault Ted is just 26-4.
Cal! Baaaaa!
Arizona State at Stanford
Kevin Gemmel
: I think ASU will come out firing -- eager to prove it belongs in the top 25 after last week's freakish ending. But Stanford's defense is a lot better than Wisconsin's. This is also ASU's first game on the road, and until we see what it can do outside of Tempe, Ariz., I'm leaning toward the home team.
Stanford 31, Arizona State 24
.
Ted Miller
: The absences of DE
Henry Anderson
and CB
Barry Browning
are a cause for concern for Stanford, but the Cardinal's defense is pretty darn deep. Stanford might not have gone too deep into its playbooks on either side of the ball against San Jose State and Army. This is a big moment for the Cardinal to announce themselves as a national title contender.
Stanford 28, Arizona State 20
.
Utah State at USC
Kevin Gemmell
: Say this for the Trojans, that defense is pretty good. It will be tested against an explosive Utah State offense that puts up nearly 50 points per game behind Heisman dark horse
Chuckie Keeton
. But it looks like the USC offense woke up last week, and the Pac-12 is a perfect 8-0 against the Mountain West this season.
USC 35, Utah State 24
.
Ted Miller
: The Trojans looked good in all areas while stomping Boston College last week. Now can they put together strong back-to-back performances? Keeton is a great matchup for the USC defense because he'll provide plenty of practice for the mobile QBs the Trojans will see this season, but the first question is whether the offense has found its footing with QB
Cody Kessler
.
USC 30, Utah State 17
.
New Mexico State at UCLA
Kevin Gemmell
: After all of the emotion of the past 10 days, the Bruins could use a game where they probably won't get pushed too hard. Get in, get out, stay healthy and take care of their business. No reason the Bruins should have any issues.
UCLA 52, New Mexico State 10
.
Ted Miller
: What Kevin said. Bruins should roll easily and get reserves some valuable action.
UCLA 55, New Mexico State 13
.
Utah at BYU
Kevin Gemmell
: Despite it being only 45 minutes away, Provo, Utah, is still a tough place to play. And rivalry games are always difficult to pick -- especially when you have two very similar teams. My usual approach in this situation is to take the home team. But this Utah team is a lot more explosive than previous editions. I see points and another tight finish.
Utah 38, BYU 35
.
Ted Miller
: BYU has three things going for it: (1) It's playing at home; (2) It's coming off a bye week; (3) Utah lost an emotional home game to Oregon State last weekend. What the Cougars have going against them is me picking them to win. You're welcome, Utes.
BYU 28, Utah 24
.
Oregon State at San Diego State
Kevin Gemmell
: Both teams were predicted to have pretty good seasons. Both teams saw momentum come to a halt with Week 1 losses to FCS teams. The Aztecs are coming off a bye. Which should help. But not enough to overcome the play of
Sean Mannion
, who is playing like one of the top quarterbacks in the country right now.
Oregon State 42, San Diego State 24
.
Ted Miller
: San Diego State's offense has been sputtering, which should help the Beavers' defense regain some mojo. The Aztecs' defense? It gave up 40 points to Eastern Illinois. The Beavers should put further distance between themselves and a bad opening game.
Oregon State 45, San Diego State 17
.
Idaho State at Washington
Kevin Gemmell
: The Huskies overcame a huge maturity milestone by winning a competitive game on the road. Now they close out the nonconference schedule with an FCS team that is 2-0 … but won't provide much resistance. Good tune-up game for the Huskies heading into conference play.
Washington 48, Idaho State 13
.
Ted Miller
: The Huskies should complete a strong 3-0 start. Big test coming Sept. 28 when Arizona comes up for a visit after a bye week.
Washington 42, Idaho State 17
.
Idaho at Washington State
Kevin Gemmell
: There is always bad blood between these schools --
which led to actual blood during the summer
. The Cougs are clicking while the Vandals are in shambles. Feel pretty confident picking WSU in this rivalry game.
Washington State 35, Idaho 7
.
Ted Miller
: Washington State will improve to 3-1. It has won three in a row since 2006. A matchup in Seattle with Stanford awaits.
Washington State 44, Idaho 13
.
Pac-12 Teams Can Load Up At WR
PAC-12 SCOREBOARD
Thursday, 9/3
Friday, 9/4
Saturday, 9/5