Oregon Ducks:

Baylor Bears
March, 13, 2014
3/13/14
12:30
PM ET
The new College Football Playoff is supposed to encourage schools to schedule better nonconference games, as teams try to beef up their schedule strength to earn one of the playoff's coveted four spots at season's end.
On Thursday, Texas A&M and UCLA
announced that they'll play each other
during the 2016 and 2017 seasons.
Other schools have announced future marquee nonconference opponents, including Texas A&M vs. USC, Notre Dame vs. Texas, Alabama vs. Michigan State and LSU vs. Oklahoma.
Here are five other nonconference games I'd like to see in the future:
[+] Enlarge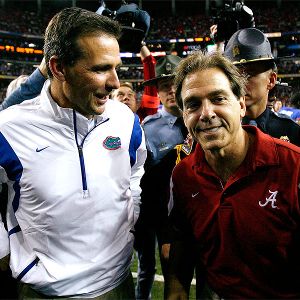 Kevin C. Cox/Getty ImagesUrban Meyer and Nick Saban have faced off for SEC titles, but their current teams, Ohio State and Alabama, have played only three times in history.
1. Alabama vs. Ohio State
: Alabama's Nick Saban and OSU's Urban Meyer dominated the SEC when Meyer was coaching at Florida, combining to win five BCS national championships from 2006 to 2012.
When Meyer was still coaching at Florida, the Crimson Tide and Gators played in two of the most anticipated SEC championship games. The No. 2 Gators beat the No. 1 Tide 31-20 in 2008, and then the Tide turned the tables on No. 1 UF with a 32-13 win in 2009.
Alabama and Ohio State have played only three times in history, with the Tide winning each time, most recently in a 24-17 victory in the 1995 Citrus Bowl.
2. Texas vs. Texas A&M
: Perhaps the biggest casualty in conference realignment, Texas and Texas A&M haven't played each other since the Aggies bolted the Big 12 for the SEC after the 2011 season. Sadly, there are no plans for the in-state rivals to play again in future regular seasons.
The Aggies and Longhorns played each other 118 times from 1894 to 2011, with their annual meeting traditionally being played on Thanksgiving Day. UT won nearly twice as many games as the Aggies (76-37-5), including nine of the last 12 meetings.
With former Louisville coach Charlie Strong taking over at Texas, and Kevin Sumlin building the Aggies into an SEC powerhouse, the game would also pit two of the sport's best African-American coaches against each other.
3. Oregon vs. Baylor
: Two of the game's most explosive offenses -- and two of its best-dressed teams -- would undoubtedly light up the scoreboard if they ever played. In fact, the contest would probably look more like a track meet.
Under coach Art Briles, the Bears have become the Ducks of the Southwest, with their hurry-up, spread offense and myriad flashy uniforms closely resembling what Chip Kelly and then Mark Helfrich built at Oregon. The Bears and Ducks follow the same blueprint on offense: play fast and score fast.
We hoped to see this matchup in the Tostitos Fiesta Bowl last season, but alas, it didn't happen. Oregon and Baylor have never met on the gridiron.
4. Michigan vs. USC
: Two of the sport's traditional heavyweights have faced each other eight times in the Rose Bowl Game Presented by Vizio, but only twice during the regular season -- in 1957 and 1958.
The Trojans won the last three meetings in the Rose Bowl, 32-18 in 2007, 28-14 in 2004 and 17-10 in 1990. USC has won six of the past seven meetings overall and holds a 6-4 advantage all-time.
We might have seen this matchup during the regular season if a Big Ten/Pac-12 scheduling partnership hadn't fallen apart in 2012.
5. Georgia vs. Florida State
: UGA coach Mark Richt was a longtime assistant under legendary FSU coach Bobby Bowden before taking over the Bulldogs, and he recently poached defensive coordinator Jeremy Pruitt off the Seminoles' staff.
The Bulldogs and Seminoles go head-to-head for a lot of recruits every year, and Florida State coach Jimbo Fisher upgraded his roster by effectively recruiting South Georgia and Atlanta.
The Bulldogs and Seminoles have played 11 times and only once since 1984 -- UGA defeated FSU 26-13 in the 2003 Sugar Bowl. Georgia leads the all-time series, 6-4-1.
January, 8, 2013
1/08/13
7:12
AM ET
These are the final 2012 power rankings.
If you don't like where you finished in the power rankings, you should have played better.
See the pre-bowl-season power rankings here
.
1. Stanford
: Oregon received a higher final national ranking, and you could make a decent challenge in favor of the Ducks. They didn't get upset by Washington, didn't play a lot of close games and beat a top-five team in the Fiesta Bowl. But, on Nov. 17, the Cardinal went to Eugene and took care of business. Stanford is the Pac-12 champion, and Oregon is not. Ergo, Stanford sits atop the power rankings. And 2013 looks pretty darn good, too.
2. Oregon
: The cherry on the top of another special season for Oregon is the return of coach Chip Kelly. And we're of the mind that, if not for the slip against Stanford, Oregon would be sitting atop college football this morning after a fine evening of frolic in South Florida. The Ducks and Stanford will be national title contenders again in 2013. And guess which two teams are going to top the first 2013 power rankings?
3. Oregon State
: The loss to Texas in the Valero Alamo Bowl was baffling. The Beavers were a superior team that seemed to be looking for ways to lose in the fourth quarter. The quarterback carousel needs to be resolved. But the Beavers still won nine games, and their 6-3 conference record overcomes UCLA because of a head-to-head win on the road. Nice bounce back after consecutive losing seasons.
4. UCLA
: Yes, the Bruins flopped in the Bridgepoint Education Holiday Bowl against Baylor, but it's impossible not to see Year 1 under Jim Mora as a success, made even more notable by USC's flop. Like last season, the Bruins won the South Division, but this time they earned it.
5. Arizona State
: The Sun Devils won their final three games for the first time since 1978. That's how you go into an offseason with optimism. We hear a lot about "culture change" from programs with new coaches. The Sun Devils' culture change under Todd Graham was made manifest by what happened on the field.
6. Arizona
: The Wildcats did better than expected in Year 1 under Rich Rodriguez, and the season would have been a complete success if not for what happened against that team from up north. That loss hurts, but quality wins over Oklahoma State, USC and Washington, as well as an overtime game with Stanford, show this team competed better than in recent years.
7. Washington
: The Huskies finishing 7-6 against a brutal schedule probably was close to preseason expectations. But the two-game losing streak to end the season, which included a dreadful meltdown in the Apple Cup to Washington State, quashed the momentum a four-game winning steak from Oct. 27 to Nov. 17 had built. Perhaps that will make the Huskies hungrier in 2013, when they have a nice array of talent returning.
8. USC
: The Trojans' season was a complete disaster. USC started out at No. 1 but turned in a white flag performance while losing a sixth game in the Hyundai Sun Bowl to a middling Georgia Tech team. The Trojans were eclipsed by rivals UCLA and Notre Dame while wasting the much-ballyhooed return of QB
Matt Barkley
. Coach Lane Kiffin will be sitting on one of the nation's hottest seats in 2013.
We've been over this a few times
.
9. Utah
: The Utes' move up in class from the Mountain West Conference is proving tougher than some imagined. Utah missed out on playing in a bowl game for the first time since 2002, and there were issues on both sides of the ball. The Utes need an upgrade in talent and overall depth, sure, but consistent quarterback play would be a good place to start. Therein lies hope with promising freshman
Travis Wilson
.
10. California
: A dreadful 3-9 finish ended Jeff Tedford's tenure in Berkeley after 11 seasons. In early October, after consecutive wins over UCLA and Washington State, it seemed as though the Bears might be poised for a rally. Alas, they lost their final five games, including a horrid performance in a 62-14 drubbing at Oregon State. Sonny Dykes has enough returning talent to produce significant improvement in the fall.
11. Washington State
: New coach Mike Leach's season was bad on the field and off, but it ended on a notable uptick with an Apple Cup win over Washington that included a comeback from an 18-point fourth-quarter deficit. Still, 3-9 took a bite out of the enthusiasm Leach's hiring initially generated.
12. Colorado
: A horrid 1-11 finish that was capped by a controversial firing of Jon Embree after just two seasons. The Buffaloes are probably the worst AQ conference team over the past two seasons, and that is the considerable mess new coach Mike MacIntyre was hired to clean up. Of course, MacIntyre put together an impressive turnaround at San Jose State, so he looks like a good choice to bring the Buffs back to respectability.
January, 3, 2013
1/03/13
5:07
PM ET
GLENDALE, Ariz. -- On Nov. 17, both Oregon and Kansas State lost their only game of the season. Otherwise, these two teams likely would have met each other for the national title in South Florida instead of at the Tostitos Fiesta Bowl tonight.
It's also interesting that both lost to an opponent that generally resembles their opponent in University of Phoenix Stadium.
Oregon went down to Stanford, a team that prides itself on its disciplined, physical play on both sides of the ball. That's Kansas State.
[+] Enlarge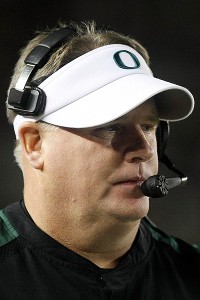 Kelley L Cox/USA TODAY SportsCoach Chip Kelly and Oregon will face a Kansas State team that shares similarities with Pac-12 rival Stanford.
Kansas State went down to Baylor, a team that runs a high-octane, up-tempo, spread offense. That's Oregon.
The parallels are far from exact -- for example, Baylor is pass-first; Oregon is run-first -- but they are notable. Both teams surely paid extra-special attention to those game tapes.
Said Ducks coach Chip Kelly, "I think Baylor has a lot of speed, speed in space. They made kids miss tackles. When they missed tackles, they hit some long runs."
That hits the first issue to watch: Tackling. Said Ducks offensive coordinator Mark Helfrich, "Tackling is going to be the biggest thing in this game."
That seems simple, right? And it is. But it's a measure you can measure on your own at home: How often does the first guy miss or fail to bring his guy down? How often does the Duck or Wildcat with the ball get a second chance to gain yards?
Oregon thrives when it gets fast guys into space, and that fast guy leaves the first tackler grasping air. Quarterback
Marcus Mariota
, running back
Kenjon Barner
, receiver
Josh Huff
and RB/WR
De'Anthony Thomas
can use a first-guy miss to go yard.
Kansas State isn't quite so fancy, but it's effective. It ranked seventh in the nation in third-down conversion percentage at just over 50 percent. How often can quarterback
Collin Klein
or another Wildcat twist away from a Ducks tackler and significantly boost the attractiveness of down and distance? Unlike Oregon, Kansas State loves to hold the ball for a long time. Against Oregon, in particular, it wants to methodically move the chains and play keep-away.
Oregon, by the way, ranks 14th in the nation in third-down defense, with foes converting less than 31 percent of the time.
And what about an X factor? We know who the stars are, and it's perfectly reasonable to believe the quarterback who plays better will lead the winning team. But so often in bowl games, a player who has been under the radar all week plays a major role in deciding things.
Maybe that's Huff for Oregon. Or Chris Harper, a former Duck who is now Kansas State's best receiver.
As for Oregon making like Baylor or Kansas State donning a Stanford disguise, it probably won't be that straightforward. Know that both teams labored over that what-might-have-been game film well before the Fiesta Bowl. The weaknesses that were exposed were taken note of and addressed.
At least that's what both teams' coaches and players are saying about the one that got away.
Said Helfrich, "I don't know if they are finding any magic in that game. I don't think it's in there. It's not going to come down to revelations from one game on either side."
January, 3, 2013
1/03/13
10:00
AM ET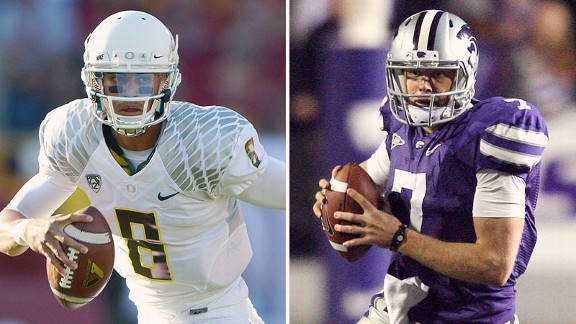 USA TODAY SportsWith quarterbacks Marcus Mariota and Collin Klein, the Fiesta Bowl won't be lacking in star power.
SCOTTSDALE, Ariz. -- The Tostitos Fiesta Bowl on Thursday night? Forget the corn chips; this matchup is about something else.
It's the Regret Bowl. The What Might Have Been Bowl. It's the Can the Mayans Make the Apocalypse Take Out Only Nov. 17 Bowl.
If Nov. 17, when No. 4 Oregon and No. 5 Kansas State both lost their only game of the season, were wiped away, this Ducks-Wildcats showdown likely would have been for the national title.
So, yes, when the Ducks and Wildcats turned on ESPN during the past month or so and watched reports on Alabama and Notre Dame, they often were nicked by a pang of regret, no matter how philosophical a pose their respective coaches tried to establish in the locker room.
Regrets? Yeah, both teams have a few.
"Yeah, a little bit, I'm going to be honest with you," Oregon quarterback
Marcus Mariota
said. "It's one of those things you have to learn from. We lost at the wrong time."
Of course, denial can come in handy. Alabama-Notre Dame? Who are they?
"I think this is the best two teams in the nation in this game right here," said Kansas State receiver
Chris Harper
, who transferred from Oregon. "I know Notre Dame and Alabama have their game, but I think this is the best matchup."
It's certainly a good matchup. No other bowls -- other than that aforementioned matchup in South Florida -- matches top-five teams. You have plenty of star power, with Kansas State QB
Collin Klein
, a Heisman Trophy finalist, and Oregon running back
Kenjon Barner
and Kansas State linebacker
Arthur Brown
, both All-Americans. Then there's celebrated Ducks redshirt freshman quarterback Mariota, who was first-team All-Pac-12 and will be near the top of many 2013 preseason Heisman lists.
And then there are the coaches. Kansas State coach Bill Snyder, the septuagenarian program builder, and Oregon's Chip Kelly, the wise-cracking mad scientist of offense, both would make just about everyone's top-10 list of college football coaches. An added dimension of intrigue is the possibility that Kelly may be coaching his last game as a Duck, as he's being eyeballed by a number of NFL teams.
Said Kelly, "I do not know what the future holds. I do know we have a football game [Thursday] night, and I'm going to be there."
Kelly's crew is playing in its fourth consecutive BCS bowl game. It lost its first two, including here to Auburn in the national title game after the 2010 season, but beat Wisconsin in the Rose Bowl last year. Kansas State is playing in its first BCS bowl game since 2003, and it has lost its past two bowl games.
So there doesn't seem to be much question about how hungry the Wildcats are to end their season with a victory.
"It would be huge," said Klein, who is 21-4 over the past two seasons. "We talk about finishing all the time. We haven't been able to finish the last two years. To be able to do that is very important to us."
Part of Kelly's coaching philosophy is that every game is the same -- a Super Bowl! -- because your preparation should always be your best. Yet the Ducks want to maintain their perch among college football's elite. A Fiesta Bowl victory likely would cement a 2013 preseason top-five ranking because the Ducks have a lot of talent coming back next fall.
"We have to make a statement to the rest of the country," Ducks offensive lineman
Kyle Long
said.
As for keys, you hear the usual from both coaches: turnovers, tackling, special teams, etc. But turnovers seem to be even more notable than usual in this one, at least based on the teams' performances this season.
Kansas State has the third-fewest turnovers (10) in the FBS this season and has forced the eighth-most (31). Oregon is tied for first in turnovers forced with 38, including 24 interceptions. The Ducks turned the ball over 19 times, second-fewest in the Pac-12.
Klein had three interceptions in the Wildcats' 52-24 loss to Baylor.
"When we've turned it over, we've struggled," Snyder said. "When we haven't, we've played reasonably well."
Sure, both teams wish they were playing for a national title. But the winner of this game will finish ranked in the top four. So that's better than 116 other FBS teams. Not too shabby, even if it includes a dose of what might have been.
Kelly was asked what he'd learned after playing in four consecutive bowl games.
"I think you learn really how hard it is to get there," he said. "That's the one thing I think as a team, as a staff, as a group of players, to not take it for granted. It's a truly special thing to be able to play in a BCS game."
Of course, it's more special to win one.
June, 18, 2012
6/18/12
10:04
PM ET
Monday was a busy day for commitments in the West region, but defensive tackle
Eddie Vanderdoes
(Auburn, Calif./Placer) isn't exactly ready to jump into the commitment scene. More than half of the top 30 players in the West have already made verbal commitments, but Vanderdoes is taking things slowly. On Monday, the 6-foot-3, 285-pound lineman took to twitter to release a list of his top 15 schools.
Alabama, Baylor, California, Florida, Georgia Tech, LSU, Miami, Michigan, Michigan State, Nebraska, Oregon, Penn State, UCLA, USC and Washington all made the cut. Vanderdoes included in his tweet that he will be cutting that down to a top 10 group soon.
Programs Most Desperate for a Quarterback
PAC-12 SCOREBOARD
Thursday, 9/3
Friday, 9/4
Saturday, 9/5