Oregon Ducks:

Ayele Forde
August, 9, 2012
8/09/12
2:55
PM ET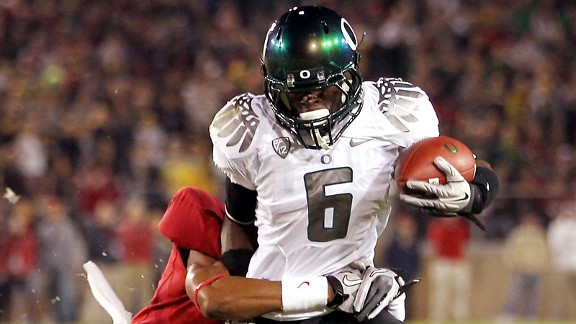 Ezra Shaw/Getty ImagesDe'Anthoy Thomas was the only player in the country with more than 400 yards rushing, receiving and returning last season.
Very few programs in the country can lose someone like LaMichael James and hope to simply replace him with a similar talent. One of the biggest ways to be a true power program in college football is the ability to do just that.
The Ducks hope to prove themselves this year as they have a talented group of backs who should continue the dominant Oregon running game.
With James' departure, senior Kenjon Barner finally has the chance to be the go-to back for the high-flying Ducks. Being the go-to back means little in Chip Kelly's system, as Barner knows very well.
To continue reading this article you must be an Insider
Insider
July, 16, 2012
7/16/12
12:07
PM ET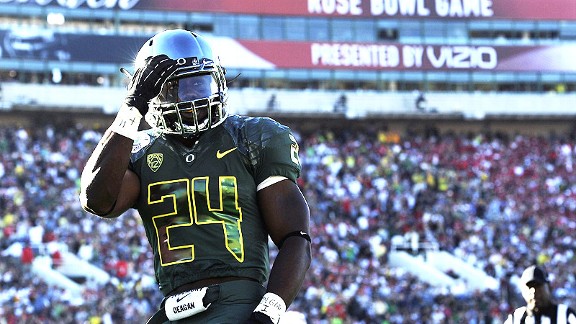 Harry How/Getty ImagesWith LaMichael James now in the NFL, senior running back Kenjon Barner is now thrust into the spotlight as Oregon's go-to guy in the backfield.
In addition to the Ducks' loss at home to USC last season, there are a couple other reasons many believe Oregon's time at the top of the Pac-12 has come to an end. The loss of the most successful quarterback in program history will set the Ducks back, but some point to the loss of LaMichael James as the main reason for a potential step back.
When James was in Eugene, he was perhaps the most explosive player in program history. He might have been the most explosive player in the country as well. Then, along came
De'Anthony Thomas
, who will help take his place in 2012. As a freshman in 2011, Thomas instantly became the most explosive player on the Ducks and, arguably, in the country.
Pac-12 Teams Can Load Up At WR
Recruiting reporter Erik McKinney joins ESPN's Phil Murphy to break down the deep West Region wide receiver class in 2016.
Pac-12 Teams Can Load Up At WR
VIDEO PLAYLIST
OREGON FB RECRUITING SCORECARD
DuckSportsNow

Duck Sports Now


Big Inning Dooms Ducks http://t.co/utgAPEDdaM
about 2 hours ago

DuckSportsNow

Duck Sports Now


Oregon State at Oregon http://t.co/dWB7lIIB8v
about 2 hours ago

DuckSportsNow

Duck Sports Now


Arizona knocks off No. 22 Oregon, 9-5 http://t.co/WVy8SSEHBm
about 2 hours ago

DuckSportsNow

Duck Sports Now


Capital One Impact Performances http://t.co/enrI5AVHVn
about 3 hours ago

Pac12Networks

Pac-12 Networks


WATCH: @ArizonaBaseball pitcher Robby Medel is doing his part to increase the speed of the game. http://t.co/PQzbeoz011
about 4 hours ago

Pac12Networks

Pac-12 Networks


If this ball traveled any further, it would've required a stewardess. Holy smokes. CC: @ArizonaBaseball http://t.co/dFvrAJsElg
about 4 hours ago

Pac12Networks

Pac-12 Networks


If some is good, @ArizonaBaseball's Riley Moore is better. His 2-RBI Double is the #UOvsAZ Play of the Game: http://t.co/6s4e91nnai
about 4 hours ago

Pac12Networks

Pac-12 Networks


Series clinched! @ArizonaBaseball is HOT! #UOvsAZ http://t.co/uUcARHsNhL
about 4 hours ago

McNamaraUO

Andy McNamara


#GoDucks "@SportSourceA: @WinTheDay is only FBS offense over last two years with over 200 offensive plays of 20+ yards"
about 5 hours ago

Pac12Networks

Pac-12 Networks


The #UCLAvsUSC Play of the Match is the match-winner for @USCmensvolley: http://t.co/MvgHmyyGKt
about 5 hours ago

Pac12Networks

Pac-12 Networks


.@USCmensvolley goes five with UCLA to claim this edition of the Crosstown Spike! #UCLAvsUSC http://t.co/1mKqrUQcvj
about 5 hours ago

DuckSportsNow

Duck Sports Now


Takeda Injured In Oregon Loss To Washington, Ducks Run Ruled By Huskies http://t.co/XMmMbTps2P
about 5 hours ago

TyroneColeman8

2 more wins...


http://t.co/JsZJgeDdOL
about 5 hours ago

DuckSportsNow

Duck Sports Now


Woo, McIver Paces UO in Final Round http://t.co/GdflLyLG06
about 6 hours ago

Pac12Networks

Pac-12 Networks


.@APlayersProgram is a family of absolute class. They caught up with our @YogiRoth following the loss to Wisconsin.https://t.co/FK7udFqDY5
about 6 hours ago

Pac12Networks

Pac-12 Networks


Flip over to Pac-12 Networks for some baseball. @OregonBaseball leads Arizona 3-1 in the bottom of the fourth! http://t.co/EGBuWp8z3a
about 7 hours ago

OregonRBCoach

Gary Campbell


Spring Football next Tuesday!! Let's start the campaign!!!
about 7 hours ago

OregonDLine

Ron Aiken


One week until spring ball! Excited about our group of guys! Lets Go! #WTD #GoDucks
about 7 hours ago

KBDeuce4

Kenjon Barner


What a game, what a game!!!!!!
about 7 hours ago

DuckSportsNow

Duck Sports Now


Maasland Defeats Ranked Foe In 6-1 Loss To USC http://t.co/efVHOjN0mY
about 7 hours ago

DuckSportsNow

Duck Sports Now


Oregon Trounced by No. 12 Stony Brook http://t.co/tKQGesm6Cm
about 7 hours ago

Pac12Networks

Pac-12 Networks


The Crosstown Spike is live on Pac-12 Los Angeles and http://t.co/YfMNDWLu5w #UCLAvsUSC http://t.co/MDg3JLhRrX
about 7 hours ago

Pac12Networks

Pac-12 Networks


.@Cal_Baseball's Mitchell Kranson may get a #12Best nod for this game-ending snow cone grab in left field! http://t.co/NIy3XiHJ8s
about 8 hours ago

Pac12Networks

Pac-12 Networks


.@Cal_Baseball takes another from the Utes in Salt Lake City! #CALvsUTAH http://t.co/LmHK95x4v0
about 8 hours ago

Pac12Networks

Pac-12 Networks


We join the @WSUCougars in mourning the loss of Cougar legend Bobo Brayton. More: http://t.co/zSHaLECtdC http://t.co/hbW0drU4K4
about 8 hours ago

Pac12Networks

Pac-12 Networks


It's going down on the diamond. #UOvsAZ is live now on Pac-12 Networks and http://t.co/YfMNDWLu5w http://t.co/fBZCvuTdhk
about 8 hours ago

DuckSportsNow

Duck Sports Now


Decker Post Game 3-28 http://t.co/WDzZ6VOe58
about 8 hours ago

DuckSportsNow

Duck Sports Now


White Post Game 3-28 http://t.co/aTxLEQUpCP
about 8 hours ago

DuckSportsNow

Duck Sports Now


Huskies Snap Oregon's 13-Game Win Streak http://t.co/bJONvwB84t
about 8 hours ago

DuckSportsNow

Duck Sports Now


Upset-Minded Ducks Fall Short in Loss to No. 4 UCLA, 5-2 http://t.co/sD1Rhq44JC
about 8 hours ago

Pac12Networks

Pac-12 Networks


.@UWSoftball returns yesterday's favor to the Ducks in Eugene! #UWvsUO http://t.co/xjbl8WLP39
about 9 hours ago

Pac12Networks

Pac-12 Networks


The conga line girls of @StanfordSB took down Utah on The Farm. #UTAHvsSTAN http://t.co/F7rQ5BmBUd
about 9 hours ago

Pac12Networks

Pac-12 Networks


.@ASUSoftball gets another one in Tucson! #ASUvsAZ http://t.co/ICmu8iJNpB
about 9 hours ago

Pac12Networks

Pac-12 Networks


CLASSIC @StanfordSball #NerdNation http://t.co/TUtp8Nql6s
about 9 hours ago

Pac12Networks

Pac-12 Networks


We've got @Cal_Baseball and @utahbaseball live now on the Networks and http://t.co/YfMNDWLu5w http://t.co/XJfD7bjYkp
about 9 hours ago

Pac12Networks

Pac-12 Networks


The @Pac12 Champion Arizona Wildcats fall to Wisconsin in the Elite Eight. http://t.co/0Gaawjo0EY
about 9 hours ago

calebDeShazo

Caleb DeShazo


Cmon Arizona! #backthepac
about 9 hours ago

Pac12Networks

Pac-12 Networks


Hey @aaronrodgers12, we remember when you used to #BackThePac! It's not too late... http://t.co/EIzPeweayJ
about 10 hours ago

Pac12Networks

Pac-12 Networks


ZEUS wants YOU to #BackThePac http://t.co/ah4rpogQoE
about 10 hours ago

Pac12Networks

Pac-12 Networks


#GetPumped, Wildcat Nation. Indy is on the horizon! http://t.co/99XLrsmglK
about 11 hours ago

McNamaraUO

Andy McNamara


Still burning about Kaminsky's double pivot, 4-step move without a dribble against @OregonMBB last year. Let's go 'Cats #BackThePac
about 11 hours ago

Pac12Networks

Pac-12 Networks


THROW IT DOWN ONE TIME, RHJ!!! #BackThePac http://t.co/skmUa3PAno
about 11 hours ago

Pac12Networks

Pac-12 Networks


Gabe York doing Gabe York things! #BackThePac
about 11 hours ago

SarahBWhitfield

Sarah B Whitfield


I love my Oregon Ducks and Arizona is one tough team. Let's go ZONA! #BackThePac #Pac12
about 11 hours ago

YogiRoth

Yogi Roth


The #StaplesCenter is rocking. #ArizonaVsWisconsin http://t.co/2tRDTExuvc
about 11 hours ago

geoffschwartz

Geoff Schwartz


Come on Wildcats! #Pac12 #BackThePac
about 11 hours ago

AutzenStudents

Autzen Students


Hey Zona, Destroy the Badgers! #BackThePac @ZonaZooOfficial
about 11 hours ago

DuckSportsNow

Duck Sports Now


Arik Armstead Rocky Mountain Bound? http://t.co/mgbfcfvIra
about 11 hours ago

ArizonaBaseball

Arizona Baseball


Early arrivals in the clubhouse checking out some @UA_Softball on @Pac12Networks. #BearDown http://t.co/w5a2oDPWNK
about 12 hours ago

Pac12Networks

Pac-12 Networks


When they dance, they look good doing it. #GetPumped for Arizona's march to Indy. http://t.co/nA98YkyFRz
about 12 hours ago

Pac12Networks

Pac-12 Networks


This go-ahead, Play-of-the-Match try from @CalVarsityRugby is simply amazing: http://t.co/NO4MbxG3QX
about 12 hours ago

Pac12Networks

Pac-12 Networks


.@OregonSB's Cheridan Hawkins was perfect yesterday. Round 2 up now on Pac-12 Networks #UWvsUO http://t.co/YfMNDWLu5w http://t.co/3mbsNo2dQF
about 13 hours ago

Pac12Networks

Pac-12 Networks


Coming up on Pac-12 Arizona, the softball version of the Duel in the Desert. #ASUvsAZ http://t.co/YfMNDWLu5w http://t.co/QpogA7EE4v
about 13 hours ago

Pac12Networks

Pac-12 Networks


At 2 PT on Pac-12 Bay Area/Mountain: @StanfordSball hosts @Utah_Softball. #UTAHvsSTAN http://t.co/YfMNDWLu5w http://t.co/eqnPe5NPDe
about 13 hours ago

DuckSportsNow

Duck Sports Now


Geri Ann Glasco: The Next Babe Ruth? http://t.co/kJh09wI1A9
about 13 hours ago

Pac12Networks

Pac-12 Networks


They're ready. Are you? #BackThePac http://t.co/7IECw82DVZ
about 13 hours ago

Pac12Networks

Pac-12 Networks


.@CalVarsityRugby pulls off the comeback! The Golden Bears are now 15-1. http://t.co/JuZJGKAzYk
about 13 hours ago

Pac12Networks

Pac-12 Networks


"This is the very definition of a barn burner." @CalVarsityRugby leads St. Mary's 24-20, 10 mins left. Watch here: http://t.co/YfMNDWLu5w
about 13 hours ago

DuckSportsNow

Duck Sports Now


2015 NCAA Tournament: Elite Eight TV schedule, live stream and how to watch Saturday's games http://t.co/dAkvWCm8t4
about 14 hours ago

OregonSB

Oregon Duck Softball


The fans are lining up before the second game of the Washington series! First pitch at 2 PM on @Pac12Networks http://t.co/CvSkNvfUr3
about 14 hours ago

Pac12Networks

Pac-12 Networks


St. Mary's leads 13-8 at halftime of a fantastic match. Get on board for the second half. http://t.co/YfMNDWLu5w http://t.co/imsS4nMjAB
about 14 hours ago

DuckSportsNow

Duck Sports Now


What Comes Next for Oregon Basketball? http://t.co/AmEP38WaTY
about 14 hours ago

OregonWTennis

Oregon Ducks WTennis


QUACK!! @neecolelong and @21Marlou defeat the #1 doubles pair in the country 8-5!! #GoDucks
about 14 hours ago

Pac12Networks

Pac-12 Networks


Live now on all networks: No. 2 @CalVarsityRugby hosts No. 4 St. Mary's.http://t.co/YfMNDWLu5w http://t.co/Dm2rfO6cfR
about 15 hours ago

GoDucks

GoDucks


"@OregonTF: Little Ducks do extra at Fan Fest. #GoDucks http://t.co/Nw3q3fGsHn"
about 15 hours ago

DuckSportsNow

Duck Sports Now


Oregon Falls to Arizona With Five Errors and Eleven Left On Base http://t.co/OEmwR7KYUQ
about 15 hours ago

DuckSportsNow

Duck Sports Now


Thumbs up for Max Siegel, CEO of the most inclusive of sports, who stood up for principle: Oregon track & field… http://t.co/p8KICmSHiY
about 15 hours ago

GoDucks

GoDucks


Game 2 between @OregonSB and the Huskies starts at 2 pm! #GoDucks http://t.co/qYZHTTLWm5
about 15 hours ago

Cougbaseball

WSU Baseball


The Cougar community lost a legend today; Bobo Brayton has passed away at 89. A leader of men. A true Coug. Legend. http://t.co/1MmEXQWVAK
about 15 hours ago

DuckSportsNow

Duck Sports Now


Perfection For Hawkins Against Washington Huskies, Ducks Win 8-0 http://t.co/mLXzIIWdpN
about 17 hours ago

DuckSportsNow

Duck Sports Now


Why Marcus Mariota Should Tell the NFL Where He Wants to Play http://t.co/lUQOWTf6uO
about 17 hours ago

DuckSportsNow

Duck Sports Now


Slingin' Quack: Weekend Fix – Recapping the Basketball Season http://t.co/sFBIpYfi0u
about 18 hours ago

GoDucks

GoDucks


Full day of Duck action at home today! @OregonTF Fan Fest at Hayward @ 10 am, @OregonWTennis @ 11:30 am & @OregonSB vs UW @ 2 pm. #GoDucks
about 18 hours ago

DuckSportsNow

Duck Sports Now


http://t.co/hp8NZWuXNW Goes to the Movies http://t.co/IhyyA2gcfj
about 19 hours ago

LukasSymonds

Bulldog


@BOSSLIFEDAT13 how bout a school in Australia?😂
about 22 hours ago

ElijahStone7

Elijah


@BOSSLIFEDAT13 I remember meeting you inside the Nike store last year and now I'm a duck... I wish I could've saw you play this year #LGND
about 22 hours ago

BOSSLIFEDAT13

DE'ANTHONY THOMAS


ILL COME SPEAK AT ANY SCHOOL DATMOMBA@GMAIL.COM #RunDat http://t.co/BgTEVXH9Yt
about 22 hours ago

BOSSLIFEDAT13

DE'ANTHONY THOMAS


#RUNDAT https://t.co/SlJt2WO2qX
about 22 hours ago

BOSSLIFEDAT13

DE'ANTHONY THOMAS


UNLESS A APPEARANCE FEE #RUNDAT http://t.co/BgTEVXH9Yt DATMOMBA@GMAIL.COM
about 22 hours ago

BOSSLIFEDAT13

DE'ANTHONY THOMAS


DONT ASK ME TO COME TO NO CLUBS THATS NOT MY LIFESTYLE #RUNDAT
about 22 hours ago

BOSSLIFEDAT13

DE'ANTHONY THOMAS


UP EARLY AT 24HOUR FITNESS I DONT GET TIRED THINKING ABOUT THOSE LATE NIGHTS #RUNDAT HAVE YOU… https://t.co/IO0a8tCAMF
about 22 hours ago

johnnybalderas4

Johnny Rey Balderas


Flashback Friday with fastest guy in da NFL .. #RunDat @BOSSLIFEDAT13 http://t.co/vqkdiJg5wn
about 23 hours ago

brianbarajas_19

joeybada$$


Doing big things @BOSSLIFEDAT13 thank you http://t.co/kLZ2ZzjZu6
about 23 hours ago

brianbarajas_19

joeybada$$


@BOSSLIFEDAT13 this shirt goes hard http://t.co/n78o1Y74z0
about 23 hours ago

DuckSportsNow

Duck Sports Now


Ducks Perform Well in Loss at Hawai'i Pacific http://t.co/Cz6fPeiGoV
1 day ago

DuckSportsNow

Duck Sports Now


Arizona batters Oregon, 7-2 http://t.co/Vw5ToMJqq8
1 day ago

DuckSportsNow

Duck Sports Now


Ducks Lose Game 1 At Arizona http://t.co/g9G0nCna0M
1 day ago

Pac12Networks

Pac-12 Networks


.@USCmensvolley's Alex Slaught with the match-winner is the #UCSBvsUSC Play of the Match: http://t.co/UUCSGvjy6a
1 day ago

Pac12Networks

Pac-12 Networks


VICTORY! @USCmensvolley comes back from being down 2-0 to get the W over the Gauchos! http://t.co/l4lINp8pJh
1 day ago

Pac12Networks

Pac-12 Networks


.@USCmensvolley is going five with the Gauchos! Tune into Pac-12 Networks or http://t.co/YfMNDWLu5w
1 day ago

Pac12Networks

Pac-12 Networks


.@ArizonaBaseball knocks off 18th-ranked Oregon in Tucson! #UOvsAZ http://t.co/sAqD1o5848
1 day ago

Pac12Networks

Pac-12 Networks


Set 4 of #UCSBvsUSC is coming up on Pac-12 Los Angeles and http://t.co/YfMNDWLu5w! http://t.co/f1qRRE9kfe
1 day ago

Pac12Networks

Pac-12 Networks


Highlights: The @Runnin_Utes fall to Duke in Sweet 16: http://t.co/zYb7aEKL0J
1 day ago

Pac12Networks

Pac-12 Networks


The Pac-12 Champion @StanfordWBB Cardinal fall to Notre Dame in the #ncaaW Sweet 16. http://t.co/IN9OVuZE2C
1 day ago

Pac12Networks

Pac-12 Networks


.@sundevilwbb drops a heartbreaker to Florida State in the #ncaaW Sweet 16. http://t.co/reJErJAUPL
1 day ago

DuckSportsNow

Duck Sports Now


Ducks Bounce Back on Moving Day http://t.co/Feobxmp0L0
1 day ago

GoDucksTV

GoDucks TV


Now on @GoDucksTV: Hawkins Post Game 3-27 http://t.co/n9AnhmCI5V #GoDucks
1 day ago

GoDucksTV

GoDucks TV


Now on @GoDucksTV: White Post Game 3-27 http://t.co/ZE02SjeeXP #GoDucks
1 day ago

Pac12Networks

Pac-12 Networks


They fought Goliath for 40 minutes, but ultimately fell short. Congratulations @Runnin_Utes on an incredible season. http://t.co/bxul5iQoWe
1 day ago

DuckSportsNow

Duck Sports Now


Ducks' top spring story lines: No. 10 – Replacing Malone and Washington at linebacker http://t.co/sWS2Q4I2tT
1 day ago
PAC-12 SCOREBOARD
Thursday, 9/3
Friday, 9/4
Saturday, 9/5
BLOG ARCHIVE:
CATEGORIES: