Oregon Ducks:

Andrew Williams
December, 10, 2013
12/10/13
1:15
PM ET
The hits keep coming for the Pac-12. First, the nation's deepest and most ambitious conference in terms of scheduling gets just one BCS bowl team.
Then it doesn't have a Heisman Trophy finalist
, even with two candidates who are superior to the players who were invited.
[+] Enlarge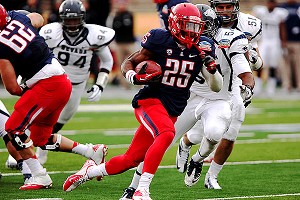 AP Photo/Eric DraperArizona RB Ka'Deem Carey has rushed for more than 100 yards in every game he has played in this season.
Arizona RB
Ka'Deem Carey
is the nation's best running back. He is a better running back than Auburn's
Tre Mason
and Boston College's
Andre Williams
, who are two of the six Heisman finalists.
What that means is that if you had all the college -- or NFL -- coaches pick a running back, the vast majority would choose Carey first. Why? Again, he's better than Mason and Williams.
And, if this is about pure numbers, Carey's numbers are superior to Mason's, who apparently got invited to New York because he posted an undeniably great performance in the SEC title game against Missouri. If that was the selling measure, then the Auburn offensive line should have been sent to New York.
Then there's Oregon QB
Marcus Mariota
, whose Heisman case is hampered by the Ducks losing two of their final four games. Of course, that didn't change the fact that
he's been better than three of the four QB finalists
over the entire season.
None of the four invited QBs --
Jordan Lynch
of Northern Illinois,
Johnny Manziel
of Texas A&M,
AJ McCarron
of Alabama and
Jameis Winston
of Florida State -- has a resume without holes.
Lynch played against weak competition. Manziel lost his final two games of the season and played poorly while doing so. McCarron's candidacy was about career achievement, but he lost to his team's arch-rival to end the season, thereby missing out on his much-celebrated drive for a three-peat.
Winston, the overwhelming favorite as the best player on the best team, obviously had his off-field issue. No charges were filed, but the incident was hardly a shining and blameless moment for Winston.
Who's to blame for nobody from the West Coast heading to NYC? Well, we hate to bring out a hackneyed harrumph but it's obvious: East Coast Bias.
Notice anything about the finalists? Yep, none play in the Mountain or Pacific Time Zones. To get off the Pac-12 train for a bit, consider that Fresno State QB
Derek Carr
, who is probably a better NFL prospect than Manziel, McCarron and Lynch, wasn't invited. He only led the nation in passing and threw 10 more TD passes than anyone else.
This bias isn't about some evil and corrupt dislike of all things West Coast. It's about a limited and flawed radar of evaluation. And, you know, going to bed early.
But East Coast voters aren't the only ones who suffer from bias. Here's a guess that when the regional voting patterns are revealed that Mariota's and Carey's support will only be lukewarm out West. That's because many West Coast voters suffer from a form of college football Stockholm Syndrome, where they are unduly influenced by the dominant and oft-repeated East Coast narrative, even if it runs counter to the conclusions of their own eyes and brains.
Before Oregon lost to Stanford, there was no East Coast Bias to fret. Folks loved Mariota and he led every Heisman poll. But when he lost, he plummeted unlike any other candidate who had an off-game. His consideration died completely when the Ducks also lost at Arizona.
It's a case of out of sight, out of mind, a condition that none of the other finalists back East had to deal with as they were re-evaluated despite shortcomings not unlike Mariota's.
When the odd ending to the season forced Heisman voters to revisit their pecking order, they apparently didn't include players outside their time zones. Bad finishes for Manziel, Lynch and McCarron? Neh.
A bad finish for Mariota? Wait… who's that?
For Carey, it was just a matter of everyone knowing he's the nation's best running back but not caring because he played for a 7-5 Arizona team. Are there really voters in the country who would be willing to step up to a microphone and say, "Mason/Williams are better than Carey"? I hope not.
And, despite a tireless effort from the Wildcats sports information department to point out that Carey's 15 consecutive games with over 100 yards hasn't been accomplished IN A DECADE, voters went all lazy because I'd bet at least 50 percent of them never watched him play all season.
Sour grapes? Absolutely. But sour grapes based entirely on facts and sound logic.
June, 22, 2013
6/22/13
3:49
PM ET
The Opening, presented by Nike, will feature 162 of the best high school football players in the country. The event, which will include linemen, 7-on-7 and SPARQ testing competitions, is set to run from June 30 to July 3 at the Nike headquarters in Beaverton, Ore.
The following events from The Opening will be televised on ESPNU:
July 1: SPARQ Rating National Championship, 7 p.m.-8:30 p.m. ET
July 2: 7-on-7 Pool Play, 9 p.m.-11:30 p.m. ET
July 3: Linemen Challenge Finals and 7-on-7 semifinal and championship games, 9 p.m.-midnight ET
The players will be divided in to six teams -- Alpha Pro, Apocalypse, Field Generals, Land Sharks, Super Bad and Vapor Carbon. Here is a closer look at how the teams match up.
Team:
Alpha Pro
Coaches:
Offensive coordinator Jordan Palmer, defensive coordinator Hardy Nickerson
The Alpha Pro team will have plenty of targets to spread the ball around.
Ermon Lane
and
Tyler Luatua
, the No. 1-ranked receiver and tight end in the country respectively, bring size and playmaking ability to the passing game. ESPN 300 athletes
Corey Holmes
,
Jalen Hurd
,
John "JuJu" Smith
,
Ja'Von Harrison
, and
Derrell Scott
are all explosive offensive weapons.
Defensively Alpha Pro is led by
Andrew Brown
, the No. 1-ranked defensive tackle in the country, ESPN 150 cornerback
Damon Webb
, defensive end
Andrew Williams
, Ohio State linebacker commit
Dante Booker
and LSU cornerback commit
Chris Hardeman
.
Complete Alpha Pro
roster
.
Team:
Apocalypse
Coaches:
Offensive coordinator Adam Tafralis, defensive coordinator Donovin Darius
The first thing that jumps out about team Apocalypse is the talent in the defensive front seven. Team Apocalypse will be led by five-star defensive end
Da'Shawn Hand
and inside linebacker
Raekwon McMillan
. Hand, from Woodbridge, Va., is the No. 4-ranked player in the country, while McMillan was recently bumped up to a five-star linebacker. Joining Hand and McMillan along the front seven are ESPN 300 defensive linemen
Anthony Moten
and
Ainuu Taua
, and linebackers
D.J. Calhoun
and
Rashaan Evans
.
Offensively, team Apocalypse has no shortage of playmakers. ESPN 300 wide receivers
Artavis Scott
,
K.D. Cannon
and
Michiah Quick
will provide explosiveness in the passing game, while athletic running backs
Joe Mixon
and
Royce Freeman
will provide athletic and reliable targets out of the backfield.
Complete Apocalypse
roster
.
Team:
Field Generals
Coaches:
Offensive coordinator Charlie Frye, defensive coordinator Michael Fletcher
Seven-on-seven events are always geared towards the offense, but with five-star defensive back
Adoree' Jackson
, No. 3-ranked safety
Jamal Adams
, and ESPN 300 cornerback
Adarius Pickett
in the secondary, the Field Generals should more than hold their own. New Ohio State defensive end commit
Jalyn Holmes
and the No. 6-ranked defensive end in the country,
Solomon Thomas
, will be two to watch along the defensive line.
Offensively, the Field Generals are led by ESPN 300 offensive guard
Damien Mama
, ESPN 300 wide receivers
Austin Roberts
and
Thaddeus Snodgrass
and explosive Notre Dame running back commit
Elijah Hood
.
Complete Field Generals
roster
.
Team:
Landsharks
Coaches:
Offensive coordinator Craig Nall, defensive coordinator Keith Bulluck
The Landsharks have some big-time talent along each line of scrimmage. Led by five-star offensive tackle
Cameron Robinson
, the Landsharks also feature ESPN 300 offensive guard
Corey Martinez
. ESPN 300 defensive linemen
Gerald Willis III
and
Thomas Holley
, as well as ESPN 300 defensive end
Chad Thomas
, will form a very physical and athletic defensive line.
In the secondary, the Landsharks will have three defensive backs --
Arrion Springs
,
Chris Lammons
and
Tony Brown
-- that are ranked among the top 85 players in the country. The defense also features ESPN 150 linebacker
Nyles Morgan
.
Offensively, explosive running backs
Dalvin Cook
, a Florida commit, and
Racean Thomas
form a dangerous tandem out of the backfield, and wide receivers
Travis Rudolph
and
Jalen Harvey
are solid receiving threats.
Complete Landsharks
roster
.
Team:
Superbad
Coaches:
Offensive coordinator Dennis Gile, defensive coordinator Harold Nash Jr.
The Superbad defense line is led by five-star defensive end
Lorenzo Carter
and ESPN 150 defensive tackle
Bijhon Jackson
. The linebacking corp is stacked with three ESPN 300 members, including
Clifton Garrett
,
Christian Miller
and
Edwin Freeman
. Cornerback
Jalen Tabor
is the No. 19-ranked player in the country.
Offensively, Superbad has a huge advantage with the No. 1-ranked prospect in the country, running back
Leonard Fournette
. This team is loaded on offense, with wide receivers
Drake Harris
,
Josh Malone
and
Speedy Noil
all in the mix.
Complete Superbad
roster
.
Team:
Vapor Carbon
Coaches:
Offensive coordinator George Whitfield, defensive coordinator Chris Gizzi.
Vapor Carbon will be tough to throw against with defensive backs
Quin Blanding
,
Naijiel Hale
and
Ed Paris
roaming the field. The linebacker group is just as impressive, with Ohio State commit
Kyle Berger
,
Kain Daub
and
Dillon Bates
all leading the way.
The offense for Vapor Carbon could be lethal with running back
Joseph Yearby
and
Nick Chubb
in the backfield. Spreading out wide receivers
T.V. Williams
,
Justin Brent
and tight end
Ian Bunting
on the outside could prove to be an awesome combination for this squad.
Team Vapor Carbon has a lot of pieces to make a long run in the 7-on-7 tournament, but then again, every team is stacked in this competition.
Complete Vapor Carbon
roster
.
Pac-12 Teams Can Load Up At WR
PAC-12 SCOREBOARD
Thursday, 9/3
Friday, 9/4
Saturday, 9/5