Oregon Ducks:

Andrew Luck
June, 23, 2014
6/23/14
2:30
PM ET
It was like certain dinners I remember from the war. There was much wine, an ignored tension, and a feeling of things coming that you could not prevent happening. Under the wine I lost the disgusted feeling and was happy. It seemed they were all such nice people.
April, 2, 2014
4/02/14
7:00
PM ET
As you might be aware, Oregon and Stanford are in the midst of two very impressive runs having combined to appear in eight BCS bowls over the past five years.
The reasons are aplenty, but ESPN Insider's Brian Fremeau
provided a fascinating look

at how the two programs have measured up offensively compared to the rest of the country over that time frame.
It's not just yards, yards per play, points -- you know, the simple stuff -- that he takes a look at, either. Fremeau's Offensive FEI ratings take into account a whole lot more than that. Starting field position and defensive strength are factors, while drives that are killed by the clock are not.
A more detailed explanation for the metric
can be found here
and the more I read about it, the more I shook my head in agreement. Especially this part:
A team is rewarded for playing well against good teams, win or lose, and is punished more severely for playing poorly against bad teams than it is rewarded for playing well against bad teams.
In looking at every program in the country, it was determined the Ducks ranked No. 4 and Cardinal No. 5.
While last year might have been the only year in the five-year range Oregon didn't qualify for a BCS bowl, the data suggests the Ducks took a step forward offensively and appear destined to get even better next season.
The team with the best opportunity to rank first in opponent-adjusted offensive efficiency this year is the Ducks. Oregon returns nine offensive starters, including quarterback Marcus Mariota, the nation's leader in total offense yards per play last season (9.1). Oregon has had a top-20 opponent-adjusted offense every year since 2007, and the Ducks' 2013 version was the best according to FEI.
Having
Andrew Luck
's entire career apart of the dataset certainly helped the Cardinal, which trended backwards last season. Still, compared to what the traditional stats say, Stanford still was pretty good last year coming in at No. 22.
The Cardinal are the biggest surprise in our Program Offense ratings, propped up by the strength of the opposing defenses Stanford has faced in the past few years. The Cardinal played the fourth-toughest set of opponent offenses last year according to our data, and performed admirably, ranking 12th nationally in explosive drives (21 percent of possessions) and 23rd in available yards.
Here is how the Pac-12 teams stacked up nationally in 2013,
according to the index
:
No. 4 Oregon
No. 6 Arizona State
No. 11 UCLA
No. 13 Washington
No. 19 Arizona
No. 22 Stanford
No. 28 USC
No. 35 Utah
No. 39 Oregon State
No. 55 Washington State
No. 85 Colorado
No. 89 California
My math isn't advanced as Fremeau's, but I can tell you 22.5 percent of the top 40 offenses came from the Pac-12 and that's pretty impressive.
New Washington coach Chris Petersen's former team, Boise State, checked in at No. 49.
March, 28, 2014
3/28/14
2:30
PM ET
March, 12, 2014
3/12/14
2:30
PM ET
You take the van, I'll keep the dog.
March, 3, 2014
3/03/14
12:00
PM ET
Looking back at some teams the current group of Pac-12 coaches have led during their respective head-coaching careers turns up an impressive list. All 12 have coached a team to a bowl appearance, 10 have finished a season with double-digit wins and eight have had teams appear in the AP top 10.
Taking it a step further and just looking at each individual coach's best team (in college) also made for an interesting study. Choosing which teams those are is clearly a subjective process so for the purpose of consistency, the teams listed below were chosen based on the final spot in the AP poll.
Here are some notable takeaways:
Eight teams ended with bowl victories, but two occurred after the coach left.
Seven teams started unranked, but only one finished out of the polls.
Half of the coaches did it at their current school, four of which occurred in 2013.
Six teams appeared in the top 5 at some point and nine were in the top 15.
Three coaches immediately parlayed the success into their current job.
Only three of the teams won conference titles, none of which was in the Pac-12.
Two teams beat No. 1-ranked squads.
Four teams played in BCS bowls, and three were victorious.
We're not going attempt to rank them ourselves, but here they are in reverse order based on each team's final AP ranking:
No. 12 Sonny Dykes, Louisiana Tech, 2012
Dykes' record:
9-3 (4-2, third in WAC)
Final AP rank:
unranked
Highest AP rank:
19
Bowl result:
no bowl

The team:
The Bulldogs finished the season as the country's highest scoring team (51.50 ppg) and top-ranked offense (577.9 ypg). They rose to No. 19 in the AP poll before losing their final two games of the season, including one against Mike MacIntyre-coached San Jose State in the season finale. Louisiana Tech was
offered a spot
in the Independence Bowl, but it was given away while the school unsuccessfully sought other bowl options. Dykes left for Cal after the season.
[+] Enlarge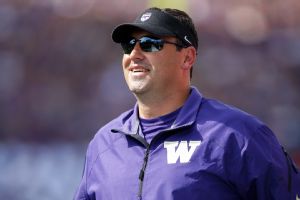 Otto Greule Jr/Getty ImagesSteve Sarkisian parlayed his successful 2013 season into the head-coaching job at USC.
No. 11 Steve Sarkisian, Washington, 2013
Sarkisian's record:
8-4 (5-4, third in Pac-12 North)
Final AP rank:
25
Highest AP rank:
15
Bowl result:
Beat BYU in Fight Hunger Bowl (Sarkisian did not coach)

The team:
The season began with a win against then-No. 19 Boise State, and the season ended with Broncos coach Chris Petersen being hired by the Huskies. Sarkisian departed for USC prior to the bowl. After the win against Boise, Washington debuted in the rankings at No. 19 and rose four spots before a string of three straight losses to Stanford, Oregon and Arizona State.
No. 10 Mike MacIntyre, San Jose State, 2012
MacIntyre's record:
10-2, (5-1, second in WAC)
Final AP rank:
21
Highest AP rank:
21
Bowl result:
Beat Bowling Green in Military Bowl (MacIntyre did not coach)

The team:
Two years after coaching San Jose State to a 1-11 record in his first season as head coach, MacIntyre's team became the first in program history to finish in the final AP poll -- although, the Spartans were unranked when MacIntyre accepted the job at Colorado. SJSU didn't beat any ranked teams, but lost just 20-17 to Stanford, which went on to win Pac-12 and Rose Bowl championships. The other loss came to Utah State, which finished No. 16.
No. 9 Todd Graham, Arizona State, 2013
Graham's record:
10-4 (8-1, won Pac-12 South)
Final AP rank:
21
Highest AP rank:
11
Bowl result:
Lost to Texas Tech in Holiday Bowl
The team:
In his eighth season as an FBS head coach, Graham's most recent Arizona State team was his best. The Sun Devils began the season unranked and entered and exited the Top 25 twice before closing the regular season with a seven-game winning streak. It was ranked No. 11 when it hosted Stanford in the Pac-12 championship game, but a second loss to the Cardinal kept ASU out of the Rose Bowl.
No. 8 Mike Riley, Oregon State, 2008
Riley's record:
9-4 (7-2, tied for second in Pac-10)
Final AP rank:
18
Highest AP rank:
17
Bowl result:
Beat Pittsburgh in the Sun Bowl

The team:
The Beavers started unranked and lost their first two games before winning eight of nine to peak at No. 17. After a 1-2 start, it beat No. 1 USC in Corvallis, but didn't immediately build off the big win. The next week the Beavers lost to Kyle Whittingham's undefeated Utah team (more later).
Riley's highest spot in the polls came in 2012, when the Beavers reached No. 7 after a 6-0 start. He was a head coach in the NFL for three years and the Canadian Football League for four, where he won a pair of Grey Cups.
No. 7 Jim Mora, UCLA, 2013
Mora's record:
10-3 (6-3, second in Pac-12 South)
Final AP rank:
16
Highest AP rank:
9
Bowl result:
Beat Virginia Tech in Sun Bowl

The team:
The Bruins spent the entire season in the polls after starting at No. 21. They began 5-0 and rose to No. 9 before road losses to No. 13 Stanford and No. 3 Oregon. Mora's best coaching job came in the NFL in 2004 when he guided the Atlanta Falcons to an NFC South title and an appearance in the NFC Championship.
No. 6 Mike Leach, Texas Tech, 2008
Leach's record:
11-2 (7-1, tied for first in Big 12 South)
Final AP rank:
12
Highest AP rank:
2
Bowl result:
Lost to Ole Miss in Cotton Bowl

The team:
The Red Raiders started the year at No. 12 and moved up to No. 6 after an 8-0 start. They rose to No. 2 after Michael Crabtree's memorable touchdown catch secured a win vs. No. 1 Texas. After two weeks at No. 2, the Red Raiders lost to No. 5 Oklahoma in a game that propelled Sooners quarterback Sam Bradford to the Heisman Trophy. Leach arrived at WSU in 2012.
[+] Enlarge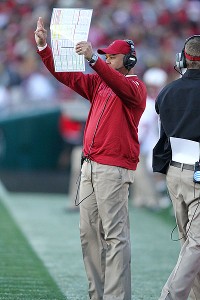 AP Photo/Kevin ReeceDavid Shaw's best team at Stanford didn't win the Pac-12 title.
No. 5 Mark Helfrich, Oregon, 2013
Helfrich's record:
11-2 (7-2, tied for first in Pac-12 North)
Final AP rank:
9
Highest AP rank:
2
Bowl result:
Beat Texas in Alamo Bowl
The team:
Of all the teams on the list, none started higher than the Ducks in Helfrich's head-coaching debut at No. 3. Oregon spent eight weeks at No. 2 before losses to Stanford and Arizona in a three-game span ended any hopes of a conference or national title. The team finished ranked No. 2 in the country in both total offense (565.0 ypg) and scoring (45.5 ppg). Quarterback
Marcus Mariota
dealt with some late-season injury problems, but, when healthy, he was as good as any player in college football.
No. 4 David Shaw, Stanford, 2011
Shaw's record:
11-2 (8-1, second in Pac-12 North)
Final AP rank:
7
Highest AP rank:
3
Bowl result:
Lost to No. 3 Oklahoma State in Fiesta Bowl
The team:
In three seasons as head coach, Shaw has won a pair of Pac-12 titles. But in 2011, when Oregon won the Pac-12 title, he probably had his best team. The Rose Bowl championship team the following year also finished No. 7 and has more hardware, but it didn't have Andrew Luck. Stanford started the year at No. 7, moved up to No. 3 after winning its first nine games, but then lost 53-30 at home to No. 6 Oregon. Stanford received a second consecutive BCS at-large bid, but suffered an overtime loss to No. 3 Oklahoma State in the Fiesta Bowl. In addition to Luck, 10 other players landed on 53-man NFL rosters from the team's departing class. Stanford's low ranking of No. 8 was the best among teams on this list.
No. 3 Rich Rodriguez, West Virginia, 2005
Rodriguez's record:
11-1, (7-0 Big East champion)
Final AP rank:
5
Highest AP rank:
5
Bowl result:
Beat No. 8 Georgia in Sugar Bowl
The team:
Freshmen QB Pat White and RB Steve Slaton were the names of note for the current Arizona coach. West Virginia started the year unranked and its lone loss came to then-No. 3 Virginia Tech. It was the first of three consecutive double-digit win seasons for the Mountaineers, who were undefeated in Big East play and capped the season with a win over No. 8 Georgia in the Sugar Bowl. A strong case can be made that West Virginia had a better team in 2007, when Rodriguez left following the regular-season finale to become head coach at Michigan. The Mountaineers were ranked No. 2 (No. 1 in the coaches poll) going into Rodriguez's final game, but
lost to a 4-7 Pittsburgh team
in the 100th Backyard Brawl, which cost them a chance to play for the national title. They finished No. 6.
No. 2 Chris Petersen, Boise State, 2009
Petersen's record:
14-0 (8-0, WAC champions)
Final AP rank:
4
Highest AP rank:
4
Bowl result:
Beat No. 4 TCU in the Fiesta Bowl
The team:
Washington's new coach has quite the résumé. Many consider Boise State's undefeated 2006 team that beat Oklahoma in that's year memorable Fiesta Bowl as the school's best, but three years later the Broncos finished 14-0 and finished a spot higher in the final AP poll. They opened the season at No. 14 and started with a win against No. 16 Oregon in Chip Kelly's first game as head coach. Boise capped the season with a win against undefeated TCU in the Fiesta Bowl. The team's offensive coordinator, Bryan Harsin, is now the head coach and its defensive coordinator, Justin Wilcox, spent last season with Sarkisian at Washington and followed him to USC in the same capacity.
No. 1 Kyle Whittingham, Utah, 2008
Whittingham's record:
13-0 (8-0, Mountain West champions)
Final AP rank:
2
Highest AP rank:
2
Bowl result:
Beat No. 4 Alabama in Sugar Bowl
The team:
In Whittingham's fourth season as head coach, the Utes finished as the nation's lone undefeated team after starting unranked. Utah opened with a win at Michigan -- Rodriguez's first game as the Wolverines' coach -- and went on to beat four teams that finished in the final AP poll, including Alabama (6), TCU (7), Oregon State (18) and BYU (25). Quarterback Brian Johnson threw for 336 yards in a convincing 31-17 win against Alabama in the Sugar Bowl.
Want to swap out one team for another or switch the order? Email me at Kyle.Bonagura@espn.com.
February, 18, 2014
2/18/14
7:00
PM ET
Elliot Harrison of NFL.com wanted to make a list of up-and-coming NFL players,
so he tapped an all-under-25 NFL team
, and nine of his 26 selections played in the Pac-12.
Not only that, the conference, stereotyped as offense-first, had just as many defensive players -- four -- as offense. And his omission of
Star Lotulelei
, the former Utah defense tackle now starring for the
Carolina Panthers
, is notable because he finished fourth in the AP Defensive Rookie of the Year vote.
Further, these nine guys came from seven conference teams, so this isn't just about USC's pipeline of five-star recruits to the NFL.
Here's the Pac-12 players on his team.
Offense
QB
Andrew Luck
(Stanford), Indianapolis Colts
WR
Keenan Allen
(California), San Diego Chargers
OT
Tyron Smith
(USC), Dallas Cowboys
OG
David DeCastro
(Stanford), Pittsburgh Steelers
Defense
DT
Jurrell Casey
(USC), Tennessee Titans
LB
Vontaze Burfict
(Arizona State), Cincinnati Bengals
LB
Kiko Alonso
(Oregon), Buffalo Bills
CB
Desmond Trufant
(Washington), Atlanta Falcons
Special teams
P
Johnny Hekker
(Oregon State), St. Louis Rams
Of these players, only Burfict and Allen received high recruiting rankings from ESPN.com. Burfict was the nation's No. 1 inside linebacker and Allen was the nation's No. 5 "athlete." ESPN.com ranked Luck the nation's seventh-best quarterback in 2008.
Casey, DeCastro, Trufant and Alonso rated as solid to off-the-radar prospects in most recruiting rankings.
So, again, the best response when Pac-12 teams don't rate highly in recruiting rankings to shrug and move on with your day.
November, 7, 2013
11/07/13
11:00
AM ET
Last year's Stanford-Oregon game didn't just break the mold of the rivalry's previous three matchups. It detonated it with an ordnance of smothering defense and glacial tempo.
Stanford's 17-14 overtime win was a stark contrast to how the previous meetings had played out since 2009 -- the first game that featured both David Shaw and Mark Helfrich on their respective sidelines.
[+] Enlarge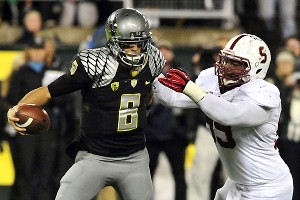 Steve Dykes/Getty ImagesThe trend of high-scoring Stanford-Oregon games was halted last season, as Marcus Mariota and the Ducks couldn't get on track.
No. 3 Oregon takes its nation-leading 18-game road winning streak to No. 5 Stanford Thursday night in a true clash of schematic styles. And there are lessons to be learned from some of the recent matchups -- trends and themes that paint a picture of what could transpire Thursday night.
The teams have split their past four meetings, with Stanford winning at home in 2009 and on the road in 2012. Oregon won back-to-back games in 2010 in Eugene, Ore., and 2011 in Palo Alto, Calif.
In the three games prior to last season, the winning team had scored at least 51 points and the loser had scored at least 30. The margin of victory was at least nine points. It was an annual offensive feast worthy of a league known for putting up points.
But last year's game flipped the script as the offenses took a backseat to trench warfare, making every point a premium.
"Each game is its own entity," said Oregon coach Mark Helfrich, who was offensive coordinator for the previous four matchups. "One big thing is our programs are a lot more similar than they are different from a number of perspectives. Their offense is different from our offense. But we're similar in the fact of playing with heart -- playing fundamentally sound. We recruit a lot of the same people.
"But at some point it's going to come down to our best person and their best person in space or in tight."
Clichés become clichés for a reason. Some coach somewhere once said "big-time players make big-time plays" and everyone thought it was a profound statement at the time. Then more and more coaches started saying it and the meaning dulled. And in the case of Stanford-Oregon, it's cliché, but true.
The past four meetings have all been defined by outstanding individual performances. Some were statistically sensational: Toby Gerhart's 223 rushing yards and three touchdowns in 2009; LaMichael James' 257 yards and three touchdowns a year later; James again in 2011; and Zach Ertz in 2012.
Others were more understated. But regardless of the total points scored, it still comes down to players making plays.
"The biggest one is, and I hate to put it on one side of the ball because it is a complete game, but when we make the open-field tackles and don't miss them, we have a chance," Shaw said. "And then the two wins, the common denominator is making big plays. Toby Gerhart ripping off some big runs. Chris Owusu had a huge touchdown pass. Ryan Whalen had a huge catch to get us in the end zone. Zach Ertz last year was huge. Then
Kevin Hogan
's mobility. He ran for a touchdown and could escape and slide and find Zach off schedule. Defensively, we have to make those open-field tackles and line up and not be out of position."
Thursday's showdown is a true struggle of strength versus strength when you consider the following:
Oregon hasn't scored fewer than 35 points in its past 10 games -- the last time coming in the 17-14 loss to Stanford last season.
Stanford hasn't allowed more than 30 points in its past 17 games, the nation's second-longest active streak.
The Ducks have won 18 straight on the road -- their last loss coming to Stanford in 2009.
Stanford has won 13 straight at home, its last loss in Palo Alto coming to Oregon in 2011.
There are dozens of notable sidebars to this matchup. Obviously, Stanford's defense versus Oregon's offense is the storyline that garners the most attention. But this is also a Heisman showcase game for Oregon quarterback
Marcus Mariota
, just as it was for Andrew Luck in the 2011 loss to the Ducks. There are the recent struggles of Stanford's offense and the inconsistencies of Hogan, who made his first career road start last year at Autzen and was lauded as one of the game's heroes for his poise on the grand stage. There is Oregon's defense -- so smothering and so in the shadow of the offense.
Stanford's top priority is and always will be to stop the run. But the Ducks have also developed a dangerous downfield passing attack that wasn't as developed last season. No Oregon wide receiver had more than 500 receiving yards last season. This season
Josh Huff
(703) and
Bralon Addison
(609) give the Ducks' offense an added dimension that Stanford will have to account for. And then there is the always-accurate Mariota, who hasn't thrown an interception since the first half of last season's Stanford game.
Defensively, the Cardinal are very good at getting to the quarterback without having to send extra blitzers. No team in the country has more sacks over the past two years when sending four or fewer rushers at the quarterback.
"They have some guys up front that really try to control the line of scrimmage," Mariota said. "They have done an awesome job all year of being physical. But I think our offensive line is up to the challenge. They are going to go out and play their best and we'll do our best at executing."
The recent past between these teams might not be entirely prologue. But history tells us that big-time players will make big-time plays -- if you'll pardon the cliché.
November, 4, 2013
11/04/13
12:00
PM ET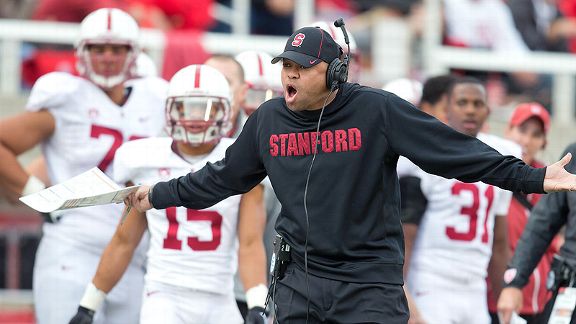 Russ Isabella/USA TODAY SportsStanford coach David Shaw is 1-1 against Oregon and 30-5 overall.
Stanford had just torn the hearts out of Oregon and its fans inside Autzen Stadium. The Ducks' unbeaten season had ended in shocking fashion. National championship hopes had been kicked to the curb.
"It's such an honor to come into this stadium and beat a phenomenal team," the Stanford quarterback said after the victory.


A gracious, classy and perhaps rare take from a college player. But no, that was not
Kevin Hogan
talking about the Cardinal's 17-14 overtime upset of the Ducks in Autzen Stadium last Nov. 17 that ruined the Ducks' drive for a berth in the 2012 national title game. It was Stanford's backup quarterback, Chris Lewis, talking about the Cardinal's 49-42 win in Autzen Stadium on Oct. 20, 2001, that ruined the Ducks' drive for a berth in that season's national championship game.
Lewis' postgame quote, however, generally sums up the Oregon-Stanford series, which Thursday night again will be the Pac-12 game of the year. There appears to be little animosity and a good dose of respect between the Ducks and Cardinal, who both own road wins as underdogs against each other in the past three years.
Though they are very different institutions, playing football in very different ways and, well, dressing very differently while doing so, the rivalry between the Pac-12's top two teams in the past four seasons doesn't include much ill will compared to the rivalries between Oregon and Washington and USC and UCLA.
Perhaps it should, at least in terms of what Stanford and Oregon have taken away from each other through the years, and not just during their recent and simultaneous rise to join the nation's elite.
Nine times since 1964, Stanford has handed Oregon its first defeat of the season. Twice it was the Ducks' only defeat. Without a loss to Stanford in 1995, the Ducks would have played in a second consecutive Rose Bowl in Mike Bellotti's first season.
Oregon has returned the favor of late as Stanford became nationally relevant. The Cardinal lost just one regular-season game in both 2010 and 2011. To Oregon.
Stanford's win in Autzen Stadium last year was shocking in many ways. The Ducks had owned the Cardinal and Andrew Luck the previous two years, so much so that in advance of the 2012 season, Stanford coach David Shaw openly admitted his team had an "Oregon problem," though he reasonably noted that the entire Pac-12 shared the Ducks conundrum.
Yet, as stunning as it was to witness the Cardinal shut down the Ducks' offense last November, the 2001 game eclipsed it 20-fold in terms of sheer nuttiness.
While some of Oregon's younger fans might not remember 2001, the older ones surely slapped their foreheads upon seeing the name "Chris Lewis" again. In that contest, the unbeaten and fifth-ranked Ducks were seemingly cruising, leading 42-28 in the fourth quarter at home, with Stanford quarterback Randy Fasani knocked out of the game in the second quarter.
But things went haywire in the fourth quarter, particularly on special teams, when Stanford blocked two punts and recovered an onside kick. Still, it appeared the Ducks would prevail 42-41 when they blocked the potentially game-tying PAT.
Unfortunately for Oregon, quarterback Joey Harrington was turning in his only poor performance of the season. On third-and-1 from Oregon's 30, Harrington was hit by safety Tank Williams, and his throw was picked off by diving defensive end Marcus Hoover at the 33 (it was Harrington's second interception of the game). After Stanford scored the go-ahead TD, Harrington, who had led nine fourth-quarter comebacks in his career and was popularly known as "Captain Comeback," threw four consecutive incompletions from the Cardinal 37.
The normally straightforward Associated Press report noted that the game "had everything but aliens landing on the Autzen Stadium turf."
Oregon, one of the earliest victims of a BCS controversy, went on to finish No. 2. Bellotti showed up at the Rose Bowl, host of the BCS title game, to watch Miami stomp overmatched Nebraska, a team that was blown out in the regular-season finale by Colorado, a team the Ducks had crushed in the Fiesta Bowl.
Yes, there were a fair share of what-ifs from the Ducks, not unlike last year, though it's worth remembering that Miami team was one college football's all-time great squads.
Of course, things were much different for both Oregon and Stanford in 2001. Neither team had established itself as a consistent national power. In fact, both would go through significant downturns thereafter, particularly Stanford.
In 2007, both programs made inspired decisions that inspired initial befuddlement among media and fans: Bellotti hired Chip Kelly away from New Hampshire, an FCS team, to coordinate his offense, and Jim Harbaugh was plucked away from San Diego, another FCS team, by Stanford. Harbaugh brought along Shaw to coordinate his offense.
As isolated events, the Stanford-Oregon game on Oct. 20, 2001, and some buzz-less coaching hires in 2007 didn't resonate nationally. But from a long-term view, they are notable dots to connect for what has become one of the nation's best and most meaningful rivalries.
Even if the teams don't provide much cartoonish trash talk to foment the hype.
October, 22, 2013
10/22/13
9:00
AM ET
Mail+bag=mailbag. Enjoy.
Gordie in Pasadena, Calif. writes:
Is Coach Sark on the hot seat? With remaining road games against UCLA and OSU, UW looks headed for a 7-win regular season. Kiffin (65%) and Tedford (59%) both had better win percentages than Sark (projected 52% by end of season) in the Pac. Mike Stoops (45%) wasn't that far off at UA. Not to mention UW getting blown out by the ducks every year. What do UW fans and boosters expect from their coach?
[+] Enlarge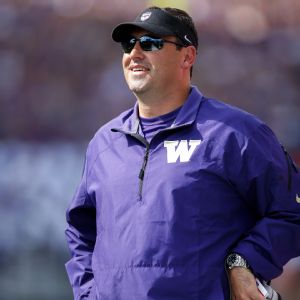 Otto Greule Jr/Getty ImagesAfter a hot start, Washington has struggled and some are wondering if coach Steve Sarkisian is on the hot seat now.
Kevin Gemmell
: I don't know if he's on the hot seat yet, but some of the goodwill that was built up in the first four games is fading -- fast. Lose to Stanford on the road? Fine. It happens. Stanford is a good team. And Washington played them tough.
Losing to Oregon 45-24, meh … Oregon is Oregon. And this might be the best Oregon team in the last 10 years.
But the ASU loss was the proverbial kick in the … let's say teeth. The Huskies were just plain bad. The defense looked like the 2011 defense. The offense looked like the 2012 offense. I don't think ASU was really doing anything special. They were just executing and making plays. Washington wasn't.
With five games left the Huskies could still finish with nine regular season wins, and a bowl victory would give them double digits. That would include wins over two teams ranked in the BCS top 25 in UCLA and Oregon State. That would cool things off.
Let's assume they beat Cal and Colorado. That leaves back to back trips at UCLA and Oregon State before closing with the Apple Cup. That's six wins with three left to play. I'm not totally sold that last week was indicative of what kind of team Washington is. It's very possible it was just a combination of a bad week for the Huskies and an outstanding week for the Sun Devils.
But if they play like they did last week the rest of the year and finish with seven wins, then the heat really gets turned up.
Peter out West writes:
Why do computers hate the Pac-12? Is it just me or is FSU's schedule soft. Like silly-soft. I know the transitive property doesn't *really* apply...but FSU's big win is Clemson. Who stinks. "But they beat GA," I can hear brainwashed people east of the mississippi saying. Please. The same GA team that just lost to Vanderbilt? The same team that eeked out a win over Tenn? Remind me again. Did Oregon beat Tenn by 20? No. Was it 30? No. Was it 40? No. It was 45. Points. 45 POINTS! "But GA beat S.Carolina," they might reply. S.Car LOST to Tenn. I realize as a Stanford fan that I'm kinda living in a glass house here with the Utes game and all...but seriously. Am I taking crazy pills, or do even the computers have East Coast bias?
Gemmell
: The late German engineer Konrad Zuse is widely regarded as the father of the modern computer. Per the always accurate and trustworthy Wikipedia, he graduated from Technische Hochschule Berlin-Charlottenburg in 1935 -- the very same year Minnesota went 8-0 and was ranked No. 1 by the UP sports writers. It so happens that same year Oregon was 6-4-1, but unranked. Coincidence? Absolutely not. The fix has been in from Day 1!
I'm no engineer, but I like to think I have a gentle touch when it comes to computers. And I've never met one that has an opinion one way or the other. A computer is only as good as the data that goes into it. And a lot of that data is still based on perception. As David Shaw once told me, a computer never won a football game.
Oregon still has the meat of its schedule coming up -- and since you're a Stanford fan -- the same could be said for the Cardinal. Both teams still have to play Oregon State, which is 25th. And they have to play each other. The winner will no doubt experience a nice spike in perception, computer or otherwise. The good news is one year from today, it's a question you won't have to worry about.
So put down the crazy pills and don't worry about the glass house. That only applies to every other team but yours.
Brandon in Hillsboro, Ore. writes:
Ok Kevin, Can you please start giving Mannion and Cooks proper due. Mannion is leading the nation in total yards and touchdowns. He's only thrown 3 INT. Yeah Mariota is good but he isn't on the same level as Mannion right now. No one is.
Gemmell
: First, I reject your statement that Mariota isn't on the same level as Mannion. Check out
the latest QBR numbers
. Mariota is No. 1, Mannion is No. 12.
Second, when we re-ranked the Pac-12 top 10 players
at the midway point in the season
, both Mannion and Cooks were in the top five. So it's not like we've totally ignored them. Yes, their numbers are phenomenal. Yes, they've done an outstanding job holding the team together after that rough start. And yes, I want to see them do it against Stanford.
Right now Mannion is No. 2 on
my Heisman ballot
. I noticed someone else has him fifth. Not sure if that's Ted. But I think he deserves the recognition and so I voted accordingly.
His production can't be denied. The Pac-12 blog has noticed. And if he's able to put up those numbers this week against Stanford, I think the rest of the country will too.
John in Houston writes:
You wrote this week
it is unfair players are judge by their Heisman moments
. I disagree: Heisman moments represent what makes football so great! Going back to last year, was
Johnny Manziel
THE best player in college football? Probably not. But it seemed that every time he stepped onto the field, there was the potential for a game-winning play. Robert Griffin III was the same way. While Andrew Luck was (and still is) very good, RG3 epitomized why football is exciting! People may forget Robert's college statistics, but they will never forget his last second touchdown pass to Terrence Williams to beat then-#5 Oklahoma. Those kind of plays, Heisman moments, make watching football games worthwhile. Your overall point was that Marcos Mariota should and will win the Heisman. I say that he certainly won't (and shouldn't) if he can't produce at least couple Heisman moments. Watching Oregon win by seven touchdowns is just boring to watch. Sorry if Duck's fans are offended by this, but it's true. If Oregon really wanted to win the Heisman, they would not have scheduled middle of the road SEC and ACC teams. Tennessee and UVA have been mediocre for years and the Ducks knew that when they made the schedule. Watch and see: Mariota will not win the Heisman. Not because he is not the best players, but because he didn't make the best plays. That is college football and that is how it should be.
Gemmell:
Just so we're on the same page … you think it's
OK
that the best player in college football doesn't win the award because someone has more highlights?
If that were the case, De'Anthony Thomas should have won the Heisman two years in a row.
Kodi Whitfield
should be a candidate.
I won't even get into Oregon and scheduling. I'll let the Oregon fans straighten you out on that one.
My point wasn't that Mariota should win the Heisman. My point is the best player should win it, be it quarterback, linebacker or offensive lineman. My point was that highlights and individual plays shouldn't be the basis, but for a lot of voters it is, and I don't think that's right. The Heisman moment has been put up on such a pedestal that it takes away from the bigger picture, which is a player's total performance throughout the course of a season.
Since you brought up Luck, I'd like to re-tell a story that David Shaw told me once. He said Luck once told him that he thought the Washington game in 2011 was the best game of his career. Luck was 16 of 21 for 169 yards and two touchdowns. Pretty good numbers, but nothing that jumps off the page.
The point of the story was that Stanford rushed for a school record 446 yards, and it was Luck identifying the plays at the line of scrimmage and getting the Cardinal into the best play against that particular defense. And he was 100 percent right in every play that he called -- hence the big rushing numbers.
The point of that story is that a "Heisman Moment" should be more than a YouTube clip. Watch Luck's
Heisman campaign YouTube clip
. There aren't really any of "those" plays you are describing. Part of it is because he made it look so unbelievably easy.
But this isn't a Luck-got-hosed response. This is a Mariota response. For the record, I think you put Mariota in any offense -- Stanford's, Washington State's, Arizona's, whatever -- and he'd have equal success because he's cut from that same type of cloth.
Watching Oregon win by seven touchdowns isn't boring when you appreciate what the guy pulling the strings is doing. And right now Mariota is pulling all the right strings. And if he's able to do that against UCLA, Stanford, Oregon State, etc., then he should win the Heisman, regardless of what anyone thinks of his highlights.
Keith in Teutopolis, Ill. writes:
I just realized UCLA has a DB named Moreau. Has anyone written a story titled "The Island of Dr. Moreau" about him? Please tell me they have.
Gemmell:
That would be
Fabian Moreau
, and I'm not aware of any headlines. But you get snaps for the creativity. He's second on the team with four pass breakups, so he seems to be doing just fine on that island.
However, I think we can all agree that that was
a low point for both
Marlon Brando and Val Kilmer.
Ice-Man
, we hardly knew you.
Arizona State fans everywhere write:
Dear (cleansing product) bag.
Good call picking Washington
. Go (play a round of miniature golf with) yourself. Sincerely, Arizona State fans everywhere.
Gemmell
: First, let me say that I appreciate your concern regarding my hygiene. I like to think I'm fresh, but can always feel fresher. And you know, I could use a round of mini golf. Ted picked Washington too. Maybe he can caddy for me. Sound advice from the good people in Tempe.
Yes, I picked against your team. And I was wrong … really, really wrong. I also picked you to beat Notre Dame. Where were you guys then, pray tell? Where were the "Hey Kev, thanks for the support, sorry we couldn't get it done for you" notes in my mailbag?
Great win for the Sun Devils. And if they go on to bigger and better things, this win will no doubt be viewed as a season-defining moment. But much like some of our readers last week who hail from the great state of Utah, let's not get swelled heads over one win.
It was an impressive performance. More impressive was the run defense. I didn't see that coming. And anyone who says they did is full of it. What trend pointed toward the Sun Devils holding Washington to minus-5 rushing yards? Consider ASU's run defense vs. their FBS opponents this year: 231 rushing yards to Wisconsin, 240 to Stanford, 247 to USC, 145 to Notre Dame. Heck, even Colorado had 99. But minus-5 against Washington. Absolutely stunning.
So Arizona State fans everywhere, enjoy the win. But don't forget pride comes before the fall.
Now, if you'll excuse me, I have to go freshen up.
October, 15, 2013
10/15/13
7:00
PM ET
Welcome to the second half.
Greg in Salt Lake City writes:
"If you don't like where you are in the Power Rankings, play better." Oh, like maybe beat No. 5 Stanford? Done. Wait, that didn't really help. Utah is a few turnovers away from being undefeated, they get better every week and just beat Stanford. Because
Power Rankings
take the most recent games into account more we should definitely be ahead of Oregon State and Washington -- neither of which has beat a team that is still ranked. I would think a former MWC guy would show a little more respect ;)
Kevin Gemmell
: I appreciate the passion, Greg. I really do. And I particularly appreciate the emoticon wink. And as a former MWC guy, I've followed Utah's rise in that conference and transition to the Pac-12 with great interest.
For the record, it did help. You moved up from seventh to sixth in this week's Power Rankings.
No, you shouldn't be ahead of Oregon State or Washington. You lost to Oregon State. Any way you slice it, the Beavers have more wins and beat you at home. As for Washington, we'll find out more about them this week when the Huskies travel to Arizona State. Washington lost to Stanford on the road by a field goal. You beat Stanford at home by two field goals. Washington's two losses have been to top-five teams. Utah's losses have been to a top 15 team and an unranked team. Plus Utah has had the luxury of not having to go out of state yet.
I think the Stanford win was a critical stepping stone for the Utes, but it's how they follow it up that will be extremely telling.
This isn't the Mountain West where the entire season boils down to one game against TCU. You beat Stanford. Great. Now can you go on the road and beat Arizona? At USC? Can you avenge the beating you took last year from ASU? Can you win at Autzen?
Recall Washington scored two wins over top-10 teams last year, but still finished with seven wins and the season was perceived as unsuccessful. If Utah fails to make it to the postseason, how much does this one win really mean? Not a whole lot. You'll be viewed as the team that just caught Stanford on a bad day on the road rather than a team that is climbing the Pac-12 pecking order.
It was a good win. What are you going to do with it?
Ducku03 in Eugene writes:
Hey Kevin I've been reading a lot about that Heisman Moment that takes a candidate over the top. It seems to me that all of these moments, the media talks about, are come-from-behind moments that give their team a miraculous win. Isn't it a little unfair to degrade a Heisman campaign just because your team is always ahead in the fourth quarter such as the case for
Marcus Mariota
?
Kevin Gemmell
: Aside from "mandatory" and "colonoscopy," there are no two words put together that irk me more than "Heisman" and "moment." It's a sham. A fluke. Just as I railed in last week's mailbag about one play being a determining factor in a game, one moment doesn't, couldn't, shouldn't determine something as important as a Heisman.
I can think of about two dozen Heisman moments for Marcus Mariota already. And, as you noted, none of them involved a come-from-behind victory. That's because he's got his team so far ahead.
I've written a couple of times on the Heisman in recent years. It's a completely
subjective award
that is open to all kinds of interpretation. I don't think that's a bad thing, but I happen to disagree with how some people go about their voting process. That's what makes the Heisman so controversial.
As I noted in 2011
, Andrew Luck had plenty of Heisman moments, they just weren't "traditional" Heisman moments.
I don't think Mariota's campaign will be slowed down if the Ducks don't have a come-from-behind-fourth-quarter win. What he's done so far has been too impressive. Obviously, the Stanford game will be of significance. It will be nationally televised and East Coast voters should stay up to watch.
The whole Heisman exercise has gotten out of hand. It's taken on such a life of its own that it's essentially downgraded the importance of some other awards like the Maxwell and Walter Camp, the Outland and the Rimington. I hate that the metrics aren't there for linemen or defensive players to win it. And the spread offense has completely slanted the playing field in favor of quarterbacks. The whole process feels less like a celebration of greatness and more like, well, a mandatory colonoscopy.
Tommy Trojan in a beach chair on the beach writes
: I know and the USC faithful know how important a win against ND this weekend is for the future of the program and for the rivalry. What does a USC win mean in the world of the Pac-12 down the stretch?
Kevin Gemmell:
In terms of the standings, not a whole lot. In terms of their perception, it's huge. USC's brand has taken a huge hit over the last 12 months. With that comes negative recruiting from other schools and a general uneasy feeling about the state of the program.
But USC is still a brand. And it will endure. Because there are always going to be elite athletes who want to come to USC.
The Trojans aren't out of the South Division hunt yet, but they'll need some help along the way. All they can do is hope to win out and restore the confidence of the fan base and potential future Trojan players. Winning at Notre Dame would be a huge first step toward rebuilding that.
Chris in Foresthill, Calif. writes:
Sonny Dykes is on record that Cal has the prerequisites "location, facilities, weather, academics and access to state-wide and national talent" to be a national championship contender. I don't see it due to the predominance of pro sports in the Bay Area. In three to five years, do you see Cal as a contender, pretender or also-ran?
Kevin Gemmell:
I think what we have right now, this year, with Cal is the perfect storm of a young team adjusting to new schemes, a horrific string of injuries and one of the toughest schedules in the country.
The Bears have been able to move the ball, they just haven't been able to score. I still think the skill position players are really good, they just haven't been able to translate it on the field on Saturdays.
Losing 10 of 11 potential starters on defense doesn't help. Dykes said today that he's never seen this many season-ending injuries in one year in his career.
In three to five years I think Cal should certainly be a mainstay in the postseason. Cal has too many advantages not to, at the very least, be a six-win team. I'm cutting Dykes and Co. some slack simply because of all the dice loaded against them this season. But there are still six opportunities left for progress. And six opportunities for a lot of younger players to get some valuable experience.
Don in Newberg, Ore. writes:
Kevin, Most impressive aspect of the Ducks' win @ Washington? When the season started, there was no argument that Oregon's best three offensive players were Mariota, DAT and Lyerla. They beat the Dawgs without two of those three. That says something.
Kevin Gemmell
: I'd argue that
Ifo Ekpre-Olomu
and
Terrance Mitchell
were right up there in terms of preseason hype. And so far Oregon's secondary has been beastly. I'd say that was the most impressive aspect.
Keith Price
did what he could, but the Ducks held him to his lowest output of the season in terms of yards and touchdowns. His longest pass was 28 yards. His completion percentage was below 60 percent for just the second time this year (the Arizona rain game was his lowest).
For as much as people want to talk about what Oregon is doing on offense -- and full disclosure, I'm one of those guys talking about their offense -- the defense has quietly been one of the best in league. Just as it was quietly one of the best in the league last year, and the year before that. They are allowing a league-low 13.8 points per game and have only allowed four touchdowns in the air. Be impressed with the offense. But don't forget what the guys on the other side of the ball are doing.
Darin in Monterey, Calif. writes:
I have a couple of questions about QBR ratings. Can you explain to me how you get a high QBR rating? Mariotta has an average of 96 or something like that and Mannion only has 82. When Oregon State played Colorado Mannion only recorded a QBR of 61, while scoring 6 TDs. … I understand that Colorado isn't exactly a powerhouse, but Mariotta scored a 96 QBR against Nicholls St. while throwing less touchdowns and about the same pass completions. So, what's the difference?
Kevin Gemmell
: You basically have two different QBR ratings. One is raw QBR, the other is adjusted QBR. Adjusted takes into account the strength of opponent and various other factors.
Essentially, it boils down to how much of a contribution did the quarterback make? What was his completion percentage on first, second or third down? What were the circumstances under which a touchdown was scored?
Here's
the complete guide to the QBR
that fully explains it all. It's a lot to take in, and requires reading it a few times. But once it all settles, you'll start to look at QB stats differently.
Like all stats, it's not a complete representation of the player. But it's, in my opinion, the best statistical measuring stick out there.
Scappoozer in Scappoose, Ore. writes:
I won't say I told you so. I like your coverage of Pac-12 football and a little homerism to boot but you and Ted have never jumped on your potential champions bandwagon the way the SEC bloggers have never wavered over Alabama. You start your article by saying Oregon is the national title contender we thought they were, huh? Last week Ted puts Stanford back to No. 1 in the Power Rankings? Pick a team and stick with them. Win the Decade is soooo sweet. You drank the Washington Kool-aid, yes they are a good team but pupil of the spread was not ready to beat the teacher of the spread. I've said all along Stanford is too slow and it showed, Washington might be better. I just felt like nationally and through voting the rest of the nation were closer to reality than the Pac-12 bloggers I follow. Washington was overrated and you guys always had them ranked too high and they are not ready to compete for a national championship let alone a Pac-12 championship. Our local reporters can't even pronounce our QB's name correctly, it's MARIO-TA. Go Ducks!
Kevin Gemmell:
First off, the "I told you so" doesn't fly with me. I went back through my entire mailbag for the last six months and this is the first note I got from you. But I'm happy to answer it.
Second, I challenge you go to back through the blog and find a single instance where either Ted or I wrote that Washington was ready to compete for a national championship. I'll save you the time. It's not there. Neither of us ever wrote that.
Did Ted and I like Washington coming into the season? Yep. Still do. Did we expect them to be where they are right now? Yep. No shame in losing on the road to Stanford and at home to Oregon.
The Stanford is too slow argument doesn't work, either. Does anyone really think
Ty Montgomery
looked slow the last couple of weeks?
Yes, Ted did put Stanford on top of the Power Rankings last week. As he noted, he and I squabbled over that decision. But since he gets the final byline, he pulled rank. Just as he had
Paul Richardson
at No. 10 in his midseason top 10 player re-ranking. But since I had the final byline, I swapped Richardson out for Montgomery and I pulled rank.
I get it. You're excited about your team. We're excited about them too. Coming into the season, we both felt it was 50-50 with Stanford and Oregon, and our only reservations where the coaching change. It's clear now that Mark Helfrich has done a phenomenal job and the Ducks haven't missed a beat. In fact, they've gotten better.
We've said all season long we thought the Pac-12 had two teams that could challenge for a national championship. Oregon was always one of those teams.
So go ahead and keep being excited for your team and their possible date with the BCS championship game. But don't forget what happened last year when everyone said Stanford was down. All they did was run off 12 straight, beat Oregon in Eugene and win the Rose Bowl.
Be confident. Be excited. Be proud. But don't get cocky until you're holding a crystal ball.
That, my new friend from whom I expect to hear more, you can quote me on.
September, 17, 2012
9/17/12
10:00
AM ET
Taking stock of the third week of games in the Pac-12.
Team of the week:
Stanford didn't just beat No. 2 USC, it physically dominated the Trojans in a 21-14 victory, the Cardinal's record fourth consecutive win in the series. First, there was the post-Toby Gerhart Era. Then there was the post-Jim Harbaugh Era. Then there was the post-Andrew Luck Era. Maybe it's just the Stanford Era? The Cardinal is now squarely in the Rose Bowl race. And maybe the national title hunt.
[+] Enlarge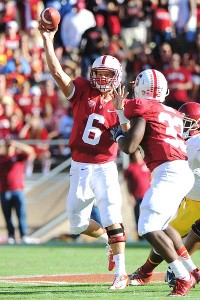 Kyle Terada/US PresswireCardinal quarterback Josh Nunes had one of the biggest plays of the week in the Pac-12.
Best game
: Utah's 24-21 win over BYU wasn't pretty. It wasn't, really, even deserving of a "best" tag. But it was really weird,
particularly the ending
, and weird is often noteworthy. On a weekend when four games came down to the fourth quarter, the Holy War had the most breathless finish because it had two breathless finishes.
Biggest play
: On third-and-10 from the 50 in the fourth quarter, Stanford QB
Josh Nunes
was under pressure. He scrambled and found himself bottled up and cut off. Yet a player not exactly known for his athleticism juked the USC defense and cut for a 13-yard gain and a first down. Two plays later, he hit TE
Zach Ertz
for a 37-yard TD and a 21-14 lead, the final margin of Cardinal victory.
Biggest play II
: California had No. 12 Ohio State on the ropes. The score was tied with just under four minutes left in the game, and the Buckeyes faced a third-and-7 from their 28-yard line. QB
Braxton Miller
was forced from the pocket, but the Bears secondary gagged and let
Devin Smith
get free behind the coverage. The ensuing 72-yard TD pass provided Ohio State its 35-28 margin of victory.
Biggest play III
: BYU had a first-and-10 on the Utah 25-yard line, down 10-7 in the third quarter. Lined up in a shotgun formation, QB
Riley Nelson
wanted to change the play. While he was barking signals, his center delivered the snap, which rolled past an unaware Nelson. Utah's
Mo Lee
scooped up the loose ball and rambled 47 yards for a TD. The Utes would need those points in a 24-21 win.
Offensive standout
: Stanford RB
Stepfan Taylor
was the best player on the field against USC. He rushed 27 times for 153 yards and a 59-yard TD and caught five passes for 60 yards and a 23-yard score in No. 21 Stanford's upset win over No. 2 Trojans.
Defensive standout
: UCLA CB
Sheldon Price
matched a school record with three interceptions in the Bruins' 37-6 win over Houston.
Special teams standout
: Not a lot to choose from. Oregon's
De'Anthony Thomas
returned four punts for 87 yards against Tennessee Tech, though he did fumble one.
Smiley face
: Cal RB
Brendan Bigelow
brought life to the Bears by doing his best De'Anthony Thomas at Ohio State, rushing for 160 yards on just four carries -- yes, an average of 40 yards per carry! He had touchdown runs of 81 and 59 yards, and both were spectacular. Might he give the Bears offense a weapon that turns around their season?
Frowny face
: Can anyone kick a freaking field goal? USC has no kicker, and Arizona, California, Oregon, Stanford and Utah were a combined 1-for-10, with the Bay Area schools going 0-for-6.
Thought of the week
: Two of the Pac-12's five unbeaten teams will go down this weekend because of head-to-head matchups. Arizona travels to Oregon, while UCLA plays host to Oregon State. We'll get a better measure of contenders and pretenders this weekend.
Questions for the week
: Is Oregon's Thomas ready to make a Heisman Trophy statement against Arizona? The set-up seems perfect: an ESPN game against a questionable defense. With USC and QB
Matt Barkley
going down, the Heisman race has opened up. Can Thomas be his fancy self and win the affection of the pundits?
August, 22, 2012
8/22/12
9:00
AM ET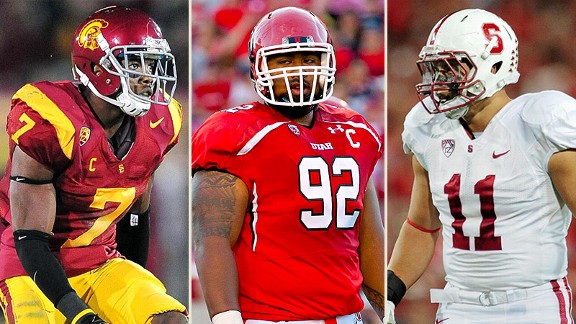 US PresswireThe Pac-12 boasts some of the best defensive talent in the country: USC safety T.J. McDonald, Utah defensive tackle Star Lotulelei and Stanford linebacker Shayne Skov.
In the depths of their offices, some of the best offensive minds in college football are grinding.
Chip Kelly is pondering how to get 10 more plays per game out of his offense.
Rich Rodriguez and Mike Leach are re-re-revolutionizing their attacks.
David Shaw is trying to figure out how to get nine offensive linemen, five tight ends and three fullbacks on the field at once.
Lane Kiffin has more offensive toys than an FAO Schwarz display.
"Option, option spread, I, heavy-I, pistol, triple-backs, full house, triple tights; it's something new every week," said Oregon linebacker
Michael Clay
. "It makes every week pretty interesting."
The Pac-12 is widely regarded as the conference of offenses. And they are only getting better. Prior to 1990, only twice has a team led the conference with a scoring average of more than 40 points. Since 1990, it's happened nine times -- including USC's conference best of 49.1 points per game in 2005.
That means being a defensive player in the Pac-12 is awfully difficult.
[+] Enlarge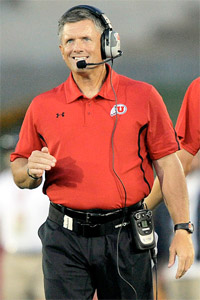 AP Photo/Mark J. TerrillKyle Whittingham says his defense must be able to adapt to the different offenses in the Pac-12.
"You get Andrew Luck one week and then
Matt Barkley
the next," said USC safety
T.J. McDonald
. "The preparation is on a whole other level compared to other conferences. There are great quarterbacks and great receivers and running backs. But the culture of this conference has changed. They've forced defenses to get better."
As the spread offense became chic and more teams were stretching defenses, they were forced to respond in kind. Gone are the days of everyone lining up in a base 4-3 and slugging it out. Now defenses are evolving into multiple fronts, exotic and disguised coverages and zone blitzes.
Utah coach Kyle Whittingham should know. He and UCLA coach Jim Mora are the only head coaches in the conference with a defensive background.
"We're definitely the minority," Whittingham said with a laugh. "It's a broad spectrum. Defensively, in this day and age, you have to be able to defend it all anyways. When the spread became en vogue 10-12 years ago it caught on like wildfire. Now almost everyone has a version of it. You have to be equipped to deal with whatever you come across week in and week out and have a scheme that is flexible enough and adaptable enough that you can cover all of your bases.
"Things go in cycles. The spread becomes en vogue and takes a while for the defense to catch up. Then the zone blitz was giving offenses fits and the offenses had to catch up to that. I think everything in football is cyclical and if offense has the upper hand right now, it won't be too further down the road where that role is reversed."
And that time might be coming sooner than later. Utah, California, USC, Oregon and Stanford all have defenses that are very good and bordering on elite. But the numbers don't always add up because in this conference, you are going to give up yards and you are going to give up points.
"Part of it is innovation," Shaw said. "Part of it is Chip Kelly and Mike Leach and Rich Rodriguez. The thing is, you can use the word 'spread' offense for half the teams in our conference, but they are all different. You can say 'pro-style' offense, which is what you would say about us and USC, but they are so different. The hard part of playing defense in our conference is every single week, you are playing against something you didn't see the week before.
"Cal has a pro-style offense. But their passing is different than our pass game and their running is different than our running game. And theirs is different from USC's. You are going to play a nine-game conference schedule and every single offense you play is going to be completely different. Defensive coordinators -- and we've got a really good group in this conference -- defensive coordinators and players have to flush a lot of what you watched the week before and study film hard the next week because you're going to see a different animal."
The conference also has the players to back up the defensive hype. Stanford linebackers
Chase Thomas
and
Shayne Skov
are projected as two of the best at their positions. Utah defensive tackle
Star Lotulelei
is regarded as the best defensive tackle in the nation and McDonald is a returning All-American.
And while perception might never really change nationally since the conference keeps chugging out A-list offensive players, Washington quarterback
Keith Price
says he's seen the difference.
"The difference between us and some of those other conferences is the defensive linemen," Price said. "We've always had good skill players. They say the trenches is what separates the SEC from the other conferences. But you can see now that our conference is starting to get there. When you look at teams like Cal and Utah, their defensive lines are really tough."
Pac-12 Teams Can Load Up At WR
PAC-12 SCOREBOARD
Thursday, 9/3
Friday, 9/4
Saturday, 9/5