Oregon Ducks:

Allen Lazard
July, 30, 2013
Jul 30
9:00
AM ET
By
RecruitingNation
| ESPN.com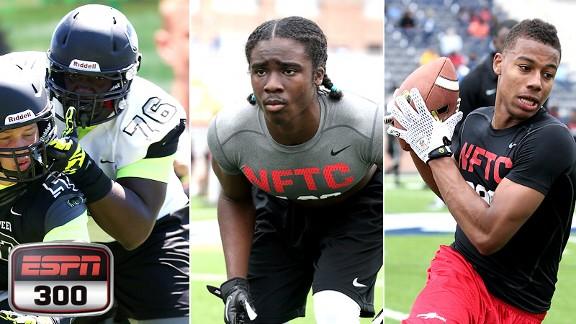 Tom Luginbill breaks down the significant movers in the
ESPN 300
rankings, including a new player in the top three, players who made massive jumps further down in the rankings and new positional No. 1s at wide receiver and outside linebacker.
Mature Decision By Marcus Mariota
Todd McShay reacts to Marcus Mariota's choice to return to college for another season and continue his development.
Tags:
Marcus Mariota
,
Oregon
,
Todd McShay
Mature Decision By Marcus Mariota
VIDEO PLAYLIST
Mature Decision By Marcus Mariota

Mature Decision By Marcus Mariota

Todd McShay reacts to Marcus Mariota's choice to return to college for another season and continue his development.

Tags: Marcus Mariota

,

Oregon

,

Todd McShay

Mariota Will Return To Oregon

Mariota Will Return To Oregon

Ask Brad: Week 15

Ask Brad: Week 15

Brad Edwards answers twitter questions on Missouri's national title chances, if Oregon can make the BCS, and what could go wrong for Clemson to make the Orange Bowl.

Tags: Ask Brad

,

Week 15

,

BCS

,

Brad Edwards
DUCKNATION RECRUITING NEWS
OREGON FB RECRUITING SCORECARD
UOPintens

Craig Pintens


"Lead from the back — and let others believe they are in front." -RIP Nelson Mandela
6 minutes ago

Pac12Networks

Pac-12 Networks


.@StanfordFball looks to exorcise road demons + @FootballASU's success paying off big for @CoachGrahamASU. Links: http://t.co/APB6hMLzLp
24 minutes ago

DuckSportsNow

Duck Sports Now


Flores: Marcus Mariota's decision to stay at Oregon reflects his true values http://t.co/ICNAZmyPLO
about an hour ago

ESPN_Pac12blog

ESPN_Pac12blog


RT @InsideUSC: Steve Sarkisian said he will call plays at #USC ``I will say I've never called plays by myself,'' Sarkisian said
about an hour ago

Pac12Networks

Pac-12 Networks


RT @FootballASU: Happy birthday @CoachGrahamASU Give him a present and buy a ticket to Saturday's game! #ChasingRoses http://t.co/FjRJYTVJBz
about an hour ago

Pac12Networks

Pac-12 Networks


.@FootballASU's Alden Darby doesn't just break up passes, he breaks out dance moves. Check out today's practice: http://t.co/b4wgOXEOYj
about an hour ago

McNamaraUO

Andy McNamara


RT @QuackCave: Ducks have some pretty prominent fans in Miami already @OrangeBowl @DwayneWade #GoDucks http://t.co/q9ev1KC8Yo
about an hour ago

ESPN_Pac12blog

ESPN_Pac12blog


Video: Pac-12 Game of the Week http://t.co/IqfnZgsu0N
about 2 hours ago

Pac12Networks

Pac-12 Networks


RT @JoshWaltersSr: T-Minus 1 day till College Cup! #OscarMike #110 http://t.co/B3V7zv7QCe
about 2 hours ago

ESPN_Pac12blog

ESPN_Pac12blog


We're chatting. Join us now! Click here ----> http://t.co/fqUGIwpkWO
about 2 hours ago

DuckSportsNow

Duck Sports Now


The Week 14 QuackPoll Thinks the Big XII is the BOMB http://t.co/B1TIWABIZV
about 2 hours ago

DuckSportsNow

Duck Sports Now


O Hero of the Month: Sam Kamp http://t.co/KCYyH02pbY
about 2 hours ago

DuckSportsNow

Duck Sports Now


O Hero of the Month: Courtney Ceo http://t.co/OTxzwR7MLJ
about 2 hours ago

DuckSportsNow

Duck Sports Now


Quack Fix: Joey Scared-ington and Basketball Prep for Ole Miss http://t.co/6GHv8rl4Zx
about 2 hours ago

DSArivals

DuckSportsAuthority


Diamond Bar four-star talks Oregon: Diamond Bar (Calif.) WR Cordell Broadus is one of the top 2015 prospect in... http://t.co/ZPSgRM19oX
about 2 hours ago

GoDucksTV

GoDucks TV


Now on @GoDucksTV: Katelyn Loper ... For Three! http://t.co/4dUzhHlsJ1 #GoDucks
about 2 hours ago

DuckSportsNow

Duck Sports Now


Diamond Bar four-star talks Oregon http://t.co/fq6839dryZ
about 2 hours ago

DuckSportsNow

Duck Sports Now


R250: Risers and fallers http://t.co/Ee3AB3UEuC
about 2 hours ago

DuckSportsNow

Duck Sports Now


Katelyn Loper … For Three! http://t.co/hzoR7qia0k
about 2 hours ago

ESPN_Pac12blog

ESPN_Pac12blog


Pac-12's lunch links http://t.co/9lGyVObyPB
about 2 hours ago

ESPNOregon

ESPN Oregon


Pac-12's lunch links http://t.co/HF9LkFZZsW
about 2 hours ago

DuckFootball

Rob Moseley


Some language here, but it's damn funny RT @nflnetwork: Chip Kelly gets awesomely snarky during Thursday presser: http://t.co/AaFjConeQc
about 2 hours ago

DuckFootball

Rob Moseley


RT @CAnderson1954: UO's @KingCheserek, @mjc253, @DevonAllen13 & Cole Walsh all named to T&FN's high school boys all-American team. http://t…
about 2 hours ago

DuckSportsNow

Duck Sports Now


Keenan Howry looking like Josh Huff on this TD grab during Ducks' Fiesta Bowl season in 2001 #tbt #goducks http://t.co/p189HoMBeI
about 3 hours ago

ESPN_Pac12blog

ESPN_Pac12blog


We're chatting! http://t.co/xSPIe5t4Q8
about 3 hours ago

ESPN_Pac12blog

ESPN_Pac12blog


Under Armour game storylines: Pac-12 http://t.co/r0QZq1hELf
about 3 hours ago

ESPNOregon

ESPN Oregon


Under Armour game storylines: Pac-12 http://t.co/Iadcdujgrj
about 3 hours ago

ESPN_Pac12blog

ESPN_Pac12blog


Video: Champ. Week Conference Call http://t.co/tXh0Uz99kH
about 3 hours ago

DuckSportsNow

Duck Sports Now


The main reason Oregon lost two games http://t.co/7WV3VH7RcM
about 4 hours ago

ESPN_Pac12blog

ESPN_Pac12blog


Colorado plans facilities upgrades http://t.co/9fL3eMVRTV
about 4 hours ago

DuckSportsNow

Duck Sports Now


Prospect analysis: Hanateli Lousi http://t.co/4WA7F8J6ba
about 4 hours ago

DuckSportsNow

Duck Sports Now


Duck the Odds, Championship Week: Are the Sun Devils Ready for Their Closeup? http://t.co/gFQNnEoauq
about 4 hours ago

ESPN_Pac12blog

ESPN_Pac12blog


RT @mcherrington22: Coaches left on the #UW staff? Cozzetto, Lupoi, Tuiasosopo, Eric Keisau and Justin Wilcox. Soon could be just Tui, Cozz…
about 4 hours ago

ESPN_Pac12blog

ESPN_Pac12blog


RT @RegisterUSC: Of the 4 coaches apparently headed to Sarkisian's USC staff (Heyward, Martin, Nansen, Sirmon), none are over 39 years old.
about 4 hours ago

DSArivals

DuckSportsAuthority


Prospect analysis: Hanateli Lousi: San Mateo, California (College of San Mateo) offensive lineman Haniteli Lou... http://t.co/yyWWj1IuUw
about 5 hours ago

ESPN_Pac12blog

ESPN_Pac12blog


Take 2: Unsung heroes to watch http://t.co/4dAyOu0XXm
about 5 hours ago

Pac12Networks

Pac-12 Networks


RT @FootballASU: The next you'll see us on this field, we'll be #ChasingRoses #PackSDS http://t.co/VQcxTzLOVU
about 5 hours ago

EATBLACKMOMBA6

DE'ANTHONY THOMAS


BANG BROS Crenshaw High School Football: http://t.co/e4B9Acdp2H via @youtube
about 5 hours ago

Pac12Networks

Pac-12 Networks


RT @srod776: It's beginning to look a lot like ... @pac12 Football Championship at Sun Devil Stadium! #ChasingRoses http://t.co/z5ND5HJXBe
about 5 hours ago

EATBLACKMOMBA6

DE'ANTHONY THOMAS


Video Young Butter Big Mark Crenshaw Blue And Gold Varsity Football...: http://t.co/EyFiWa6QzE via @youtube
about 5 hours ago

Pac12Networks

Pac-12 Networks


ICYMI: @ESPN_Pac12blog's Ted Miller talks #pac12fcg + #TeamKaDeem on his Heisman chances in latest #pac12fb Podcast: http://t.co/zgaAc4JyG6
about 6 hours ago

ESPN_Pac12blog

ESPN_Pac12blog


RT @coachingsearch: Excellent work by USA Today. Todd Graham can earn $2 million in bonuses this season. Incredible. http://t.co/Mpj1gL9shc
about 6 hours ago

ESPN_Pac12blog

ESPN_Pac12blog


Pinkel pretty direct: Not leaving Missouri for Washington. http://t.co/yzZbaX1HNC
about 6 hours ago

DSArivals

DuckSportsAuthority


Around the Mid-Atlantic: Henry takes center stage: It's decision time for 4-star Dravon Henry. Jamil Kamara, D... http://t.co/3OAbnsTfrw
about 7 hours ago

ESPN_Pac12blog

ESPN_Pac12blog


What to watch in the Pac-12: Week 15 http://t.co/3wDEn5bYh7
about 7 hours ago

ESPN_Pac12blog

ESPN_Pac12blog


Pac-12 championship game predictions http://t.co/L2PMe660dq
about 8 hours ago

DuckSportsNow

Duck Sports Now


The crucial change needed in Oregon football http://t.co/CSEl5tJLNX
about 8 hours ago

DuckSportsNow

Duck Sports Now


The Year of the Transfers — A Critical Test Sunday http://t.co/FFksEFATPl
about 10 hours ago

DuckSportsNow

Duck Sports Now


Volleyball Back in the Tourney http://t.co/RNc7cjrJRp
about 11 hours ago

oregonliveducks

oregonlive.com/ducks


Oregon women's basketball: Chrishae Rowe sets single-game scoring record as Ducks beat Seattle, 105-100 http://t.co/OT08v8YPPq #goducks
about 11 hours ago

DuckSportsNow

Duck Sports Now


Ok, What the Hell Happened to the Defense? http://t.co/wLf1V4hdyj
about 12 hours ago

DuckSportsNow

Duck Sports Now


Rowe sets Oregon scoring record in women's basketball win over Seattle University http://t.co/OcplqxWlQ7
about 14 hours ago

DuckSportsNow

Duck Sports Now


Oregon women's basketball: Chrishae Rowe sets single-game scoring record as Ducks beat Seattle, 105-100 http://t.co/oMl5Jc1kXG
about 14 hours ago

Pac12Networks

Pac-12 Networks


Speedy @FootballASU looking to turn the tables on @StanfordFball's stout defense in Saturday's #pac12fcg . Story: http://t.co/ZYMMH3B4fR
about 16 hours ago

DuckSportsNow

Duck Sports Now


Best Ducks sports tweets from Wednesday, Dec. 4 http://t.co/NdGV6ikPWg
about 16 hours ago

McNamaraUO

Andy McNamara


@Huff_Era_1 You have no idea what you've done by replying to @CRomerDome! #Superfan
about 17 hours ago

Pac12Networks

Pac-12 Networks


.@UCLAFootball's Myles Jack talks two-way success + stat comparisons to legend Jackie Robinson on #Statisfaction : http://t.co/sGnjGOBamB
about 17 hours ago

DuckSportsNow

Duck Sports Now


Comparing the Ducks: Oregon more explosive in 2013, but key failings keep UO from matching 2012 http://t.co/33csfjQq5h
about 17 hours ago

GoDucks

GoDucks


RT @OregonWBB: Ducks win a thriller, 105-100, over Seattle U. Chrishae Rowe (@TheeRoweShow) scores a school record 41 points in the win
about 17 hours ago

DuckSportsNow

Duck Sports Now


Rowe Scores Record 41 Points as Ducks Beat Seattle U http://t.co/5abzCpjOhL
about 18 hours ago

DuckFootball

Rob Moseley


Having married a former North Carolina student-athlete, it's a happy household at the moment. Now if only they could figure out Belmont ...
about 18 hours ago

McNamaraUO

Andy McNamara


Was just casually about to pour some cereal and like whoa #GoDucks @OrangeBowl http://t.co/SdJ4dSXkTt
about 18 hours ago

Pac12Networks

Pac-12 Networks


ICYMI: #Pac12Report features November's best plays including some amazing goals + an impossible interception. Video: http://t.co/fsSuQyWDwY
about 18 hours ago

MightyOregon

Yell O


RT @ClackCoSheriff: If you #FindSamantha ( http://t.co/64IJaSFsQo ), call 911. Tips/info can also be sent here ( http://t.co/5BLNbEZUzn ) o…
about 18 hours ago

GoDucks

GoDucks


RT @OregonWBB: THERE IS THE RECORD! Chrishae Rowe (@TheeRoweShow) calmly knocks down a three and she has 39 points, setting a new Oregon re…
about 18 hours ago

oregonliveducks

oregonlive.com/ducks


Comparing the Ducks: Oregon more explosive in 2013, but key failings keep UO from matching 2012 http://t.co/CNvtN3XmpO #goducks
about 18 hours ago

oregonliveducks

oregonlive.com/ducks


Canzano: On Hroniss Grasu, Marcus Mariota, money and maturity (video) http://t.co/Si2oSUeiKl #goducks
about 18 hours ago

oregonliveducks

oregonlive.com/ducks


Hroniss Grasu, Ducks' all-conference center, says it was 'no brainer' to return for senior season http://t.co/Aq4zDaZhnS #goducks
about 18 hours ago

UOPintens

Craig Pintens


There are oranges at the grocery store in Eugene. It must mean something. #GoDucks http://t.co/Je1k9JAtso
about 18 hours ago

Pac12Networks

Pac-12 Networks


Next on #TheDrive at 7 PT/8 MT: @FootballASU preps to take on @StanfordFball in the #pac12fcg with a berth in @rosebowlgame on the line.
about 19 hours ago

DuckSportsNow

Duck Sports Now


EXCLUSIVE with Hroniss Grasu: My decision to stay was easy http://t.co/jlTD9NLarD
about 19 hours ago

DuckSportsNow

Duck Sports Now


Joey Harrington: Oregon vs. Alabama would be bad for Ducks http://t.co/OOaUYES4gY
about 19 hours ago

DuckSportsNow

Duck Sports Now


Wise Quacks: Season in review plus Ducks decisions to stay http://t.co/VaYFFFnSY0
about 19 hours ago

Pac12Networks

Pac-12 Networks


#TeamKaDeem talks Heisman hopes + @ESPN_Pac12blog's Ted Miller on coaching shuffle + #pac12fcg . #pac12fb Podcast: http://t.co/phvxCrdpuY
about 19 hours ago

ESPN_Pac12blog

ESPN_Pac12blog


Washington names interim coach http://t.co/FwQYoGrYdz
about 20 hours ago

Pac12Networks

Pac-12 Networks


RT @Mike_Yam: @ArizonaFBall @AZATHLETICS in just minutes on @Pac12Networks the #pac12 offensive POY Ka'Deem Carey tells us why he deserves …
about 20 hours ago

EATBLACKMOMBA6

DE'ANTHONY THOMAS


THEY SAID I WOULDNT MAKE IT #RUNDAT http://t.co/XjqnYRUfJY
about 20 hours ago

EATBLACKMOMBA6

DE'ANTHONY THOMAS


WHO#6 http://t.co/d5wHEQJIuV
about 20 hours ago

EATBLACKMOMBA6

DE'ANTHONY THOMAS


CRENSHAW STUDENTS RUN THE TOWN#RUNDAT
about 20 hours ago

EATBLACKMOMBA6

DE'ANTHONY THOMAS


RT @*****: Hearing that I will be a sophomore when I go back to hooping is preposterous hahaha
about 20 hours ago

EATBLACKMOMBA6

DE'ANTHONY THOMAS


I THINK ITS ABOUT TIME TO OPEN UP A NEW CHAPTER IN THE BOOK "LIFE OF DEANTHONY THOMAS"#RUNDAT
about 20 hours ago

DuckSportsNow

Duck Sports Now


Volleyball: The road to a championship begins in Nebraska http://t.co/98CpYv6k8j
about 20 hours ago

EATBLACKMOMBA6

DE'ANTHONY THOMAS


LAST NIGHT WAS A GREAT EXPERIENCE AND ALSO A MOTIVATIONAL NIGHT#RUNDAT
about 20 hours ago

GoDucks

GoDucks


Let's hear it Duck fans #GoDucks RT @OrangeBowl We need to take a vote... http://t.co/OgXkxph7Qd
about 20 hours ago

EATBLACKMOMBA6

DE'ANTHONY THOMAS


WONT TAKE NO LOSS#RUNDAT
about 20 hours ago

Pac12Networks

Pac-12 Networks


Get your football fix next at 6 PT/7 p.m. MT with #pac12fb Weekly featuring @Mike_Yam, @CoachNeuheisel and Glenn Parker.
about 20 hours ago

DuckSportsNow

Duck Sports Now


Dana Altman before Wednesday's practice – December 4th http://t.co/NwRMvYsdGg
about 21 hours ago

DuckSportsNow

Duck Sports Now


Mike Moser before Wednesday's practice – December 4th http://t.co/4LNPNcGGkB
about 21 hours ago

DuckSportsNow

Duck Sports Now


Damyean Dotson before Wednesday's practice – December 4th http://t.co/CBbTCDZDoe
about 21 hours ago

DuckSportsNow

Duck Sports Now


Johnathan Loyd before Wednesday's practice – December 4th http://t.co/hyItp8f6Ab
about 21 hours ago

DuckSportsNow

Duck Sports Now


Hroniss Grasu, Ducks' all-conference center, says it was 'no brainer' to return for senior season http://t.co/SSAN10b9fs
about 21 hours ago

DuckSportsNow

Duck Sports Now


Oregon basketball: Defense and rebounding will be Ducks' identity, but getting there takes time http://t.co/IlM5txJxi9
about 21 hours ago

TheOregonDuck

The Oregon Duck


@OrangeBowl Flamingos? Are those real? #GoDucks http://t.co/xfWlTMrUTX
about 21 hours ago

DuckSportsNow

Duck Sports Now


PAC-12 Football Weekend Recap (Week 14) http://t.co/KpVXv9ETHU
about 22 hours ago

DuckSportsNow

Duck Sports Now


Head men's basketball coach Dana Altman talks about preparing for Ole Miss and his health http://t.co/loum6nHugR
about 22 hours ago

DuckSportsNow

Duck Sports Now


Two UO club running members earn their way onto the Division 1 track and field team http://t.co/0EBBC5bsJD
about 22 hours ago

DuckSportsNow

Duck Sports Now


The good, the bad, the ugly: Chip Kelly praises Marcus Mariota's decision to stay at Oregon http://t.co/2461rxhjeD
about 22 hours ago

ESPN_Pac12blog

ESPN_Pac12blog


Ah but there was a Ben Gardner. RT @wilnerhotline: @cableflyguy @ESPN_Pac12blog There was no Henry Anderson in the 1st game, and he's back
about 22 hours ago

ESPN_Pac12blog

ESPN_Pac12blog


Video: On The Spot http://t.co/4Zx8vord26
about 22 hours ago

DuckSportsNow

Duck Sports Now


Rethinking the Pac-12 Ultimate Road Trip http://t.co/OnoaDLBgFt
about 22 hours ago
BLOG ARCHIVE:
CATEGORIES: