Oregon Ducks:

Alejandro Maldonado
March, 11, 2014
3/11/14
12:00
PM ET
Our look at position groups in the Pac-12 concludes with punters.

Arizona
:
Drew Riggleman
is back after handling all of the punting responsibilities last season. He averaged 40.1 yards per kick, pinned 18 inside the 20 and had 12 kicks of 50-plus yards. He ranked eighth in the conference -- though the difference between first (Utah's
Tom Hackett
) and Riggleman was an average of 3.4 yards.

Arizona State
: Punting was one of ASU's biggest issues last season.
Matt Haack
started to come on strong at the end of the season and will likely challenge
Alex Garoutte
, who averaged 38.8 yards per kick last season. Should Haack win the job, Garoutte is always an option with his rollout style. Quarterback
Taylor Kelly
has also been known to offer the occasional boot. He punted six times last season, once for 50-plus, and had three downed inside the 20.

California
:
Cole Leininger
is back after a very solid season for the Golden Bears, where he was tied for second in the conference with an average of 42.9 yards per kick. Cal has four punters on the roster in addition to Leininger. And while he's mostly unchallenged, there are plenty of backup options.

Colorado
: Third-team all-conference punter
Darragh O'Neill
returns and was a midseason Ray Guy candidate last season. He averaged 40.5 yards per punt last year and pinned 22 inside the 20.

Oregon
:
Alejandro Maldonado
handled the punting duties last season and made a couple of appearances as a kicker before the job went to
Matt Wogan
. Expect Wogan to handle all kicking responsibilities, though some walk-ons will also get looks.

Oregon State
:
Keith Kostol
is back as a third-year starter. He finished last season tied for fifth in the conference with an average of 40.5 yards per punt. He also put 23 kicks inside the 20.

Stanford
:
Ben Rhyne
returns to handle the punting duties for the Cardinal. He was one of the best in the conference last season with an average of 42.9 yards per kick -- just half a yard behind Hackett. He had 12 kicks of 50-plus yards and put 15 inside the 20.

UCLA
:
Sean Covington
is back after having a very solid season, where he posted an average of 42.6 yards per punt. Do-it-all quarterback
Brett Hundley
punted once last season, but it's safe to assume that Convington's job is secure.

USC
:
Kris Albarado
didn't post an impressive yards-per-punt average (37.1), but he was very good at pinning opponents, with 27 kicks inside the 20. And of his 64 kicks, almost half were fair-caught.

Utah
: Hackett was last season's first-team all-conference punter, so expect some preseason All-American hype for him. As noted earlier, he led the conference with an average of 43.4 yards per punt and buried 27 kicks inside the 20.

Washington
:
Travis Coons
pulled double-duty last season. In addition to nailing 15 of 16 field goal attempts, he also averaged 40.4 yards per punt and had eight kicks of 50-plus yards to go with 23 inside the 20.
Korey Durkee
did some punting in 2012 before Coons won the job, so he'll get the first look in 2014. Newcomer
Tristan Vizcaino
could also get looks at kicker and/or punter.

Washington State
:
Wes Concepcion
was the starter in the final two games as punter last season. With
Mike Bowlin
gone, he should be the favorite to handle punting duties full time. Concepcion punted 12 times last season for an average of 36.2 yards. Eight of those 12 were fair catches and three were inside the 20.
Previous positions
Kicker
Safety
Cornerback
Linebacker
Defensive end
Tight end
Quarterback
Running back
Receiver
Offensive line

Defensive tackle
March, 10, 2014
3/10/14
5:30
PM ET
Our look at position groups in the Pac-12 continues with place-kickers.

Arizona
:
Casey Skowron
,
Bret Miller
and
Michael Unzicker
are all in the mix this spring to replace
Jake Smith
, who converted 12 of 19 kicks (63.2 percent) last season, including a long of 53. The 12 converted field goals were the lowest in the conference, as was the conversion percentage.

Arizona State
: No team in the Pac-12 attempted more field goals in 2013 than the Sun Devils -- and
Zane Gonzalez
was one of the few bright spots for an otherwise dismal ASU special teams unit. The freshman All-American converted 25 of 30 attempts (83.3) and had a streak of 18 straight.

California
: With
Vincenzo D'Amato
gone (he was 17 of 20 last season), it's looking like
James Langford
,
Noah Beito
and
Matt Anderson
will all get looks. Langford might have the edge as the kickoff guy with Beito a potential early frontrunner for field goals.

Colorado
: Senior
Will Oliver
is back after converting 17 of 24 kicks last year (70.8 percent). He was perfect inside the 30 (7 of 7) and missed just once inside of 40 yards. Three of his misses came from 50-plus (2 of 5). He's a potential All-American candidate. Strong-legged
Diego Gonzalez
from Guadalupe, Mexico, is waiting in the wings.

Oregon
: Oregon's kicking adventures weren't as interesting in 2013 as they've been in the past. While the Ducks attempted the fewest field goals in the conference,
Matt Wogan
was a solid 7 of 9, and
Alejandro Maldonado
was 3 of 5 for a combined 71.4 percent -- seventh in the conference. Wogan returns and should be considered the frontrunner to handle all kicking duties, including punting.

Oregon State
:
Trevor Romaine
returns as a fourth-year starter after converting 14 of 20 attempts last season. He was mostly money inside of 40 yards, converting 11 of 13 attempts. But struggled on the longer kicks, converting just 2 of 5 between 40-49 yards and 1 of 2 beyond 50.

Stanford
:
Jordan Williamson
is back after connecting on 18 of 22 kicks in 2013, including a long of 48. Of his four misses, two of them came from 50 yards or longer, where he was 0 for 2. He was automatic inside the 30 and 15 of 16 inside of 40 yards. Time to finally put the 2011 Fiesta Bowl to rest. He's one of the league's most consistent kickers.

UCLA
:
Ka'imi Fairbairn
returns after a hit-and-miss year where he connected on 14 of 21 kicks with a long of 48. He had a stretch where he converted on eight in a row. But also had some inconsistent games (2 of 4 against Nebraska, 2 of 4 against ASU).

USC
:
Andre Heidari
had an up-and-down season. He struggled greatly in the 40-49 yard range, converting on just 3 of 8 kicks. Overall, he was 15 of 22, and his 2013 will most likely be remembered for his 47-yard game-winner against Stanford. Heidari also handled almost every kickoff, though punter
Kris Albarado
is available if needed.

Utah
: "Automatic"
Andy Phillips
returns after making quite the splash in his first season of football. The former skier became a household name -- well, at least a name in Pac-12 households -- after converting on the first 11 field goals of his career. He's got a big leg, converting on 9 of 11 from 40 yards or longer.

Washington
: No easy task replacing
Travis Coons
, who handled kicking and punting for the Huskies. He was the Pac-12's most accurate kicker in 2013, converting on 15 of 16 attempts.
Cameron Van Winkle
handled some kickoffs before an injury set him back, and
Tristan Vizcaino
comes in this fall and should be in the mix.

Washington State
: Strong-legged
Andrew Furney
is gone.
Wes Concepcion
and
Erik Powell
are the kickers on the roster. Powell was a walk-on, but the coaching staff is high on him. Concepcion likely will handle punting but could kick if needed.
Previous positions
Safety
Cornerback
Linebacker
Defensive end
Tight end
Quarterback
Running back
Receiver
Offensive line

Defensive tackle
January, 9, 2014
1/09/14
5:30
PM ET
We continue our
team-by-team review
of the Pac-12 with Oregon.
[+] Enlarge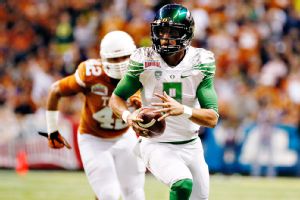 Soobum Im/USA TODAY SportsA healthy Marcus Mariota made a huge difference for the Oregon offense.
Offense
: Things were going pretty well there, for a while. The Ducks stormed out of the gates and scored at least 50 points in their first five games and in six of their first seven. Then
Marcus Mariota
quietly, partially, tore his MCL and Oregon's offensive decline was evident. They went from scoring an average of 57.5 points per game in the first seven to 31.3 over the final six. Still, they averaged more than 45 points per game, which was fourth nationally, and they were a top-10 rushing team and a top-25 passing team. All in all, the Ducks were again one of the most dominant offensive teams in the country. Obviously, as Mariota goes, so go the Ducks. In the first seven games, pre-injury, he was completing 62 percent of his throws with 19 touchdowns, zero interceptions and an adjusted QBR of 95.3. He also had nine rushing touchdowns. Post-injury, his completion percentage actually went up to 64 percent because he wasn't running, but that also means he had zero rushing touchdowns, 12 passing touchdowns, four interceptions and an adjusted QBR of 79.9 percent. Still, he finished as the national leader in adjusted QBR,
Byron Marshall
was a 1,000-yard rusher and
Josh Huff
and
Bralon Addison
were a vicious receiving duo. Aside from a couple of games, the Ducks offense was explosive and potent.
Grade: A
Defense
: Stanford and Arizona used similar tactics in their wins over the Ducks. Run, rinse, repeat.
Tyler Gaffney
carried the ball 45 times and
Terrance Mitchell
and
Ifo Ekpre-Olomu
were as advertised, combining for eight interceptions and
Derrick Malone
posted a team-high 105 tackles with two interceptions.
Avery Patterson
also pitched in three picks as the Ducks were plus-seven in turnover margin. But the lingering problem all year was third-down defense, where the Ducks allowed teams to convert better than 40 percent of the time -- which was 10th in the conference. In the games when things got tight, the defense wasn't able to get off the field.
Grade: B
Special teams
: The kicking game is always an, ahem, adventure, when it comes to the Ducks. But this year things were a little more consistent.
Matt Wogan
was a solid 7 of 9 and
Alejandro Maldonado
was 3 of 5. Though neither converted a kick beyond 40 yards (Wogan attempted only one and missed, Maldonado didn't attempt any). Plus, there were three missed PATs on the year (Wogan missed two, Maldonado one). Maldonado was solid at punting and the kick return and coverage teams were steady. Addison returned two punts for touchdowns and De'Anthony Thomas returned one kick for a score.
Grade: B+
Overall
: Again, we base a lot of these grades on what the expectation was versus where the team finished. And despite an 11-win season, the Ducks, once thought to be a national championship contender, failed to meet those expectations. In fact, they failed to make it to a BCS bowl game. The loss to Stanford was viewed as disappointing -- but certainly not shocking. The loss to Arizona was head-scratching. And from a public relations standpoint, the Ducks didn't have a great year. Still, they did win their bowl game and finished ranked in the top 10. There's something to be said for that. And we're in no way calling Mark Helfrich's first year as coach a bust. He won a bowl game in his first year – which Chip Kelly never did -- and probably learned a few lessons along the way. When you have a title-game-or-bust mentality, every loss is heart-wrenching. But we also understand that injuries can impact a team -- especially injuries to a Heisman-contending quarterback.
Grade: B.
November, 24, 2013
11/24/13
9:00
AM ET
It was a dreary day for Oregon at Arizona, but here are a helmet stickers nonetheless.

Marcus Mariota, QB
: He threw his first two interceptions of the year, but he still played well and clearly wasn't the reason the Ducks lost. He completed 27 of 41 passes for 308 yards and two touchdowns and rushed for 52 yards. He was not sacked.
Matt Wogan, K
: Wogan made a 33-yard field goal and a PAT and three of his four kickoffs were not returned. On the downside, he failed to score on a 2-point play.
Alejandro Maldonado, P
: He averaged 44 yards on two punts.
November, 14, 2013
11/14/13
8:00
AM ET
When the transitive property starts getting thrown around in sports, ridiculousness can ensue.
Eastern Washington beat Oregon State, which beat Utah. Therefore, the mighty Eagles would beat Utah, so it says. Now, maybe that's true, maybe it isn't, but the elementary logic used to reach that conclusion is by no means definitive.
[+] Enlarge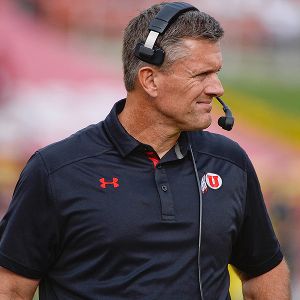 Robert Hanashiro/USA TODAY SportsKyle Whittingham brings a struggling team to Eugene this weekend, but a Utah win over Stanford is all Oregon needs to know to take the Utes seriously.
Taking it further: Utah beat Stanford, which beat Oregon. Therefore?
Therefore nothing, really, except: "I guess psychologically that could be a little bit of a positive," Utah coach Kyle Whittingham said Tuesday in advance of Saturday's trip to Autzen Stadium to play No. 6 Oregon.
Utah's 27-21 win over Stanford last month gives credibility to a team that might not have it otherwise. For Oregon coach Mark Helfrich, that game overshadows the fact that it is the Utes' only conference win.
"We need to know nothing more than they beat Stanford and did a great job in that game," Helfrich said.
Since then, Utah has dropped three straight, matching the second-longest losing streak in Whittingham's tenure.
"We've been able to stand toe to toe with the best teams in the Pac-12, but nobody cares about being close," Whittingham said. "Obviously Stanford was a big win, but we've struggled a little bit since then."
A date with Oregon doesn't figure to help right the ship, especially as the Ducks look to bounce back following their crushing loss to Stanford last week. Oregon hasn't lost consecutive games during a season since 2007, when Chip Kelly was in his first year as the school's offensive coordinator. In the two previous seasons, Oregon has responded to its three losses with wins by an average of 33.7 points.
Other than the extra prep time due to last week's Thursday game, Helfrich said it's been business as usual in Eugene.
"Just like in a win, you evaluate, hey why did this work? Why did this not work?" he said. "Maybe it was luck, maybe it was scheme, maybe it was our execution? How can we coach this better?"
The only major change Helfrich made public was the fact that the platoon at kicker between senior
Alejandro Maldonado
and true freshman
Matt Wogan
is over. Wogan handled all the place-kicking duties against Stanford and will continue to do so moving forward.
Wogan connected on his only field-goal attempt of the season, a 38-yarder against Tennessee, and has been good on 30-of-31 extra points. Maldonado was 3-for-5 on field goals and 29-of-30 on extra points but admitted publicly he's struggled with confidence.
"It comes down to nothing more, nothing less, than we think [Wogan] gives us the best chance to make a kick," Helfrich said. "He's done a better job."
November, 4, 2013
11/04/13
2:30
PM ET
I don't patronize bunny rabbits.
August, 30, 2013
8/30/13
12:00
PM ET


Five storylines to keep an eye on for Oregon's game against Nicholls State.
Coaching style: Few are expecting much resistance from the Colonels, a team that was in the state of Oregon last December and was blasted 77-3 by the Beavers. So if you are wondering how similar or different Mark Helfrich will be compared to Chip Kelly, this probably isn't a good measuring-stick game. We know what Chip Kelly would do on fourth-and-3 from his own 35 – and it didn't matter if it was Southern Middle Tennessee Tech School of Interior Design or Stanford. What kind of game manager will Helfrich be?
LB spotlight: With the departures of Michael Clay, Kiko Alonso and Dion Jordan, the spotlight is on the linebackers to try to match the production of its predecessors. It's not a young or inexperienced group by any means – just the opposite. Boseko Lokombo, Derrick Malone, Rodney Hardrick and Tony Washington have all been in the system and have experience and quality reps. While the linebackers might be a question mark on paper, chances are the group flourishes with more reps as a unit.
Playing time? How long will we see the starters? In the nonconference schedule last season, the starters pretty much only played in the first half. Some argued that with more playing time and padded stats, quarterback Marcus Mariota could have been in Heisman contention. Mariota is no longer an unknown as he was before last season and coming off a quarterback competition with Bryan Bennett. But he'll still probably play the first half, considering what the score will be 30 minutes into the game.
What about DAT? Helfrich was noncommittal earlier this week when talking about the number of carries for De'Anthony Thomas, who might take on a bigger role in the rushing game this year with the departure of Kenjon Barner. However, he also said that Byron Marshall had a strong camp – and it's more likely that he assumes Barner's old role, which frees up Thomas to do what he does best. Don't think of Thomas' production in terms of carries -- think in terms of touches. Rushes, receptions, kick and/or punt returns. How many touches he gets is more vital than how many carries.
Fresh faces: Right now, there are five true freshmen listed on the depth chart for this week's game, and only one is a "starter." Kicker Matt Wogan is listed to handle kickoffs and he has an "or" between his name and Alejandro Maldonado's. But if the Ducks are up big early – which is expected – don't be surprised to see running back Thomas Tyner get some carries and others such as right tackle Cameron Hunt or linebacker Tyrell Robinson could make appearances.
August, 7, 2012
8/07/12
9:15
AM ET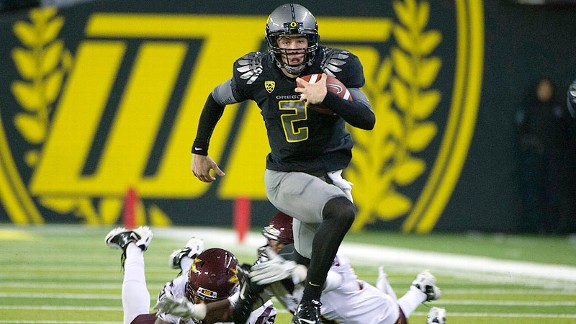 Jim Z. Rider/US PresswireBryan Bennett is battling for the quarterback spot with Marcus Mariota, who had an impressive spring.
Every season comes with roster questions no matter the program. The three-time defending league champion Ducks lost some key pieces after 2011 but there is an abundance of talent waiting in the wings.
Not all of the key position battles involve a departed star, however. There are key returners at every spot on the field. With fall camp kicking off today there are a few key spots up for grabs.
Not being named a starter in Chip Kelly's system is not a dream killer though. Especially on defense, where the Ducks rotate more players than any team in the country.
To continue reading this article you must be an Insider
Programs Most Desperate for a Quarterback
PAC-12 SCOREBOARD
Thursday, 9/3
Friday, 9/4
Saturday, 9/5