Oregon Ducks:

alamo bowl 2013
December, 30, 2013
12/30/13
10:05
PM ET
SAN ANTONIO -- No. 10
Oregon beats Texas 30-7
in the Valero Alamo Bowl. A few thoughts on the game:


It was over when:
Oregon safety
Derrick Malone
picked off a
Case McCoy
pass over the middle midway through the fourth quarter, then went 39 yards for the score. The Ducks went up 30-7 on McCoy's second pick-six of the night.
Game ball goes to:
Oregon quarterback
Marcus Mariota
, who was masterful both on the ground and through the air, throwing for 253 yards and a touchdown and rushing for 133. A month off to heal a nagging knee injury did him plenty of good.
Stat of the game:
McCoy finished with 48 passing yards and no touchdowns. The two passes he completed to Oregon defenders were returned for a total of 75 yards and two touchdowns.
Unsung hero:
Oregon safety
Avery Patterson
, who gave the Ducks a 7-0 lead just 68 seconds into the game when he picked off a McCoy pass and scored on a 37-yard return. The senior added nine tackles in his final game.
Best call:
The Ducks' first score on offense came when Mariota, with
Jackson Jeffcoat
fast approaching, flipped to
Josh Huff
on a shovel pass and he found the end zone from 16 yards out. Huff finished with 104 receiving yards and a school-record 1,140 in 2013.
What Oregon learned:
If Mariota makes good on his promise to return in 2014, Oregon should once again have a preseason top-10 team and plenty of firepower to make a run at a college football playoff bid.
What Texas learned:
Nothing it didn't already know, really. Its Case McCoy-led offense can pound the rock but couldn't keep up with elite teams and capitalize on opportunities. The Longhorns couldn't give Mack Brown a satisfying sendoff. Now it's time to find his successor.
To watch the trophy presentation of the Valero Alamo Bowl,
click here
.
December, 30, 2013
12/30/13
1:30
PM ET
Pac-12 reporter Kevin Gemmell and Texas reporter Max Olson break down the biggest storylines in Monday's Valero Alamo Bowl matchup featuring
Texas
and
No. 10 Oregon
:


How do you think Mack Brown's resignation affects this game?
Max Olson:
Throughout the past few weeks, Brown has stuck to the same message publicly: Texas players should win this game for themselves, not for their coach. They've had a brutal season, overcome plenty and have a chance to cap it with a ninth win and a few good memories. Brown keeps saying he wants this to be about the kids, not him.
What we'll get out of kids, though, I just don't know. They've been big underdogs before. They came out firing against Oklahoma and built real momentum. They held Baylor to 3 points in the first half but ran out of gas. Which Texas team shows up Monday? They'll need plenty of motivation and good fortune.
Kevin Gemmell:
My first thought was that this was going to be a huge motivation advantage for Texas -- and I'm a big believer that the bowl season is all about which team is motivated to be there. But I think the recent news that Oregon defensive coordinator Nick Aliotti is also retiring balances things out in the Oregon locker room. While he's not as big of a name nationally as Brown, he's as much an Oregon institution as Brown is to Texas.
Both pregame speeches will be rousing. Heartstrings will be tugged. But ultimately it comes down to what happens on the field. If Oregon is able to set aside its disappointment of not being in a BCS game, then who is coaching on which sideline shouldn't matter because on paper Oregon is the stronger team.
What should be expected of a 100-percent healthy Marcus Mariota?
Gemmell:
For starters, an extra element to the Oregon offense that makes them that much tougher to stop. Consider Mariota in the first seven games of the season before his knee injury. He averaged 70.4 rushing yards per game and scored nine touchdowns -- including at least one rushing touchdown in all seven games. Since hurting the knee against UCLA, he's averaged just 17.8 rushing yards with zero rushing touchdowns.
He also threw four interceptions in the final two games after going pick-free for the first 10, so aside from his rushing abilities -- which are substantial -- his throwing mechanics should be much stronger. I'm of the belief that when he's 100 percent healthy, Mariota is the best football player in the country. And if Texas gets a 100 percent Mariota, he's going to be very, very difficult to stop.
Olson:
Mariota is one of the many reasons why this is just not a good matchup for Texas, especially considering its defense has had legitimate issues defending the option against mobile quarterbacks. Of quarterbacks who started the last two seasons, nobody in the country has a better Total QBR than Mariota at 89.0. He's the real deal. I fully expect him to put up big numbers in the Alamodome, and it'll be interesting to see how Texas defends him, probably with
Jackson Jeffcoat
reprising his freestyle "spinner" role.
Who will be the key player in this game?
Olson:
If you've been following this Texas team, you know the key isn't getting a huge performance from
Case McCoy
. Yes, he needs to play relatively mistake-free and hit on the big passes when they're there. But Texas doesn't stand a chance in this one without a big night from
Malcolm Brown
.
The San Antonio native had rushed for 421 yards in the four games since Texas lost
Johnathan Gray
, including 118 in the first half against Baylor. He did a terrific job of hitting cutback lanes against the Bears, and run defense hasn't been a strength for Oregon. Brown needs to get rolling or Texas could fall behind quickly.
Gemmell:
Take your pick from any number of superstars on both sides of the ball for Oregon. Be it Mariota,
Josh Huff
or
Byron Marshall
. Defensively, cornerback
Ifo Ekpre-Olomu
is as lockdown as they come. But the guy who always seems to show up in the postseason is
De'Anthony Thomas
.
Last season against Kansas State in the Tostitos Fiesta Bowl, he returned the opening kickoff 94 yards for a touchdown, caught four balls for 60 yards and a score and rushed twice for 15 yards. In the 2011 Rose Bowl Game presented by Vizio, he carried twice for 155 yards and two touchdowns in the win over Wisconsin. He also caught four balls for 34 yards and returned five kicks for 125 yards.
Thomas is a big-game player with blazing speed and scary elusiveness. When he's hitting on all cylinders, he's a difference maker.
December, 30, 2013
12/30/13
11:00
AM ET
No. 10 Oregon and Texas face off Monday (6:45 p.m. ET, ESPN) in the Valero Alamo Bowl in San Antonio. A few key players and matchups to watch:


Who to watch:
Oregon quarterback
Marcus Mariota
says he's 100 percent healthy, and that's very good news for the Ducks. A knee injury suffered against UCLA in October limited his ability to run in Oregon's final five games, two of which were losses. Now that he has had time off to recover, expect the Ducks' high-tempo option attack to be back to full speed. Mariota is coming back for 2014 and has a chance to end his sophomore campaign with a big game against a Texas defense that has proven vulnerable to running quarterbacks.
What to watch:
What can Texas do up front to grab control of this game from the Ducks? These Longhorns are capable of big upsets when their offensive line owns the line of scrimmage, and they're reshuffling to put All-Big 12 left guard
Trey Hopkins
at right tackle. On defense, defensive ends
Jackson Jeffcoat
and
Cedric Reed
must be disruptive, and you could see Jeffcoat play all over the field in a hybrid role. Texas can't win this game without being the more physical team.
Why to watch:
Mack Brown's last hurrah after 16 seasons as head coach of the Longhorns. Texas has won seven of its past eight bowl games dating back to 2004, and its players want to send Brown off with one final victory, the 245th of his career. When everybody counted them out, Brown's players rallied and knocked off No. 12 Oklahoma 38-20 in the Red River Rivalry this season. Can the Longhorns pull off another stunner?
Prediction:
Oregon 38, Texas 17. Oregon simply has too much firepower for Texas, whose four losses have come by an average margin of 21 points. Retiring Oregon defensive coordinator Nick Aliotti gets the celebratory final Gatorade bath.
December, 30, 2013
12/30/13
9:00
AM ET
Kevin improved to 3-1 for the bowl season by picking Washington over BYU in the Fight Hunger Bowl and is 78-18 on the year. Ted is 0-4 in the bowl season and 74-22 on the year.
Valero Alamo Bowl: Oregon vs. Texas


Kevin Gemmell:
Again, this is a question of motivation for me. Does Oregon want to be there? Probably not. But the news that Nick Aliotti will be stepping down after this game, in my mind, balances out the fact that Mack Brown is also leaving. Nationally, it's not as big of a story. But Aliotti is as much an Oregon institution as Brown is to Texas.
Marcus Mariota
is healthy and
De'Anthony Thomas
always does his best work in bowl games. On paper, Oregon is a far superior team, and probably a little ticked off. That could be a scary combination for Texas.
Oregon 48, Texas 24
.
Ted Miller
: So… how are your bowl picks going? I've been trying to catch Gemmell by picking against the Pac-12 and, yeesh, that hasn't gone well. The problem is: If I start picking the Pac-12 teams, will that jinx them? If you don't believe in jinxes, chat up your favorite Oregon State or California fan about what happens to their teams when I pick them to win football games. They think I'm the guy smugly insisting the Titanic is unsinkable. Oh well. As for the Valero Alamo Bowl, I'm given pause by Texas playing inspired football in Mack Brown's last game and the possibility of Oregon being flat as it is playing its first non-BCS bowl game since 2008. But the word in Eugene is QB Marcus Mariota is back to 100 percent. The Ducks are the better team, and if they show up they win decisively.
Oregon 40, Texas 24
National University Holiday Bowl


Kevin Gemmell
: Not having
Marion Grice
-- if that is the case -- hurts. But it doesn't hurt enough to sway my opinion too much.
D.J. Foster
is more than capable of shouldering the load -- but they do lose a little bit of versatility on offense without both of them on the field at the same time. Still, there is no better back-shoulder connection in the country than
Taylor Kelly
to
Jaelen Strong
, and
Chris Coyle
is a mismatch for most teams. Defensively, ASU's opportunistic unit -- which notched a league-high 21 interceptions -- should add a couple of more against an uncertain Texas Tech quarterback to be named and a team that throws a lot.
Arizona State 42, Texas Tech 24
.
Ted Miller
: Texas Tech is a little like Oregon State is that its schedule was backloaded. The Red Raiders are bad on defense, ranking 92nd in the nation in run defense and 89th in scoring defense. They throw the ball around a lot -- nearly 400 yards per game -- but aren't terribly efficient, ranking 58th in the nation in passing efficiency. Even without Grice, the Sun Devils should be able to move the ball and put up points. And I'm not sure you can beat the Sun Devils with a one-dimensional offense. Arizona State only loses this one if it plays sloppy, which it hasn't done often this fall.
Arizona State 45, Texas Tech 28.
December, 27, 2013
12/27/13
7:25
PM ET
A few years ago, my wires got crossed even more than normal and I somehow ended up believing a homestanding but underdog Washington team just might beat Oregon. So I picked the Huskies to upset their hated rivals. It was a bad pick, and an Oregon person let me know about it -- profanely and vociferously -- immediately after the Ducks' blowout win.
It was Ducks defensive coordinator Nick Aliotti.
At the moment, I was shocked and, yes, a bit hurt. I thought I had a great relationship with Aliotti and I had no idea he'd even be aware of, much less give two flips about, my weekly Pac-12 picks.
Oh, but he did. And that's an important part of Nick Aliotti you need to know. Behind the avuncular public face, he's a fiery competitor who is motivated by folks doubting him and his players.
[+] Enlarge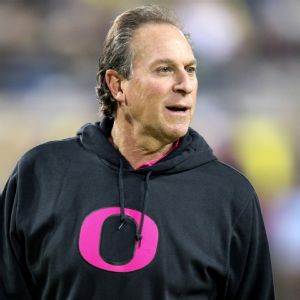 Steve Conner/Icon SMINick Aliotti spent 24 years on the Oregon coaching staff, including 17 as defensive coordinator.
We've chatted -- professionally and casually -- perhaps 20 times since then, and more than a few times he brought up that moment and apologized for it again and again, and then went on to great lengths to flatter the Pac-12 blog and make it blush.
"You've always been great to me," he'd say. "And I appreciate what you do."
That's an important part of Aliotti you need to know. He's a genuinely good fellow. Gracious. Funny. Self-effacing. And I don't know if I know anyone, particularly among members of the Fourth Estate, who'd say differently.
He also is a heck of a defensive coach, which is why more than a few folks are probably surprised that he has chosen to hang it up at just age 59,
announcing his retirement
Friday effective after the Ducks' date with Texas in the
Valero Alamo Bowl
on Dec. 30.
He has been a fixture at Oregon under four coaches -- 24 years total, 17 as defensive coordinator. He had a brief run in the NFL when Rich Brooks was with the St. Louis Rams, and he spent a year at UCLA getting scapegoated by Bob Toledo, which was such bad form from Toledo that his career swirled into the muck shortly thereafter, his having irrevocably broken his positive karmic balance.
While the Ducks have been known more for their offense during their rise to the nation's elite, Aliotti consistently put together defenses that ranked highly in the Pac-12 and nation, particularly when you went beyond obvious statistics -- such as yards per game -- and used more advanced metrics that accounted for the Ducks offense having no interest in time of possession.
Aliotti will be missed, as a coach and a personality.
"Nick's contributions to the football program at the University of Oregon cannot be overstated," Oregon coach Mark Helfrich said in a statement. "His dedication to the success of this program will certainly leave a lasting impression that is hard to measure. I want to thank him for his loyalty and efforts to help make Oregon football what it is today, and wish him and his wife, Kathy, a long and happy retirement."
The first question, of course, even before we ponder the future of the Ducks defense, is whether Aliotti will stay retired. That competitive fire might enjoy a break, but after he watches the 2014 season, you'd have to wonder if his coaching jones might return. Heck, a smaller program might even want to shake his tree a bit and see if he'd be interested in one thing he's missed out on in his career: A head coaching job.
I'd rate Aliotti's potential return a definite maybe. He certainly won't be off the coaching radar when a year from now someone needs a coordinator.
[+] Enlarge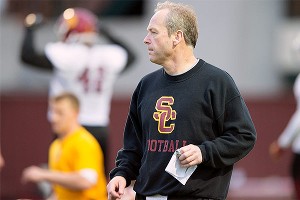 Joe Andras/WeAreSC.comClancy Pendergast transformed USC's defense in one season with a system similar to Oregon's 3-4.
As for what's next for Oregon, two names were all over the Twitterverse this afternoon: Justin Wilcox, a former Oregon player, and Clancy Pendergast, who transformed USC's defense this fall.
Wilcox, as reported by CBS's Bruce Feldman, is shortly expected to follow Steve Sarkisian from Washington to USC. He also is one of the nation's highest paid assistant coaches, making more than double the $370,000 Aliotti made this fall. Aliotti, by the way, is the Ducks' highest paid assistant coach.
As for Pendergast, he'd be a great hire, wouldn't cost $800,000 a year and he's available because of Wilcox's expected arrival in Los Angeles. He knows the Pac-12, having coached the past four years at California and USC, and that can't be discounted when you consider the diversity of offenses in the conference.
ESPN's Adam Schefter
has reported Pendergast might be eyeballing an NFL job
, but one suspects he is looking only for the best situation -- and perhaps some stability. Considering Oregon ran a hybrid 3-4 under Aliotti, and Pendergast ran the same sort of thing at Cal and USC, calling it a 5-2, the transition would be smooth.
If Helfrich and Pendergast haven't already chatted, that's a call the Ducks first-year coach should seriously consider making. Nothing like hiring a guy who's almost a sure-thing.
Of course, neither of those guys would hold court during a postgame media briefing like Aliotti. His winding, often lengthy, stream of consciousness answers that often ended up having little to do with the original question made postgame stories on the Ducks defense far more colorful.
And reporters were talking to him because his defense, though typically overshadowed by the Ducks prolific offense, was more often than not among the best coached units in the Pac-12.
December, 24, 2013
12/24/13
1:00
PM ET
Each week, we team up with the ESPN Stats & Info crew to dig into the numbers that matter most and find three statistics that could make a big difference. Here are the numbers to remember going into Texas' season finale against No. 10 Oregon in the Valero Alamo Bowl on Jan. 30 (5:45 p.m. CT, ESPN).


1. 75.4
There's no better way to prepare for Oregon than playing Texas Tech and Baylor, right?
Texas Tech (88.4) and Baylor (82.4) actually ran more plays per game this season than Oregon, whose average of 75.4 is about on par with what the Ducks did during Chip Kelly's tenure.
They'd prefer to run more, of course, but when you're No. 2 in the nation in yards per play at 7.6, you tend to move down the field too quickly to need 80 or more. Still, the Ducks' famed tempo makes it difficult for defensive substitutions and its wide assortment of option looks should challenge Texas greatly.
The Longhorns can take comfort in knowing they held Baylor's No. 1 scoring offense to 30 points and just 3 in the first half. Oregon, by the way, is outscoring foes by a margin of plus-147 points in the first half this season. If the Ducks get this high-speed offense rolling from the start and avoid turnovers, they can be awfully hard to stop.
2. 62-10
Oregon quarterback
Marcus Mariota
has been masterful in his first two seasons as the Ducks' starter. His Total QBR since the start of the 2012 season is 89.0, second-best in FBS behind only
Jameis Winston
(who didn't play last season), and his career TD-to-INT ratio is a whopping 62-10.
Of course, what makes him especially dangerous against Texas is his rushing ability. Mariota has averaged more than 53 rushing yards per game in his career and has gained 10-plus yards on 53 of his runs. A knee injury slowed him to 71 total rushing yards in Oregon's final four games, but he's expected to be 100 percent healthy for the Alamo Bowl.
Two things worth noting there: Mariota has fumbled on nearly 10 percent of his rushing attempts in his career, and Texas' defense is currently in the top 12 nationally in sacks with 37 on the year. With how Oregon runs the zone read,
Jackson Jeffcoat
and
Cedric Reed
have to play smart while also applying plenty of pressure.
[+] Enlarge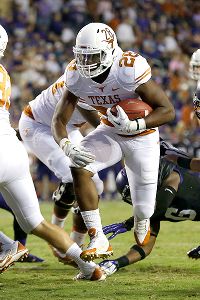 AP Photo/LM OteroTexas tailback Malcolm Brown, who has rushed for 774 yards this season, will see the bulk of the carries vs. Oregon.
3. 675
Texas can't win this game without an overpowering rushing attack and an ability to down the Ducks at the point of attack. A few running backs have had serious success against Oregon in 2013.
Arizona's Ka'Deem Carey rushed for 206 yards and four touchdowns in a blowout win over Oregon. Washington back
Bishop Sankey
, a fellow Doak Walker Award finalist, ran for 167 and UW trailed by just one score entering the fourth in a 45-24 loss.
In Oregon's other loss, Stanford's
Tyler Gaffney
pounded out 157 yards on 45 attempts. And Oregon State running back
Terron Ward
gained 145 in a one-point loss in the Civil War Game.
Add it all up and that's 675 yards by four backs.
Malcolm Brown
punished Baylor early, to the tune of 118 first-half yards, but Texas doesn't have any other backs besides Brown and
Joe Bergeron
available for this one. If they can't get going against a fairly porous Duck run D, that's just more pressure on
Case McCoy
.
Three more to remember
244:
Career wins for
Mack Brown
. With one more, he'll move into the top 25 all-time among all college football coaches.
71:
The number of missed tackles Texas' defense accounted for in the regular season. The Longhorns missed 112 last season.
Seven:
Texas has won seven bowl games since the 2004 season, tied for most in FBS in that span.
December, 16, 2013
12/16/13
5:30
PM ET
We continue
our look at each of the Pac-12's opponents
during the bowl season.
Valero Alamo Bowl
San Antonio, Dec. 30, 3:45 p.m. (PT), ESPN
Oregon (10-2) vs. Texas (8-4)

Texas Longhorns
Coach
: Mack Brown (16th season)
Record
: 8-4, 7-2 Big 12
Combined opponents' record
: 76-68 (.527)
Common opponents
: None.
Leading passer
:
Case McCoy
, 179-312-1,885 (57.4 percent) with 11 touchdowns and 11 interceptions.
Leading rusher
:
Johnathan Gray
(injured), 159-780 with four touchdowns.
Leading receiver
:
Mike Davis
, 49-715 with eight touchdowns.
Leading tackler
:
Jackson Jeffcoat
, 80 tackles, 21 tackles for a loss, 12 sacks.
What to know
: Texas has been in the news lately. Perhaps you've heard? After compiling a 158-47 record at Texas,
Brown is stepping down
after the Alamo Bowl. That heaps a healthy dose of emotion on to this game as his players will no doubt be looking to win one last one for Mack.
Even before Gray went down for the rest of the year with an Achilles injury in the OT win over West Virginia in early November,
Malcolm Brown
was already starting to get a good chunk of the running workload. He has rushed for 774 yards and nine touchdowns on 188 carries (4.1 average).
After starting the year 1-2, which included losses to BYU and Ole Miss, the Longhorns rallied to run off six straight -- including a seemingly-unlikely win (at least at the time) over No. 12 Oklahoma.
But they lost two of their last three to ranked Oklahoma State and Baylor, giving them a mark of 1-3 against ranked teams this season.
This is a question of motivation for the Ducks, who have to be lamenting missing out on a fifth-straight BCS bowl game after Oklahoma was selected ahead of them for the Allstate Sugar Bowl. On paper, the Ducks are the superior team. It's just a question of whether they can suppress that disappointment and not let Texas get too caught up in the emotion of Brown's departure.
Key matchup
: As is always the case when you play Oregon, how are you going to stop the run? That's something Texas hasn't been very good at this season. The Longhorns rank 80th in the country, yielding 180.3 yards per game on the ground. They've also given up 21 rushing touchdowns and allow 4.2 yards per carry. The Ducks average 278.3 yards per game on the ground, which ranks ninth nationally. And all eyes should be on Jeffcoat. Depth-wise, the Longhorns are hurting defensively and are down to about three linebackers and a couple of defensive tackles. Brown said at one point he feels like they lost eight to 10 of his best players to injury. But Oregon shouldn't get too cocky. Jeffcoat is legit. Lest we forget another defensive end from Texas who spoiled the bowl hopes of a team from Oregon last year.
December, 13, 2013
12/13/13
3:00
PM ET
For obvious reasons, the more bowl games a conference can win, the better it is for the league's national reputation. But is there one game that is more important? Your Pac-12 reporters debate.
Ted Miller
: While you could make a strong case that Oregon State needs to win it's bowl game in order to take some heat off of Mike Riley, just down the road at Oregon there's already significant pressure on Mark Helfrich to guide the Ducks into the offseason on an up note.
[+] Enlarge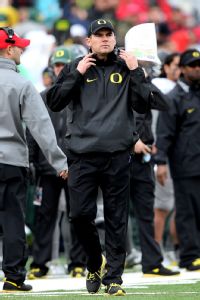 Christian Petersen/Getty ImagesWould a loss to a struggling Texas team signal trouble in Eugene for Oregon coach Mark Helfrich?
If Oregon beats Texas in the Valero Alamo Bowl, which it is favored to do by two touchdowns, you could spin Helfrich's first season after replacing the much-ballyhooed Chip Kelly as a moderate success. Sure, the Ducks didn't get picked for a fifth consecutive BCS bowl game, but it did finish with 11 wins and a top-10 ranking, neither of which Kelly achieved in his first season. Keep in mind that Kelly did inherit a very good team, one that went 10-3 and finished ranked 10th in 2008, Mike Bellotti's last season.
If Oregon beats Texas, it can trace its late-season swoon to QB
Marcus Mariota
's sprained knee. An excuse? Absolutely. But a legitimate one when assessing what went wrong during the season. The Ducks can look at 2013 and say, "Hey, we lost to a very good Stanford team on the road with our QB hurt, and we had one weekend at Arizona when we didn't show up. Could be worse. Stanford lost two games, too, by the way."
If Oregon beats Texas, it sets Mariota up as the leading 2014 Heisman Trophy candidate and it likely ensures a preseason ranking near the top 5 or at the very least the top 10. That means it starts 2014 squarely in position to play its way into the inaugural four-team College Football Playoff.
If Oregon beats Texas, it will still seem all Win the Day-y.
But what if Oregon doesn't beat Texas?
If the Ducks go down, some of the more demanding Ducks fans will see Helfrich's seat as warming in only Year 2. If the Ducks go down, there will be quite a few smirks in the Pac-12 and across the nation. Folks in SEC country will talk about a "gimmick team" whose run is over. Washington fans will look at their coach -- Chris Petersen -- and then Helfrich and start to make plans for a breakthrough after 10 years of woe. Oregon State fans will start to see a glimmer of hope on the horizon.
If the Ducks go down, that might give more than a few recruits pause. They might wonder if signing with Oregon means signing with a program that has plateaued and might be headed in the wrong direction. A disappointing recruiting class would give frustrated Ducks fans more to fret about during the long offseason.
If the Ducks go down, it will seem like a lost season.
Stanford is going to the Rose Bowl for a second consecutive year, and Washington just got a Big Fish coach. UCLA and Arizona State are rising in the South, and USC will emerge from scholarship reductions a year from now. The Ducks position in the North Division and the Pac-12 as a whole is being challenged.
Beating a middling Texas team that still has a marquee name will answer that challenge and slow the offseason handwringing to a manageable level.
Losing to a middling Texas team will put the program on red alert.
Kevin Gemmell
: The Pac-12 is at a critical juncture, and nationally speaking, it can ill afford to drop its BCS game. That's why the Pac-12's must-win game has to be Stanford vs. Michigan State in the Rose Bowl Game presented by Vizio.
Right now the rest of the country is looking at the Pac-12, top to bottom, and thinking, "Gosh, that is a tough league. Hard to believe they only have one BCS game." Which is exactly why Stanford has to win. Because if they don't, the "overrated" chants will rain down heavy and hard for the next nine months.
The Pac-12 is better off when Oregon is ranked in the top five and going to BCS bowl games every year. And the Pac-12 needs the Ducks -- or UCLA -- or ASU -- or USC -- or Washington -- or Arizona -- or someone else to pick up the slack next year as we head into the playoff era. Easier said than done, of course, given the way the league's nine-game conference schedule plays out.
[+] Enlarge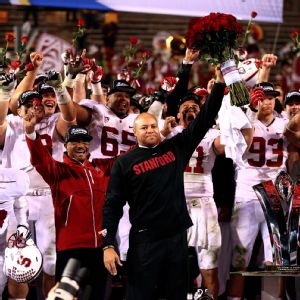 Mark J. Rebilas/USA TODAY SportsStanford will be playing for the Pac-12's reputation in the Rose Bowl against Michigan State.
National perception is forged on how you do against teams from other conferences. In that regard, the Pac-12 had a stellar year in terms of regular season nonconference play. The league went 31-6 against out-of-conference competition with seven of the 12 teams posting a perfect record and 11 of 12 teams posting a winning record.
That's all well and good for the end of September. But no one cares about that if you don't do well in the bowl season.
If the Pac-12 goes 8-1 in the bowl season, but loses its BCS game, the league takes a massive PR hit; because, let's be honest, outside of Pullman Wash., or Fort Collins, Colo., there won't be a ton of buzz if Washington State beats up on Colorado State -- which it should. Opinions won't be swayed too much if UCLA beats Virginia Tech or Arizona beats Boston College. And even if Oregon wins, it won't make a huge dent.
Right now, Stanford carries the flag for the rest of the conference. The Pac-12 needs all of the national credibility it can get its hands on because the last Top 25 poll is usually a starting point for the first poll of the 2014 season. Oregon getting inside the top 10 is important. UCLA and ASU getting in the top 15 is important. USC getting into the top 20 is important. But Stanford getting in the top two or three is more important right now. And from a league perspective, beating a Big Ten team in the 100th Rose Bowl Game is the most important.
December, 11, 2013
12/11/13
5:30
PM ET
From a public relations standpoint, Oregon lost too many days in 2013.
From former tight end
Colt Lyerla leaving the team
and his subsequent
drug-related arrest
to high-profile players making verbal miscues -- and of course the world's most watched snowball fight -- the Ducks had more drama than their first-year coach probably would have preferred. A bad November on the field didn't help, either.
[+] Enlarge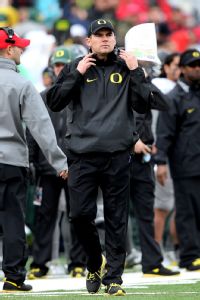 Christian Petersen/Getty ImagesCoach Mark Helfrich and the Ducks could get to 11 wins with a victory over Texas in the Valero Alamo Bowl.
So it was no surprise that after a disappointing bowl placement -- disappointing in the fact that it's not a BCS bowl game -- Oregon had two of its most respected and well-spoken ambassadors handle the talking.
In the first five minutes of chatting with the media following Sunday's bowl selection, quarterback
Marcus Mariota
and center
Hroniss Grasu
-- both who have decided to pass up the NFL for one more season -- couldn't work in the words "honor" and "blessed" enough when talking about their spot in the
Valero Alamo Bowl
against Texas.
Maybe that's how they really feel. Maybe it's not. But from here on out, as the Ducks look to rehab their image, the message has to be one of sheer elation and excitement to be playing in a bowl game. Any bowl game.
"This season has been a blessing and an honor to be able to play for such a great team," Grasu said. "It's been a lot of fun. A couple of things didn't go our way but there is no one to blame for that but ourselves. We wouldn't be in this position if we didn't shoot ourselves in the foot. But it happened. You have to move on. Now we have to worry about what we can control and that's getting better. Going through finals and then preparing to play Texas in the Alamo Bowl, which is a big honor to play in. That's all we can control right now."
Another word they both used a lot was "opportunity." That's the key.
This is a big opportunity for Oregon. It's an opportunity to get coach Mark Helfrich his first bowl victory and reach the 11-win mark, something Chip Kelly didn't do in his first year. It's an opportunity to show the recruits that the month of November was simply a hiccup and Oregon football isn't going anywhere. It's an opportunity to show the rest of college football that Oregon has neither been exposed nor is on a downward trend.
"It was tough and it is unfortunate," Mariota said. "But we put ourselves in this predicament. We didn't give ourselves a lot of room. We had the opportunity. But we're blessed and it's a great opportunity and we're looking forward to it … I think for the most part guys are going to be exited. We have a lot of guys from Texas. A lot of guys that haven't been to Texas. It's going to be an awesome, awesome venue. We're playing one of the most traditional programs in the country."
Almost every college football fan in the country -- yes, even a few in Oklahoma -- wanted to see Alabama-Oregon in the
Allstate Sugar Bowl
. Even if it weren't for a national championship, it's still a dream matchup that has been speculated on for years. But geography, travel and the fact that the SEC and Big 12 have a schedule alliance coming were all contributing factors to the Ducks being on the outside -- despite only losing to Pac-12 champion Stanford and the nation's best running back in Arizona's
Ka'Deem Carey
. That those losses came in November magnifies their impact.
If there is disappointment in the ranks, and there has to be, now isn't the time to let it show. Now is the time to exude confidence and humility at the opportunity placed before them. Now is the time for Mariota, who said he hopes to be 100 percent for the bowl game, to go out and show why he deserved to be in New York as a Heisman finalist. He could also start off his 2014 campaign with a bang.
"I don't think anyone is disappointed," Grasu said. "It's an honor to play in this bowl game against Texas. Getting a bowl win in the Alamo Bowl against Texas would a big momentum boost in the offseason and getting ready for next season. It's really exciting. We have a lot of guys coming back, but we can't look to next season because we're preparing to play Texas."
Oregon's reputation as an elite program, combined with a bowl win, likely gets them into single digits in the final rankings. Mariota's return makes them a preseason top-10 team in 2014. There will be many, many more days to win. And it has to start on Dec. 30.
Preferably, quietly.
December, 9, 2013
12/09/13
11:00
AM ET
AUSTIN, Texas -- The great unknown of Texas' future remains unsolved two days after Texas' loss to Baylor. But the imminent future was at least settled Sunday: Texas is returning to the Valero Alamo Bowl, this time to take on No. 10 Oregon.
And that proposition looks about as scary as anything
Mack Brown
and his loyalists might see in the next few weeks.
We don't know what's next for Brown. He traveled to New York on Sunday with UT president Bill Powers and athletic director Steve Patterson for the College Football Hall of Fame induction ceremonies. He's supposed to hit the road this week for in-home visits with recruits.
[+] Enlarge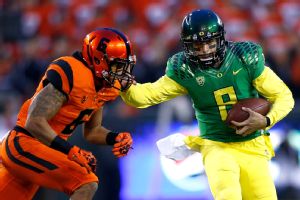 Jonathan Ferrey/Getty ImagesTexas has troubles defending the option. Marcus Mariota and Oregon run it perhaps better than anybody.
Whatever is in the works in the meantime remains unknown. Texas' grand plan is far from clear. But this much is certain: When the dust settles, the Longhorns have plenty of work to do and 15 practices to do so. At some point, preparations to face Oregon will begin.
The response from fans and pundits on Sunday night was relatively consistent: Texas (8-4) is going to get smoked by Oregon (10-2). It won't be pretty.
Oddsmakers have made the Ducks a two-touchdown favorite, which is familiar territory for the Longhorns by now. This team liked playing the underdog role in 2013, so perhaps there's no better way to end the year than with Texas' most difficult matchup yet.
Oregon has a two-time All-Pac-12 quarterback in
Marcus Mariota
. He ranked
No. 2 in the nation in QBR
this season behind Florida State's
Jameis Winston
. If not for an MCL sprain that limited his game late in the season, Mariota would likely be New York-bound as well this week. The way this Heisman field fell apart, he still might.
The Ducks' famously fast tempo won't be what causes this Texas defense trouble. The Longhorns have seen faster this season, and Oregon's plays-per-game-average of 75 is down from a year ago.
The problem will be the option. Among spread offenses, nobody does that better in college football than the Ducks. It's a big reason they're 56-9 since 2009, the year former coach Chip Kelly took over.
Mariota rushed for 695 yards excluding sacks this season, his second as the starter. He says the knee injury that prevented him from running effectively should be 100 percent healed by the Dec. 30 bowl game.
And he's surrounded by options: Three running backs surpassed 500 yards this season, led by second-year back Byron Marshall's 995 yards. He has an ankle injury, but also plenty of time to recover.
And don't forget
De'Anthony Thomas
, as explosive a player as there is in college football. He's healthy again after missing four games with an ankle injury. Miss him once in space and he'll hit the home run. And when you sell out to stop the run,
Josh Huff
(1,036 receiving yards, 11 TDs) can sneak behind the defense and make you pay.
"These guys are like Baylor," Brown said. "They can score fast and they do a tremendous job."
Read option, speed option, triple option, veer, packaged plays – the Ducks do it all. No other bowl team has more 20-yard runs this season than Oregon.
And few bowl teams struggled more to stop the option and the quarterback run than Texas. For all the progress Greg Robinson and the defensive staff made in the past 10 games, this remains the team's Achilles' heel.
The Longhorns gave up the ninth-most rushing yards to quarterbacks in the bowl subdivision. As Brown joked midway through the season: If Texas' opponents don't run the option, they'll put it in the playbook.
It was just too easy, even against a defense with a pair of All-Big 12-caliber ends. Injuries have rendered this unit thin at linebacker and defensive tackle. Robinson, his coaches and his defenders will need these 15 bowl practices to find answers.
Oregon's defense is far from flawless, but it did hold foes to 19 points per game in its wins. It's a top-three scoring defense in the Pac-12 and No. 4 in total defense. At the moment, though, the attention of Texas' offense will be on fixing itself.
Case McCoy
is coming off the worst start of his career. The Longhorns gained 59 yards in the second half Saturday at Baylor. Their only touchdown drive began at Baylor's 11-yard line, and they still needed seven plays to score.
They'll need every practice and film session afforded to them this month. Stanford beat Oregon with pure power. Arizona blew out the Ducks with an elite running back. What's it going to take for Texas to pull this one off?
The Longhorns have their own problems to solve first, and plenty of preparation ahead. If you think the next three weeks will be rough and messy off the field, it can get a lot worse if Texas doesn't stay focused on its toughest test yet.
December, 8, 2013
12/08/13
10:00
PM ET
Dec. 30, 6:45 p.m. ET, San Antonio (ESPN)
OREGON DUCKS BREAKDOWN
During an 8-0 start, Oregon fans had only one thought in coach Mark Helfrich's first season: We want Bama. During a 2-2 finish, they started missing Chip Kelly.
[+] Enlarge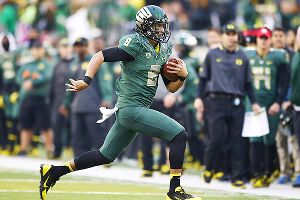 Jonathan Ferrey/Getty ImagesMarcus Mariota should be at full strength and ready to run in the postseason.
That 8-0 start was a thing of beauty, as the Ducks climbed to No. 2 in the nation, dominating on both sides of the ball. They hung 59 points on both Virginia and Tennessee. They turned a precarious seven-point fourth-quarter lead into a 45-24 stomping of hated rival Washington, a 10th consecutive victory in the series by at least 17 points. They showed some grit in the second half against UCLA, swamping the Bruins 42-14.
Not only were the Ducks again in the thick of the national title hunt, but QB
Marcus Mariota
was also the nation's leading Heisman Trophy candidate.
But in that win over the Bruins, Mariota sprained his knee. While the injury didn't force him to miss a game, it severely limited his ability to run either on designed plays or scrambles. That put a major part of the Ducks' offense on ice.
Stanford dominated the Ducks on both sides of the ball in a 26-20 win on Nov. 7, the Pac-12's marquee date of the year. Mariota struggled mightily, but the real issue was the line of scrimmage. The Cardinal owned it.
The low point, however, was a 42-16 defeat at Arizona that proved the death knell of the Ducks' BCS bowl hopes. It was Oregon's first loss to an unranked team since 2009. The 26-point margin of defeat was their biggest since losing 44-10 to USC in 2008.
The Ducks bounced back with a victory in the Civil War, but that 36-35 nail-biter at home over a reeling Beavers team was hardly suggestive of the team that dominated foes through the first eight games. It will be interesting to see how the Ducks respond in the postseason. It should help that Mariota should be close to full health.
-- Ted Miller

vs.

TEXAS LONGHORNS BREAKDOWN
The Longhorns had everything on the line against Baylor, including a Big 12 title and a trip to the Tostitos Fiesta Bowl. They couldn't get the job done. The bowl matchup that the 30-10 loss leads to is immaterial to Texas fans now. All they want to know is whether the Mack Brown era is over.
[+] Enlarge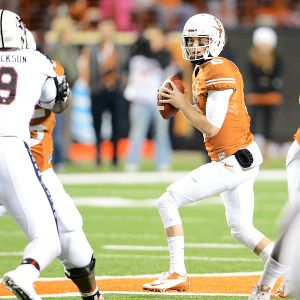 John Albright/Icon SMITexas will lean on its run game but will need Case McCoy to make a few plays to close out the season with a win.
If that ends up being the case, we'll know before Texas takes the field for its bowl game later this month. These Longhorns could have plenty to play for in their finale, even if at 8-4 they've ended up in the same Valero Alamo Bowl they played in last year.
Despite losing five starters to season-ending injuries, the Longhorns turned around a rough start with a 7-2 record in Big 12 play. They made that run with a potent power run game, now led by
Malcolm Brown
(774 yards, nine touchdowns). Whether or not Mack Brown is done, this is the final game for nine senior starters and an opportunity for
Case McCoy
to end his up-and-down career on a high note.
Texas' defense underwent a revival in 10 games under Greg Robinson and did hold Baylor's top-ranked scoring offense to three points in the first half.
Jackson Jeffcoat
finished with a Big 12-leading 12 sacks in his senior season and anchors a unit that has plenty of experience defending high-tempo spread offenses.
-- Max Olson
Programs Most Desperate for a Quarterback
PAC-12 SCOREBOARD
Thursday, 9/3
Friday, 9/4
Saturday, 9/5