Oregon Ducks:

2013-Oregon-Stanford
November, 8, 2013
11/08/13
3:00
PM ET
STANFORD, Calif. – For obvious reasons, there was no talk of titles -- national, Pac-12 or otherwise -- from the Oregon side following Stanford's
26-20 victory
over the Ducks Thursday night.
That Stanford won isn't/shouldn't be considered shocking. That Oregon was scoreless through three quarters might be. That the Ducks stormed back for 20 points in the fourth quarter in only an eight-minute span makes perfect sense.
[+] Enlarge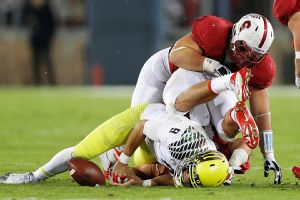 AP Photo/Marcio Jose SanchezMarcus Mariota had a rough night against Stanford as rumors swirled about a possible knee injury.
And the Pac-12 has again dragged itself into November chaos. That's par for the course.
Heading into Thursday night's showdown, the No. 3 Ducks represented the Pac-12's best chance for a national championship. A victory over No. 5 Stanford would have almost guaranteed they'd jump Florida State in the BCS standings and put them back in the No. 2 spot. From there, it was as simple case of winning out and advancing to the title game.
But for the second year in a row, the Ducks' BCS title hopes were severely wounded at the hands of a Stanford defense that was dominant on the line of scrimmage and an offense that jack-hammered its way up and down the field.
"Any loss is disappointing," said Oregon first-year coach Mark Helfrich. "Where we've put ourselves and where our players have put ourselves, it's obviously magnified. … We don't hold the cards anymore, but we never hold the cards. We have to come back, prepare and get ready for whoever is next."
And next is Utah -- the team that could ultimately go down as the fly in the Pac-12's title ointment after it knocked off Stanford in Salt Lake City last month.
The Cardinal seized control of the Pac-12 North. With victories over USC and California, the Cardinals would again represent the North Division in the Pac-12 championship game. Their regular-season finale against Notre Dame also takes on a greater importance when considering the BCS landscape.
The Cardinal still need some help if they hope to get into one of the top two spots in the BCS rankings. Florida State, Alabama and Ohio State are all undefeated. And the chances of a one-loss team -- even one with a résumé as impressive as Stanford's -- making that kind of jump seems improbable. There is obviously much football to be played. But for now, 2013 projects to play out much like 2012. If the Cardinal win out, they'll likely go to another Rose Bowl and a one-loss Oregon team should find its way into a BCS game as an at-large team.
But that's a lot of ifs.
"You know, it's November. It's November," said Stanford coach David Shaw. "We talked as a team about [how] it's time to play our best football. No one has seen our best football, and that's including us. Tonight was about three and three quarters of it, and that's what we talk about. We can't be satisfied. We can't be satisfied with how we finished the game. I'm not happy about it one bit. We can't be satisfied with one win. We've got to win in November. We've got a tough game next week against an outstanding USC team that's playing great and we've got to be ready to roll."
For the Ducks, there is plenty to lament in a game accented by turnovers and missed opportunities. Twice Oregon advanced inside the Stanford 5-yard line and twice they were turned away. Both failures led to 96-yard scoring drives by the Cardinal.
And then there was the issue of Marcus Mariota's injured knee.
Reports started to circulate
just before kickoff that he had a sprained MCL, and the coach and quarterback tip-toed around the issue during the postgame non-festivities.
"It is what it is," Mariota said. "It's a little banged up, but it's nothing too extraordinary. We're just going to take it and get healthy and I'll be ready next week."
Asked if he thought Mariota's knee was bothering him, Helfrich said: "I don't know. Everybody's banged up this time of the year."
Still, the Cardinal defense kept
Byron Marshall
and
De'Anthony Thomas
bottled up. The Ducks managed just 62 rushing yards and were 3 of 10 on third-down conversions.
"We don't concede points," said Stanford linebacker
Shayne Skov
, who made 10 tackles and forced a pair of fumbles. "People can write what they want to and say what they want. But what counts is the guys that take that field. Eleven guys on offense take the field and 11 guys on defense. What happens between the lines is dictated by us. That's the only thing we can control and that's how we play."
In the national picture, Oregon's loss feels more significant than Stanford's win because it takes another undefeated team off the board. But in the Stanford locker room, where things were far more festive, this victory sends a message that Stanford's sustained success is not by coincidence.
"It's huge," said running back
Tyler Gaffney
, who rushed for 157 yards and a touchdown on a school-record 45 carries. "I think the whole nation knows, and us especially, that this is a play-in game for the Pac-12 North. To be able to win the Pac-12 championship, you have to go through Oregon or you have to go through us. That is the mentality."
November, 7, 2013
11/07/13
11:00
AM ET
Last year's Stanford-Oregon game didn't just break the mold of the rivalry's previous three matchups. It detonated it with an ordnance of smothering defense and glacial tempo.
Stanford's 17-14 overtime win was a stark contrast to how the previous meetings had played out since 2009 -- the first game that featured both David Shaw and Mark Helfrich on their respective sidelines.
[+] Enlarge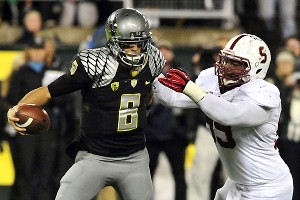 Steve Dykes/Getty ImagesThe trend of high-scoring Stanford-Oregon games was halted last season, as Marcus Mariota and the Ducks couldn't get on track.
No. 3 Oregon takes its nation-leading 18-game road winning streak to No. 5 Stanford Thursday night in a true clash of schematic styles. And there are lessons to be learned from some of the recent matchups -- trends and themes that paint a picture of what could transpire Thursday night.
The teams have split their past four meetings, with Stanford winning at home in 2009 and on the road in 2012. Oregon won back-to-back games in 2010 in Eugene, Ore., and 2011 in Palo Alto, Calif.
In the three games prior to last season, the winning team had scored at least 51 points and the loser had scored at least 30. The margin of victory was at least nine points. It was an annual offensive feast worthy of a league known for putting up points.
But last year's game flipped the script as the offenses took a backseat to trench warfare, making every point a premium.
"Each game is its own entity," said Oregon coach Mark Helfrich, who was offensive coordinator for the previous four matchups. "One big thing is our programs are a lot more similar than they are different from a number of perspectives. Their offense is different from our offense. But we're similar in the fact of playing with heart -- playing fundamentally sound. We recruit a lot of the same people.
"But at some point it's going to come down to our best person and their best person in space or in tight."
Clichés become clichés for a reason. Some coach somewhere once said "big-time players make big-time plays" and everyone thought it was a profound statement at the time. Then more and more coaches started saying it and the meaning dulled. And in the case of Stanford-Oregon, it's cliché, but true.
The past four meetings have all been defined by outstanding individual performances. Some were statistically sensational: Toby Gerhart's 223 rushing yards and three touchdowns in 2009; LaMichael James' 257 yards and three touchdowns a year later; James again in 2011; and Zach Ertz in 2012.
Others were more understated. But regardless of the total points scored, it still comes down to players making plays.
"The biggest one is, and I hate to put it on one side of the ball because it is a complete game, but when we make the open-field tackles and don't miss them, we have a chance," Shaw said. "And then the two wins, the common denominator is making big plays. Toby Gerhart ripping off some big runs. Chris Owusu had a huge touchdown pass. Ryan Whalen had a huge catch to get us in the end zone. Zach Ertz last year was huge. Then
Kevin Hogan
's mobility. He ran for a touchdown and could escape and slide and find Zach off schedule. Defensively, we have to make those open-field tackles and line up and not be out of position."
Thursday's showdown is a true struggle of strength versus strength when you consider the following:
Oregon hasn't scored fewer than 35 points in its past 10 games -- the last time coming in the 17-14 loss to Stanford last season.
Stanford hasn't allowed more than 30 points in its past 17 games, the nation's second-longest active streak.
The Ducks have won 18 straight on the road -- their last loss coming to Stanford in 2009.
Stanford has won 13 straight at home, its last loss in Palo Alto coming to Oregon in 2011.
There are dozens of notable sidebars to this matchup. Obviously, Stanford's defense versus Oregon's offense is the storyline that garners the most attention. But this is also a Heisman showcase game for Oregon quarterback
Marcus Mariota
, just as it was for Andrew Luck in the 2011 loss to the Ducks. There are the recent struggles of Stanford's offense and the inconsistencies of Hogan, who made his first career road start last year at Autzen and was lauded as one of the game's heroes for his poise on the grand stage. There is Oregon's defense -- so smothering and so in the shadow of the offense.
Stanford's top priority is and always will be to stop the run. But the Ducks have also developed a dangerous downfield passing attack that wasn't as developed last season. No Oregon wide receiver had more than 500 receiving yards last season. This season
Josh Huff
(703) and
Bralon Addison
(609) give the Ducks' offense an added dimension that Stanford will have to account for. And then there is the always-accurate Mariota, who hasn't thrown an interception since the first half of last season's Stanford game.
Defensively, the Cardinal are very good at getting to the quarterback without having to send extra blitzers. No team in the country has more sacks over the past two years when sending four or fewer rushers at the quarterback.
"They have some guys up front that really try to control the line of scrimmage," Mariota said. "They have done an awesome job all year of being physical. But I think our offensive line is up to the challenge. They are going to go out and play their best and we'll do our best at executing."
The recent past between these teams might not be entirely prologue. But history tells us that big-time players will make big-time plays -- if you'll pardon the cliché.
November, 6, 2013
11/06/13
5:45
PM ET
Oregon defensive coordinator Nick Aliotti is pleased. It has just been noted to him that his Ducks showcased brilliant coverage in the secondary during their 45-24 win at Washington. It's the same observation that had been made by Huskies coach Steve Sarkisian, but you get the feeling that Aliotti is not weary of hearing about it.
He admits he even allowed himself some extra time to savor the blanketing of white on black during a postgame film session with his players.
"I said, 'Look at this! There's nobody open for [Washington QB Keith] Price to throw the ball to!'" Aliotti said.
[+] Enlarge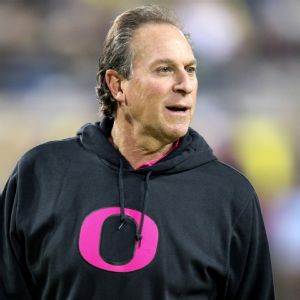 Steve Conner/Icon SMINick Aliotti spent 24 years on the Oregon coaching staff, including 17 as defensive coordinator.
Just like any other coach, Aliotti will tell you the only statistic that matters is about three letters, not numbers: W-I-N. That said, he takes a lot of pride in his defense and the players he sends onto the field. While Aliotti projects an amusing, avuncular personality, just below the surface is an intense competitor. That pride and competitiveness led to his postgame tirade two-plus weeks ago after Washington State scored two late touchdowns against his reserve players in a 62-38 Ducks win.
"That's total [bleep] that he threw the ball at the end of the game like he did," Aliotti said to reporters. "And you can print that and you can send it to [Cougars coach Mike Leach], and he can comment too. I think it's low class, and it's [bleep] to throw the ball when the game is completely over against our kids that are basically our scout team."
It might have been the most controversial moment of his 38-year career, and it cost him $5,000 after he was fined and reprimanded by the Pac-12. Aliotti apologized to Leach and called himself "embarrassed" in a release from the school two days later.
"It was probably an old guy who didn't understand the Internet, how the media can get going so fast," Aliotti said. "Just making an honest, simple statement about what I thought at the time. Obviously, I made a huge mistake by overstepping my bounds. I shouldn't have said those things. These days, you've got to be politically correct. Not one of my strong suits."
While, no, those comments weren't terribly smart coming from a veteran coach, it's not difficult to ascertain the source of Aliotti's frustration. While there typically have been hat tips to his defense during Oregon's rise to elite national power, most of the nation sees Oregon as being all about offense. That high-tempo, flashy offense is the big story when it rolls up eye-popping numbers, and it's the big story when it gets slowed down.
Recall the gloating from SEC fans about Auburn, with a middling SEC defense, shutting down the Ducks in their 22-19 victory in the 2010 national title game? Why was it not almost as notable that Oregon held Auburn to 18 fewer points than the Tigers averaged against SEC defenses?
Or when Stanford ruined Oregon's national title hopes last fall in a 17-14 overtime win, it was all about the Cardinal shutting down the Ducks with nary a mention of Aliotti's defense holding Stanford to 10 points below its season scoring average.
There's, of course, an obvious answer: The winning team sets the postgame agenda and analysis. Amid all the Ducks winning since 2009 -- 54-7 record -- the offense almost always leads.
That's apparently the big story again as No. 3 Oregon visits No. 5 Stanford on Thursday: Will the Stanford defense be able to thwart QB
Marcus Mariota
, the nation's leading Heisman Trophy candidate, and the Ducks again?
Yet here's a bet that the game won't turn on that. Here's a bet that Stanford's defense doesn't even approach its success from last year and that the bigger issue will be whether Stanford's struggling offense can score enough to keep it close.
Because, by the way, it's Oregon that enters the game with the Pac-12's best defense, not Stanford.
Oregon ranks first in the Pac-12 and seventh in the nation in both scoring defense (16.9 PPG) and yards per play (4.41). It leads the Pac-12 and ranks sixth in the nation in both pass efficiency defense and turnovers forced (23).
And this is happening after losing three All-Pac-12 linebackers, Dion Jordan, Kiko Alonso and Michael Clay.
Stanford coach David Shaw has noticed.
"They are missing three dynamic football players," Shaw said. "The crazy part is, without those outstanding players, the defense as a whole looks better. They are fast. They are big."
Shaw is one of more than a few Pac-12 coaches who frequently gush about Aliotti's defense, about how he maximizes his players' talents and puts them in position to be successful and how his perplexing, flexible scheme is both sound and sometimes baffling.
"It's a different scheme than most 3-4 teams," Shaw said. "It takes some getting used to, to prepare for it."
The enduring ideas about Oregon's defense, even when it is given credit, are quasi-dismissive compliments: scrappy, aggressive, quick, blitz-heavy. Those words are no longer accurate. The Ducks have comparable future NFL talent with many of the nation's top defenses, starting a secondary chock-full of future NFL starters.
Things have changed in part because winning has bolstered recruiting. The Ducks are no longer undersized. They are fast and big -- see eight defensive linemen in the regular rotation who are 6-foot-4 or taller, including three over 6-6. The secondary has become -- and will continue to be -- an NFL pipeline. And at linebacker,
things are going fairly well
for Alonso these days.
The improved talent has meshed with a good scheme, but Aliotti and his staff also are good at teaching and making sure each player understands what his assignments are. And trusts them.
"Our players believing in what they are doing," first-year Oregon coach Mark Helfrich said. "I think Nick and the defensive staff have done a great job of taking advantage of our overall strengths and maybe hiding our potential weaknesses a little bit. I think, collectively, it's a ton of guys playing hard."
Aliotti tweaks things every year. This season, the Ducks are blitzing less, due in large part to the myriad mobile quarterbacks in the Pac-12, a group that includes Stanford's
Kevin Hogan
, though their respectable 2.88 sacks per game suggest they are still getting pressure on the opposing quarterback.
We won't know if this turns out to be Aliotti's best unit until season's end, but it's certainly good enough to merit a spot on the marquee next to the Ducks' ludicrous speed offense.
And, yes, Aliotti wouldn't mind if he and his players received some credit.
"It's about winning games, but we do all take pride in our job," he said.
November, 6, 2013
11/06/13
9:00
AM ET
When the Andrew Luck era ended at Stanford, coach David Shaw knew for his team to maintain the high standard of play, it would have to commit to the old evolutionary adage of adapt to survive.
Gone were the 43 points per game the team enjoyed during Luck's senior year -- Shaw's first year as head coach. With the graduation of a player like Luck, Stanford's offensive production was expected to take a step back.
[+] Enlarge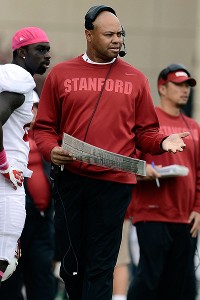 Ron Chenoy/US PresswireStanford coach David Shaw credits his team's record in close games to the players' resilience.
And it did.
Since the start of the 2012 season, the Cardinal have averaged just 29.6 points per game -- two touchdowns fewer on average per contest than when Luck was running the show. And yet during that stretch, Stanford has still gone 19-3 against opponents that boast a 62.6 winning percentage. That ranks 10th among all FBS teams over the last year and a half.
The Cardinal have adapted and survived behind a brutalizing defense and power-running game. Though they aren't scoring as many points, they are speeding the game up by slowing it down. And they are winning.
Good enough has been good enough for Stanford.
Since the start of the 2012 season the Cardinal are 10-3 in games decided by one possession (eight points). In those 22 games, their margin of victory is 11.6 points. As Shaw is fond of saying, football isn't a beauty contest.
"We expect to be in tight games," Shaw said. "We practice it. We spend a lot of time working on red zone. A lot of time working on overtime, two-minute offense, two-minute defense, the things that happen at the end of the game, so when we get in those times during the game, we just act and react."
Compare that to No. 3 Oregon, Stanford's opponent Thursday night in Palo Alto in a game that is sure to have a massive impact on the Pac-12 and BCS pecking order. Over that same stretch, the Ducks have enjoyed a margin of victory of 32.1 points per game. While the Cardinal have been in 13 one-possession games, Oregon has been in one. Just one. For those with a short memory, it was last year's 17-14 overtime loss to the Cardinal at Autzen.
"All it really means is we're doing our job and executing," said Oregon quarterback
Marcus Mariota
. "We don't look at something like that as a bad thing. You execute and you win a ball game. That's what the main intent is. In any situation we have confidence the coaches will do an awesome job preparing us and we'll go out there with confidence and be comfortable in whatever situation."
This year could present another close situation. Oregon coach Mark Helfrich said he's expecting another tight, drag'em-out showdown with the veteran Cardinal defense.
"When you look at their defense and their two-deep, 15 or 16 are seniors," Helfrich said. "And there is so much depth. So much continuity. It feels like we've been playing against
Trent Murphy
and [
Shayne] Skov
and [
A.J.] Tarpley
for 20 years. They are obviously very confident in what they do, and I think their offense will grind it out and create some situations. But I know at the end of the game they are going to have confidence. Hopefully so will we."
Maturity and experience is obviously a big reason for Stanford's success in close games. Take the last win -- a 20-12 victory over Oregon State in Corvallis. A late fumble could have swung the momentum to OSU's favor. But the veteran Cardinal defense stiffened and preserved the win.
"They played us well not only physically, but they played a very smart game," said Oregon State coach Mike Riley. "I think the combination of what they have, which is physical talent and lots of experience, is a positive for them."
The Cardinal, however, will be without one of their veteran leaders in defensive end
Ben Gardner
, who is out of the rest of the year with a pectoral injury. The fifth-year senior was a team captain and has been an integral part of Stanford's defensive success for not only his pass-rushing abilities, but also for his ability to occupy blockers which opens things up for the outside linebackers. However, the Cardinal will get defensive end
Henry Anderson
back, who has been out since September with a knee injury.
Josh Mauro
, who has been filling in for Anderson, will replace Gardner.
Despite Gardner's absence, there isn't much this Cardinal team hasn't seen. And it's that experience they'll draw from against an Oregon team that averages more than 55 points per game.
"When things don't go our way during the game, we don't lament over it," Shaw said. "I think our maturity helps that. When you don't play your best football and end up in a tight game, we don't have a lot of guys spending a lot of time being upset how they didn't play well in the first or second or third quarter. They know it's a tight game. They know they have a chance to win it so let's go out and win it."
And the Cardinal also know they are going to have to get their offense moving more efficiently than it has in the last three games -- two of which were decided by eight or fewer points. Stanford has averaged slightly more than three touchdowns per game. And a lot of that falls on the shoulders of quarterback
Kevin Hogan
.
"When Kevin has a not-great game, it's mechanics, and we've got to keep working on that and get him to be consistent and he's working extremely hard," Shaw said. "Everybody hates when I say it, but he's still young. We don't have a huge sample size of him playing football. He played so well early that everyone is shocked when he doesn't have a great game. But I think the arrow is still pointing up. He's got a chance to be a great college quarterback and we hope that surfaces again this week coming up."
November, 5, 2013
11/05/13
7:00
PM ET
Trent Murphy
and his Stanford teammates walked off the field at Oregon State on Oct. 26 with a variety of emotions. They were happy they'd won, but their 20-12 victory was not terribly impressive, at least on the offensive side of the ball. Further, disappointed Beavers fans quickly reminded them of the bigger birds that lay ahead.
Murphy, who is battling UCLA's
Anthony Barr
for Pac-12 Defensive Player of the Year, really didn't need to be reminded. As soon as the clock hit zero, his mind switched focus to the game upon which the Cardinal's season will be measured: Oregon.
"It was almost immediate for me walking off the field," he said. "Even the Oregon State fans as we walked off the field were going, 'OK, well at least go beat the Ducks.' You couldn't help but go right to that."
[+] Enlarge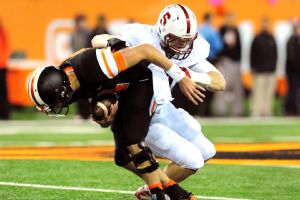 Steve Dykes/Getty ImagesTrent Murphy leads the Pac-12 in sacks and tackles for a loss.
The same could be said for Stanford coach David Shaw, only his mind turned to what it was going to take to beat the unbeaten, No. 3 Ducks. He didn't see it on the field of Reser Stadium.
"Coach Shaw got on us after the game a little bit, saying that effort, making mistakes, won't be good enough to beat a team like Oregon," Murphy recalled. "We didn't have too much room for excitement after that game playing the way we did."
Monday afternoon, after a bye week to cogitate over the matter -- Stanford players do not merely think, they cogitate -- Murphy tweeted his thoughts on the Thursday night matchup: "Oregon is a good football team. But this week game plan is simple -- Hard Work, Trust, Discipline, and one mean S.O.B. attitude."
That about sums it up. It sums up the way Stanford approached the 2012 game, a shocking 17-14 overtime victory in Autzen Stadium that would be the Ducks' only defeat. And it sums up Murphy.
Murphy, an AP third-team All-American and first-team All-Pac-12 pick in 2012, leads the Pac-12 in sacks (9.5) and tackles for a loss (13.5). He also has six quarterback hurries, an interception returned 30 yards for a touchdown and a blocked kick.
The 6-foot-6, 261-pound senior is playing his way into the first round of the NFL draft this spring. Mel Kiper ranks Murphy
25th on his big board
, noting, "Murphy has shown me a little more quickness this year and I think it translates into a potential Round 1 selection. He can play standing up or with his hand on the ground, and can attack defenders with his eyes up, so he doesn't lose run leverage and will knock down passes. One of the country's top sack artists this season."
Shaw has several years of NFL coaching experience and he's fielded plenty of calls from former colleagues about Murphy.
"They are intrigued by his versatility," Shaw said. "Some of them are looking at him as a guy who can play open defensive end. Some of them look at him as a strong-side base end on the outside shoulder of a tackle. And some of them look at him as a 3-4 outside linebacker, like what we are doing, strong side or week side."
But first things first: Oregon.
The No.5 Cardinal are a 10 1/2-point underdog at home. The general feeling is the Ducks are looking for some style points against a highly rated foe in order to keep Florida State at bay in the BCS standings. Oregon QB
Marcus Mariota
, who played his only poor game last year against the Cardinal, also could cement his status as the Heisman Trophy frontrunner.
Hardscrabble Stanford isn't adverse to dipping into the "disrespect" reservoir for a motivational angle when facing their flashy North Division rivals. After all, it worked last year when the Cardinal were a three-touchdown underdog.
"It's not a strange position for us to be in, having people betting against us," Murphy said. "We feel more comfortable when everyone writes us off."
Murphy almost certainly will play a key role if the Cardinal are going to duplicate last year's surprising result. Last year, he had two sacks against the Ducks, leading an inspired defensive effort.
Stanford even forced Mariota to throw an interception. That's notable because he hasn't tossed one since then, as he's set a new Pac-12 record with 293 passes without an interception. Mariota had a 77-yard run last year, but even that became more notable as a positive for Stanford, which caught him from behind and then held the Ducks on fourth down.
Of course, Mariota is a much more refined, mature player as a second-year starter. The Ducks passing game is significantly better, too. Mariota passed for 206 yards per game in 2012. This year, it's 285 yards per game.
"You have to respect Mariota and his ability to make plays," Murphy said. "He's a phenomenal athlete. It's typical Oregon. They have great athletes who can make big plays. They will crease you. The thing is you've got to limit the big plays and tackle the football."
Shortly before last year's game, Stanford defensive coordinator Derek Mason cryptically referenced "deep water" to the Pac-12 blog, which had no earthly idea what he was talking about. After the game, he clarified.
Deep water is the screws tightening in a high-stakes game late in the fourth quarter. Stanford is accustomed to deep water. It is willing to be uncomfortable because it believes its opponent is more so. Deep water is something Oregon rarely encounters, mostly because it blows opponents out.
Of course, part of that is Ducks swim well. Washington and UCLA got the Ducks into a close fourth quarter this year, trailing by just a single touchdown. They ended up losing by 21 and 28 points, respectively.
Still, deep water is where Stanford thinks it has an advantage.
"Deep water is always the plan," Murphy said. "We feel comfortable in close games, dragging our opponent into deep water in the fourth quarter. If we can get into that position again, we're in a good place."
Then maybe that "mean S.O.B. attitude" can take over and again stun the nation.
November, 5, 2013
11/05/13
12:00
PM ET
Contrary to what you see on the field, Oregon quarterback
Marcus Mariota
is in fact a human being. And as a human, he is susceptible to the same emotions as everyone else. Yes, he gets excited. Yes, he gets nervous. And yes, he even occasionally gets just a little bit scared.
But what has set Mariota apart from his contemporaries is that he's able to keep those emotions in check. He never gets
too
excited. Or
too
nervous. And fear? Well, he's only let fear creep underneath his helmet one time in his career.
[+] Enlarge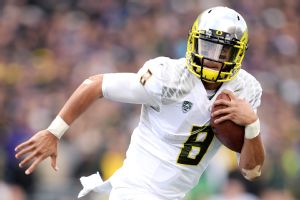 Allen Kee/ESPN ImagesOregon quarterback Marcus Mariota hasn't lost -- or thrown an interception -- since last year's overtime defeat against Stanford.
That would be in last year's 17-14 overtime loss to Stanford in Eugene, the lone smudge on an otherwise exquisite resume. The quarterback of the No. 3 Ducks is 20-1 as a starter heading into Thursday's showdown with the No. 5 Cardinal in Palo Alto, Calif. The "1" lingers heavily for Mariota this week. Not as a symbol of failure, but rather a badge of experience.
"Being able to go through losing and being able to deal with failure a little bit was good in the sense that it helps me overcome that fear," Mariota said. "Just being able to experience that and learn from that has made me a better player.
"I've been raised to not fear anything, really. What it came down to was last year we were sitting undefeated and I think I tried to press a little bit. We were in the hunt for a national championship and I became tentative in the sense that I didn't want to lose the game. I wasn't playing like myself. To be able to go through that and learn from it really has helped me this year and help me know I can have the confidence to play well in any situation."
Since that loss, Mariota has thrown for 2,587 yards, 23 touchdowns and zero interceptions in 10 games. In fact, the last time he threw an interception was during last season's loss to Stanford. Since then he's attempted a Pac-12-record 293 passes without a pick.
Oh, yeah. Can't forget about the 658 rushing yards and 11 rushing touchdowns since that Stanford loss.
"It's mastery," said Stanford coach David Shaw. "Mastery of the quarterback position. I thought he was the best in the country last year and I think he's the best this year. Why nobody is talking about him as the No. 1 overall pick, I don't understand. He's 6-5. He's really smart. He's unbelievably accurate. There is no wobble on his passes. Everything is precise and a quick release. Oh, by the way, he runs a 4.4. He's that combination of Andrew Luck and Robert Griffin. You're not choosing between one or the other. You've got both. The big, physical imposing pocket passer and the guy that can outrun everybody. How you pass up a guy like this and have to play against him I'll never know.
"... You put all of that into one with his maturity and the fact that this is a guy you could give a franchise to and know it's going to be in good hands. Am I hoping he leaves, absolutely? Am I trying to talk him into leaving, maybe?"
Oregon coach Mark Helfrich, who was Mariota's offensive coordinator last year under Chip Kelly, won't pin the loss on his quarterback, who was a redshirt freshman 10 games into his college career and playing in a tight game for the first time. In fact, Mariota didn't really have a bad game. He was 21-of-37 for 207 yards with a touchdown and the lone interception. He also carried 12 times for 89 yards.
"It was one of those things where it was an outstanding defense from an outstanding program," Helfrich said. "We didn't put our best foot forward for whatever reason. He's certainly a part of that in terms of decision-making. If he uses that to prepare better this year leading up to the game, great."
And the hype leading up to this game has been months in the making. The winner of this game the last two years has gone on to win the Pac-12 championship. And the BCS and national championship implications speak for themselves.
Helfrich said he believes Mariota is better equipped to handle the pressure of such a big game this time around.
"I think it all starts with his approach," Helfrich said. "Going into his second season, he has a great desire to get better. He's the type of guy you want to be around as a coach. Not just because of his ability, but because he comes to compete every single rep of every single day. He wants to win every one-on-one. Every rep he takes, he wants to maximize it. To have your marquee guy have that mentality is contagious.
"The biggest thing he's done is develop an overall command-and-control type of leadership from a knowledge standpoint and an execution standpoint in our offense. He's developed a ton as a leader."
November, 4, 2013
11/04/13
12:00
PM ET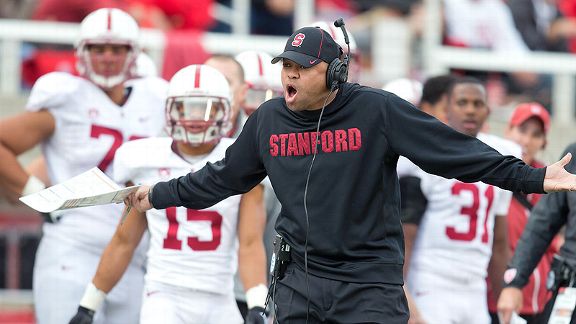 Russ Isabella/USA TODAY SportsStanford coach David Shaw is 1-1 against Oregon and 30-5 overall.
Stanford had just torn the hearts out of Oregon and its fans inside Autzen Stadium. The Ducks' unbeaten season had ended in shocking fashion. National championship hopes had been kicked to the curb.
"It's such an honor to come into this stadium and beat a phenomenal team," the Stanford quarterback said after the victory.


A gracious, classy and perhaps rare take from a college player. But no, that was not
Kevin Hogan
talking about the Cardinal's 17-14 overtime upset of the Ducks in Autzen Stadium last Nov. 17 that ruined the Ducks' drive for a berth in the 2012 national title game. It was Stanford's backup quarterback, Chris Lewis, talking about the Cardinal's 49-42 win in Autzen Stadium on Oct. 20, 2001, that ruined the Ducks' drive for a berth in that season's national championship game.
Lewis' postgame quote, however, generally sums up the Oregon-Stanford series, which Thursday night again will be the Pac-12 game of the year. There appears to be little animosity and a good dose of respect between the Ducks and Cardinal, who both own road wins as underdogs against each other in the past three years.
Though they are very different institutions, playing football in very different ways and, well, dressing very differently while doing so, the rivalry between the Pac-12's top two teams in the past four seasons doesn't include much ill will compared to the rivalries between Oregon and Washington and USC and UCLA.
Perhaps it should, at least in terms of what Stanford and Oregon have taken away from each other through the years, and not just during their recent and simultaneous rise to join the nation's elite.
Nine times since 1964, Stanford has handed Oregon its first defeat of the season. Twice it was the Ducks' only defeat. Without a loss to Stanford in 1995, the Ducks would have played in a second consecutive Rose Bowl in Mike Bellotti's first season.
Oregon has returned the favor of late as Stanford became nationally relevant. The Cardinal lost just one regular-season game in both 2010 and 2011. To Oregon.
Stanford's win in Autzen Stadium last year was shocking in many ways. The Ducks had owned the Cardinal and Andrew Luck the previous two years, so much so that in advance of the 2012 season, Stanford coach David Shaw openly admitted his team had an "Oregon problem," though he reasonably noted that the entire Pac-12 shared the Ducks conundrum.
Yet, as stunning as it was to witness the Cardinal shut down the Ducks' offense last November, the 2001 game eclipsed it 20-fold in terms of sheer nuttiness.
While some of Oregon's younger fans might not remember 2001, the older ones surely slapped their foreheads upon seeing the name "Chris Lewis" again. In that contest, the unbeaten and fifth-ranked Ducks were seemingly cruising, leading 42-28 in the fourth quarter at home, with Stanford quarterback Randy Fasani knocked out of the game in the second quarter.
But things went haywire in the fourth quarter, particularly on special teams, when Stanford blocked two punts and recovered an onside kick. Still, it appeared the Ducks would prevail 42-41 when they blocked the potentially game-tying PAT.
Unfortunately for Oregon, quarterback Joey Harrington was turning in his only poor performance of the season. On third-and-1 from Oregon's 30, Harrington was hit by safety Tank Williams, and his throw was picked off by diving defensive end Marcus Hoover at the 33 (it was Harrington's second interception of the game). After Stanford scored the go-ahead TD, Harrington, who had led nine fourth-quarter comebacks in his career and was popularly known as "Captain Comeback," threw four consecutive incompletions from the Cardinal 37.
The normally straightforward Associated Press report noted that the game "had everything but aliens landing on the Autzen Stadium turf."
Oregon, one of the earliest victims of a BCS controversy, went on to finish No. 2. Bellotti showed up at the Rose Bowl, host of the BCS title game, to watch Miami stomp overmatched Nebraska, a team that was blown out in the regular-season finale by Colorado, a team the Ducks had crushed in the Fiesta Bowl.
Yes, there were a fair share of what-ifs from the Ducks, not unlike last year, though it's worth remembering that Miami team was one college football's all-time great squads.
Of course, things were much different for both Oregon and Stanford in 2001. Neither team had established itself as a consistent national power. In fact, both would go through significant downturns thereafter, particularly Stanford.
In 2007, both programs made inspired decisions that inspired initial befuddlement among media and fans: Bellotti hired Chip Kelly away from New Hampshire, an FCS team, to coordinate his offense, and Jim Harbaugh was plucked away from San Diego, another FCS team, by Stanford. Harbaugh brought along Shaw to coordinate his offense.
As isolated events, the Stanford-Oregon game on Oct. 20, 2001, and some buzz-less coaching hires in 2007 didn't resonate nationally. But from a long-term view, they are notable dots to connect for what has become one of the nation's best and most meaningful rivalries.
Even if the teams don't provide much cartoonish trash talk to foment the hype.
Pac-12 Teams Can Load Up At WR
PAC-12 SCOREBOARD
Thursday, 9/3
Friday, 9/4
Saturday, 9/5