A wild week for the West's best
January, 31, 2014
Jan 31
11:00
AM ET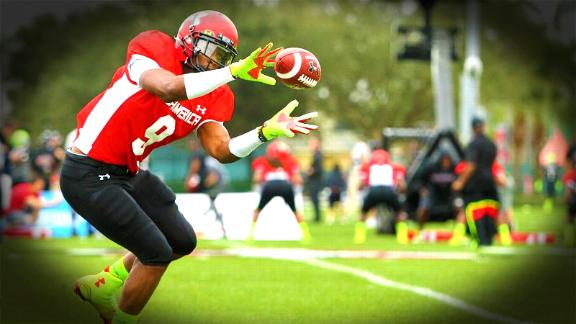 Plenty of attention will be paid to the West on signing day, as four of the region's top eight recruits are set to announce their commitments on Wednesday. That number -- which includes the top-ranked uncommitted prospect in
Adoree' Jackson
(Gardena, Calif./Serra) -- dwarfs that of the top eight prospects in any of the other regions.
But before each makes a huge statement on signing day, all made some noise this week, as this region and the Pac-12 conference sets up for a very interesting day on Feb. 5.
To continue reading this article you must be an Insider
Insider
Dr. Lou's Week 4 Picks
Lou Holtz makes his predictions for Saturday's top matchups.
Dr. Lou's Week 4 Picks
VIDEO PLAYLIST
OREGON FB RECRUITING SCORECARD
ESPN_Pac12blog

ESPN_Pac12blog


Week 4 Picks: Oregon hits the road for the first time but shouldn't have any trouble at Wazzu. http://t.co/suxlnXmNIw http://t.co/6obfE9u4y5
14 minutes ago

ESPN_Pac12blog

ESPN_Pac12blog


It may make Oregon nervous, but Marcus Mariota's risk-taking will end up being the Ducks' gain http://t.co/5N9KMOAMfQ http://t.co/a3SHmlnIlU
29 minutes ago

ESPN_Pac12blog

ESPN_Pac12blog


ICYMI: A walk to work with Mike Leach reveals plenty about the Washington State head coach. http://t.co/X6Accgdl3U http://t.co/nMO6uoWUoK
about an hour ago

ESPN_Pac12blog

ESPN_Pac12blog


Week In Review: The Pac-12 released its 2015 schedule. Here's a team-by-team breakdown with nonconference highlights. http://t.co/lKMzmUpPTv
about an hour ago

ESPN_Pac12blog

ESPN_Pac12blog


Week In Review: The #4pac debates which defensive player has been most impressive thus far. http://t.co/d0zdWXYJ5u http://t.co/2GKAUdByTK
about an hour ago

DuckSportsNow

Duck Sports Now


Pac-12 viewer's guide: Week 4 http://t.co/dTgok5xODP
about an hour ago

ESPN_Pac12blog

ESPN_Pac12blog


ICYMI: Football was almost taken away from Utah QB Travis Wilson after a health scare. http://t.co/Mx6vAem393 http://t.co/Y8rkU3kKKW
about an hour ago

ESPN_Pac12blog

ESPN_Pac12blog


Week In Review: Cal is entering Pac-12 play vs. Arizona with a sense of cautious optimism. http://t.co/pluxLHy1Gs http://t.co/SyReWvfwN6
about an hour ago

ESPN_Pac12blog

ESPN_Pac12blog


Week 4 Picks: Can Dres Anderson and Utah keep up their high-scoring ways in the Big House? http://t.co/suxlnXmNIw http://t.co/GrLgvYvuSZ
about an hour ago

ESPN_Pac12blog

ESPN_Pac12blog


Week In Review: Oregon isn't playing favorites when it comes to targeting its receivers. http://t.co/7WztLr7syT http://t.co/fL4sybc3ZX
about an hour ago

ESPN_Pac12blog

ESPN_Pac12blog


Pac-12 viewer's guide: Week 4 http://t.co/rmCLTkulYX
about 2 hours ago

Pac12Networks

Pac-12 Networks


Shout out to @kristaaaa16 who had our #WISCvsUW Play of the Game for this insane kill in the fifth set. Just wow: http://t.co/UPZlYMkJ1t
about 9 hours ago

Pac12Networks

Pac-12 Networks


That's a wrap in Seattle! No. 5 @UWVolleyball takes down No. 4 Wisconsin in five sets. #BowDown #WISCvsUW http://t.co/k8ndFHvkcg
about 9 hours ago

Pac12Networks

Pac-12 Networks


No. 5 @UWVolleyball is in a row with No. 4 Wisconsin, fighting for a fifth set. Watch here: http://t.co/8RVS8frVpX #WISCvsUW
about 10 hours ago

DuckSportsNow

Duck Sports Now


Dr. Lou's Week 4 Picks http://t.co/e1MN9xf94I
about 11 hours ago

oregonliveducks

oregonlive.com/ducks


Jameis Winston: Florida State suspends quarterback for entire game against Clemson http://t.co/a8aMqf5LEy #goducks
about 11 hours ago

Pac12Networks

Pac-12 Networks


.@pac12 partner @att says never to text and drive. Post #X to let your friends know you're about to drive & can't respond #ItCanWait
about 11 hours ago

Pac12Networks

Pac-12 Networks


#NW: Our nightcap of #pac12vb is a UW vs UW showdown in Seattle. #WISCvsUW http://t.co/YfMNDWLu5w http://t.co/tog107aSVR
about 11 hours ago

DuckSportsNow

Duck Sports Now


Pac-12 Football Preview: Week 4 http://t.co/Njv47Clapz
about 12 hours ago

Pac12Networks

Pac-12 Networks


All smiles for @uscwomensvolley in Seattle. #UMDvsUSC http://t.co/M9FqJvAvSL
about 12 hours ago

Pac12Networks

Pac-12 Networks


.@uscwomensvolley holds on to defeat Maryland in straight sets! Check out our play of the game. #UMDvsUSC #FightOn http://t.co/pndUtUh7AT
about 12 hours ago

DuckSportsNow

Duck Sports Now


Get to know Ducks LT Matt Pierson http://t.co/0tdX1PTvBa
about 13 hours ago

Pac12Networks

Pac-12 Networks


The Pac-12 is proud to support the #ItsOnUs campaign. Find out more and take the pledge: http://t.co/uw1t4liaWl http://t.co/6pAjhULjtZ
about 14 hours ago

Pac12Networks

Pac-12 Networks


Play of the Match from No. 15 @CalMensSoccer's 4-2 win over No. 11 Delaware goes to Christian Thierjung. http://t.co/t6rIJkI1J6 #DELvsCAL
about 14 hours ago

Pac12Networks

Pac-12 Networks


Cue the sprinklers at Edwards Stadium! @calmenssoccer gets the impressive W vs. Delaware #DELvsCAL http://t.co/pCsDMjXu0n
about 14 hours ago

samkatzman7

Sam Katzman


Tony Washington Jr. (@Dubb_drick) is someone you want your kids looking up to. http://t.co/yYbD0vKIxj #GoDucks #OregonFB
about 14 hours ago

DuckFootball

Rob Moseley


The Ducks are on the ground in the Evergreen State. T-minus 27 hours. #GoDucks
about 15 hours ago

DuckSportsNow

Duck Sports Now


http://t.co/Y8ZdgqajKK's most popular stories of the week http://t.co/YVFGevoaWP
about 15 hours ago

DuckSportsNow

Duck Sports Now


Behind the scenes: Oregon Cheer on game day http://t.co/cSw8Jen3Dn
about 15 hours ago

Pac12Networks

Pac-12 Networks


No. 2 @uclawaterpolo is off to Stockton for the NorCal Classic this weekend. http://t.co/H0TYGETmU4 http://t.co/v8ey443ZSZ
about 15 hours ago

ESPN_Pac12blog

ESPN_Pac12blog


Week In Review: Marcus Mariota checked in at No. 1 in this week's Pac-12 QB Power Rankings. http://t.co/STKRCwSbuP http://t.co/Q2hdcVYlqv
about 15 hours ago

DuckSportsNow

Duck Sports Now


Mailbag: USC plays, Oregon greatness http://t.co/NRkMX25euF
about 15 hours ago

CalMensSoccer

Cal Men\'s Soccer


Theirjung's pair of goals came after his first career start! The forward made 20 appearances during his freshman campaign.
about 15 hours ago

ESPN_Pac12blog

ESPN_Pac12blog


Chat: CFB Saturday Live http://t.co/kxoG0ONbba
about 15 hours ago

J_campbell_COS

JORDAN CAMPBELL COS


Make sure you follow @checkdat6 ( DeAnthony Thomas) the newest @j_campbell_cos business partner . Our… http://t.co/fuT6QWygco
about 15 hours ago

Pac12Networks

Pac-12 Networks


.@CalMensSoccer's Christian Thierjung putting on celebration display. 2 goals in the first 5 minutes. #DELvsCAL Gif: http://t.co/rpngUAyQgV
about 16 hours ago

ESPN_Pac12blog

ESPN_Pac12blog


Week In Review: The Pac-12 released its 2015 schedule. Here's a team-by-team breakdown with nonconference highlights. http://t.co/lKMzmUpPTv
about 16 hours ago

DuckSportsNow

Duck Sports Now


Why the Washington State Cougars can stop the Oregon Ducks: What they're saying in Washington http://t.co/UcmEyfmF9m
about 16 hours ago

DuckSportsNow

Duck Sports Now


Pharaoh Brown takes the reins in Oregon Ducks' tight end race http://t.co/eTwqRoGkHt
about 16 hours ago

Pac12Networks

Pac-12 Networks


#NW: More Cal! This time, it's @calmenssoccer's turn at Edwards. #DELvsCAL http://t.co/YfMNDWLu5w http://t.co/GKUxMzTX59
about 16 hours ago

Pac12Networks

Pac-12 Networks


.@uscwomensvolley will look to get back in the W column this evening in Seattle. http://t.co/x4lo95XI2n #UMDvsUSC http://t.co/RWcVd1x5oP
about 16 hours ago

ESPN_Pac12blog

ESPN_Pac12blog


Week In Review: It may make Oregon nervous, but the Ducks need to turn Marcus Mariota loose. http://t.co/5N9KMOAMfQ http://t.co/2BbTaPrZgi
about 16 hours ago

Pac12Networks

Pac-12 Networks


Play of the Match from @CalWomensSoccer's 3-0 W over Pacific goes to Taylor Comeau for this goal: http://t.co/j1s9KpV2dz #UOPvsCAL
about 16 hours ago

Pac12Networks

Pac-12 Networks


It's all over in Berkeley, and @CalWomensSoccer just keeps filling the net. #UOPvsCAL http://t.co/h7kgNXLWHb http://t.co/oDkiRAt7RW
about 16 hours ago

ESPN_Pac12blog

ESPN_Pac12blog


Mailbag: USC plays, Oregon greatness http://t.co/7eR9KmJGdC
about 16 hours ago

DuckSportsNow

Duck Sports Now


Pac-12 power rankings, Week 4 forecast http://t.co/eJbcn1xmuy
about 17 hours ago

UOPintens

Craig Pintens


Nice custom headrest on the plane today. #WTD #GoDucks http://t.co/vbKSELgYsI
about 17 hours ago

DuckFootball

Rob Moseley


Almost time for wheels up to Washington. #GoDucks http://t.co/8qjC7tJP0q
about 17 hours ago

ESPN_Pac12blog

ESPN_Pac12blog


Week In Review: QB injury scares beg the question: What's the backup plan for Pac-12 teams? http://t.co/C1GZL7RHa9 http://t.co/YSwMpSPgnM
about 17 hours ago

Pac12Networks

Pac-12 Networks


It's Taylor Comeau again! Follow the bouncing ball into the ol' onion bag to make it 3-0 Cal. #UOPvsCAL http://t.co/fUrXnp47CX
about 17 hours ago

MightyWhoregon

Old Ginger


#Fixed RT @CFBMatrixMag: Winningest College Football Teams in each State, RT if your school is on here... http://t.co/8Bm5lNGG1s
about 17 hours ago

Pac12Networks

Pac-12 Networks


The scoreboard operator in Pullman might be working overtime tomorrow. http://t.co/6bVN3R3P4Y http://t.co/1xvoCNnSbv
about 17 hours ago

DuckSportsNow

Duck Sports Now


Oregon Football Practice Recap: Sept. 19 http://t.co/7F0ybcaDRd
about 17 hours ago

ESPN_Pac12blog

ESPN_Pac12blog


What to Watch Week 4: Expect Travis Wilson and Utah to cause Michigan problems on Saturday. http://t.co/FTjolnSH5y http://t.co/r95BJnonzl
about 17 hours ago

Pac12Networks

Pac-12 Networks


Sweet pass! This dish to Taylor Comeau gave @CalWomensSoccer a 2-0 lead. #UOPvsCAL #12best http://t.co/k0GO6UZxrs
about 17 hours ago

oregonliveducks

oregonlive.com/ducks


Why the Washington State Cougars can stop the Oregon Ducks: What they're saying in Washington http://t.co/2oUnzg4dn4 #goducks
about 17 hours ago

oregonliveducks

oregonlive.com/ducks


Pharoah Brown takes the reigns in Oregon Ducks' tight end race http://t.co/7csQpApq8E #goducks
about 17 hours ago

Pac12Networks

Pac-12 Networks


Fire up the grill: The @GoRVing Pac-12 Tailgate Tour made a stop at Stanford this week. http://t.co/UDtkATnVS1
about 17 hours ago

ESPN_Pac12blog

ESPN_Pac12blog


Week In Review: Two former MWC stalwarts reunite when Utah travels to Michigan. http://t.co/EFz8qg9RQx http://t.co/gML3O4eOXH
about 17 hours ago

oregonliveducks

oregonlive.com/ducks


Alex Ofodile, Oregon Ducks signee, accepts Under Armour All-American jersey http://t.co/VzC8XfNEMg #goducks
about 17 hours ago

Pac12Networks

Pac-12 Networks


Can't get enough Cal soccer? @CalMensSoccer is coming up on the Networks today, too. #DELvsCAL http://t.co/ZeOpkLIPeM http://t.co/A61Hya455X
about 18 hours ago

kellygraysports

Kelly Gray


Not a bad view for @calathletics women's soccer. Catch @leslieosborne12 on @pac12networks right now! http://t.co/IUx3HVBzpS
about 18 hours ago

McNamaraUO

Andy McNamara


Marcus Mariota introduces himself to a young fan after today's walk through #FridayFocus #SuperMariota http://t.co/rkxgNaUtKN
about 18 hours ago

Pac12Networks

Pac-12 Networks


.@ArizonaTrack and @SunDevilTFXC are amongst the teams competing at tonight's Dave Murray Invitational. http://t.co/mQe0yKMued
about 18 hours ago

ESPN_Pac12blog

ESPN_Pac12blog


Week In Review: Arizona might the least glamorous 3-0 team in the nation. http://t.co/f6WLVT0ViD http://t.co/cy7eDW61Pq
about 18 hours ago

DuckFootball

Rob Moseley


Oregon Football Practice Recap: Sept. 19 http://t.co/bL9FKYkMDt #GoDucks
about 18 hours ago

CalWomensSoccer

Cal Women\'s Soccer


Here's a look at @swittyyy's goal that put the Bears up 1-0 over Pacific! GIF: http://t.co/vOfkR3BwWP
about 18 hours ago

DuckSportsNow

Duck Sports Now


The logical fallacy Duck fans apply to the Ducks http://t.co/1euQKxPmc3
about 18 hours ago

Pac12Networks

Pac-12 Networks


GOAL! Samantha Witteman nets her 3rd goal of the year to give @CalWomensSoccer a 1-0 lead. Watch: http://t.co/YfMNDWLu5w #UOPvsCAL
about 18 hours ago

DuckSportsNow

Duck Sports Now


Is Mariota the best player in college football? http://t.co/mIWg3i4Fhw
about 18 hours ago

DuckSportsNow

Duck Sports Now


Oregon in top five for R250 DT http://t.co/9hDdlWRKYx
about 18 hours ago

DuckSportsNow

Duck Sports Now


Marcus Mariota records watch 2014: Week 4 http://t.co/f4AWx39t8n
about 18 hours ago

DuckSportsNow

Duck Sports Now


Video exclusive: Jimmie Swain http://t.co/X4FKoHoQ9U
about 18 hours ago

Pac12Networks

Pac-12 Networks


Forget fall ball - this year, @ASU_Baseball is going with a full fall SERIES. http://t.co/jMUehwnJZH http://t.co/sVVWUP70Cg
about 18 hours ago

DuckSportsNow

Duck Sports Now


College football: Picks of the Week http://t.co/ztfO2HRTSk
about 18 hours ago

Pac12Networks

Pac-12 Networks


Game on in Berkeley! Chat about today's @CalWomensSoccer game with #UOPvsCAL. http://t.co/YfMNDWLu5w http://t.co/2drHapPj6e
about 18 hours ago

ESPN_Pac12blog

ESPN_Pac12blog


Week In Review: Injuries and implosions muddle the Pac-12 South picture. http://t.co/lFd9D8oxBY http://t.co/A5VjWBejL9
about 18 hours ago

Pac12Networks

Pac-12 Networks


#NW: Our @CalAthletics doubleheader starts with some @calwomenssoccer! #UOPvsCAL http://t.co/YfMNDWLu5w http://t.co/YF5a44VaNQ
about 19 hours ago

CalMensSoccer

Cal Men\'s Soccer


Good luck to No. 10 @CalWomensSoccer as they take on #Pacific in 10 minutes at Edwards Stadium on @Pac12Networks! #GoBears #UnleashCal
about 19 hours ago

McMurphyESPN

Brett McMurphy


MSU DC Pat Narduzzi on MSU radio show: Oregon "no better than us. We'd like to play them (again) & probably have different result"
about 19 hours ago

DuckSportsNow

Duck Sports Now


Oregon Ducks explain Marcus Mariota's flip for a touchdown: Why It Worked http://t.co/BkxN7NANgD
about 19 hours ago

DuckSportsNow

Duck Sports Now


WSU aims to out shoot Ducks in Pullman http://t.co/0mjwHkYFPF
about 19 hours ago

DuckSportsNow

Duck Sports Now


Pac-12 football picks, Week 4: Shake if off, Sun Devils http://t.co/XEbq9F8PO4
about 19 hours ago

DuckSportsNow

Duck Sports Now


The Pac-12 has yet to live up to expectations in 2014 http://t.co/UFaG9oaAm8
about 19 hours ago

Pac12Networks

Pac-12 Networks


A big welcome to @GoStanford's cheer squad, who just popped by for a visit! http://t.co/mizYL7BmFQ
about 19 hours ago

Pac12Networks

Pac-12 Networks


ICYMI: @ArizonaFBall's Nick Wilson spent some quality time with the #Statisfaction gang yesterday: http://t.co/ke05Bqo59r
about 19 hours ago

DuckSportsNow

Duck Sports Now


Men's Golf Opens Season at Husky Invite http://t.co/BeHqRdf6Bz
about 19 hours ago

DSArivals

DuckSportsAuthority


Oregon in top five for R250 DT: After just completing his first official visit, Rivals250 defensive tackle Nev... http://t.co/MKOCfG2MxU
about 19 hours ago

Pac12Networks

Pac-12 Networks


20 percent of women are sexually assaulted while in college. Join us in helping to change that. #ItsOnUs http://t.co/Q7ovhyHQ17
about 19 hours ago

Pac12Networks

Pac-12 Networks


20 percent of women are sexually assaulted while in college. Join us helping to change that. #ItsOnUs http://t.co/uw1t4liaWl
about 19 hours ago

ESPN_Pac12blog

ESPN_Pac12blog


Upstart QBs headline Cal-Arizona game http://t.co/YkYr1pDFo9
about 19 hours ago

MightyOregon

Yell O


Local news: @EugeneEmeralds now a Chicago @Cubs affiliate. 2-year contract through 2016 season.
about 20 hours ago

Pac12Networks

Pac-12 Networks


Think fast: Who leads the Pac-12 in catches and receiving yards? This guy. Links: http://t.co/PJG624TWZv http://t.co/iTwNCV9sZ6
about 20 hours ago

DuckSportsNow

Duck Sports Now


Meet Oregon Ducks freshman Justin Hollins: Q&A http://t.co/tw7QV6RNzy
about 20 hours ago

DuckSportsNow

Duck Sports Now


Oregon Ducks game preview: How Washington State could upset the No. 2 Ducks http://t.co/00HBRnZam6
about 20 hours ago

oregonliveducks

oregonlive.com/ducks


Oregon Ducks explain Marcus Mariota's flip for a touchdown: Why It Worked http://t.co/31uDlCBakk #goducks
about 20 hours ago

LeslieOsborne12

Leslie Osborne


At Edwards Stadium getting ready for the @CalWomensSoccer game! Bringing back some memories. Tune in @Pac12Networks
about 20 hours ago

Pac12Networks

Pac-12 Networks


.@CalWomensSoccer and its explosive offense will be on display in about 90 minutes. #UOPvsCAL http://t.co/h7kgNXLWHb http://t.co/SXHOakmbxB
about 20 hours ago

ESPN_Pac12blog

ESPN_Pac12blog


Week 4 Picks: What are the chances Utah can pull of an upset of Michigan in the Big House? http://t.co/suxlnXmNIw http://t.co/TnXBeTnjIq
about 20 hours ago

DuckSportsNow

Duck Sports Now


What to know: Oregon-Washington State http://t.co/JDyHtLFYI4
about 20 hours ago
BLOG ARCHIVE:
CATEGORIES: