Key recruiting visits -- Pac-12
January, 31, 2014
Jan 31
9:00
AM ET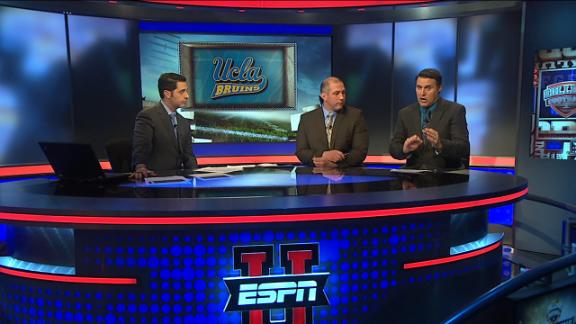 A number of big names will be on Pac-12 campuses this weekend for the final in-person push coaches can make before the dead period hits Monday. Listed below are 10 of the most important visits conference coaches have on their plates this weekend, as the finishing touches are put on some of the top classes in the country.
1. Wherever Adoree' Jackson (Gardena, Calif./Serra) goes, or doesn't go
To continue reading this article you must be an Insider
Insider
One Thing To Know: Pac-12 Recruiting
Recruiting reporter Erik McKinney discusses the top storyline to watch in 2015 college football recruiting within the Pac-12. Somewhat quietly, Washington State is putting together a potent class.
One Thing To Know: Pac-12 Recruiting
VIDEO PLAYLIST
OREGON FB RECRUITING SCORECARD
McNamaraUO

Andy McNamara


Ducks 8th RT @SBNationCFB: 15 FBS teams w/100+ wins since current recruits were 1st-graders: http://t.co/oNnv30qI0N http://t.co/nVvj4J6Hyz
14 minutes ago

Pac12Networks

Pac-12 Networks


Looking to get over the Friday hump? Think of this:August starts today. Fall sports start in August.It's all happening.
25 minutes ago

oregonliveducks

oregonlive.com/ducks


The final Oregon Ducks live chat of the offseason is here; have a question for reporter Andrew Greif? http://t.co/sTP8g1LE8w #goducks
26 minutes ago

oregonliveducks

oregonlive.com/ducks


Oregon Ducks opponent preview: Can Arizona reload after losses on offense? http://t.co/RzAU4Ug1ih #goducks
35 minutes ago

Pac12Networks

Pac-12 Networks


Happy Friday! @StanfordFBall would like to remind you that football is coming. http://t.co/7Ufsim6n6Y #pac12fb http://t.co/EGGKpbt9r8
42 minutes ago

DuckSportsNow

Duck Sports Now


Ducks to get visit from Crespi safety http://t.co/vJykjkbKB4
50 minutes ago

DuckSportsNow

Duck Sports Now


New coach impressed with Duck commit http://t.co/juDiykxGMb
50 minutes ago

Pac12Networks

Pac-12 Networks


Oh dear, it appears Facebook is down! Never fear: you can keep following Pac-12 Networks right here on Twitter dot com.
about an hour ago

DuckSportsNow

Duck Sports Now


Preseason camp preview: Special teams http://t.co/3QuNFFaBUd
about an hour ago

ESPN_Pac12blog

ESPN_Pac12blog


2014 Pac-12 Ultimate Road Trip: Week 14 http://t.co/GA2GMHY0aM
about an hour ago

DuckSportsNow

Duck Sports Now


ESPN Ranks Top Pac-12 Players for 2014, Three Oregon Ducks in Top Ten http://t.co/lppqzlPHil
about an hour ago

ESPN_Pac12blog

ESPN_Pac12blog


Pac-12 Ultimate Road Trip: Week 13 http://t.co/5KljVNj8g9
about 2 hours ago

DuckSportsNow

Duck Sports Now


Marcus Mariota three-peats atop Pac-12′s top player ranking: Oregon rundown http://t.co/vnxOTJYplM
about 2 hours ago

oregonliveducks

oregonlive.com/ducks


Marcus Mariota three-peats atop Pac-12's top player ranking: Oregon rundown http://t.co/rsBr7XmZQt #goducks
about 2 hours ago

ESPN_Pac12blog

ESPN_Pac12blog


Top Pac-12 players: Nos. 5-1 http://t.co/qQl95UWO3W
about 4 hours ago

ESPNOregon

ESPN Oregon


Top Pac-12 players: Nos. 5-1 http://t.co/RX5zGzbQ7o
about 4 hours ago

DuckSportsNow

Duck Sports Now


Chip Kelly Update: Tonka Trucks and a Media Blitz http://t.co/YbP2L7D9wU
about 4 hours ago

DuckSportsNow

Duck Sports Now


Division Power Rankings: Pac-12 South http://t.co/KHg0hggqM6
about 4 hours ago

oregonliveducks

oregonlive.com/ducks


Damian Lillard and Kyrie Irving go from rivals to friends, Timbers going big for All-Star Game: Orego... http://t.co/wnVwKmz0gv #goducks
about 5 hours ago

Pac12Networks

Pac-12 Networks


#NW: A Rumble in the Rockies goes overtime, where @CUBuffsMBB prevails. #RivalryWeek http://t.co/x006mkVYpB http://t.co/KsRduP2KDF
about 12 hours ago

Pac12Networks

Pac-12 Networks


Take a walk down Pac-12 memory lane with #VarsityDays starting this Sunday! http://t.co/q4TLRfJkJ2 http://t.co/4w4Hp1zo6J
about 12 hours ago

Pac12Networks

Pac-12 Networks


ICYMI: Here are the six #pac12fb teams in the 2014 preseason Coaches Poll. http://t.co/3TWAQmy36j http://t.co/fvrq63Tz23
about 13 hours ago

Pac12Networks

Pac-12 Networks


#NW: @SunDevilHoops gets Valentine's Day revenge on Arizona in a 2OT win. #RivalryWeek http://t.co/x006mkVYpB http://t.co/nmUAEhaEJn
about 14 hours ago

Pac12Networks

Pac-12 Networks


.@UWVolleyball's incredible season is one of many highlights in the UW edition of Timelines: http://t.co/gMuDLQWStP http://t.co/6kdqXquYWd
about 14 hours ago

DuckSportsNow

Duck Sports Now


Know the Opponent: MWC Part II http://t.co/shtmfHIRxk
about 14 hours ago

Pac12Networks

Pac-12 Networks


.@CalWLacrosse has a new head coach, and she comes to Berkeley from (gasp!) Stanford. http://t.co/o9PP7dUAAJ http://t.co/zbde7HQBWu
about 15 hours ago

DuckSportsNow

Duck Sports Now


Former Oregon Duck Tommy Thorpe can't quite leave Oregon as his professional career begins http://t.co/GpvLedW7i8
about 15 hours ago

Pac12Networks

Pac-12 Networks


#NW: A Sonoran Desert-sized romp by @APlayersProgram over ASU. #RivalryWeek http://t.co/x006mkVYpB http://t.co/tNAi6zxz4b
about 15 hours ago

KBDeuce4

Kenjon Barner


Through prayer and faith God will direct your path and place others around you that will help guide… http://t.co/5flNQQzrcF
about 15 hours ago

Prehmmr247

Matt Prehm


Yell-O? How about Jell-O! http://t.co/0bEhNnEHqF
about 16 hours ago

oregonliveducks

oregonlive.com/ducks


Former Oregon Duck Tommy Thorpe can't quite leave Oregon as his professional career begins http://t.co/E0WcnipsOc #goducks
about 16 hours ago

DuckSportsNow

Duck Sports Now


Oregon Ducks scratch-and-sniff football tickets: Best of Twitter reaction http://t.co/pOIHQLRynw
about 16 hours ago

Pac12Networks

Pac-12 Networks


.@UWSoftball pulled off one heck of a 2014 season. Relive it on their edition of Timelines: http://t.co/gMuDLQWStP http://t.co/LFcGEAnOfi
about 16 hours ago

UOPintens

Craig Pintens


According to @darrenrovell we either have expanded Autzen to 140K or only have 20k STHs. Neither is correct. #GoDucks
about 17 hours ago

WSUCougars

WSU Cougars


We're proud to announce Steve Gleason (@TeamGleason) as the lone 2014 WSU Athletic Hall of Fame inductee! #GoCougs http://t.co/9lRJbf5hrz
about 17 hours ago

oregonliveducks

oregonlive.com/ducks


Oregon Ducks scratch-and-sniff helmets, Will Barton gets contract gaurantee: Oregonian Sports Top 5 at 5 http://t.co/gvBYPNGnBe #goducks
about 17 hours ago

DuckSportsNow

Duck Sports Now


Oregon Ducks preseason No. 4 ranking sets table for potential playoff run http://t.co/usXeZhaOFJ
about 17 hours ago

DuckSportsNow

Duck Sports Now


Benson's Path of Progression Goes Through China http://t.co/0Pi5j0b8mv
about 17 hours ago

DuckSportsNow

Duck Sports Now


Federighi Earns NCAA Postgraduate Scholarship http://t.co/arSePp0yp4
about 18 hours ago

DuckSportsNow

Duck Sports Now


Ducks Ranked No. 4 in First Coaches Poll http://t.co/Z2jY84KLJp
about 18 hours ago

McNamaraUO

Andy McNamara


Heisman: Mariota; Rimington: Grasu #GoDucks RT @CFBONFOX: Predicting major awards for 2014. http://t.co/xCuUK3vdmR http://t.co/GmLfoOUKLd
about 18 hours ago

Pac12Networks

Pac-12 Networks


#NW: Dwight Powell's double-double carries @stanfordbball to victory over Cal. #RivalryWeek http://t.co/x006mkVYpB http://t.co/PyWKyNOeHR
about 18 hours ago

oregonliveducks

oregonlive.com/ducks


Pundits pick apart value of preseason polls: Pac-12 roundup http://t.co/rOwARMFyVB #goducks
about 18 hours ago

KMBCMattyD

Matty D


Guess who this ball is being thrown to? #ChiefsCamp PICS -> http://t.co/V6gpmyD5c5 @CheckDat6 #RunDat @kmbc http://t.co/RzVDcvDp2o
about 18 hours ago

65TPTPhotog

Steve Sanders


Learning the game @jcharles25 and @CHECKDAT6 checking in http://t.co/1WlE6LQnQ9
about 18 hours ago

24Randazzo_j

joe randazzo, bruh


Explosivness in a picture. http://t.co/2OMqo7jg7e
about 18 hours ago

ESPN_Pac12blog

ESPN_Pac12blog


Nonconference primer: Washington State http://t.co/Cbf28EPqfe
about 18 hours ago

KMBCMattyD

Matty D


VIDEO: @CHECKDAT6 fans to @kmbc: #RunDat #ChiefsCamp http://t.co/kAIvmbEqBW http://t.co/n92jyZ8wQ2
about 18 hours ago

DuckFootball

Rob Moseley


Oh wow. As a former copy editor myself, that is A-plus stuff. RT @DufresneLATimes This headline deserved a byline. http://t.co/EazeytW2Y8
about 19 hours ago

Pac12Networks

Pac-12 Networks


.@CalWLacrosse is welcoming Brooke Eubanks as its new head coach. http://t.co/o9PP7dUAAJ http://t.co/RutXUxgoPZ
about 19 hours ago

Pac12Networks

Pac-12 Networks


#NW: @CalMensBBall opens Pac-12 play in 2014 with a win over Stanford. #RivalryWeek http://t.co/x006mkVYpB http://t.co/qWVNLOGFYT
about 19 hours ago

KBDeuce4

Kenjon Barner


Through praye http://t.co/oM33mIYIn1
about 19 hours ago

KBDeuce4

Kenjon Barner


Through prayer and faith God will lead you to whet http://t.co/W8gB39VV68
about 19 hours ago

UOPintens

Craig Pintens


Facility pics. Flashback 1 yr ago today, the Hatfield-Dowlin opening http://t.co/ofgtKh93zU #tbt #GoDucks
about 20 hours ago

oregonliveducks

oregonlive.com/ducks


Oregon Ducks, Oregon State Beavers athletes bond with cancer survivors on special fishing trip http://t.co/nc2ANSlCI9 #goducks
about 20 hours ago

McNamaraUO

Andy McNamara


Whoa. I'll never unsee this #GoDucks RT @r_fullmer: Look! There's a flying Duck in the OSU Beaver Logo http://t.co/OGLfHl6BbF
about 20 hours ago

QuackCave

QuackCave


.@Univ_Of_Oregon students - Work in the coolest cave and join our social media team! Deadline is tomorrow. #GoDucks http://t.co/CT0QkGTz9P
about 20 hours ago

Pac12Networks

Pac-12 Networks


What smells like bread? Oh, it's those @OregonDuckTix season tickets. Roundup: http://t.co/8nQOEqEglV http://t.co/TchhEZeJov
about 20 hours ago

DuckSportsNow

Duck Sports Now


Pac-12 lunch links http://t.co/Eqn9t1AX6Y
about 20 hours ago

ADCalBears

Mike Williams


Welcome to the #CalFamily, @CalCoachEubanks! We are thrilled to have you leading our women's lacrosse program. http://t.co/TiDy2aMNg6
about 21 hours ago

DuckSportsNow

Duck Sports Now


Inside the position rankings: 2016 http://t.co/0Lf0n1w3pc
about 21 hours ago

USC_Athletics

USC Trojans


#TBT USC icons nearly a century apart, Louis Zamperini and Matt Barkley. #FightOn #Unbroken http://t.co/kzIpPjUIwG
about 21 hours ago

DuckFootball

Rob Moseley


ESPN is ranking the top 100 players in college football, and Oregon center Hroniss Grasu comes in at No. 24: http://t.co/35MuAchfO8 #GoDucks
about 21 hours ago

DuckSportsNow

Duck Sports Now


Half the Pac-12 ranked in coaches poll http://t.co/aFRXPXUBZL
about 21 hours ago

DuckSportsNow

Duck Sports Now


Florida State Seminoles are No. 1 in preseason coaches poll http://t.co/tT4Idi2m8m
about 21 hours ago

DuckSportsNow

Duck Sports Now


Oregon secondary is a primary asset: the DBoyz are on their grind http://t.co/Zhj3jFAxsr
about 21 hours ago

McNamaraUO

Andy McNamara


Coaches Poll pegs @WinTheDay at No. 4. Used to be a factor in the BCS formula, but obviously no more #GoDucks http://t.co/0kcPdHjiqN
about 22 hours ago

DuckSportsNow

Duck Sports Now


Oregon Ducks target Deondre Francois verbally commits to Florida State http://t.co/CIbYHDrz7c
about 22 hours ago

DuckSportsNow

Duck Sports Now


Oregon football ranked fourth in USA Today's coaches poll http://t.co/bTxLdU1Fn5
about 22 hours ago

Pac12Networks

Pac-12 Networks


ICYMI: Pauley Pavilion will be ready for hoops this year, AD Dan Guerrero says. http://t.co/HCXTcD0OLW http://t.co/wDA30ILyv2
about 22 hours ago

Pac12Networks

Pac-12 Networks


Step into the Pac-12 film vault this Sunday as the 2nd season of #VarsityDays debuts at 7 PT: http://t.co/sVVFU2yUn4 http://t.co/XqideFpn3e
about 22 hours ago

oregonliveducks

oregonlive.com/ducks


Oregon Ducks target Deondre Francois verbally commits to Florida State http://t.co/qiSDm7DndG #goducks
about 22 hours ago

oregonliveducks

oregonlive.com/ducks


LaMichael James estimates quick return to 49ers after elbow injury http://t.co/29TpUTWASg #goducks
about 22 hours ago

Pac12Networks

Pac-12 Networks


Who's next up on today's #pac12hoops #RivalryWeek schedule?http://t.co/4zRulq3hur http://t.co/c3QHH29I5E
about 23 hours ago

McNamaraUO

Andy McNamara


Well done @TorrodneyPrevot, Elijah George & Noke Tago #CivilWar #GoDucks #GoBeavs http://t.co/SaV4HmhJQC
about 23 hours ago

DuckSportsNow

Duck Sports Now


Ducks ranked No. 4 in preseason coaches poll http://t.co/Eykvpji3un
about 23 hours ago

DuckSportsNow

Duck Sports Now


Behold… the era of scratch and sniff tickets at UO begins http://t.co/7K5oCpJXYg
about 23 hours ago

JakeZivin

Jake Zivin


Michigan State, #4 Oregon's Sept. 6 opponent, is #8 in coaches poll. Their combined ranking of 12 is the lowest of any non-conference game.
about 23 hours ago

DuckFootball

Rob Moseley


UO football players @TorrodneyPrevot & Elijah George, w/ some OSU counterparts, take a special fishing trip: http://t.co/55n2rnvaXI #GoDucks
about 23 hours ago

nfldraftscout

Matt Miller


Marcus Mariota is my preseason No. 1 player for 2015 draft. Full scouting report on him coming Tuesday (8/5).
about 23 hours ago

ESPN_Pac12blog

ESPN_Pac12blog


Half the Pac-12 ranked in coaches poll http://t.co/InC2GcMYsw
about 23 hours ago

DuckSportsNow

Duck Sports Now


Oregon now using scratch-and-sniff tickets http://t.co/I0htpqh5Kg
about 23 hours ago

DuckSportsNow

Duck Sports Now


Amway Coaches Poll Sets Pace, Oregon Ducks Slated to Start Season at #4 http://t.co/jm3sjUwMyB
about 23 hours ago

DuckSportsNow

Duck Sports Now


Poll: Which teams will meet in December? http://t.co/rALPXQhZ5J
about 23 hours ago

Pac12Networks

Pac-12 Networks


#NW: @OregonMBB fends off a fierce OSU rally to beat the Beavers in Eugene. #RivalryWeek http://t.co/x006mkVYpB http://t.co/PuKMoq9ySB
about 23 hours ago

DuckSportsNow

Duck Sports Now


Oregon Ducks fall camp position breakdown: Offensive line; Oregon rundown http://t.co/B19JfToBlq
about 23 hours ago

DuckSportsNow

Duck Sports Now


Oregon Ducks highest of six Pac-12 teams ranked in first coaches poll http://t.co/pecM95l3Ep
about 23 hours ago

Pac12Networks

Pac-12 Networks


The first Coaches Poll of the season is out, and look who boasts six teams in the top 25? http://t.co/3TWAQmy36j http://t.co/miOUXTs0lQ
1 day ago

QuackCave

QuackCave


@KingCheserek needs your vote! RT @thebowerman: #TheBowerman2014 Fan Vote on Day 3 VOTE: http://t.co/wz4K0z7lOT http://t.co/Bed3MRDrtn
1 day ago

DuckSportsNow

Duck Sports Now


ATQ's "20 in 20": #8 – Dennis Dixon http://t.co/j3yRQSvQMJ
1 day ago

DuckSportsNow

Duck Sports Now


Quack Fix: Josh Sweat Visiting, Scratch and Sniff Tickets http://t.co/mlCGlTQ8Gx
1 day ago

DuckSportsNow

Duck Sports Now


Fall Preview: Defensive back http://t.co/Mg8Y3mxaGF
1 day ago

edsbs

Spencer Hall


Oregon's new defensive coordinator is Don Pellum. This is him showing you how to wear a suit. http://t.co/UrqUoIm934
1 day ago

ESPN_Pac12blog

ESPN_Pac12blog


Oregon now using scratch-and-sniff tickets http://t.co/tjdLnNdJVJ
1 day ago

TedMillerRK

Ted Miller


As for ranked nonconference foes: No. 8 Michigan State (Oregon); No. 17 ND (AS, ST, USC) & No. 24 Texas (UCLA)
1 day ago

DuckFootball

Rob Moseley


This is the fourth straight year @WinTheDay voted preseason top-5 in the coaches poll. 2011: 3rd. 2012: 5th. 2013: 3rd. 2014: 4th. #GoDucks
1 day ago

USATODAYsports

USA TODAY Sports


The @AmwayUS #CoachesPoll Top 5: 1. Florida State 2. Alabama 3.Oklahoma 4.Oregon 5. Auburn http://t.co/i9xDLQgojs http://t.co/Y7aVUe2vdS
1 day ago

oregonliveducks

oregonlive.com/ducks


Oregon Ducks fall camp position breakdown: Offensive line; Oregon rundown http://t.co/N0DmDIwE25 #goducks
1 day ago

oregonliveducks

oregonlive.com/ducks


Oregon Ducks highest of six Pac-12 teams ranked in first coaches poll http://t.co/HB5GudljhI #goducks
1 day ago

Pac12Networks

Pac-12 Networks


#NW: Norman Powell's quick strikes carry @UCLAMBB to a win over USC. #RivalryWeek http://t.co/x006mkVYpB http://t.co/Zg0wlS7E81
1 day ago
PAC-12 SCOREBOARD
Thursday, 8/28
Friday, 8/29
Saturday, 8/30
BLOG ARCHIVE:
CATEGORIES: