Pac-12 class rankings analysis
January, 22, 2014
Jan 22
2:00
PM ET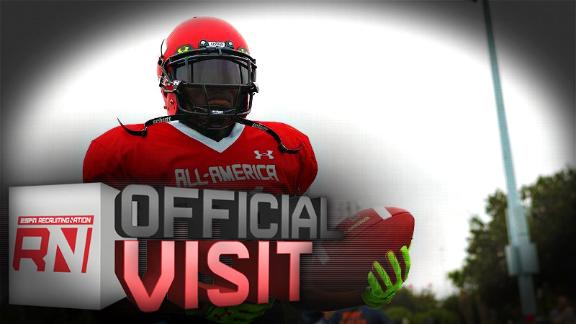 With just two weeks until signing day, this week's
updated class rankings
illustrate just how close the gap is between the top teams in the Pac-12. Arizona State again checks in at No. 1 in the conference and now sits at No. 17 in the nation. Behind the Sun Devils, five more Pac-12 teams are within 10 places, as Arizona is No. 20, USC is No. 22, Stanford is No. 23, Oregon is No. 24 and UCLA rounds out the Pac-12 entrants at No. 27.

Trending up: Stanford
To continue reading this article you must be an Insider
Insider
One Thing To Know: Pac-12 Recruiting
Recruiting reporter Erik McKinney discusses the top storyline to watch in 2015 college football recruiting within the Pac-12. Somewhat quietly, Washington State is putting together a potent class.
One Thing To Know: Pac-12 Recruiting
VIDEO PLAYLIST
OREGON FB RECRUITING SCORECARD
Pac12Networks

Pac-12 Networks


ICYMI: Seven Pac-12 signal callers are on the 2014 @GoldenArmAward watch list. http://t.co/7wt38cVuRU http://t.co/sr5Jx5uy29
27 minutes ago

Pac12Networks

Pac-12 Networks


Several @CalAthletics swimmers will be grinding down in SoCal this week. Links: http://t.co/HDce3NJWNi http://t.co/Ugo418KeBV
about an hour ago

DuckSportsNow

Duck Sports Now


Top 25 Oregon Ducks: No. 13 – TEs, Mundt, Baylis and Brown http://t.co/5hVXJnxQN6
about 2 hours ago

DuckSportsNow

Duck Sports Now


'Varisty Days' uncovers 1953 Pacific Coast Conference players of the week film http://t.co/MqQefF5AsU
about 2 hours ago

Pac12Networks

Pac-12 Networks


Never too early to start talking @APlayersProgram, especially when Rondae is getting love. http://t.co/HDce3NJWNi http://t.co/HYmKwYkWP5
about 2 hours ago

DuckSportsNow

Duck Sports Now


Mailbag: Pressure on Oregon? http://t.co/DSnghv66M7
about 2 hours ago

oregonliveducks

oregonlive.com/ducks


Bayern Munich beats Chivas Guadalajara, Mariota three-peats as Pac-12's top player: The Oregonian spo... http://t.co/PuvMZbPAoI #goducks
about 3 hours ago

Pac12Networks

Pac-12 Networks


#NW: A fierce Civil War battle goes the way of @OregonVB. #RivalryWeek http://t.co/x006mkVYpB http://t.co/8HzLpgBIFl
about 3 hours ago

OregonGridiron

OregonGridiron


Congratulations Ty Griffin! Welcome to the Oregon family. @ty_griffin10 #YVY #GoDucks
about 4 hours ago

ESPN_Pac12blog

ESPN_Pac12blog


Mailbag: Pressure on Oregon? http://t.co/F2lL1Qic3t
about 4 hours ago

DuckSportsNow

Duck Sports Now


Leaders after Round of 32 in Oregon's Greatest Athlete Bracket Challenge http://t.co/jqbFMhIHqk
about 4 hours ago

DuckSportsNow

Duck Sports Now


Top 25 Oregon Ducks: No. 14 – DE Arik Armstead http://t.co/eUfi6o3RRu
about 4 hours ago

GoDucks

GoDucks


VB season around the corner, watch @OregonVB sweeping the Beavs last year right now on @Pac12Networks. http://t.co/J7kom9hssO #GoDucks
about 4 hours ago

Pac12Networks

Pac-12 Networks


#NW: @OregonVB opens the 2013 Pac-12 season with a sweep of OSU. #RivalryWeek http://t.co/x006mkVYpB http://t.co/sb58eoQhvP
about 4 hours ago

DuckSportsNow

Duck Sports Now


Emerald Quick Hits: USA Today Amway Coaches Poll ranks Oregon No. 4 http://t.co/AwTpOkkiOC
about 5 hours ago

Pac12Networks

Pac-12 Networks


ICYMI: Take in the aroma of @WinTheDay's season tickets in 2014. http://t.co/HDce3NJWNi http://t.co/hyZCRE3rKN
about 5 hours ago

DuckSportsNow

Duck Sports Now


Oregon's Greatest Athlete: Round of 16 matchups set http://t.co/FLOdrwpz3I
about 5 hours ago

oregonliveducks

oregonlive.com/ducks


Leaders after Round of 32 in Oregon's Greatest Athlete Bracket Challenge http://t.co/ZKdJmGfee2 #goducks
about 6 hours ago

DuckSportsNow

Duck Sports Now


Top 25 Oregon Ducks: No. 15 – LT Tyler Johnstone http://t.co/BETaYBf0pV
about 6 hours ago

DuckSportsNow

Duck Sports Now


Top-25 Oregon Ducks: No. 25-16 http://t.co/KrR03BCTTC
about 6 hours ago

Pac12Networks

Pac-12 Networks


#NW: @stanfordwvb completes a season sweep of their rivals on Senior Night. #RivalryWeek http://t.co/x006mkVYpB http://t.co/0zsopYw3qF
about 6 hours ago

oregonliveducks

oregonlive.com/ducks


Oregon's Greatest Athlete: Round of 16 matchups set http://t.co/fuwRGWcs1d #goducks
about 6 hours ago

ESPN_Pac12blog

ESPN_Pac12blog


Best of Mike Leach's Reddit AMA http://t.co/asnkQLPrxM
about 6 hours ago

Pac12Networks

Pac-12 Networks


We'll always be able to say we knew @BishopSankey when, right? Roundup: http://t.co/CVEu4YEvtn http://t.co/FOpFU1cEyS
about 7 hours ago

DuckSportsNow

Duck Sports Now


Pac-12 lunch links http://t.co/Up9tvyIhM5
about 7 hours ago

DuckSportsNow

Duck Sports Now


50 shades of green: Ducks achieve domination with image and cool http://t.co/ST31PcOr6S
about 7 hours ago

DuckSportsNow

Duck Sports Now


Top 25 Oregon Ducks: No. 17 – OLBs – Coleman and Prevot http://t.co/0MExE4PwPB
about 7 hours ago

Pac12Networks

Pac-12 Networks


#NW: @stanfordwvb takes down California in enemy territory. #RivalryWeek. http://t.co/kyGnfV2NVT http://t.co/uaNsU3vwEt
about 7 hours ago

DuckSportsNow

Duck Sports Now


JC Review: Dominique Harrison http://t.co/LkSAoJWhIR
about 8 hours ago

DuckSportsNow

Duck Sports Now


2014 Pac-12 Ultimate Road Trip: Week 14 http://t.co/a1ol3HuB6r
about 8 hours ago

DuckSportsNow

Duck Sports Now


Pac-12 Ultimate Road Trip: Week 13 http://t.co/4KiUFbDzWL
about 8 hours ago

DuckSportsNow

Duck Sports Now


Top Pac-12 players: Nos. 5-1 http://t.co/ZRiwfaV31t
about 8 hours ago

ESPN_Pac12blog

ESPN_Pac12blog


Alaska Airlines to offer priority boarding http://t.co/hFof2pALsc
about 8 hours ago

McNamaraUO

Andy McNamara


Ifo highest ranked CB RT @WinTheDay: Mariota No. 2, @ifo14 No. 9 in ESPN's Top 100 #CFB Players #GoDucks http://t.co/Z5OHX0i9tM
about 8 hours ago

ESPN_Pac12blog

ESPN_Pac12blog


Pac-12 lunch links http://t.co/jYBAuFjBLq
about 8 hours ago

Pac12Networks

Pac-12 Networks


#pac12vb returns in 29 days!Catch up on volleyball today on Pac-12 Networks. #RivalryWeek http://t.co/4zRulq3hur http://t.co/VzirahfPCq
about 8 hours ago

McNamaraUO

Andy McNamara


Canton Ducks RT @kentono: #GoDucks #PFHOF https://t.co/KZJBGwFcQa
about 9 hours ago

OregonVB

Oregon Volleyball


Why we luv this place http://t.co/aHdXjnj5hy
about 9 hours ago

WinTheDay

Oregon Football


Mariota No. 2, @Ifo14 No. 9 in ESPN's Top 100 College Football Players #GoDucks http://t.co/PwCwLFCHSv
about 9 hours ago

McNamaraUO

Andy McNamara


Mark Asper has joined @GeoffSchwartz74, @WaltThurm3 & @SpittyP on the NY Giants roster #ProDucks #GoDucks
about 9 hours ago

Pac12Networks

Pac-12 Networks


NEW: Seven #pac12fb QBs are on the 2014 @goldenarmaward watch list. http://t.co/7wt38cVuRU http://t.co/mpFEX8CDJv
about 9 hours ago

McNamaraUO

Andy McNamara


Mark Asper has joined @GeoffSchwartz74, @WaltThurm3 & @SpittyP on the NY Giants roster #ProDucks #GoDucks
about 9 hours ago

DuckSportsNow

Duck Sports Now


The final Oregon Ducks live chat of the offseason is here; have a question for reporter Andrew Greif? http://t.co/UgwdGKSiJc
about 9 hours ago

DuckSportsNow

Duck Sports Now


Oregon Ducks opponent preview: Can Arizona reload after losses on offense? http://t.co/9AOXYAcqY6
about 9 hours ago

McNamaraUO

Andy McNamara


Ducks 8th RT @SBNationCFB: 15 FBS teams w/100+ wins since current recruits were 1st-graders: http://t.co/oNnv30qI0N http://t.co/nVvj4J6Hyz
about 10 hours ago

Pac12Networks

Pac-12 Networks


Looking to get over the Friday hump? Think of this:August starts today. Fall sports start in August.It's all happening.
about 10 hours ago

oregonliveducks

oregonlive.com/ducks


The final Oregon Ducks live chat of the offseason is here; have a question for reporter Andrew Greif? http://t.co/sTP8g1LE8w #goducks
about 10 hours ago

oregonliveducks

oregonlive.com/ducks


Oregon Ducks opponent preview: Can Arizona reload after losses on offense? http://t.co/RzAU4Ug1ih #goducks
about 10 hours ago

Pac12Networks

Pac-12 Networks


Happy Friday! @StanfordFBall would like to remind you that football is coming. http://t.co/7Ufsim6n6Y #pac12fb http://t.co/EGGKpbt9r8
about 10 hours ago

DuckSportsNow

Duck Sports Now


Ducks to get visit from Crespi safety http://t.co/vJykjkbKB4
about 10 hours ago

DuckSportsNow

Duck Sports Now


New coach impressed with Duck commit http://t.co/juDiykxGMb
about 10 hours ago

Pac12Networks

Pac-12 Networks


Oh dear, it appears Facebook is down! Never fear: you can keep following Pac-12 Networks right here on Twitter dot com.
about 11 hours ago

DuckSportsNow

Duck Sports Now


Preseason camp preview: Special teams http://t.co/3QuNFFaBUd
about 11 hours ago

ESPN_Pac12blog

ESPN_Pac12blog


2014 Pac-12 Ultimate Road Trip: Week 14 http://t.co/GA2GMHY0aM
about 11 hours ago

DuckSportsNow

Duck Sports Now


ESPN Ranks Top Pac-12 Players for 2014, Three Oregon Ducks in Top Ten http://t.co/lppqzlPHil
about 11 hours ago

ESPN_Pac12blog

ESPN_Pac12blog


Pac-12 Ultimate Road Trip: Week 13 http://t.co/5KljVNj8g9
about 12 hours ago

DuckSportsNow

Duck Sports Now


Marcus Mariota three-peats atop Pac-12′s top player ranking: Oregon rundown http://t.co/vnxOTJYplM
about 12 hours ago

oregonliveducks

oregonlive.com/ducks


Marcus Mariota three-peats atop Pac-12's top player ranking: Oregon rundown http://t.co/rsBr7XmZQt #goducks
about 13 hours ago

ESPN_Pac12blog

ESPN_Pac12blog


Top Pac-12 players: Nos. 5-1 http://t.co/qQl95UWO3W
about 14 hours ago

ESPNOregon

ESPN Oregon


Top Pac-12 players: Nos. 5-1 http://t.co/RX5zGzbQ7o
about 14 hours ago

DuckSportsNow

Duck Sports Now


Chip Kelly Update: Tonka Trucks and a Media Blitz http://t.co/YbP2L7D9wU
about 14 hours ago

DuckSportsNow

Duck Sports Now


Division Power Rankings: Pac-12 South http://t.co/KHg0hggqM6
about 14 hours ago

oregonliveducks

oregonlive.com/ducks


Damian Lillard and Kyrie Irving go from rivals to friends, Timbers going big for All-Star Game: Orego... http://t.co/wnVwKmz0gv #goducks
about 15 hours ago

Pac12Networks

Pac-12 Networks


#NW: A Rumble in the Rockies goes overtime, where @CUBuffsMBB prevails. #RivalryWeek http://t.co/x006mkVYpB http://t.co/KsRduP2KDF
about 22 hours ago

Pac12Networks

Pac-12 Networks


Take a walk down Pac-12 memory lane with #VarsityDays starting this Sunday! http://t.co/q4TLRfJkJ2 http://t.co/4w4Hp1zo6J
about 23 hours ago

Pac12Networks

Pac-12 Networks


ICYMI: Here are the six #pac12fb teams in the 2014 preseason Coaches Poll. http://t.co/3TWAQmy36j http://t.co/fvrq63Tz23
about 23 hours ago

Pac12Networks

Pac-12 Networks


#NW: @SunDevilHoops gets Valentine's Day revenge on Arizona in a 2OT win. #RivalryWeek http://t.co/x006mkVYpB http://t.co/nmUAEhaEJn
1 day ago

Pac12Networks

Pac-12 Networks


.@UWVolleyball's incredible season is one of many highlights in the UW edition of Timelines: http://t.co/gMuDLQWStP http://t.co/6kdqXquYWd
1 day ago

DuckSportsNow

Duck Sports Now


Know the Opponent: MWC Part II http://t.co/shtmfHIRxk
1 day ago

Pac12Networks

Pac-12 Networks


.@CalWLacrosse has a new head coach, and she comes to Berkeley from (gasp!) Stanford. http://t.co/o9PP7dUAAJ http://t.co/zbde7HQBWu
1 day ago

DuckSportsNow

Duck Sports Now


Former Oregon Duck Tommy Thorpe can't quite leave Oregon as his professional career begins http://t.co/GpvLedW7i8
1 day ago

Pac12Networks

Pac-12 Networks


#NW: A Sonoran Desert-sized romp by @APlayersProgram over ASU. #RivalryWeek http://t.co/x006mkVYpB http://t.co/tNAi6zxz4b
1 day ago

KBDeuce4

Kenjon Barner


Through prayer and faith God will direct your path and place others around you that will help guide… http://t.co/5flNQQzrcF
1 day ago

Prehmmr247

Matt Prehm


Yell-O? How about Jell-O! http://t.co/0bEhNnEHqF
1 day ago

oregonliveducks

oregonlive.com/ducks


Former Oregon Duck Tommy Thorpe can't quite leave Oregon as his professional career begins http://t.co/E0WcnipsOc #goducks
1 day ago

DuckSportsNow

Duck Sports Now


Oregon Ducks scratch-and-sniff football tickets: Best of Twitter reaction http://t.co/pOIHQLRynw
1 day ago

Pac12Networks

Pac-12 Networks


.@UWSoftball pulled off one heck of a 2014 season. Relive it on their edition of Timelines: http://t.co/gMuDLQWStP http://t.co/LFcGEAnOfi
1 day ago

UOPintens

Craig Pintens


According to @darrenrovell we either have expanded Autzen to 140K or only have 20k STHs. Neither is correct. #GoDucks
1 day ago

WSUCougars

WSU Cougars


We're proud to announce Steve Gleason (@TeamGleason) as the lone 2014 WSU Athletic Hall of Fame inductee! #GoCougs http://t.co/9lRJbf5hrz
1 day ago

oregonliveducks

oregonlive.com/ducks


Oregon Ducks scratch-and-sniff helmets, Will Barton gets contract gaurantee: Oregonian Sports Top 5 at 5 http://t.co/gvBYPNGnBe #goducks
1 day ago

DuckSportsNow

Duck Sports Now


Oregon Ducks preseason No. 4 ranking sets table for potential playoff run http://t.co/usXeZhaOFJ
1 day ago

DuckSportsNow

Duck Sports Now


Benson's Path of Progression Goes Through China http://t.co/0Pi5j0b8mv
1 day ago

DuckSportsNow

Duck Sports Now


Federighi Earns NCAA Postgraduate Scholarship http://t.co/arSePp0yp4
1 day ago

DuckSportsNow

Duck Sports Now


Ducks Ranked No. 4 in First Coaches Poll http://t.co/Z2jY84KLJp
1 day ago

McNamaraUO

Andy McNamara


Heisman: Mariota; Rimington: Grasu #GoDucks RT @CFBONFOX: Predicting major awards for 2014. http://t.co/xCuUK3vdmR http://t.co/GmLfoOUKLd
1 day ago

Pac12Networks

Pac-12 Networks


#NW: Dwight Powell's double-double carries @stanfordbball to victory over Cal. #RivalryWeek http://t.co/x006mkVYpB http://t.co/PyWKyNOeHR
1 day ago

oregonliveducks

oregonlive.com/ducks


Pundits pick apart value of preseason polls: Pac-12 roundup http://t.co/rOwARMFyVB #goducks
1 day ago

KMBCMattyD

Matty D


Guess who this ball is being thrown to? #ChiefsCamp PICS -> http://t.co/V6gpmyD5c5 @CheckDat6 #RunDat @kmbc http://t.co/RzVDcvDp2o
1 day ago

65TPTPhotog

Steve Sanders


Learning the game @jcharles25 and @CHECKDAT6 checking in http://t.co/1WlE6LQnQ9
1 day ago

24Randazzo_j

joe randazzo, bruh


Explosivness in a picture. http://t.co/2OMqo7jg7e
1 day ago

ESPN_Pac12blog

ESPN_Pac12blog


Nonconference primer: Washington State http://t.co/Cbf28EPqfe
1 day ago

KMBCMattyD

Matty D


VIDEO: @CHECKDAT6 fans to @kmbc: #RunDat #ChiefsCamp http://t.co/kAIvmbEqBW http://t.co/n92jyZ8wQ2
1 day ago

DuckFootball

Rob Moseley


Oh wow. As a former copy editor myself, that is A-plus stuff. RT @DufresneLATimes This headline deserved a byline. http://t.co/EazeytW2Y8
1 day ago

Pac12Networks

Pac-12 Networks


.@CalWLacrosse is welcoming Brooke Eubanks as its new head coach. http://t.co/o9PP7dUAAJ http://t.co/RutXUxgoPZ
1 day ago

Pac12Networks

Pac-12 Networks


#NW: @CalMensBBall opens Pac-12 play in 2014 with a win over Stanford. #RivalryWeek http://t.co/x006mkVYpB http://t.co/qWVNLOGFYT
1 day ago

KBDeuce4

Kenjon Barner


Through praye http://t.co/oM33mIYIn1
1 day ago

KBDeuce4

Kenjon Barner


Through prayer and faith God will lead you to whet http://t.co/W8gB39VV68
1 day ago

UOPintens

Craig Pintens


Facility pics. Flashback 1 yr ago today, the Hatfield-Dowlin opening http://t.co/ofgtKh93zU #tbt #GoDucks
1 day ago

oregonliveducks

oregonlive.com/ducks


Oregon Ducks, Oregon State Beavers athletes bond with cancer survivors on special fishing trip http://t.co/nc2ANSlCI9 #goducks
1 day ago

McNamaraUO

Andy McNamara


Whoa. I'll never unsee this #GoDucks RT @r_fullmer: Look! There's a flying Duck in the OSU Beaver Logo http://t.co/OGLfHl6BbF
1 day ago
PAC-12 SCOREBOARD
Thursday, 8/28
Friday, 8/29
Saturday, 8/30
BLOG ARCHIVE:
CATEGORIES: