Oregon patiently develops OL talent
July, 31, 2012
7/31/12
10:00
AM ET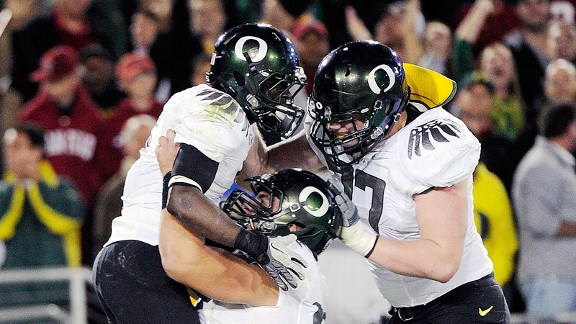 Photo by Thearon W. Henderson/Getty ImagesOregon sophomore center Hroniss Grasu (middle) is an example of the Oregon coaches recruiting a specific player to great profit.
When it comes to comparing Oregon to other elite college football programs, one thing that stands out is the talent development.
It has been debated at length, but regardless of what is argued, Oregon's success comes through finding the correct players to play a specific system. Certain players fit the Ducks' system and some don't.
Nowhere is that more apparent than on the offensive line.
To continue reading this article you must be an Insider
Insider
Who Is The Heisman Front Runner?
Heather Dinich looks at whether or not Marcus Mariota or Todd Gurley is leading the Heisman race.
Who Is The Heisman Front Runner?
VIDEO PLAYLIST
OREGON FB RECRUITING SCORECARD
oregonliveducks

oregonlive.com/ducks


Chip Kelly's shadow looms; Morgan Mahalak on Marcus Mariota: Oregon Ducks game day links http://t.co/Sjio5auWdA #goducks
2 minutes ago

ESPN_Pac12blog

ESPN_Pac12blog


Pac-12 Week 6 predictions http://t.co/250b4din0h
4 minutes ago

ESPN_Pac12blog

ESPN_Pac12blog


Pac-12 morning links http://t.co/ePQmMvIGJl
about an hour ago

KBDeuce4

Kenjon Barner


Chris Brown- See you around 🔥🔥🔥🔥🔥🔥🔥🔥🔥🔥🔥🔥🔥🔥🔥🔥🔥
about 4 hours ago

DuckSportsNow

Duck Sports Now


Marcus Mariota record watch 2014: Game 5 http://t.co/aA5EHSakrI
about 4 hours ago

DuckSportsNow

Duck Sports Now


Arizona Wildcats vs. Oregon Ducks: Game time, TV schedule, odds, streaming and more http://t.co/iEizJ8Bmw6
about 7 hours ago

callieswagg6

Callie Wagner


Peter Jacobsen & Casey Martin talk strategy in a clinic for ECC members before Legends Cup #goducks @OregonMGolf http://t.co/rtEFapzkaR
about 8 hours ago

Pac12Networks

Pac-12 Networks


.@bcraw35 made history for the @SFGiants tonight. To think - it wasn't so long ago he starred for @UCLABaseball! http://t.co/Kz92exCID5
about 8 hours ago

UCLABaseball

UCLA Baseball


#StatoftheNight The grand slam hit by @bcraw35 was the first ever by a shortstop in @MLB postseason history #BruinsintheBigs
about 8 hours ago

Pac12Networks

Pac-12 Networks


.@UWVolleyball's Lianna Sybeldon earns Play of the Match honors for this big spike to end an intense rally: http://t.co/63mk0Df6dy #USCvsUW
about 9 hours ago

Pac12Networks

Pac-12 Networks


Bust out the brooms!No. 4 @UWVolleyball has swept No. 19 USC out of Seattle: http://t.co/nZjZ6PLRp6 #USCvsUW http://t.co/1v23HsEmrA
about 9 hours ago

Pac12Networks

Pac-12 Networks


No. 4 @UWVolleyball is running away in this top-20 matchup vs. No. 19 USC. Can the Huskies sweep? WATCH: http://t.co/YfMNDWLu5w #USCvsUW
about 9 hours ago

Pac12Networks

Pac-12 Networks


ICYMI: @runralphierun's Nelson Spruce is responsible for the @USAFootball Fundamental Play of the Week. http://t.co/YWFuIC4qxQ
about 9 hours ago

DuckSportsNow

Duck Sports Now


Why You Should Hate: Arizona Edition http://t.co/1ABb6ZrLKX
about 10 hours ago

Pac12Networks

Pac-12 Networks


Coming up after #TheDrive: It's #USCvsUW in a big one in Seattle. http://t.co/YfMNDWLu5w http://t.co/5Eu4k0OtsK
about 10 hours ago

KBDeuce4

Kenjon Barner


Check out this Tweet from @OFAMovement: https://t.co/rTyBPsiaCU
about 10 hours ago

GoDucksTV

GoDucks TV


Now on @GoDucksTV: Mac & Mose - Arizona Preview http://t.co/PXBWfV1toq #GoDucks
about 11 hours ago

Pac12Networks

Pac-12 Networks


#NW: #TheDrive is back!Watch it on Pac-12 Networks or at http://t.co/YfMNDWLu5w. http://t.co/4JtpfJNkpB
about 11 hours ago

oregonliveducks

oregonlive.com/ducks


Canzano: Ex-University of Oregon defensive coordinator says USC is "playing soft" http://t.co/9uzCCDkPtR #goducks
about 11 hours ago

DuckSportsNow

Duck Sports Now


Mac & Mose – Arizona Preview http://t.co/hlgqeckz2O
about 11 hours ago

GoDucksTV

GoDucks TV


Now on @GoDucksTV: Mac & Mose - Arizona Preview http://t.co/PXBWfV1toq #GoDucks
about 11 hours ago

GoDucksTV

GoDucks TV


Now on @GoDucksTV: Preview: No. 2 Ducks welcome high-scoring 'Cats to Autzen http://t.co/Ez4d1fzWN4 #GoDucks
about 11 hours ago

DuckSportsNow

Duck Sports Now


PAC-12 Football Weekend Recap Week 5 http://t.co/ARWIAPh6N2
about 11 hours ago

Pac12Networks

Pac-12 Networks


30 minutes until #TheDrive! RT if you're watching tonight. Preview: http://t.co/CgSOYCtmg7 http://t.co/a2AB7YY9zd
about 11 hours ago

DuckSportsNow

Duck Sports Now


UA jersey tour: LB John Houston http://t.co/H3TDtn0d7x
about 11 hours ago

DuckSportsNow

Duck Sports Now


Mailbag: Can Utah go bowling? http://t.co/OQsNmJNyg3
about 11 hours ago

oregonliveducks

oregonlive.com/ducks


Recruiting 101: Explaining redshirts and grayshirts http://t.co/xsW7UwLTdC #goducks
about 11 hours ago

Pac12Networks

Pac-12 Networks


For @WSUVolleyball, the pillars of success are what it takes to build a strong program. http://t.co/aPJTRHdODQ http://t.co/IUQIlcR8md
about 12 hours ago

Pac12Networks

Pac-12 Networks


Don't forget: A key match between @uscwomensvolley and @UWVolleyball starts at 7:30. #USCvsUW http://t.co/hjOl2YY4oI http://t.co/fY0TL2Vkno
about 12 hours ago

McNamaraUO

Andy McNamara


During the streak, @WinTheDay is 84-15 (.848) #Autzen100 #GoDucks #Play4Kay http://t.co/MzcrJiDVS2
about 12 hours ago

Pac12Networks

Pac-12 Networks


At 7-0-3, @utahwsoccer is primed for tough tests in SoCal this weekend. http://t.co/YVChRLr4qU http://t.co/bun5lhjcAQ
about 12 hours ago

ESPN_Pac12blog

ESPN_Pac12blog


Mailbag: Can Utah go bowling? http://t.co/AclNf311yn
about 13 hours ago

McNamaraUO

Andy McNamara


FBS sellout streaks:1. Nebraska 3372. Notre Dame 2403. @WinTheDay 99#Autzen100 #GoDucks #Play4Kay http://t.co/4RndtZUgkT
about 13 hours ago

Pac12Networks

Pac-12 Networks


.@WinTheDay is getting primed for its primetime showdown with Arizona tomorrow. #AZvsUO http://t.co/1FDlTXVsl9 http://t.co/mHtWFxLPiK
about 13 hours ago

DuckSportsNow

Duck Sports Now


Arizona-Oregon football game preview http://t.co/rbcnufbAQz
about 13 hours ago

DuckSportsNow

Duck Sports Now


Preview: No. 2 Ducks welcome high-scoring 'Cats to Autzen http://t.co/L4OASNXPKn
about 13 hours ago

SunDevilEquip

SunDevilEquipment


Headed to the coliseum Saturday. Gearing up for battle in original black helmet, white jersey, black pants! http://t.co/vkkPw1xSOL
about 13 hours ago

DuckSportsNow

Duck Sports Now


Farin Tripped Up In ITA All-American Championships http://t.co/RmXKw3o6hy
about 13 hours ago

OregonDuckTix

Oregon Duck Tickets


Heading to Autzen for the #AZvsUO game tmrw ▬ Here's your gameday info: http://t.co/QsFaUXTbPg#GoDucks#WearBlack http://t.co/SQ8MqLlY3h
about 14 hours ago

oregonliveducks

oregonlive.com/ducks


Ohio State fan who rushed field and was body-slammed by coach loses scholarship http://t.co/VVfxGgbO1r #goducks
about 14 hours ago

DuckSportsNow

Duck Sports Now


LaMichael James Finds a New Home With Miami Dolphins http://t.co/xv7uSUJ271
about 14 hours ago

FanBladeFilms

Scott Phillips


New Mac & Mose coming soon @playapus23 @TwoMileRoad @McNamaraUO @DuckFootball @VoiceoftheDucks @jorgy_mike http://t.co/FJkraEwQ43
about 14 hours ago

MiamiDolphins

Miami Dolphins


"Everything is earned." - @LaMichaelJames WATCH: http://t.co/03sukDtQj8 http://t.co/zD8V4wcCAW
about 14 hours ago

Pac12Networks

Pac-12 Networks


Get ready for tonight's new #TheDrive with an excerpt from the new episode: http://t.co/CgSOYCtmg7 http://t.co/IWso5t0yYg
about 14 hours ago

ESPN_Pac12blog

ESPN_Pac12blog


Arizona: A look at those cardiac 'Cats http://t.co/W7UHCoU5fk
about 15 hours ago

DuckSportsNow

Duck Sports Now


An Ongoing Conversation with Arizona Desert Swarm http://t.co/8H1FMarQVO
about 15 hours ago

DuckSportsNow

Duck Sports Now


Duck Women Return to Action in Seattle http://t.co/5A3BFKLjpl
about 15 hours ago

oregonliveducks

oregonlive.com/ducks


LaMichael James participates in 1st practice after signing with Miami Dolphins http://t.co/J3h2rsUU0B #goducks
about 15 hours ago

Pac12Networks

Pac-12 Networks


These two teams have history. They're back at it tonight. #USCvsUW http://t.co/hjOl2YY4oI http://t.co/31oIMFsD9D
about 15 hours ago

DuckSportsNow

Duck Sports Now


Wednesday run-through: Ducks looking for better defensive effort, Helfrich labeled "a quiet genius" http://t.co/JTtoUtQ9IO
about 15 hours ago

ESPN_Pac12blog

ESPN_Pac12blog


#4Pac: Best final record among Week 5 losers? http://t.co/6Pkcm3xLbp
about 16 hours ago

oregonliveducks

oregonlive.com/ducks


Tickets for 2015 NCAA Men's Basetball Tournament at the Moda Center go on sale Oct. 18 http://t.co/HUjzIfBYhp #goducks
about 16 hours ago

GoDucks

GoDucks


Great update on Justin Siller, the Ducks fan from Danville, IN http://t.co/Py6dzpuNOE #SillerStrong http://t.co/3cWktgA4QX
about 16 hours ago

DuckSportsNow

Duck Sports Now


Ducks Face No. 1 Cardinal on ESPNU http://t.co/5Qe4cmcGTf
about 16 hours ago

DuckSportsNow

Duck Sports Now


Ducks Fly South To Play Arizona Schools http://t.co/tsztP6vDxB
about 16 hours ago

DuckSportsNow

Duck Sports Now


Ducks Roundtable: Pressure from the defense? http://t.co/PpsmnrPfOk
about 16 hours ago

DuckSportsNow

Duck Sports Now


What is Arizona saying about Oregon? http://t.co/HxJ9lH623j
about 16 hours ago

OregonDuckTix

Oregon Duck Tickets


Heading to Autzen for the #AZvsUO game tmrw ▬ Here's your gameday info: http://t.co/QsFaUXTbPg#GoDucks#WearBlack http://t.co/SQ8MqLlY3h
about 16 hours ago

DuckSportsNow

Duck Sports Now


No. 2 Oregon vs. Arizona: 5 things to watch http://t.co/vTZikUM8eC
about 16 hours ago

DuckSportsNow

Duck Sports Now


Latest Duck offer is the Real Deal http://t.co/GKoMemAdbu
about 16 hours ago

DuckSportsNow

Duck Sports Now


Roundup: Mark Helfrich, 'The Quiet Genius' http://t.co/1X7RsO7uze
about 17 hours ago

DSArivals

DuckSportsAuthority


Scarlett in official visit mode: Cameron Scarlett recently took his first official visit to Washington. http://t.co/Ie3Nq2ZCU5
about 17 hours ago

DuckFootball

Rob Moseley


+1 RT @CSNNW #GoDucks lack of blitzing is "overblown" says @AaronJFentress in this week's roundtable http://t.co/N3wOWUlAmp …
about 17 hours ago

DuckSportsNow

Duck Sports Now


2014 Newcomers – Meet freshman Tatum Neubert http://t.co/wZqiEhRHvf
about 17 hours ago

DuckSportsNow

Duck Sports Now


2014 Newcomers – Meet freshman Lexi Bando http://t.co/cQn6zAAlDP
about 17 hours ago

DuckSportsNow

Duck Sports Now


2014 Newcomers – Meet transfer Jacinta Vandenberg http://t.co/dfu4xyxIhq
about 17 hours ago

DuckSportsNow

Duck Sports Now


Emerald Quick Hits: Pac-12 proposes new benefits for student-athletes http://t.co/B4coNXLaQP
about 17 hours ago

DuckFootball

Rob Moseley


Oregon Football Practice Report: Oct. 1 http://t.co/4pJMC43y8E #GoDucks
about 17 hours ago

usnikefootball

Nike Football


When you get ahead, stay there. The Nike Field Generals @WinTheDay Collection: http://t.co/PthVmU3bCe http://t.co/K5EXhLi4K3
about 17 hours ago

oregonliveducks

oregonlive.com/ducks


No. 2 Oregon vs. Arizona: 5 things to watch http://t.co/FiXLQRn9kr #goducks
about 17 hours ago

DuckSportsNow

Duck Sports Now


Tickets for 2015 NCAA Hoops in Portland on Sale Oct. 18 http://t.co/OftP3xroMM
about 17 hours ago

DuckSportsNow

Duck Sports Now


Oregon defense faced with challenge of shutting down Arizona's explosive offense http://t.co/5MbAvqGDAR
about 18 hours ago

DuckSportsNow

Duck Sports Now


Exclusive interview: Oregon Frosh QB Morgan Mahalak http://t.co/5OsdAubQdl
about 18 hours ago

DuckSportsNow

Duck Sports Now


No. 2 Oregon Ducks seek to fix offensive line http://t.co/ysLPUbATsj
about 18 hours ago

ESPN_Pac12blog

ESPN_Pac12blog


Video: Class rankings Oct. 1 update http://t.co/knudzhzle6
about 18 hours ago

Pac12Networks

Pac-12 Networks


.@nspruce22's route running is this week's @USAFootball Fundamental Play of the Week. http://t.co/YWFuIC4qxQ http://t.co/ak6fQjH9FY
about 18 hours ago

DuckSportsNow

Duck Sports Now


The Quiet Genius « http://t.co/QdplF1PUnV
about 18 hours ago

oregonliveducks

oregonlive.com/ducks


Canzano: Ducks coach Mark Helfrich signs waiver to avoid Autzen Stadium lawsuit http://t.co/ojIrqP6lHX #goducks
about 18 hours ago

Pac12Networks

Pac-12 Networks


.@CoachNeuheisel says Stanford will beat Notre Dame. Podcast: http://t.co/hl1BMfTVHl https://t.co/AsQEAv9VDc
about 18 hours ago

GoDucks

GoDucks


This week's @Pac12Networks Podcast takes a look at @WinTheDay's Thursday night game #AZvsUO http://t.co/K2iyhlBEnW http://t.co/8tzc9fIBNu
about 18 hours ago

ASUSoccer

Sun Devil Soccer


Congrats to Cali Farquharson on being named to @CS360updates Primetime Performers Weekly Honor Roll! #FeartheFarq http://t.co/XuDRmKTMSE
about 18 hours ago

DuckSportsNow

Duck Sports Now


Oregon v. Arizona 3.14159…things to watch for. http://t.co/uo8Az4SGef
about 18 hours ago

Pac12Networks

Pac-12 Networks


The newest @Pac12Networks Football Podcast is out, and @adamsonashley is center stage! http://t.co/hl1BMfTVHl http://t.co/o7kllR6xhO
about 19 hours ago

ESPN_Pac12blog

ESPN_Pac12blog


Pac-12 Play of the Week: Call Me Ishmael http://t.co/Un4hWtsuBF
about 19 hours ago

oregonliveducks

oregonlive.com/ducks


Portland forecast: Warm, sunny days, cool nights; Ducks game time forecast looks perfect http://t.co/kQebSMvnAI #goducks
about 19 hours ago

DuckSportsNow

Duck Sports Now


RichRod thinks Mariota is Heisman front-runner, 1st pick in Draft http://t.co/pOaOZ5bDhe
about 19 hours ago

Pac12Networks

Pac-12 Networks


Sigh. A 404 is no way to spend a Wednesday. Here's the REAL link to this week's #TheDrive preview. http://t.co/Et881wn2Ed
about 19 hours ago

oregonliveducks

oregonlive.com/ducks


It's not a surprise that overall college football attendance is down; Issues & Answers http://t.co/kiMqsBzTbL #goducks
about 19 hours ago

UOPintens

Craig Pintens


Outstanding profile of @CoachHelfrich entitled The Quiet Genius http://t.co/q3rqbKuXUB #GoDucks
about 19 hours ago

Pac12Networks

Pac-12 Networks


TONIGHT: #TheDrive is back with an all-new, touchdown-filled episode. http://t.co/gE6ollJPMg http://t.co/wiud3Guh1h
about 19 hours ago

Pac12Networks

Pac-12 Networks


ICYMI: The @pac12 has officially proposed sweeping changes to student-athlete benefits. http://t.co/FXCKxtLwXK
about 20 hours ago

DuckSportsNow

Duck Sports Now


Stars Look to Bounce Back in College Fantasy Football http://t.co/zIu92JNgo8
about 20 hours ago

DuckSportsNow

Duck Sports Now


Opponent Analysis: Preventing the Wildcats' Big Play http://t.co/Fg9dz0aowz
about 20 hours ago

DuckSportsNow

Duck Sports Now


The Quiet Genius http://t.co/HOXQ5iVIPd
about 20 hours ago

DuckSportsNow

Duck Sports Now


Pac-12 morning links http://t.co/OIitMY5kdn
about 20 hours ago

Pac12Networks

Pac-12 Networks


👌 RT @AVCAVolleyball: What do you think of our latest Coaching Volleyball 2.0 cover? http://t.co/lRcLxYoZeV
about 20 hours ago

DuckFootball

Rob Moseley


Spent last two years marveling at all the grunt work @OregonFBequip does behind scenes. Figured I'd write about it: http://t.co/KMPDF2t6uQ
about 20 hours ago

Pac12Networks

Pac-12 Networks


MORNING (Part 2) RT @wsucougfb: There's nothing like Washington State University campus in the Fall! #GoCougs http://t.co/SUO8By2Y9W
about 20 hours ago

DuckSportsNow

Duck Sports Now


Equipment Staff Does Blue-Collar Work Behind The Scenes http://t.co/bnZEXKb6NZ
about 21 hours ago

DuckSportsNow

Duck Sports Now


Quack Fix: Pink Uniforms, Back to School, Turnovers http://t.co/u8Vgh563Uj
about 21 hours ago
PAC-12 SCOREBOARD
Thursday, 10/2
Saturday, 10/4
BLOG ARCHIVE:
CATEGORIES: