Plattenburg makes his mark at cornerback
June, 10, 2013
6/10/13
5:08
PM ET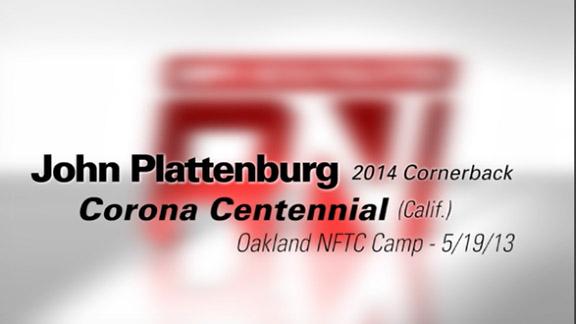 John Plattenburg
(Corona, Calif./Centennial) has been playing football since he was six years old, pouring countless hours on and off the field into the game he loves. But as it turns out, it took just six games for Plattenburg to establish himself as one of the most highly-recruited players in the state.
Plattenburg moved to California following his freshman season at Houston Lamar High School. In his two years at Centennial, he has played a number of positions. He grew up playing running back and safety -- running back because he had a passion for offense, safety because he was so athletically gifted, as he could simply run down any opponent who broke loose.
To continue reading this article you must be an Insider
Insider
Mel Kiper's Big Board
Mel Kiper Jr. discusses his inaugural Big Board for the 2015 NFL draft.
Mel Kiper's Big Board
VIDEO PLAYLIST
OREGON FB RECRUITING SCORECARD
oregonliveducks

oregonlive.com/ducks


College Football picks, week 1: LSU, Ohio State, Alabama face opening tests http://t.co/oqZHPxUudS #goducks
2 minutes ago

DuckSportsNow

Duck Sports Now


Pac-12: Washington State Cougars Start Season With Loss to Rutgers, 41-38 http://t.co/srCiQmu3pU
23 minutes ago

DuckSportsNow

Duck Sports Now


No. 3 Oregon vs. South Dakota: 5 things to watch http://t.co/R0HIG4AN57
37 minutes ago

DuckSportsNow

Duck Sports Now


Devon Allen of the Oregon Ducks joins Andrew Greif and Tyson Alger on The Official Visit Podcast http://t.co/hW9VH3u4kV
37 minutes ago

DuckSportsNow

Duck Sports Now


Joe Glenn, South Dakota coach, on Ifo Ekpre-Olomu, Marcus Mariota and playing at Autzen Stadium: Oregon rundown http://t.co/vorn7T1N0A
37 minutes ago

DuckSportsNow

Duck Sports Now


No. 3 Oregon Ducks vs. South Dakota: National title dreams start Saturday evening http://t.co/Y02wdN7qh1
37 minutes ago

ESPN_Pac12blog

ESPN_Pac12blog


Remember Appalachian State-Michiganin 2007? @ChantelJennings does. Oregon should as well. http://t.co/d1nFl84Fwj http://t.co/tRVv5OTpO0
41 minutes ago

oregonliveducks

oregonlive.com/ducks


No. 3 Oregon vs. South Dakota: 5 things to watch http://t.co/0sShOzOACM #goducks
about an hour ago

ESPN_Pac12blog

ESPN_Pac12blog


Solomon to get first snap for Arizona http://t.co/J8UvwVu82a
about an hour ago

ESPNOregon

ESPN Oregon


What to know: Oregon-South Dakota http://t.co/Hy5b1DHx1U
about 2 hours ago

ESPN_Pac12blog

ESPN_Pac12blog


The Pac-12 hasn't won a Heisman since Reggie Bush*. Will Hundley or Mariota end the drought? http://t.co/q9t1KlbhBn
about 2 hours ago

ESPN_Pac12blog

ESPN_Pac12blog


Pac-12 morning links http://t.co/UXZjX7FPn1
about 3 hours ago

DuckSportsNow

Duck Sports Now


PSU, South Dakota stand to make big money Saturday http://t.co/fbguU9dxrl
about 7 hours ago

oregonliveducks

oregonlive.com/ducks


Where Marcus Mariota and Sean Mannion rank among best Ducks, Beavers quarterbacks ever: Photo countdown http://t.co/3GS4tI499h #goducks
about 8 hours ago

ESPN_Pac12blog

ESPN_Pac12blog


Rutgers 41, Washington State 38 http://t.co/O550OMG503
about 8 hours ago

ESPN_Pac12blog

ESPN_Pac12blog


Arizona State 45, Weber State 14 http://t.co/LNnRAT5epi
about 8 hours ago

ESPN_Pac12blog

ESPN_Pac12blog


Cougars crumble in fourth again http://t.co/SG2Twx0HkO
about 8 hours ago

Pac12Networks

Pac-12 Networks


.@ASTATE_8 wins the #WEBERvsASU Play of the Game presented by State Farm, treating Weber's D like bowling pins. http://t.co/a6xEtQR7Yr
about 8 hours ago

Pac12Networks

Pac-12 Networks


The Play of the Game presented by State Farm from the WSU/Rutgers game goes to @wsucougfb's Connor Halliday. http://t.co/q3A9kfpzss
about 9 hours ago

Mike_Yam

Michael Yam


Opening night for the @pac12 the post game report on @Pac12Networks is on now, @CurtisConway80 @CoachNeuheisel & Nick Aliotti drop knowledge
about 9 hours ago

Pac12Networks

Pac-12 Networks


.@FootballASU snags a win behind @Taylor_Kelly10's passing...and punting? http://t.co/lO771pzRUd http://t.co/Rmk40nzDZb
about 9 hours ago

oregonliveducks

oregonlive.com/ducks


Devon Allen of the Oregon Ducks joins Andrew Greif and Tyson Alger on The Official Visit Podcast http://t.co/nYrAGm6xiG #goducks
about 9 hours ago

ESPN_Pac12blog

ESPN_Pac12blog


Arizona State had 23 sacks with five or fewer pass rushers last season, most for any Power Five school. (h/t @ESPNStatsInfo)
about 9 hours ago

ESPN_Pac12blog

ESPN_Pac12blog


3:24, down three. Do the Cougs have it in them?
about 9 hours ago

MattLeinartQB

Matt Leinart


Pac 12 QB Connor Holliday showing tonight why this is best QB conference in America.
about 9 hours ago

Pac12Networks

Pac-12 Networks


Sweetest picture of the day? Don't forget to follow us on Instagram. #WEBERvsASU http://t.co/U43FQcwKhg
about 9 hours ago

TedMillerRK

Ted Miller


Oh… my…. deja vu.
about 9 hours ago

RyanMcGrady

Ryan McGrady


Connor Halliday goes over 500 yards for the 3rd time in his @wsucougfb career. He's 54 yards away from breaking his Pac-12 record of 557
about 9 hours ago

ESPN_Pac12blog

ESPN_Pac12blog


Pac-12 poll: How many 1,000 yard rushers will the league have in in 2014? http://t.co/ilJYCEfdK9 http://t.co/dp1afSc14q
about 9 hours ago

ESPN_Pac12blog

ESPN_Pac12blog


And WSU takes back the lead. Halliday fires it to Galvin, who makes a nice move to get into the endzone.
about 9 hours ago

Pac12Networks

Pac-12 Networks


His name is Connor Halliday, and he's got 504 yards and 5 touchdowns tonight. http://t.co/71K0Aclizm
about 9 hours ago

Kevin_Gemmell

Kevin Gemmell


OK, Cougs can you hold a fourth-quarter lead?
about 10 hours ago

RyanMcGrady

Ryan McGrady


Career highs for yards (147) and TD's (3) for @FootballASU's DJ Foster #Forkem #Statisfaction
about 10 hours ago

Pac12Networks

Pac-12 Networks


Like the 80's band Dead Or Alive once wrote, @ASTATE_8 spins me right round! What a score! #WEBERvsASU http://t.co/YfMNDWLu5w
about 10 hours ago

ESPN_Pac12blog

ESPN_Pac12blog


Expectations are soaring for Myles Jack. What does he have in store for in his sophomore year? http://t.co/CisxQ3Ylhd http://t.co/jFXfGh8pv2
about 10 hours ago

BKRansford

Britton Ransford


On the last two drives, Halliday is 13-of-15 for 152 yards and two touchdowns.
about 10 hours ago

Pac12Networks

Pac-12 Networks


Wow. RT @WSUCougars: Connor Halliday goes over 400 yards on the day (408) with a 23-yd pass to Cracraft! 1st & 10 at the RU 25! #GoCougs
about 10 hours ago

Pac12Networks

Pac-12 Networks


SHUTOUT: @FootballASU is dominating their opponent at the half, 31-0. #WEBERvsASU http://t.co/DYeG3JTdWI
about 10 hours ago

Pac12Networks

Pac-12 Networks


Meanwhile, in Seattle, have yourself a game so far, @c_halliday12! @wsucougfb http://t.co/Mk8T4Ns4jc
about 10 hours ago

ESPN_Pac12blog

ESPN_Pac12blog


ICYMI: Improved facilites means Washington State will say goodbye to its annual Seattle game. http://t.co/RwPCE7OOZI http://t.co/riX4q7S7S5
about 10 hours ago

ESPN_Pac12blog

ESPN_Pac12blog


Ok, that's the Halliday we thought we'd see. Now, can the Cougar defense make a stop?
about 10 hours ago

WSUCougars

WSU Cougars


TOUCHDOWN!!! COUGS!!! Halliday threads the needle to find Cracraft down the middle from 7 yds out and the Cougs lead, 24-21! #GoCougs
about 10 hours ago

Pac12Networks

Pac-12 Networks


Just look at how many yards @FootballASU has racked up so far. #WEBERvsASU http://t.co/YfMNDWLu5w http://t.co/MehWdNwvbr
about 10 hours ago

curtbailey

Curt Bailey


Love @ASTATE_8 's choice of end zone celebration this year…act like you've been there. #WEBERvsASU
about 11 hours ago

ESPN_Pac12blog

ESPN_Pac12blog


Sun Devils with a 99 yard scoring drive - three passes of 10+ yards from Taylor Kelly.
about 11 hours ago

DuckSportsNow

Duck Sports Now


Wise Quacks: Who will start at RB for the Oregon Ducks? http://t.co/C6mAjaZPoE
about 11 hours ago

Pac12Networks

Pac-12 Networks


9 plays. 99 yards. 2:18. They're running some kind of offense down in Tempe, man! #WEBERvsASU http://t.co/txwRpQ8Le4
about 11 hours ago

BonaguraESPN

Kyle Bonagura


24 seconds for Halliday. Over/under on pass attempts?
about 11 hours ago

Pac12Networks

Pac-12 Networks


The #IDSTvsUTAH play of the game goes to @utah_football's Kaelin Clay. This 46-yard punt return had us going crazy! http://t.co/FOkguTZtct
about 11 hours ago

ESPN_Pac12blog

ESPN_Pac12blog


Wazzu with no answer for RB Paul James - 13 carries, 110 yards, 2 TDs. First half, folks. First half.
about 11 hours ago

Pac12Networks

Pac-12 Networks


Here is the @FootballASU that we know. D.J. Foster runs one in, making it 17-0. #WEBERvsASU http://t.co/NiiAuFirfj
about 11 hours ago

TheSunDevils

Sun Devil Athletics


DEVILS do it again! ASU 17 | Weber State 0 #LeaveNoDoubt
about 11 hours ago

WSUCougars

WSU Cougars


(GIF) Halliday hits Myers for a 4-yard TD pass, the first of the season! #GoCougs http://t.co/lqtG2j4rpg
about 11 hours ago

CurtisConway80

Curtis Conway


Congrats @Utah_Football on big win. @DrizzyDrezz_6 big day. 111yd @Kscott_2 4/57 1td. #traviswilson 265 1td #nateorchard 8 tack 2.5 sacks.
about 11 hours ago

ESPN_Pac12blog

ESPN_Pac12blog


Kelly to Chambers for a TD. Sun Devils lead 10-0.
about 11 hours ago

Jackyy831

'


One of my fav players since he played at Oregon. #RUNDAT @CHECKDAT6 🔥 http://t.co/HdB1cYe1NQ
about 11 hours ago

giop20

Gio


#tbt to when I was lucky enough to get a pic with the black mamba himself😎@CHECKDAT6 http://t.co/MsEdIrMq5k
about 11 hours ago

Pac12Networks

Pac-12 Networks


That's the way to get it started, @utah_football. More soon at http://t.co/W1I7bPpd8b! #IDSTvsUTAH http://t.co/OyiKeYImpm
about 12 hours ago

TedMillerRK

Ted Miller


If Rutgers goes down & scores, Coug fans are going to get their grump on. Making Rutgers look like Stanford.
about 12 hours ago

ESPN_Pac12blog

ESPN_Pac12blog


ICYMI: Washington State AD Bill Moos explains why the Cougars are playing their final game in Seattle. http://t.co/RwPCE7OOZI
about 12 hours ago

ESPN_Pac12blog

ESPN_Pac12blog


Wazzu really needs to get in the endzone this drive. Really.
about 12 hours ago

ESPN_Pac12blog

ESPN_Pac12blog


Cougars don't hold. Rutgers gets into the endzone. This is so far from how Wazzu wanted to start the season.
about 12 hours ago

Pac12Networks

Pac-12 Networks


Just another nice, cool August night in Tempe. #WEBERvsASU http://t.co/XZznvNflvA http://t.co/kbwDSHQaMR
about 12 hours ago

MightyOregon

Yell O


Solid final pre-season game for 49er Lamichael James tonight. 6 rushes, 39 yards. #producks #GoDucks
about 12 hours ago

ESPN_Pac12blog

ESPN_Pac12blog


Rutgers running backs: 38 yards. Wazzu running backs: 0 yards.
about 12 hours ago

MightyOregon

Yell O


Washington State's 'Air Raid' offense surprisingly terrible near goal line. 2 possessions inside 10, 8 plays ... a mere 3 pts to show.
about 12 hours ago

ESPN_Pac12blog

ESPN_Pac12blog


With 5 minutes left in the first quarter, Wazzu has yet to gain positive rushing yardage.
about 12 hours ago

Pac12Networks

Pac-12 Networks


REMINDER: #WEBERvsASU is starting on Pac-12 AZ, BA, LA, ORE and WSH on time. http://t.co/YfMNDWLu5w http://t.co/uHnSURLOVU
about 12 hours ago

ESPN_Pac12blog

ESPN_Pac12blog


Huge stand for Rutgers. Huge stand. Rutgers leads 7-0.
about 12 hours ago

Kevin_Gemmell

Kevin Gemmell


Post from May. WSU allowed points after a turnover 51 percent of the time last season, so that was a big stand. http://t.co/qnqe9vsPe7
about 12 hours ago

ESPN_Pac12blog

ESPN_Pac12blog


In the last two seasons, Stanford has an FBS high 101 sacks and allowed 2.9 yards per carry in 2013 4th-lowest in FBS. (h/t @ESPNStatsInfo)
about 12 hours ago

ESPN_Pac12blog

ESPN_Pac12blog


Washington State opens in Seattle tonight in Seattle. What should we expect from the Cougars? http://t.co/QwsLpIZ7eX http://t.co/fv3ZuCimSX
about 12 hours ago

Pac12Networks

Pac-12 Networks


As always, you can watch every game in its entirety at http://t.co/YfMNDWLu5w or in the Pac-12 Now app. #pac12fb
about 12 hours ago

Pac12Networks

Pac-12 Networks


PROGRAMMING NOTE: If the Utah game runs long, the @FootballASU game will start ON TIME on Pac-12 AZ, Bay Area, LA, Oregon and Washington.
about 12 hours ago

DuckSportsNow

Duck Sports Now


Pac-12 Football Preview: Week 1 http://t.co/ibZ9wPspqL
about 12 hours ago

RyanMcGrady

Ryan McGrady


Kaelin Clay of @Utah_Football is the first @Pac12Networks player with a Punt and kickoff return for TD since Deltha O'Neal of Cal in 1999
about 12 hours ago

ESPN_Pac12blog

ESPN_Pac12blog


And on his eighth pass attempt of the season, Halliday throws his first pick of 2014.
about 12 hours ago

ESPN_Pac12blog

ESPN_Pac12blog


Vince Mayle with a clutch catch on third-and-4.
about 12 hours ago

Pac12Networks

Pac-12 Networks


BEAST: Kaelin Clay hits the jets with this kickoff return, scoring a 100 yard TD, making it 49-14. #IDSTvsUTAH http://t.co/D91dgxoCWz
about 12 hours ago

AdventureGuys

Craig Hill


#wsu #Seahawks and #tacoma legend @MarcusTrufant raising the #wsu flag tonight at #centurylinkfield #GoCougs http://t.co/DJoZD0vI8u
about 12 hours ago

DuckSportsNow

Duck Sports Now


Before Oregon Ducks hope to control South Dakota, they'll tackle their nerves http://t.co/hNxUsK4bYM
about 13 hours ago

utahjazzfan1850

DR Gray


CLAY! CLAY! CLAY! #utes #pac12fb #GameDayU #idstvutah
about 13 hours ago

Pac12Networks

Pac-12 Networks


FACT: Kaelin Clay is pretty danged good at this football thing. #IDSTvsUTAH http://t.co/kyGnfUKEHL
about 13 hours ago

Pac12Networks

Pac-12 Networks


First game back? The fearlessness of @utah_football's Travis Wilson is evident. http://t.co/yz8ePMBw0t http://t.co/QbOJHcHaHz
about 13 hours ago

ESPN_Pac12blog

ESPN_Pac12blog


Better Know A Pac-12 QB: Oregon's Marcus Mariota. http://t.co/67HmoxKr9e http://t.co/5zejyo6NiB
about 13 hours ago

ESPN_Pac12blog

ESPN_Pac12blog


An opposing Pac-12 coach says Stanford QB Kevin Hogan "can be a bit of a cowboy sometimes." http://t.co/3x8vOFSwrr http://t.co/76ZSStmpwF
about 13 hours ago

RyanMcGrady

Ryan McGrady


@Pac12Networks Single game record for sacks in a game @Utah_Football is 4. Been done 5 times. Last by Paul Kruger in 2008 #Statisfaction
about 13 hours ago

Pac12Networks

Pac-12 Networks


The Utes have 35 points, but Nate Orchard is also getting it done on D. #IDSTvsUTAH http://t.co/YfMNDWLu5w http://t.co/jXld7agEgA
about 13 hours ago

DuckSportsNow

Duck Sports Now


South Dakota: What they're saying about Oregon http://t.co/Y0PziSk5i8
about 13 hours ago

UOPintens

Craig Pintens


No doubt Kenny Hill will win the Heisman. He is the front runner.
about 13 hours ago

Pac12Networks

Pac-12 Networks


New to the Networks? Let us introduce you (or reintroduce you) to #YamCam. #InstaYam http://t.co/YfMNDWLu5w http://t.co/9L3uQBsSwx
about 13 hours ago

Pac12Networks

Pac-12 Networks


The State Farm Halftime Show is up! Things are going pretty well for @utah_football. http://t.co/YfMNDWLu5w http://t.co/DAZduybqgr
about 13 hours ago

Pac12Networks

Pac-12 Networks


GIF: @utah_football's Kaelin Clay with the 46 yard, gas, break, dip, dip, punt return, making it 28-7. http://t.co/ezqh4B0xnm
about 14 hours ago

DuckSportsNow

Duck Sports Now


Ducks Ranked in First GCAA Poll http://t.co/V68vzOZluf
about 14 hours ago

Pac12Networks

Pac-12 Networks


We see you, Kaelin Clay. That was FANCY. #IDSTvsUTAH http://t.co/YfMNDWLu5w
about 14 hours ago

oregonliveducks

oregonlive.com/ducks


Before Oregon Ducks hope to control South Dakota, they'll tackle their nerves http://t.co/pKxNQHhL8X #goducks
about 14 hours ago

roxybernstein

Roxy Bernstein


Less than 2 hrs til kick on @PAC12Networks! @WeberStateFB at @FootballASU with @YogiRoth, @AdamsonAshley & me. http://t.co/ELyyNCI5sY
about 14 hours ago

Pac12Networks

Pac-12 Networks


SCORE! @utah_football's Devontae Booker with the freakish 38 yard run, making it 21-7. #IDSTvsUTAH http://t.co/c826WBRvK3
about 14 hours ago

ESPN_Pac12blog

ESPN_Pac12blog


USC QB Cody Kessler had a 97.4 Total QBR in the red zone last season, 2nd best in FBS and was responsible for 10 TDs. (h/t @ESPNStatsInfo)
about 14 hours ago

ESPN_Pac12blog

ESPN_Pac12blog


Your Week 1 Pac-12 predictions include Thursday night's action, including Wazzu-Rutgers. http://t.co/xB7BeGVwvT http://t.co/6pZLLIO548
about 14 hours ago
PAC-12 SCOREBOARD
Friday, 8/29
Thursday, 8/28
Saturday, 8/30
BLOG ARCHIVE:
CATEGORIES: