DE Emesibe picks up first three offers
April, 15, 2013
4/15/13
12:00
PM ET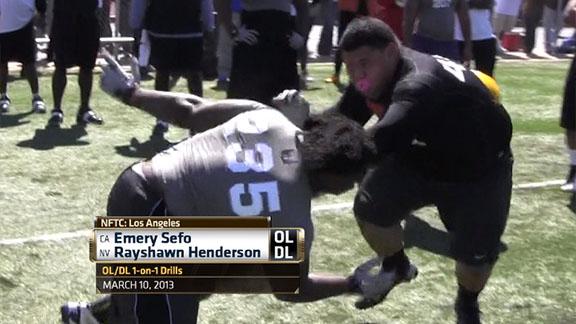 As often happens, the first offer issued to a recruit creates some momentum and others follow suit once one team pulls the trigger.
Defensive end
Kennedy Emesibe
(Hester, Calif./Oak Hills) is learning that first hand as he not only picked up his first offer last weekend from Cal, but added offers from Colorado State and Washington State a couple of days later.
To continue reading this article you must be an Insider
Insider
SEC Reigns Over AP Rankings
ESPN College Football Insider Brett McMurphy discusses the latest Associated Press college football poll, where the SEC has an unprecedented seven teams in the top 15.
SEC Reigns Over AP Rankings
VIDEO PLAYLIST
OREGON FB RECRUITING SCORECARD
ESPN_Pac12blog

ESPN_Pac12blog


Week 3 Pac-12 Power Rankings: Shaq Thompson did it all for Washington, who moved up this week. http://t.co/7Ar3MxJOCs http://t.co/k9NsRHgCA0
about 4 hours ago

oregonliveducks

oregonlive.com/ducks


Carolina Panthers' Dwan Edwards, Denver Broncos' TJ Ward play well: NFL Week 2 local performances http://t.co/2qmgtGDLNU #goducks
about 5 hours ago

ESPN_Pac12blog

ESPN_Pac12blog


Vote for your Pac-12 play of the week. Choose among Neuheisel, Mariota, Thompson or Dargan. http://t.co/44LdR6G1DC http://t.co/CxhVEGsWDf
about 5 hours ago

Pac12Networks

Pac-12 Networks


Recap: No.1 @UCLAMSoccer draws with Cal Poly: http://t.co/WYbqcReeqN
about 6 hours ago

DuckSportsNow

Duck Sports Now


Oregon Ducks football: Mark Helfrich's unintentional message leads Ducks into Pac-12 challenge http://t.co/HrYb82HxJv
about 6 hours ago

Pac12Networks

Pac-12 Networks


Play of the Game honors from #CPvsUCLA go to @UCLAMSoccer GK Earl Edwards, whose two saves kept the Bruins alive: http://t.co/YuA7vJRCOu
about 6 hours ago

Pac12Networks

Pac-12 Networks


After two overtimes, No.1 @UCLAMSoccer settled for a 0-0 draw with Cal Poly http://t.co/baEkV9jD66
about 6 hours ago

Pac12Networks

Pac-12 Networks


After two overtimes, No.1 @uclamsoccer settled for a 0-0 draw with Cal Poly http://t.co/nqG7Sqeq9e http://t.co/3853GfUD8I
about 6 hours ago

Pac12Networks

Pac-12 Networks


We see you, Seyi! Watch #SportsReport tomorrow at 7 PT to see if he makes our #12best! RT @UCLAAthletics @UCLAMSoccer
about 6 hours ago

UCLAAthletics

UCLA Athletics


Pssstt @pac12Networks ... #12best! RT @UCLAMSoccer: DID YOU SEE THAT?! Seyi Adekoya is a ninja. GIF: http://t.co/0oS9sGfp1L
about 6 hours ago

oregonliveducks

oregonlive.com/ducks


Oregon Ducks football: Mark Helfrich's unintentional message leads Ducks into Pac-12 challenge http://t.co/WVqBuIvH2c #goducks
about 6 hours ago

Pac12Networks

Pac-12 Networks


Our poll is open for the newest #LeaderOfThePac! Vote here: http://t.co/AIIV6mIpKb http://t.co/y3LvufM6Ul
about 6 hours ago

McNamaraUO

Andy McNamara


If @WinTheDay needs added motivation this week, Ducks have not won a Pac-12 road game in 338 days #GoDucks #UOvsWSU
about 7 hours ago

DuckSportsNow

Duck Sports Now


Raw video: Mark Helfrich believes versatility of offensive line will lessen blow of injuries http://t.co/qD1U7ZAKna
about 7 hours ago

DuckSportsNow

Duck Sports Now


Photos: Oregon vs. Wyoming http://t.co/vWfNx4UQWF
about 7 hours ago

DSArivals

DuckSportsAuthority


Photos: Oregon vs. Wyoming: Oregon held home court against Wyoming on Saturday and Duck Sports Authority was o... http://t.co/UY4wAFQQbo
about 7 hours ago

Pac12Networks

Pac-12 Networks


Our poll is open for the Week 3 #LeaderOfThePac! Vote here: http://t.co/QqDlpcv0P1 http://t.co/WLwa33JvPt http://t.co/3fLmH6J0An
about 7 hours ago

ESPN_Pac12blog

ESPN_Pac12blog


What We Learned Week 3: USC was not ready for primetime. http://t.co/c5hwBU20YC http://t.co/Botp4gwbzZ
about 7 hours ago

DuckSportsNow

Duck Sports Now


Ducks Preparing For Different Sort of Challenge at WSU http://t.co/51Fx7drKyT
about 7 hours ago

DuckSportsNow

Duck Sports Now


Oregon Ducks coach Mark Helfrich post-Wyoming: Preparing for Washington State's 'Playstation numbers' on offense http://t.co/8ospsJYwE3
about 7 hours ago

GoDucksTV

GoDucks TV


Now on @GoDucksTV: Mark Helfrich Press Conference 9-14 http://t.co/diLQVxDOfk #GoDucks
about 7 hours ago

GoDucksTV

GoDucks TV


Now on @GoDucksTV: Mark Helfrich Press Conference 9-14 http://t.co/diLQVxDOfk #GoDucks
about 8 hours ago

oregonliveducks

oregonlive.com/ducks


Oregon Ducks coach Mark Helfrich post-Wyoming: Preparing for Washington State's 'Playstation numbers'... http://t.co/h9XK9NFkGu #goducks
about 8 hours ago

DuckFootball

Rob Moseley


Ducks Preparing For Different Sort of Challenge at WSU http://t.co/UVgCxuSY9o #GoDucks
about 8 hours ago

ESPN_Pac12blog

ESPN_Pac12blog


Week 3 Pac-12 Power Rankings: UCLA roars back in a win over Texas. Where'd the Bruins land? http://t.co/7Ar3MxJOCs http://t.co/0P3kabH0VY
about 8 hours ago

DuckSportsNow

Duck Sports Now


Oregon's dominance, running QBs and Mike Leach's big moment; Ken Goe's three takeaways from the weekend http://t.co/IkogVdWdEa
about 8 hours ago

DuckFootball

Rob Moseley


Theme of Helfrich's teleconference tonight was communication. When Ducks have had breakdowns through three games, that was usually culprit.
about 8 hours ago

ESPN_Pac12blog

ESPN_Pac12blog


Pac-12 bowl projections: Week 3 http://t.co/ZHRlrYzVFP
about 8 hours ago

ESPN_Pac12blog

ESPN_Pac12blog


Vote for your Pac-12 play of the week. Choose among Neuheisel, Mariota, Thompson or Dargan. http://t.co/44LdR6G1DC http://t.co/33ISlGpbaW
about 8 hours ago

DuckSportsNow

Duck Sports Now


Extra Point: Offensive line Injuries http://t.co/zZEdXPoiYZ
about 9 hours ago

Pac12Networks

Pac-12 Networks


Play of the Game honors for #SCUvsCAL go to @CalWomensSoccer's Grace Leer for this clinical game-winning goal: http://t.co/Ba1v24Ttpy
about 9 hours ago

Pac12Networks

Pac-12 Networks


It's final in Berkeley: @calwomenssoccer takes down Santa Clara #SCUvsCAL http://t.co/ysZCsG4ufQ
about 9 hours ago

GHorowitz

Gary Horowitz


Oregon coach Mark Helfrich on QB Marcus Mariota's acrobatics: "We won't ever approach offense with any handcuff mentality." #sjnow
about 9 hours ago

ESPN_Pac12blog

ESPN_Pac12blog


ICYMI: AP Poll watch: Oregon stays put at No. 2 while USC takes a tumble. http://t.co/MGFH7hjzBP http://t.co/lOnIruqrZx
about 9 hours ago

DuckFootball

Rob Moseley


Oregon's players of the week last week: Marshall (O), Dargan (D), Nelson (ST). Scouts: Forde/James (O), Garrity (D), Manns (ST). #GoDucks
about 9 hours ago

Pac12Networks

Pac-12 Networks


Tune in to Pac-12 Networks at 5:30 PT for an interstate showdown between No.1 @uclamsoccer and Cal Poly #CPvsUCLA http://t.co/YIZPQCNVjd
about 9 hours ago

Pac12Networks

Pac-12 Networks


Anyone ready for some Pac-12 hoops? Catch the '14-'15 men's basketball schedule reveal Monday at 7 p.m. PT only on #SportsReport.
about 10 hours ago

DuckSportsNow

Duck Sports Now


Sunday Poll Review: Ducks hold steady at No. 2 in AP Top 25, move up to No. 3 in Amway Coaches Poll http://t.co/QNo6RecwbG
about 10 hours ago

Pac12Networks

Pac-12 Networks


Anyone ready for some Pac-12 hoops? The '14-'15 men's basketball schedule will be revealed Monday at 7 p.m. PT on Sports Report
about 10 hours ago

oregonliveducks

oregonlive.com/ducks


Oregon's dominance, running QBs and Mike Leach's big moment; Ken Goe's three takeaways from the weekend http://t.co/Aqg7RGIHWG #goducks
about 10 hours ago

Pac12Networks

Pac-12 Networks


Say you did something artsy this weekend by taking a look at our gallery... ...[of amazing football pics]: http://t.co/5STqAJ35fN
about 10 hours ago

Pac12Networks

Pac-12 Networks


WATCH: Play of the Game from @CalMensSoccer's win over Gonzaga goes to Jose Carrera-Garcia for this 76" goal http://t.co/R32eub6spY
about 11 hours ago

DuckSportsNow

Duck Sports Now


( Video ) THEFT ARTIST ERICK DARGAN SNARES TWO VS WYOMING – "I'm always trying to make a play for the defense,... http://t.co/8WyRcTY3Pc
about 11 hours ago

ESPN_Pac12blog

ESPN_Pac12blog


Week 3 Pac-12 Power Rankings: Arizona State moves up to No. 2 but Sun Devils concerned about QB Taylor Kelly's foot. http://t.co/7Ar3MxJOCs
about 11 hours ago

ESPN_Pac12blog

ESPN_Pac12blog


ICYMI: Rick Neuheisel watches his son Jerry lead UCLA to victory against Texas. http://t.co/Uul2gZ4GFx http://t.co/y89it2e2vp
about 11 hours ago

Pac12Networks

Pac-12 Networks


Shout out to @calmenssoccer who just took down Gonzaga in Berkeley http://t.co/cMzNhWtMp4
about 11 hours ago

DuckSportsNow

Duck Sports Now


Vote: Pac-12 Play of the Week http://t.co/rPc4VwtMWx
about 11 hours ago

ESPN_Pac12blog

ESPN_Pac12blog


What was former NBA star Jerry Stackhouse doing at Stanford? The answer is in the Pac-12 weekend recruiting roundup. http://t.co/SyzhqJlqqz
about 11 hours ago

ESPN_Pac12blog

ESPN_Pac12blog


Vote for your Pac-12 play of the week. Choose among Neuheisel, Mariota, Thompson or Dargan. http://t.co/44LdR6G1DC http://t.co/MA4Wbvl7sd
about 11 hours ago

Pac12Networks

Pac-12 Networks


Tune in to Pac-12 Networks at 3:30 for matchup of Bay Area rivals http://t.co/MaOE1ksw4T
about 12 hours ago

DuckSportsNow

Duck Sports Now


What We Learned: 11 Newbs Come of Age http://t.co/G6tIye2qNf
about 12 hours ago

ESPN_Pac12blog

ESPN_Pac12blog


ICYMI: UCLA turned to Jerry Neuheisel when Brett Hundley went down. He didn't disappoint. http://t.co/wroqoP26Po http://t.co/4RZCRyBnRg
about 12 hours ago

AP_Top25

AP Top 25


Florida St, Alabama top coaches poll from @USATodaySports: http://t.co/AvCYB9XYqs @AP_Top25 poll has it #FSU, Oregon http://t.co/t7gVXC9elO
about 12 hours ago

oregonliveducks

oregonlive.com/ducks


Top 25 Poll analysis: South Carolina rises up again; USC takes a big tumble http://t.co/gpRC8P8kRq #goducks
about 12 hours ago

TheOregonDuck

The Oregon Duck


This is pretty neat 👌👌 thanks @nytimes http://t.co/ILmm4XALAc
about 12 hours ago

DuckSportsNow

Duck Sports Now


SEC Reigns Over AP Rankings http://t.co/bxqwvrx7zs
about 12 hours ago

ESPN_Pac12blog

ESPN_Pac12blog


Vote for your Pac-12 play of the week. Choose among Neuheisel, Mariota, Thompson or Dargan. http://t.co/4XVhgPQH0W http://t.co/y5k4rL4K9P
about 12 hours ago

DuckSportsNow

Duck Sports Now


Oregon remains at No. 2; USC drops http://t.co/WSBXcEycJz
about 13 hours ago

DuckSportsNow

Duck Sports Now


Seven SEC teams ranked among top 15 in The Associated Press college football poll http://t.co/i2I6eGCLpP
about 13 hours ago

Pac12Networks

Pac-12 Networks


So, on a scale from 1 to Jerry Neuheisel, how's everybody feeling this fine Sunday?
about 13 hours ago

DuckSportsNow

Duck Sports Now


Ducks No. 2 in AP, move past Sooners to No. 3 in Coaches http://t.co/GfR4qbZOur
about 13 hours ago

BCSKnowHow

BCSKnowHow.com


If there was a BCS release today the top four teams would be separated by less than .01 points (corrected!) http://t.co/39ItTgwioQ
about 13 hours ago

Pac12Networks

Pac-12 Networks


WATCH: Cal men's soccer vs. Gonzaga live on Pac-12 Networks http://t.co/cv9IqxLVoz
about 13 hours ago

Pac12Networks

Pac-12 Networks


.@StanfordFH made it a battle on The Farm, but fell to Albany earlier this afternoon. http://t.co/puWlpkPtIK
about 13 hours ago

oregonliveducks

oregonlive.com/ducks


Former Oregon State Beavers DL Dwan Edwards having a big day for Carolina Panthers: NFL locals live updates http://t.co/RIyjrrEfNc #goducks
about 13 hours ago

DuckSportsNow

Duck Sports Now


AP Top 25: Oregon Ducks remain at No. 2 after win over Wyoming http://t.co/2LzkcSMyXQ
about 13 hours ago

ESPN_Pac12blog

ESPN_Pac12blog


Vote: Pac-12 Play of the Week http://t.co/H6YiJbjxja
about 13 hours ago

Pac12Networks

Pac-12 Networks


.@StanfordFH falls to Albany, 1-0. Play of the Game honors go to Stanford goalie @DulcieDavies for this great save: http://t.co/ng0J9IUyPu
about 13 hours ago

DuckSportsNow

Duck Sports Now


( Video ) OREGON OFFENSIVE LINE SNAKEBIT WITH INJURY BUG – Line Coach Steve Greatwood Discusses Jake Fisher... http://t.co/78MS0ZyHol
about 13 hours ago

Pac12Networks

Pac-12 Networks


We second that! #TeamNeuheisel RT@Sam_Ponder Well this is really cool... http://t.co/3e27oI7Utp
about 13 hours ago

Pac12Networks

Pac-12 Networks


There were some ridiculously good performances this week in the Pac-12, but which athlete should win this week's #LeaderOfThePac honors?
about 14 hours ago

DuckSportsNow

Duck Sports Now


Pac-12 Roundup: USC stumbles on the east coast, Brett Hundley falls victim to injury http://t.co/alKIPmAViW
about 14 hours ago

ESPN_Pac12blog

ESPN_Pac12blog


Oregon remains at No. 2; USC drops http://t.co/MufCjXnAPP
about 14 hours ago

DuckSportsNow

Duck Sports Now


Pac-12 Power Rankings: Week 3 http://t.co/Gu25B10Cpn
about 14 hours ago

oregonliveducks

oregonlive.com/ducks


AP Top 25: Oregon Ducks remain at No. 2 after win over Wyoming http://t.co/7BOluwzGG7 #goducks
about 14 hours ago

UOPintens

Craig Pintens


Two student-athletes were caught last night being Men of Oregon. http://t.co/bHHAv0E48q #GoDucks
about 14 hours ago

Pac12Networks

Pac-12 Networks


The week 3 AP poll is in! Five Pac-12 teams are among the top 25, with @WinTheDay holding it down at No. 2: http://t.co/mLwZrkNnXF
about 15 hours ago

Pac12Networks

Pac-12 Networks


True to form, @wsucougfb set another Pac-12 passing record last night. Check out the video recap here: http://t.co/LKBcma0Eqg
about 15 hours ago

DuckSportsNow

Duck Sports Now


( Video ) DON PELLUM TALKS DEFENSE IN WYOMING WIN – "We need to be more consistent" http://t.co/r8K9zDapZo
about 15 hours ago

DuckSportsNow

Duck Sports Now


12 Pac Review: The South Is A Dumpster Fire And I Can't Stop Watching http://t.co/FF5Bx0CswW
about 15 hours ago

Pac12Networks

Pac-12 Networks


The Pac-12 Networks remembers @OregonStateMBB legend Paul Valenti, who passed away yesterday at the age of 94. http://t.co/u0WP3zDr66
about 15 hours ago

BonaguraESPN

Kyle Bonagura


#Pac12 in new AP poll: 2. Oregon; 12. UCLA; 15. ASU; 16. Stanford; 17. USC.
about 15 hours ago

ESPN_Pac12blog

ESPN_Pac12blog


Pac-12 Power Rankings: Week 3 http://t.co/HL6WqDWbTH
about 15 hours ago

McNamaraUO

Andy McNamara


RT @AP_Top25: FSU, Oregon, Alabama top latest poll, Nebraska & #OKState back in. Full poll soon: http://t.co/fS6ovy1qk4 #GoDucks
about 15 hours ago

Pac12Networks

Pac-12 Networks


Pac-12 fans, you tell us: Which plays from the past week NEED to make the #12Best on tomorrow's edition of Sports Report?
about 15 hours ago

Pac12Networks

Pac-12 Networks


ICYMI: @StanfordFball's bounce back win results in shutting out Army, 35-0. http://t.co/r7e6B6iYrK http://t.co/l6X0q6shYj
about 16 hours ago

McNamaraUO

Andy McNamara


Coaches Poll is out, @WinTheDay moves up one spot to No. 3 #GoDucks http://t.co/a7uQyNRcJz
about 16 hours ago

DuckSportsNow

Duck Sports Now


Marcus Mariota, Royce Freeman, and…Charles Nelson. What we know after 3 weeks. Part 1 http://t.co/Iwnam4qtTY
about 16 hours ago

DuckSportsNow

Duck Sports Now


Can Mariota carry this offensive line and defense all the way? http://t.co/ANODQQJdiS
about 16 hours ago

DuckSportsNow

Duck Sports Now


Numbers confirm Ducks are good, but need to be better in league play http://t.co/L0GCgJs5kD
about 16 hours ago

DuckSportsNow

Duck Sports Now


About Last Night: Ducks whip Wyoming and in the process show what it means to be 'Men of Oregon' http://t.co/qPR2j72H3e
about 16 hours ago

Pac12Networks

Pac-12 Networks


ICYMI: @CoachNeuheisel interviewed son Jerry right after @UCLAFootball win over Texas. http://t.co/73nOg5dNKH
about 16 hours ago

oregonliveducks

oregonlive.com/ducks


Oregon should reign in Marcus Mariota before he follows Brett Hundley and Taylor Kelly onto the injur... http://t.co/jXCbFqYQrf #goducks
about 17 hours ago

Pac12Networks

Pac-12 Networks


Roundball's comin'. The 2014-15 #pac12hoops schedule will be revealed tomorrow at 7 PT/8 MT on #SportsReport! http://t.co/TW1OPF0Onq
about 17 hours ago

ESPN_Pac12blog

ESPN_Pac12blog


Best of the visits: Pac-12 http://t.co/T7v6eFBATC
about 17 hours ago

DuckSportsNow

Duck Sports Now


Ducks are head over heels for Mariota http://t.co/202ug0IhAT
about 17 hours ago

jwquick

Jason Quick


About Last Night (or afternoon) in Eugene, where the meaning of 'Men of Oregon' was on display http://t.co/zLrWqHfuQH
about 17 hours ago

oregonliveducks

oregonlive.com/ducks


About Last Night: Ducks whip Wyoming and in the process show what it means to be 'Men of Oregon' http://t.co/9mlUOvJHOQ #goducks
about 17 hours ago

Pac12Networks

Pac-12 Networks


ICYMI: @UW_Football did it all en route to a rout of Illinois yesterday. http://t.co/Q7L6R3ydon http://t.co/QuQuqg6oBY
about 17 hours ago

DuckSportsNow

Duck Sports Now


De'Anthony Thomas Out Again This Week Against Denver http://t.co/k0X5B6cXTC
about 17 hours ago
BLOG ARCHIVE:
CATEGORIES: