DT Smith shakes off cold on N.C. trip
March, 26, 2013
3/26/13
6:15
AM ET
By
Miller Safrit & Brandon Oliver
| ESPN Insider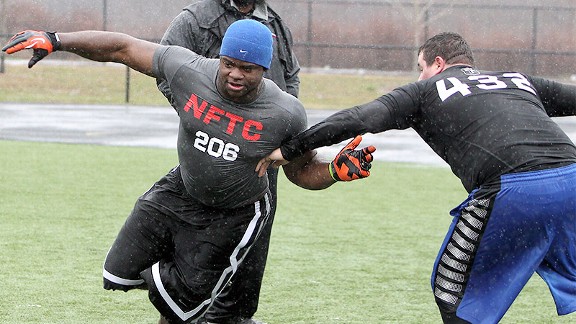 Miller Safrit/ESPNEnoch Smith didn't let rain affect his performance at the Nike Football Training Camp in Charlotte, N.C.
CHARLOTTE, N.C. -- Charlotte might not be the closest Nike Football Training Camp for
Enoch Smith
(Chicago, Ill./Mount Carmel), but the defensive tackle and his family knew they needed to visit some schools in the area.
After visiting three college programs and working out in 45 degree weather with rain pouring throughout the NFTC, Smith and his family packed back into the family van for the scheduled 12-hour drive home with more than they expected.
To continue reading this article you must be an Insider
Insider
Oregon Sinks South Dakota
Marcus Mariota combined for 310 yards and four touchdowns in Oregon's 62-13 win over South Dakota.
Oregon Sinks South Dakota
VIDEO PLAYLIST
Oregon Sinks South Dakota

Oregon Sinks South Dakota

Marcus Mariota combined for 310 yards and four touchdowns in Oregon's 62-13 win over South Dakota.

4Q ORE K. Bassett run for 9 yds for a TD, (A. Schneider KICK)

4Q ORE K. Bassett run for 9 yds for a TD, (A. Schneider KICK)

Kenny Bassett run for 9 yds for a TD

4Q ORE J. Lockie pass,to P. Brown for 4 yds for a TD, (A. Schneider KICK)

4Q ORE J. Lockie pass,to P. Brown for 4 yds for a TD, (A. Schneider KICK)

Jeff Lockie pass complete to Pharaoh Brown for 4 yds for a TD (Aidan Schneider KICK)
OREGON FB RECRUITING SCORECARD
DuckSportsNow

Duck Sports Now


Royce Freeman validates the hype in first game at Oregon http://t.co/gdtEXV0csC
5 minutes ago

DuckSportsNow

Duck Sports Now


Regardless of the coordinator, problems at defense persist leading up to Michigan State http://t.co/sSd7e8aeGu
5 minutes ago

GoDucksTV

GoDucks TV


Now on @GoDucksTV: Ifo-Ekpre Olomu post South Dakota http://t.co/iFIcVdfUnB #GoDucks
about an hour ago

GoDucksTV

GoDucks TV


Now on @GoDucksTV: Mark Helfrich post South Dakota http://t.co/rszQfJOJh8 #GoDucks
about an hour ago

DuckSportsNow

Duck Sports Now


UO Defense Opens Season to Mixed Reviews http://t.co/EfHgmskznP
about an hour ago

DuckSportsNow

Duck Sports Now


Slideshow: Coyote ugly in Autzen http://t.co/2dAKyqpw3F
about an hour ago

DuckSportsNow

Duck Sports Now


OREGON STEAMROLLS SOUTH DAKOTA 62-13 IN SEASON OPENER – Marcus Mariota Sets Career Touchdown Record While... http://t.co/TVtPX1MDQA
about an hour ago

DuckSportsNow

Duck Sports Now


Photos: Best of Oregon Football vs South Dakota http://t.co/r1dLHSvhkB
about 2 hours ago

DuckSportsNow

Duck Sports Now


Backfield Depth On Display in UO Opener http://t.co/gJKBZRuN9B
about 2 hours ago

DuckSportsNow

Duck Sports Now


Byron Marshall bounces back after touchback mishap http://t.co/RAmcMP11D3
about 2 hours ago

DuckSportsNow

Duck Sports Now


Press Box Recap http://t.co/wYbRlJmzLb
about 2 hours ago

DuckSportsNow

Duck Sports Now


Photos: Oregon Ducks hammer South Dakota Coyotes 62-13 http://t.co/OX46eV2GsW
about 2 hours ago

McNamaraUO

Andy McNamara


Pop quiz: How many ponts did @WinTheDay allow in the 2nd half with newcomers galore playing major reps? #ZERO #GoDucks #USDvsUO
about 2 hours ago

DuckSportsNow

Duck Sports Now


Postgame Notebook: No. 3 Oregon vs. South Dakota http://t.co/1LgIMAibeL
about 2 hours ago

DuckSportsNow

Duck Sports Now


Recap: Oregon handles South Dakota http://t.co/uvwpiMzPLS
about 2 hours ago

DuckSportsNow

Duck Sports Now


Postgame interview: Byron Marshall reflects on Ducks' season-opener http://t.co/CxRhFRaMOj
about 2 hours ago

DuckFootball

Rob Moseley


Notes: Ten true freshmen play Saturday http://t.co/OioNyJspNN #GoDucks
about 3 hours ago

DuckSportsNow

Duck Sports Now


No. 3 Ducks Soar Over South Dakota, 62-13 http://t.co/Gr1Vo1uCPO
about 3 hours ago

DuckSportsNow

Duck Sports Now


Ducks Run Away from 'Yotes 62-13 http://t.co/yqD510E9St
about 3 hours ago

DuckSportsNow

Duck Sports Now


What we learned in the Pac-12: Week 1 http://t.co/LLEJ6i4xWH
about 3 hours ago

DuckSportsNow

Duck Sports Now


Oregon Ducks coaches encouraged by Jeff Lockie's 11-of-12 performance against South Dakota http://t.co/Isj8x5iJoC
about 3 hours ago

DuckSportsNow

Duck Sports Now


Oregon Ducks' Ifo Ekpre-Olomu injures ankle against South Dakota http://t.co/MEXExOCM9K
about 3 hours ago

DuckSportsNow

Duck Sports Now


Oregon Ducks freshman Charles Nelson draws De'Anthony Thomas comparison from Marcus Mariota http://t.co/bntlGn2QiX
about 3 hours ago

DuckSportsNow

Duck Sports Now


Oregon Ducks fans get sunset, selfies in photos from Autzen Stadium: Your photos http://t.co/fljTlxmoFh
about 3 hours ago

DuckSportsNow

Duck Sports Now


Mariota has 4 TDs and Oregon beats S. Dakota 62-13 http://t.co/fWGqUPF8t6
about 3 hours ago

DuckFootball

Rob Moseley


Backfield Depth On Display in UO Opener http://t.co/9DMlSVH7KL #GoDucks
about 3 hours ago

McNamaraUO

Andy McNamara


Postgame quote from @EricEvansPhoto about how @ArikArmstead looked tonight: "He went from man-child to man." #GoDucks
about 3 hours ago

UOPintens

Craig Pintens


Nice infographic #GoDucks RT @WinTheDay Oregon 62, South Dakota 13 #GoDucks #USDvsUO http://t.co/qcSzCKbTop
about 3 hours ago

ESPN_Pac12blog

ESPN_Pac12blog


Washington 17, Hawaii 16 http://t.co/XXWH30vTsM
about 3 hours ago

DuckSportsNow

Duck Sports Now


Oregon Ducks Offense Rolls South Dakota, Mariota in Heisman Form http://t.co/KUwWbpoGTB
about 4 hours ago

DuckSportsNow

Duck Sports Now


Recap: Oregon executes scoring barrage in 62-13 win over South Dakota http://t.co/cN3SAhUXmx
about 4 hours ago

GoDucks

GoDucks


This is how @matkearney gets ready for a game. #GoDucks http://t.co/udHRPiEOW0
about 4 hours ago

ESPN_Pac12blog

ESPN_Pac12blog


What we learned in the Pac-12: Week 1 http://t.co/dcwe9hBPmt
about 4 hours ago

McNamaraUO

Andy McNamara


Props to @JeffLockie17 for his 11-of-12, 113-yard, 1-TD performance tonight. #MarcusWho? #GoDucks
about 4 hours ago

DuckSportsNow

Duck Sports Now


Ducks 62, Coyotes 13: Our Old Pal Football Has Come Home To Raise Hell http://t.co/0actbwOhF4
about 4 hours ago

DuckSportsNow

Duck Sports Now


Oregon Sinks South Dakota http://t.co/w6mWV9IqLx
about 4 hours ago

DuckSportsNow

Duck Sports Now


Ducks bury South Dakota early, cruise to 62-13 victory http://t.co/65kpF2I5DP
about 4 hours ago

DuckSportsNow

Duck Sports Now


4Q ORE K. Bassett run for 9 yds for a TD, (A. Schneider KICK) http://t.co/cWpjvHmL9Y
about 4 hours ago

DuckSportsNow

Duck Sports Now


4Q ORE J. Lockie pass,to P. Brown for 4 yds for a TD, (A. Schneider KICK) http://t.co/nIqLcjpnFV
about 4 hours ago

DuckSportsNow

Duck Sports Now


1Q ORE (Two pt rush, T. Alie GOOD) http://t.co/im4WDjLHHU
about 4 hours ago

DuckSportsNow

Duck Sports Now


Video: Royce Freeman scores two touchdowns in Ducks debut http://t.co/jlbv4rjVwV
about 4 hours ago

DuckSportsNow

Duck Sports Now


Video: Marcus Mariota scores four touchdowns in just one half of play http://t.co/A8i11zbMM6
about 4 hours ago

DuckFootball

Rob Moseley


That said, Tony Washington and Don Pellum both said the energy level wasn't there. Got better as game wore on, but lethargic start.
about 4 hours ago

DuckFootball

Rob Moseley


Reactions to defensive effort were wide ranging. Ducks said kept things pretty basic, and had an adjustment after facing UO spread in camp.
about 4 hours ago

EmanuelMartins

Manny Martins


Photo bombed by the cops at his first football game @GoDucks #GoDucks http://t.co/V1CK1Syp3h
about 4 hours ago

_YAYA_DECLAN_

USMCDuck


@DuckFootball hope fans realize the Ducks played a very vanilla base defense tonight. Sure you've been getting some sky is falling tweets!
about 4 hours ago

DuckSportsNow

Duck Sports Now


College GameDay visits for Oregon-MSU http://t.co/jFss3hDY2Q
about 4 hours ago

DuckFootball

Rob Moseley


Ifo Ekpre-Olomu said he's been battling an ankle injury and took limited reps tonight as a precaution.
about 4 hours ago

DuckFootball

Rob Moseley


Huh, we must be doing the same biceps workouts RT @BriAmaranthus Royce Freeman addresses the media for the first time #GoDucks #DucksFB
about 4 hours ago

DuckSportsNow

Duck Sports Now


Oregon Ducks' changes bring a similar result: A season-opening rout http://t.co/IYKnEeVzjw
about 4 hours ago

DuckSportsNow

Duck Sports Now


Oregon Ducks rout South Dakota Coyotes: What they're saying http://t.co/E3YLMFQzqq
about 4 hours ago

DuckSportsNow

Duck Sports Now


Dwayne Stanford makes a statement in his return to the Oregon Ducks in win over South Dakota http://t.co/QQPaQpZaZ3
about 4 hours ago

DuckSportsNow

Duck Sports Now


No. 3 Oregon 62, South Dakota 13: Ducks have no trouble downing Coyotes http://t.co/Ofk8Qeiunl
about 4 hours ago

DuckSportsNow

Duck Sports Now


Quick: In Ducks' 62-13 win, Byron Marshall shows he has an answer for all those who questioned him http://t.co/RvIu550AQT
about 4 hours ago

UOPintens

Craig Pintens


"We got the hooper and the track star, next week we will try & get @ElizBrenner out there" - Mark Helfrich #GoDucks
about 4 hours ago

ESPN_Pac12blog

ESPN_Pac12blog


Oregon 62, South Dakota 13 http://t.co/SF9olg5ana
about 4 hours ago

DuckSportsNow

Duck Sports Now


Final: Oregon 62, South Dakota 13 http://t.co/HExtvNkxkF
about 4 hours ago

oregonliveducks

oregonlive.com/ducks


Ducks, Beavers live updates, Canzano's column and more: The Oregonian's sports top 5 http://t.co/QtNpYfy86K #goducks
about 4 hours ago

DuckSportsNow

Duck Sports Now


Third quarter: Oregon 48, South Dakota 13 http://t.co/4GQzINIaN8
about 4 hours ago

oregonliveducks

oregonlive.com/ducks


Oregon Ducks' changes bring a similar result: A season-opening rout http://t.co/MP7dClGuiX #goducks
about 4 hours ago

DuckSportsNow

Duck Sports Now


Rapid Reaction: No. 3 Oregon 62, South Dakota 13 http://t.co/8xUO9KlFk9
about 5 hours ago

oregonliveducks

oregonlive.com/ducks


Oregon Ducks rout South Dakota Coyotes: What they're saying http://t.co/mHveTwREJM #goducks
about 5 hours ago

oregonliveducks

oregonlive.com/ducks


Dwayne Stanford makes a statement in his return to the Oregon Ducks in win over South Dakota http://t.co/lJLlrXL7CY #goducks
about 5 hours ago

oregonliveducks

oregonlive.com/ducks


No. 3 Oregon 62, South Dakota 13: Ducks have no trouble downing Coyotes http://t.co/LsZZFs9PdE #goducks
about 5 hours ago

YogiRoth

Yogi Roth


Congrats to @UW_Football and Coach Pete on his first win in @pac12 cc: @Pac12Networks
about 5 hours ago

Pac12Networks

Pac-12 Networks


It was a tight one in paradise, but @UW_Football comes out with a W. http://t.co/A5pxkRuPfn http://t.co/799CXYgm8T
about 5 hours ago

McNamaraUO

Andy McNamara


10th straight home opening win for @WinTheDay #GoDucks #USDvsUO
about 5 hours ago

oregonliveducks

oregonlive.com/ducks


Oregon Ducks vs. South Dakota in 2014 season opener (photos) http://t.co/5WMXY5EIxE #goducks
about 5 hours ago

Pac12Networks

Pac-12 Networks


Tell the world: @WinTheDay is back in action. #USDvsUO http://t.co/1ETgH7I7Ms http://t.co/OufQNofOa8
about 5 hours ago

oregonliveducks

oregonlive.com/ducks


Quick: In Ducks' 62-13 win, Byron Marshall shows he has an answer for all those who questioned him http://t.co/PFJadNBJRL #goducks
about 5 hours ago

Mike_Yam

Michael Yam


A complete wrap up of Saturdays #pac12fb is coming up on the @Pac12Networks w/ @MattLeinartQB, @CurtisConway80 & @CoachNeuheisel right now
about 5 hours ago

DuckSportsNow

Duck Sports Now


3Q ORE M. Bergner punt for 37 yds,C. Nelson returns for 50 yds for a TD http://t.co/7DEloVeBMF
about 5 hours ago

DuckSportsNow

Duck Sports Now


Halftime: Oregon Ducks 41, South Dakota 13 http://t.co/gSCGeLda1s
about 5 hours ago

DuckSportsNow

Duck Sports Now


2Q ORE M. Mariota run for 1 yd for a TD http://t.co/GrGRfTxOUm
about 5 hours ago

DuckSportsNow

Duck Sports Now


SDAK vs. ORE http://t.co/otSvygEUPY
about 5 hours ago

DuckSportsNow

Duck Sports Now


SDAK vs. ORE – SDAK run http://t.co/sRzOspjfIk
about 5 hours ago

DuckSportsNow

Duck Sports Now


SDAK vs. ORE – ORE TD http://t.co/gJ3KX0mLiB
about 5 hours ago

DuckSportsNow

Duck Sports Now


2Q SDAK B. Marshall run for 53 yds,B. Marshall fumbled, recovered by SDako http://t.co/W3nra0hlLj
about 5 hours ago

DuckSportsNow

Duck Sports Now


2Q SDAK B. Marshall run for 53 yds,B. Marshall fumbled, recovered by SDako http://t.co/AIHcF2YyHp
about 5 hours ago

DuckSportsNow

Duck Sports Now


2Q ORE R. Freeman run for 26 yds for a TD, (A. Schneider KICK) http://t.co/mjQSxbkghY
about 5 hours ago

McNamaraUO

Andy McNamara


Justin Hollins makes it 5 true freshmen of the 11 current defenders for @WinTheDay #GoDucks #USDvsUO
about 5 hours ago

ESPN_Pac12blog

ESPN_Pac12blog


College GameDay visits for Oregon-MSU http://t.co/e0sMRopdTv
about 5 hours ago

YogiRoth

Yogi Roth


Late night football is always interesting.... #UW - they will need to convert on one third down in air to win @Pac12Networks
about 5 hours ago

McNamaraUO

Andy McNamara


Four true freshmen currently on D for @WinTheDay: Swain, Springs, Maloata and Mondeaux #GoDucks #USDvsUO
about 5 hours ago

DuckFootball

Rob Moseley


Jimmie Swain and Arrion Springs into the game. Ducks up to 10 true freshmen.
about 5 hours ago

QuackCave

QuackCave


With 9:21 remaining in the fourth quarter, Kenny Bassett runs the ball in for a 9-yard touchdown. Extra point is good, Ducks lead 62-13!
about 5 hours ago

DuckSportsNow

Duck Sports Now


College Gameday heading to Eugene for Michigan State matchup http://t.co/gZnrr5BbWh
about 5 hours ago

DuckSportsNow

Duck Sports Now


Photos: Oregon Ducks 41, South Dakota Coyotes 13 at halftime http://t.co/9HdLQkLRIO
about 5 hours ago

DuckSportsNow

Duck Sports Now


Rapid Reaction: Oregon leads 41-13 over South Dakota at halftime http://t.co/u6RzAc23HL
about 5 hours ago

McNamaraUO

Andy McNamara


Marcus Mariota has now tossed at least one TD pass in 27 straight games (every game of his career) #GoDucks #USDvsUO
about 5 hours ago

DuckSportsNow

Duck Sports Now


ESPN College GameDay to be in Eugene for Oregon Ducks game against Michigan State http://t.co/HfLg7WVveQ
about 5 hours ago

DuckSportsNow

Duck Sports Now


Second Half GameThread: Oregon Ducks vs. South Dakota Coyotes http://t.co/o0i8M6rkcE
about 5 hours ago

DuckSportsNow

Duck Sports Now


Oregon Ducks halftime update: Oregon's up 41-13 on South Dakota http://t.co/pqDtRcdspm
about 5 hours ago

DuckSportsNow

Duck Sports Now


Oregon Ducks vs. South Dakota in 2014 season opener (photos) http://t.co/RAunQ8ZEbR
about 5 hours ago

Pac12Networks

Pac-12 Networks


*picks up controller* *chooses @WinTheDay's Charles Nelson**hits juke button* *GONE* #USDvsUOhttp://t.co/6cD1wdhAfG
about 6 hours ago

WinTheDay

Oregon Football


#GoDucks RT @collegegameday: BREAKING: College GameDay is heading to Eugene next Saturday for Michigan St vs Oregon! http://t.co/R8wJnnPNIH
about 6 hours ago

GoDucks

GoDucks


ICYMI @CollegeGameDay will be here for the Michigan State game. #GoDucks http://t.co/7ILGK7XpDK
about 6 hours ago

DuckSportsNow

Duck Sports Now


Mariota assaulting UO record books, South Dakota defense http://t.co/Y1QzfvnIUH
about 6 hours ago

DuckSportsNow

Duck Sports Now


Oregon quarterback Marcus Mariota becomes Ducks' all-time touchdown leader http://t.co/OCmwcC4RNc
about 6 hours ago

McNamaraUO

Andy McNamara


3 @WinTheDay TDs tonight scored by true freshmen: 2 by Freeman, 1 by Nelson #GoDucks #USDvsUO
about 6 hours ago
PAC-12 SCOREBOARD
Saturday, 8/30
Thursday, 8/28
Friday, 8/29
BLOG ARCHIVE:
CATEGORIES: