Utah State QB commit gets Oregon offer
January, 28, 2013
1/28/13
9:17
AM ET
With one offer,
Damion Hobbs
(Cedar Hill, Texas/Cedar Hill) now has some things to think about.
[+] Enlarge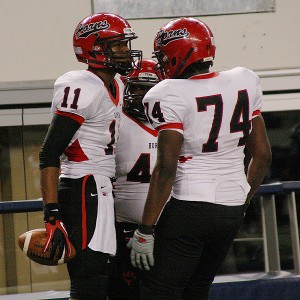 Travis L. Brown/ESPN.comDamion Hobbs (11) scored 41 touchdowns in leading Cedar Hill to a state title.
The three-star quarterback and recent Utah State commit took an official visit over the weekend to Oregon and left Eugene, Ore., with a heightened level of respect for the program. More importantly, he left with an offer, his 12
th
, and arguably his biggest.
"It feels great," said Hobbs, a 6-foot-3, 220-pound quarterback. "The campus was good; like, everything was close, 10 minutes apart. There is a lot of academic support with football, and the city is just a nice, college town with crazy fans that obviously love Oregon football a lot."
To continue reading this article you must be an Insider
Insider
Pac-12 Teams Can Load Up At WR
Recruiting reporter Erik McKinney joins ESPN's Phil Murphy to break down the deep West Region wide receiver class in 2016.
Pac-12 Teams Can Load Up At WR
VIDEO PLAYLIST
OREGON FB RECRUITING SCORECARD
DuckSportsNow

Duck Sports Now


Ducks' top spring story lines: No. 8 – Young secondary takes over http://t.co/bKGdwDQu6e
5 minutes ago

DuckSportsNow

Duck Sports Now


Arizona sweeps series from Oregon, 13-4 http://t.co/tE6vP3QXJh
50 minutes ago

Pac12Networks

Pac-12 Networks


No offense to @UA_Softball's Katiyana Mauga, but ...Dino, YOU DA REAL MVP! http://t.co/wRFrNcJyMr http://t.co/Gn0Vo0RB0p
about 3 hours ago

GoDucksTV

GoDucks TV


Now on @GoDucksTV: White Post Game 3-29 http://t.co/0sa02MyZw0 #GoDucks
about 4 hours ago

GoDucksTV

GoDucks TV


Now on @GoDucksTV: Glasco Post Game 3-29 http://t.co/aMt1GD2Km1 #GoDucks
about 4 hours ago

Pac12Networks

Pac-12 Networks


Take a bow, Katiyana Mauga. The #ASUvsAZ Play of the Game sends the Wildcats to a walk-off! http://t.co/TJPp3gcOLp
about 4 hours ago

Pac12Networks

Pac-12 Networks


That's how you win a run-rule game in style, @UA_Softball! The 'Cats walk off in the fifth! http://t.co/zIzuZLtxQv http://t.co/VF4V25eVAQ
about 4 hours ago

DuckSportsNow

Duck Sports Now


The Man Everyone is Talking About and the Play That Makes Them Laugh http://t.co/nxSHaCiiE5
about 5 hours ago

DuckSportsNow

Duck Sports Now


Udria Post Game 3-29 http://t.co/t7sLJyAD7j
about 6 hours ago

DuckSportsNow

Duck Sports Now


White Post Game 3-29 http://t.co/LaGmt5iSSz
about 6 hours ago

DuckSportsNow

Duck Sports Now


Glasco Post Game 3-29 http://t.co/DRSn2BEYf4
about 6 hours ago

Pac12Networks

Pac-12 Networks


Please share to help locate missing @UCBerkeley student-athlete Eloi Vasquez: http://t.co/xy3Mb0neg7 http://t.co/lbsgwdNWHU
about 6 hours ago

Pac12Networks

Pac-12 Networks


RT if @Cal_Baseball's @bcumboslice is this week's Leader of the Pac! #GoBears #Leader4 http://t.co/XHbJUUFqu4
about 6 hours ago

Pac12Networks

Pac-12 Networks


RT if @uclamvb's J.T. Hatch is this week's Leader of the Pac! #GoBruins #Leader3 http://t.co/b76LjuMIMF
about 6 hours ago

Pac12Networks

Pac-12 Networks


RT if @calmenswim's Ryan Murphy is this week's Leader of the Pac! #GoBears #Leader2 http://t.co/AtkiACPfvZ
about 6 hours ago

Pac12Networks

Pac-12 Networks


RT if @OregonSB's Cheridan Hawkins is this week's Leader of the Pac! #GoDucks #Leader1 http://t.co/HTQTnGlgy4
about 6 hours ago

Pac12Networks

Pac-12 Networks


It's time to vote for this week's Leader of the Pac! Read about the nominees and vote here: http://t.co/fTFtKpVQxy http://t.co/puTm2N00Wy
about 6 hours ago

DuckSportsNow

Duck Sports Now


Oregon Trounces UW With Power Surge http://t.co/yWmfCDo4dg
about 6 hours ago

DuckSportsNow

Duck Sports Now


Oregon's Geri Ann Glasco gets ice-bucketed after hitting three home runs http://t.co/hN63iI8QDb
about 6 hours ago

Pac12Networks

Pac-12 Networks


Our Sunday nightcap is round 3 of #ASUvsAZ, live now on Pac-12 Networks and http://t.co/YfMNDWLu5w http://t.co/QDO6fYP4fQ
about 7 hours ago

CalAthletics

Cal Bears


Eloi Vasquez, a freshman on our men's soccer team, has been reported missing. Full statement: http://t.co/GS9MRSPShE http://t.co/4UInDgYlgn
about 7 hours ago

Pac12Networks

Pac-12 Networks


.@CalAthletics has issued a statement regarding missing student-athlete Eloi Vasquez: http://t.co/xy3Mb0neg7 http://t.co/nGBpd73g6O
about 7 hours ago

DuckSportsNow

Duck Sports Now


Oregon's Geri Ann Glasco gets ice-bucketed after hitting three home runs http://t.co/ddqYwzcGKO
about 7 hours ago

Pac12Networks

Pac-12 Networks


.@UtahBaseball's Cody Scaggari's 2-RBI go-ahead double is the #CALvsUTAH Play of the Game: http://t.co/dFqy72zn31
about 8 hours ago

Pac12Networks

Pac-12 Networks


.@utahbaseball gets one back from the Golden Bears in Salt Lake City! #CALvsUTAH http://t.co/ITZqbqHzn0
about 8 hours ago

OregonSB

Oregon Duck Softball


BALLGAME! Oregon hits a school record 8 homers and run-rules No. 19 UW, 15-6! Ducks win the series, 2-1! #GoDucks
about 8 hours ago

DuckSportsNow

Duck Sports Now


Ducks Look To Regroup After Sweep http://t.co/4b2qYUBRct
about 8 hours ago

Pac12Networks

Pac-12 Networks


.@OregonSB's Geri Ann Glasco's THIRD homer of the day came while we interviewed UW coach Heather Tarr: http://t.co/M1fifWmQnd
about 8 hours ago

Pac12Networks

Pac-12 Networks


EIGHT DINGERS for @OregonSB in today's win over Washington! #UWvsUO http://t.co/j5QAE1PmKW
about 8 hours ago

Pac12Networks

Pac-12 Networks


.@ArizonaBaseball's Bobby Dalbec takes this ball on an aerial tour of Tucson in the #UOvsAZ Play of the Game: http://t.co/18iPl5Qul3
about 8 hours ago

Pac12Networks

Pac-12 Networks


MUST WATCH: @APlayersProgram's RHJ receives standing ovation at @ArizonaBaseball game: http://t.co/j9eXA5aa9G http://t.co/ET9GYz87Yp
about 9 hours ago

Pac12Networks

Pac-12 Networks


.@ArizonaBaseball's Bobby Dalbec will have a grande doubleshot, please. His bomb is the #UOvsAZ Play of the Game: http://t.co/EZkUksuiZM
about 9 hours ago

Pac12Networks

Pac-12 Networks


.@Utah_Softball's Marissa Mendenhall knocks two Utes home in the #UTAHvsSTAN Play of the Game: http://t.co/EtvuUpmIGS
about 9 hours ago

Pac12Networks

Pac-12 Networks


.@ArizonaBaseball gives 18th-ranked Oregon the ole Sweeperoo! #UOvsAZ http://t.co/8RXG0Q3DT3
about 10 hours ago

Pac12Networks

Pac-12 Networks


.@Utah_Softball downs Stanford on The Farm! #UTAHvsSTAN http://t.co/ML7KVq133P
about 10 hours ago

Pac12Networks

Pac-12 Networks


These two again?! Let's do it! Huskies. Ducks. Live now on Pac-12 Networks and http://t.co/YfMNDWLu5w http://t.co/Vn7FVKWfoL
about 10 hours ago

Pac12Networks

Pac-12 Networks


.@Cal_Baseball and @utahbaseball square off for round three right now: http://t.co/YfMNDWLu5w http://t.co/MrWdEoDwIF
about 10 hours ago

DuckSportsNow

Duck Sports Now


Oregon to Tie The Knott Because of Nike? http://t.co/0leb3CyY7P
about 10 hours ago

WSUCougars

WSU Cougars


(GIF) Catch of the year by Ben Roberts? You be the judge of this TREMENDOUS diving play! http://t.co/4EaK3Plo2P #GoCougs
about 11 hours ago

Pac12Networks

Pac-12 Networks


Programming alert: @Cal_Baseball vs. @utahbaseball will begin on http://t.co/m1bS2pr2da
about 11 hours ago

GoDucks

GoDucks


Head to Howe or flip to @Pac12Networks to watch the Ducks and Dawgs round 3! http://t.co/SISbW1MKnW http://t.co/sM5RRzanPb
about 11 hours ago

DuckSportsNow

Duck Sports Now


Ducks Take Heart in Loss to the Huskies http://t.co/VwasfTbGqg
about 12 hours ago

Pac12Networks

Pac-12 Networks


We spy with our little eye... a RONDAE at #UOvsAZ!! http://t.co/aSCz2wMqWV
about 12 hours ago

DuckSportsNow

Duck Sports Now


2015 NCAA Tournament: Elite Eight TV schedule, live stream and how to watch Sunday's games http://t.co/NUEUxNP0Sr
about 12 hours ago

Pac12Networks

Pac-12 Networks


.@APlayersProgram reflected on an amazing season with Pac-12 Networks' @YogiRoth last night.https://t.co/H8EzAHVFVc
about 12 hours ago

Pac12Networks

Pac-12 Networks


.@Utah_Softball and @StanfordSBall are ready to roll on The Farm! Watch now at http://t.co/YfMNDWLu5w http://t.co/aIN2uDPnX8
about 13 hours ago

GoDucks

GoDucks


QUACK those bats, @OregonBaseball! Catch the Ducks vs. Arizona live now on @Pac12Networks: http://t.co/SISbW1MKnW http://t.co/HJTztyhZwk
about 14 hours ago

Pac12Networks

Pac-12 Networks


Batter up! @OregonBaseball and @ArizonaBaseball are live in Tucson! #UOvsAZ http://t.co/tvvew93mnn
about 14 hours ago

GoDucks

GoDucks


Bring your little Ducks to Howe Field today for only $2! #GoDucks #LetsDoThis http://t.co/hz6l1IeeFT
about 14 hours ago

DuckSportsNow

Duck Sports Now


Video: CB to visit Oregon next week http://t.co/JNWSKZuGkD
about 15 hours ago

DuckSportsNow

Duck Sports Now


Houston speed and skill: Recruiting notebook http://t.co/VoNo30FWJ3
about 15 hours ago

DuckSportsNow

Duck Sports Now


Devon Allen is a GO for 2015 Football http://t.co/ZWjbFWPQxx
about 15 hours ago

DSArivals

DuckSportsAuthority


Video: CB to visit Oregon next week: The Oregon Ducks start spring practices next week, and at the Dallas Riva... http://t.co/lyNTApxA0L
about 16 hours ago

BOSSLIFEDAT13

DE'ANTHONY THOMAS


KCBE #RUNDAT @kingbobbej https://t.co/OndAsKKsjk
about 16 hours ago

DuckSportsNow

Duck Sports Now


Leaving Austria has paid off for DL recruit Thomas Schaffer http://t.co/dymcRF8sg2
about 16 hours ago

DuckSportsNow

Duck Sports Now


Replacing Marcus: A Duck QB Battle for the Ages http://t.co/WqikH5CEW0
about 17 hours ago

DuckSportsNow

Duck Sports Now


Oregon Falls Against Arizona After Eight Run Wildcats Fifth http://t.co/03V61WGI8g
about 17 hours ago

DuckSportsNow

Duck Sports Now


Oregon's Bralon Addison tests knee and confidence one year after injury: Can Ducks' leading man find a happy ending? http://t.co/iUKQyFesI9
about 18 hours ago

GoDucksTV

GoDucks TV


Now on @GoDucksTV: Decker Post Game 3-28 http://t.co/ZQCDEVwCbr #GoDucks
about 21 hours ago

GoDucksTV

GoDucks TV


Now on @GoDucksTV: White Post Game 3-28 http://t.co/eECpq0nMHd #GoDucks
about 21 hours ago

DuckSportsNow

Duck Sports Now


Big Inning Dooms Ducks http://t.co/utgAPEDdaM
about 23 hours ago

DuckSportsNow

Duck Sports Now


Oregon State at Oregon http://t.co/dWB7lIIB8v
1 day ago

DuckSportsNow

Duck Sports Now


Arizona knocks off No. 22 Oregon, 9-5 http://t.co/WVy8SSEHBm
1 day ago

DuckSportsNow

Duck Sports Now


Capital One Impact Performances http://t.co/enrI5AVHVn
1 day ago

Pac12Networks

Pac-12 Networks


WATCH: @ArizonaBaseball pitcher Robby Medel is doing his part to increase the speed of the game. http://t.co/PQzbeoz011
1 day ago

Pac12Networks

Pac-12 Networks


If this ball traveled any further, it would've required a stewardess. Holy smokes. CC: @ArizonaBaseball http://t.co/dFvrAJsElg
1 day ago

Pac12Networks

Pac-12 Networks


If some is good, @ArizonaBaseball's Riley Moore is better. His 2-RBI Double is the #UOvsAZ Play of the Game: http://t.co/6s4e91nnai
1 day ago

Pac12Networks

Pac-12 Networks


Series clinched! @ArizonaBaseball is HOT! #UOvsAZ http://t.co/uUcARHsNhL
1 day ago

McNamaraUO

Andy McNamara


#GoDucks "@SportSourceA: @WinTheDay is only FBS offense over last two years with over 200 offensive plays of 20+ yards"
1 day ago

Pac12Networks

Pac-12 Networks


The #UCLAvsUSC Play of the Match is the match-winner for @USCmensvolley: http://t.co/MvgHmyyGKt
1 day ago

Pac12Networks

Pac-12 Networks


.@USCmensvolley goes five with UCLA to claim this edition of the Crosstown Spike! #UCLAvsUSC http://t.co/1mKqrUQcvj
1 day ago

DuckSportsNow

Duck Sports Now


Takeda Injured In Oregon Loss To Washington, Ducks Run Ruled By Huskies http://t.co/XMmMbTps2P
1 day ago

TyroneColeman8

2 more wins...


http://t.co/JsZJgeDdOL
1 day ago

DuckSportsNow

Duck Sports Now


Woo, McIver Paces UO in Final Round http://t.co/GdflLyLG06
1 day ago

Pac12Networks

Pac-12 Networks


.@APlayersProgram is a family of absolute class. They caught up with our @YogiRoth following the loss to Wisconsin.https://t.co/FK7udFqDY5
1 day ago

Pac12Networks

Pac-12 Networks


Flip over to Pac-12 Networks for some baseball. @OregonBaseball leads Arizona 3-1 in the bottom of the fourth! http://t.co/EGBuWp8z3a
1 day ago

OregonRBCoach

Gary Campbell


Spring Football next Tuesday!! Let's start the campaign!!!
1 day ago

OregonDLine

Ron Aiken


One week until spring ball! Excited about our group of guys! Lets Go! #WTD #GoDucks
1 day ago

DuckSportsNow

Duck Sports Now


Maasland Defeats Ranked Foe In 6-1 Loss To USC http://t.co/efVHOjN0mY
1 day ago

DuckSportsNow

Duck Sports Now


Oregon Trounced by No. 12 Stony Brook http://t.co/tKQGesm6Cm
1 day ago

Pac12Networks

Pac-12 Networks


The Crosstown Spike is live on Pac-12 Los Angeles and http://t.co/YfMNDWLu5w #UCLAvsUSC http://t.co/MDg3JLhRrX
1 day ago

Pac12Networks

Pac-12 Networks


.@Cal_Baseball's Mitchell Kranson may get a #12Best nod for this game-ending snow cone grab in left field! http://t.co/NIy3XiHJ8s
1 day ago

Pac12Networks

Pac-12 Networks


.@Cal_Baseball takes another from the Utes in Salt Lake City! #CALvsUTAH http://t.co/LmHK95x4v0
1 day ago

Pac12Networks

Pac-12 Networks


We join the @WSUCougars in mourning the loss of Cougar legend Bobo Brayton. More: http://t.co/zSHaLECtdC http://t.co/hbW0drU4K4
1 day ago

Pac12Networks

Pac-12 Networks


It's going down on the diamond. #UOvsAZ is live now on Pac-12 Networks and http://t.co/YfMNDWLu5w http://t.co/fBZCvuTdhk
1 day ago

DuckSportsNow

Duck Sports Now


Decker Post Game 3-28 http://t.co/WDzZ6VOe58
1 day ago

DuckSportsNow

Duck Sports Now


White Post Game 3-28 http://t.co/aTxLEQUpCP
1 day ago

DuckSportsNow

Duck Sports Now


Huskies Snap Oregon's 13-Game Win Streak http://t.co/bJONvwB84t
1 day ago

DuckSportsNow

Duck Sports Now


Upset-Minded Ducks Fall Short in Loss to No. 4 UCLA, 5-2 http://t.co/sD1Rhq44JC
1 day ago

Pac12Networks

Pac-12 Networks


.@UWSoftball returns yesterday's favor to the Ducks in Eugene! #UWvsUO http://t.co/xjbl8WLP39
1 day ago

Pac12Networks

Pac-12 Networks


The conga line girls of @StanfordSB took down Utah on The Farm. #UTAHvsSTAN http://t.co/F7rQ5BmBUd
1 day ago

Pac12Networks

Pac-12 Networks


.@ASUSoftball gets another one in Tucson! #ASUvsAZ http://t.co/ICmu8iJNpB
1 day ago

Pac12Networks

Pac-12 Networks


CLASSIC @StanfordSball #NerdNation http://t.co/TUtp8Nql6s
1 day ago

Pac12Networks

Pac-12 Networks


We've got @Cal_Baseball and @utahbaseball live now on the Networks and http://t.co/YfMNDWLu5w http://t.co/XJfD7bjYkp
1 day ago

Pac12Networks

Pac-12 Networks


The @Pac12 Champion Arizona Wildcats fall to Wisconsin in the Elite Eight. http://t.co/0Gaawjo0EY
1 day ago

calebDeShazo

Caleb DeShazo


Cmon Arizona! #backthepac
1 day ago

Pac12Networks

Pac-12 Networks


Hey @aaronrodgers12, we remember when you used to #BackThePac! It's not too late... http://t.co/EIzPeweayJ
1 day ago

Pac12Networks

Pac-12 Networks


ZEUS wants YOU to #BackThePac http://t.co/ah4rpogQoE
1 day ago

Pac12Networks

Pac-12 Networks


#GetPumped, Wildcat Nation. Indy is on the horizon! http://t.co/99XLrsmglK
1 day ago
PAC-12 SCOREBOARD
Thursday, 9/3
Friday, 9/4
Saturday, 9/5
BLOG ARCHIVE:
CATEGORIES: