Semper Fidelis OL Thomas Oser sets trips
January, 2, 2013
1/02/13
5:56
AM ET
The West team at the Semper Fidelis All-American Bowl has just a handful of uncommitted players on the roster, all of whom are highly sought after recruits.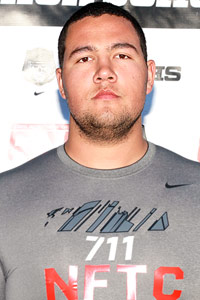 Tom Hauck for ESPN.comA strong relationship with Oregon's offensive line coach could be the difference for Thomas Oser.
One of them might not be the biggest name of the bunch, but he has impressed his coaches, teammates and even a United States Marine. OL
Thomas Oser
(North Hollywood, Calif./Harvard-Westlake) also has an impressive offer list that features schools from the Pac-12 and the SEC. Out of the offers he does have, the same three schools he has been eying for months make up the list from which he will choose later this month.
Oregon, Stanford and Vanderbilt -- where Oser's friend and high school teammate, QB
Chad Kanoff
(North Hollywood, Calif./Harvard-Westlake) is committed -- make up the 6-foot-5, 280-pounder's finalists and all three have something that gives them an edge over the others.
To continue reading this article you must be an Insider
Insider
Pac-12 Teams Can Load Up At WR
Recruiting reporter Erik McKinney joins ESPN's Phil Murphy to break down the deep West Region wide receiver class in 2016.
Pac-12 Teams Can Load Up At WR
VIDEO PLAYLIST
OREGON FB RECRUITING SCORECARD
DuckSportsNow

Duck Sports Now


Quack Fix: Kelley and Prater leave the program http://t.co/ArDUgIZIdf
about an hour ago

Pac12Networks

Pac-12 Networks


Zews. He carries the team on his back* *Sometimes the other team. #BackThePac http://t.co/8z4Pl1KSil
about 4 hours ago

Pac12Networks

Pac-12 Networks


Highlights: Arizona escapes Xavier, marches on to Elite Eight. #BackThePac http://t.co/26eZfYwjxY
about 5 hours ago

DuckSportsNow

Duck Sports Now


PAC-12 Men's Basketball Weekly Watch (March 26-29) http://t.co/3g1Pe5Rdb6
about 5 hours ago

DuckSportsNow

Duck Sports Now


Report: Kelley, Prater to forgo senior seasons http://t.co/i6uiS2CMSs
about 5 hours ago

Pac12Networks

Pac-12 Networks


Squad goals. http://t.co/DNraWJA03D
about 5 hours ago

Pac12Networks

Pac-12 Networks


Big day for @UCLAMBB and the @Runnin_Utes tomorrow!! Carry us home! #BackThePac http://t.co/beQsVI9QId
about 5 hours ago

DuckSportsNow

Duck Sports Now


Oregon with more basketball scholarshipst to give, the next one could be huge. http://t.co/XyK5C8lQkr
about 5 hours ago

Pac12Networks

Pac-12 Networks


These 'Cats are ELITE! TJ and @APlayersProgram march on to the Elite 8! #BackThePac http://t.co/r3dm6kMVjj
about 5 hours ago

UOPintens

Craig Pintens


Nice work @APlayersProgram now let's go get two more tomorrow @UCLAMBB & @Runnin_Utes #BackThePac
about 5 hours ago

traviswaller11

??T-Wa11??


It's been real CALI!!! Off to Oregon tomorrow !✈️🐥
about 5 hours ago

Pac12Networks

Pac-12 Networks


Xavier has gone the last 7:17 without hitting a FG......Yeah, the Stanimal will do that to you. #BackThePac http://t.co/MWHt7txbnF
about 5 hours ago

tommayeeee

Tommy Salami


Let's go zona. #BackThePac
about 6 hours ago

LA_DodgHer

.


#BackThePac
about 6 hours ago

Pac12Networks

Pac-12 Networks


.@APlayersProgram has a 4-pt lead over Xavier with 3:51 to go!!! Tune into TBS now and #BackThePac! http://t.co/LrAmswDpfA
about 6 hours ago

Pac12Networks

Pac-12 Networks


Xavier isn't about the #Pac12AfterDark life... http://t.co/JCDlQzhD2s
about 6 hours ago

Pac12Networks

Pac-12 Networks


Halftime in Los Angeles, we are TIED at 28 in #XAVvsAZ!#BackThePac
about 7 hours ago

coreysmith_17

Corey Smith


Let's go Zona!!! #BackThePac
about 7 hours ago

Pac12Networks

Pac-12 Networks


Enjoying the game is what it's all about! #BallIsLife #BackThePac #XAVvsAZ http://t.co/AQnFwGmYZR
about 7 hours ago

Pac12Networks

Pac-12 Networks


What the opposition actually sees when RHJ comes back out on the floor... #BackThePac http://t.co/sInWUXxV0y
about 7 hours ago

Pac12Networks

Pac-12 Networks


Our thoughts are with @APlayersProgram's Rondae Hollis-Jefferson.
about 7 hours ago

DuckSportsNow

Duck Sports Now


Ducks Shoot Even on Day One http://t.co/buLeIHRe9E
about 7 hours ago

APlayersProgram

Arizona Basketball


Found a working mic. Time to get going. #XAVvsAZ
about 8 hours ago

DuckSportsNow

Duck Sports Now


Ducks Set to Host Top-Ranked LA Teams http://t.co/IoMYCn1zUK
about 8 hours ago

Pac12Networks

Pac-12 Networks


Waiting to #BackThePac for this Arizona game like http://t.co/IkNmQfM5ab
about 8 hours ago

BOSSLIFEDAT13

DE'ANTHONY THOMAS


d1demo caaali_kid LIL MARK JUICY #FAM https://t.co/GO1HNbwqXE
about 8 hours ago

Pac12Networks

Pac-12 Networks


Kelly Claes of @USCSandVball gets the #SMCvsUSC Play of the Match for this critical ace: http://t.co/c7Q1Zw8S5U
about 9 hours ago

DuckSportsNow

Duck Sports Now


Milner, Ducks Explode in Second Half http://t.co/Q75jyXh1wv
about 9 hours ago

Pac12Networks

Pac-12 Networks


Beach party in LA! @USCSandVball sweeps CSU Bakersfield AND St. Mary's! http://t.co/ECGTtaV0XE
about 9 hours ago

Pac12Networks

Pac-12 Networks


WILSONNNN!!! COME BACK!!!! #SMCvsUSC http://t.co/ssa0CM1IDL
about 9 hours ago

DuckSportsNow

Duck Sports Now


B.J. Kelley, Jamal Prater won't return for senior seasons with Oregon Ducks http://t.co/lF9b6h5UNH
about 9 hours ago

Pac12Networks

Pac-12 Networks


IMPORTANT: Buying this superfly @BillWalton tee is the best way to show your #BackThePac love: http://t.co/mylMQMqxot http://t.co/pbMvIW6eDr
about 9 hours ago

DuckSportsNow

Duck Sports Now


K.J. Costello commits, but QB recruiting still unsettled out west http://t.co/jrr7I9GuQh
about 10 hours ago

AZATHLETICS

Arizona Athletics


✌️more hours. #BearDown http://t.co/aUxaBxExms
about 10 hours ago

DuckSportsNow

Duck Sports Now


Notes: Ducks Host No. 19 Washington This Weekend http://t.co/4jMUyIIF8p
about 10 hours ago

Pac12Networks

Pac-12 Networks


Time for the second half of our sand volleyball twin bill on Pac-12 Networks. Watch: http://t.co/YfMNDWLu5w #SMCvsUSC http://t.co/vNlu3Xzgua
about 11 hours ago

USC_Athletics

USC Trojans


Happy birthday to the legendary @MarcusAllenHOF! #tbt #FightOn http://t.co/dOmApMCegM
about 11 hours ago

ESPNOregon

ESPN Oregon


K.J. Costello commits, but QB recruiting still unsettled out west http://t.co/qvVnPiWWGl
about 11 hours ago

AZATHLETICS

Arizona Athletics


Six hours until tip-off. @RondaeHJ23 and @iPass4Zona want to know if YOU are ready for tonight? http://t.co/JPp5m4TnCX
about 11 hours ago

DuckSportsNow

Duck Sports Now


Oregon Spring Football: A Look at the Linebackers http://t.co/5GvoMgXINe
about 11 hours ago

ESPN_Pac12blog

ESPN_Pac12blog


Early Commit: QB K.J. Costello to Stanford http://t.co/WmVhjUONTq
about 11 hours ago

oheroes

O Heroes


Since July we've raised $8,708, volunteered 1,126 hours and impacted 1,740 children in Lane County! #GoDucks http://t.co/aDQUaxOXZy
about 12 hours ago

Pac12Networks

Pac-12 Networks


It's 90°F in LA. Time for a little sand volleyball on the Pac-12 Networks. Watch: http://t.co/YfMNDWLu5w #CSUBvsUSC http://t.co/OQXQhVxz0k
about 12 hours ago

DuckSportsNow

Duck Sports Now


4Pac: Century's most memorable Pac-12 upset? http://t.co/5x0iDBexd7
about 12 hours ago

DuckSportsNow

Duck Sports Now


Vernon Adams Jr.'s Feature to Appear on SportsCenter http://t.co/K8TYu3wwqR
about 12 hours ago

DuckSportsNow

Duck Sports Now


Oregon Ducks with the most to gain in spring football: Jeff Lockie http://t.co/YRFxtppoOd
about 13 hours ago

Pac12Networks

Pac-12 Networks


.@APlayersProgram's #Sweet16 presser started with some birthday wishes for T.J. Now on http://t.co/YfMNDWLu5w http://t.co/htOIuesHJD
about 13 hours ago

hmcpeak1

Holly McPeak


My office today at USC is 90 degrees at the moment. We will have @USCSandVBall live at 3 and 4:30 on @Pac12Networks http://t.co/WFYy8y9Cjr
about 13 hours ago

Pac12Networks

Pac-12 Networks


In 10 mins: Hear @APlayersProgram, @UCLAMBB + @Runnin_Utes talk about the #Sweet16 on NCAA Tournament Update show. http://t.co/YfMNDWLu5w
about 13 hours ago

Pac12Networks

Pac-12 Networks


.@APlayersProgram's Miller & McConnell share a special bond + Pittsburgh roots. Read more: http://t.co/NZYM9Sf9LU http://t.co/AUgWa1xs7R
about 13 hours ago

DuckSportsNow

Duck Sports Now


With Duck football practice beginning, news items cast doubt on the future of the game http://t.co/5HGZfROc15
about 13 hours ago

Pac12Networks

Pac-12 Networks


.@APlayersProgram's Miller & McConnell share a special bond + Piitsburgh roots. Read more: http://t.co/NZYM9Sf9LU http://t.co/kFkD6dodIi
about 13 hours ago

UCLAMBB

UCLA Basketball


From departure out of LAX to arrival in Houston, check out the latest "Made in March" video. WATCH: http://t.co/4S5DKA85Rs
about 14 hours ago

DuckSportsNow

Duck Sports Now


Mariota — From Saint Louis to New Orleans? http://t.co/tQn3TrLUvx
about 14 hours ago

DuckSportsNow

Duck Sports Now


2015 NCAA Tournament: Sweet 16 TV schedule, live stream and how to watch Thursday's games http://t.co/Zc8I0q55n8
about 14 hours ago

Mike_Yam

Michael Yam


2pm pacific on @Pac12Networks hear from all the @pac12 coaches and star players who are involved in the sweet 16. #MarchMadness
about 14 hours ago

APlayersProgram

Arizona Basketball


GAMEDAY. http://t.co/KgckgA0sMk
about 14 hours ago

ESPN_Pac12blog

ESPN_Pac12blog


4Pac: Century's most memorable Pac-12 upset? http://t.co/vy8Zl7Ddye
about 14 hours ago

WSUMensHoops

WSU Men\'s Basketball


Crazy to think this was 7 years ago today. @Trochestie and @aronbaynes on the podium before the 2008 #Sweet16 ! #TBT http://t.co/ikOq4QDEtW
about 14 hours ago

BOSSLIFEDAT13

DE'ANTHONY THOMAS


RUNDAT 7 ON 7 #RUNDAT
about 15 hours ago

DuckSportsNow

Duck Sports Now


Next year's Oregon basketball team should be bigger, deeper and older: Oregon rundown http://t.co/sP4y7tbUJg
about 15 hours ago

DuckSportsNow

Duck Sports Now


Spring Break Matchup Features Ducks at Hawaii Pacific http://t.co/Cu4ph9251c
about 15 hours ago

USCSandVBall

USC Sand Volleyball


It's #GAMEDAY again! We take on @CSUBAthletics at 3 p.m. and @smcgaels at 4:30 on the @Pac12Networks! #FightOn
about 16 hours ago

utahathletics

Utah Athletics


Practice under the bright lights #Sweet16 #goutes https://t.co/ldZw0TTSB0
about 16 hours ago

Pac12Networks

Pac-12 Networks


Get set for #Sweet16 action with our NCAA Tournament Update show at 2 PT/3 MT. 3 #pac12hoops hoping to get to Indy. http://t.co/CWsfZNp9dv
about 16 hours ago

OregonTF

OregonT&F


Want to run a mile w/ Oregon's distance stars at Hayward Field? Saturday is your opportunity! http://t.co/E9XswRG1PM http://t.co/5gzICOXNrW
about 16 hours ago

DuckSportsNow

Duck Sports Now


Oregon Ducks Sweep UC Irvine, Graham With 6 RBIs http://t.co/eilufFDROk
about 16 hours ago

GoDucks

GoDucks


ICYMI: @OregonSB swept Utah Valley in a doubleheader yesterday and get ready to face Washington at home. #GoDucks http://t.co/vnp1xL9EGn
about 16 hours ago

DuckSportsNow

Duck Sports Now


Critics of Justin Gatlin's sponsorship deal shouldn't blame Nike: Oregon track & field rundown http://t.co/23ZVgFH5Ax
about 17 hours ago

utahathletics

Utah Athletics


Good morning from Houston! Off the bus and off to practice! #Sweet16 #goutes http://t.co/RW6zYTyiLV
about 17 hours ago

NatalieCoughlin

Natalie Coughlin


Best of luck to @calmenswim at NCAA's this weekend! Cheering from home while holding down the fort in Berkeley. #GoBears!
about 17 hours ago

APlayersProgram

Arizona Basketball


Soon. http://t.co/pbS6KEf044
about 18 hours ago

UCLAMBB

UCLA Basketball


Today at 2pm PT, check out @Pac12Networks for an exclusive, live NCAA Tournament update show. http://t.co/TuPNdt2Zh0
about 18 hours ago

ESPN_Pac12blog

ESPN_Pac12blog


Washington State Cougars quarterback competition could go a while http://t.co/pn4Pl4jyEd
about 18 hours ago

DuckSportsNow

Duck Sports Now


Enough Already, Coach! http://t.co/kMNnMKGVOY
about 18 hours ago

LSDirectorsCup

LS Directors Cup


DI Standings Released! 1 - @GoStanford 2 - @UCLAAthletics 3 - @GoHeels 4 - @GoDucks 5 - @GoPSUsports
about 18 hours ago

DuckSportsNow

Duck Sports Now


Newcomers to watch for Oregon http://t.co/xiDmbZNulY
about 19 hours ago

DuckSportsNow

Duck Sports Now


What An Amazing Run http://t.co/qdLwJkuwnQ
about 19 hours ago

DuckSportsNow

Duck Sports Now


Oregon Sweeps Utah Valley in Doubleheader, Wins 12th Straight Game http://t.co/9MJqMpzvVs
about 19 hours ago

DSArivals

DuckSportsAuthority


RCS Atlanta: Best of the Rest: John Broussard arrived late at the RCS Atlanta event but was worth the wait. Wh... http://t.co/5IfB7qbays
about 20 hours ago

DuckSportsNow

Duck Sports Now


Oregon morning link: Newcomers to watch http://t.co/GQGFidHkQK
about 20 hours ago

ESPN_Pac12blog

ESPN_Pac12blog


Oregon morning link: Newcomers to watch http://t.co/gaJAXgDiHN
about 21 hours ago

DuckSportsNow

Duck Sports Now


Quack Fix: Spring Practice Just Around the Corner http://t.co/wFBMfOlfeu
about 21 hours ago

BigU1

Big U


@deseanjackson11 @bosslifedat13 #Crenshawhigh https://t.co/uU1bYIIGlx
about 23 hours ago

SnoopLeague

Snoop League


SD 7v7 All Star Practice tonight..special thx to @bosslifedat13 @deseanjackson11 for the love #nfl https://t.co/tF6kgm27rt
about 23 hours ago

DeSeanJackson11

Desean Jackson


#Crenshaw @bosslifedat13 The Young Future Bright !! https://t.co/Rm1V8SXJo1
about 23 hours ago

GoDucksTV

GoDucks TV


Now on @GoDucksTV: Decker Post Game Vs. Utah Valley 3-25 http://t.co/ulQDuyn0ln #GoDucks
1 day ago

GoDucksTV

GoDucks TV


Now on @GoDucksTV: Hovinga Post Game Vs. Utah Valley 3-25 http://t.co/PUkvRcgUkL #GoDucks
1 day ago

DuckSportsNow

Duck Sports Now


White Post Game Vs. Utah Valley 3-25 http://t.co/BGV6a3MBGw
1 day ago

DuckSportsNow

Duck Sports Now


Hovinga Post Game Vs. Utah Valley 3-25 http://t.co/M8IFyVNUPW
1 day ago

DuckSportsNow

Duck Sports Now


Decker Post Game Vs. Utah Valley 3-25 http://t.co/b6stJwKY5t
1 day ago

DuckSportsNow

Duck Sports Now


Ducks Sweep Doubleheader with Utah Valley http://t.co/tJhUCbm8I9
1 day ago

ESPN_Pac12blog

ESPN_Pac12blog


Cody Kessler, USC Trojans accustomed to tuning out the noise http://t.co/zI1oKVjr3L
1 day ago

Pac12Networks

Pac-12 Networks


Two teams. One dream. The quest for a title for Stanford and ASU continues this week. http://t.co/7muRfVZalu http://t.co/ZUKWWqrwie
1 day ago

Pac12Networks

Pac-12 Networks


Want that sweet @BillWalton tie-dye #ConferenceOfChampions shirt?Now you can have one! http://t.co/lOGgxT6UFA http://t.co/yW1KgtE9zk
1 day ago

Pac12Networks

Pac-12 Networks


A sweet infield stop from @UWSoftball's Kelli Suguro is clearly #12Best worthy. Watch it: http://t.co/k76AnYfq6h http://t.co/9ijH5Peudx
1 day ago

DuckSportsNow

Duck Sports Now


Graham Leads Ducks To Win With 6 RBI http://t.co/LowiQSp9Wk
1 day ago

Pac12Networks

Pac-12 Networks


.@cubuffswlax battled valiantly against the nation's No. 2 today but fell short to BC. http://t.co/MXfrQoGPnN http://t.co/cWhicbs7N4
1 day ago

ESPN_Pac12blog

ESPN_Pac12blog


Early Offer: Levonta Taylor next big FSU get in Virginia? http://t.co/u4gKcTuqcV
1 day ago

antjohnson16

Anthony Johnson


"@BOSSLIFEDAT13: I WANT TO BE THE FACE OF @Chase #RUNDAT http://t.co/D0qWKxtLDN" Get this man a commercial or something!
1 day ago
PAC-12 SCOREBOARD
Thursday, 9/3
Friday, 9/4
Saturday, 9/5
BLOG ARCHIVE:
CATEGORIES: