DuckNation mailbag: Dec. 28
December, 28, 2012
12/28/12
5:41
AM ET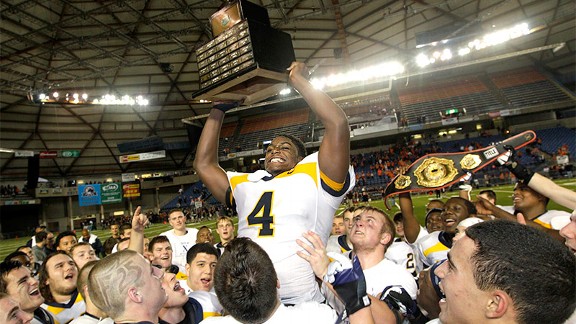 AP Photo/Ted S. WarrenMyles Jack is committed to UCLA but plans to visit Oregon soon.
With the holidays mostly in the rearview mirror, the mail has started flowing again all across RecruitingNation. The Oregon Ducks will finally hit the field again next week when they face off against the Kansas State Wildcats in the Tostito's Fiesta Bowl.
Ronald M. (Hawthorne, Calif.):
When the dead period ends next week, who will the Ducks make a big push for? Do they have any plans to host any recruits on campus in the next couple of weeks?
DuckNation:
The Ducks are still in search of another offensive lineman, another running back, another linebacker and another defensive back. The potential remains that the Ducks could add a signal-caller in junior college QB
Tanner McEvoy
(Yuma, Ariz./Arizona Western CC).
To continue reading this article you must be an Insider
Insider
Who Is The Heisman Front Runner?
Heather Dinich looks at whether or not Marcus Mariota or Todd Gurley is leading the Heisman race.
Who Is The Heisman Front Runner?
VIDEO PLAYLIST
OREGON FB RECRUITING SCORECARD
MightyOregon

Yell O


Miami Dolphins sign LaMichael James according to his agent. #producks #GoDucks
40 minutes ago

UOPintens

Craig Pintens


The slow mo shot of Josh Donaldson missing the ball by inches & then going face down was amazing. #Postseason
about an hour ago

DuckFootball

Rob Moseley


Six minutes shy of #weirdbaseball, too. Doubly cruel for an A's fan.
about an hour ago

Pac12Networks

Pac-12 Networks


What was the top #12Best play of September?Come on now. http://t.co/Z9WsZPUGue http://t.co/72ha2Ubez0
about 2 hours ago

Pac12Networks

Pac-12 Networks


#NW: The newest edition of One-on-One featuring @CalCoachDykes and @CoachDavid Shaw.WATCH: http://t.co/YfMNDWLu5w http://t.co/046q0aUxWB
about 2 hours ago

Pac12Networks

Pac-12 Networks


What went wrong with ASU's defense last Thursday? @DougHaller breaks it down in the links: http://t.co/RgbcEDziXK http://t.co/4CVjqvbSNu
about 2 hours ago

DuckFootball

Rob Moseley


Isn't being a sports fan supposed to be fun?!?!? This is excruciating!!! #LetsGoOakland
about 2 hours ago

McNamaraUO

Andy McNamara


ESPN crew for #AZvsUO Thursday will be @ESPN_ReceDavis, @davidpollack47, Jesse Palmer & @AllisonW_Sports #GoDucks
about 3 hours ago

DSArivals

DuckSportsAuthority


3-Star DE Shareef Miller narrows list down to 11: 3-Star DE narrows his list down to Top 11 http://t.co/gJ9HhfNv4D
about 3 hours ago

DuckSportsNow

Duck Sports Now


( Video ) Marcus Mariota Talks Arizona 'D', Duck Running Backs and Pink Cleats for ***** Cancer Awareness http://t.co/8HrPplJ6Xn
about 3 hours ago

DuckSportsNow

Duck Sports Now


UO contracted convicted sex offender to speak on sexual assault to athletes http://t.co/0GXjSuwGzP
about 3 hours ago

Pac12Networks

Pac-12 Networks


#NW: @CalFootball takes out USC in 2003 in the latest edition of Pac-12 Classics.WATCH: http://t.co/YfMNDWLu5w http://t.co/Xe0qDI6D2t
about 3 hours ago

DuckSportsNow

Duck Sports Now


Free Transportation Offerred for Thursday's Oregon Game http://t.co/6N9ToKuaUo
about 3 hours ago

Pac12Networks

Pac-12 Networks


Go inside what it takes to coach a champion. One-on-One featuring @CoachDavidShaw is at 9 PT. http://t.co/83mEyUKilu http://t.co/FolN0JqTND
about 3 hours ago

DuckSportsNow

Duck Sports Now


Thomas Tyner looking to turn a corner as Oregon Ducks prepare for Arizona http://t.co/dvyUBSiRlb
about 4 hours ago

Pac12Networks

Pac-12 Networks


Basketball season is right around the corner, so a chat with @UACoachMiller seems well timed. http://t.co/RgbcEDziXK http://t.co/6kg9BYxc4w
about 4 hours ago

Pac12Networks

Pac-12 Networks


A former UCLA TE, a sprained ankle and this adorable pup. We swear, it's a story. Links: http://t.co/RgbcEDziXK http://t.co/jiyB4BWOgB
about 4 hours ago

DuckSportsNow

Duck Sports Now


Ducks Clip USC in Playoff to Claim Itani Homes Title http://t.co/4dioZU23pC
about 5 hours ago

GoDucksTV

GoDucks TV


Now on @GoDucksTV: Coach Johnson interview, Cross Country Media Day 9-30-2014 http://t.co/pH4HG6EmQN #GoDucks
about 5 hours ago

GoDucksTV

GoDucks TV


Now on @GoDucksTV: Crevoiserat interview, Cross Country Media Day 9-30-2014 http://t.co/lNDB9cUxSB #GoDucks
about 5 hours ago

oregonliveducks

oregonlive.com/ducks


Elijah Holyfield, son of boxing champ Evander Holyfield, receives offer from Oregon Ducks http://t.co/92Cd6Ant9c #goducks
about 5 hours ago

Pac12Networks

Pac-12 Networks


.@utahwsoccer is unbeaten in 2014, and GK Lindsey Luke is a major reason why. Links: http://t.co/RgbcEDziXK http://t.co/ASc2QFunqE
about 5 hours ago

DuckSportsNow

Duck Sports Now


Toss-up in Autzen: Wildcats take on the No. 2 Ducks http://t.co/8DsUcWbp7y
about 5 hours ago

oregonliveducks

oregonlive.com/ducks


Thomas Tyner looking to turn a corner as Oregon Ducks prepare for Arizona http://t.co/dQTlxjsPOO #goducks
about 5 hours ago

DuckSportsNow

Duck Sports Now


Mark Helfrich on ribbing Marcus Mariota, the Oregon Ducks' defense and facing Arizona http://t.co/9dQlZiGf2H
about 6 hours ago

Pac12Networks

Pac-12 Networks


Go deep with @CalCoachDykes tonight on a brand new edition of One-on-One. http://t.co/83mEyUKilu http://t.co/AASP3PUkku
about 6 hours ago

DuckSportsNow

Duck Sports Now


Farin Victorious Again At ITA All-American Championships http://t.co/7H2T1OU0M8
about 6 hours ago

DuckFootball

Rob Moseley


#LetsGoOakland
about 6 hours ago

DuckSportsNow

Duck Sports Now


Ducks Roundtable: Blinded by revenge? http://t.co/42aC3Tw21d
about 6 hours ago

oregonliveducks

oregonlive.com/ducks


Mark Helfrich on ribbing Marcus Mariota, the Oregon Ducks' defense and facing Arizona http://t.co/W8EsaIFAKu #goducks
about 6 hours ago

EEstaris

EE


@Pac12Networks @AdamsonAshley @CoachNeuheisel Coach Neuheisel brings in a RINGER!
about 6 hours ago

ESPN_Pac12blog

ESPN_Pac12blog


It looks like UCLA's Ishmael Adams' pick six will win Play of the Week. How would you describe that play in 140 characters?
about 6 hours ago

DuckSportsNow

Duck Sports Now


LaMichael James signs with Dolphins after being released by 49ers http://t.co/EP7QAYSRfU
about 6 hours ago

Pac12Networks

Pac-12 Networks


CAPTION THIS: @AdamsonAshley and @CoachNeuheisel record the newest Pac-12 Networks Football Podcast. http://t.co/DPskrLhkZp
about 6 hours ago

ESPN_Pac12blog

ESPN_Pac12blog


There's a new No. 1 in the Pac-12 QB Power Rankings. Say hello to Cal's Jared Goff. http://t.co/JWBzC4te6M http://t.co/4U5PAKUnbc
about 7 hours ago

DuckSportsNow

Duck Sports Now


JaQuan Lyle not enrolled at Oregon as Ducks begin men's basketball practices Friday http://t.co/llstyT4aPX
about 7 hours ago

DuckSportsNow

Duck Sports Now


Oregon Ducks vs. Arizona Wildcats — The Oregonian's Tyson Alger and Andrew Greif on toughness, turnovers, tight... http://t.co/7sWGwPbYLS
about 7 hours ago

DuckSportsNow

Duck Sports Now


Marcus Mariota only had eight minutes to talk, but discussed Arizona Wildcats, school starting and yet another... http://t.co/rdhuUiqxo7
about 7 hours ago

DuckSportsNow

Duck Sports Now


Rich-Pod time http://t.co/eAZxRJt7GG
about 7 hours ago

DuckSportsNow

Duck Sports Now


Pac-12 by the numbers: Week 6 http://t.co/PwsM7ZlX0L
about 7 hours ago

DuckSportsNow

Duck Sports Now


( Video ) HELFRICH TALKS FINAL PREP FOR ARIZONA, WEARING PINK AND AUTZEN SELL-OUT – "Our Team Mindset is Good" says… http://t.co/UCxtgid5mX
about 7 hours ago

DuckSportsNow

Duck Sports Now


Coach Johnson interview, Cross Country Media Day 9-30-2014 http://t.co/E7WQSjruqI
about 7 hours ago

DuckSportsNow

Duck Sports Now


Prakel interview, Cross Country Media Day 9-30-2014 http://t.co/yIPRoXksVq
about 7 hours ago

DuckSportsNow

Duck Sports Now


Crevoiserat interview, Cross Country Media Day 9-30-2014 http://t.co/x2iVRd2Tv6
about 7 hours ago

oregonliveducks

oregonlive.com/ducks


JaQuan Lyle not enrolled at Oregon as Ducks begin men's basketball practices Friday http://t.co/EYHsbD8SYJ #goducks
about 7 hours ago

Pac12Networks

Pac-12 Networks


A certain @CBSSports writer thinks Marcus Mariota is the frontrunner for the Heisman. Roundup: http://t.co/RgbcEDziXK http://t.co/e2FUJiDOPb
about 7 hours ago

oregonliveducks

oregonlive.com/ducks


Oregon Ducks recruiting roundup: Pair of 5-star teammates to visit; Matisse Thybulle chooses Washington http://t.co/6o0KQQnsmi #goducks
about 7 hours ago

oregonliveducks

oregonlive.com/ducks


Oregon Ducks vs. Arizona Wildcats -- The Oregonian's Tyson Alger and Andrew Greif on toughness, turno... http://t.co/xt7wIgItGB #goducks
about 7 hours ago

ESPN_Pac12blog

ESPN_Pac12blog


ICYMI: Did Stanford stumble upon a solution for its stumbling offense late vs. Washington? http://t.co/bjIrdhjrgT http://t.co/WzT0aUdQEA
about 7 hours ago

oregonliveducks

oregonlive.com/ducks


Marcus Mariota only had eight minutes to talk, but discussed Arizona Wildcats, school starting and ye... http://t.co/9vNDiDdBEA #goducks
about 7 hours ago

Pac12Networks

Pac-12 Networks


See what happens when you tweet #12Best? You could end up on TV like @JordanTruppner. http://t.co/Z9WsZPUGue http://t.co/k9sv3mMpZw
about 7 hours ago

GoDucksTV

GoDucks TV


Now on @GoDucksTV: Helfrich Post Practice 9-30 http://t.co/P5PaP0wglH #GoDucks
about 8 hours ago

GoDucksTV

GoDucks TV


Now on @GoDucksTV: Mariota Post Practice 9-30 http://t.co/MQQwh0mUn0 #GoDucks
about 8 hours ago

DuckSportsNow

Duck Sports Now


Oregon Ducks lineman Hamani Stevens wants to atone for 'embarrassing' WSU performance http://t.co/u8448q0i3m
about 8 hours ago

DuckSportsNow

Duck Sports Now


Oregon Ducks coach Mark Helfrich talks Arizona Wildcats, that touch of pink and what it means and the splendor of… http://t.co/ibsvldwXNw
about 8 hours ago

DuckSportsNow

Duck Sports Now


U of A Scouting Report: Oregon seeks revenge http://t.co/1uOfccJrEw
about 8 hours ago

DuckSportsNow

Duck Sports Now


Oregon football proud to wear pink in support for Kay Yow Cancer Fund http://t.co/G6WEi7VnIt
about 8 hours ago

DuckSportsNow

Duck Sports Now


Who Is The Heisman Front Runner? http://t.co/tYK5sIdOFh
about 8 hours ago

McNamaraUO

Andy McNamara


#ProDucks RT @jeffsperbeck "Congrats to @LaMichaelJames for joining the @MiamiDolphins He knows the offense well. Great fit."
about 8 hours ago

KBDeuce4

Kenjon Barner


Always a good time when KB Squared link up!! @kennybassett p.s. Don't ask about the hands cause we… http://t.co/hsK2cJgOtQ
about 8 hours ago

oregonliveducks

oregonlive.com/ducks


Oregon Ducks lineman Hamani Stevens wants to atone for 'embarrassing' WSU performance http://t.co/LCTQUzlaCB #goducks
about 8 hours ago

ESPN_Pac12blog

ESPN_Pac12blog


Pac-12 by the numbers: Week 6 http://t.co/rnbVRuuXcR
about 8 hours ago

Pac12Networks

Pac-12 Networks


Don't forget: Tonight's new Pac-12 Classics looks at @CalFootball's 2003 win over the Trojans. http://t.co/mAfYhumulp http://t.co/u3AuYDGo0Y
about 8 hours ago

oregonliveducks

oregonlive.com/ducks


Oregon Ducks coach Mark Helfrich talks Arizona Wildcats, that touch of pink and what it means and the... http://t.co/ed1zk5HZ31 #goducks
about 8 hours ago

ESPN_Pac12blog

ESPN_Pac12blog


A Heisman debate between the Pac-12 and SEC. Make the case for Marcus Mariota or Todd Gurley. http://t.co/pA5ylqbxuk http://t.co/IuFFExXEcK
about 8 hours ago

Pac12Networks

Pac-12 Networks


Both @uscwomensvolley and @UWVolleyball will be looking for a key win tomorrow in Seattle. http://t.co/hjOl2YY4oI http://t.co/Eo33pDrCyM
about 8 hours ago

NikeEugene

Nike Eugene


@UOPintens The Nike Kay Yow (Oregon) jersey and apparel can also be found at Nike Eugene. #GoDucks
about 8 hours ago

DuckSportsNow

Duck Sports Now


Steele Receives Weekly Honor http://t.co/RJS8TIwvzn
about 8 hours ago

jeffsperbeck

Jeff Sperbeck


Congrats to @LaMichaelJames for joining the @MiamiDolphins He knows the offense well. Great fit.
about 8 hours ago

Pac12Networks

Pac-12 Networks


TONIGHT: @CalCoachDykes and @CoachDavidShaw sit down in debut of a brand new One-on-One. http://t.co/83mEyUKilu http://t.co/YOSmz7qvaN
about 9 hours ago

oregonliveducks

oregonlive.com/ducks


Matisse Thybulle, 3-star small forward, chooses Washington Huskies over Oregon, others http://t.co/UCqSby6YzP #goducks
about 9 hours ago

DuckSportsNow

Duck Sports Now


Pharaoh Brown's tie-breaking touchdown against Washington State: Why It Worked http://t.co/jQGhxJ8HU7
about 9 hours ago

DuckSportsNow

Duck Sports Now


Pac-12 rewind, Week 5 http://t.co/bGzS0OGIZS
about 9 hours ago

UCLAMSoccer

UCLA Men\'s Soccer


Coming in at No. 2 in the #12Best of September countdown on @Pac12Networks is Leo Stolz's amazing 78-yard goal: http://t.co/ZP0zxwBhCi
about 9 hours ago

DuckSportsNow

Duck Sports Now


Daily wrap up: beards and pink for the Ducks http://t.co/68wbGRgdPm
about 9 hours ago

DuckSportsNow

Duck Sports Now


Marcus Mariota, the Heisman, and the college football hype machine http://t.co/XlRq558Vks
about 9 hours ago

DuckSportsNow

Duck Sports Now


Oregon Ducks Will Face UCLA in the Daylight, Saturday October 11th, 12:30pm PT FOX http://t.co/230FNkRDhT
about 9 hours ago

ESPN_Pac12blog

ESPN_Pac12blog


Each week, ESPN will unveil a campaign poster for a CFP hopeful. This week: the UCLA Bruins. http://t.co/Z02v4jy2HT http://t.co/jjCfZzyM61
about 9 hours ago

Pac12Networks

Pac-12 Networks


Apropos of our last tweet, it's never a bad time to hear @CoachNeuheisel sing about Ed Orgeron. http://t.co/FXHLhkYAc7
about 9 hours ago

oregonliveducks

oregonlive.com/ducks


Pharaoh Brown's tie-breaking touchdown against Washington State: Why It Worked http://t.co/GDZCtR8haP #goducks
about 9 hours ago

McNamaraUO

Andy McNamara


Had some fun with @DuckFootball calling the sometimes annual @QuackVideo vs. @OregonFBequip football game #GoDucks http://t.co/wVjQ5HpUnC
about 9 hours ago

McNamaraUO

Andy McNamara


Had some fun with @DuckFootball calling the sometimes annual @QuackVideo vs. @OregonFBequip football game #GoDucks http://t.co/wVjQ5HpUnC
about 9 hours ago

Pac12Networks

Pac-12 Networks


After a stirring run last year at USC, could Ed O be next up at Kansas? Links: http://t.co/RgbcEDziXK http://t.co/EhNKsI7J1l
about 9 hours ago

DuckSportsNow

Duck Sports Now


Tyner Post Practice 9-30 http://t.co/Z9ddLLRAfl
about 9 hours ago

DuckSportsNow

Duck Sports Now


Helfrich Post Practice 9-30 http://t.co/8AM0tuef9I
about 9 hours ago

DuckSportsNow

Duck Sports Now


Mariota Post Practice 9-30 http://t.co/qn5t1jXuOO
about 9 hours ago

pac12

Pac-12 Conference


#pac12msoc heats up this week as Conference play begins: http://t.co/nHssOqT7vb
about 10 hours ago

DuckSportsNow

Duck Sports Now


Oregon Football Practice Recap: Sept. 30 http://t.co/9CWqvxekl8
about 10 hours ago

ESPN_Pac12blog

ESPN_Pac12blog


Vote for the Pac-12 Play of the Week: Montgomery, Mayle, Lasco, Adams or Haily Mary 2.0. http://t.co/cxY28h5Lwe http://t.co/L0chOKAuBq
about 10 hours ago

ESPN_Pac12blog

ESPN_Pac12blog


USC QB commit Ricky Town was at the Trojans' win Saturday with a couple of other prospects. http://t.co/0SaRLKfG4o http://t.co/RiDQvb35lH
about 10 hours ago

Pac12Networks

Pac-12 Networks


.@WinTheDay is going pink for Kay Yow on Thursday. What do you think? https://t.co/9AP7SYdDV7 http://t.co/rt2Ssgxyi0
about 10 hours ago

DuckSportsNow

Duck Sports Now


The Arizona Wildcats know No. 2 Oregon Ducks are out to settle a score: Opponent's take http://t.co/WNubxrnJDn
about 10 hours ago

DuckSportsNow

Duck Sports Now


( Video ) GOOD WEEK OF PRACTICE COULD PROVE BENEFICIAL FOR DON PELLUM'S OREGON DEFENSE – "The spirit's been really… http://t.co/0nFP3qbeMf
about 10 hours ago

DuckSportsNow

Duck Sports Now


The Oregon women drop one spot in the college cross country rankings http://t.co/sJtrAjtZvY
about 10 hours ago

ArizonaFBall

Arizona Football


Austin Hill behind-the-scenes with @AdamsonAshley @Pac12Networks. He still smiles watching #HillMary. #BearDown http://t.co/5dBfgBDdyS
about 10 hours ago

ESPN_Pac12blog

ESPN_Pac12blog


ICYMI: USC's defense redeemed itself in a big way against Oregon State. http://t.co/6Yj1gD7qDo http://t.co/9XIEgs5N28
about 11 hours ago

Pac12Networks

Pac-12 Networks


Picture perfect, @USC_Athletics.The week in social: http://t.co/eof9Wl1tTy http://t.co/Fcpn6ZNhYi
about 11 hours ago

DuckFootball

Rob Moseley


Oregon Football Practice Recap: Sept. 30 http://t.co/o01dyWAVoe #GoDucks
about 11 hours ago

oregonliveducks

oregonlive.com/ducks


The Arizona Wildcats know No. 2 Oregon Ducks are out to settle a score: Opponent's take http://t.co/1KSLzYzgeG #goducks
about 11 hours ago

McNamaraUO

Andy McNamara


Lots of options for Thursday based on today's practice #unitedwefight #play4kay #GoDucks http://t.co/cLx61oUeij
about 11 hours ago
PAC-12 SCOREBOARD
Thursday, 10/2
Saturday, 10/4
BLOG ARCHIVE:
CATEGORIES: