Watch List RB Autry down, but not out
December, 18, 2012
12/18/12
4:44
PM ET
During the GHSA AAAAAA semi-final game against Colquitt County,
Myles Autry
(Norcross, Ga./Norcross) went down with an what appeared to be a serious knee injury. After the Blue Devils clinched a spot in the championship game, the 2014 athlete said he was hopeful it was nothing major.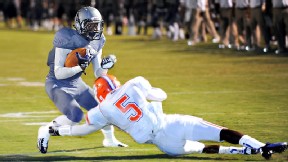 Radi Nabulsi/ESPN.comA torn ACL didn't prevent Myles Autry from playing in his team's state championship game Saturday.
"It feels fine, I think it is just a sprain," Autry said at the time. "I know I will be fine to play next week at the Georgia Dome."
He was half right. On Tuesday, Autry was informed by doctors he had suffered a torn ACL, MCL and meniscus, and that he would likely be out until next August. A day later, the 6-foot, 175-pound junior, who has picked up almost 20 offers to date, told Norcross head coach Keith Maloof he wanted to play in Saturday's championship game against Lovejoy.
To continue reading this article you must be an Insider
Insider
Drive Through: Big Year Ahead For Mariota?
Could landing on ESPN's preseason All-American list be the first of many accolades for Marcus Mariota this season? Chris Low thinks it could be a big year for Mariota and the Ducks.
Drive Through: Big Year Ahead For Mariota?
VIDEO PLAYLIST
OREGON FB RECRUITING SCORECARD
ESPN_Pac12blog

ESPN_Pac12blog


Timing right for USC, Sark marriage http://t.co/jjP0ZBTfO0
3 minutes ago

Pac12Networks

Pac-12 Networks


ICYMI: A sweet new version of Pac-12 Now is out for Android. Download it and leave a review! http://t.co/1P19TikNDZ http://t.co/XP44EtxuZs
12 minutes ago

DuckSportsNow

Duck Sports Now


GameDay: Drawing Oregon football players has bonded Chris Snusz with his son C.J. http://t.co/rCF3MSNwrv
29 minutes ago

DuckSportsNow

Duck Sports Now


Gameday: Plagued by an ACL, Tyler Johnstone's injury reveals larger issue regarding athletes returning from knee... http://t.co/AfaewI3PAj
29 minutes ago

DuckSportsNow

Duck Sports Now


Gameday: Troy Hill's path to redemption started in a jail cell and continues on the football field http://t.co/NDanp3CT3W
29 minutes ago

DuckSportsNow

Duck Sports Now


Emerald Roundtable: Preseason predictions bring questions and excitement to Ducks football http://t.co/c4gRw2Hvil
29 minutes ago

DuckSportsNow

Duck Sports Now


GameDay: Oregon looking to carry on excitement in return game http://t.co/HpVxEQgyus
29 minutes ago

DuckSportsNow

Duck Sports Now


Gameday: Four Pac-12 teams that could derail Oregon's title hopes http://t.co/62bT8zkcNm
29 minutes ago

DuckSportsNow

Duck Sports Now


GameDay: Tyree Robinson set to succeed after beneficial redshirt year http://t.co/oAEKXKXD04
30 minutes ago

DuckSportsNow

Duck Sports Now


Gameday: Q&A with backup quarterback Taylor Alie http://t.co/wanZmdAUNA
30 minutes ago

DuckSportsNow

Duck Sports Now


Five Oregon Ducks make Senior Bowl watch list, short of the six Oregon State Beavers: Oregon rundown http://t.co/s8O7AfzDkw
54 minutes ago

Pac12Networks

Pac-12 Networks


.@OfficialWilbur wants YOU to follow @ArizonaFBall all season long on Pac-12 Networks. http://t.co/RevDos4Gln http://t.co/jVxzPpYE0k
about an hour ago

DuckFootball

Rob Moseley


Includes Marshall along with Marcus, Grasu, Ifo #GoDucks RT @TedMillerRK http://t.co/g6QFXWwWnR's All-Pac-12 team. http://t.co/QtA7Mlchum …
about an hour ago

DuckSportsNow

Duck Sports Now


Quack Fix: One Week! http://t.co/n1SWAhMVDt
about an hour ago

DuckFootball

Rob Moseley


ICYMI: Oregon Football Practice Recap – Aug. 20 http://t.co/7t8BrreK4i #GoDucks
about an hour ago

oregonliveducks

oregonlive.com/ducks


Five Oregon Ducks make Senior Bowl watch list, short of the six Oregon State Beavers http://t.co/d3O2YUvdX9 #goducks
about an hour ago

DuckSportsNow

Duck Sports Now


Duck DB target taking a step back http://t.co/EJJ0lYA9VM
about an hour ago

Pac12Networks

Pac-12 Networks


Good morning.One week from today, there will be football.And it will be good.http://t.co/Ru5GgCSmSy #pac12fb
about an hour ago

DSArivals

DuckSportsAuthority


Duck DB target taking a step back: The recruiting process has moved at a fast pace for Donte Jackson. During t... http://t.co/Gc488Ovk1x
about 2 hours ago

DuckSportsNow

Duck Sports Now


Ducks in the NFL: Lyerla Back With Packers on Injured Reserve http://t.co/TZSSAerJ4u
about 2 hours ago

DuckSportsNow

Duck Sports Now


GIF! Nick Saban in "Laid to Rest" http://t.co/YAFIRtnT9U
about 3 hours ago

DuckSportsNow

Duck Sports Now


A Duckling Profile: Arrion Springs to Life in the Fall http://t.co/CYqVh7mKNw
about 3 hours ago

ESPN_Pac12blog

ESPN_Pac12blog


Preseason All-Pac-12 team http://t.co/lnOgKjN2ta
about 4 hours ago

DuckSportsNow

Duck Sports Now


Oregon Ducks receivers set high standard to be among 'best receiving corps in the country' http://t.co/ZSwI12su7U
about 4 hours ago

oregonliveducks

oregonlive.com/ducks


Oregon Ducks receivers set high standard to be among 'best receiving corps in the country' http://t.co/Z9EOezHB0W #goducks
about 4 hours ago

oregonliveducks

oregonlive.com/ducks


Chip Kelly collecting Oregon Ducks; bold prediction about Royce Freeman; Beavers basketball player co... http://t.co/YQCLoHD1e1 #goducks
about 4 hours ago

ESPN_Pac12blog

ESPN_Pac12blog


Pac-12 morning links http://t.co/M2cYvZ63V8
about 5 hours ago

Pac12Networks

Pac-12 Networks


Remember this legendary Pac-12 QB? He has a new home on the @USC_Athletics sideline. VIDEO: http://t.co/rDM3x3YSKA http://t.co/smPFaRxuln
about 11 hours ago

Pac12Networks

Pac-12 Networks


Our Football Training Camp tour rolls on tomorrow at 9 pm PT as the crew visits @UCLAFootball. See you then! http://t.co/grvBVZpFhz
about 11 hours ago

Pac12Networks

Pac-12 Networks


.@RunRalphieRun, we are going to miss watching this tandem connect on the field this year. http://t.co/ZyZg5lvLRv
about 12 hours ago

Pac12Networks

Pac-12 Networks


ICYMI: A brand new version of Pac-12 Now is now available in the Google Play store. http://t.co/1P19TikNDZ http://t.co/VVvZa9VqrQ
about 12 hours ago

DuckSportsNow

Duck Sports Now


Kelly Graves #ALSIceBucketChallenge http://t.co/JCJUHriUzC
about 12 hours ago

Pac12Networks

Pac-12 Networks


It's time to talk Trojans. The @USC_Athletics Training Camp special is on now!http://t.co/YfMNDWur3w http://t.co/V9ktL4cXEg
about 13 hours ago

DuckSportsNow

Duck Sports Now


Early Offer: The chase for Campbell http://t.co/yrBCiZUY4r
about 13 hours ago

DuckSportsNow

Duck Sports Now


Running back duo Tyner and Marshall love spa days http://t.co/AynQDzKBJz
about 13 hours ago

Mike_Yam

Michael Yam


The show every @USC_Athletics fan needs to watch starts at 9pst on @Pac12Networks Sark, Kessler, Wilcox, & L. Williams are all on
about 13 hours ago

Pac12Networks

Pac-12 Networks


For USC fan Michael Stark, the football team is more like a family. http://t.co/s6BGtbzedJ http://t.co/fJTQgXDYEm
about 13 hours ago

Pac12Networks

Pac-12 Networks


For USC fan Michael Stark, the football team is more like a family. http://t.co/s6BGtbzedJ http://t.co/Dr4s8zDTeg
about 13 hours ago

Pac12Networks

Pac-12 Networks


Here's a @storify of some of our favorite Pac-12 decorated desks that you sent us today: http://t.co/TTCsWUbD2O http://t.co/thwawylYa9
about 14 hours ago

Pac12Networks

Pac-12 Networks


Here's a @storify of some of our favorite Pac-12 decorated desks that you sent us today: http://t.co/TTCsWUbD2O http://t.co/PKgOn2evkh
about 14 hours ago

UCLAWSoccer

UCLA Women's Soccer


We're just 2 days away from the season opener! Come out to Drake Stadium Fri. at 7pm or watch live on @Pac12Networks http://t.co/fQygV5yMwf
about 14 hours ago

GoDucksTV

GoDucks TV


Now on @GoDucksTV: Frost Post Practice 8-20 http://t.co/iVGOadIrWl #GoDucks
about 14 hours ago

GoDucksTV

GoDucks TV


Now on @GoDucksTV: Lowe Post Practice 8-20 http://t.co/JsaZ1gZgia #GoDucks
about 14 hours ago

DuckSportsNow

Duck Sports Now


Oregon Ducks quick hits: Fall camp's final scrimmage is upon Ducks http://t.co/AT9tiRGiP9
about 14 hours ago

Pac12Networks

Pac-12 Networks


.@Flotrack has got the @utah_athletics women's cross-country squad ranked #21 going into 2014. http://t.co/5PfMorScPk
about 14 hours ago

DuckSportsNow

Duck Sports Now


Ducks should go back to the future with uniquely talented qb http://t.co/IB1B5NM1AL
about 14 hours ago

oregonliveducks

oregonlive.com/ducks


Oregon Ducks quick hits: Fall camp's final scrimmage is upon Ducks http://t.co/wgw0Z3Nxjs #goducks
about 15 hours ago

DuckSportsNow

Duck Sports Now


FALL CAMP 2014 – OREGON SAFETY ERICK DARGAN EMBRACES HIS ROLE AS LAST LINE OF DEFENSE – "Whatever I Can Do to... http://t.co/tSdUTkGOpt
about 15 hours ago

Pac12Networks

Pac-12 Networks


FILL IN THE BLANK: @USC_Athletics' most important game in 2014 is against _______. http://t.co/g1Z5wYVIJ2
about 15 hours ago

DuckSportsNow

Duck Sports Now


Chip Kelly's addition of Kenjon Barner doesn't surprise current Oregon Ducks http://t.co/Ec53Y0IYBv
about 15 hours ago

DuckSportsNow

Duck Sports Now


LeGarrette Blount arrested for marijuana possession http://t.co/6stUwnT73p
about 15 hours ago

DuckSportsNow

Duck Sports Now


Former Oregon Ducks running back LeGarrette Blount reportedly arrested, charged with marijuana possession http://t.co/rcHAdG3M95
about 15 hours ago

DuckSportsNow

Duck Sports Now


Scott Frost on Chip Kelly's trade for Kenjon Barner and the ongoing Ducks-Eagles connection (video) http://t.co/2W1KAiidlq
about 15 hours ago

ESPN_Pac12blog

ESPN_Pac12blog


#4Pac: What Pac-12 team is deepest at WR? http://t.co/WKp2IYzgUd
about 16 hours ago

DuckSportsNow

Duck Sports Now


Oregon Football Practice Recap – Aug. 20 http://t.co/Gb81cSohvr
about 16 hours ago

Pac12Networks

Pac-12 Networks


.@ArizonaFBall competitive practices are in full swing in Tucson. http://t.co/KaQ8OR6Ih0
about 16 hours ago

DuckSportsNow

Duck Sports Now


Redshirt Review: Elijah George http://t.co/BjT8KsaJqO
about 16 hours ago

DuckSportsNow

Duck Sports Now


Huge visit weekends shaping up for Ducks http://t.co/w8ixlfp2Fc
about 16 hours ago

oregonliveducks

oregonlive.com/ducks


Chip Kelly's addition of Kenjon Barner doesn't surprise current Oregon Ducks http://t.co/1BqMSU8mIQ #goducks
about 16 hours ago

Pac12Networks

Pac-12 Networks


Hey @Jill_Savage, how many days left until #pac12fb kickoff? http://t.co/1o4URxrT5W http://t.co/LbOmkjBawR http://t.co/DeT6BY09Tc
about 16 hours ago

DuckSportsNow

Duck Sports Now


Quack Video's very own Eric Day and the ALS Ice Bucket Challenge http://t.co/kTwH2VL9gh
about 16 hours ago

oregonliveducks

oregonlive.com/ducks


Former Oregon Ducks running back LeGarrette Blount reportedly arrested for marijuana possession http://t.co/2xQMOHI0SJ #goducks
about 16 hours ago

oregonliveducks

oregonlive.com/ducks


Scott Frost on Chip Kelly's trade for Kenjon Barner and the ongoing Ducks-Eagles connection (video) http://t.co/dQAyslrJz8 #goducks
about 16 hours ago

DuckSportsNow

Duck Sports Now


Oregon secondary coach John Neal happy with progress of young DBs http://t.co/s334HjlUEj
about 17 hours ago

DuckFootball

Rob Moseley


Oregon Football Practice Recap – Aug. 20 http://t.co/tesAQfhsHs #GoDucks
about 17 hours ago

DSArivals

DuckSportsAuthority


Redshirt Review: Elijah George: Redshirt freshmen offensive linemen should be ready to contribute and that see... http://t.co/2pmtBo0INZ
about 17 hours ago

DuckSportsNow

Duck Sports Now


De'Anthony Thomas has role with Kansas City discussed in The Grantland NFL Podcast http://t.co/vZJVQEhMVl
about 17 hours ago

oregonliveducks

oregonlive.com/ducks


Brandin Cooks misses practice, Kenneth Acker improving at San Francisco 49ers camp: NFL local ties http://t.co/G616ZrIY8S #goducks
about 17 hours ago

ESPN_Pac12blog

ESPN_Pac12blog


QBs Goff, Liufau flying under the radar http://t.co/8L1igHEdk8
about 17 hours ago

Pac12Networks

Pac-12 Networks


Almost time to get the show on the road, says @cubuffssoccer coach Danny Sanchez. http://t.co/RWqyWbej4x http://t.co/mvHLnEKzbo
about 17 hours ago

Pac12Networks

Pac-12 Networks


.@WSUCougars fans: If this doesn't get you pumped up, what will? http://t.co/a4igYhQ20V
about 18 hours ago

DuckSportsNow

Duck Sports Now


JUCO transfer Tui Talia is in a rush to learn Oregon Ducks' defense http://t.co/FdEOsCMiJS
about 18 hours ago

f0ggyg0ggles

F0ggy G0ggles


Stoked to get a glimpse of #USC fall practice tonight on the @Pac12Networks. Straight feening for #Trojan football. #FightOn ✌️🏈
about 18 hours ago

OregonWBB

Oregon Ducks WBB


Head coach Kelly Graves (@GoDucksKG) takes part in the #ALSIceBucketChallenge. #GoDucks https://t.co/J6rKJcCBQ8
about 18 hours ago

Pac12Networks

Pac-12 Networks


REMEMBER: We want you to show us how you fly the colors at your office today! http://t.co/Ru5GgCSmSy http://t.co/qOiqhF3jr9
about 18 hours ago

oregonliveducks

oregonlive.com/ducks


JUCO transfer Tui Talia is in a rush to learn Oregon Ducks' defense http://t.co/xqcC9SvDMm #goducks
about 18 hours ago

OregonWGolf

Oregon Women's Golf


2014-15 schedule announced! Hawaii, North Carolina and a ton of other great golf destinations #GoDucks http://t.co/h9UClU9ICG
about 19 hours ago

DuckSportsNow

Duck Sports Now


Ranked No. 3 in preseason, Oregon Football Tickets Ninth Most Expensive On Secondary Market http://t.co/FhkRAs3MCY
about 19 hours ago

Pac12Networks

Pac-12 Networks


(Big thanks to @rachelswaney, @jessamynespn, @shufflepenguin and @17_canderson for their photos of the Mike Leach bobbleheads.)
about 19 hours ago

Pac12Networks

Pac-12 Networks


Thinks we learned today: @Coach_Leach bobbleheads are very, very popular on WSU fan desks. http://t.co/EjOAQloBPm
about 19 hours ago

BryanDFischer

Bryan Fischer


Checking in at No. 7 in the #CFBTop20 players is @MSU_Football's Shilique Calhoun: http://t.co/gFwrCdWQxN
about 19 hours ago

rjcunni19

Ryan Cunningham


@Pac12Networks #beardown http://t.co/9lnrJJKUez
about 19 hours ago

Pac12Networks

Pac-12 Networks


Big time opponents Michigan and BYU will make visits to @UW_Football in the future. http://t.co/r2wAFgYkCN
about 19 hours ago

BDenny29

Brad Denny


@Pac12Networks With #PT42 looking on http://t.co/UL5D2YExMi
about 19 hours ago

GoDucks

GoDucks


This Saturday we salute you - The Fan! #GoDucks http://t.co/2AeqO18HPk
about 19 hours ago

siaosi2580

George Manu


Work Flow @Pac12Networks http://t.co/8jZuFbLeCv
about 19 hours ago

ninamadeleine

Nina Madeleine


@Pac12Networks with all sorts of stuff! #GoBuffs http://t.co/U2yRxkMmdz
about 19 hours ago

Pac12Networks

Pac-12 Networks


Would anybody like to see more awesome Pac-12 decorated desks like @dgallegosOSute? http://t.co/mk922B5G54
about 19 hours ago

DuckSportsNow

Duck Sports Now


FALL CAMP 2014 – THREE WEEKS INTO FALL CAMP, DON PELLUM LIKES WHAT HE SEE'S FROM HIS DEFENSE – "Overall We're On... http://t.co/kuyPaZl8wq
about 20 hours ago

RyanMcGrady

Ryan McGrady


Sark + @USC_Athletics Trojans are looking strong to quite strong. See why in the @Pac12Networks stat pack #FightOn http://t.co/gmtl26iITD
about 20 hours ago

Pac12Networks

Pac-12 Networks


Which Pac-12 team makes you want to stand up and chant? http://t.co/7keR8r49Tuhttp://t.co/ywOXKN6R11 http://t.co/I3EhSmQwkq
about 20 hours ago

JB_Long

JB Long


@BigAntHerron @Mike_Yam You will be disappointed in me, @AdamsonAshley, proud of @Jill_Savage #ALSIceBucketChallenge https://t.co/EMWT367joK
about 20 hours ago

Pac12Networks

Pac-12 Networks


NEW: A revamped, fresh Pac-12 Now experience has come to Android devices. http://t.co/1P19TikNDZ http://t.co/aXxvh1bkxV
about 20 hours ago

CoachHelfrich

Mark Helfrich


Hopefully @DeForestBuckner is learning from @Haloti_Ngata92 #GoDucks http://t.co/VykVlAkjD6
about 20 hours ago

CoachHelfrich

Mark Helfrich


Hopefully @DeForestBuckner is learning from @Haloti_Ngata92 #GoDucks http://t.co/VykVlAkjD6
about 21 hours ago

CoachHelfrich

Mark Helfrich


Hopefully @DeForestBuckner is learning from @Haloti_Ngata92 #GoDuck! http://t.co/5h9SM2aZwP
about 21 hours ago

Pac12Networks

Pac-12 Networks


0_0 RT @DashOfNash: @Pac12Networks I think my boy @UDEVL has the best office in the Pac-12! http://t.co/0EMpGtGApD
about 21 hours ago

ESPN_Pac12blog

ESPN_Pac12blog


Better know a Pac-12 QB: Jared Goff http://t.co/WeOir07nY0
about 21 hours ago

Pac12Networks

Pac-12 Networks


.@Coach_Leach is watching RT @shufflepenguin: @Pac12Networks Coach Leach in the office is a must. #GoCougs http://t.co/KqvaDkcbAs
about 21 hours ago
PAC-12 SCOREBOARD
Thursday, 8/28
Friday, 8/29
Saturday, 8/30
BLOG ARCHIVE:
CATEGORIES: