Oregon coaches hit the road
December, 3, 2012
12/03/12
4:19
PM ET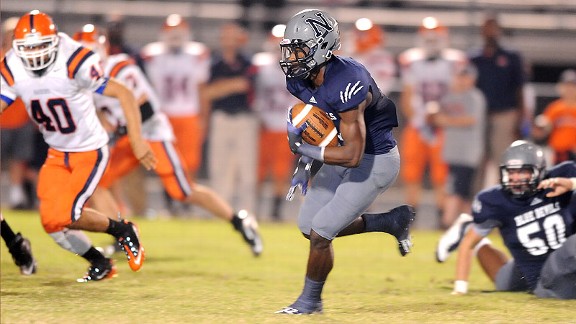 Radi Nabulsi/ESPN.comThe Ducks coaching staff made the cross-country trek to Georgia last week to visit, among others, coveted ESPN 150 RB Alvin Kamara.
With a week off from practice, the assistant coaches for the Tostito's Fiesta Bowl-bound Oregon Ducks
hit the recruiting trail last week. In addition to visiting their current commits, the Ducks' coaches also visited their primary remaining targets for the Class of 2013.
They racked up the miles as they visited players in Oregon, Washington, California, Arizona, Texas, Georgia, Florida, Maryland, North Carolina, among others.
To continue reading this article you must be an Insider
Insider
Kirk Herbstreit's Gameplan Breakdown
Kirk Herbstreit looks at the five big rivalry games of the week that not only give state bragging rights but also have direct implications on the College Football Playoff.
Kirk Herbstreit's Gameplan Breakdown
VIDEO PLAYLIST
OREGON FB RECRUITING SCORECARD
GoDucks

GoDucks


Start your holiday shopping at http://t.co/8g8NyKKl4T and order all of your favorite Duck gear. #GoDucks http://t.co/gDd8ZB9Dlb
2 minutes ago

Pac12Networks

Pac-12 Networks


Think @UCLAFootball will win the South today? Tweet #WinTheSouth and #FCGUCLA! http://t.co/MUr8LeM4VJ http://t.co/fIewlliwkE
6 minutes ago

Pac12Networks

Pac-12 Networks


Think @FootballASU will win the South today? Tweet #WinTheSouth and #FCGASU! http://t.co/MUr8LeM4VJ http://t.co/KpwNRceTE1
7 minutes ago

Pac12Networks

Pac-12 Networks


Think @ArizonaFBall will win the South today? Tweet #WinTheSouth and #FCGAZ! http://t.co/MUr8LeM4VJ http://t.co/MHV5QmP9PZ
8 minutes ago

oregonliveducks

oregonlive.com/ducks


As 15,000 drivers hit roads, heavy congestion expected on Civil War football game in Corvallis Saturday http://t.co/dficIZ4qOM #goducks
13 minutes ago

FootballASU

Sun Devil Football


#TerritorialCup is coming... http://t.co/tPL037tTRz
17 minutes ago

Pac12Networks

Pac-12 Networks


A little bit of clarity. All six VOLLEYBALL rivalries today. Sorry for the confusion. http://t.co/5ulO7dayON
29 minutes ago

DuckSportsNow

Duck Sports Now


Ducks soar in season that's been for the Byrds http://t.co/lLsXxyEfcK
31 minutes ago

DuckSportsNow

Duck Sports Now


Chip Kelly Update: Sanchez is Redeemed as Eagles Crush Dallas http://t.co/au3ozLc6KL
31 minutes ago

DuckSportsNow

Duck Sports Now


The five best games ever in the Civil War http://t.co/WLDNE52SfJ
31 minutes ago

Pac12Networks

Pac-12 Networks


One day. ALL SIX RIVALRIES. It all starts at 11 PT/12 MT on Pac-12 Networks. http://t.co/YfMNDX35dA #pac12vb http://t.co/UHIvOUGyxB
43 minutes ago

oregonliveducks

oregonlive.com/ducks


There isn't as much hatred in the Civil War as, say, Arizona-Arizona State: Issues & Answers http://t.co/VKqq9rGxPC #goducks
about an hour ago

DSArivals

DuckSportsAuthority


DSA Inside Edge: Civil War: The Oregon Ducks (10-1, 7-1) head on the road for their final trip of the 2014 reg... http://t.co/cEo5kpXZbS
about an hour ago

DuckSportsNow

Duck Sports Now


Five things to watch: Oregon-Oregon State http://t.co/WRV56xFAnZ
about an hour ago

Pac12Networks

Pac-12 Networks


Just in case you need a reminder, here's how the South will be won today. http://t.co/b3I7GxKSPT http://t.co/XDuxekQRhi
about an hour ago

ESPN_Pac12blog

ESPN_Pac12blog


Stanford-UCLA: Five things to watch http://t.co/Uzli8mMfsi
about an hour ago

oregonliveducks

oregonlive.com/ducks


Civil War preview: Beavers face 'huge test' vs. Ducks (video) http://t.co/r5FueZDC1l #goducks
about an hour ago

Pac12Networks

Pac-12 Networks


Who do you think will #WinTheSouth today? Tag your pick with #FCGAZ, #FCGASU or #FCGUCLA along with #WinTheSouth. http://t.co/khhlsacUTx
about an hour ago

Pac12Networks

Pac-12 Networks


The hashtags of record for the two reasonably important #pac12fb games today:#STANvsUCLA#TerritorialCup #WinTheSouth
about an hour ago

DuckSportsNow

Duck Sports Now


Three Unforgettable Moments in Oregon Civil War History http://t.co/YNq9vyKjQR
about an hour ago

DuckSportsNow

Duck Sports Now


Oregon Ducks secondary prepares for Sean Mannion's deep passes http://t.co/OA2o5IQMjR
about 2 hours ago

DuckSportsNow

Duck Sports Now


No. 3 Oregon vs. Oregon State: 5 things to watch http://t.co/ZJGNtLlwVL
about 2 hours ago

ESPN_Pac12blog

ESPN_Pac12blog


Five things to watch: Oregon-Oregon State http://t.co/I1XRaCPwDv
about 2 hours ago

oregonliveducks

oregonlive.com/ducks


Oregon Ducks secondary prepares for Sean Mannion's deep passes http://t.co/WM4cRdXsQO #goducks
about 2 hours ago

DuckSportsNow

Duck Sports Now


Pac-12 viewer's guide: Week 14 http://t.co/m531O4eSiv
about 2 hours ago

Pac12Networks

Pac-12 Networks


Hey sports fans, what say we crown a champion of the Pac-12 South today? #pac12fcg
about 2 hours ago

oregonliveducks

oregonlive.com/ducks


No. 3 Oregon vs. Oregon State: 5 things to watch http://t.co/ZNzHO6L45a #goducks
about 3 hours ago

oregonliveducks

oregonlive.com/ducks


Best Oregon Ducks, Oregon State Beavers Civil War quarterback performances since 2000 http://t.co/xnPzvOqR6H #goducks
about 3 hours ago

ESPN_Pac12blog

ESPN_Pac12blog


Pac-12 viewer's guide: Week 14 http://t.co/34ALZlDrPA
about 3 hours ago

oregonliveducks

oregonlive.com/ducks


College football picks: Alabama, Mississippi State, Georgia will score big rivalry weekend wins http://t.co/zPxsZmlt0i #goducks
about 3 hours ago

DSArivals

DuckSportsAuthority


Lyle deciding on visits: Now that he has settled in as a member of the class of 2015, 5-star combo guard JaQua... http://t.co/EUsyA7YYql
about 4 hours ago

oregonliveducks

oregonlive.com/ducks


Oregon vs. Oregon State: Will Ducks roll to another Civil War victory? http://t.co/vqbybKxfMG #goducks
about 4 hours ago

oregonliveducks

oregonlive.com/ducks


Oregon Ducks recruiting roundup: Chase Lucas names UO his childhood favorite; Nation's top JC linebac... http://t.co/Tq3W9zsWHK #goducks
about 4 hours ago

oregonliveducks

oregonlive.com/ducks


The 2009 Civil War, candidates line up for the Portland State football coaching job: The Oregonian sp... http://t.co/LfC6MVR03m #goducks
about 5 hours ago

DuckSportsNow

Duck Sports Now


Oregon Athletics Black Friday through Cyber Monday Deals http://t.co/so299H2pr1
about 9 hours ago

DuckSportsNow

Duck Sports Now


Is Davon Durant the most important recruit for Oregon's chances in 2015? Maybe. http://t.co/QZa8VoxO9h
about 11 hours ago

Pac12Networks

Pac-12 Networks


One victory is all it takes. Here's the #FBWeekly preview of #STANvsUCLA: http://t.co/51zvQiW8za http://t.co/Vp328Mxn78
about 13 hours ago

schreaddin

reeve krawczyk


#ALLIWANTFORCHRISTMAS IS AN @CHECKDAT6 FISHING SHOW ON TV #CATCHDAT
about 14 hours ago

Pac12Networks

Pac-12 Networks


Emotion in Pullman: Steve Gleason will be inducted into WSU's Hall of Fame on Saturday. http://t.co/KnrkWSb0lZ http://t.co/cuCdD372No
about 15 hours ago

Pac12Networks

Pac-12 Networks


What's at stake tomorrow for @UCLAFootball. Oh, just a #pac12fcg spot, that's all. #STANvsUCLA http://t.co/a40Enbuk40 http://t.co/cxAZmGfVyd
about 15 hours ago

DuckSportsNow

Duck Sports Now


PAC-12 Football Weekend Recap Week 13 http://t.co/OxCHV2BHVI
about 16 hours ago

DuckSportsNow

Duck Sports Now


Playoff Update: Ducks remain No. 2 http://t.co/7hWiEnKvEF
about 16 hours ago

MightyOregon

Yell O


Happy Thanksgiving. Thankful for Ducks everywhere. #GetWell85 #DontBelieveTheHype #GoDucks
about 18 hours ago

Pac12Networks

Pac-12 Networks


ICYMI: This is what our #pac12fb coaches and players love to have on their Thanksgiving table. http://t.co/rqOJXyzJhL
about 18 hours ago

DuckFootball

Rob Moseley


Oh, Stove Top. How I've missed you since last we met, one year ago today.
about 18 hours ago

VoiceoftheDucks

Jerry Allen


Happy Thanksgiving to all our great Duck fans everywhere. Go Ducks!
about 19 hours ago

oregonliveducks

oregonlive.com/ducks


Oregon Ducks vs. Oregon State Beavers in Civil War football: 1980-1999 http://t.co/yFbIPTBBsE #goducks
about 19 hours ago

DuckSportsNow

Duck Sports Now


Notes: Thanksgiving Shootout http://t.co/V5F1dU8ShD
about 20 hours ago

DuckSportsNow

Duck Sports Now


Ducks Should Hit Fast and Hard http://t.co/MeXdqfv47R
about 21 hours ago

DuckSportsNow

Duck Sports Now


Arik Armstead Looks Forward to Thanksgiving and Civil War http://t.co/15CCM6Mcju
about 21 hours ago

DuckSportsNow

Duck Sports Now


A Poem on the Civil War 2k14 http://t.co/eQuvR7SMbs
about 21 hours ago

McNamaraUO

Andy McNamara


Eat Your Enemies #GoDucks "@ChrisBabcock2: They are serving the players crab today. http://t.co/mZBL9winQK"
about 21 hours ago

DuckSportsNow

Duck Sports Now


Duck recruiting Update, Tevis Bartlett, Rasheem Green, Rex Manu http://t.co/wVGHHew9tp
about 21 hours ago

DuckSportsNow

Duck Sports Now


Favorite thing about Thanksgiving http://t.co/drn8dEypJP
about 21 hours ago

oregonliveducks

oregonlive.com/ducks


Best Oregon Ducks, Oregon State Beavers Civil War rushing performances since 2000 http://t.co/q98A90wvY8 #goducks
about 21 hours ago

Pac12Networks

Pac-12 Networks


What's your favorite Thanksgiving food?Here's what our coaches and players had to say: http://t.co/rqOJXyzJhL http://t.co/Em8XK5Qgs9
about 22 hours ago

DuckSportsNow

Duck Sports Now


Don Pellum Says Defense Will Be Key Against Oregon State http://t.co/uGdaK8P9Zg
about 22 hours ago

OregonDuckTix

Oregon Duck Tickets


We're thankful for our countless @GoDucks fans that help our teams #WTD!Happy Thanksgiving!#gobblegobble http://t.co/VD4DcMDTtN
about 22 hours ago

oregonliveducks

oregonlive.com/ducks


Marquise Doherty, 4-star athlete, recaps Oregon Ducks official visit http://t.co/O9ZpvTKHSW #goducks
about 23 hours ago

CHECKDAT6

DE'ANTHONY THOMAS


HAPPY THANKSGIVING #RUNDAT
about 23 hours ago

GoDucks

GoDucks


Happy Thanksgiving to all Duck fans! #GoDucks http://t.co/QDvKMsrT7M
about 23 hours ago

Pac12Networks

Pac-12 Networks


From all of us to you, we hope you have an amazing Thanksgiving! Thanks for being such great fans and supporters.
1 day ago

DuckSportsNow

Duck Sports Now


The Thanksgiving QuackPoll is Stuffed with Troll http://t.co/gd5ZkBzGGH
1 day ago

DuckSportsNow

Duck Sports Now


Quack Fix: Happy Thanksgiving http://t.co/rzgFf2SQhO
1 day ago

TheOregonDuck

The Oregon Duck


Not only is it THANKSGIVING, but also #duckawarenessday #eatmoreturkey #ThankfullForYou 🍗🍗🍗🍗
1 day ago

DSArivals

DuckSportsAuthority


Oregon defensive focus will be Mannion: As Oregon enters the 118th edition of their rivalry game with Oregon S... http://t.co/6WxrysOaVz
1 day ago

DuckSportsNow

Duck Sports Now


Oregon defensive focus will be Mannion http://t.co/4aLGqETDI2
1 day ago

DuckSportsNow

Duck Sports Now


Five teams that will be Arizona Wildcats' biggest competition in Pac-12 – College Basketball http://t.co/AlZaPFttuJ
1 day ago

DuckSportsNow

Duck Sports Now


Video exclusive: Matt Lubick http://t.co/Zxnsfw5GXC
1 day ago

DuckSportsNow

Duck Sports Now


A http://t.co/hp8NZWMyW0 Thanksgiving List http://t.co/wfuV1HiFxT
1 day ago

DuckSportsNow

Duck Sports Now


Why Would Football Recruiting Be a Challenge at Oregon? http://t.co/F39cykauWP
1 day ago

DuckSportsNow

Duck Sports Now


How to Keep the Civil War Victories Coming http://t.co/3wbnQ8mDcp
1 day ago

DuckSportsNow

Duck Sports Now


Unbreak my heart: Marcus Mariota's surprise January decision meant the world to the Ducks http://t.co/XcMuFLuD3a
1 day ago

oregonliveducks

oregonlive.com/ducks


Best Oregon Ducks, Oregon State Beavers Civil War receiver performances since 2000 http://t.co/XJA4K4jvxc #goducks
1 day ago

DuckSportsNow

Duck Sports Now


The 2009 Civil War: Jeremiah Masoli's bulldozing run sent Oregon, Oregon State on divergent paths http://t.co/xOUV222VGt
1 day ago

DuckSportsNow

Duck Sports Now


Oregon State Dylan Wynn's 'relentless' pass rushing a challenge for re-tooled Oregon offensive line http://t.co/e7c36ckoFY
1 day ago

oregonliveducks

oregonlive.com/ducks


The 2009 Civil War: Jeremiah Masoli's bulldozing run sent Oregon, Oregon State on divergent paths http://t.co/fWY96PEF5g #goducks
1 day ago

DuckSportsNow

Duck Sports Now


When the Civil War is more than just Oregon versus Oregon State: Mother Nature crashes party http://t.co/25AbrSCngr
1 day ago

ESPN_Pac12blog

ESPN_Pac12blog


Happy Thanksgiving from the Pac-12 blog http://t.co/VbWjO0W1Tw
1 day ago

oregonliveducks

oregonlive.com/ducks


Oregon State Dylan Wynn's 'relentless' pass rushing a challenge for re-tooled Oregon offensive line http://t.co/5g9gOTo1Dg #goducks
1 day ago

oregonliveducks

oregonlive.com/ducks


When the Civil War is more than just Oregon versus Oregon State: Mother Nature crashes party http://t.co/ppopioUB5e #goducks
1 day ago

CHECKDAT6

DE'ANTHONY THOMAS


HATE IT OR LOVE IT HAPPY THANKSGIVING #RUNDAT http://t.co/JdmZ0vXZVp
1 day ago

oregonliveducks

oregonlive.com/ducks


Chase Lucas, class of 2016 4-star athlete, calls Oregon Ducks his 'dream school' http://t.co/JeD0IEdnRB #goducks
1 day ago

UWAthletics

Washington Huskies


@Pac12Networks Our awesome fans! #PointHuskies http://t.co/h4BLKq6xIl
1 day ago

Pac12Networks

Pac-12 Networks


Hope you're ready for a great Thanksgiving? What are you thankful for this year?
1 day ago

YogiRoth

Yogi Roth


#Thankful for @nickekbatani - on many levels. Thx 4allowing @TheDrive_Crew @UCLAFootball 2share ur story. Much love brother. @Pac12Networks
1 day ago

Pac12Networks

Pac-12 Networks


Want to know more about @UCLAFootball alum Nick Ekbatani's inspirational story? 'Overdrive' has you covered. http://t.co/kkT395D1oE
1 day ago

AZATHLETICS

Arizona Athletics


2014 @EASPORTSMauiInv Champions:@APlayersProgram #BearDown http://t.co/viCATGWgn2
1 day ago

Pac12Networks

Pac-12 Networks


So, what did you think? #TheDrive
1 day ago

Pac12Networks

Pac-12 Networks


Jordan Mathews provided a big momentum swing and the #CPvsCAL Play of the Game with this transition trifecta. http://t.co/FEj8bxFbKh
1 day ago

Pac12Networks

Pac-12 Networks


Cal Poly couldn't keep up with @CalMensBBall tonight at Haas: http://t.co/AZGbgwZmFi http://t.co/1T6PHwRH8k
1 day ago

Pac12Networks

Pac-12 Networks


Saddle up, fans. #TheDrive is on RIGHT NOW. Watch it: http://t.co/YfMNDX35dA http://t.co/2waTWV2P3M
1 day ago

Pac12Networks

Pac-12 Networks


30 minutes to an all new #TheDrive. RT if you'll be watching! http://t.co/dlNi0kKv8Y http://t.co/PJu5vVFTlJ
1 day ago

UOPintens

Craig Pintens


About 1K tickets remain for the #CivilWar let's help fill up Reser beyond our allotment. http://t.co/rz23pZcWv5 #GoDucks
1 day ago

DuckSportsNow

Duck Sports Now


2014 Football in 60: Colorado at Oregon http://t.co/G5xjEPA4Ag
1 day ago

DuckSportsNow

Duck Sports Now


Don Pellum Expects OSU Aerial Attack to be a Significant Challenge – "They do a tremendous job of working the… http://t.co/YoxdEK41vW
1 day ago

Pac12Networks

Pac-12 Networks


Can't wait for tonight's new #TheDrive? Get your mind right with this preview: http://t.co/E2vw4gRI06 http://t.co/pH3d2Kwfvp
1 day ago

Pac12Networks

Pac-12 Networks


.@Runnin_Utes? More like the Blockin' Utes! These back-to-back rejections are our #UTPAvsUTAH Play(s) of the Game: http://t.co/47iFnMs8lG
1 day ago

Pac12Networks

Pac-12 Networks


Listen to Hec Ed Pavilion erupt after Melanie Wade delivers the match-winner for @UWVolleyball! http://t.co/Y96lLkiszj
1 day ago

Pac12Networks

Pac-12 Networks


Our #pac12hoops action continues with #CPvsCAL from Berkeley!Watch now: http://t.co/YfMNDX35dA http://t.co/5fOtuH3JTn
1 day ago
PAC-12 SCOREBOARD
Friday, 11/28
Saturday, 11/29
BLOG ARCHIVE:
CATEGORIES: