Ga. ATH Juwaan Williams focused on four
December, 5, 2012
12/05/12
5:20
AM ET
With official visits to two of this year's BCS bowl participants -- and an unofficial visit to a third -- in the rear view mirror, one of the biggest sleepers in the South is moving forward with his eyes on four programs.
[+] Enlarge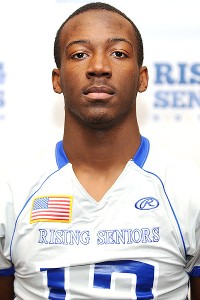 Radi Nabulsi/ESPN.comTucker, Ga., athlete Juwaan Williams is down to Oregon, Florida State, Notre Dame and Vanderbilt.
ATH
Juwaan Williams
(Tucker, Ga./Tucker) saw his senior season come to an end on Friday night after a 23-20 loss to (Warner Robins, Ga./Northside). His three TD runs, including the go-ahead score with less than two minutes to go, weren't enough as Tucker gave up 20 fourth-quarter points to unbeaten Northside. With his football season behind him and his basketball season starting on Wednesday, the 6-foot-1, 180-pound Williams is going to take his time evaluating his final four schools of Florida State, Notre Dame, Oregon and Vanderbilt.
"Now that football is done, I just want to enjoy the basketball season and take my time to evaluate all of my options," Williams said. "I have four great schools to choose from and want to make a good, educated decision."
To continue reading this article you must be an Insider
Welcome
!
We see that you are not an ESPN Insider. Upgrade today and gain access to our exclusive coverage.
ESPN The Magazine subscribers

Need more information?
Mature Decision By Marcus Mariota
Todd McShay reacts to Marcus Mariota's choice to return to college for another season and continue his development.
Tags:
Marcus Mariota
,
Oregon
,
Todd McShay
Mature Decision By Marcus Mariota
VIDEO PLAYLIST
Mature Decision By Marcus Mariota

Mature Decision By Marcus Mariota

Todd McShay reacts to Marcus Mariota's choice to return to college for another season and continue his development.

Tags: Marcus Mariota

,

Oregon

,

Todd McShay

Mariota Will Return To Oregon

Mariota Will Return To Oregon

The Point After: Week 13

The Point After: Week 13
DUCKNATION RECRUITING NEWS
OREGON FB RECRUITING SCORECARD
DuckFootball

Rob Moseley


RT @JohnCanzanoBFT: Worth a read … RT @AnnaCanzanoKATU: Man caught in #Snowbrawl2013 at U of O explains why he got out of his car http://t.…
about an hour ago

Pac12Networks

Pac-12 Networks


Congrats to Stanford and ASU for capping off a great season of #pac12fb. Full FCG coverage: http://t.co/3Xkdc46EIJ http://t.co/XSeMqeLqnp
about 2 hours ago

DuckSportsNow

Duck Sports Now


Oregon football player apologizes for unidentified teammates harassing driver during snowball fight (updated) http://t.co/s8xSvAciGa
about 3 hours ago

DuckSportsNow

Duck Sports Now


Coach Moore, Bettendorf and Brenner post Nebraska Press Conference http://t.co/tNJKP5cud7
about 3 hours ago

UOPintens

Craig Pintens


Night all, just ate a whole bag of orange pixie sticks (Orange Sugar?!?!) for good luck. #GoDucks
about 3 hours ago

ESPN_Pac12blog

ESPN_Pac12blog


Stanford 'destroys' the line of scrimmage http://t.co/OTU2wtiBms
about 3 hours ago

Pac12Networks

Pac-12 Networks


RT @Mike_Yam: A season in the books on the @Pac12Networks nothing better than working w/ @CurtisConway80 & @CoachNeuheisel http://t.co/4xwm…
about 3 hours ago

McNamaraUO

Andy McNamara


Followers on @Instagram: Oregon 107K, Alabama 47K, Clemson 31.5K, Oklahoma 27K #GoDucks #smsports @OrangeBowl @SugarBowlNOLA
about 3 hours ago

DuckFootball

Rob Moseley


Ducks left out RT @BCSGuru: My last ever BCS projections, with rankings 1-25, bowl matchups @BR_CFB - http://t.co/jFoGap66U8 (and RIP, BCS)
about 3 hours ago

DuckFootball

Rob Moseley


RT @aroundO: Statement from UO Dean of Students regarding snowball incident, http://t.co/KqFh1QBjOm. #goducks #uoregon
about 3 hours ago

ESPN_Pac12blog

ESPN_Pac12blog


Video: Stanford RB Tyler Gaffney http://t.co/1hOvhCQb6T
about 3 hours ago

DuckSportsNow

Duck Sports Now


Oregon's Season Ends at No. 8-seed Nebraska http://t.co/Yp1O5OKRGO
about 3 hours ago

McNamaraUO

Andy McNamara


Comparing No. of likes on official football Facebook pages: Oregon 722K, Clemson 110K, Oklahoma 103K #GoDucks
about 4 hours ago

McNamaraUO

Andy McNamara


RT @ralphDrussoAP: Or Oklahoma or Oregon? Oregon/Bama gets better TV ratings and maybe better local sales for tickets.
about 4 hours ago

Pac12Networks

Pac-12 Networks


If you like confetti, roses and @StanfordFball, you'll love our pics from the #pac12fcg. Photo Gallery: http://t.co/bhnt9HiQgP
about 4 hours ago

DuckSportsNow

Duck Sports Now


Oregon volleyball swept by Nebraska to end season http://t.co/eZO9JfyFjJ
about 4 hours ago

ESPN_Pac12blog

ESPN_Pac12blog


Video: BCS bowl projections http://t.co/sVxp5zu1Zs
about 4 hours ago

DuckSportsNow

Duck Sports Now


Oregon's BCS hopes: What Ohio State's loss means to the Ducks (Twitter reaction) http://t.co/6xrTITcWk8
about 4 hours ago

DuckSportsNow

Duck Sports Now


Oregon Ducks lose to Nebraska in second round of NCAA volleyball tournament http://t.co/vcBVqrnk6O
about 4 hours ago

ESPN_Pac12blog

ESPN_Pac12blog


Video: Stanford top ASU to win Pac-12 title http://t.co/YF7nI6weOl
about 4 hours ago

DuckFootball

Rob Moseley


FOX Sports talking head suggests Oregon "maybe to the Orange Bowl." Local crowd goes wild. Just keep in mind, he's in the minority.
about 5 hours ago

ESPN_Pac12blog

ESPN_Pac12blog


When I told Stanford coach David Shaw that he'd be seeing Michigan State at the Rose Bowl, he said, "It's hard to go undefeated." Yep.
about 5 hours ago

DuckFootball

Rob Moseley


RT @slmandel: Expected BCS pairings. FSU Auburn. Rose: Mich St-Stanford. Fiesta: Baylor-UCF. Sugar: Bama Oklahoma. Orange: Clemson Ohio St.
about 5 hours ago

DuckFootball

Rob Moseley


Most likely. But that's no different than 48 hours ago, or 12, or 8, or 4. Been longshot since AZ loss RT @lujano77 so Ducks are out of BCS?
about 5 hours ago

DuckFootball

Rob Moseley


RT @Andy_Staples: Please allow me to answer all your bowl questions in one shot: Because of money.
about 5 hours ago

McNamaraUO

Andy McNamara


Best Pac-12 season in years likely to result in 1 BCS team. Brutal. #GoDucks http://t.co/LFuHv8q1E5
about 5 hours ago

DuckFootball

Rob Moseley


RT @CrunchTime953: Since Ok St. was in the Cotton and Texas was in the Alamo last year wonder if they swap and the Ducks get Ok St.
about 5 hours ago

DuckFootball

Rob Moseley


RT @Andy_Staples: Bowls are businesses. The ACC rescued the Orange. The Orange will not take money from the ACC's pocket. Next year, Sugar …
about 5 hours ago

DuckFootball

Rob Moseley


RT @BCSGuru: Work on projections now. Will have standings and firm bowl picks. OU in top 14 is main question.
about 5 hours ago

DuckFootball

Rob Moseley


RT @BCSGuru: Prelim bowls - FSU-Auburn; Rose: MSU-Stan; Orange: Clem-tOSU; Sugar: Bama-OU or Oregon; Fiesta: Baylor-UCF
about 5 hours ago

DuckFootball

Rob Moseley


Oregon vs. Texas in the Alamo Bowl RT @jppalmCBS: new projections: http://t.co/Dtiq0ZfgVu
about 5 hours ago

DuckFootball

Rob Moseley


If it's OU-Bama in Sugar, Ducks' BCS hopes come down to whether Orange wants Ducks or Clemson - of partner conference ACC - to face Ohio St.
about 5 hours ago

McNamaraUO

Andy McNamara


RT @PaulPabst: Eight weeks ago there were 17 undefeated college football teams.
about 5 hours ago

DuckFootball

Rob Moseley


Oklahoma beat writer, FWIW RT @jasonkersey: Looks like the #Sooners are about to have a date with Nick Saban and Alabama in New Orleans
about 5 hours ago

ESPN_Pac12blog

ESPN_Pac12blog


Gaffney and Skov meet the media. http://t.co/hBwyBoU82r
about 5 hours ago

Pac12Networks

Pac-12 Networks


ASU has wrapped up their pressers. Now it's Stanford's turn. Live feed: http://t.co/2feMQ3Tr4s
about 5 hours ago

Pac12Networks

Pac-12 Networks


Double ooph. RT @HouseOfSparky: Graham said this year's special teams units is the hardest thing he's ever dealt with as a coach.
about 5 hours ago

Pac12Networks

Pac-12 Networks


Ooph RT @HouseOfSparky: Graham: "I don't like losing. I don't think you learn a lot from losing other than you don't want to do it anymore."
about 5 hours ago

Pac12Networks

Pac-12 Networks


#pac12fcg MVP Tyler Gaffney set the tone for @StanfordFball with this career long 69-yard TD run. Play of the Game: http://t.co/m2AGLy0fJS
about 6 hours ago

Pac12Networks

Pac-12 Networks


If you're looking for a #pac12fcg press conference live feed, we have you covered: http://t.co/UKUnHak2KZ
about 6 hours ago

Pac12Networks

Pac-12 Networks


Yes, David Shaw, these roses are real! GIF: http://t.co/2feMQ3Tr4s
about 6 hours ago

Pac12Networks

Pac-12 Networks


Congrats to @StanfordFball on winning their 2nd straight #pac12fcg . A full hour of post game coverage on our networks starts now!
about 6 hours ago

UOPintens

Craig Pintens


Congratulations to @StanfordFball on winning the @Pac12 Good luck in the Rose Bowl.
about 6 hours ago

McNamaraUO

Andy McNamara


Can't convince me the #CFB playoff system will have the same regular season drama as this. Hope I'm wrong
about 6 hours ago

oregonliveducks

oregonlive.com/ducks


Oregon's BCS hopes: What Baylor's win means for the Ducks (Twitter reaction) http://t.co/NRn1lylpGK #goducks
about 6 hours ago

oregonliveducks

oregonlive.com/ducks


Oregon's BCS hopes: What Oklahoma State's loss means for the Ducks (Twitter reaction) http://t.co/NGSbQYAT93 #goducks
about 6 hours ago

oregonliveducks

oregonlive.com/ducks


Oregon's BCS roadmap: Key games for Duck fans to watch today (updated) http://t.co/gPYptD5woB #goducks
about 6 hours ago

ESPN_Pac12blog

ESPN_Pac12blog


RT @JohnCanzanoBFT: Alamo Bowl honks who want Oregon on the Riverwalk rooting for Stanford (vs ASU) and Michigan State (vs OSU).
about 6 hours ago

DuckSportsNow

Duck Sports Now


Oregon Ducks Volleyball: Huskers stuff Ducks, move on to regional http://t.co/4Vb7G0n8oG
about 6 hours ago

Pac12Networks

Pac-12 Networks


On our post game show, look for @Mike_Yam & Co. to talk about how Stanford is the "master of the match-up." Key to tonight's #pac12fcg .
about 6 hours ago

ESPN_Pac12blog

ESPN_Pac12blog


It would appear that a lot of Arizona State fans don't see the Sun Devils scoring 24 points in the final 9:49. #StanvsASU
about 6 hours ago

ESPN_Pac12blog

ESPN_Pac12blog


Kevin Hogan: 12 of 18 for 277 yards w/ TD, 0 Ints. 14.9 yards per attempt. 214.3 rating. This feels like the best road game of his career.
about 6 hours ago

Pac12Networks

Pac-12 Networks


Hey look it's @asumensgolf great Phil Mickelson on the sidelines of the #pac12fcg . Interview: http://t.co/E7bVRjK4tQ
about 7 hours ago

ESPN_Pac12blog

ESPN_Pac12blog


Stanford has outgained Arizona State 460 yards to 284. #StanvsASU
about 7 hours ago

ESPN_Pac12blog

ESPN_Pac12blog


Hate that 3rd down call from Arizona State… backup QB on QB sneak? Big question now is who Stanford gets in Rose Bowl.
about 7 hours ago

DuckFootball

Rob Moseley


RT @AddictedToQuack: If Oregon and Oklahoma are under consideration for a BCS pick, my recommendation is we go onside kick and check the re…
about 7 hours ago

DuckFootball

Rob Moseley


RT @OregonVB: Nebraska take the third set and wins 25-22, 25-19, 25-22. Oregon finishes the season 20-12. #GoDucks
about 7 hours ago

DuckFootball

Rob Moseley


At Autzen next fall RT @BFeldmanCBS: #Wyoming will announce North Dakota St's Craig Bohl as new head coach, per source. 40-2 last 3 seasons.
about 7 hours ago

Pac12Networks

Pac-12 Networks


Congrats to the #DrPepperTuition winner from tonight's #pac12fcg ! You can still enter for a chance to win $100K: http://t.co/GNDRhQ55RJ
about 7 hours ago

ESPN_Pac12blog

ESPN_Pac12blog


RT @DavidMLombardi: Shayne Skov, who appeared to be favoring his arm at end of half, is warming up with Stanford's defense before 2nd half …
about 7 hours ago

ESPN_Pac12blog

ESPN_Pac12blog


RT @MattRHinton: So, Stanford then? RT @Andy_Staples: Auburn AD: "I have nine words. Strength of schedule. Strength of schedule. Strength o…
about 7 hours ago

DuckFootball

Rob Moseley


Agreed, FWIW RT @wilnerhotline: And if it's FSU-Aub, then: Rose: Stan-MSU, Orange: Clem-tOSU, Sugar: Bama vs Okla (Ore), Fiesta: Baylor-UCF
about 7 hours ago

Pac12Networks

Pac-12 Networks


Now an Arizona Cardinal, Stanford alum @KULABAFI was able to conveniently be in attendance for the #pac12fcg . Video: http://t.co/BSaZ7lDb18
about 7 hours ago

ESPN_Pac12blog

ESPN_Pac12blog


Progress! RT @wilnerhotline: ASU trailed Stanford 29-0 at halftime of first meeting. Tonight, it's 28-14.
about 8 hours ago

ESPN_Pac12blog

ESPN_Pac12blog


Arizona State will get the third-quarter kickoff. Big opportunity there to change the complexion of this game. #StanvsASU
about 8 hours ago

ESPN_Pac12blog

ESPN_Pac12blog


RT @wilnerhotline: Jordan Pratt has 3 catches for 56 yards. 9 all year to this point
about 8 hours ago

EATBLACKMOMBA6

DE'ANTHONY THOMAS


RT @hjbiii: Crenshaw High School wins the City Football Championship 20-13. Like the days of @eatblackmomba6 the Shaw is back on top! #cren…
about 8 hours ago

ESPN_Pac12blog

ESPN_Pac12blog


Arizona State has 174 total yards, with 116 of that coming on its two TD plays (51 & 65 yards). #StanvsASU
about 8 hours ago

DuckFootball

Rob Moseley


The way things look right now, Stanford will be trying to run on Michigan State in the Rose Bowl. And that will be fun to watch.
about 8 hours ago

ESPN_Pac12blog

ESPN_Pac12blog


RT @DavidMLombardi: So, the 2 longest plays that Stanford's defense has given up all year have come in this game.
about 8 hours ago

ESPN_Pac12blog

ESPN_Pac12blog


Arizona State defense steps up, now the offense follows with 65 yard touchdown on quick hitch to Foster. 28-14. Game on? #StanvsASU
about 8 hours ago

McNamaraUO

Andy McNamara


Watching these games today, more convinced @Pac12 was best conference in #CFB this season #GoDucks
about 8 hours ago

Pac12Networks

Pac-12 Networks


Two students are getting ready to compete for a chance to win $100K at halftime in #DrPepperTuition. Follow @DrPepper for all the action.
about 8 hours ago

ESPN_Pac12blog

ESPN_Pac12blog


Yep, which is the Pac-12 story this year: Depth meant no weeks off. RT @WSUFBFacts: WSU also beat those teams
about 8 hours ago

ESPN_Pac12blog

ESPN_Pac12blog


Arizona State beat both teams that beat Stanford, Utah & USC. Stanford should have some regret this year. Clearly an elite team. #StanvsASU
about 8 hours ago

ESPN_Pac12blog

ESPN_Pac12blog


This is the national contender I envisioned Stanford being in the preseason, but this has not played like this on the road all season.
about 8 hours ago

ESPN_Pac12blog

ESPN_Pac12blog


RT @evanfrich: @ESPN_Pac12blog Ted Miller, you are a fool for picking ASU to win. You ought to be ashamed of yourself.
about 8 hours ago

ESPN_Pac12blog

ESPN_Pac12blog


RT @wilnerhotline: Stanford has 250 yards & 4 TDs in 4 possessions. I just don't understand ASU's defensive approach.
about 8 hours ago

ESPN_Pac12blog

ESPN_Pac12blog


RT @PapelHombre: @ESPN_Pac12blog Ted, for your misguided love towards #ASWho, you are now banned from Scottsdale. #KevinForBloggerOfTheYear
about 8 hours ago

ESPN_Pac12blog

ESPN_Pac12blog


Louis CK would trade his past for your comic future. RT @UOPintens: Watching documentary on the Alamo while eating oranges doused with sugar
about 8 hours ago

Pac12Networks

Pac-12 Networks


There is a clear early leader for #pac12fcg MVP as @StanfordFball's Tyler Gaffney has found the end zone three times in the first half.
about 8 hours ago

UOPintens

Craig Pintens


Watching a documentary on the Alamo while eating oranges doused with sugar. #GoDucks
about 8 hours ago

ESPN_Pac12blog

ESPN_Pac12blog


Stanford wisely opted not to get cute. Did its thing. It's 28-7. What I envisioned for this game is, well, utterly wrong. #StanvsASU
about 8 hours ago

ESPN_Pac12blog

ESPN_Pac12blog


ASU won't have Carl Bradford on this fourth-&-goal play. #StanvsASU
about 8 hours ago

DuckFootball

Rob Moseley


RT @TJohnstone64: Everyone go watch the greatest and last episode of Moose Time! #snowbrawl2013 thank you @Erik_Elkenand@JakeZivin http:/…
about 8 hours ago

ESPN_Pac12blog

ESPN_Pac12blog


RT @wsucougfb: Congrats to the SEC Champion, Auburn Tigers. Seems like yesterday we gave them all they could handle in Jordan Hare Stadium…
about 8 hours ago

ESPN_Pac12blog

ESPN_Pac12blog


RT @coachingsearch: RT @UW_Football Coach Petersen on his new home turf @HuskyStadium! #WOOF #CoachPeteUDUB http://t.co/cx7Lcl4I2w
about 8 hours ago

ESPN_Pac12blog

ESPN_Pac12blog


There's your sloppy, ASU. Punt for 16 yards. Stanford starts on Sun Devils 38. Instead of "Fork 'em" might be close to "Put a fork in 'em."
about 8 hours ago

DuckSportsNow

Duck Sports Now


Oregon's BCS hopes: What Baylor's win means for the Ducks (Twitter reaction) http://t.co/eV7wYVKNof
about 8 hours ago

ESPN_Pac12blog

ESPN_Pac12blog


Really not sure how Sun Devils can turn this around if they are losing 1-on-1 battles on both lines. #StanvsASU
about 9 hours ago

ESPN_Pac12blog

ESPN_Pac12blog


Arizona State isn't playing sloppy as it did at Stanford in Sept., but Stanford is dominating up front just like it did before. #StanvsASU
about 9 hours ago

ESPN_Pac12blog

ESPN_Pac12blog


Early candidate for Player of the Game is Stanford RB Tyler Gaffney. 2 TDs, 91 yards rushing in first quarter. #StanvsASU
about 9 hours ago

ESPN_Pac12blog

ESPN_Pac12blog


Hogan is clearly on his game tonight, perhaps the best I've seen him. He's 3 for 4 for 88 yards with 3 runs for 12 yards.
about 9 hours ago

DuckFootball

Rob Moseley


RT @nessamoht: @DuckFootball Printing "We Want Auburn" t-shirts right now. #GoDucks
about 9 hours ago

ESPN_Pac12blog

ESPN_Pac12blog


If Stanford goes 90-yards for a TD here, I might use the term: "Soul crushing" to sum up the Sun Devils perspective. #StanvsASU
about 9 hours ago

ESPN_Pac12blog

ESPN_Pac12blog


Gutsy call on 4th & 2 at midfield pays off with Stanford PI on Wayne Lyons -- and it was a good PI because play might have gone for 6.
about 9 hours ago

ESPN_Pac12blog

ESPN_Pac12blog


Seems meaningful that Sun Devils were able to twice convert on 3rd & 1 with straight-ahead running plays. #StanvsASU
about 9 hours ago

ESPN_Pac12blog

ESPN_Pac12blog


So far Stanford's offensive line is doing about the same as it did in the first game: Dominating. & QB Kevin Hogan is poised & efficient.
about 9 hours ago

DuckFootball

Rob Moseley


All right, who's down for another Oregon-Auburn matchup in the BCS? Possible Sugar Bowl, particularly if Oklahoma finishes out of top 14.
about 9 hours ago

ESPN_Pac12blog

ESPN_Pac12blog


If Stanford can go deep like that off play-action, they are really, really hard to stop. #StanvsASU
about 9 hours ago
BLOG ARCHIVE:
CATEGORIES: