Oregon-bound Chris Seisay wins honor
November, 13, 2012
11/13/12
10:00
AM ET
The Napa Valley is known for many things, but football has never been on top of the list.
Oregon commit
Chris Seisay
(American Canyon, Calif./American Canyon) is doing his best to make himself and his team a known commodity from a town that sits between the talent-laden San Francisco Bay area and the football-rich San-Joaquin Valley.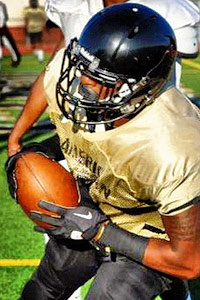 Courtesy of Kathy RobinsonOregon commit Chris Seisay is his league's defensive player of the year.
In helping his school -- in just its third year in existence and its second year of varsity football -- to a 9-1 regular-season record and American Canyon's first league championship, the versatile Seisay was named the Solano County League's Defensive Player of the Year last week. He was named second-team all-league as a wide receiver on offense and first-team on defense.
To continue reading this article you must be an Insider
Insider
Pac-12 Teams Can Load Up At WR
Recruiting reporter Erik McKinney joins ESPN's Phil Murphy to break down the deep West Region wide receiver class in 2016.
Pac-12 Teams Can Load Up At WR
VIDEO PLAYLIST
OREGON FB RECRUITING SCORECARD
GoDucks

GoDucks


RT @OregonSB: Are you ready for softball this weekend? It's Oregon vs. Washington. #LetsDoThis #GoDucks http://t.co/9hSrRDUq18…
9 minutes ago

DuckSportsNow

Duck Sports Now


Bend's Lauren Fleshman deals honestly — as always — with her latest setback: Oregon track & field rundown http://t.co/SlibPy5eu0
24 minutes ago

DuckSportsNow

Duck Sports Now


Ducks vs. Huskies at Howe Field http://t.co/oM1c8IBycX
24 minutes ago

DuckSportsNow

Duck Sports Now


Chip Kelly Update: The Mystery Coach Explains It All For You http://t.co/xKZnQBziNK
24 minutes ago

ESPN_Pac12blog

ESPN_Pac12blog


Texas A&M, Colorado set up series http://t.co/8oQ3BeZVr8
31 minutes ago

philmilani

Phil Milani


After ACL injury, @WinTheDay Ifo Ekpre-Olomu could pay off for team willing to take the risk.http://t.co/9VGvZOIA8w http://t.co/N1iUk48x7N
48 minutes ago

DuckSportsNow

Duck Sports Now


On his way out, a now-former Oregon Duck offers rare look into practice: Oregon rundown http://t.co/gnFyhcs26e
about an hour ago

Cal_Baseball

Cal Baseball


Watch Chris Paul and The Bears All Weekend Long on @Pac12Networks #GoBears http://t.co/SRssrtmRny http://t.co/SiM455Zbyt
about an hour ago

CGano8

Courtney Gano


Go Dawgs! Tune in to the @Pac12Networks to watch us today! #ahhhb #GAMEDAY #tunein http://t.co/MLut3voLR1
about an hour ago

McNamaraUO

Andy McNamara


T. James 5th fastest out of 101 in 60m #GoDucks "@TrckFootball: 2015 Indoor T&F Bests by CFB Players http://t.co/cR9BnESA6o"
about an hour ago

DuckSportsNow

Duck Sports Now


3 Reasons Oregon Ducks Rely on Running Backs in 2015 http://t.co/U9pfZkc0FQ
about an hour ago

DuckSportsNow

Duck Sports Now


Oregon Ducks Turn To Harber To Start Opener At Arizona http://t.co/WCdHoM5qst
about 2 hours ago

GoDucksTV

GoDucks TV


Now on @GoDucksTV: Pro Day 2015 http://t.co/vbYA56zXCj #GoDucks
about 3 hours ago

DuckSportsNow

Duck Sports Now


Prospect profile: Chris Daniels http://t.co/S4NG3R0OBE
about 3 hours ago

DSArivals

DuckSportsAuthority


Prospect profile: Chris Daniels: Wearing #7, Chris Daniels of Trinity High in Euless, Texas just looks fast an... http://t.co/ne7Xe4EnYh
about 3 hours ago

DuckSportsNow

Duck Sports Now


RCS Atlanta: Best of the Rest http://t.co/Q4J2ZnYffD
about 3 hours ago

ESPN_Pac12blog

ESPN_Pac12blog


Busy week for USC, on field and off it http://t.co/veY1xj43Ns
about 4 hours ago

ESPN_Pac12blog

ESPN_Pac12blog


Stanford's off week sees future developments http://t.co/7VoceZBF4L
about 4 hours ago

DuckSportsNow

Duck Sports Now


Quack Fix: Kelley and Prater leave the program http://t.co/ArDUgIZIdf
about 9 hours ago

Pac12Networks

Pac-12 Networks


Zews. He carries the team on his back* *Sometimes the other team. #BackThePac http://t.co/8z4Pl1KSil
about 12 hours ago

Pac12Networks

Pac-12 Networks


Highlights: Arizona escapes Xavier, marches on to Elite Eight. #BackThePac http://t.co/26eZfYwjxY
about 12 hours ago

DuckSportsNow

Duck Sports Now


PAC-12 Men's Basketball Weekly Watch (March 26-29) http://t.co/3g1Pe5Rdb6
about 12 hours ago

DuckSportsNow

Duck Sports Now


Report: Kelley, Prater to forgo senior seasons http://t.co/i6uiS2CMSs
about 12 hours ago

Pac12Networks

Pac-12 Networks


Squad goals. http://t.co/DNraWJA03D
about 12 hours ago

Pac12Networks

Pac-12 Networks


Big day for @UCLAMBB and the @Runnin_Utes tomorrow!! Carry us home! #BackThePac http://t.co/beQsVI9QId
about 12 hours ago

DuckSportsNow

Duck Sports Now


Oregon with more basketball scholarshipst to give, the next one could be huge. http://t.co/XyK5C8lQkr
about 12 hours ago

Pac12Networks

Pac-12 Networks


These 'Cats are ELITE! TJ and @APlayersProgram march on to the Elite 8! #BackThePac http://t.co/r3dm6kMVjj
about 12 hours ago

UOPintens

Craig Pintens


Nice work @APlayersProgram now let's go get two more tomorrow @UCLAMBB & @Runnin_Utes #BackThePac
about 12 hours ago

traviswaller11

??T-Wa11??


It's been real CALI!!! Off to Oregon tomorrow !✈️🐥
about 13 hours ago

Pac12Networks

Pac-12 Networks


Xavier has gone the last 7:17 without hitting a FG......Yeah, the Stanimal will do that to you. #BackThePac http://t.co/MWHt7txbnF
about 13 hours ago

tommayeeee

Tommy Salami


Let's go zona. #BackThePac
about 13 hours ago

LA_DodgHer

.


#BackThePac
about 13 hours ago

Pac12Networks

Pac-12 Networks


.@APlayersProgram has a 4-pt lead over Xavier with 3:51 to go!!! Tune into TBS now and #BackThePac! http://t.co/LrAmswDpfA
about 13 hours ago

Pac12Networks

Pac-12 Networks


Xavier isn't about the #Pac12AfterDark life... http://t.co/JCDlQzhD2s
about 13 hours ago

Pac12Networks

Pac-12 Networks


Halftime in Los Angeles, we are TIED at 28 in #XAVvsAZ!#BackThePac
about 14 hours ago

coreysmith_17

Corey Smith


Let's go Zona!!! #BackThePac
about 14 hours ago

Pac12Networks

Pac-12 Networks


Enjoying the game is what it's all about! #BallIsLife #BackThePac #XAVvsAZ http://t.co/AQnFwGmYZR
about 14 hours ago

Pac12Networks

Pac-12 Networks


What the opposition actually sees when RHJ comes back out on the floor... #BackThePac http://t.co/sInWUXxV0y
about 14 hours ago

Pac12Networks

Pac-12 Networks


Our thoughts are with @APlayersProgram's Rondae Hollis-Jefferson.
about 15 hours ago

DuckSportsNow

Duck Sports Now


Ducks Shoot Even on Day One http://t.co/buLeIHRe9E
about 15 hours ago

APlayersProgram

Arizona Basketball


Found a working mic. Time to get going. #XAVvsAZ
about 15 hours ago

DuckSportsNow

Duck Sports Now


Ducks Set to Host Top-Ranked LA Teams http://t.co/IoMYCn1zUK
about 15 hours ago

Pac12Networks

Pac-12 Networks


Waiting to #BackThePac for this Arizona game like http://t.co/IkNmQfM5ab
about 15 hours ago

BOSSLIFEDAT13

DE'ANTHONY THOMAS


d1demo caaali_kid LIL MARK JUICY #FAM https://t.co/GO1HNbwqXE
about 15 hours ago

Pac12Networks

Pac-12 Networks


Kelly Claes of @USCSandVball gets the #SMCvsUSC Play of the Match for this critical ace: http://t.co/c7Q1Zw8S5U
about 16 hours ago

DuckSportsNow

Duck Sports Now


Milner, Ducks Explode in Second Half http://t.co/Q75jyXh1wv
about 16 hours ago

Pac12Networks

Pac-12 Networks


Beach party in LA! @USCSandVball sweeps CSU Bakersfield AND St. Mary's! http://t.co/ECGTtaV0XE
about 16 hours ago

Pac12Networks

Pac-12 Networks


WILSONNNN!!! COME BACK!!!! #SMCvsUSC http://t.co/ssa0CM1IDL
about 16 hours ago

DuckSportsNow

Duck Sports Now


B.J. Kelley, Jamal Prater won't return for senior seasons with Oregon Ducks http://t.co/lF9b6h5UNH
about 16 hours ago

Pac12Networks

Pac-12 Networks


IMPORTANT: Buying this superfly @BillWalton tee is the best way to show your #BackThePac love: http://t.co/mylMQMqxot http://t.co/pbMvIW6eDr
about 16 hours ago

DuckSportsNow

Duck Sports Now


K.J. Costello commits, but QB recruiting still unsettled out west http://t.co/jrr7I9GuQh
about 17 hours ago

AZATHLETICS

Arizona Athletics


✌️more hours. #BearDown http://t.co/aUxaBxExms
about 17 hours ago

DuckSportsNow

Duck Sports Now


Notes: Ducks Host No. 19 Washington This Weekend http://t.co/4jMUyIIF8p
about 17 hours ago

Pac12Networks

Pac-12 Networks


Time for the second half of our sand volleyball twin bill on Pac-12 Networks. Watch: http://t.co/YfMNDWLu5w #SMCvsUSC http://t.co/vNlu3Xzgua
about 18 hours ago

USC_Athletics

USC Trojans


Happy birthday to the legendary @MarcusAllenHOF! #tbt #FightOn http://t.co/dOmApMCegM
about 18 hours ago

ESPNOregon

ESPN Oregon


K.J. Costello commits, but QB recruiting still unsettled out west http://t.co/qvVnPiWWGl
about 18 hours ago

AZATHLETICS

Arizona Athletics


Six hours until tip-off. @RondaeHJ23 and @iPass4Zona want to know if YOU are ready for tonight? http://t.co/JPp5m4TnCX
about 18 hours ago

DuckSportsNow

Duck Sports Now


Oregon Spring Football: A Look at the Linebackers http://t.co/5GvoMgXINe
about 18 hours ago

ESPN_Pac12blog

ESPN_Pac12blog


Early Commit: QB K.J. Costello to Stanford http://t.co/WmVhjUONTq
about 18 hours ago

oheroes

O Heroes


Since July we've raised $8,708, volunteered 1,126 hours and impacted 1,740 children in Lane County! #GoDucks http://t.co/aDQUaxOXZy
about 19 hours ago

Pac12Networks

Pac-12 Networks


It's 90°F in LA. Time for a little sand volleyball on the Pac-12 Networks. Watch: http://t.co/YfMNDWLu5w #CSUBvsUSC http://t.co/OQXQhVxz0k
about 19 hours ago

DuckSportsNow

Duck Sports Now


4Pac: Century's most memorable Pac-12 upset? http://t.co/5x0iDBexd7
about 20 hours ago

DuckSportsNow

Duck Sports Now


Vernon Adams Jr.'s Feature to Appear on SportsCenter http://t.co/K8TYu3wwqR
about 20 hours ago

DuckSportsNow

Duck Sports Now


Oregon Ducks with the most to gain in spring football: Jeff Lockie http://t.co/YRFxtppoOd
about 20 hours ago

Pac12Networks

Pac-12 Networks


.@APlayersProgram's #Sweet16 presser started with some birthday wishes for T.J. Now on http://t.co/YfMNDWLu5w http://t.co/htOIuesHJD
about 20 hours ago

hmcpeak1

Holly McPeak


My office today at USC is 90 degrees at the moment. We will have @USCSandVBall live at 3 and 4:30 on @Pac12Networks http://t.co/WFYy8y9Cjr
about 20 hours ago

Pac12Networks

Pac-12 Networks


In 10 mins: Hear @APlayersProgram, @UCLAMBB + @Runnin_Utes talk about the #Sweet16 on NCAA Tournament Update show. http://t.co/YfMNDWLu5w
about 20 hours ago

Pac12Networks

Pac-12 Networks


.@APlayersProgram's Miller & McConnell share a special bond + Pittsburgh roots. Read more: http://t.co/NZYM9Sf9LU http://t.co/AUgWa1xs7R
about 20 hours ago

DuckSportsNow

Duck Sports Now


With Duck football practice beginning, news items cast doubt on the future of the game http://t.co/5HGZfROc15
about 21 hours ago

Pac12Networks

Pac-12 Networks


.@APlayersProgram's Miller & McConnell share a special bond + Piitsburgh roots. Read more: http://t.co/NZYM9Sf9LU http://t.co/kFkD6dodIi
about 21 hours ago

UCLAMBB

UCLA Basketball


From departure out of LAX to arrival in Houston, check out the latest "Made in March" video. WATCH: http://t.co/4S5DKA85Rs
about 21 hours ago

DuckSportsNow

Duck Sports Now


Mariota — From Saint Louis to New Orleans? http://t.co/tQn3TrLUvx
about 21 hours ago

DuckSportsNow

Duck Sports Now


2015 NCAA Tournament: Sweet 16 TV schedule, live stream and how to watch Thursday's games http://t.co/Zc8I0q55n8
about 21 hours ago

Mike_Yam

Michael Yam


2pm pacific on @Pac12Networks hear from all the @pac12 coaches and star players who are involved in the sweet 16. #MarchMadness
about 21 hours ago

APlayersProgram

Arizona Basketball


GAMEDAY. http://t.co/KgckgA0sMk
about 21 hours ago

ESPN_Pac12blog

ESPN_Pac12blog


4Pac: Century's most memorable Pac-12 upset? http://t.co/vy8Zl7Ddye
about 21 hours ago

WSUMensHoops

WSU Men\'s Basketball


Crazy to think this was 7 years ago today. @Trochestie and @aronbaynes on the podium before the 2008 #Sweet16 ! #TBT http://t.co/ikOq4QDEtW
about 21 hours ago

BOSSLIFEDAT13

DE'ANTHONY THOMAS


RUNDAT 7 ON 7 #RUNDAT
about 22 hours ago

DuckSportsNow

Duck Sports Now


Next year's Oregon basketball team should be bigger, deeper and older: Oregon rundown http://t.co/sP4y7tbUJg
about 22 hours ago

DuckSportsNow

Duck Sports Now


Spring Break Matchup Features Ducks at Hawaii Pacific http://t.co/Cu4ph9251c
about 23 hours ago

USCSandVBall

USC Sand Volleyball


It's #GAMEDAY again! We take on @CSUBAthletics at 3 p.m. and @smcgaels at 4:30 on the @Pac12Networks! #FightOn
about 23 hours ago

utahathletics

Utah Athletics


Practice under the bright lights #Sweet16 #goutes https://t.co/ldZw0TTSB0
about 23 hours ago

Pac12Networks

Pac-12 Networks


Get set for #Sweet16 action with our NCAA Tournament Update show at 2 PT/3 MT. 3 #pac12hoops hoping to get to Indy. http://t.co/CWsfZNp9dv
about 23 hours ago

OregonTF

OregonT&F


Want to run a mile w/ Oregon's distance stars at Hayward Field? Saturday is your opportunity! http://t.co/E9XswRG1PM http://t.co/5gzICOXNrW
about 23 hours ago

DuckSportsNow

Duck Sports Now


Oregon Ducks Sweep UC Irvine, Graham With 6 RBIs http://t.co/eilufFDROk
about 23 hours ago

GoDucks

GoDucks


ICYMI: @OregonSB swept Utah Valley in a doubleheader yesterday and get ready to face Washington at home. #GoDucks http://t.co/vnp1xL9EGn
about 23 hours ago

DuckSportsNow

Duck Sports Now


Critics of Justin Gatlin's sponsorship deal shouldn't blame Nike: Oregon track & field rundown http://t.co/23ZVgFH5Ax
1 day ago

utahathletics

Utah Athletics


Good morning from Houston! Off the bus and off to practice! #Sweet16 #goutes http://t.co/RW6zYTyiLV
1 day ago

NatalieCoughlin

Natalie Coughlin


Best of luck to @calmenswim at NCAA's this weekend! Cheering from home while holding down the fort in Berkeley. #GoBears!
1 day ago

APlayersProgram

Arizona Basketball


Soon. http://t.co/pbS6KEf044
1 day ago

UCLAMBB

UCLA Basketball


Today at 2pm PT, check out @Pac12Networks for an exclusive, live NCAA Tournament update show. http://t.co/TuPNdt2Zh0
1 day ago

ESPN_Pac12blog

ESPN_Pac12blog


Washington State Cougars quarterback competition could go a while http://t.co/pn4Pl4jyEd
1 day ago

DuckSportsNow

Duck Sports Now


Enough Already, Coach! http://t.co/kMNnMKGVOY
1 day ago

LSDirectorsCup

LS Directors Cup


DI Standings Released! 1 - @GoStanford 2 - @UCLAAthletics 3 - @GoHeels 4 - @GoDucks 5 - @GoPSUsports
1 day ago

DuckSportsNow

Duck Sports Now


Newcomers to watch for Oregon http://t.co/xiDmbZNulY
1 day ago

DuckSportsNow

Duck Sports Now


What An Amazing Run http://t.co/qdLwJkuwnQ
1 day ago

DuckSportsNow

Duck Sports Now


Oregon Sweeps Utah Valley in Doubleheader, Wins 12th Straight Game http://t.co/9MJqMpzvVs
1 day ago

DSArivals

DuckSportsAuthority


RCS Atlanta: Best of the Rest: John Broussard arrived late at the RCS Atlanta event but was worth the wait. Wh... http://t.co/5IfB7qbays
1 day ago

DuckSportsNow

Duck Sports Now


Oregon morning link: Newcomers to watch http://t.co/GQGFidHkQK
1 day ago

ESPN_Pac12blog

ESPN_Pac12blog


Oregon morning link: Newcomers to watch http://t.co/gaJAXgDiHN
1 day ago
PAC-12 SCOREBOARD
Thursday, 9/3
Friday, 9/4
Saturday, 9/5
BLOG ARCHIVE:
CATEGORIES: