Oregon recruiting: Quick hitters
November, 6, 2012
11/06/12
9:00
AM ET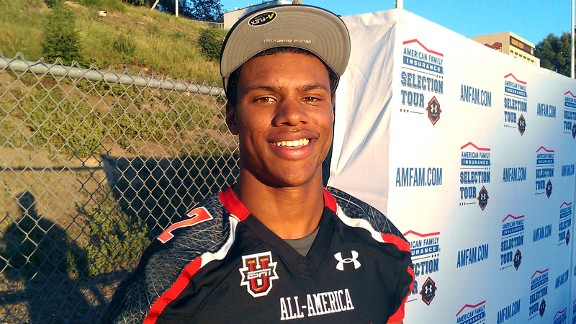 Erik McKinney/ESPN.comESPN 150 Max Redfield is back on the market after decommitting from USC on Sunday, and Oregon is looking forward to the chance to get him on campus.
After a second straight win against USC in Los Angeles gave Oregon its 13th consecutive road victory -- and 12th straight win overall -- the Ducks are flying high, and recruits are taking notice.
In recent years, the Ducks have made a habit of sitting back and letting things play out in recruiting. Last year, they added two ESPN 150 players --
Bralon Addison
and
Arik Armstead
-- at the end of the recruiting cycle. So far this year, the Ducks have a small but talented recruiting class. If the latest rumblings and recent history are any indication, the Ducks seem to be in prime position to make a late push up the class rankings.
The biggest news of the recruiting weekend is that one of USC's top recruits --
Max Redfield
of Mission Viejo (Calif.) High School -- chose to open up his recruitment. Redfield decommitted on Sunday after a couple weeks of speculation that he would do so after a strong visit to Notre Dame last month.
To continue reading this article you must be an Insider
Insider
Pac-12 Teams Can Load Up At WR
Recruiting reporter Erik McKinney joins ESPN's Phil Murphy to break down the deep West Region wide receiver class in 2016.
Pac-12 Teams Can Load Up At WR
VIDEO PLAYLIST
OREGON FB RECRUITING SCORECARD
CoachHelfrich

Mark Helfrich


Back to work. We are all in this together! #WTD #YouVsYesterday
about an hour ago

CoachHelfrich

Mark Helfrich


Back to work. We are all in this together! #WTD #YouVsYesterday
about 2 hours ago

OregonTightEnds

OregonTE\'s


Can't wait to get on the field for our 1st day of Spring Ball tomorrow! Spring game is May 2nd! #DefendingPAC12Champs http://t.co/hgO2snRD4r
about 2 hours ago

OregonOLine

Steve Greatwood


Spring ball starts tomorrow. Seems like we just got done. I'm excited to see how the hard work has paid off for the O Line!
about 2 hours ago

Pac12Networks

Pac-12 Networks


The March Pac-12 Golfer of the Month is a dominating Husky, that's for sure. http://t.co/QiIMBFoC2G http://t.co/ar2lOQxERJ
about 3 hours ago

Pac12Networks

Pac-12 Networks


We join the @CalAthletics in mourning the loss of Eloi Vasquez. http://t.co/4x3rYyhciz http://t.co/gQQ0a0Rvr0
about 3 hours ago

DuckSportsNow

Duck Sports Now


Ducks' top spring story lines: No. 4 – Defensive line in search of depth and a starter http://t.co/ihGVXnvEJl
about 3 hours ago

Pac12Networks

Pac-12 Networks


.@uscwomensgolf just keeps rolling after a victory at the Murphey Intercollegiate. http://t.co/OR5sNGTwVQ http://t.co/c0M0XrQGRZ
about 4 hours ago

YaBoyTooBeast

Alex#69


Of course I'm gonna have this card as my starter. @BOSSLIFEDAT13 http://t.co/0iqqPY0eds
about 4 hours ago

Pac12Networks

Pac-12 Networks


A trio of (hat) tricks carried Stanford to a big win in their last non-conference game. http://t.co/fBoWHrZ0UD http://t.co/x4ou9cLOLN
about 4 hours ago

Pac12Networks

Pac-12 Networks


Bryce Alford is coming up on #SportsReport to talk about @UCLAMBB's run through #MarchMadness! http://t.co/YfMNDWtSGW http://t.co/SDpKVHYShJ
about 4 hours ago

Pac12Networks

Pac-12 Networks


COMING UP: Hear from @CalMenSwim's Ryan Murphy on his NCAA title. #SportsReport http://t.co/YfMNDWLu5w http://t.co/wJDhxoMPBB
about 5 hours ago

Pac12Networks

Pac-12 Networks


#SportsReport is live now on Pac-12 Networks and http://t.co/YfMNDWLu5w
about 5 hours ago

Pac12Networks

Pac-12 Networks


NCAA champ Ryan Murphy's talks dedication and passion tonight on #SportsReport at 7 PT. http://t.co/ZKRxNqwJSL http://t.co/NV1yuALdsM
about 5 hours ago

Pac12Networks

Pac-12 Networks


Hit a trio of dingers in one game? That's a #pac12sb Player of the Week award. http://t.co/mNhse9uDGZ http://t.co/q8ObzZy3IR
about 6 hours ago

DuckSportsNow

Duck Sports Now


Oregon's Charles Nelson switching to defensive back at start of spring football http://t.co/X5S2DMaq18
about 6 hours ago

DuckSportsNow

Duck Sports Now


Mailbag: Breaking down how USC was wronged http://t.co/pUNvaeoNh3
about 6 hours ago

DuckSportsNow

Duck Sports Now


Oregon starting spring practices http://t.co/7Ars5FOQOW
about 6 hours ago

DuckSportsNow

Duck Sports Now


Report: Charles Nelson moves from receiver to defensive back http://t.co/VeTCs9oIts
about 6 hours ago

DuckSportsNow

Duck Sports Now


Ducks' top spring story lines: No. 5 – What to make of the wide receiver position? http://t.co/jFno8taVtq
about 6 hours ago

Pac12Networks

Pac-12 Networks


Ty Moore's enormous week for @uclasoftball was recognized by the @pac12 today. http://t.co/RdWwPDG9QK http://t.co/RJ96TOUsCN
about 7 hours ago

Pac12Networks

Pac-12 Networks


The entire Pac-12 family mourns the loss of Eloi Vasquez. More info: http://t.co/4x3rYyhciz http://t.co/bdT9V7QDv9
about 7 hours ago

Pac12Networks

Pac-12 Networks


.@CalAthletics has announced student-athlete Eloi Vasquez has passed away. More information to follow. http://t.co/PQPjFN9sOk
about 8 hours ago

Pac12Networks

Pac-12 Networks


.@Cal_Athletics has announced student-athlete Eloi Vasquez has passed away. More information to follow. http://t.co/zKUa58NrSx
about 8 hours ago

OregonSB

Oregon Duck Softball


Congrats to @pac12 player and pitcher of the week, @G_Glasco12 and @CheridanH11! #GoDucks http://t.co/oE3kEwzrgS
about 8 hours ago

GoDucks

GoDucks


Ducks play at #PKPark tomorrow at 6 pm before heading up to Hillsboro on Wednesday to play Seattle U. #GoDucks http://t.co/yqJv25rqOO
about 8 hours ago

DuckSportsNow

Duck Sports Now


Three Critical Questions Heading into Spring Practices http://t.co/ZoVmLkXA5a
about 8 hours ago

DuckSportsNow

Duck Sports Now


Two Oregon Ducks named Pac-12 softball players of the week http://t.co/KMDEby0rRg
about 8 hours ago

ESPN_Pac12blog

ESPN_Pac12blog


Mailbag: Breaking down how USC was wronged http://t.co/8N0u69SSXG
about 8 hours ago

Pac12Networks

Pac-12 Networks


#SportsReport preview: Will Stanley and Rondae stay with @APlayersProgram? http://t.co/Sh1okQiLMR
about 8 hours ago

ESPN_Pac12blog

ESPN_Pac12blog


Oregon starting spring practices http://t.co/I2K1XBBIu0
about 8 hours ago

DuckSportsNow

Duck Sports Now


Oregon Struggles With Men In Scoring Position, Lose Series vs Arizona http://t.co/QqDzMIJ7qw
about 9 hours ago

DuckSportsNow

Duck Sports Now


Hawkins, Glasco Earn Pac-12 Weekly Honors http://t.co/zymKIodI06
about 9 hours ago

AZATHLETICS

Arizona Athletics


Arizona Athletics and @ArizonaFBall Mourn the Loss of Jim LaRue http://t.co/6NB26TBI3J #BearDown http://t.co/z1F06mTc6M
about 9 hours ago

DuckSportsNow

Duck Sports Now


Two Oregonians Commit to Ducks http://t.co/aH46GQKtHO
about 9 hours ago

DuckSportsNow

Duck Sports Now


Don't Count Thomas Tyner out of the Starting RB Job Just Yet http://t.co/3QwUFYo9XT
about 9 hours ago

Pac12Networks

Pac-12 Networks


.@Calmenswim's U.S. record-breaker Ryan Murphy joins @AdamsonAshley and @JB_Long on #SportsReport, tonight at 7 PT! http://t.co/L9t4iFxHIl
about 9 hours ago

ESPN_Pac12blog

ESPN_Pac12blog


Washington will play Fresno State in 2017 http://t.co/hYdOyLZDQp
about 9 hours ago

pac12

Pac-12 Conference


#pac12tf weekly honors: Stanford's Williams, ASU's Houlihan, UCLA's Scarvelis + CU's Torres http://t.co/iMDrLQy3N2 http://t.co/hcR1v7hN79
about 9 hours ago

Pac12Networks

Pac-12 Networks


Guess who's ranked... ranked again... @ArizonaBaseball's ranked... tell a friend! http://t.co/gQGuBuAaTF
about 9 hours ago

PaniniAmerica

Panini America


Excited to annc. we've signed former @Univ_Of_Oregon QB Marcus Mariota to auto trading card deal! #PaniniCollege #NFL http://t.co/ReMpQ8EN3s
about 10 hours ago

DuckSportsNow

Duck Sports Now


Joseph Young recognized as All-American honorable mention http://t.co/fi7SvRhfjK
about 10 hours ago

Pac12Networks

Pac-12 Networks


LIVE on #Periscope: Check out a quick tour of the Pac-12 https://t.co/X7dUTgBMVg
about 10 hours ago

Pac12Networks

Pac-12 Networks


A Pac-12 student-athlete is missing. Please share to help locate Eloi Vasquez: http://t.co/xy3Mb0neg7 http://t.co/MDoiYUZoYD
about 10 hours ago

pac12

Pac-12 Conference


#pac12sb players of the week are @OregonSB's Glasco, Hawkins and @Utah_Softball's Viramontes: http://t.co/bEca1bitDN http://t.co/WI0XisivyX
about 10 hours ago

pac12

Pac-12 Conference


#pac12bsb weekly honors go to @UCLABaseball's Ty Moore, @UtahBaseball's Jayson Rose http://t.co/Q5SmC13v5C http://t.co/oGv06wZnhM
about 10 hours ago

pac12

Pac-12 Conference


#pac12ten players of the week are @uclatennis' Mkrtchian, @CalWomensTennis' Susanyi http://t.co/xokq1Cytkt http://t.co/qEFFz43zv1
about 10 hours ago

DuckSportsNow

Duck Sports Now


The Return of Oregon WR Bralon Addison http://t.co/mY4kFf3wkp
about 10 hours ago

Pac12Networks

Pac-12 Networks


Leader of the Pac voting has CLOSED. See who you voted for as winner tonight on #SportsReport, 7 PT! http://t.co/QAEBl2Zfjt
about 11 hours ago

DuckSportsNow

Duck Sports Now


Oregon Ducks with the most to gain in spring football: Danny Mattingly http://t.co/8xdSPwT0la
about 11 hours ago

DuckSportsNow

Duck Sports Now


Spring Practice Begins Tuesday For Oregon Football Team http://t.co/P8sNSFcrfX
about 11 hours ago

DuckSportsNow

Duck Sports Now


Oregon's Joseph Young earns Honorable Mention AP All-America honors http://t.co/incWxDDs9w
about 11 hours ago

Pac12Networks

Pac-12 Networks


WATCH: The story of @UA_Softball's lucky stuffed dinosaur: http://t.co/wRFrNcJyMr http://t.co/0J3UebJlp6
about 11 hours ago

DuckSportsNow

Duck Sports Now


Ducks' top spring story lines: No. 7 – How is Tyler Johnstone progressing? http://t.co/sRwUCZI7Ui
about 11 hours ago

Pac12Networks

Pac-12 Networks


Cheridan Hawkins and Brett Cumberland are in a dead heat for Leader of the Pac! VOTE: http://t.co/fTFtKpVQxy http://t.co/eroCuMd0NB
about 11 hours ago

DuckSportsNow

Duck Sports Now


Oregon Ducks Crank Up The Offense, Hit Ten Home Runs To Beat Washington http://t.co/tcGki1HVJ7
about 11 hours ago

Pac12Networks

Pac-12 Networks


.@Calmenswim's Ryan Murphy broke Ryan Lochte's US record, so naturally he'll be on #SportsReport tonight at 7 PT! http://t.co/OMOl92S0Of
about 12 hours ago

DuckSportsNow

Duck Sports Now


How John Canzano Inspired FishDuck http://t.co/qM34mvWNlo
about 12 hours ago

Beaver_Baseball

Oregon St. Baseball


The Beavers are on the road for 3 this weekend but don't fear, you can watch all 3 on the @Pac12Networks. #gobeavs http://t.co/UW74cBCS2m
about 12 hours ago

ESPN_Pac12blog

ESPN_Pac12blog


Q&A: Cal wide receiver Bryce Treggs http://t.co/YBawdkTNSh
about 12 hours ago

DuckFootball

Rob Moseley


New digits for vets: 2 Bralon Addison, 13 Devon Allen, 29 Kani Benoit, 7 Darren Carrington, 10 Ty Griffin, 28 Johnny Ragin, 3 Tyree Robinson
about 12 hours ago

DuckFootball

Rob Moseley


Numbers for freshmen on hand: 14 Ugo Amadi, 5 Taj Griffin, 11 Travis Jonsen (nee Waller), 99 Canton Kaumatule, 4 Alex Ofodile, 75 Zach Okun.
about 12 hours ago

DuckFootball

Rob Moseley


With three starters gone in the secondary, Ducks giving Charles Nelson a look there this spring, beginning Tuesday: http://t.co/DRmmhg2Q7W
about 12 hours ago

DuckFootball

Rob Moseley


Quick spring practice primer on the eve of drills beginning, including number changes and a position switch: http://t.co/DRmmhg2Q7W #GoDucks
about 12 hours ago

DuckSportsNow

Duck Sports Now


Oregon Ducks and Oregon State Beavers unranked in Baseball America Top 25 for first time since 2011 http://t.co/D9Qd6RzOmd
about 12 hours ago

Pac12Networks

Pac-12 Networks


.@utahbaseball's Jayson Rose's weekend, in 11 letters:KKKKKKKKKKK http://t.co/RdWwPDG9QK http://t.co/X1YHzStnmx
about 12 hours ago

DuckSportsNow

Duck Sports Now


Trail Tale: Rock Bridge http://t.co/cr5spAo2GT
about 13 hours ago

DSArivals

DuckSportsAuthority


Trail Tale: Rock Bridge: Oregon freshman wide receiver Alex Ofodile arrived in Eugene with some football advan... http://t.co/mX0s6yaEaf
about 13 hours ago

Pac12Networks

Pac-12 Networks


What lies ahead for @UCLAMBB? Bryce Alford joins @AdamsonAshley + @JB_Long on #SportsReport, 7 PT on Pac-12 Networks. http://t.co/9E3MOJyEKR
about 13 hours ago

Pac12Networks

Pac-12 Networks


RT if the dude they call @bcumboslice on @Cal_Baseball is this week's Leader of the Pac! #GoBears #Leader4 http://t.co/bc1cI2wm0D
about 13 hours ago

Pac12Networks

Pac-12 Networks


RT if @uclamvb's 25-kill-kid J.T. Hatch is this week's Leader of the Pac! #GoBruins #Leader3 http://t.co/YqcJPjlGii
about 13 hours ago

DuckSportsNow

Duck Sports Now


Last Chance: Win 2015 Final Four Ticket Vouchers and $500 from Autzen Zoo! http://t.co/me3Sq2azGB
about 13 hours ago

DuckSportsNow

Duck Sports Now


Oregon Duck runners dominate the women's 1,500 meters at the Willamette Invitational: Oregon track & field rundown http://t.co/KUIfcyIc7j
about 13 hours ago

Pac12Networks

Pac-12 Networks


RT if @Calmenswim's record-setting Ryan Murphy is this week's Leader of the Pac! #GoBears #Leader2 http://t.co/iymaxCB6rs
about 13 hours ago

Pac12Networks

Pac-12 Networks


RT if @OregonSB's Ms. Perfect—aka Cheridan Hawkins—is the Leader of the Pac! #GoDucks #Leader1 http://t.co/0ZTWDS0hdZ
about 13 hours ago

Pac12Networks

Pac-12 Networks


How many times did @OregonSB go yard yesterday? Not 3...not 4...not 5...not 6... http://t.co/xWgNwLm264 http://t.co/XHrRy7akH2
about 14 hours ago

DuckSportsNow

Duck Sports Now


Can Oregon's Offense Work Without a Star QB? http://t.co/hpIIklzefA
about 14 hours ago

Runnin_Utes

Utah Basketball


Delon Wright has been named a second-team All-American by the NABC! Congrats to Delon! #GoUtes #MUSSterUp http://t.co/4rGW1qtGEm
about 14 hours ago

APlayersProgram

Arizona Basketball


NEWS: Johnson Named NABC Third-Team All-American - http://t.co/e056P10sc1 #APlayersProgram http://t.co/9N1zPJfQxI
about 14 hours ago

Pac12Networks

Pac-12 Networks


RT if you think this catch from Ben Roberts of @WSUCougars is #12Best worthy! #SportsReport at 7 PT. https://t.co/qPSC08rgq9
about 15 hours ago

DuckSportsNow

Duck Sports Now


Dillon Mitchell: Rising two-sport star http://t.co/yL0HE42sxM
about 15 hours ago

ESPN_Pac12blog

ESPN_Pac12blog


Adoree' Jackson: The most exciting player in the Pac-12? http://t.co/JdsYcWv4j4
about 15 hours ago

DuckSportsNow

Duck Sports Now


Football Playoffs: A Look Back and a Look Ahead http://t.co/jdQDtkmXKM
about 15 hours ago

Pac12Networks

Pac-12 Networks


The @CalAthletics family is still seeking help finding student-athlete Eloi Vasquez. http://t.co/gKD1L0pndi http://t.co/PczNXonzjh
about 15 hours ago

DSArivals

DuckSportsAuthority


Dillon Mitchell: Rising two-sport star: Dillon Mitchell chose Oregon last November with the full support of hi... http://t.co/RYg0ZHp4E6
about 15 hours ago

DuckSportsNow

Duck Sports Now


Quack Fix: Oregon baseball swept by Arizona, spring football begins Tuesday http://t.co/8hBAU6TRb3
about 16 hours ago

DuckSportsNow

Duck Sports Now


RCS Dallas: Recruiting notebook http://t.co/IVamr5yzjr
about 16 hours ago

DuckSportsNow

Duck Sports Now


Live chat: Oregon spring football with beat reporter Andrew Greif on Monday morning http://t.co/ie8ghGtxoj
about 16 hours ago

DSArivals

DuckSportsAuthority


RCS Dallas: Recruiting notebook: CEDAR HILL, Texas - The Rivals Camp Series stopped near Dallas on Sunday, and... http://t.co/gNTCIC74kd
about 17 hours ago

ESPN_Pac12blog

ESPN_Pac12blog


Top spring developments: Pac-12 http://t.co/k1NTJLaH3M
about 17 hours ago

DuckSportsNow

Duck Sports Now


Previewing Oregon Ducks spring football: Oregon rundown http://t.co/ms9dm3pmzf
about 17 hours ago

ESPN_Pac12blog

ESPN_Pac12blog


USC keeps focus amid ongoing NCAA controversy http://t.co/8c62N2TceY
about 18 hours ago

DuckSportsNow

Duck Sports Now


Oregon State at Oregon http://t.co/4IOCIqJn9T
about 23 hours ago

DuckSportsNow

Duck Sports Now


Ducks' top spring story lines: No. 8 – Young secondary takes over http://t.co/bKGdwDQu6e
about 23 hours ago

DuckSportsNow

Duck Sports Now


Arizona sweeps series from Oregon, 13-4 http://t.co/tE6vP3QXJh
1 day ago

Pac12Networks

Pac-12 Networks


No offense to @UA_Softball's Katiyana Mauga, but ...Dino, YOU DA REAL MVP! http://t.co/wRFrNcJyMr http://t.co/Gn0Vo0RB0p
1 day ago

GoDucksTV

GoDucks TV


Now on @GoDucksTV: White Post Game 3-29 http://t.co/0sa02MyZw0 #GoDucks
1 day ago

GoDucksTV

GoDucks TV


Now on @GoDucksTV: Glasco Post Game 3-29 http://t.co/aMt1GD2Km1 #GoDucks
1 day ago

Pac12Networks

Pac-12 Networks


Take a bow, Katiyana Mauga. The #ASUvsAZ Play of the Game sends the Wildcats to a walk-off! http://t.co/TJPp3gcOLp
1 day ago

Pac12Networks

Pac-12 Networks


That's how you win a run-rule game in style, @UA_Softball! The 'Cats walk off in the fifth! http://t.co/zIzuZLtxQv http://t.co/VF4V25eVAQ
1 day ago
PAC-12 SCOREBOARD
Thursday, 9/3
Friday, 9/4
Saturday, 9/5
BLOG ARCHIVE:
CATEGORIES: