Oregon recruiting mailbag (Oct. 26)
October, 26, 2012
10/26/12
5:55
AM ET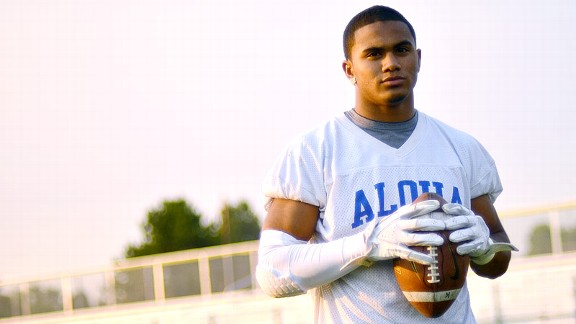 Courtesy of Tiffany FiekenThomas Tyner is expected to be a perfect fit for the Oregon Ducks.
As the Ducks get set to take on Colorado this weekend before the meat of the schedule hits, DuckNation mailbag has been overflowing with questions. It's about time to lighten the load and get to it.
Thomas M. (Cornwall on Hudson, NY):
Out of those mentioned in your article about who the Ducks missed on, who do you think has been the biggest 'miss' for the Ducks in recent years?
To continue reading this article you must be an Insider
Insider
One Thing To Know: Pac-12 Recruiting
Recruiting reporter Erik McKinney discusses the top storyline to watch in 2015 college football recruiting within the Pac-12. Somewhat quietly, Washington State is putting together a potent class.
One Thing To Know: Pac-12 Recruiting
VIDEO PLAYLIST
OREGON FB RECRUITING SCORECARD
Nike Men's Oregon Ducks #8 Green Football Game Jersey Shop »
Coachdfreeman

Derek Freeman


Flood, not good...Nothing else to say. @uclamensgolf http://t.co/fKHMyOa7BX
33 minutes ago

dailybruin

Daily Bruin


#UCLAFlood on Bruin Walk. The geyser is visible as a white plume behind @uclaanderson School of Management http://t.co/l1axiRnJ1b
36 minutes ago

Pac12Networks

Pac-12 Networks


O Canada! A pair of @OregonTF Ducks shined at the IAAF World Junior Championships. http://t.co/J1KlPg9uD7 http://t.co/8MzDhNpEc4
about an hour ago

oregonliveducks

oregonlive.com/ducks


Oregon's backup kicker departs; Devon Allen too fast for Ducks? The Oregonian sports top 5 at five http://t.co/EtlzM9B9uF #goducks
about an hour ago

DuckSportsNow

Duck Sports Now


Key questions for Pac-12 North coaches http://t.co/0t1CMvNLVP
about an hour ago

Pac12Networks

Pac-12 Networks


We are monitoring the situation at UCLA and urge everyone on/near campus to stay safe.Currently, @dailybruin is tweeting important info.
about an hour ago

AverageSir

Sir Jaymes


All starts with a vision. Look out for these power moves coming to Eugene Oregon with my young Chief. @CHECKDAT6 #RUNDAT #FlyNorth #Nike
about an hour ago

dailybruin

Daily Bruin


#PauleyPavilion is also taking on water. More updates to follow.
about an hour ago

Pac12Networks

Pac-12 Networks


Please be safe, UCLA friends. RT @dailybruin: Heavy flooding on #BruinWalk and other parts of #UCLA campus. More updates to come.
about 2 hours ago

Pac12Networks

Pac-12 Networks


#NW: Ben Wetzler sets records in a @Beaver_Baseball win over Oregon. #RivalryWeek http://t.co/x006mkVYpB http://t.co/dVe6CEgdBx
about 2 hours ago

ESPN_Pac12blog

ESPN_Pac12blog


Key questions for Pac-12 North coaches http://t.co/gyVNlHOus1
about 2 hours ago

Pac12Networks

Pac-12 Networks


It's Tuesday. Just because we can.http://t.co/ASXL1grMBD http://t.co/iI69mLVwE8
about 2 hours ago

DuckSportsNow

Duck Sports Now


Oregon Ducks Down a Kicker, Sophomore Hayden Crook Reportedly Leaving Team http://t.co/xCmEV7VPLj
about 3 hours ago

Pac12Networks

Pac-12 Networks


Swoon. How's your campus looking today? RT @UWAthletics: It is a spectacular day to be on campus. #SummerInSeattle http://t.co/ss3lMlshjd
about 3 hours ago

CHECKDAT6

DE'ANTHONY THOMAS


EYES TO THE TUCK #RUNDAT http://t.co/IJIS95SD1O
about 3 hours ago

ESPN_Pac12blog

ESPN_Pac12blog


Nonconference primer: Utah http://t.co/mQKOf2ioSC
about 3 hours ago

DuckSportsNow

Duck Sports Now


Preseason camp preview: Offensive line http://t.co/vWItT0pmON
about 3 hours ago

DuckSportsNow

Duck Sports Now


Game five opponent Arizona reshuffles the deck in the desert http://t.co/YzwYQJSuG5
about 4 hours ago

DuckSportsNow

Duck Sports Now


Oregon Ducks quarterback Marcus Mariota's only two classes this fall are golf and yoga http://t.co/Ulsi4zZjIp
about 4 hours ago

McNamaraUO

Andy McNamara


My 8-year-old's financial advisor is having a really good day #$TWTR #NotSoHumbleBrag
about 4 hours ago

Pac12Networks

Pac-12 Networks


#NW: @Cal_Baseball storms to victory on their rival's home diamond. #RivalryWeek http://t.co/x006mkVYpB http://t.co/BYp8Gz8FvO
about 4 hours ago

masonkelley12

Mason Kelley


ICYMI, here is the second 2014 #UDUB football teaser video. http://t.co/XtAjTS3xFB
about 4 hours ago

oregonliveducks

oregonlive.com/ducks


Michigan State, Michigan, Texas and Notre Dame highlight intriguing non-conference matchups: Pac-12 roundup http://t.co/YO6FKyooqQ #goducks
about 5 hours ago

DuckFootball

Rob Moseley


Preseason camp preview: Offensive line http://t.co/PP4o3V5KFS #GoDucks
about 5 hours ago

DuckSportsNow

Duck Sports Now


Pac-12 lunch links http://t.co/tPD48wgbtm
about 5 hours ago

Pac12Networks

Pac-12 Networks


You go, @zanebeadles. Way to give back to Utah. http://t.co/P19RepnPo7
about 5 hours ago

QuackCave

QuackCave


All yoga all the time. It's who we are now. #GoDucks http://t.co/UpAkFk2HH9
about 5 hours ago

QuackCave

QuackCave


All yoga all the time. It's who we are now. #GoDucks http://t.co/UpAkFk2HH9
about 5 hours ago

WinTheDay

Oregon Football


#ProDucks RT @CHECKDAT6: STILL LOVE MY DUCKS #RUNDAT FROM EUGENE TO KC #CHIEFSKINGDOM #600 http://t.co/SoG5WWmkbj
about 5 hours ago

JenniferKayMo

Jenni Moore


@CHECKDAT6 once a duck always a duck
about 5 hours ago

CHECKDAT6

DE'ANTHONY THOMAS


STILL LOVE MY DUCKS #RUNDAT FROM EUGENE TO KC #CHIEFSKINGDOM #600 http://t.co/FVkNWh82QD
about 5 hours ago

DuckSportsNow

Duck Sports Now


Register-Guard to sue UO after district attorney denies appeal requesting records from sexual assault case http://t.co/3VLyJ93Vv7
about 5 hours ago

McNamaraUO

Andy McNamara


#SuperMarioga "@DuckFootball: Only a week left in the silly season ... only a week left in the silly season ... #golfandyoga"
about 5 hours ago

DuckFootball

Rob Moseley


Only a week left in the silly season ... only a week left in the silly season ... only a week left in the silly season ... #golfandyoga
about 5 hours ago

oregonliveducks

oregonlive.com/ducks


Oregon Ducks quarterback Marcus Mariota's only two classes this fall are golf and yoga http://t.co/SB3ejU695w #goducks
about 6 hours ago

WinTheDay

Oregon Football


The first of @DuckFootball's preseason previews: Receivers/tight ends #GoDucks http://t.co/lfP6dnJ1RF
about 6 hours ago

McNamaraUO

Andy McNamara


Sadly, no chainsaw #CrankIt "@ZacEllis: #FSU freshmen make rap video that's terrible and beautiful at the same time http://t.co/zMNQAutpDd"
about 6 hours ago

DuckSportsNow

Duck Sports Now


Waller family details recruitment http://t.co/9V9KXUo447
about 6 hours ago

Pac12Networks

Pac-12 Networks


A trio of @CalAthletics' women's rowers struck gold at the U23 rowing championships. http://t.co/ayDkWPQ5F8 http://t.co/XVSeossNpI
about 6 hours ago

oregonliveducks

oregonlive.com/ducks


Colt Lyerla contending for Green Bay Packers roster spot, putting Oregon Ducks trouble behind him http://t.co/CuuisIgDL3 #goducks
about 6 hours ago

ESPN_Pac12blog

ESPN_Pac12blog


Pac-12 lunch links http://t.co/Xj0LYo8Yfm
about 6 hours ago

DuckFootball

Rob Moseley


Phil Steele's UO-MSU pick MT @CollegeGameDay Ducks high flying offense takes on a less experienced D in Autzen. Call for UO to get the win.
about 7 hours ago

DuckSportsNow

Duck Sports Now


Oregon Ducks kicker Hayden Crook won't return to team this fall http://t.co/Wkmh9iMuUr
about 7 hours ago

DuckSportsNow

Duck Sports Now


Michigan State's Mark Dantonio calls Spartans 'hunted' heading into 2014 season http://t.co/gafuDZ66HH
about 7 hours ago

DuckSportsNow

Duck Sports Now


ESPN #CFBRank Has Oregon Running Back Byron Marshall at 97 http://t.co/csjwHpEdXO
about 7 hours ago

DuckFootball

Rob Moseley


Phil Steele's UO-MSU pick MT @CollegeGameDay Ducks high flying offense takes on a less experienced D in Autzen. Call for UO to get the win.
about 7 hours ago

GoDucks

GoDucks


The year will begin anew, but until it does here is last year's best in video format http://t.co/XkJW6oMeMq #GoDucks
about 7 hours ago

Pac12Networks

Pac-12 Networks


#NW: Stellar pitching carries @StanfordBSB to victory over Cal. #RivalryWeek http://t.co/x006mkVYpB http://t.co/5FaReVQIfo
about 7 hours ago

DuckSportsNow

Duck Sports Now


Duck flies into 2016 Rivals250 http://t.co/z5a65ZrfuX
about 7 hours ago

oregonliveducks

oregonlive.com/ducks


Oregon Ducks kicker Hayden Crook won't return to team this fall http://t.co/r1daFs9W9x #goducks
about 7 hours ago

DuckSportsNow

Duck Sports Now


With the IAAF World Juniors in the rearivew mirror, we say goodbye for now; Oregon track & field rundown http://t.co/luaIXl6V9w
about 8 hours ago

McNamaraUO

Andy McNamara


No. 4 is @Coach_Frost #GoDucks Top 10: Ranking rising star assistants who will soon be head coaches http://t.co/KsgpaqjYx7 via @FoxSports
about 8 hours ago

Pac12Networks

Pac-12 Networks


Sparkling new Twitter avatar? Check.
about 8 hours ago

DuckSportsNow

Duck Sports Now


Pac-12 Ultimate Road Trip: Week 10 http://t.co/4MHvN7uNF0
about 8 hours ago

DuckSportsNow

Duck Sports Now


Top Trio: Defensive back http://t.co/6OlPHK8M1W
about 8 hours ago

oregonliveducks

oregonlive.com/ducks


With the IAAF World Juniors in the rearivew mirror, we say goodbye for now; Oregon track & field rundown http://t.co/Z6NW1uJxWB #goducks
about 8 hours ago

Runnin_Utes

Utah Basketball


Here is the live streaming link for today's press conference regarding the upcoming trip to China http://t.co/RVT3HwtmxY
about 8 hours ago

oregonliveducks

oregonlive.com/ducks


Michigan State's Mark Dantonio calls Spartans "hunted" heading into 2014 season http://t.co/hwIfeC10iO #goducks
about 8 hours ago

DuckSportsNow

Duck Sports Now


University of Oregon can keep secret records from sexual assault investigation, district attorney rules http://t.co/f0TnTVfBkv
about 8 hours ago

christhorman

Chris Thorman


.@CHECKDAT6 says he drinks 15 (!) gatorades a day at Chiefs training camp http://t.co/eUMlW0PJAf
about 9 hours ago

Pac12Networks

Pac-12 Networks


All right now! The @khoagie8 edition of Under Center is now on http://t.co/YjKy8uQroV. http://t.co/kWyfPtSEoF http://t.co/sYJG2JGHqD
about 9 hours ago

YahooDrSaturday

Dr. Saturday


Our 2014 season preview continues with the top games of week 7, led by Oregon's trip to UCLA. http://t.co/DTP74a1SmX http://t.co/qUqEeuMMlj
about 9 hours ago

DuckSportsNow

Duck Sports Now


Preseason preview: Receivers/tight ends http://t.co/jLHyOHzvA0
about 9 hours ago

DuckSportsNow

Duck Sports Now


One Thing To Know: Pac-12 Recruiting http://t.co/e0RrqfLlqK
about 9 hours ago

Pac12Networks

Pac-12 Networks


Look alive, Coug fans! The entire @c_halliday12 edition of Under Center is now online. http://t.co/Egi8yKFbQU http://t.co/Bjc76XFQh2
about 9 hours ago

CHECKDAT6

DE'ANTHONY THOMAS


MY FIRST NFL TRAINING CAMP HAS BEEN A GREAT EXPERINCE SO FAR REALLY BLESSED TO BE APART OF THIS… http://t.co/kPNQmwgwQv
about 9 hours ago

McNamaraUO

Andy McNamara


Stanford at Autzen #GoDucks "@ESPN_Pac12blog: Pac-12 Ultimate Road Trip: Week 10 http://t.co/Cg5rkzMqpZ"
about 10 hours ago

ESPN_Pac12blog

ESPN_Pac12blog


Pac-12 Ultimate Road Trip: Week 10 http://t.co/zHe6KF4TEl
about 10 hours ago

DuckSportsNow

Duck Sports Now


Oregon Ducks fall camp position breakdown: Wide receiver/tight end http://t.co/AQ4TRrQsiV
about 10 hours ago

DMathis3

Dior Mathis


My College Degree finally came into the mail. http://t.co/wXMqqp49ys
about 10 hours ago

ESPNCFB

ESPN CollegeFootball


Notice to QBs, keep the ball away from these CBs » http://t.co/UiFHge0bAI
about 10 hours ago

DuckSportsNow

Duck Sports Now


ESPN 300: 5 things to know in the Pac-12 http://t.co/MjqnP54UOo
about 10 hours ago

DuckSportsNow

Duck Sports Now


Terry Baker, Robin Reed and more in Oregon's Greatest Athlete Round of 32 Day 2 (vote) http://t.co/xw4bvA8w4k
about 10 hours ago

oregonliveducks

oregonlive.com/ducks


University of Oregon can keep secret records from sexual assault investigation, district attorney rules http://t.co/Uf1n1iwTAd #goducks
about 10 hours ago

McNamaraUO

Andy McNamara


Includes @ifo14 #GoDucks "@ESPNCFB: Notice to QBs, keep the ball away from these CBs » http://t.co/LkbzA1qgAf"
about 11 hours ago

oregonliveducks

oregonlive.com/ducks


Oregon Ducks fall camp position breakdown: Wide receiver/tight end http://t.co/W0PhTRQ4Ty #goducks
about 11 hours ago

oregonliveducks

oregonlive.com/ducks


NCAA head-injury settlement: What it means, who is covered and what's next http://t.co/9bpfSee2Au #goducks
about 11 hours ago

oregonliveducks

oregonlive.com/ducks


NCAA settles head-injury lawsuit that will change 'college sports forever' http://t.co/dKfcSPNnM9 #goducks
about 11 hours ago

ESPN_Pac12blog

ESPN_Pac12blog


ESPN 300: 5 things to know in the Pac-12 http://t.co/ONn0IVKhI7
about 11 hours ago

oregonliveducks

oregonlive.com/ducks


Terry Baker, Robin Reed and more in Oregon's Greatest Athlete Round of 32 Day 2 (vote) http://t.co/UV7EFXOuFx #goducks
about 12 hours ago

DuckSportsNow

Duck Sports Now


Random recruit of the day: 5-star RB Sontonye Jamabo http://t.co/ISfYIbrOLx
about 12 hours ago

DuckSportsNow

Duck Sports Now


Quack Fix: Ducks to host Spartans on consecutive days http://t.co/pi5Xn3USO2
about 12 hours ago

ESPN_Pac12blog

ESPN_Pac12blog


Top Pac-12 players: Nos. 20-16 http://t.co/akbwnNb7an
about 12 hours ago

DuckSportsNow

Duck Sports Now


Like It or Not, the Pressure Is on for Mark Helfrich http://t.co/rKV0AEPxKp
about 13 hours ago

DuckSportsNow

Duck Sports Now


Post Up: Oregon's Winning Red Zone Pass Play http://t.co/4OIARFOqd5
about 13 hours ago

DuckSportsNow

Duck Sports Now


College football is back! http://t.co/9NtHDPuRvI
about 20 hours ago

Pac12Networks

Pac-12 Networks


#NW: Mo Mercado's heroics carry @UA_Softball to victory over rival ASU. #RivalryWeek http://t.co/x006mkVYpB http://t.co/YEeXfBW9HV
about 21 hours ago

DuckSportsNow

Duck Sports Now


First 2016 five-stars released http://t.co/weM47tWtXF
about 21 hours ago

Pac12Networks

Pac-12 Networks


For the PM crowd: Pac-12 Networks is going camping. @mike_yam is bringing the s'mores. http://t.co/BVgEo5mRtC http://t.co/pdNeyqE2FU
about 22 hours ago

Pac12Networks

Pac-12 Networks


.@CalWomensSoccer alums are a bunch of superheroes, y'all. The week in social: http://t.co/WPsVoO0XTB http://t.co/EXqZgVmZWM
about 23 hours ago

Pac12Networks

Pac-12 Networks


#NW: Chelsea Gonzales was the difference in @ASUSoftball's 3/29 win over Arizona. #RivalryWeek http://t.co/x006mkVYpB http://t.co/10yICP8fLH
about 23 hours ago

McNamaraUO

Andy McNamara


No. 2 is @WinTheDay "@ESPNCFB: FSU has 40% chance for undefeated reg season according to ESPN's Power Index (FPI) http://t.co/i4IrIJt3QB"
about 23 hours ago

DuckSportsNow

Duck Sports Now


Three of four missing Ethiopian track and field athletes located in Beaverton http://t.co/usGKH9kiKS
1 day ago

DuckSportsNow

Duck Sports Now


UO releases names of four missing Ethiopian track and field athletes, who may be in Portland area http://t.co/n1GIUL2lOz
1 day ago

Pac12Networks

Pac-12 Networks


"We're Leonard Williams and Cody Kessler. People call us Leonard Williams and Cody Kessler." http://t.co/WPsVoO0XTB http://t.co/rNEJkgrRrZ
1 day ago

DuckSportsNow

Duck Sports Now


Shalane Flanagan will be shooting for the U.S record in September's Berlin Marathon http://t.co/Txi8cNJfo6
1 day ago

Pac12Networks

Pac-12 Networks


#NW: It was a thrilling walk-off win for @Utah_Softball over BYU on March 20. #RivalryWeek http://t.co/x006mkVYpB http://t.co/0tq0LHVevB
1 day ago

oregonliveducks

oregonlive.com/ducks


Oregon Ducks staffer leaves for NFL; Canzano and finding Gregg Popovich: The Oregonian's sports top 5 at 5 http://t.co/kCG4naBuwh #goducks
1 day ago

Pac12Networks

Pac-12 Networks


When is the @Pac12Networks crew coming to your school's training camp? http://t.co/BVgEo5mRtC http://t.co/pW4I4pMPSY
1 day ago

KCChiefs

Kansas City Chiefs


Thanks to @DwayneBowe82, a boy battling cancer had his dreams come true at #ChiefsCamp.READ: http://t.co/o47wDHTIDW http://t.co/hmYwinqAia
1 day ago
PAC-12 SCOREBOARD
Thursday, 8/28
Friday, 8/29
Saturday, 8/30
BLOG ARCHIVE:
CATEGORIES: