Oregon recruiting mailbag (Oct. 26)
October, 26, 2012
10/26/12
5:55
AM ET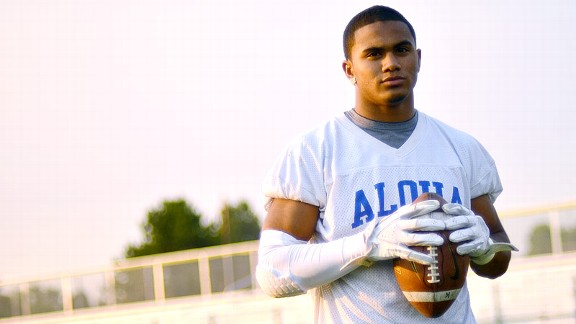 Courtesy of Tiffany FiekenThomas Tyner is expected to be a perfect fit for the Oregon Ducks.
As the Ducks get set to take on Colorado this weekend before the meat of the schedule hits, DuckNation mailbag has been overflowing with questions. It's about time to lighten the load and get to it.
Thomas M. (Cornwall on Hudson, NY):
Out of those mentioned in your article about who the Ducks missed on, who do you think has been the biggest 'miss' for the Ducks in recent years?
To continue reading this article you must be an Insider
Insider
Michigan State Feeling The Pressure?
Britt McHenry discusses Michigan State's preparations for Saturday's showdown with Oregon.
Michigan State Feeling The Pressure?
VIDEO PLAYLIST
OREGON FB RECRUITING SCORECARD
oregonliveducks

oregonlive.com/ducks


Oregon Ducks remain at No. 3 in latest Ap Top 25 Poll http://t.co/MzOCgOBx5q #goducks
11 minutes ago

Pac12Networks

Pac-12 Networks


It didn't take long for @TheMUSS to get in full throat. The week in social: http://t.co/Xzr1AqUyex http://t.co/3aQ6bPKaPZ
12 minutes ago

DuckSportsNow

Duck Sports Now


Ducks remain No. 3 in AP poll http://t.co/JqzbMm9hjA
24 minutes ago

oregonliveducks

oregonlive.com/ducks


No. 7 Michigan State tries to replicate Stanford's 'blueprint' to beating No. 3 Oregon Ducks http://t.co/iPaCx5N9Z5 #goducks
25 minutes ago

oregonliveducks

oregonlive.com/ducks


Recruiting roundup: Elijah Holyfield one of several celebrity sons starring in prep football http://t.co/5xxR5l7ffK #goducks
29 minutes ago

DuckSportsNow

Duck Sports Now


Roundup: CFP ramifications abound in Oregon-Michigan State http://t.co/iojHOv4EkQ
32 minutes ago

Pac12Networks

Pac-12 Networks


1st #SportsReport top 12 plays of 2014-15 features #pac12fb, #pac12wsoc + field hockey. Video: http://t.co/ymkae94y1K http://t.co/ICbFRV9DT1
36 minutes ago

Pac12Networks

Pac-12 Networks


.@HerbSendek and @ASUCoachCharli reportedly have new deals in Tempe. Roundup: http://t.co/vkc8K4jCnK http://t.co/1Jr7izq03c
47 minutes ago

oregonliveducks

oregonlive.com/ducks


Pac-12 in the NFL: USC Trojans have most active players; Oregon Ducks second http://t.co/fxcp8qNQ6A #goducks
51 minutes ago

Pac12Networks

Pac-12 Networks


@UWVolleyball Awesome! Thanks for the heads up.
about an hour ago

Pac12Networks

Pac-12 Networks


NEW: Five #pac12fb teams are in the new @AP Top 25. http://t.co/k3vgnBHevx http://t.co/lw5I1nxb4q
about an hour ago

DSArivals

DuckSportsAuthority


Four-star QB to visit this weekend: Woodbury (Minn.) East Ridge 2016 quarterback Seth Green recently received ... http://t.co/9PP0YP9DOf
about an hour ago

DuckSportsNow

Duck Sports Now


Former Oregon Ducks closer Jake Reed joins the Arizona Fall League http://t.co/uQEDVnonrT
about an hour ago

McNamaraUO

Andy McNamara


Sat's game b/t No. 3 @WinTheDay & No. 7 @MSU_Football will be first top 10 non-conference matchup in Autzen Stadium history #GoDucks
about an hour ago

McNamaraUO

Andy McNamara


Ducks stay at No. 3 in first regular season @AP_Top25 poll #GoDucks @WinTheDay http://t.co/zXQP0xPjqT
about an hour ago

ESPN_Pac12blog

ESPN_Pac12blog


Pac-12 Power Rankings: Week 1 http://t.co/jbQ6T6d7BF
about an hour ago

USATODAYsports

USA TODAY Sports


Who's on top on after Week 1? The new @AmwayUS #CoachesPoll is here. Top 25: http://t.co/i9xDLPYf5k http://t.co/R6Z7QNnVSi
about an hour ago

OregonFBequip

OREGON FOOTBALL EQ


Game cleats from Saturday! #Swag @usnikefootball @WinTheDay http://t.co/3YFKH5v0GS
about an hour ago

DuckSportsNow

Duck Sports Now


Amway Coaches Poll Drops Oregon Ducks to 4th, Michigan State up to 6th http://t.co/7RgdFISGvr
about an hour ago

KFARRGODUCKS

Kenny Farr


CJ elite 2 OREGON SMU Apple Green!! http://t.co/QV4plHVlOV
about an hour ago

pac12

Pac-12 Conference


The new Amway US #CoachesPoll is out. Five #pac12fb schools ranked in the Top 25: http://t.co/Cxzlc7TfBT
about an hour ago

DuckSportsNow

Duck Sports Now


Spartan defense: rigorous, disciplined, and rarely defeated http://t.co/YeWovYhs6q
about an hour ago

DuckSportsNow

Duck Sports Now


Wyoming at Oregon http://t.co/AkoLBSsANI
about an hour ago

Pac12Networks

Pac-12 Networks


This is what we call getting your #pac12vb career off to a good start, @mkmarshall1. http://t.co/Jog24cuY0Z http://t.co/PSacFd3rxN
about 2 hours ago

oregonliveducks

oregonlive.com/ducks


How big is Oregon-Michigan State? For this week, anyway, there is nothing bigger: Issues & Answers http://t.co/l3bJ5xPyCt #goducks
about 2 hours ago

DuckSportsNow

Duck Sports Now


Oregon Ducks live chat at 11 a.m.: First impressions after Oregon's first game http://t.co/3jFAL7zttu
about 2 hours ago

DuckSportsNow

Duck Sports Now


Former Oregon Duck Terrance Mitchell signs with Chicago Bears: Oregon rundown http://t.co/3FuBTY9XdH
about 2 hours ago

DuckSportsNow

Duck Sports Now


Michigan State Feeling The Pressure? http://t.co/oiS87ot0Yq
about 2 hours ago

DuckSportsNow

Duck Sports Now


Drive Through: Projecting the Playoff Field http://t.co/Sl0tgzKSx1
about 2 hours ago

DuckSportsNow

Duck Sports Now


Tyrell Crosby starts his Ducks career not with a bang, but with a 'pancake' (video) http://t.co/mujtRAF98O
about 2 hours ago

oregonliveducks

oregonlive.com/ducks


Former Oregon Ducks closer Jake Reed joins the Arizona Fall League http://t.co/mytWYKDfMI #goducks
about 2 hours ago

Pac12Networks

Pac-12 Networks


We're kind of sort of a little pumped up for Saturday's #MSUvsUO matchup. How about you? http://t.co/6JzCwipYzu http://t.co/AlL4jJxFD0
about 2 hours ago

DuckSportsNow

Duck Sports Now


Tako Tuesdays Can't Find the Hate http://t.co/18rxKoM39k
about 2 hours ago

oregonliveducks

oregonlive.com/ducks


Oregon Ducks live chat at 11 a.m.: First impressions after Oregon's first game http://t.co/vsZMhiQU2C #goducks
about 2 hours ago

oregonliveducks

oregonlive.com/ducks


Former Oregon Duck Terrance Mitchell signs with Chicago Bears: Oregon rundown http://t.co/4BrHtV3Ay5 #goducks
about 2 hours ago

DuckSportsNow

Duck Sports Now


UO Bookends Prepare For Battle In Trenches With Spartans http://t.co/XHRBbwKmtk
about 3 hours ago

DuckSportsNow

Duck Sports Now


A Defense to Match: Appreciating the Stingy Spartans in the Offensive Age http://t.co/DNKmLjTYFc
about 3 hours ago

DuckSportsNow

Duck Sports Now


Mariota, Ducks prepare to face Spartan D http://t.co/cn02QX6GlH
about 3 hours ago

DuckSportsNow

Duck Sports Now


Examining Week 2′s cupcakes and Michigan State Spartans' B1G task http://t.co/vUaFViqFDt
about 3 hours ago

DuckFootball

Rob Moseley


Michigan native Jake Fisher and the revamped UO offensive line prepare for battle in trenches with Spartans http://t.co/17GhIGO9mB #GoDucks
about 3 hours ago

oregonliveducks

oregonlive.com/ducks


Canzano: Pac-12 says stadium scoreboard operator may not 'demean' officials http://t.co/dFmsFefC2n #goducks
about 3 hours ago

Pac12Networks

Pac-12 Networks


.@CodyKessler6's career game Saturday earned him #pac12fb Offensive Player of the Week honors. http://t.co/cm2BYcDzjZ http://t.co/DjEFI9THYo
about 3 hours ago

ESPN_Pac12blog

ESPN_Pac12blog


Mariota is a model of efficiency at QB http://t.co/98x8Sw2nyI
about 3 hours ago

Pac12Networks

Pac-12 Networks


ICYMI: @ArizonaVBall's @madi_king9 is the Pac-12's #pac12vb Offensive Player of the Week. http://t.co/Jog24cuY0Z http://t.co/QB7ql4rBYN
about 3 hours ago

pac12

Pac-12 Conference


The newest @beaverathletics fan. #aww RT @CuteEmergency: baby beav is just super excited to see you. http://t.co/sV7uBUabDF
about 3 hours ago

zachmiller

Zachary Miller


A total of 1838 mi & 24 hrs in car to see @WinTheDay at @UOAutzen! Thx for having us @UOPintens @McNamaraUO! #GoDucks http://t.co/Ub6bfHDizX
about 3 hours ago

Grantland33

Grantland


A Defense to Match: Michigan State in the Offensive Age, by @smartfootball http://t.co/D5lmPagKy0
about 4 hours ago

oregonliveducks

oregonlive.com/ducks


Tyrell Crosby starts his Ducks career not with a bang, but with a 'pancake' (video) http://t.co/bHwGeId0c3 #goducks
about 4 hours ago

oregonliveducks

oregonlive.com/ducks


Tyrell Crosby starts his Ducks career not with a bang, but with a 'pancake' (video) http://t.co/q5DkePVBH2 #goducks
about 4 hours ago

DuckSportsNow

Duck Sports Now


Weekend recruiting wrap: Pac-12 http://t.co/ZCzNyYGaBW
about 4 hours ago

DuckSportsNow

Duck Sports Now


Royce Freeman Embraces Oregon's Straddled Triple Option http://t.co/ICn1dvOi2T
about 4 hours ago

DuckSportsNow

Duck Sports Now


Playoff & Pac-12 Update: The Wait is Over http://t.co/CpbmReFI4O
about 4 hours ago

DuckSportsNow

Duck Sports Now


Florida State, Oklahoma top Week 1 Playoff Predictor rankings — College Football http://t.co/7RMxlEEQRc
about 4 hours ago

ESPN_Pac12blog

ESPN_Pac12blog


Mariota, Ducks prepare to face Spartan D http://t.co/jj0RaCeCMo
about 4 hours ago

ESPN_Pac12blog

ESPN_Pac12blog


Weekend recruiting wrap: Pac-12 http://t.co/yQP7xgA2E3
about 5 hours ago

DuckSportsNow

Duck Sports Now


Week 1 Review: National Report http://t.co/n87JKkVIZD
about 5 hours ago

DuckSportsNow

Duck Sports Now


Pac-12 morning links http://t.co/yeNvhuitmL
about 5 hours ago

DuckSportsNow

Duck Sports Now


Quack Fix: Ducks focus on improvement with Michigan State looming http://t.co/Naec9Pjp5q
about 5 hours ago

ESPN_Pac12blog

ESPN_Pac12blog


Planning for success: Washington http://t.co/UabknH5wtq
about 6 hours ago

ESPN_Pac12blog

ESPN_Pac12blog


Pac-12 morning links http://t.co/st5mSqYCNB
about 7 hours ago

oregonliveducks

oregonlive.com/ducks


Pac-12 officials, Ducks finding their 'edge,' John Canzano's burning questions: The Oregonian sports top 5 http://t.co/8ZeCkquoFn #goducks
about 7 hours ago

DuckSportsNow

Duck Sports Now


Oregon opens as 11-point favorite over Michigan State http://t.co/zHNuylVyb0
about 12 hours ago

ESPN_Pac12blog

ESPN_Pac12blog


Pac-12 QB Power Rankings: Week 1 http://t.co/eBRWn4WsMB
about 12 hours ago

ESPN_Pac12blog

ESPN_Pac12blog


ICYMI: Oregon vs. Michigan State has a "Rose Bowl in September" feel to it. http://t.co/IBUqMWVaUx http://t.co/629GClOMUN
about 12 hours ago

McNamaraUO

Andy McNamara


Mariota No. 3, @Ifo14 at 6 #GoDucks // 2015 NFL Mock Draft: Matt Miller's Initial Projections http://t.co/LI9UjZV7i3 via @bleacherreport
about 14 hours ago

McNamaraUO

Andy McNamara


For your late night viewing pleasure, a new Mac & Mose. Thx to @FanBladeFilms for laboring on Labor Day #GoDucks http://t.co/DAV7VppRmJ
about 14 hours ago

McNamaraUO

Andy McNamara


For your late night viewing pleasure, a new Mac & Mose. Thx to @FanBladeFilms for laboring on Labor Day #GoDucks http://t.co/DAV7VppRmJ
about 14 hours ago

McNamaraUO

Andy McNamara


Mariota No. 3, @Ifo14 at 6 #GoDucks // 2015 NFL Mock Draft: Matt Miller's Initial Projections http://t.co/LI9UjZV7i3 via @bleacherreport
about 14 hours ago

DuckSportsNow

Duck Sports Now


Oregon QB Marcus Mariota focused on Michigan State http://t.co/i5xrGcTvHF
about 16 hours ago

McNamaraUO

Andy McNamara


On the Quad. School starts 9/29 "@CollegeGameDay: ICYMI: GameDay is heading to Eugene for #MSUvsUO! #GetUp4GameDay http://t.co/NCTAtzIdcN"
about 17 hours ago

Pac12Networks

Pac-12 Networks


#SportsReport is on now! Catch the latest from around the league + a mascot challenge with @AdamsonAshley + @Oski. http://t.co/dQbOJ6dmkz
about 17 hours ago

DuckSportsNow

Duck Sports Now


Pulse Report: UO week one http://t.co/G10wmYtYH9
about 17 hours ago

FanBladeFilms

Scott Phillips


New Mac & Mose is up @McNamaraUO @DuckFootball http://t.co/qTa6XaOmxI @playapus23 @RiceKurt
about 17 hours ago

DuckSportsNow

Duck Sports Now


The physical game is a pride issue for the No. 3 Oregon Ducks as No. 8 Michigan State comes to town http://t.co/FiVJIIkaqx
about 18 hours ago

DuckSportsNow

Duck Sports Now


Royce Freeman on being 'tentative,' performing better and first time playing at Autzen Stadium (video) http://t.co/D1Y9McCW2t
about 18 hours ago

DuckSportsNow

Duck Sports Now


Marcus Mariota on Michigan State, Royce Freeman and feeling good after a win (video) http://t.co/TL6jhSyhWQ
about 18 hours ago

DuckSportsNow

Duck Sports Now


Ryan Newsome, 4-star WR, gets game-changing call from Oregon Ducks coach Mark Helfrich http://t.co/TmeIbUpA5t
about 18 hours ago

DuckSportsNow

Duck Sports Now


Duck Tales: Monday practice media access http://t.co/xl24btA13L
about 18 hours ago

DuckSportsNow

Duck Sports Now


Mac & Mose – South Dakota Review http://t.co/PnBJSODRSz
about 18 hours ago

Pac12Networks

Pac-12 Networks


How about a 92-yard TD reception in your return from injury? Well done, Austin Hill. http://t.co/mweJdEhz3d http://t.co/BYGViFUS3Y
about 18 hours ago

oregonliveducks

oregonlive.com/ducks


The physical game is a pride issue for the No. 3 Oregon Ducks as No. 8 Michigan State comes to town http://t.co/a8fmdVBuJA #goducks
about 18 hours ago

DuckSportsNow

Duck Sports Now


It's time to talk Michigan St. http://t.co/N97TG4poda
about 18 hours ago

oregonliveducks

oregonlive.com/ducks


Royce Freeman on being 'tentative,' performing better and first time playing at Autzen Stadium (video) http://t.co/4yYPqUmx7T #goducks
about 19 hours ago

McNamaraUO

Andy McNamara


#YFTFT RT @Matt_HayesSN: How sweet is this? #Sparty helmets for Oregon game. Take that, fashion leader #Ducks http://t.co/K3oPqWLJIN
about 19 hours ago

GoDucks

GoDucks


This week's @CollegeGameDay will originate from the Memorial Quad on campus #GoDucks #GetUp4GameDay http://t.co/WSYOlqW0mc
about 19 hours ago

GoDucks

GoDucks


This week's @CollegeGameDay will originate from the Memorial Quad on campus #GoDucks #GetUp4GameDay http://t.co/WSYOlqW0mc
about 19 hours ago

Pac12Networks

Pac-12 Networks


Toby Gerhart reminisces on the 2009 @StanfordFball season tomorrow on "Pac-12 Classics" at 8 PT. Preview: http://t.co/LuELbazVCB
about 19 hours ago

DuckSportsNow

Duck Sports Now


Thomas Tyner, Byron Marshall and Royce Freeman rush for 229 yards and have plenty to work on for Oregon Ducks http://t.co/WE9zoqfUZM
about 19 hours ago

DuckSportsNow

Duck Sports Now


Oregon Sports Report Update http://t.co/P5bCHmPUZI
about 19 hours ago

GoDucksTV

GoDucks TV


Now on @GoDucksTV: Marcus Mariota post Monday Practice http://t.co/BJdEosX7Xs #GoDucks
about 19 hours ago

GoDucksTV

GoDucks TV


Now on @GoDucksTV: Royce Freeman post Monday Practice http://t.co/t8ThKd6JOR #GoDucks
about 19 hours ago

GoDucksTV

GoDucks TV


Now on @GoDucksTV: Marcus Mariota post Monday Practice http://t.co/BJdEosX7Xs #GoDucks
about 19 hours ago

GoDucksTV

GoDucks TV


Now on @GoDucksTV: Royce Freeman post Monday Practice http://t.co/t8ThKd6JOR #GoDucks
about 19 hours ago

oregonliveducks

oregonlive.com/ducks


Marcus Mariota on Michigan State, Royce Freeman and feeling good after a win (video) http://t.co/S1R8Bbsjlb #goducks
about 19 hours ago

ESPNOregon

ESPN Oregon


Duck Tales: Monday practice media access http://t.co/2qB4xRnsE2
about 19 hours ago

DuckSportsNow

Duck Sports Now


Raw video: Royce Freeman recaps his first college game http://t.co/dwi3YboOWf
about 19 hours ago

oregonliveducks

oregonlive.com/ducks


Thomas Tyner, Byron Marshall and Royce Freeman rush for 229 yards and have plenty to work on for Oreg... http://t.co/a9Z6ZHM45x #goducks
about 20 hours ago

Pac12Networks

Pac-12 Networks


.@CalFootball represented in Week 1. Will @Oski do the same? Find out on #SportsReport tonight at 7 PT! http://t.co/pUpZDPIa0E
about 20 hours ago

TMitch30

Terrance Mitchell


Signed with the @ChicagoBears
about 20 hours ago

ESPN_Pac12blog

ESPN_Pac12blog


Pac-12 names players of the week http://t.co/PrHx5aTgJL
about 20 hours ago
PAC-12 SCOREBOARD
Thursday, 9/4
Friday, 9/5
Saturday, 9/6
BLOG ARCHIVE:
CATEGORIES: